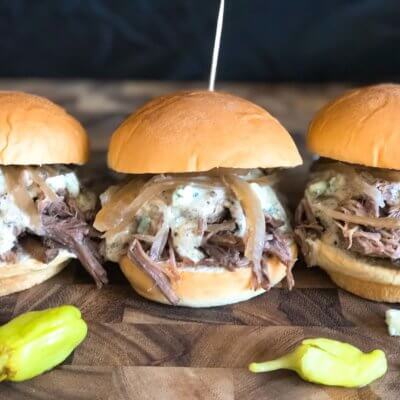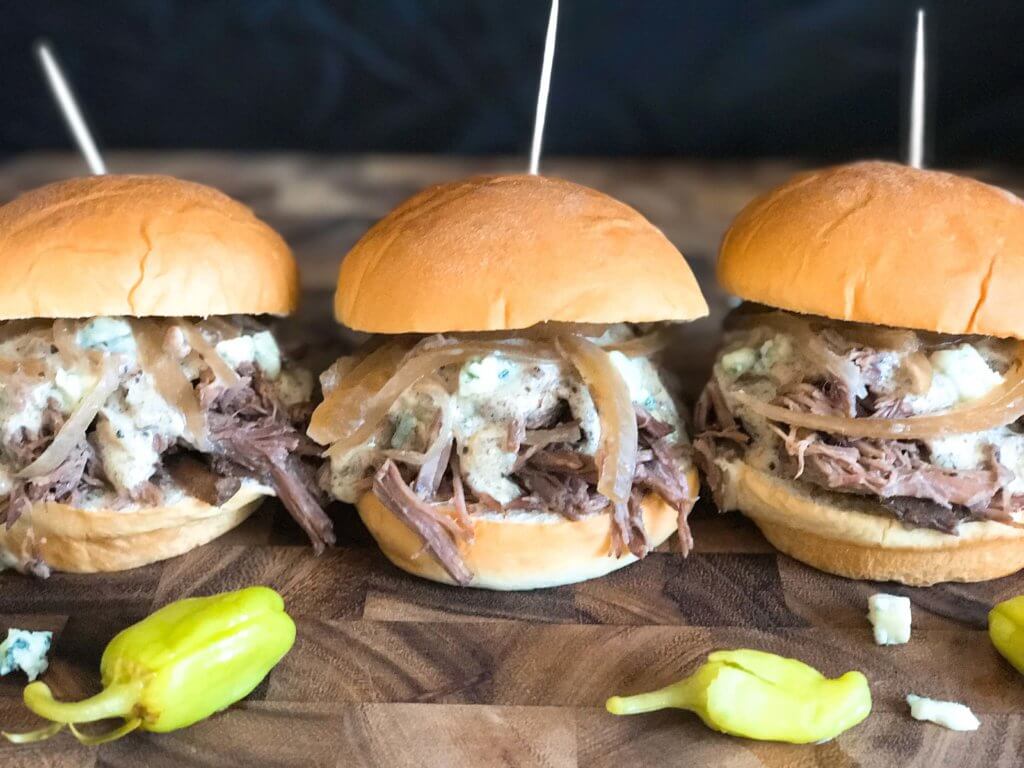 I am in love.  These Bourbon Blue Cheese Steak Sliders are a little piece of heaven.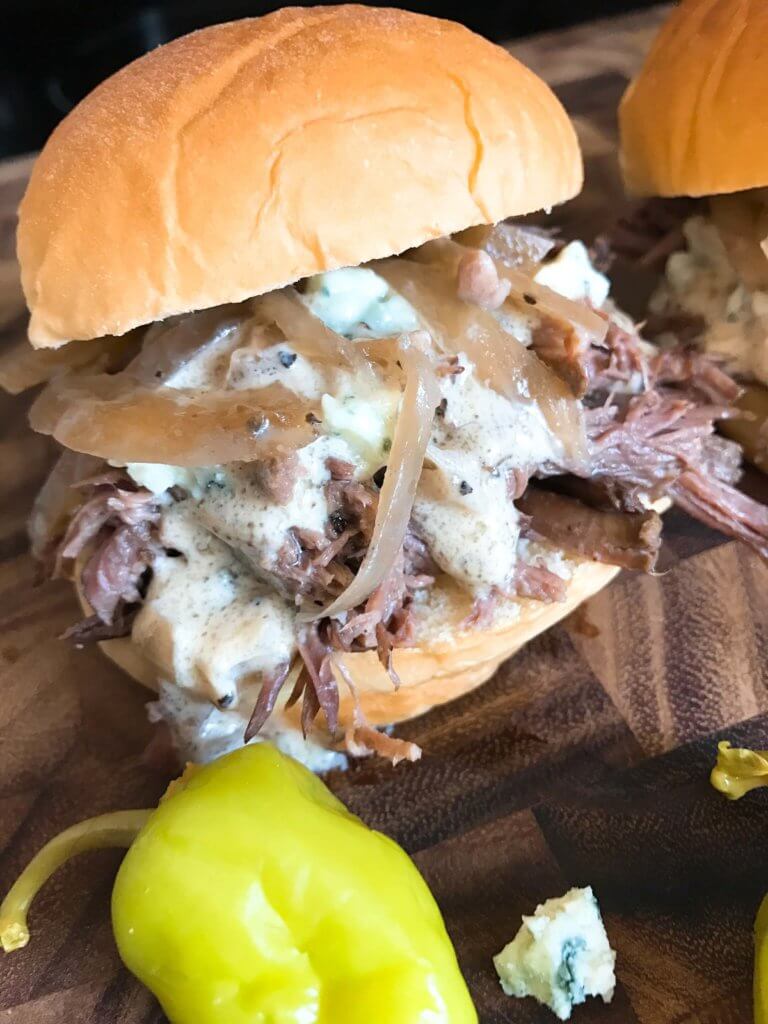 One of my favorite sauces to make is my Bourbon Blue Cheese Sauce, which is great on just about everything.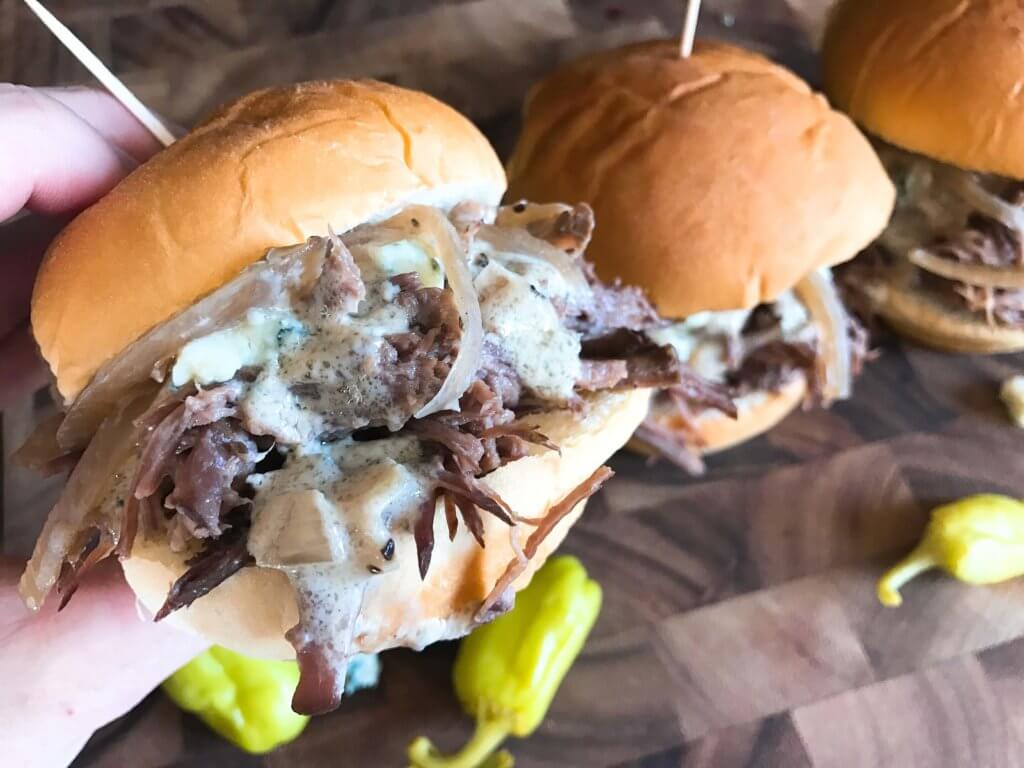 And this meat is just amazing by itself.  I have been using it with so many other recipes as well.  Throw it in a soup, pasta dish, sandwich, etc.  Any leftovers will not go to waste!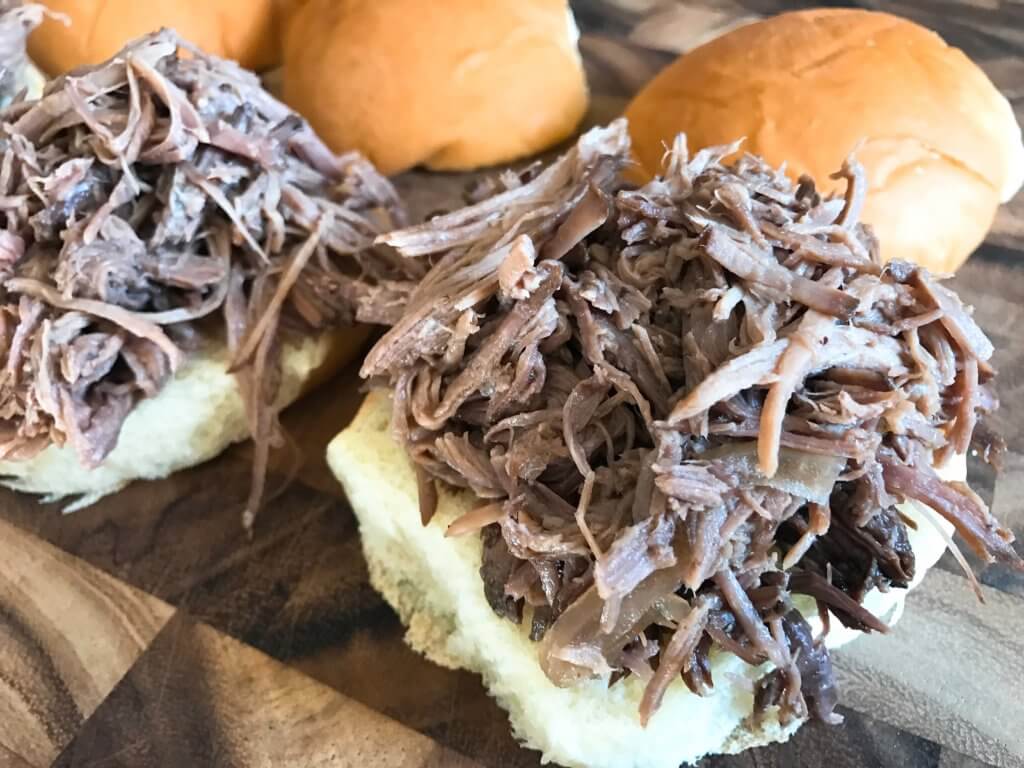 I really love slow cooker recipes.  They can be easily put together in the morning and make for a fast and easy meal, making these Bourbon Blue Cheese Steak Sliders perfect for gatherings and busy days.
I am particular about any kitchen gadgets or tools as not all of them are worth it, but (affiliate) these slow cooker liners are the most amazing things ever!  Just line your crock pot with one before you throw everything in, and then toss it out when you are done for an easy clean up!  No caked on gunk!  I am not sure how I ever lived without these!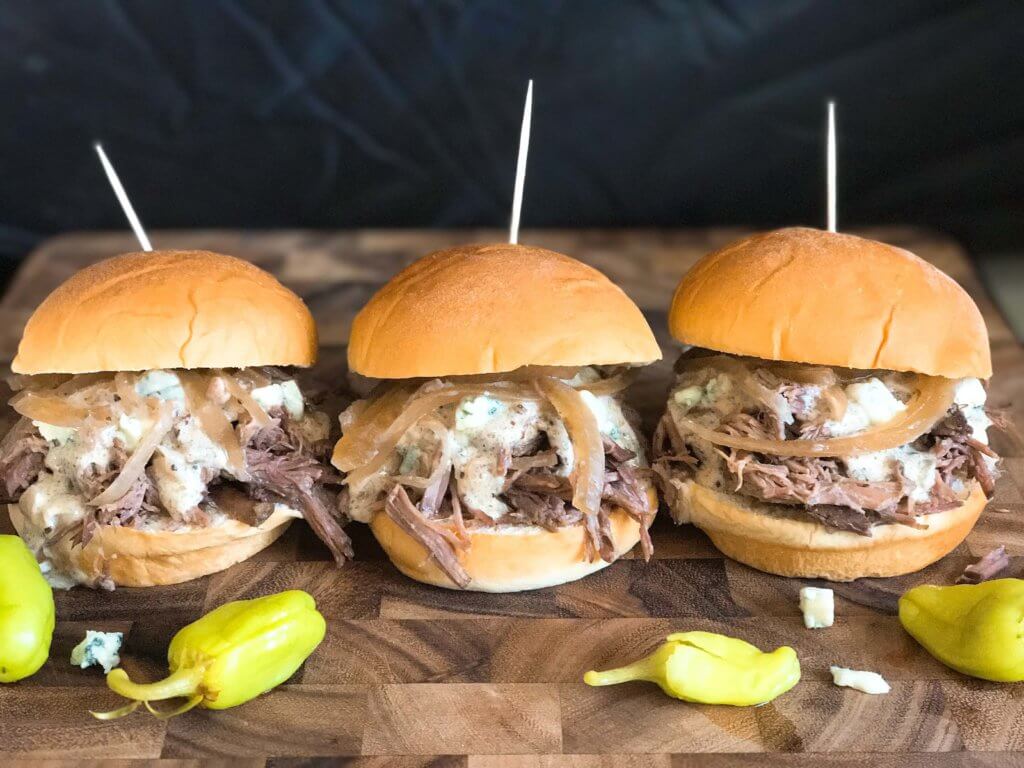 There are a lot of great topping options for these Bourbon Blue Cheese Steak Sliders.  I love to have pickles, pepperoncini, blue cheese crumbles, and bacon on hand so each person can customize their own.  And these also make a great slider bar for parties or events, like football Sunday.  Put everything out in bowls, keep the crock pot on warm, and you are set!  I also love to save some of the juice from the slow cooker as an au jus dipper.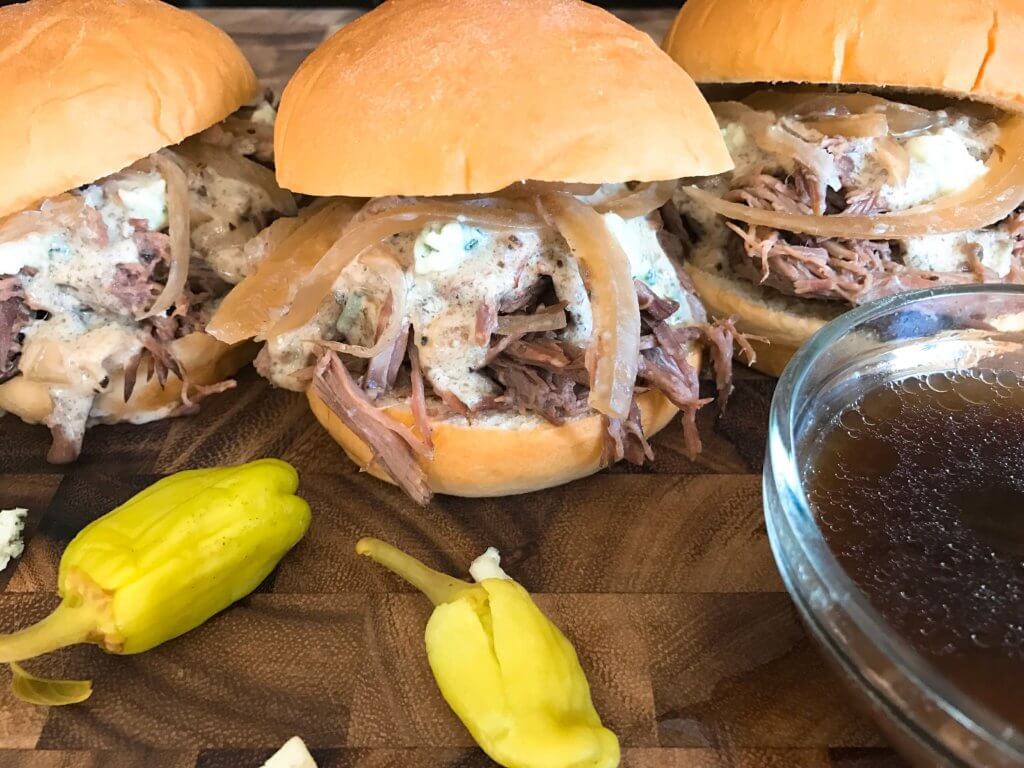 Follow these affiliate links to get what you need to make these Bourbon Blue Cheese Steak Sliders!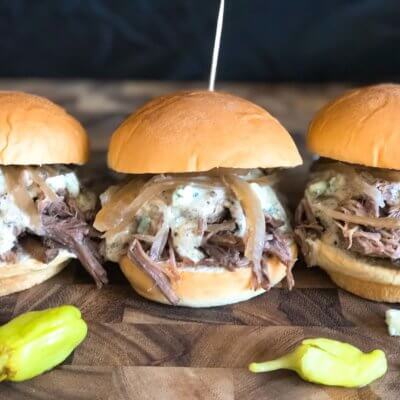 Instructions
Put the beef, onion, bourbon, garlic, Worcestershire, soy sauce, beef broth, brown sugar, salt, and pepper in a crock pot.

Add water until the meat is fully submerged. Cook on low for at least 6 hours.

When ready, remove the beef and place in a large bowl. Place the onions in a small bowl (to use as a topping later).

Reserve some of the juice the beef cooked in for dipping.

Shred the beef and remove fat pieces as desired. You will have approximately 3 1/2 cups of meat when done.

Toast buns if desired. Place approximately 1/3 cup of meat on each bun (see note, this will vary with the exact size of bun you use).

Pour approximately 1-2 Tablespoons of the blue cheese sauce over the meat on each slider.

Add a few slices of the onion from the crock pot on top of the blue cheese sauce.

Top each slider with your desired toppings. I love pickles, but pepperoncinis, additional blue cheese crumbles, and bacon are all great options. Serve warm.
Notes
Chuck roast is my favorite cut of beef to use for shredded beef, but other cuts could work here as well.

Get the recipe for Bourbon Blue Cheese Sauce here!

This recipe is enough for 10 sliders when using 1/3 cup of meat per slider, as in the pictures, resulting in a meat-heavy slider.  You can get 14 sliders out of the recipe using 1/4 cup of meat.

The exact size of your slider bun will determine how many sliders you can get and how full they are.  We used slider buns approximately 3" in diameter.

This recipe works great at a party as a slider bar.  Guests can each build their own sliders.

You need slow cooker liners in your life!  Disposable liners that make clean up so incredibly easy!  Find them at this affiliate link!

By