Chewbacca Rice Krispie Treats are a cocoa rice cereal with marshmallows, decorated like your favorite Star Wars character. A perfect May the 4th dessert recipe for a Mandalorian space party.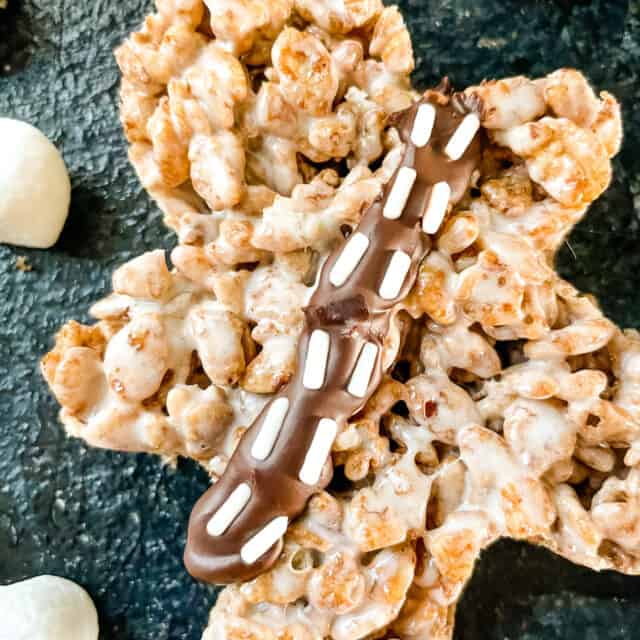 These Chewbacca Rice Krispie Treats are a cute Star Wars dessert recipe!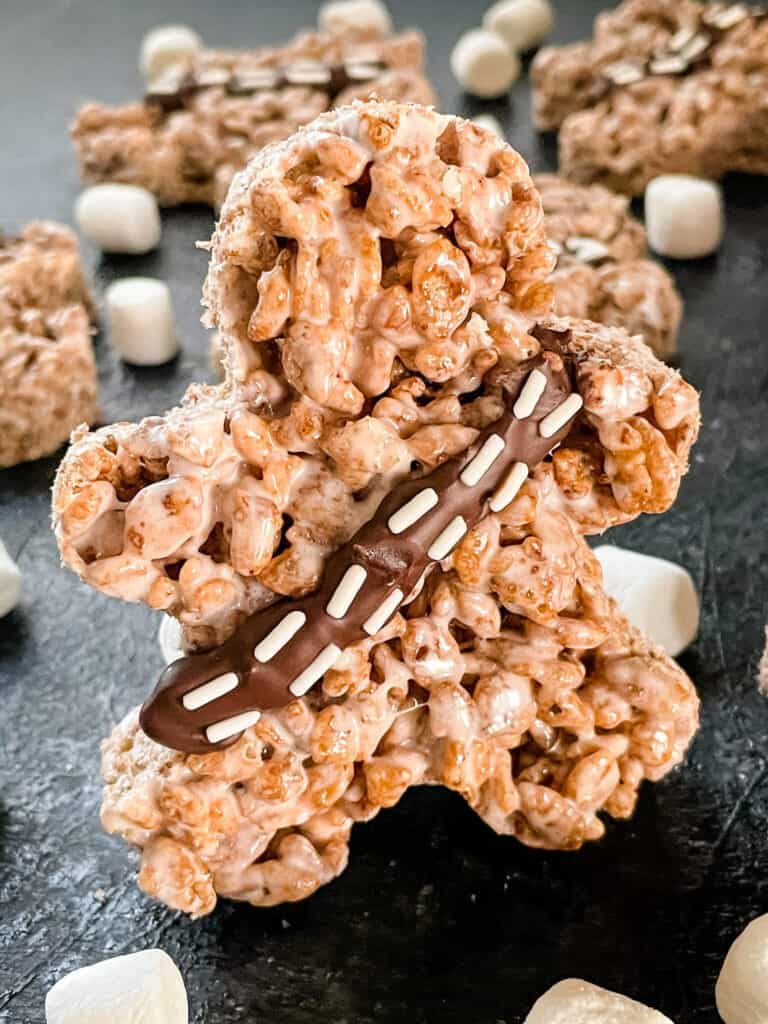 Star Wars anything is popular around here, so any Star Wars recipe is always well received.
These Chewbacca Rice Krispie Treats are just adorable are sure to bring a smile to everyone's face!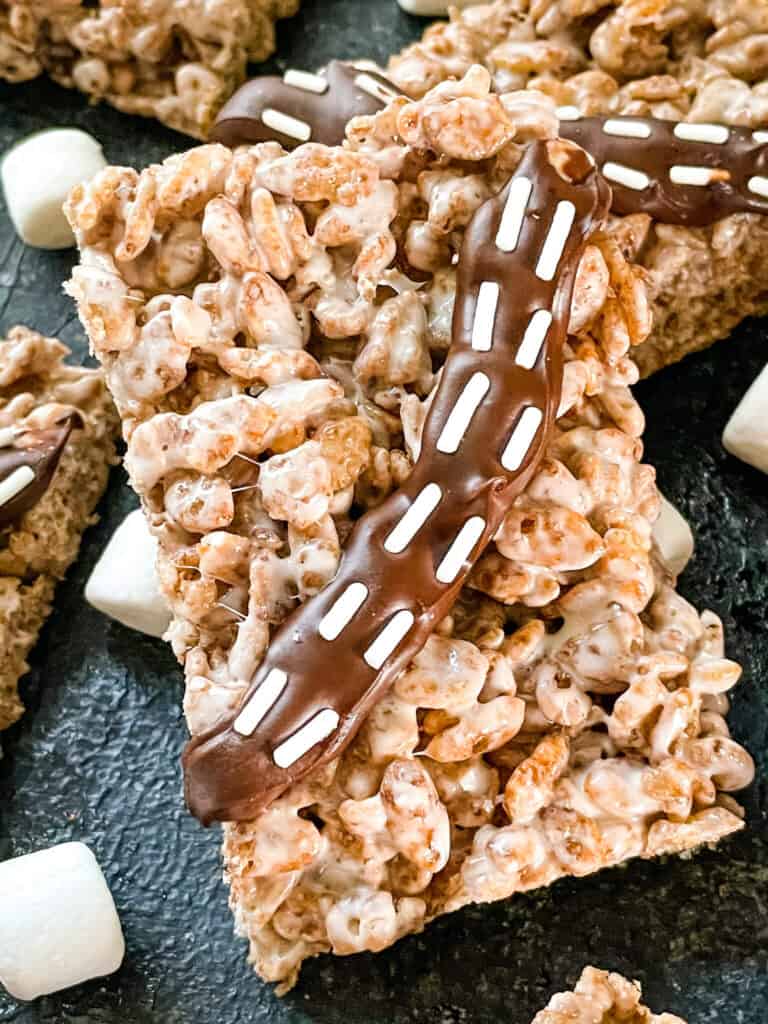 Soft versus Crunchy Treats
I am a big fan of the treats being softer, which is why I use a larger amount of marshmallow.
If you want to make them crunchier, more like the recipe that comes on the box, then reduce the amount of marshmallows from 7.5 cups down to 6 cups, and reduce the butter down from 5 Tablespoons to 4.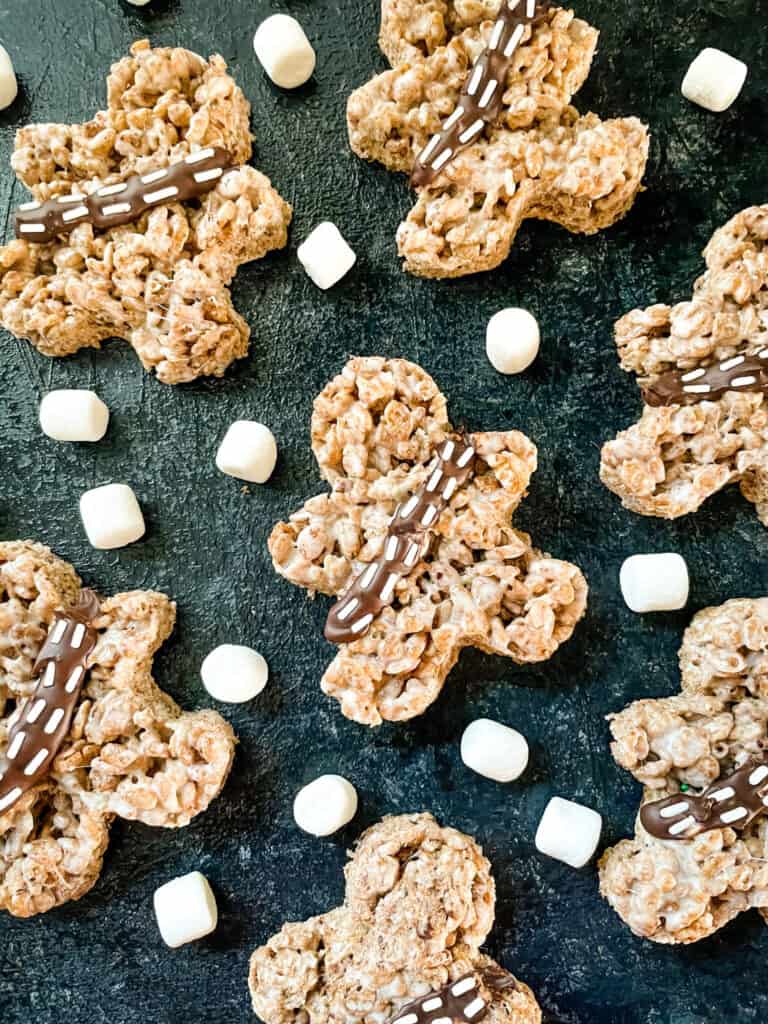 Cereal
Cocoa rice cereal is perfect for these treats because they taste great and are already brown!
Any other similar chocolate based cereal could work as a substitute.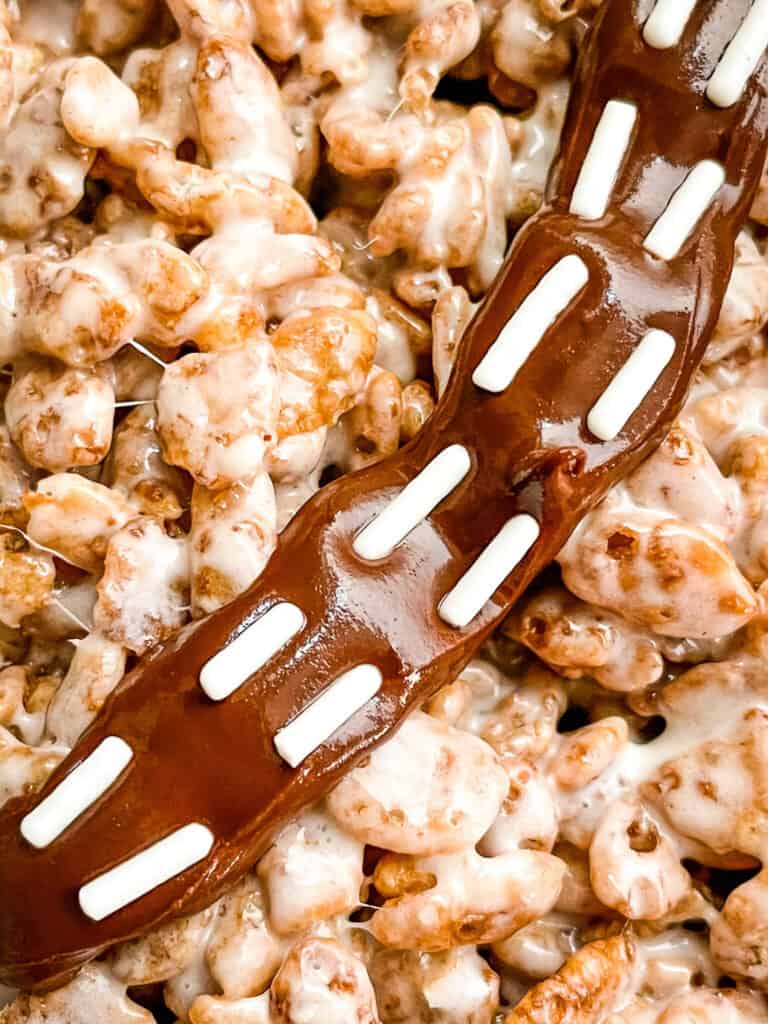 Rectangles or People Shapes
Both rectangles and people shaped treats look great! And I really do not find one to be faster than the other.
The people shaped treats are made using a gingerbread man cookie cutter.
You do end up with some scraps if you make them people shaped, but those pieces are fun to snack on!
I also was able to press some of the scraps together to get another couple treats out of the batch.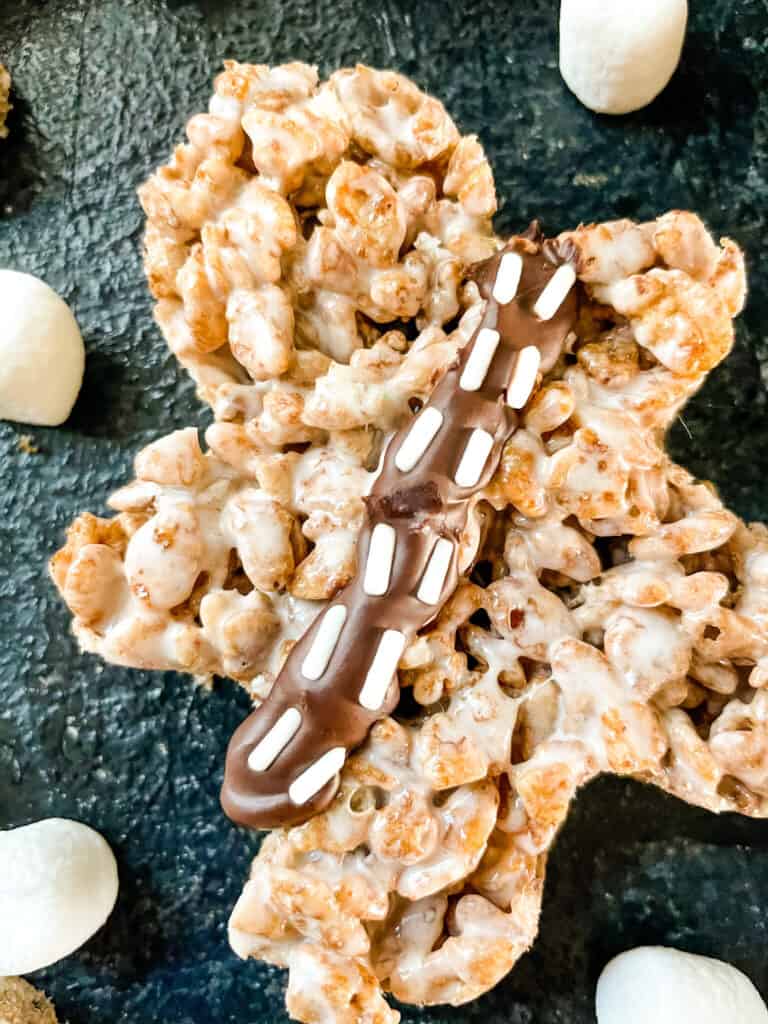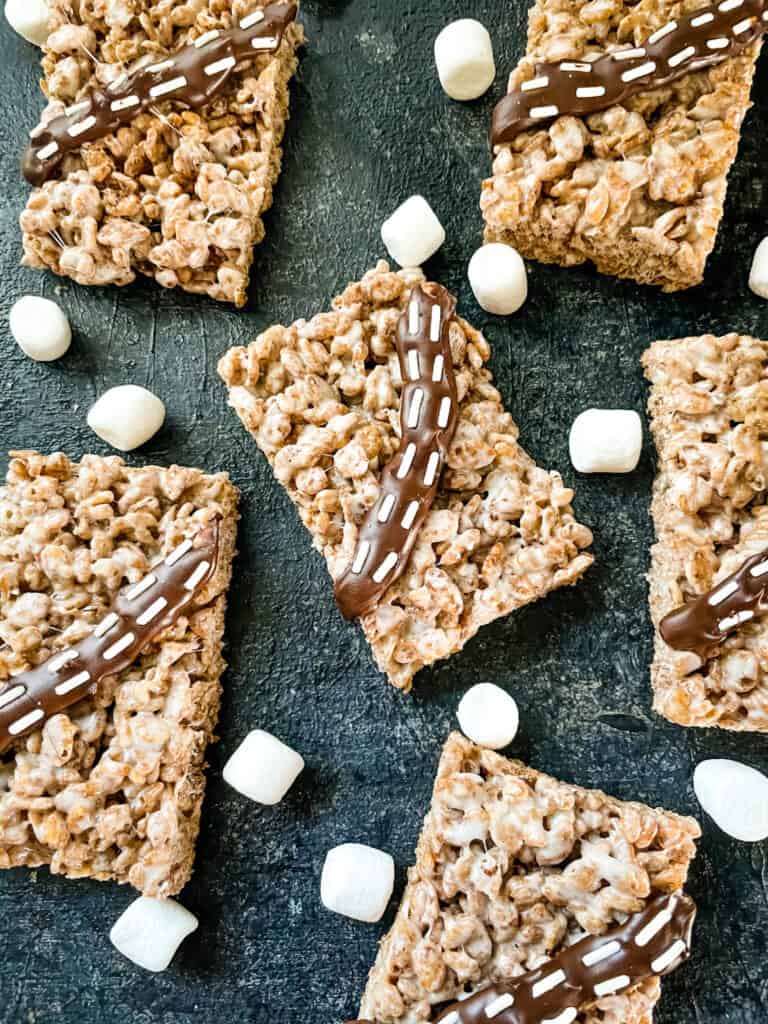 Decorating
The easiest way to make the sash is to melt chocolate chips in a disposable bag. Cut off the tip and use it like a piping bag.
Then use white jimmie sprinkles, or any other white sprinkle you have, to make two rows on the sash.
I found I could pipe out three at a time before the chocolate would set too much for the sprinkles to stick.
And for best results, you want the two sprinkles that are side by side to be of similar length so that they look uniform all the way down.
Having a hard time putting them in place? Try using tweezers, or something like a toothpick to help adjust their placement.
I did try to use some candy eyes, and let's just say it did not go well. It made Chewbacca look like he was part zombie. So I would recommend skipping those.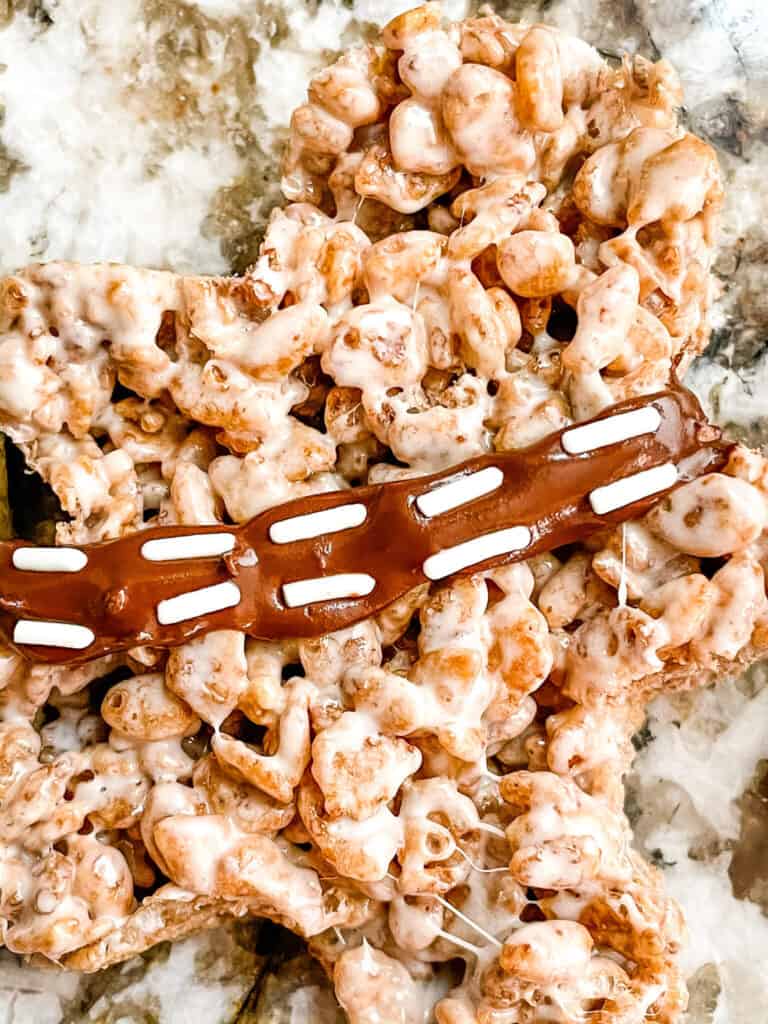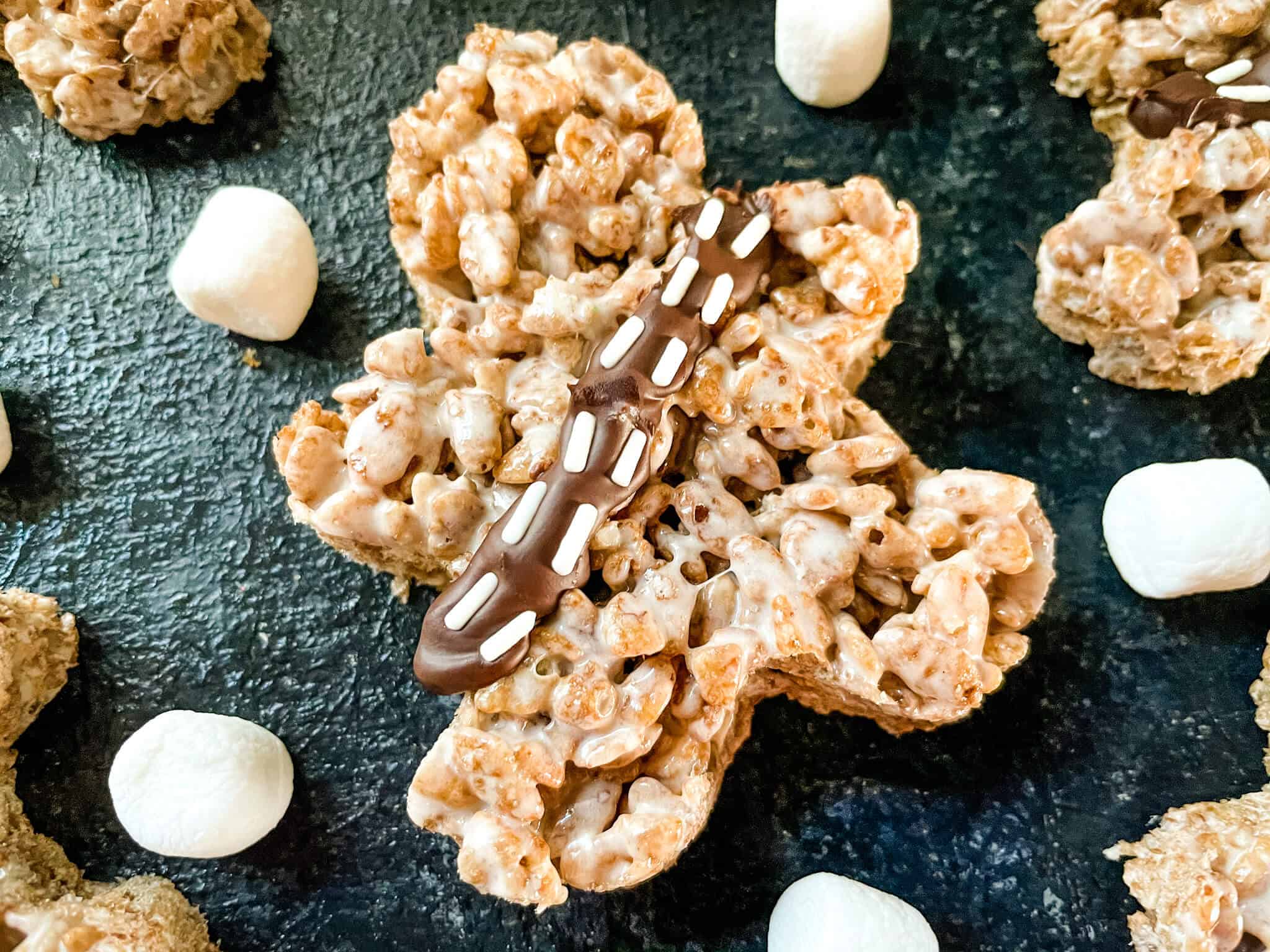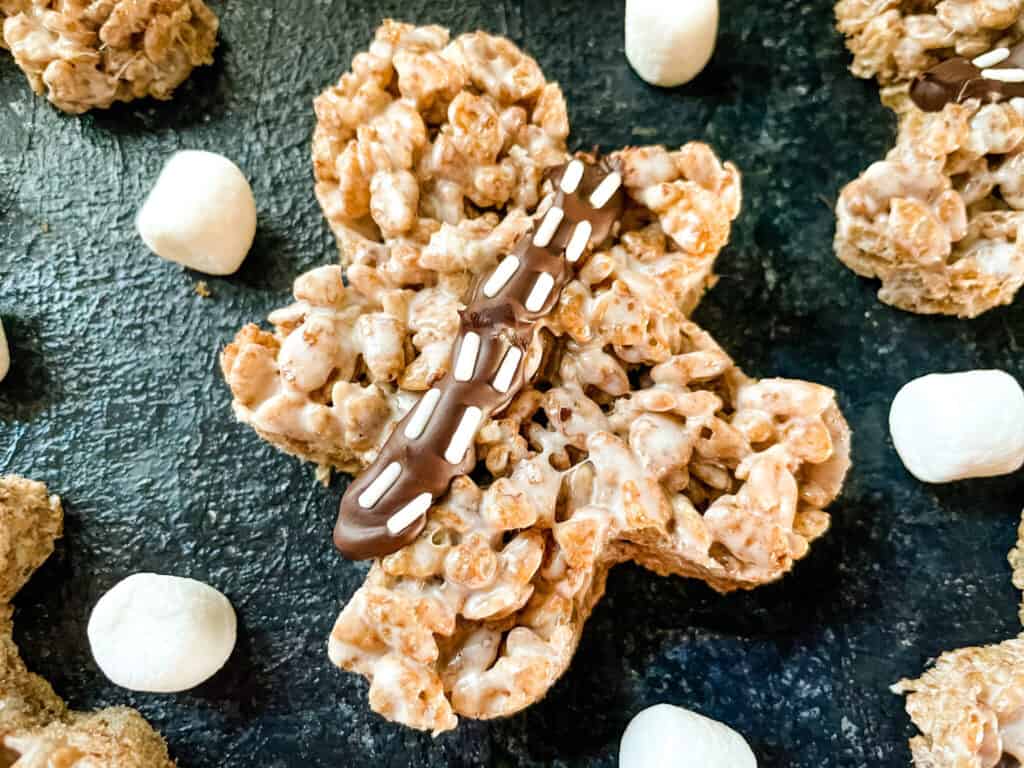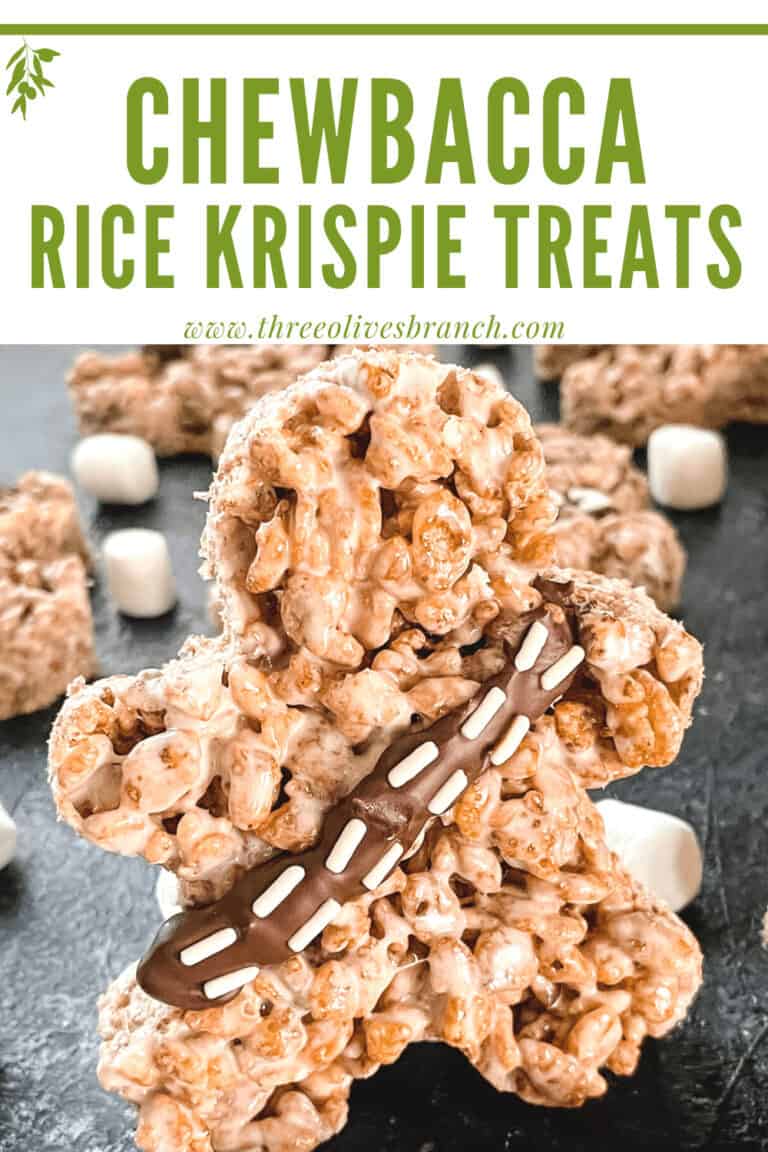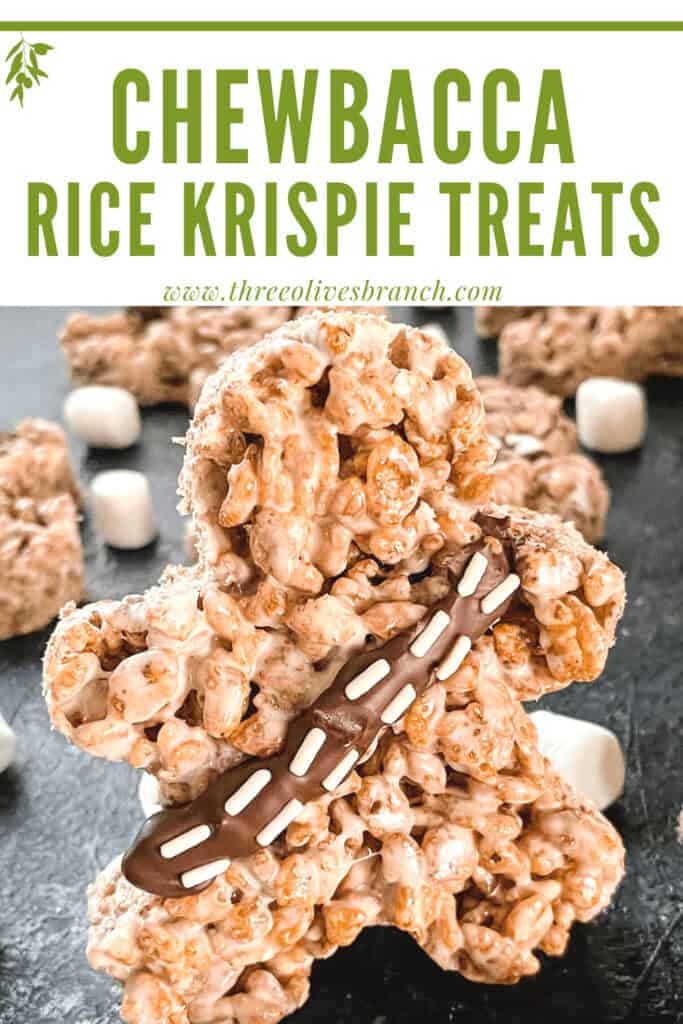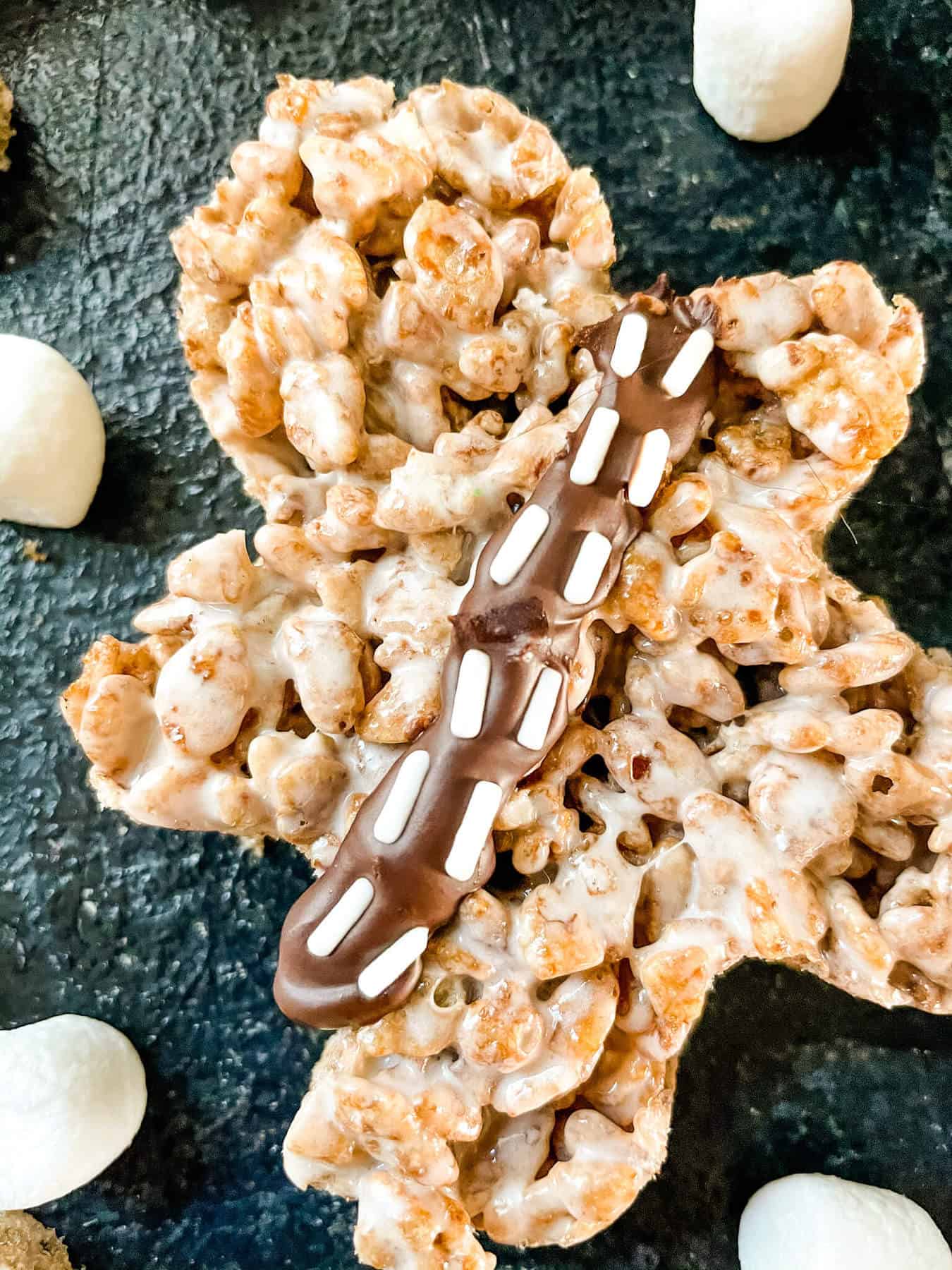 Instructions
Heat a large and deep skillet or medium to large pot over low heat.

Add the butter and heat until melted.

Add the marshmallows and stir occasionally until the marshmallows are melted, approximately 5 minutes.

Remove the pot from the heat. Add the rice cereal and stir to incorporate.

Pour the rice mixture onto a large baking sheet that is lined with a silicone baking mat or parchment paper, and sprayed with nonstick spray.

Use your hands to press the mixture across the baking sheet in an even layer, all the way to the edges and corners.

Let sit until the marshmallow stiffens.

Cut the treats either into rectangles (6 across and 3 pieces tall) or with a gingerbread man cookie cutter.

Melt the chocolate chips in a resealable bag in 30 second intervals until melted.

Cut a tip off the corner of the bag. Squeeze the bag and make the sashes on the treats (top right shoulder to bottom left).

Gently take the white long sprinkles and place them in two rows down each edge of the sash.

Repeat with remaining treats. Store in an airtight container for up to 4 days.
Notes
I like to use the

white long jimmie sprinkles

, but you can use any shape white sprinkles.
9 cups of the rice cereal is approximately one 15.5 ounce box.
I like the treats to be softer, which means more marshmallow. If you want the treats firmer with little marshmallow, reduce butter to 4 Tablespoons and marshmallow to 6 cups.
Nutrition
Serving:

1

treat

|

Calories:

173

kcal

|

Carbohydrates:

32

g

|

Protein:

2

g

|

Fat:

5

g

|

Saturated Fat:

3

g

|

Trans Fat:

1

g

|

Cholesterol:

9

mg

|

Sodium:

122

mg

|

Potassium:

19

mg

|

Fiber:

1

g

|

Sugar:

17

g

|

Vitamin A:

1040

IU

|

Vitamin C:

9

mg

|

Calcium:

8

mg

|

Iron:

4

mg

By