Baby Yoda Deviled Eggs are a fun vegetarian, gluten free, and keto low carb recipe for watching your favorite Star Wars movie or TV. A fun fandom recipe. #starwars #babyyoda #deviledeggs

These Baby Yoda Deviled Eggs are an adorable appetizer, snack, or lunch! We like to make them when we watch Star Wars!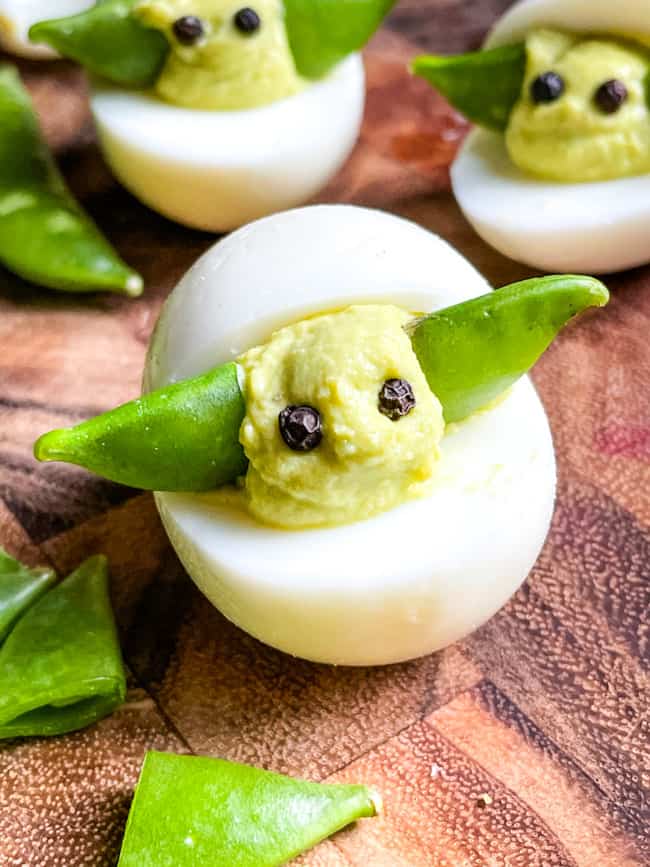 Baby Yoda has been all the craze, and I knew I needed to make these Baby Yoda Deviled Eggs!
These deviled eggs are pretty darn cute and were a big hit among Star Wars lovers!
And I served them up on a Star Wars cutting board to make them extra festive.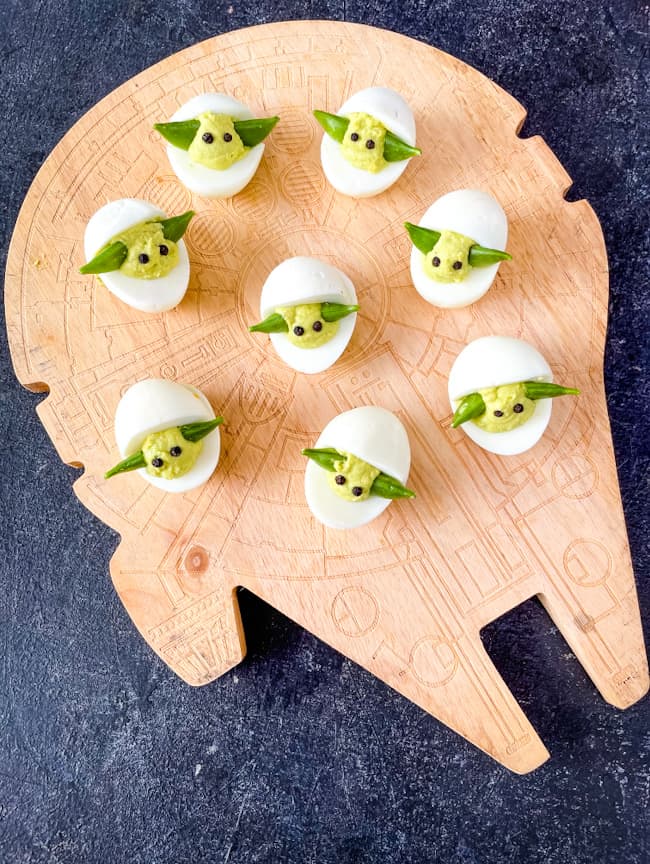 Hard-boiling Eggs
So there are a lot of tricks out there about how to best cook and peel eggs.
I have tried so many of them. And none of them seem to work.
If you have a way that works for you, great!
But my trick, when I want the eggs to look extra perfect, is to buy the eggs already boiled and peeled. You can find them with the other eggs at the store.
Whatever their process is, is what I want to know!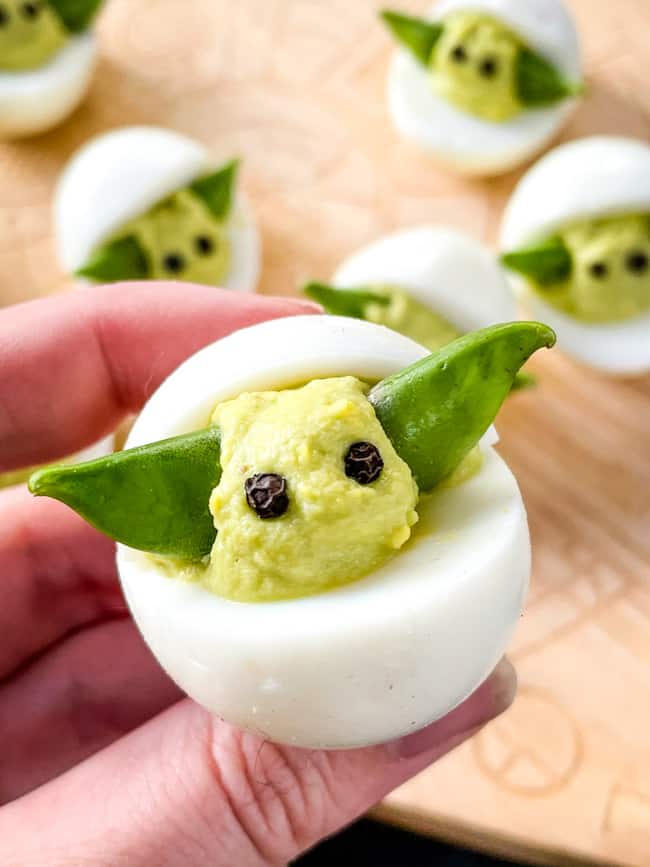 Turning the Egg Mixture Green
I use avocado to make the egg yolk mixture green, which also cuts back significantly on the mayonnaise since it adds creaminess to the eggs.
The green is very much a pale green that is very similar to the desired color.
You could choose to add green food dye to any deviled egg recipe instead, however be very stingy with it at first so you do not end up with a deep green Yoda!
Assembling the Deviled Eggs
After you cut the eggs in half lengthwise and remove the yolks, you want to cut 4 halves again to make the tops of the dome.
I cut them where the yolk gap is part of both halves so that each piece that you use has a little home for the head to fit into.
Then as you fill the bottom full egg halves with the green filling, you go a step further and make a mound shape on top to act as the head.
Use your finger to press any points down or the green into a rough round shape.
Decorating the Eggs
There are a few options for decorating these Baby Yoda Deviled Eggs.
Eyes: Whole peppercorns are the easiest, and round, options. I do let my guests know that they are peppercorns in case they want to remove them before eating, since the flavor will be strong.
Another great option for the eyes is cutting up a black olive into little pieces.
Ears: I used sugar snap peas and cut off the pointed ends. Then I matched up two that looked similar in size and shape to press into the sides of the head.
Green beans work, but are a little thin (not as flat and wide). You could also cut up a green pepper or celery into triangle shapes.
It is difficult to find the perfect shade of green, so go with what you are comfortable with.
Attach the ears by gently pressing the cut ends of the peas into the sides of the head and adjust as needed to get the angle you want.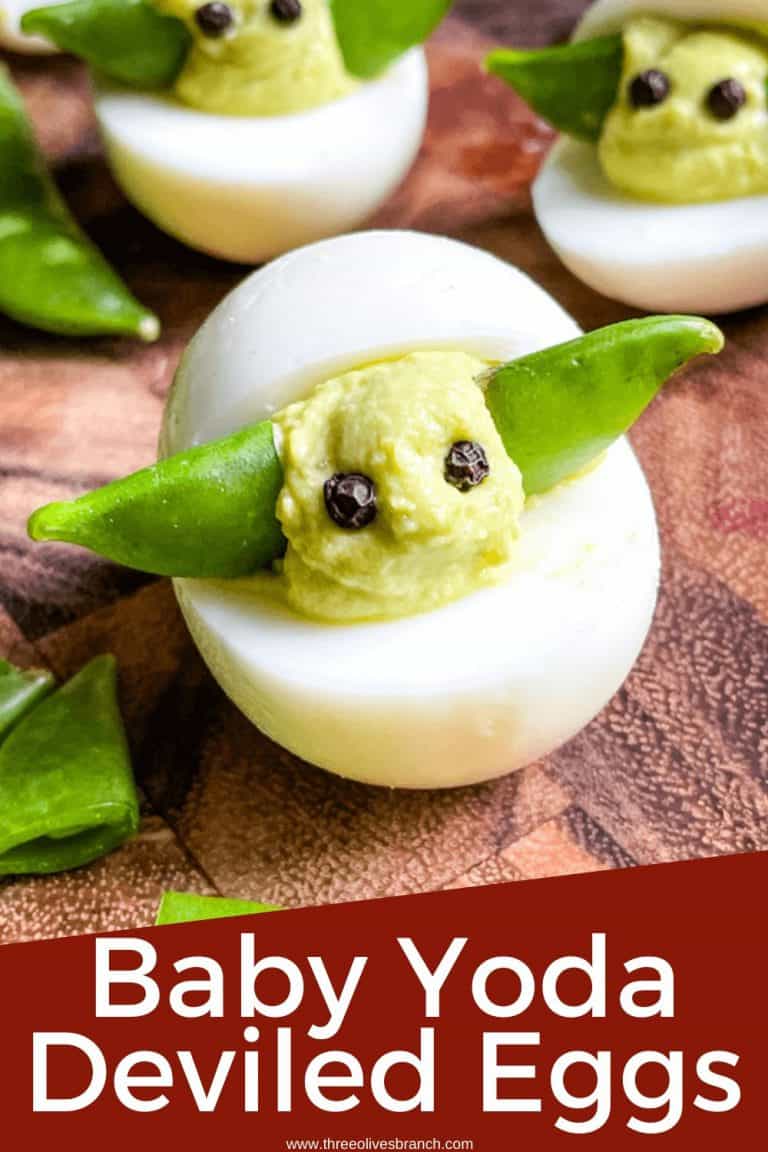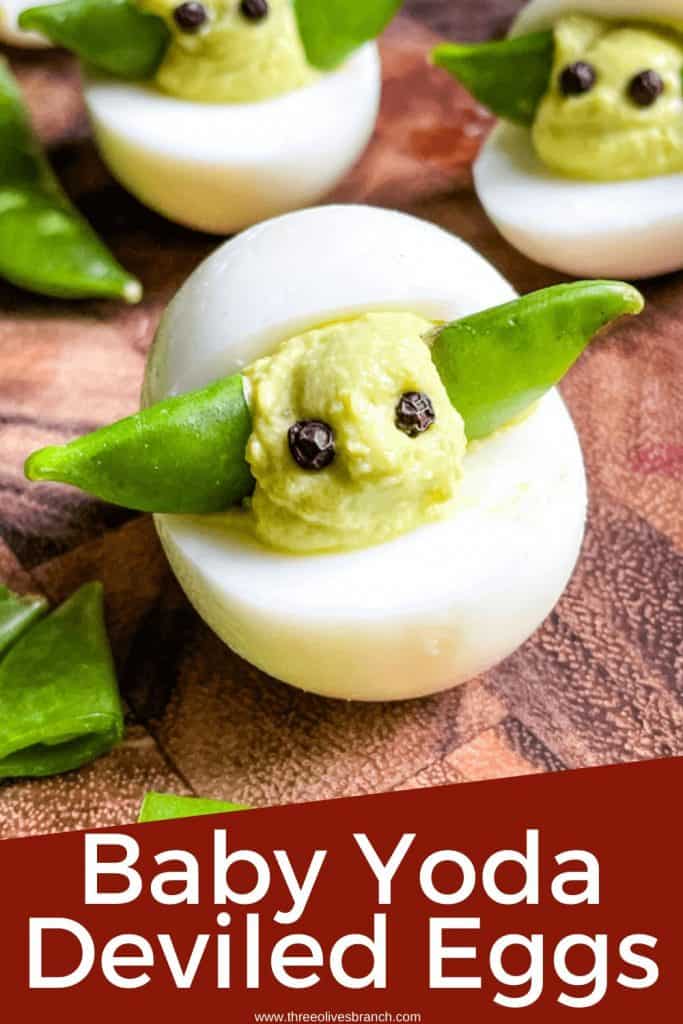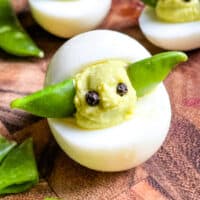 Baby Yoda Deviled Eggs
Baby Yoda Deviled Eggs are a fun vegetarian, gluten free, and keto low carb recipe for watching your favorite Star Wars movie or TV. A fun fandom recipe. #starwars #babyyoda #deviledeggs
Print
Pin
Rate
Ingredients
1/2

avocado

1

Tablespoon

mayonnaise

or plain Greek yogurt

1/2

teaspoon

yellow mustard

2

dashes

hot sauce

(more or less to taste, optional)

salt

to taste as needed

16

sugar snap peas

16

black peppercorns

(or cut up black olives into little pieces)
Instructions
Cook and peel your eggs if they are not already. Cut the hard boiled eggs in half lengthwise. Scoop the cooked yolks out and put in a small bowl. Set the whites aside.

Add the avocado, mayonnaise, mustard, hot sauce, and a pinch of sauce to a bowl with the egg yolks. Mash the yolks to your desired consistency and mix all of the ingredients together. Season to taste.

Cut four of the egg white pieces in half approximately 1/4 to 1/3 of the way into the egg yolk cavity. These pieces will make the tops of the eggs. (See picture).

Fill the intact egg white halves with the yolk mixture until level. Then make a mound to represent the head.

Place a egg white quarter on top to create the top dome.

Gently press two snap pea ends into the sides of the head, and two peppercorns on front to create the eyes.

Repeat with all ingredients to make the rest of the deviled eggs.

Chill until ready to serve.
Notes
You will not use all of the sugar snap peas. Just cut off the ends of the peas that you like the shape of for the ears.
Peppercorns are strong, so a great alternative is cutting a black olive into small pieces.
You can also use green beans, bell pepper, or celery cut up for the ears as desired.
If needed, you can make the egg yolk mixture a darker green by adding a very small amount of green food coloring at a time.
If you make these in advance (the day before), the avocado could oxidize and start to turn the Yodas a little brown. You can try to prevent this by squeezing some lemon juice into the yolk mixture. I recommend just making these when you are ready to serve.
Nutrition
Serving:

1

egg

|

Calories:

91

kcal

|

Carbohydrates:

2

g

|

Protein:

5

g

|

Fat:

7

g

|

Saturated Fat:

2

g

|

Trans Fat:

1

g

|

Cholesterol:

141

mg

|

Sodium:

63

mg

|

Potassium:

113

mg

|

Fiber:

1

g

|

Sugar:

1

g

|

Vitamin A:

221

IU

|

Vitamin C:

2

mg

|

Calcium:

22

mg

|

Iron:

1

mg

By