A tasty fall inspired pumpkin bread flavored with pumpkin spice, dried cranberries, and walnuts.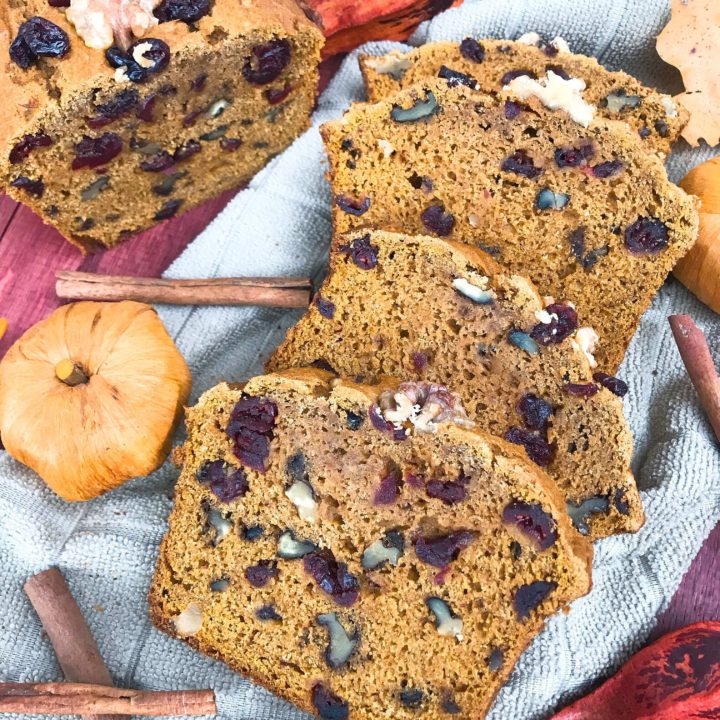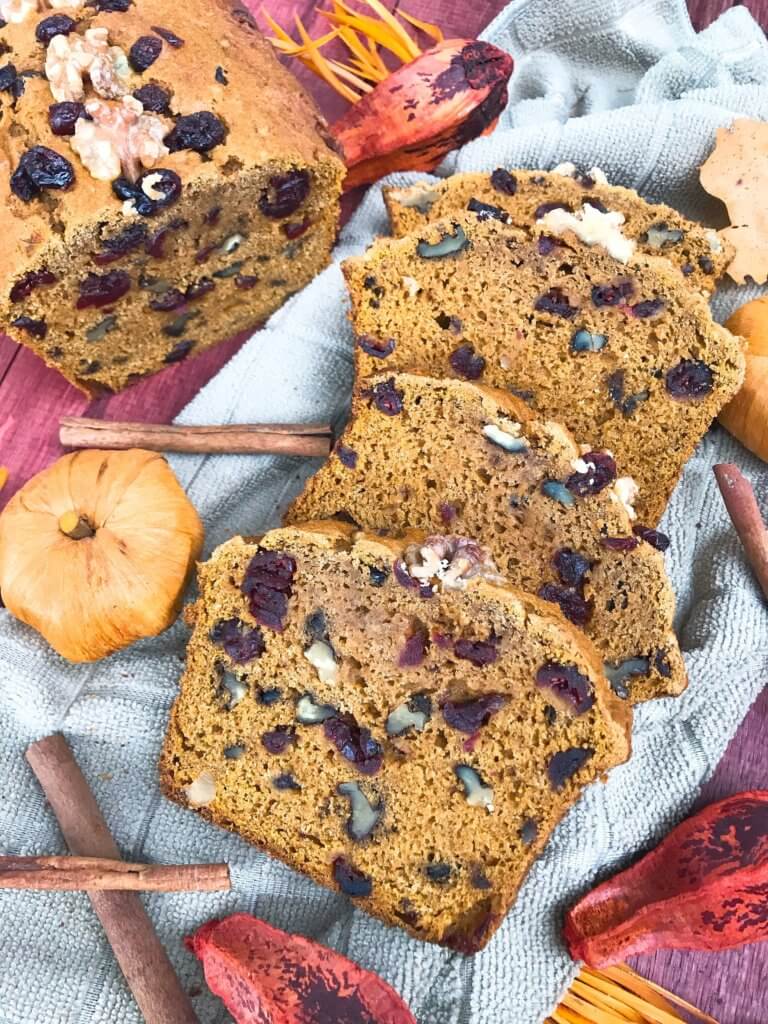 This Cranberry Walnut Pumpkin Spice Bread is simple to make and a great way to welcome the fall season!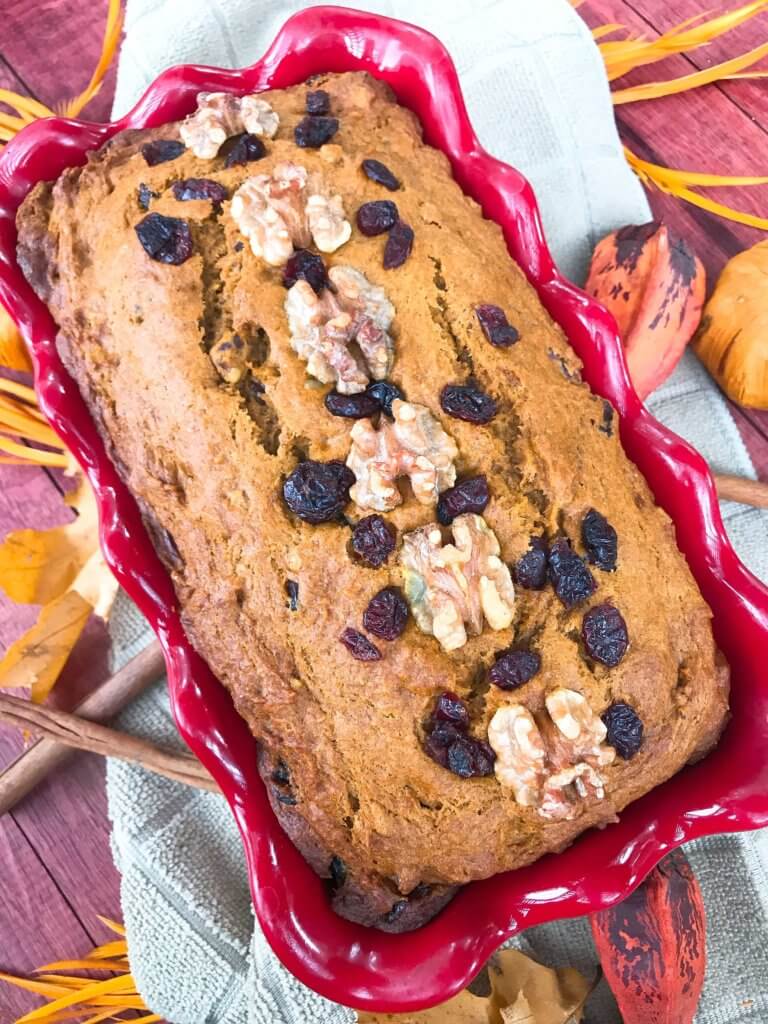 This post contains affiliate links.
Fall is my absolute favorite season!  And the arrival of fall means that pumpkin-spice-everything is everywhere.  I shared my quick and simple recipe for how to make your own pumpkin spice, and a friend asked for a pumpkin bread, so I got to it!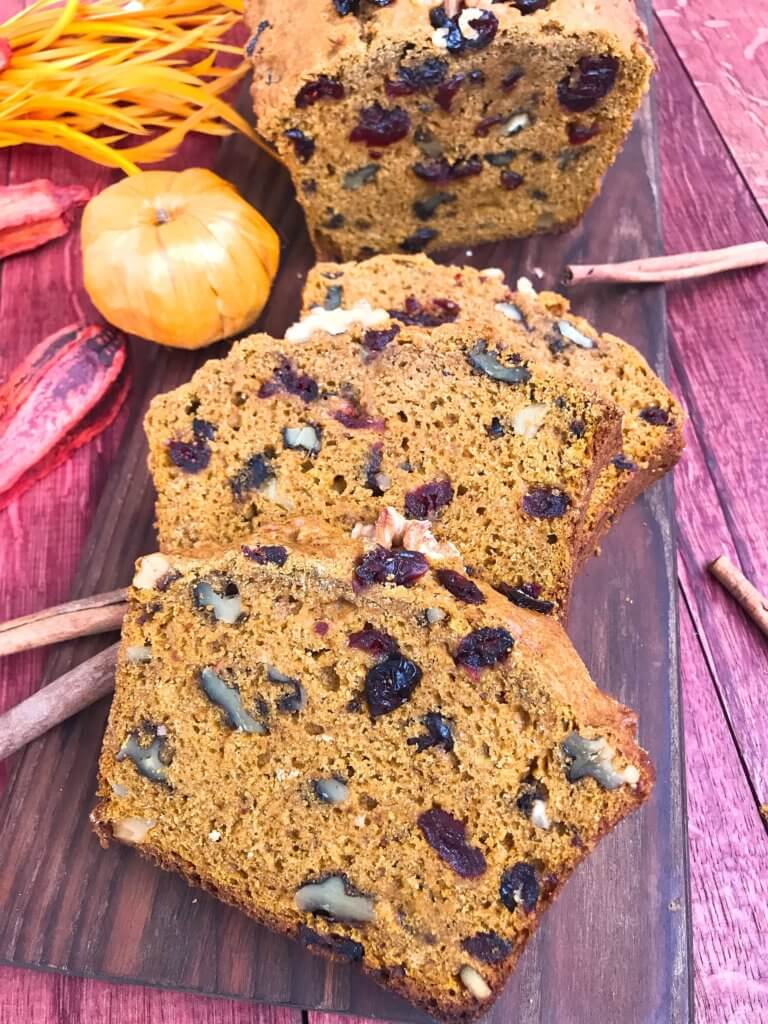 I am a lover of cranberries and thought that a pumpkin bread with dried cranberries would be a fun new way to eat a classic bread.  The walnuts are completely optional, but I find they provide a great texture to the bread.  This Cranberry Walnut Pumpkin Spice Bread is very simple and quick to make, it just has an hour long baking time.  While in the oven, the smell from the bread makes your entire house smell like fall which makes me so happy!  And because this bread is so simple, it makes a great gift.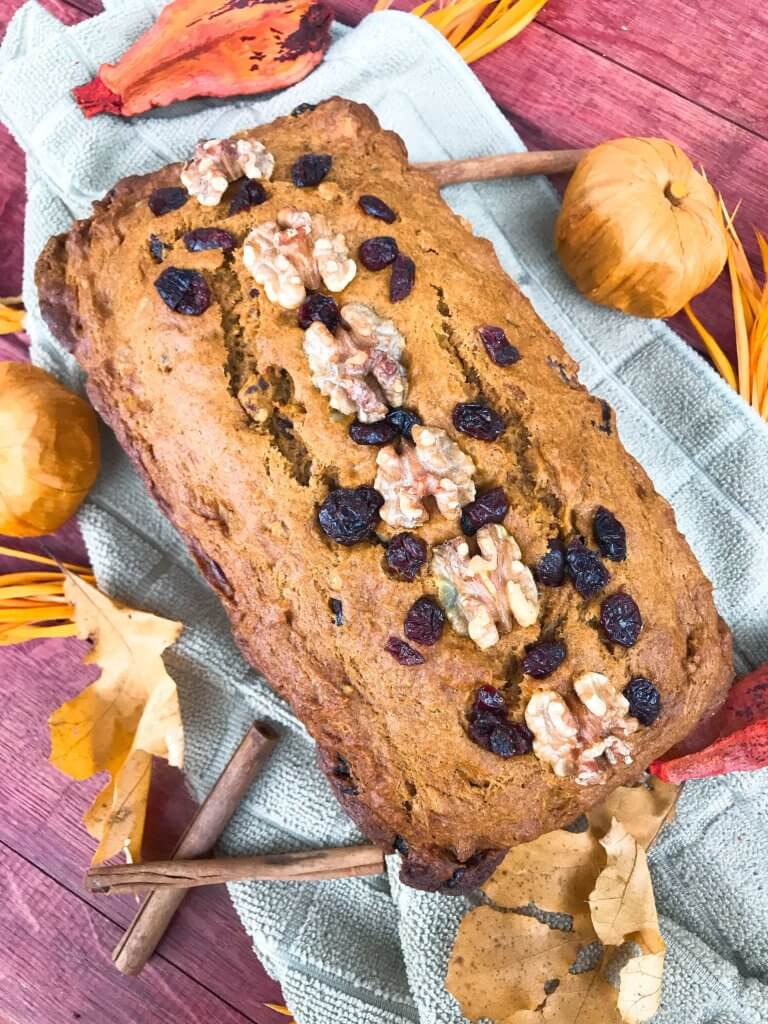 I must admit, I got all giddy when I sliced into the bread and saw the chunks of walnuts and dried cranberries scattered throughout.  If a bread is going to have mix-ins, there should be a lot of them!  And it makes the bread look so pretty, too.  I like to put some extra ingredients on top, in this case walnuts and cranberries, so it is instantly recognizable as to what is in the bread.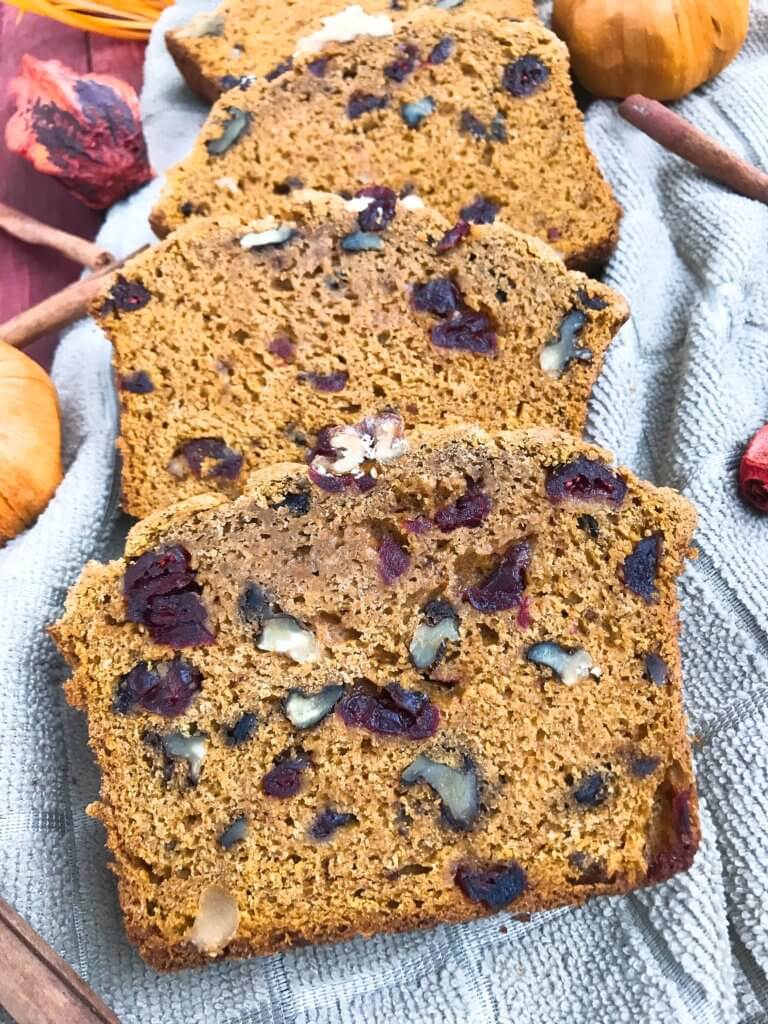 Find more of our pumpkin spice inspired recipes here!
Learn how to make your own pumpkin spice blend here!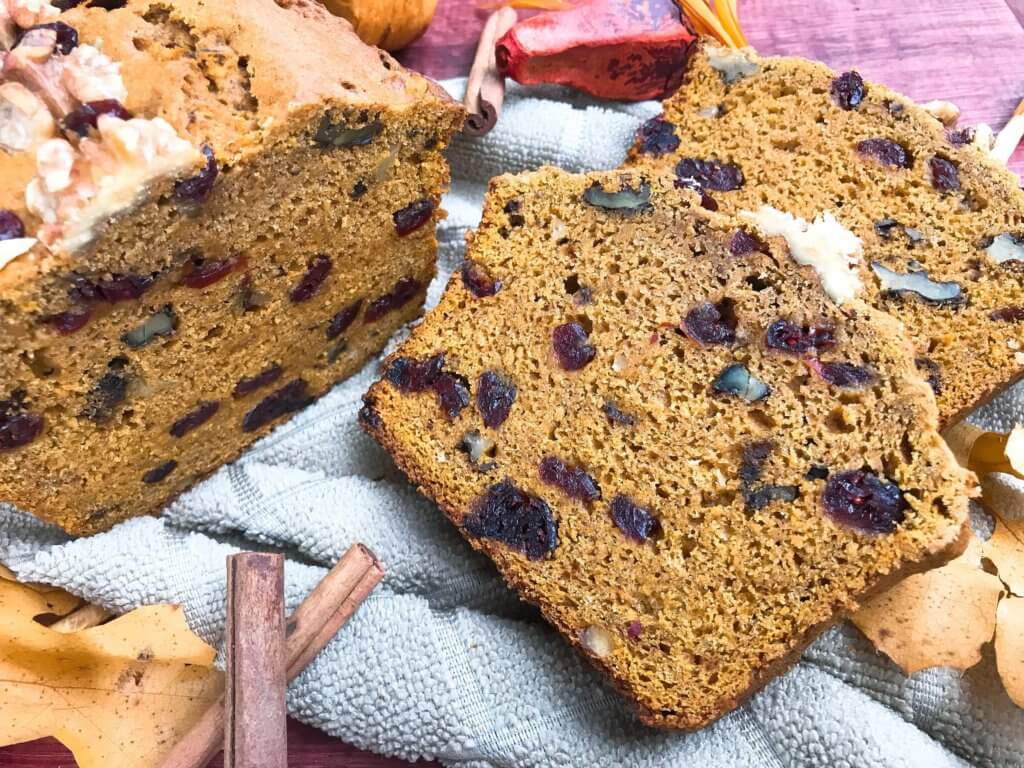 https://www.threeolivesbranch.com/recipe/how-to-make-pumpkin-spice/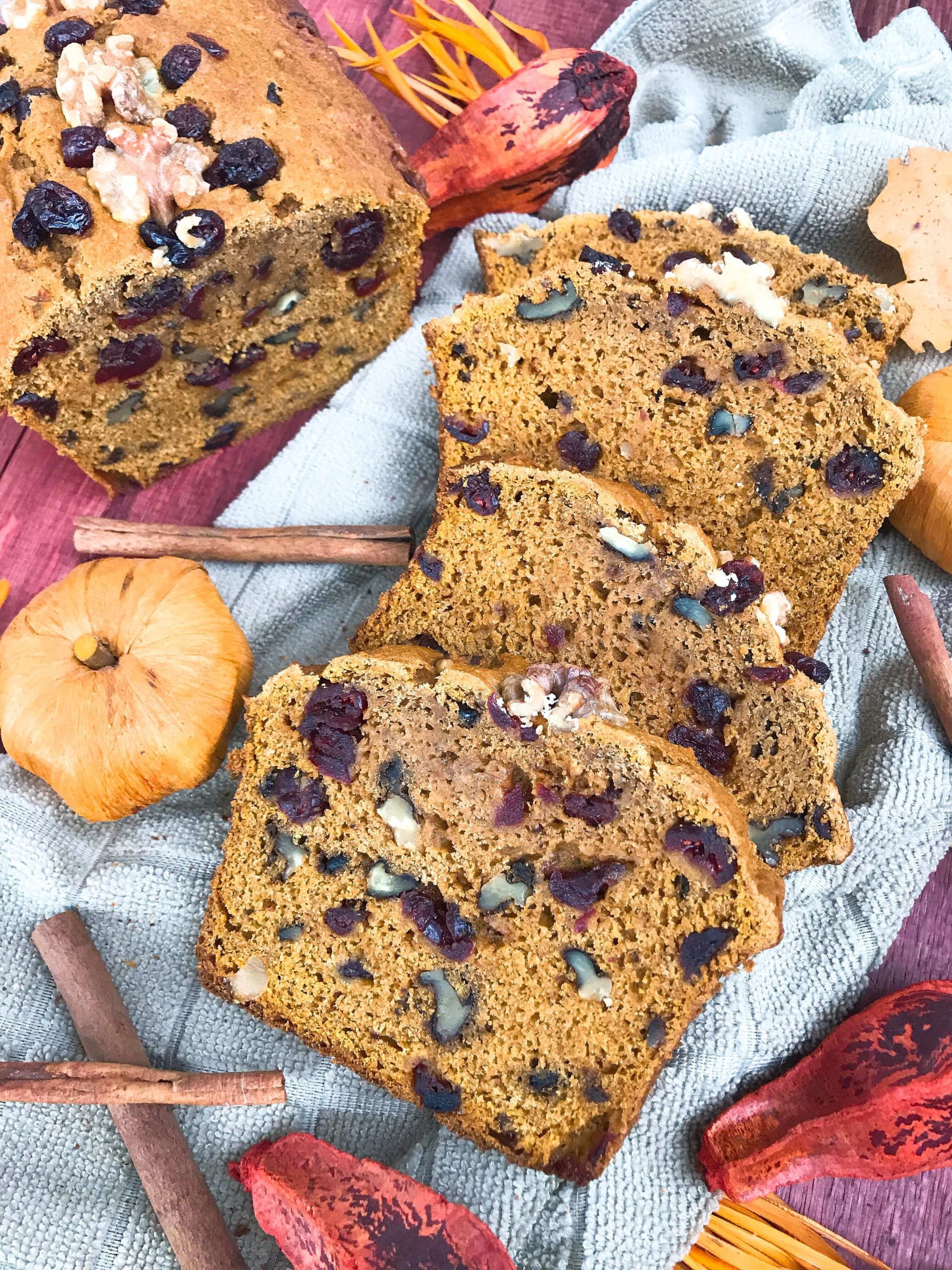 Servings:
9
one-inch slices
Instructions
Preheat oven to 350 with your rack in the lower-middle position.

Whisk together the flour, baking soda, baking powder, pumpkin spice, and salt in a large bowl. Add the walnuts and cranberries and mix to incorporate.

In a medium bowl, whisk together the pumpkin, sugar, butter, eggs, and vanilla. Whisk together.

Add the pump;kin mixture into the dry ingredients and gently mix until just incorporated. The batter will be very thick.

Spray a 9x5 loaf pan generously with vegetable oil spray.

Pour the batter into the loaf pan. Tap on the counter to release air bubbles and smooth the top with a spatula. Add some walnuts and dried cranberries to the top if desired.

Bake at 350F until a toothpick inserted in the middle comes out clean with a few crumbs, approximately 50-60 minutes.

Let the bread cool in the loaf pan for 10 minutes. Dump out the bread (it should come out easily from the spray) and let the bread cool on a wire rack for one hour.
Notes
The walnuts are completely optional, but I find they bring a great texture to the bread.  You can also use other nuts like pecans.  If you do not add nuts, increase the dried cranberries to 2 cups.

Learn how to make your own pumpkin spice blend here!

Ceramic and porcelain loaf pans can take a little longer than metal pans to bake.  You can also bake this in round or rectangular cake pans however the cooking time will be much faster since it is thinner.

By