Cranberry Walnut Zucchini Bread is a simple bread filled with shredded courgette zucchini squash, dried cranberries, and chopped walnuts. A warm, spiced bread, this recipe is great as a snack or toasted with some butter. Vegetarian bread recipe.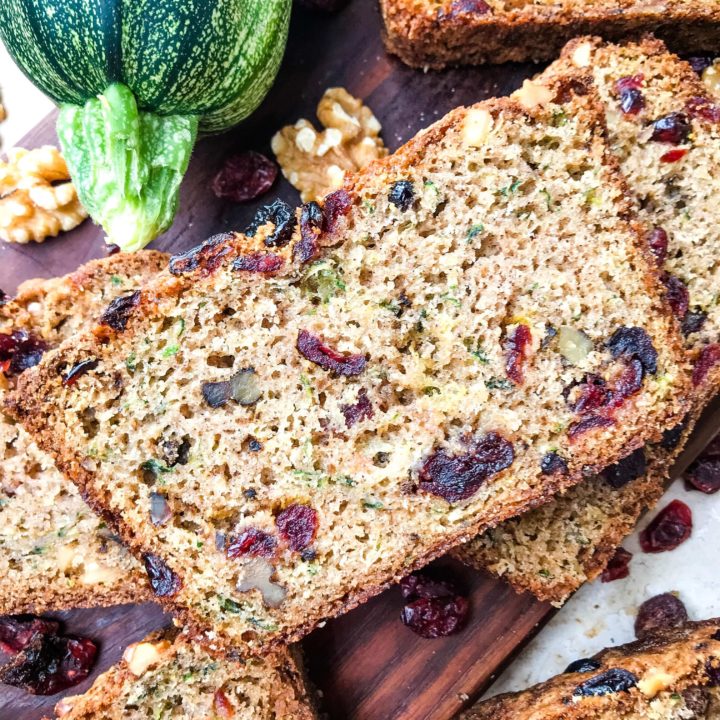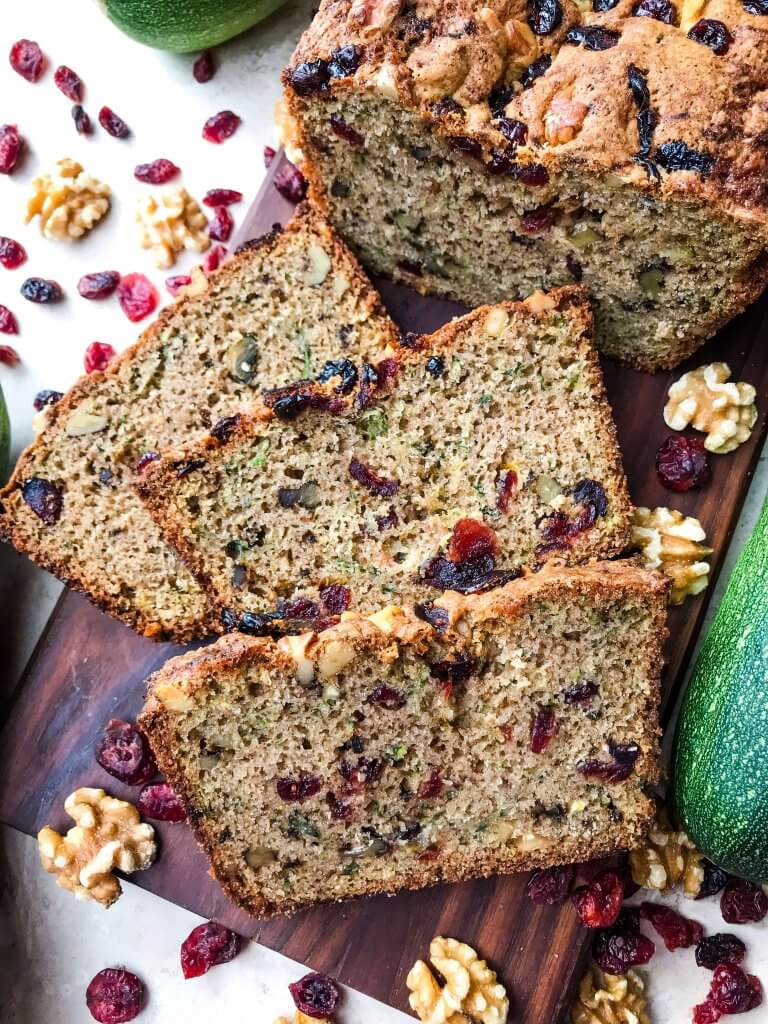 Cranberry Walnut Zucchini Bread is a warm, delicious bread filled with lots of mix ins. Easy to make!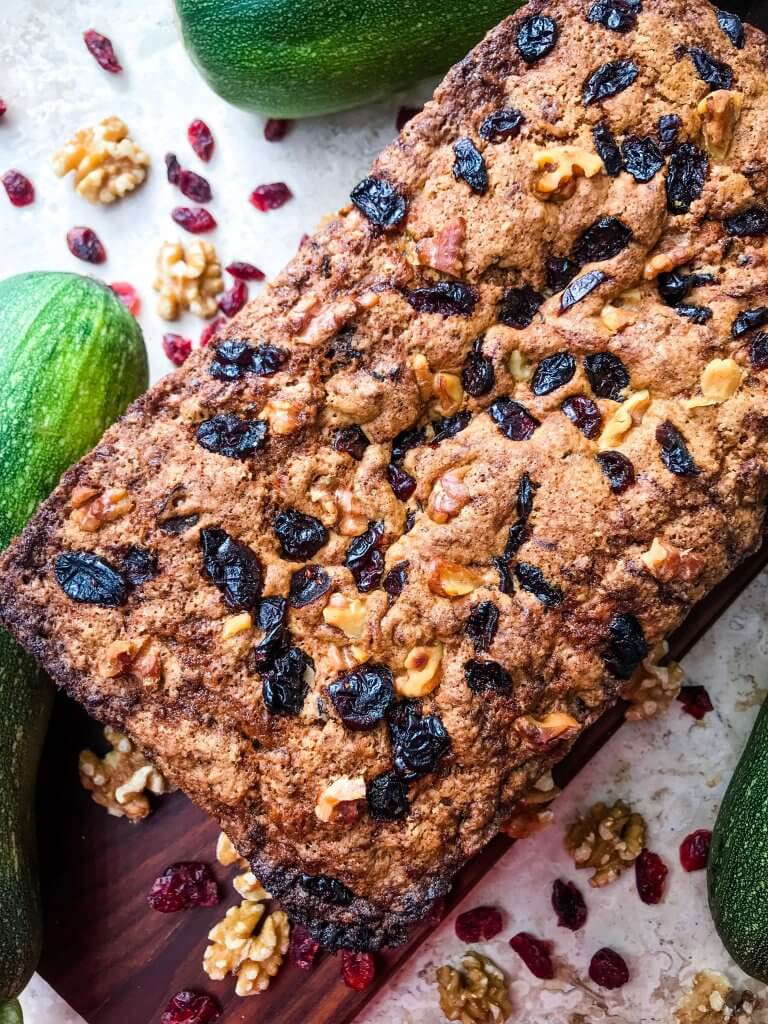 This post contains affiliate links.
I like to grow zucchini in my garden every year, and it always produces a lot! So when I have a bumper crop, and I am pulling 10-15 pounds out of the garden in a week, this is one of the first things I make. (I also love to make Three Cheese Zucchini Parmesan!) You can find more zucchini recipes here!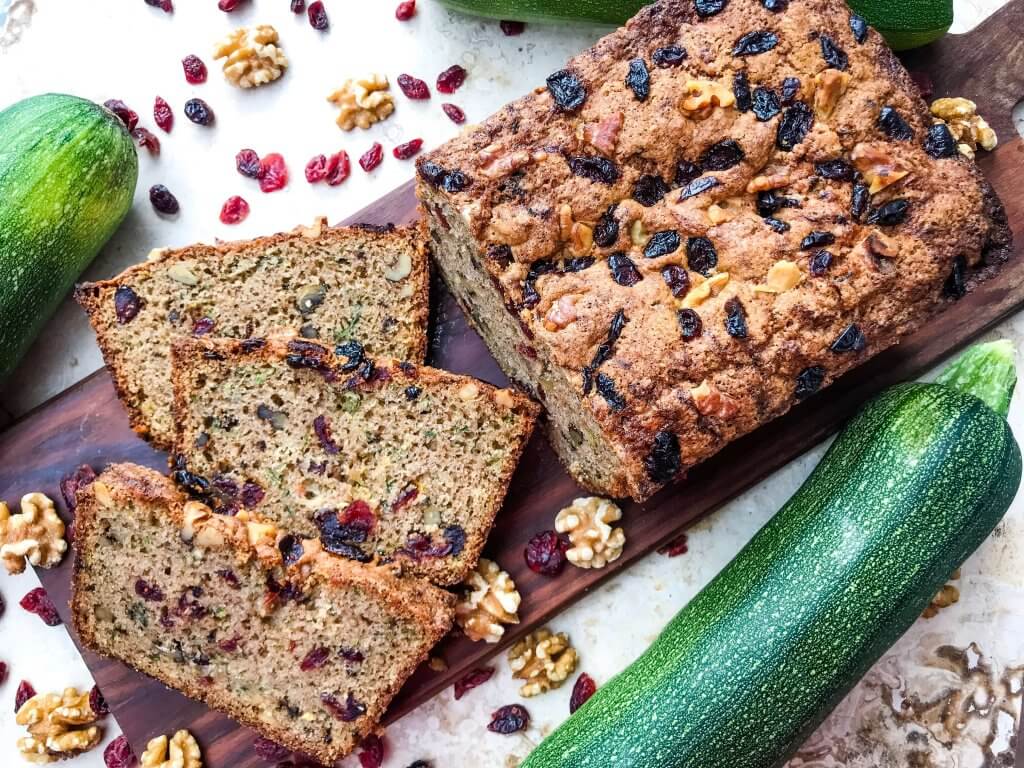 I am a huge fan of mix ins in things like bread because it provides texture and bursts of flavor. This Cranberry Walnut Zucchini Bread gets a little crunch from the walnuts and some juicy, tangy spots from the dried cranberries. The zucchini is also shredded so you have a little texture running throughout the bread as well. And I just love the streaks of green from the shredded courgette zucchini running through the bread, it is so pretty! I have always made this as a loaf, but you could easily make little muffins or a flat loaf in a cake pan as well!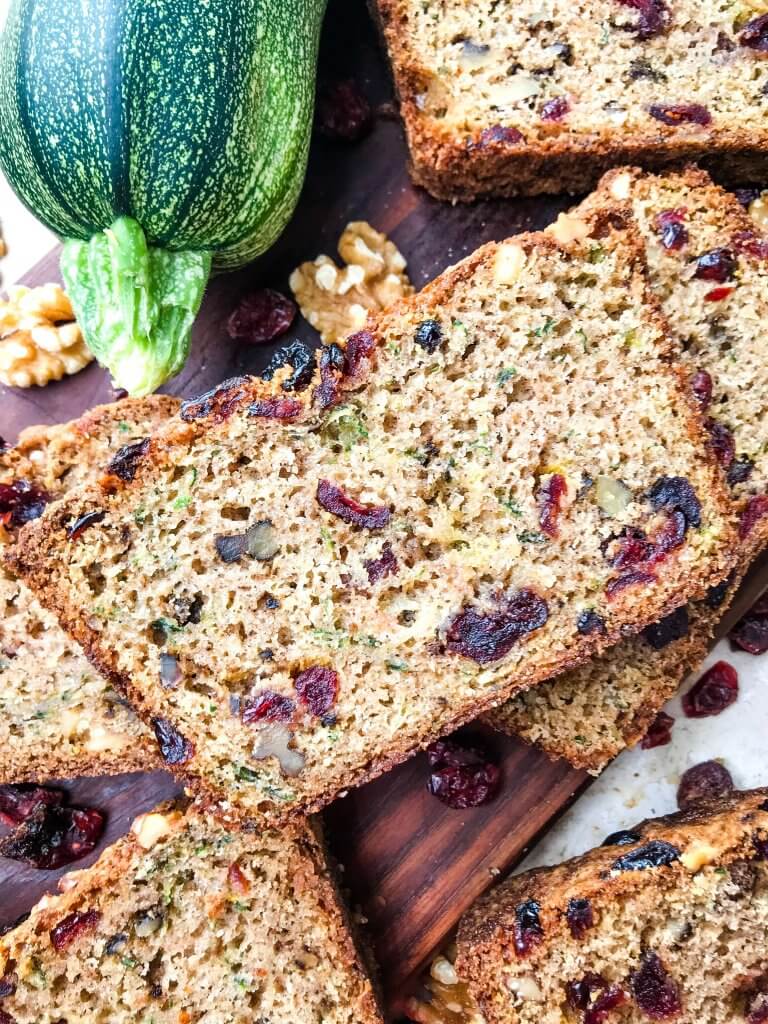 Cranberry Walnut Zucchini Bread make a great appetizer, just served up in wedges. It is also a great snack to have on hand and could even be toasted and buttered.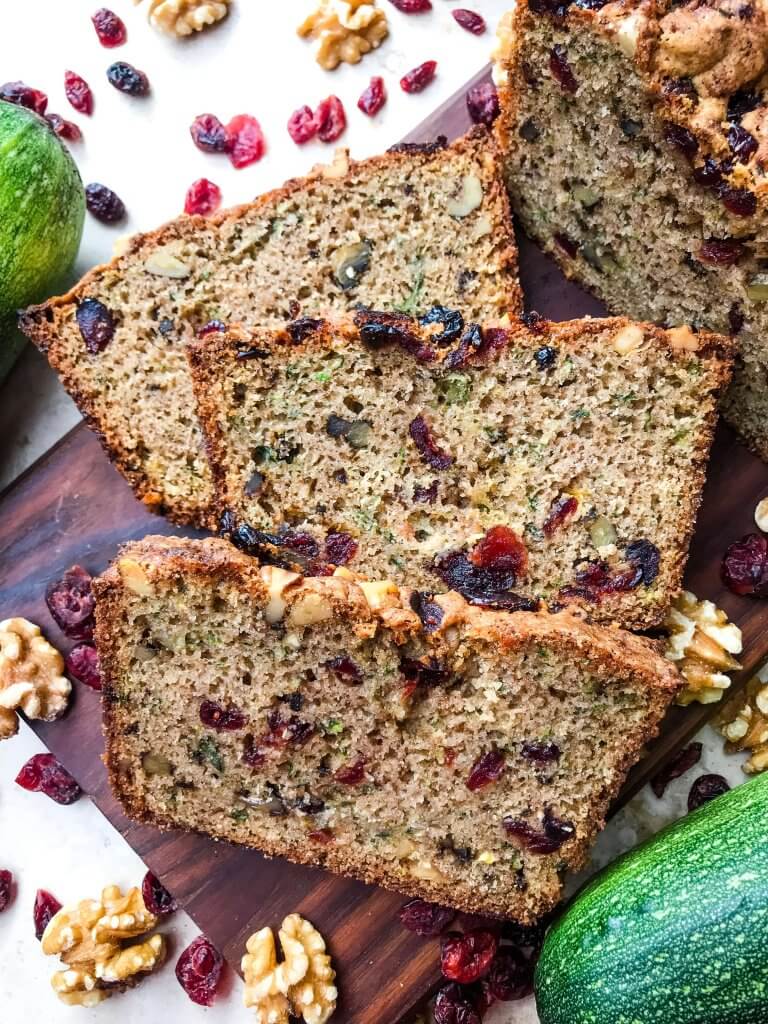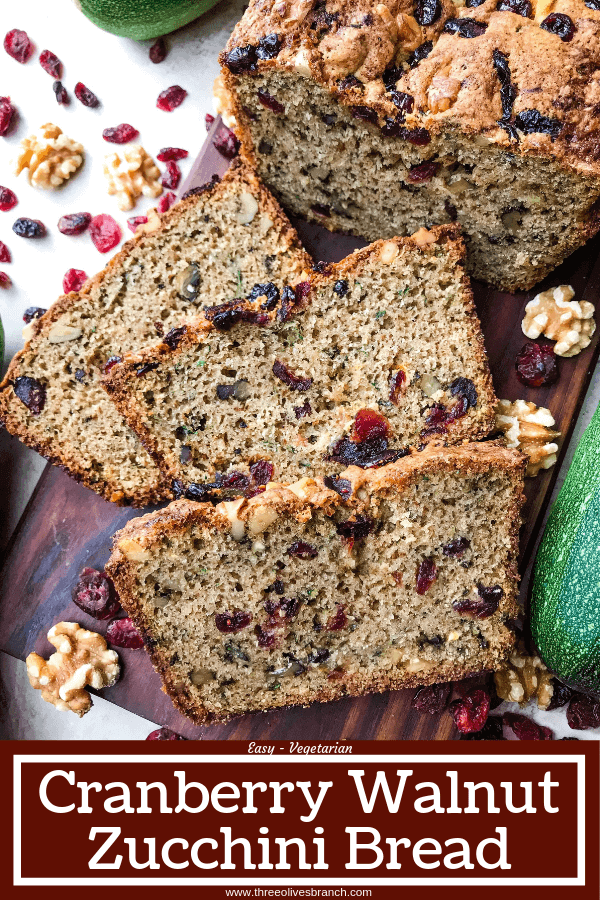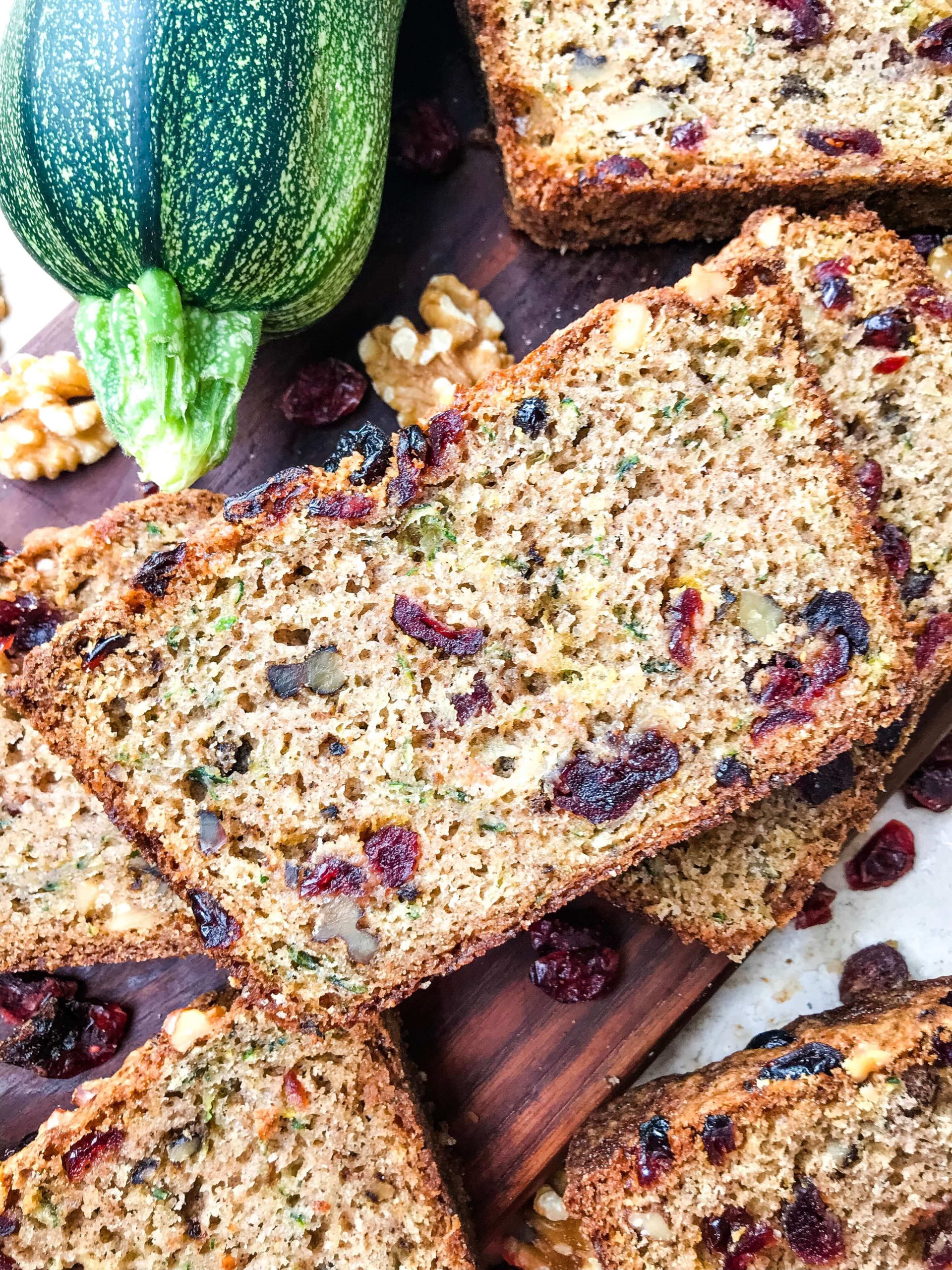 Instructions
Preheat oven to 375F with the rack in the middle position.

Remove the stems from the zucchini and shred on a large hole grater. Let the zucchini strain in a sieve or place between clean towels and squeeze extra moisture out of the zucchini.

In a large bowl, whisk together the flour, baking soda, baking powder, cinnamon, allspice, salt, dried cranberries, and chopped walnuts.

In a medium bowl, whisk together the sugar, melted butter, eggs, yogurt, and lemon juice.

Add the egg mixture and zucchini to the flour mixture. Fold until the ingredients are just combined. You will have a very thick batter.

Spray a bread loaf baking pan generously with nonstick spray. Scoop the batter into the pan and level out the top. If desired, add a few more cranberries and chopped walnuts to the top.

Bake for approximately 1 hour until a toothpick inserted in the center is clean of dough and has just a few crumbs.

When done, remove the bread from the oven and let cool in the pan for 10 minutes. Remove the bread from the pan and finish cooling on a rack for one hour.
Notes
This would also be great with pecans instead of walnuts!
It is very important to remove the moisture from the zucchini, otherwise it will end up in your bread.
Nutrition
Calories:

363

kcal

|

Carbohydrates:

60

g

|

Protein:

6

g

|

Fat:

12

g

|

Saturated Fat:

5

g

|

Cholesterol:

61

mg

|

Sodium:

310

mg

|

Potassium:

240

mg

|

Fiber:

2

g

|

Sugar:

38

g

|

Vitamin A:

368

IU

|

Vitamin C:

9

mg

|

Calcium:

54

mg

|

Iron:

2

mg

By