A simple Greek marinade for grilled chicken kabobs. Gluten free and keto low carb.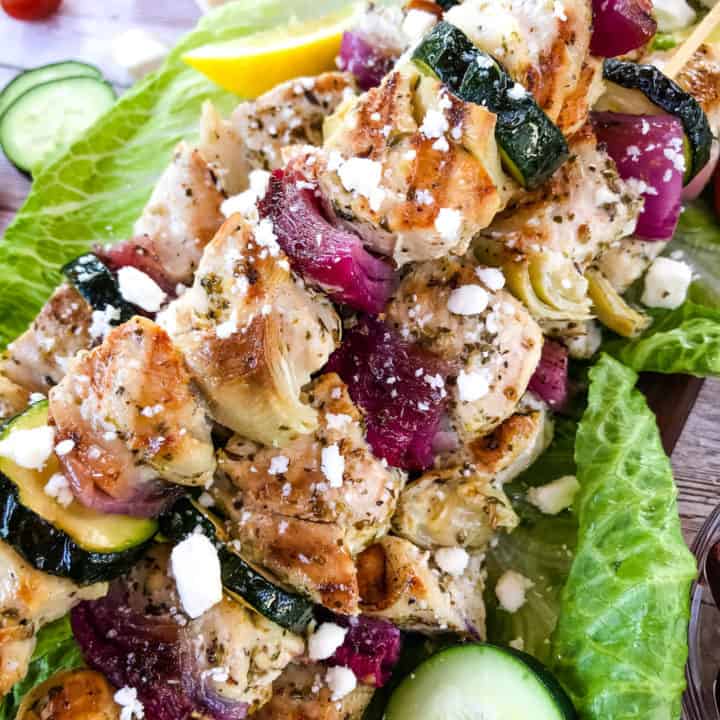 This post has been compensated by Inmar Intelligence and its advertiser. All opinions are mine alone. #MyMazolaMarinade
These Fresh and Light Grilled Greek Chicken Skewers are a perfect light option for summer grilling! A simple marinade with Mazola® Corn Oil as the base is full of Greek flavors. A clinical study showed Mazola Corn Oil reduces cholesterol 2x more than extra virgin olive oil. To learn more about this claim, visit Mazola.com.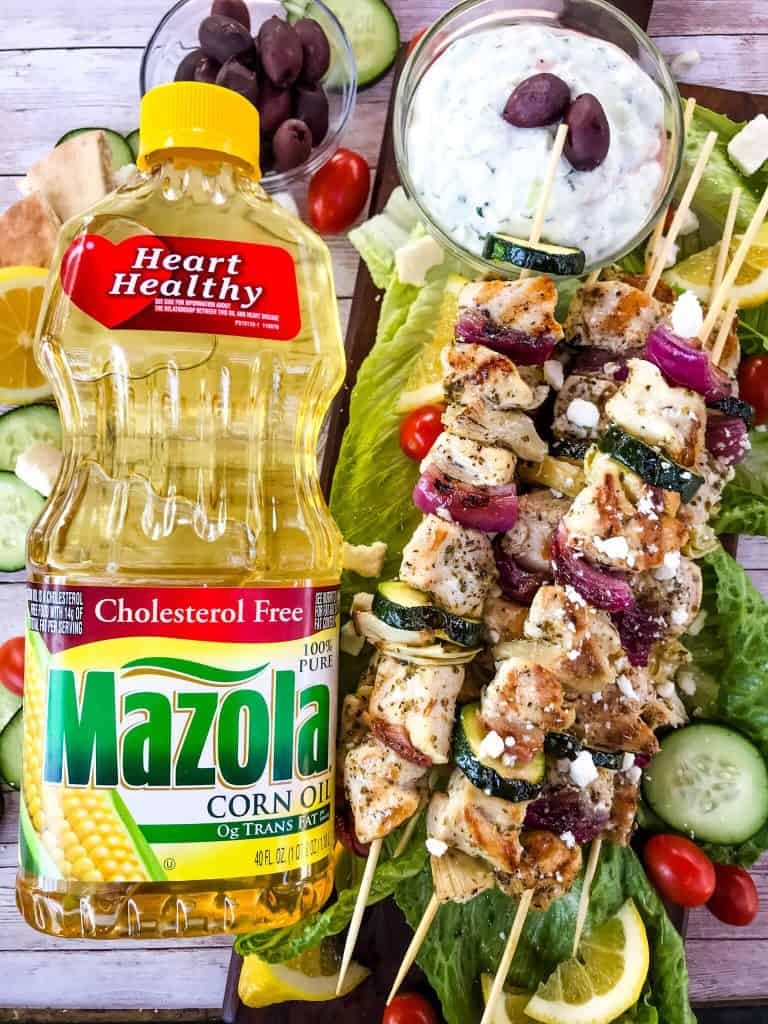 This post contains affiliate links.
I was inspired to make these Greek chicken kabobs by the fresh flavors of Greek ingredients. The combination of lemon, oregano, tomatoes, feta, olives, and cucumber are just perfect. I visited Greece once and feel in love with these ingredients. They really were everywhere! And a great part about these skewers is they are flexible for what you have or what you can find! The ingredients you put on the skewer itself can change, just make sure they are hardy enough to hold up to the flame! And the sides that are served with it are versatile as well. I love using a tzatziki sauce like ours to really emphasize the Greek inspiration!
Find more of our chicken recipes here and our grilling and BBQ recipes here!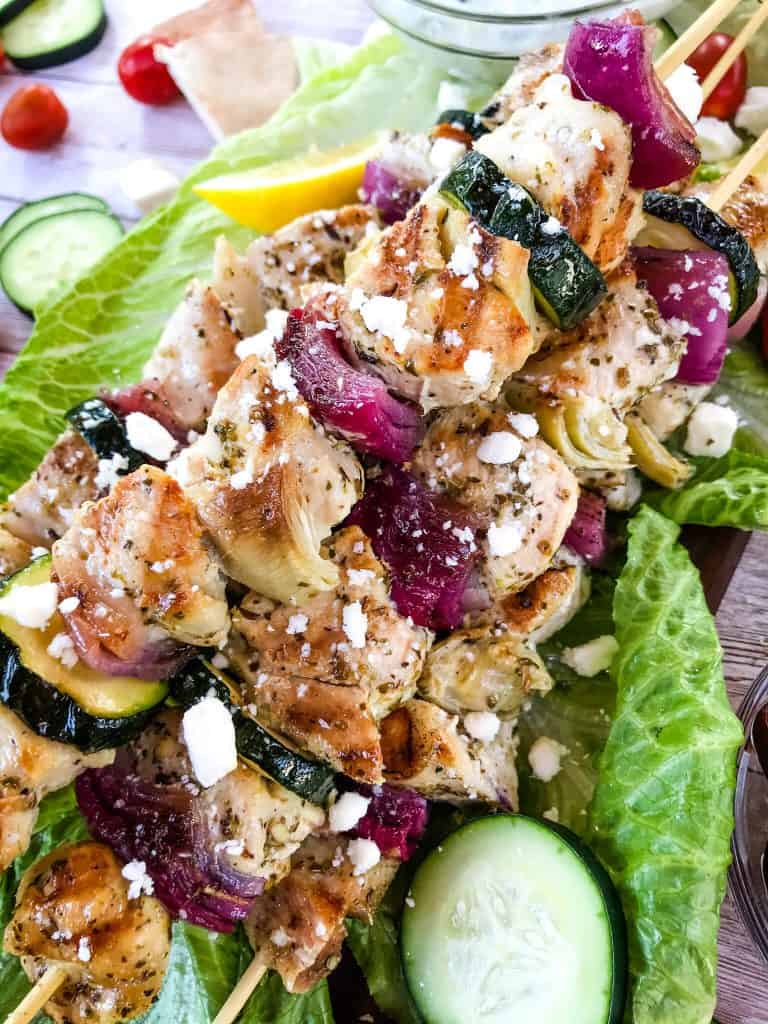 Mazola Corn Oil is a heart-healthy* cooking oil and creates marinades that make great-tasting food because it has a neutral taste that lets the natural flavor of your food stand out.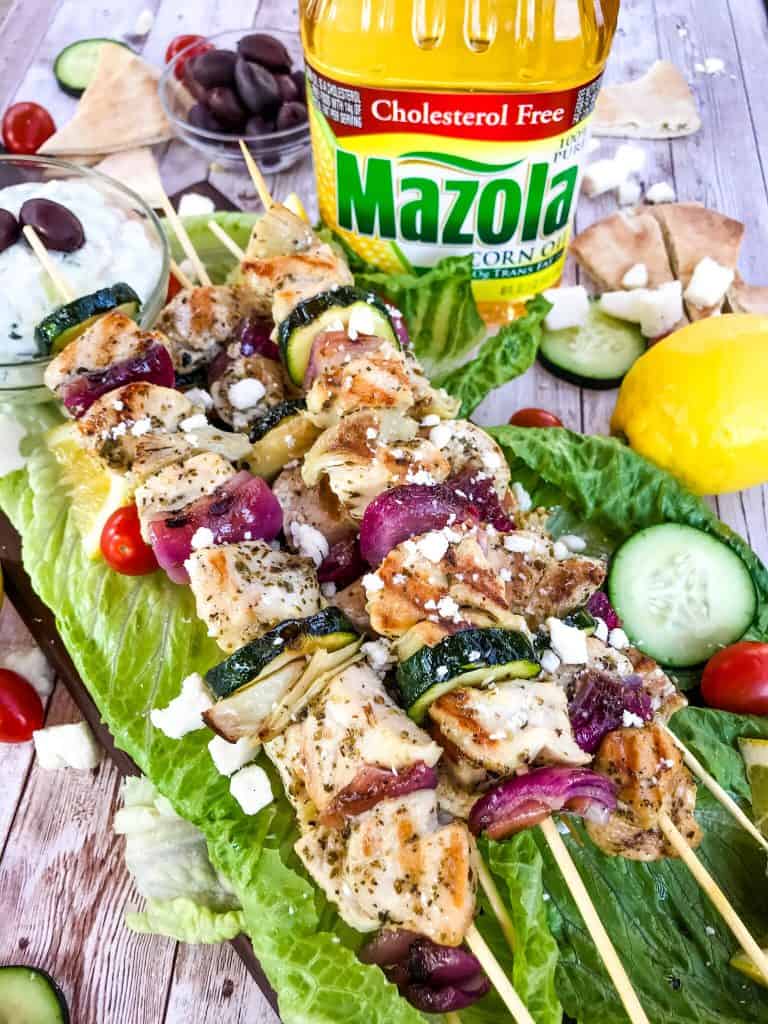 As soon as the weather gets warmer, I LOVE to get the grill going! And since we try to grill as much as possible, finding new and fun recipes is a great way to keep the excitement. These Greek chicken kebabs are simple and easy, plus a fun recipe with unique flavors!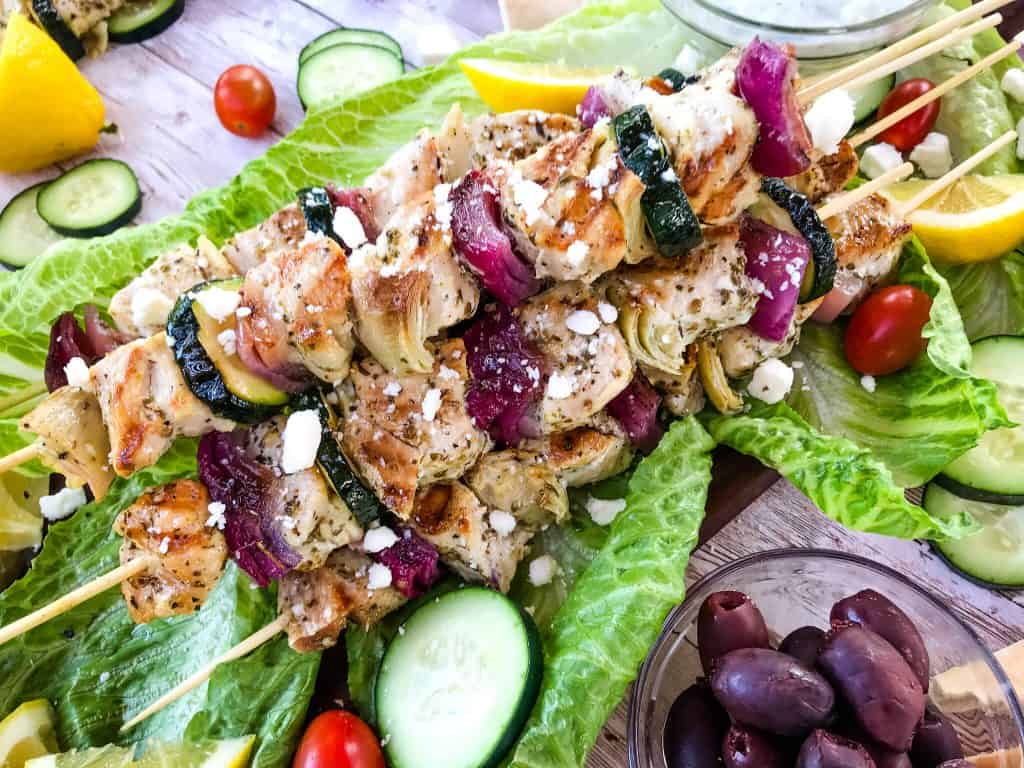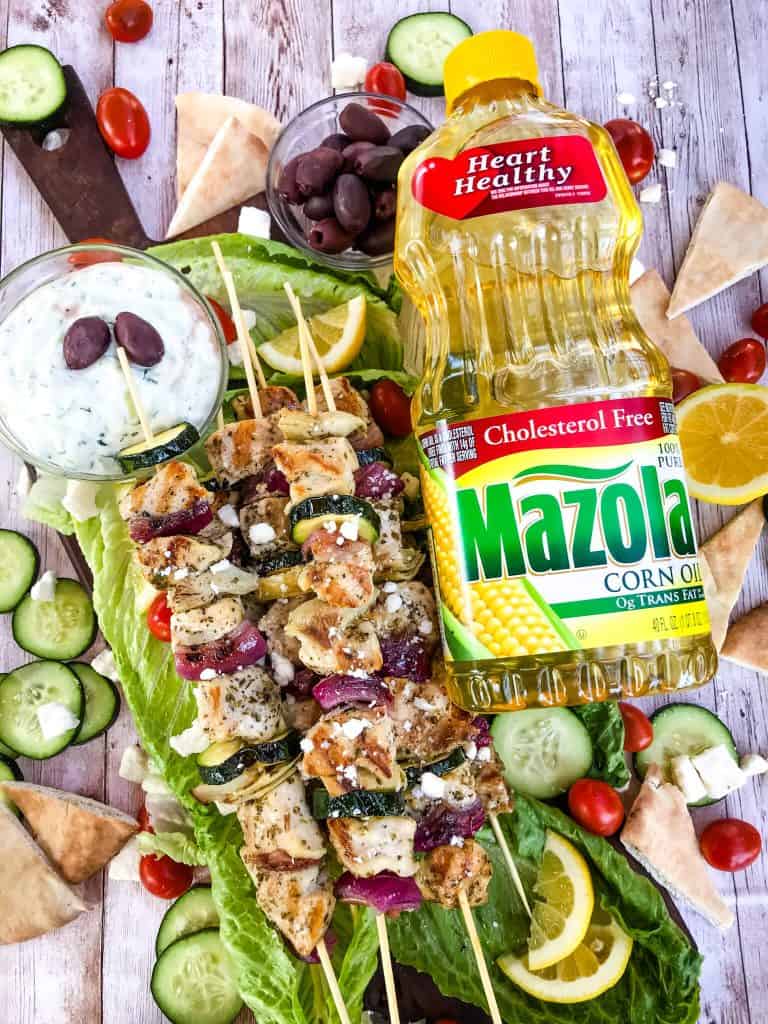 To make these Fresh and Light Grilled Greek Chicken Skewers, first get the chicken marinading. Cut the chicken into 1 1/2 inch pieces and place in a dish or large plastic bag (I like to use a dish because it is eco friendly!). Add the Mazola Corn Oil, juice of a lemon, oregano, garlic powder, salt, and pepper. Toss to combine and coat. I love to use Mazola Corn Oil for this recipe because it has more cholesterol-blocking plant sterols than other cooking oils* – 4x more than olive oil, 3x more than vegetable (soybean) oil, and 1.3x more than canola oil. Clinical studies indicate that when consumed as part of a diet low in saturated fat and cholesterol, plant sterols can help reduce the absorption of cholesterol in the gut.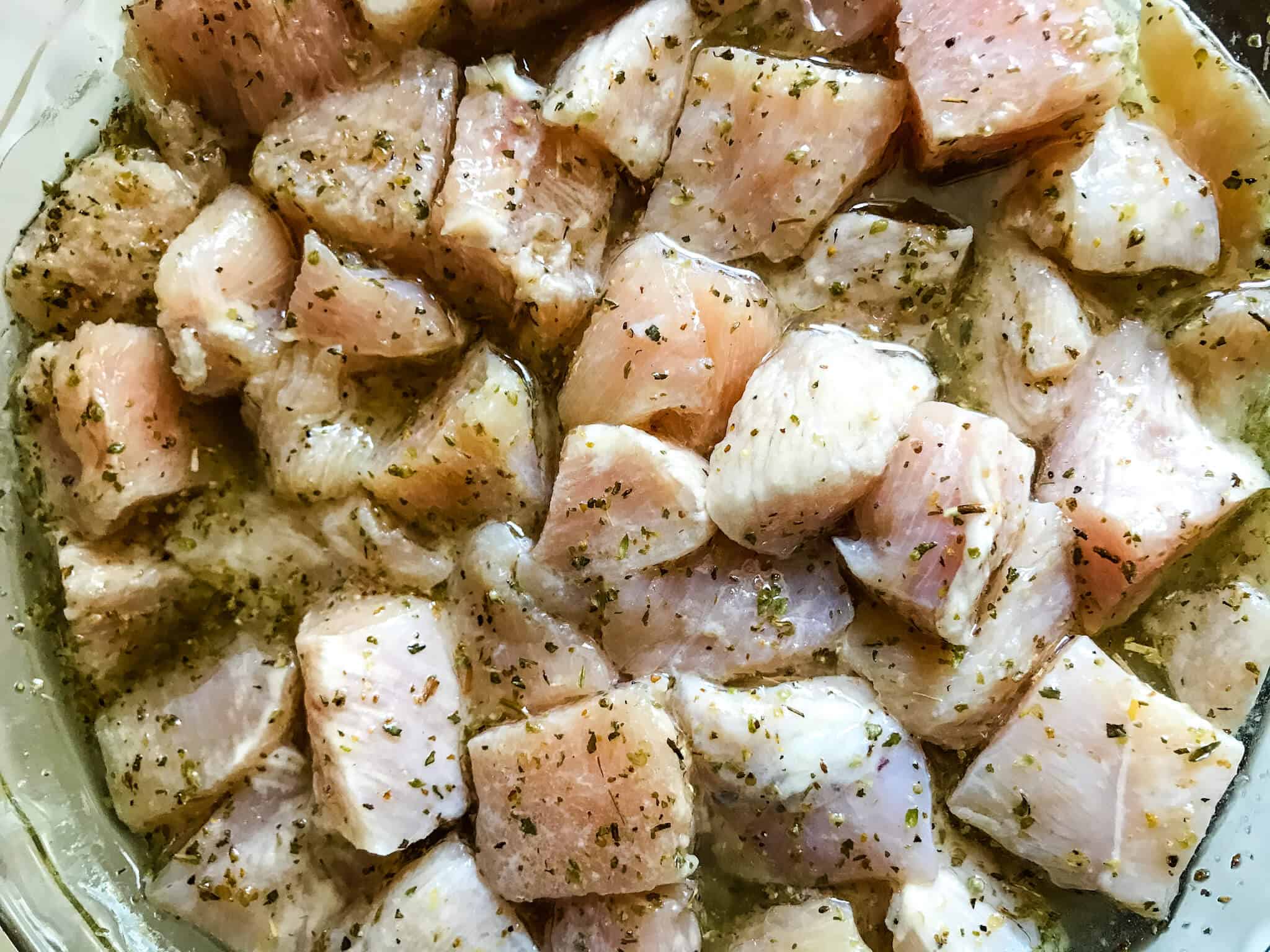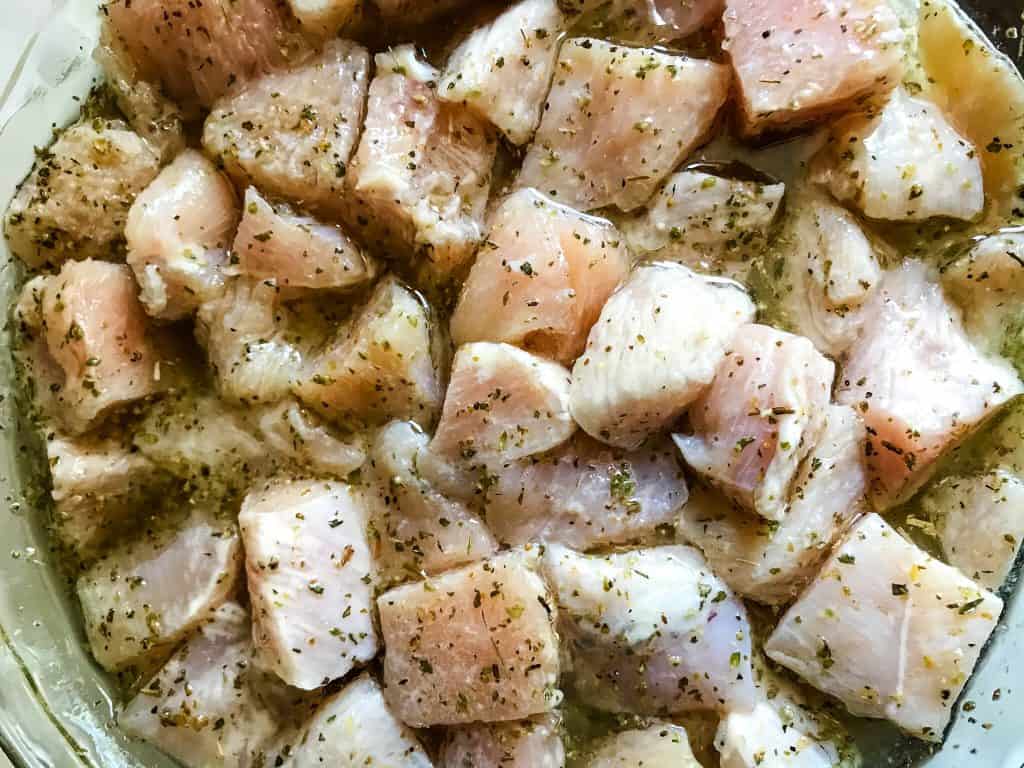 While the chicken is marinading, prepare the other ingredients for the chicken kebabs. Cut the zucchini into thin coins, cut the onion into 1 inch squares (ish), and the quartered artichoke hearts in half.
Then skewer everything! Alternate as desired, and make sure when skewering the artichoke that you go through as many leaves as possible to hold it together.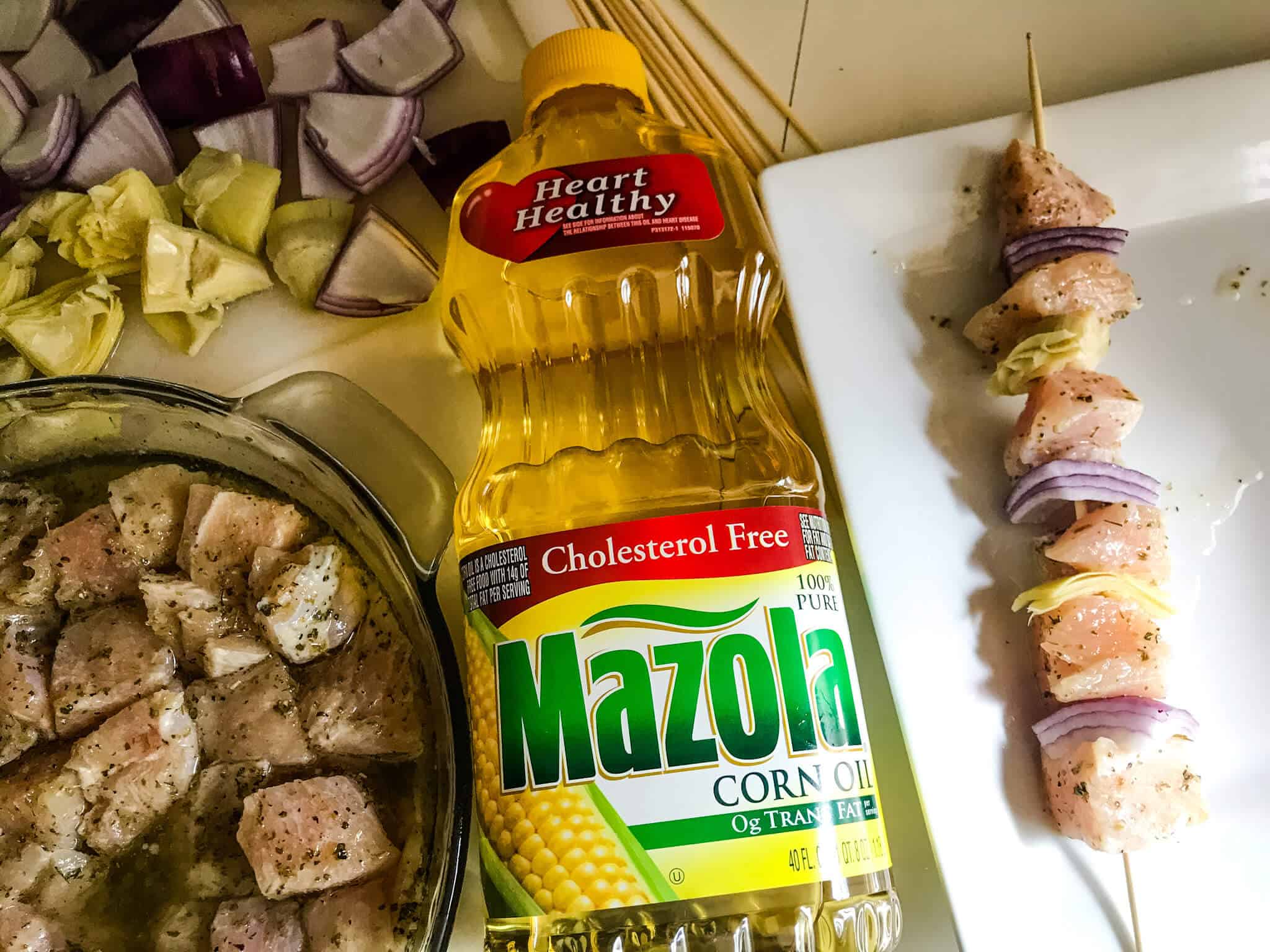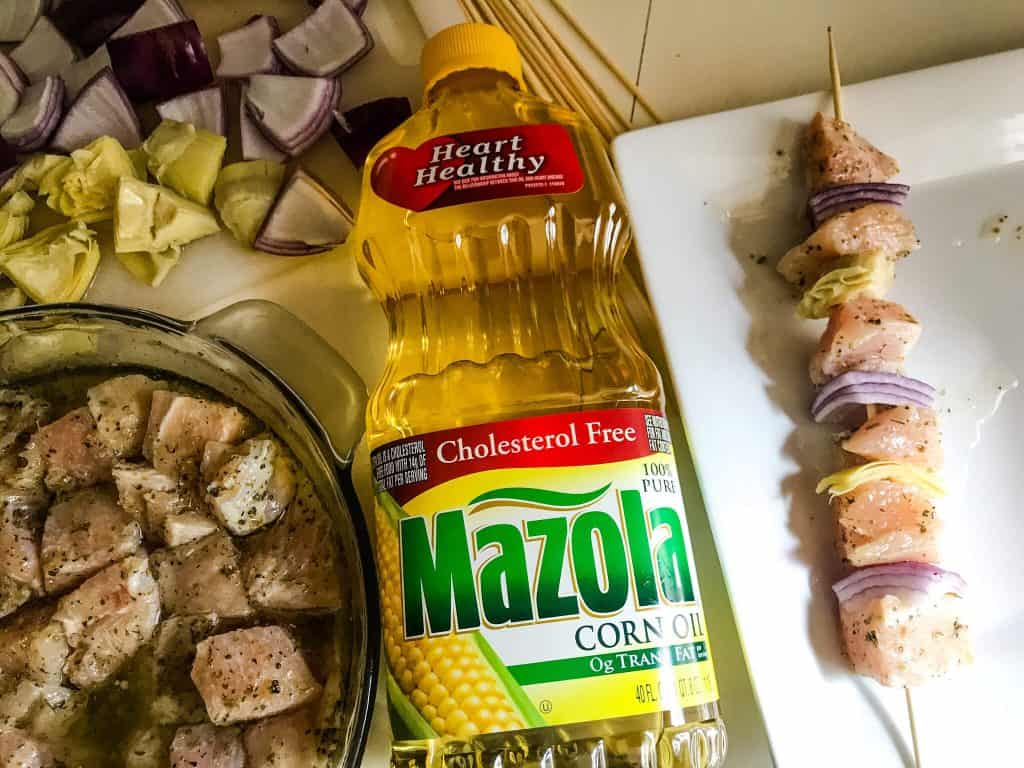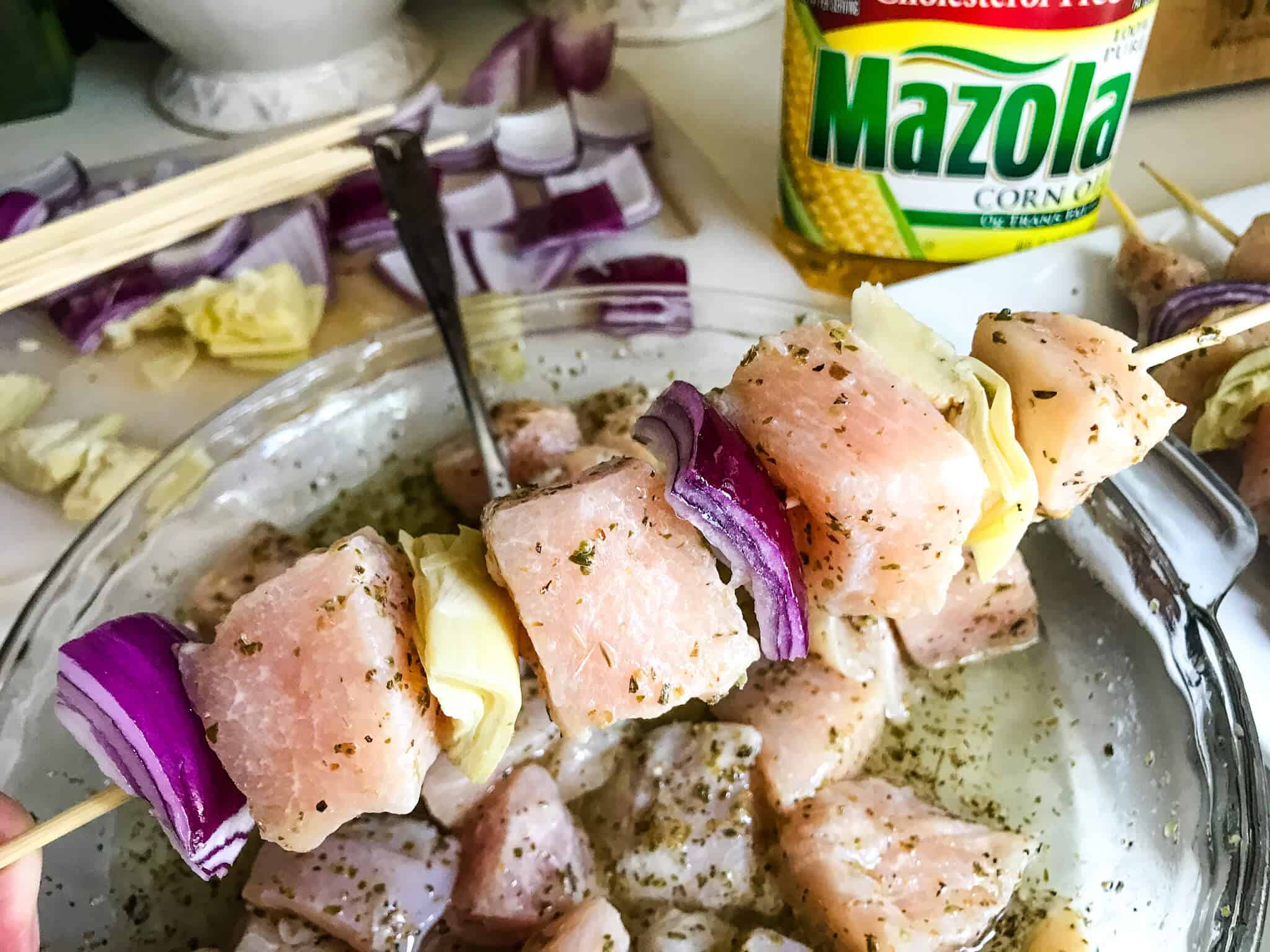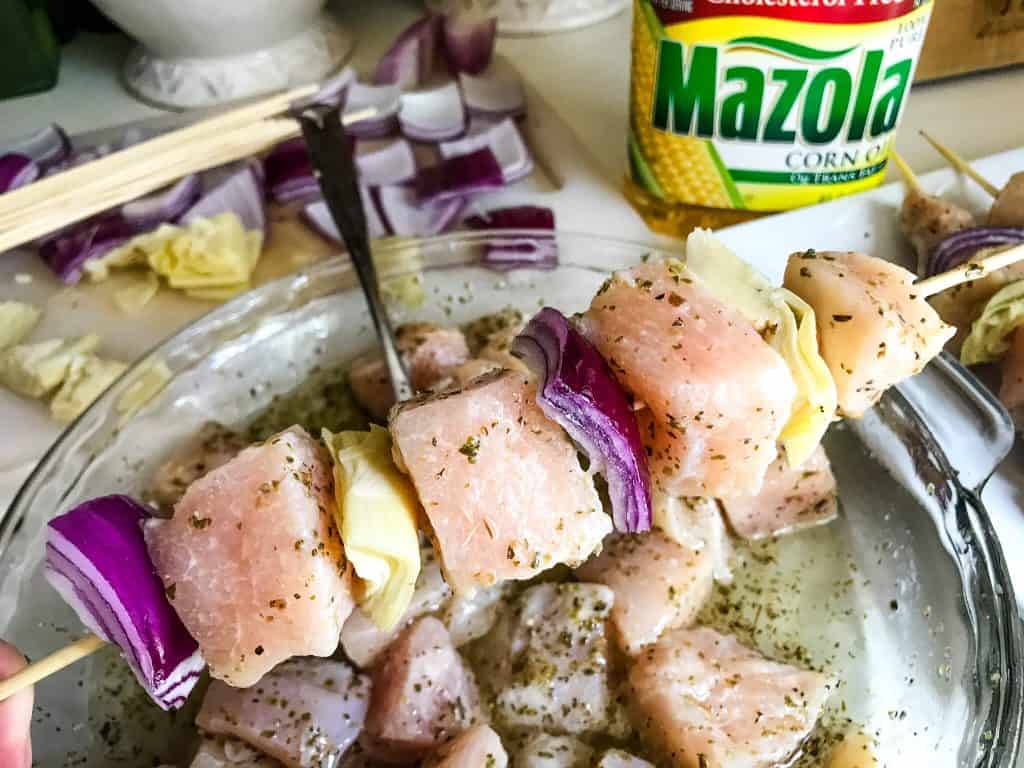 Grill your Greek chicken kabobs for 4-5 minutes per side until cooked through over high heat. Mazola Corn Oil has a high smoke point (450˚ F), great for grilling and stir frying at high temperatures. Serve with additional Greek ingredients that you have or can find, such as tomatoes, kalamata olives, cucumber, pita bread, and tzatziki sauce!
*see Mazola.com for more information on the relationship between corn oil and heart health.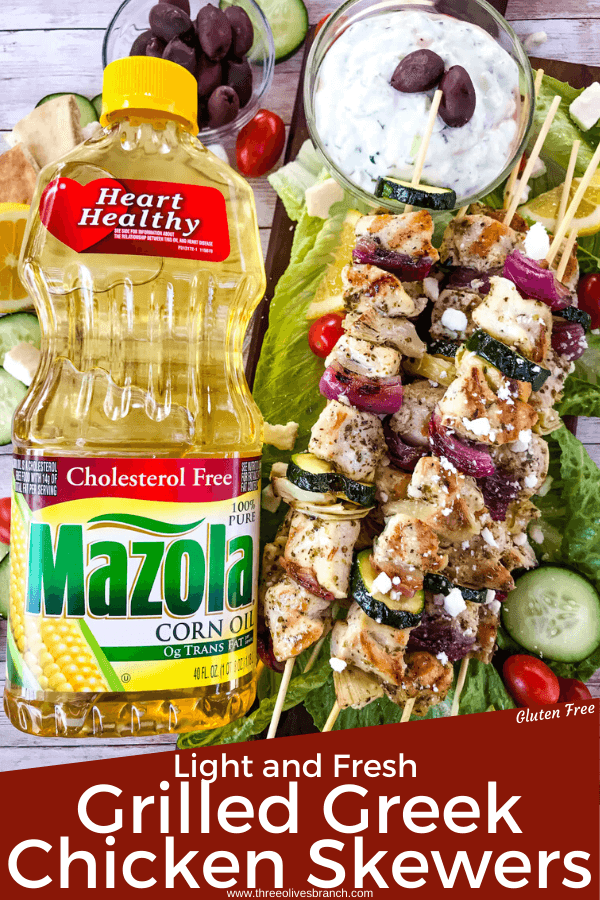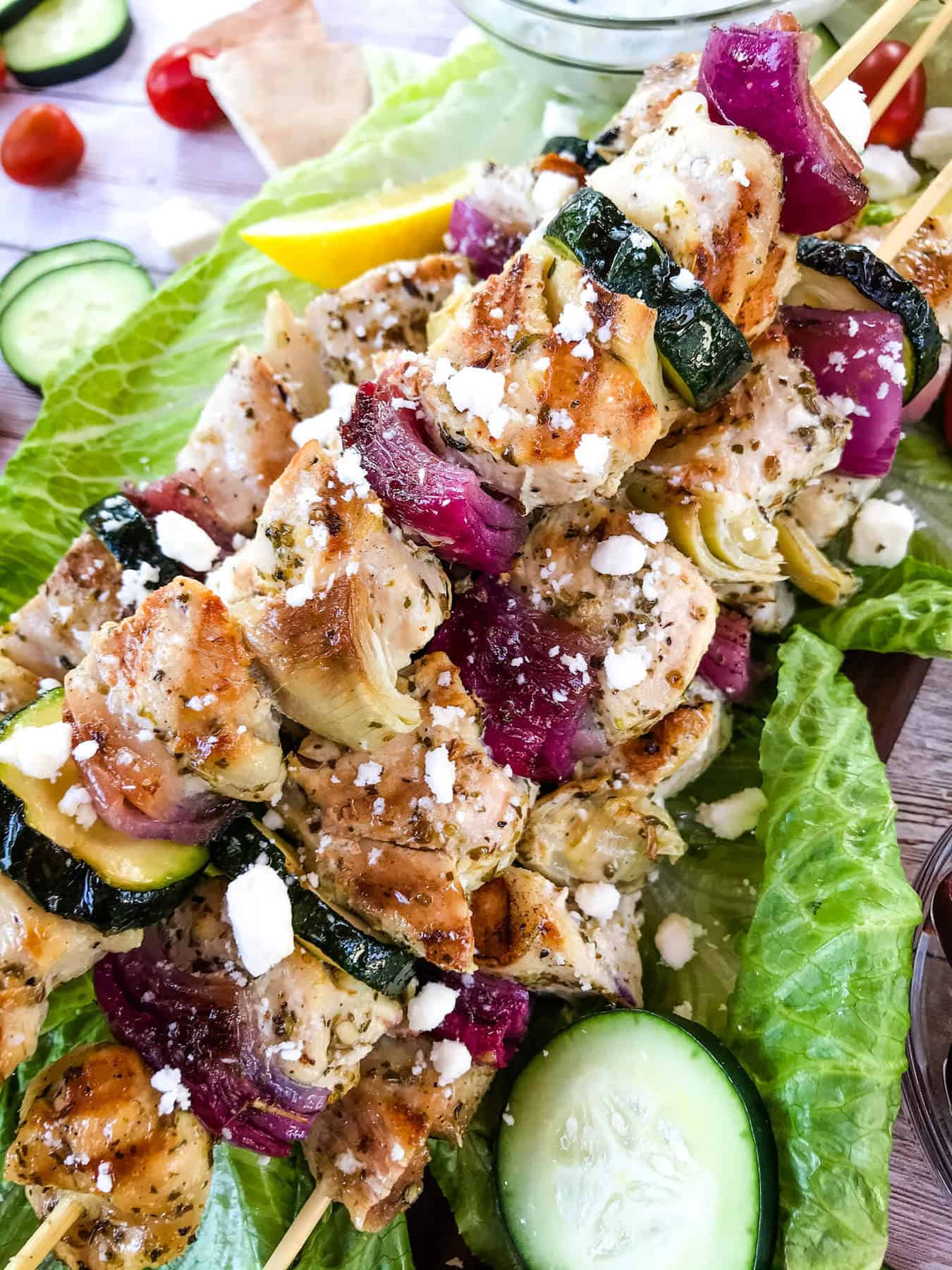 Instructions
Cut your chicken into 1 1/2 inch pieces. Place in a baking dish or gallon sized ziploc bag (I prefer the dish because it is eco friendly). This is where you will marinate the chicken.

Add the oil, juice of 1 lemon, oregano, garlic powder, salt, and pepper to the chicken. Toss or mix to combine and coat the chicken with the marinade. Let sit to marinade in the refrigerator while preparing the rest of the meal.

Cut the red onion into approximately 1 inch squares, with three layers attached in each piece. Slice the zucchini into thin 1/4 inch rounds. And cut the quartered artichoke hearts in half crosswise so the end part is on one side and the tips on the other. Be careful to keep all the leaves of each piece together as much as possible for skewering.

Prepare your assembly station with the chicken, vegetables, and skewers. Alternate skewering the ingredients as desired between the chicken, onion, artichoke, and zucchini. When skewering the artichoke, poke the skewer through all leaves as much as possible to keep it intact.

Preheat grill to high heat.

Once hot, grill your chicken skewers for approximately 4-5 minutes on each side until cooked through.

Serve immediately with accompanying ingredients such as tomatoes, feta cheese, kalamata olives, cucumber, pita bread and lemon wedges. Use anything you love or can find.
Nutrition
Calories:

300

kcal

|

Carbohydrates:

7

g

|

Protein:

49

g

|

Fat:

8

g

|

Saturated Fat:

2

g

|

Cholesterol:

145

mg

|

Sodium:

912

mg

|

Potassium:

989

mg

|

Fiber:

2

g

|

Sugar:

2

g

|

Vitamin A:

315

IU

|

Vitamin C:

27

mg

|

Calcium:

50

mg

|

Iron:

2

mg

By