A fresh and healthy dip that is perfect for snacking or in your favorite Greek and Mediterranean foods!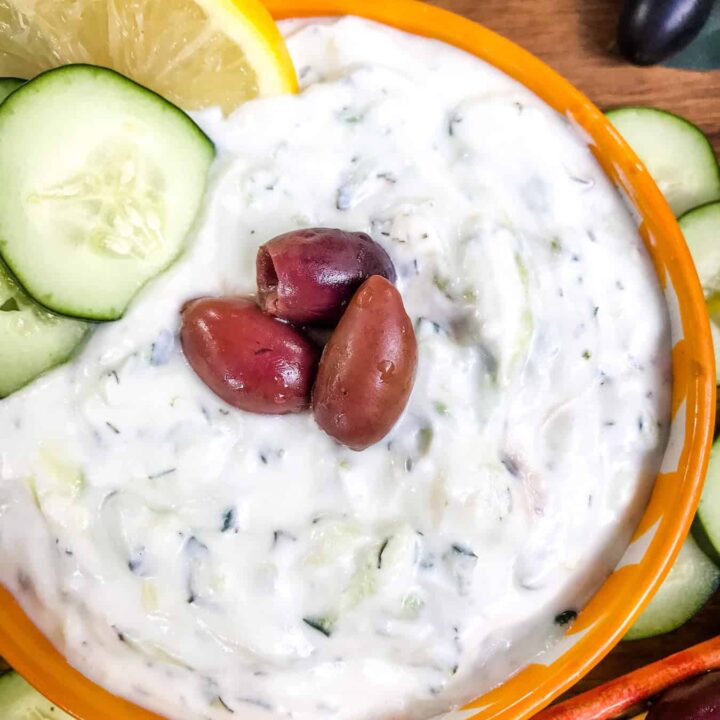 I am NOT a fan of yogurt. At all. But I can eat this Greek Tzatziki Yogurt Sauce all day! A fresh and light yogurt dip based on the authentic Greek classic.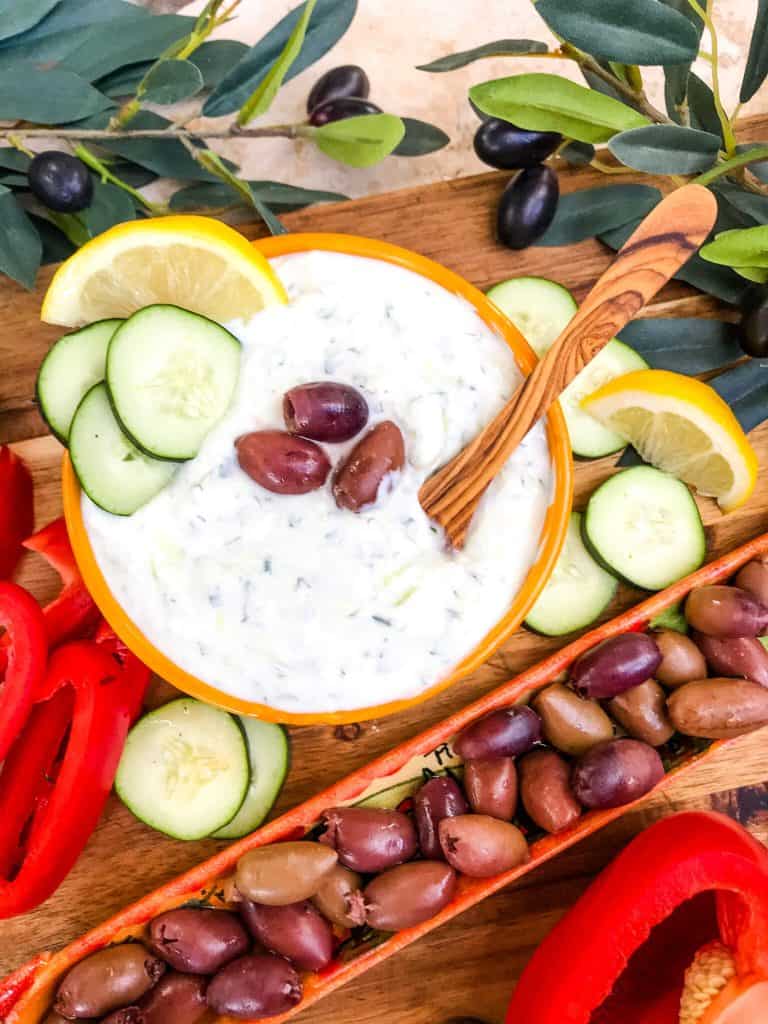 This post contains affiliate links.
In college I was studying in Italy and we took a long weekend to Greece.
Everywhere we went there was Greek salads and tzatziki sauce.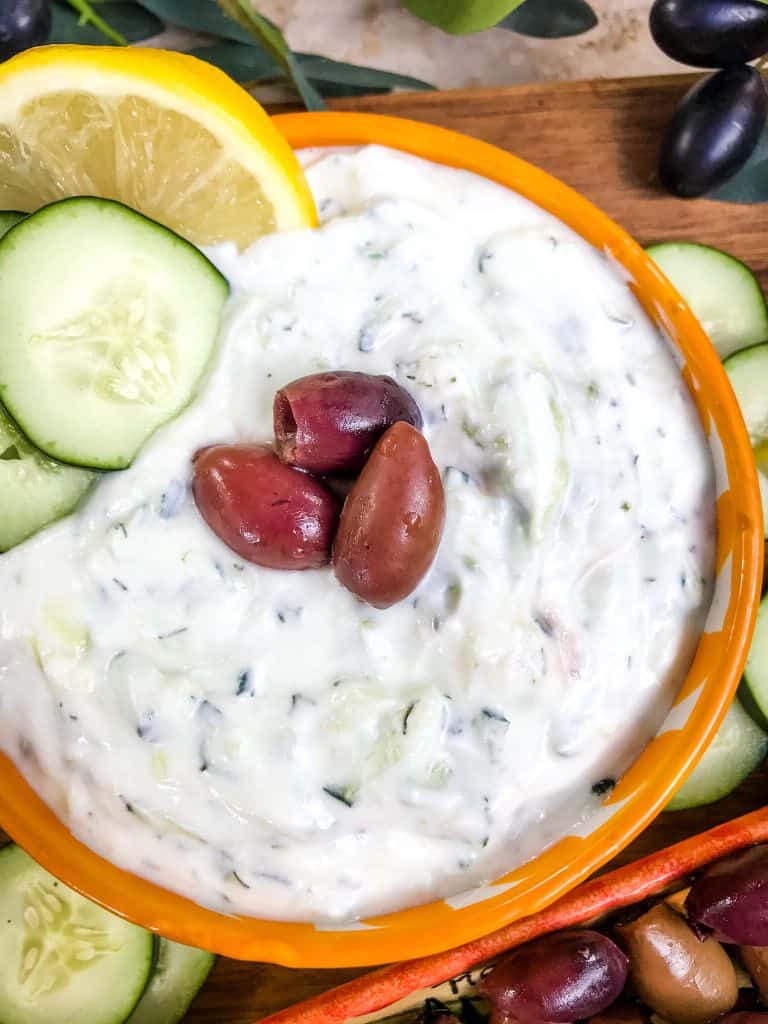 Traveling makes you braver than you would normally be, and I was eating things I would not typically touch. So I dove into some tzatziki and was HOOKED!
It was such a simple sauce, with simple ingredients, but they just work so well together. I think that is a common thing in a lot of the amazing European food that I tried: simple, fresh flavors.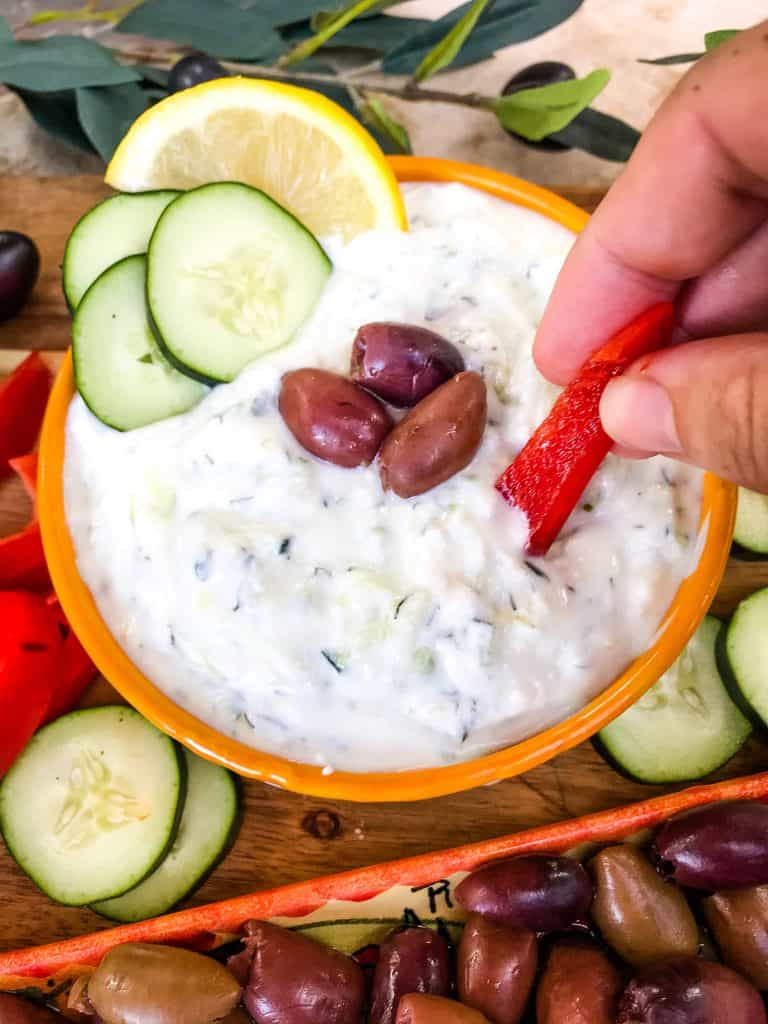 The fresh and bright flavors shine through this cool and creamy dip. And since it is healthy, you can indulge!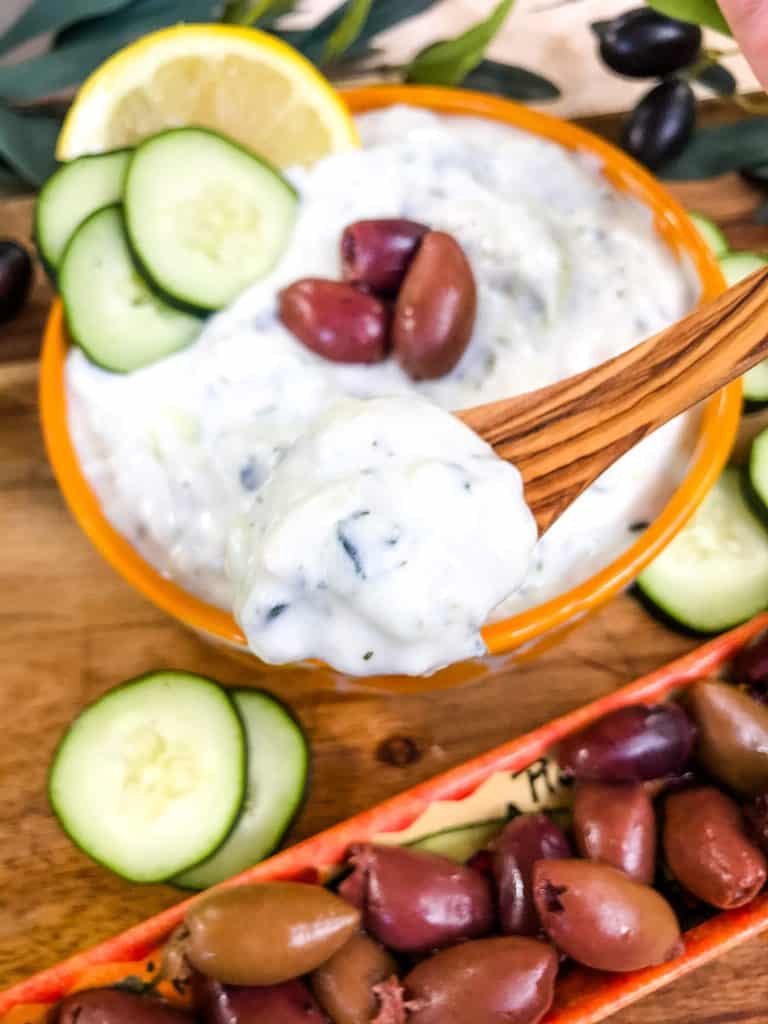 Once I put this out at a dinner party as an appetizer with some dippers.
Some of our guests dove right in and then stopped and asked "Wait, what is this?" When I told them what it was, they were shocked because they were in love with it and were also not fans of yogurt.
I also think that Greek yogurt is a great base ingredient without too much flavor and has a much thicker texture than plain yogurt.
So if you or your friends and family are not yogurt people, odds are they will still love this stuff. 🙂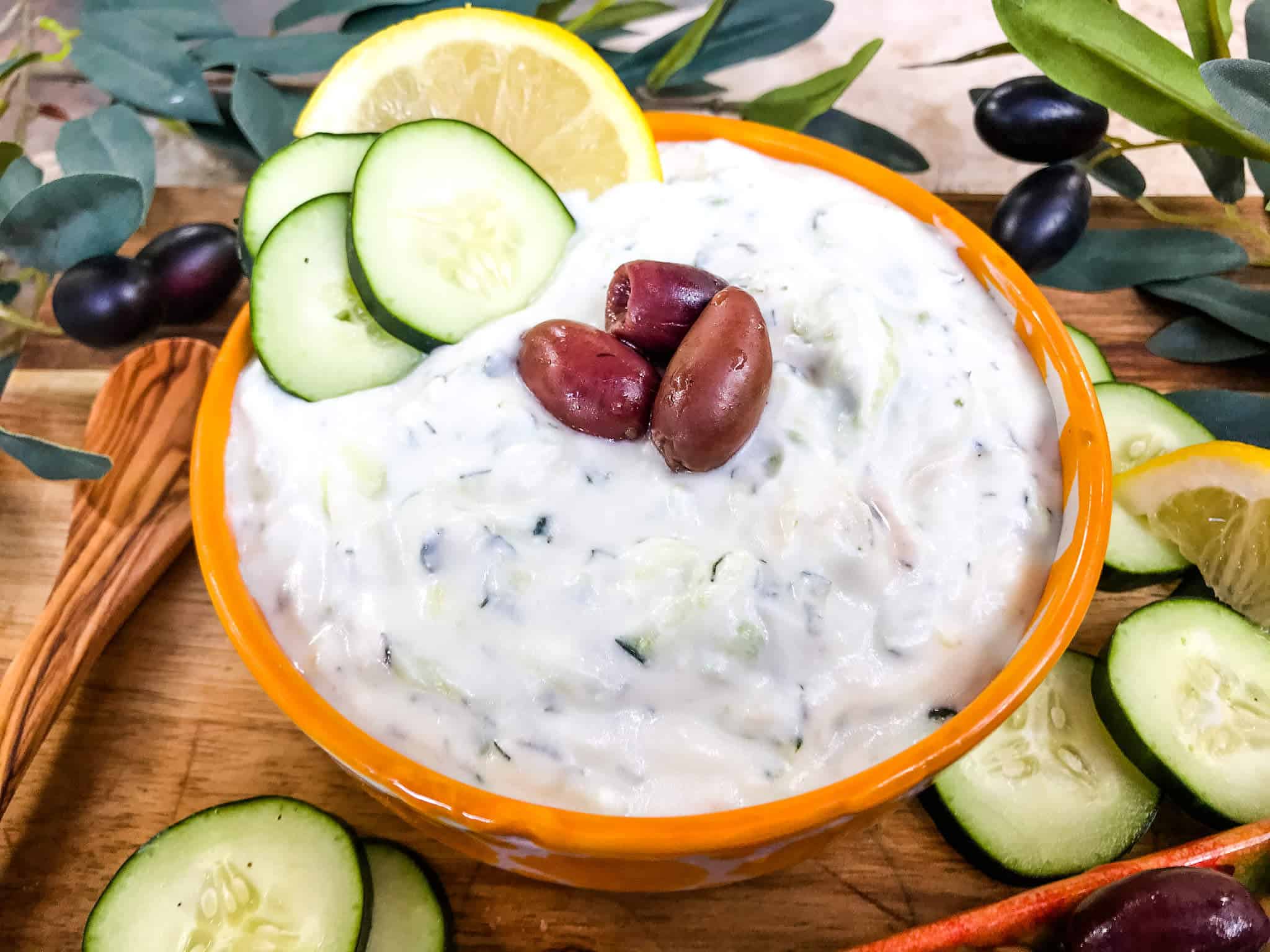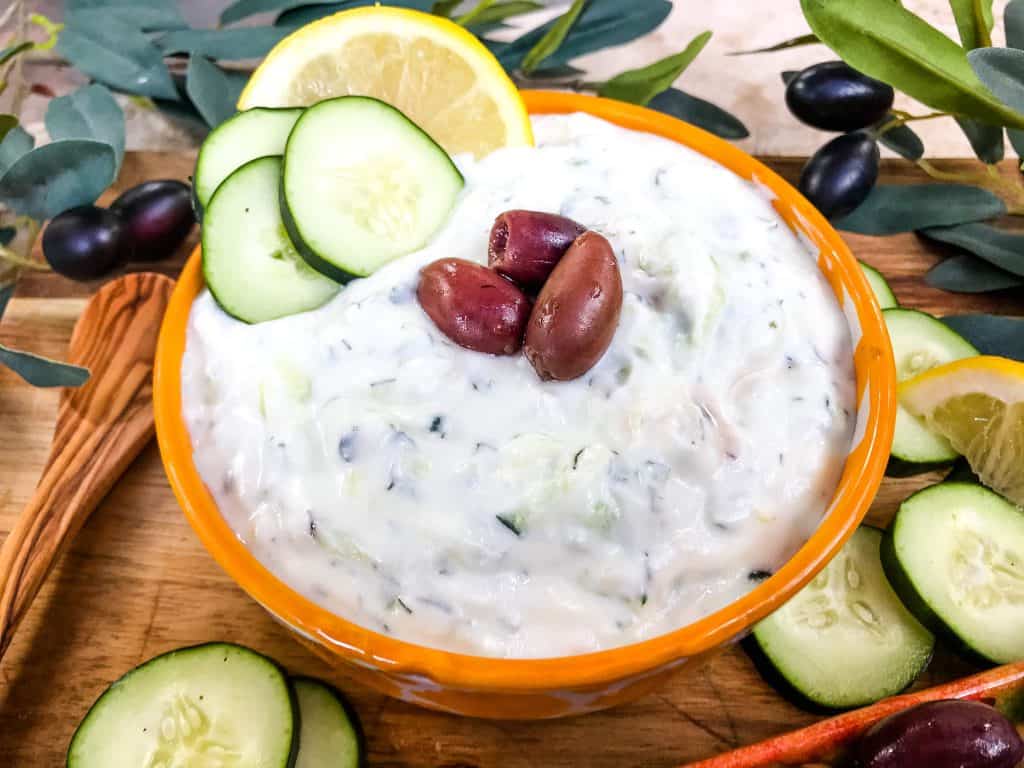 My favorite way to eat this Greek Tzatziki Yogurt Sauce is simply as a dip with a lot of great dunkers like cucumber slices, pita bread, carrots, etc.
But it is also great on Greek recipes like gyros, grilled chicken, and pasta salad. Find some of our favorite Greek and tzatziki recipes here for some recipe inspiration!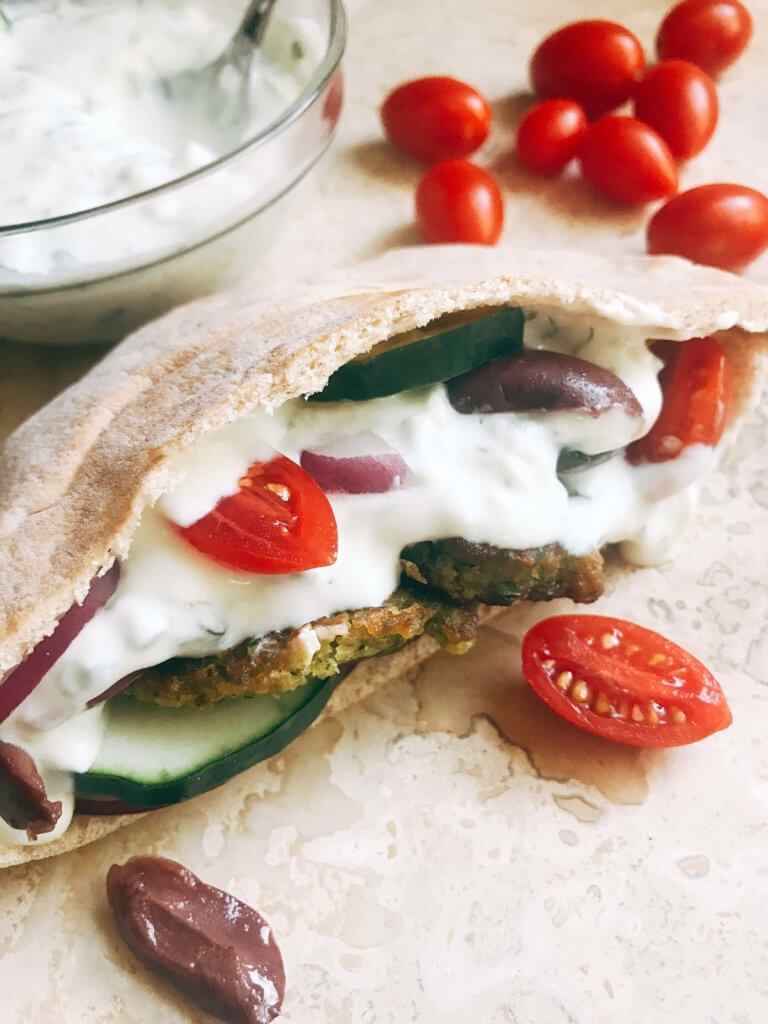 If you are eating this Greek Tzatziki Yogurt Sauce right away, you could skip the draining and refrigerating steps.
The draining of the cucumber makes it a little thicker as the water does not mix into the yogurt.
I am always a fan of refrigerating this tzatziki sauce because the flavors blend together more. Find our collection of tzatziki inspired recipes here!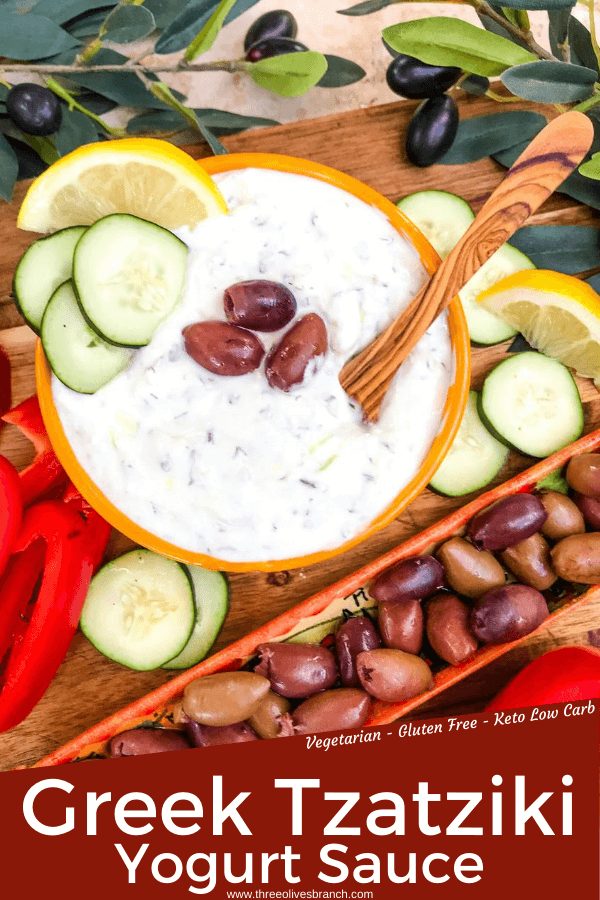 Greek Inspired Recipes
Recipes drawing on Greek flavors and favorites!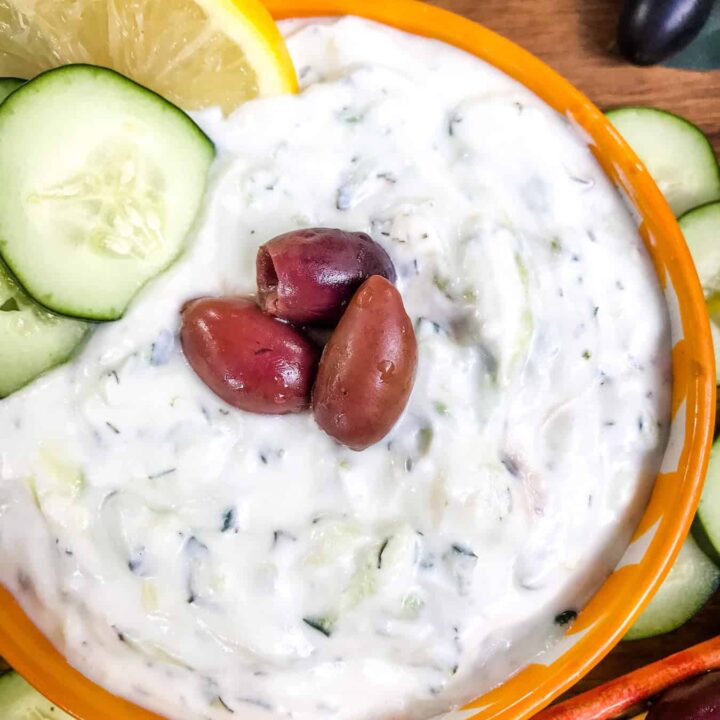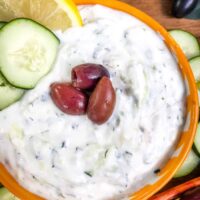 Greek Tzatziki Yogurt Sauce
A fresh and healthy dip that is perfect for snacking or in your favorite Greek and Mediterranean foods!
Print
Pin
Rate
Instructions
Cut the cucumber in half. Save one half to slice for dunking or using in a recipe such as gyros, etc.

Grate the cucumber. Toss with a pinch of salt and place the grated cucumber in a sieve (fine or small mesh strainer) over a small bowl to drain. This is important to remove the extra moisture so that the tzatziki does got get thinned out.

Leave to drain in the refrigerator for at least 30 minutes or overnight. (You can skip the straining and just press as much liquid out as you can if you are in a time crunch, it will just result in a tzatziki that is a little thinner).

In a medium bowl, combine the yogurt, dill, garlic, oil, juice of 1 lemon, and salt. Stir together.

Add the grated cucumber to the yogurt mixture and chill in the refrigerator at least 30 minutes. Season to taste with additional lemon, salt, garlic, and dill as desired.

Serve as part of a recipe or a dip with cucumbers, pita bread, carrots, etc.
Notes
You can serve the tzatziki immediately, and even skip the cucumber draining if you are using it right away.  But it does taste best if you give it time to sit so that the flavors meld together.
This tzatziki is great as a dip, but can also be used as a dressing in pasta salads, on gyros, burgers, wraps, and more.
You can use dried herbs in place of fresh with most recipes.  Simply reduce the amount as typically 1 Tbsp of fresh herbs is equivalent to 1 tsp dried.
Nutrition
Serving:

1

cup

|

Calories:

252

kcal

|

Carbohydrates:

15

g

|

Protein:

17

g

|

Fat:

15

g

|

Saturated Fat:

2

g

|

Cholesterol:

8

mg

|

Sodium:

640

mg

|

Potassium:

494

mg

|

Fiber:

2

g

|

Sugar:

8

g

|

Vitamin A:

101

IU

|

Vitamin C:

35

mg

|

Calcium:

207

mg

|

Iron:

1

mg

By