Less than 5 minutes to make this delicious and healthy hummus! Perfect as a vegetarian appetizer, snack, or spread, the flavors of tzatziki and Greek salad are bright and fresh. Full of protein. Perfect for game day!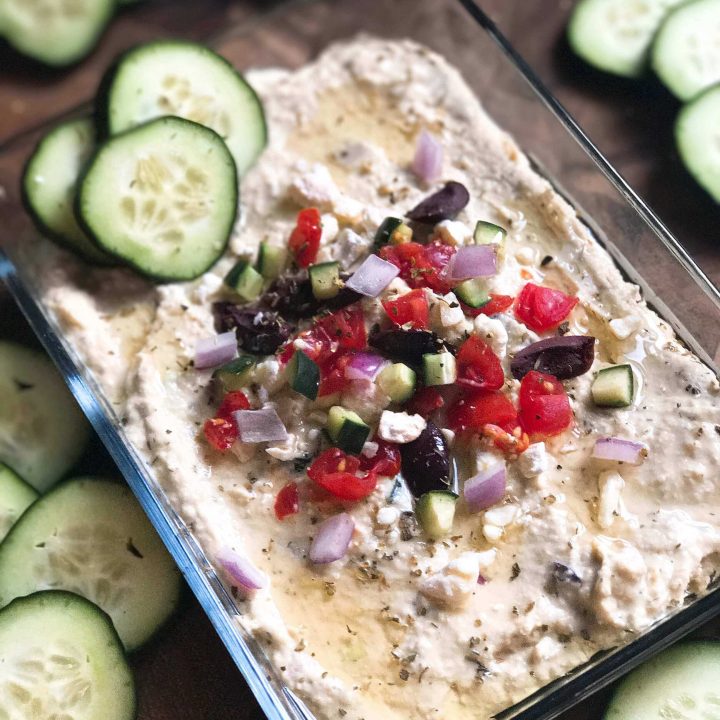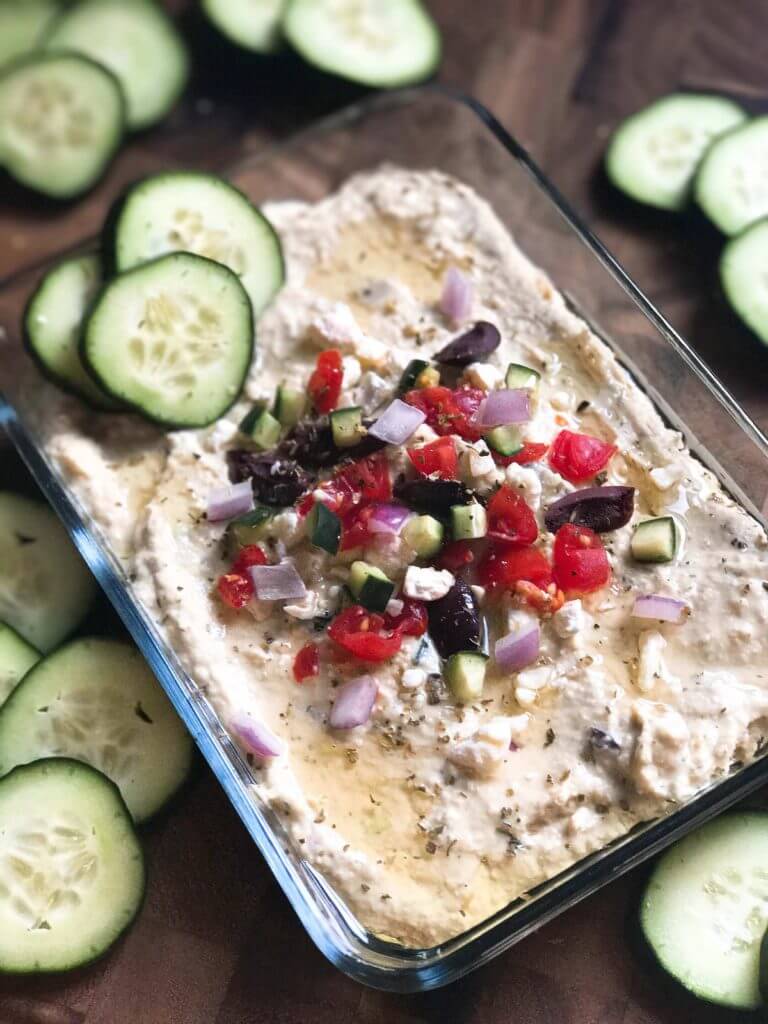 I love the fresh and vibrant flavors of tzatziki and Greek salad, and they make the perfect combination in this Greek Tzatziki Hummus! Not only is this hummus a delicious snack or appetizer, but it is healthy and a great source of protein!
I used to not be a big fan of tzatziki or feta. But when I was lucky enough to travel to Greece, I was eating Greek salads and tzatziki everywhere I went! The simple, fresh flavors got me hooked. Ever since, I love making dishes with the memories of these ingredients, such as our Greek Tzatziki Quesadillas or our Greek Pasta Salad.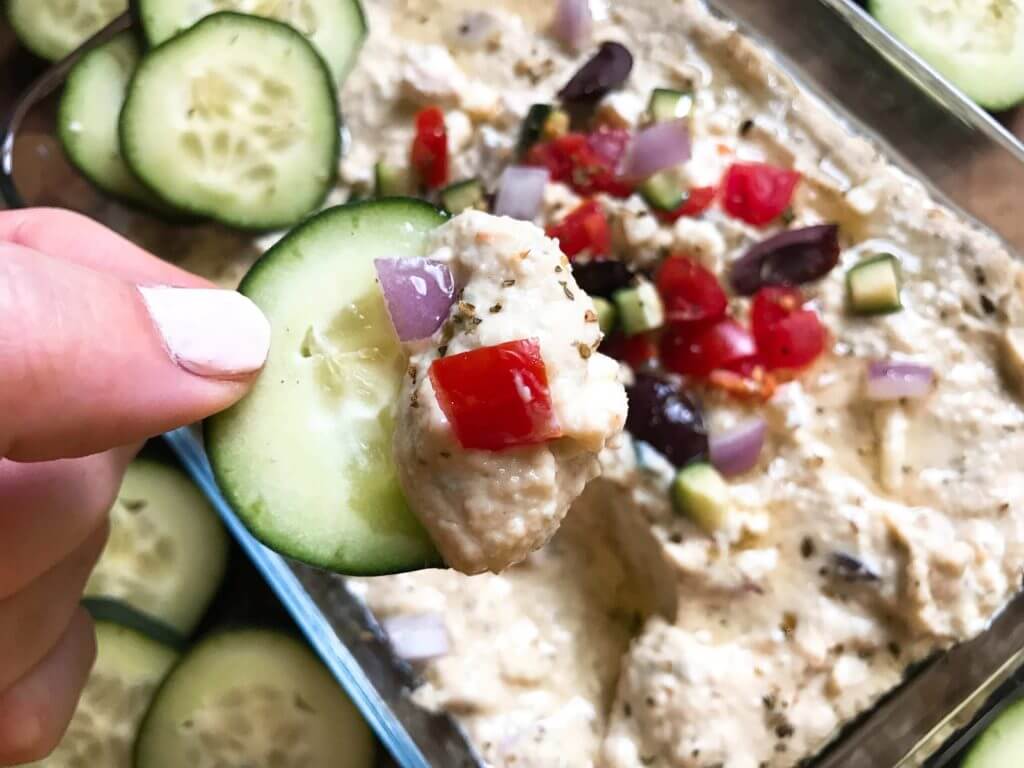 This post contains affiliate links.
Roasted garlic is pretty much one of the greatest things ever. No joke. You can learn how to make your own here! I love to have a couple heads of it ready in my refrigerator at all times because it makes everything sooooo gooooood. Besides being part of a recipe like our Sun-Dried Tomato and Walnut Linguine with Parmesan Cream Sauce, it is great on toast and sandwiches!
Tahini is a traditional ingredient in hummus. It is a sesame seed paste, similar to nut butters. You can typically find it in your ethnic or peanut butter section of the grocery store or you can use this affiliate link to get it online here.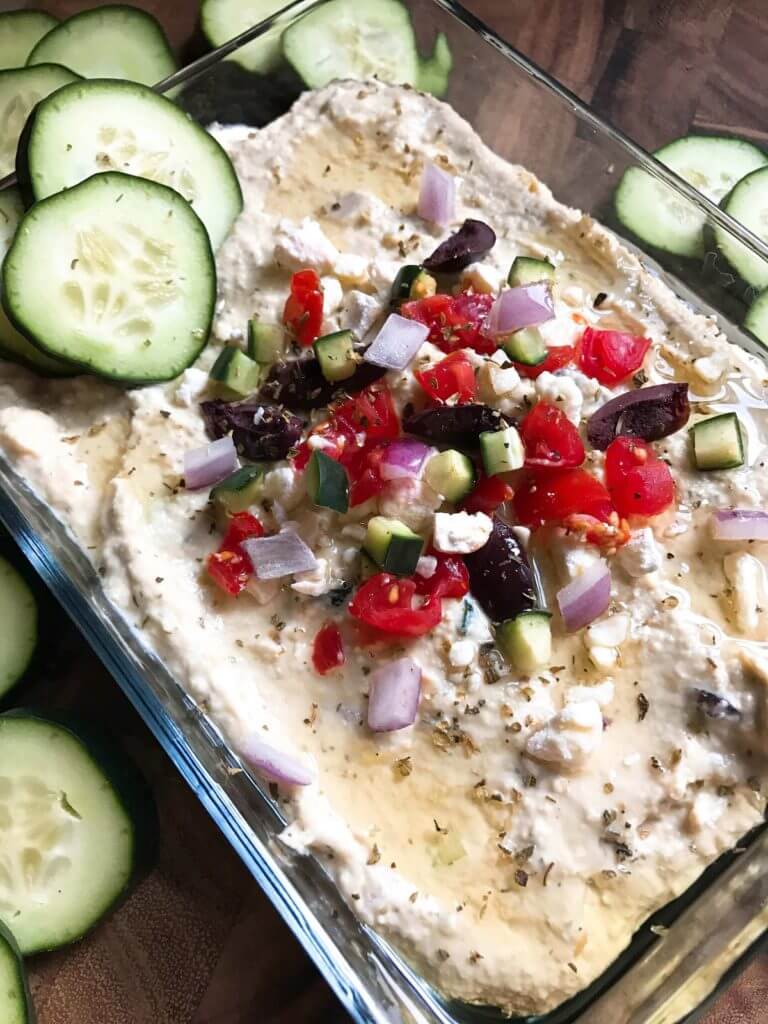 I love to mix in some of the veggies, but you can also just throw them all on top. I am a little obsessed with olives, especially Kalamata olives, so I always throw extra olives in. Make it your own!
It only takes a few minutes to make this Greek Tzatziki Hummus. Just throw all the ingredients in a food processor, blend, and you are good to go! If you do not have a food processor, you need one! I have two and I use them alllllll the time. They can do so many things: shredding, slicing, blending, etc. We buy brick cheese and it is shredded in seconds. I use the processor to make all my sauces and salsas, grind cookies for crusts, the list goes on and on. This affiliate link is for a food processor very similar to the one that I have. I could not live without mine!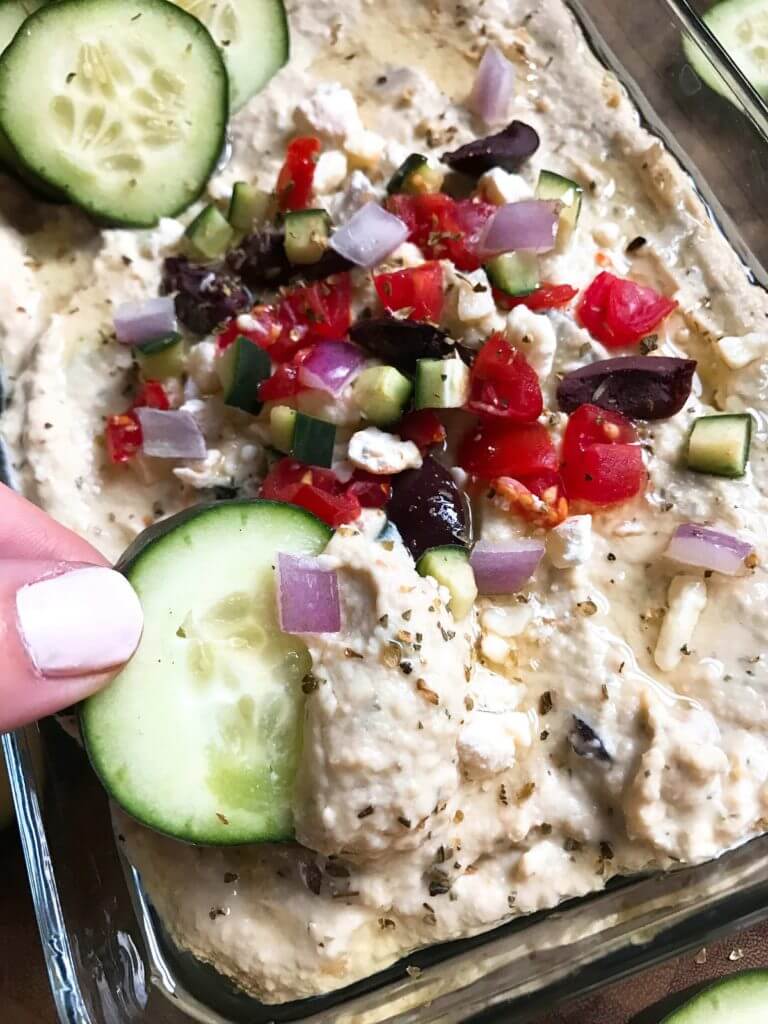 Looking for more hummus inspiration? Check out our other hummus recipes!
Roasted Poblano and Sweet Corn Hummus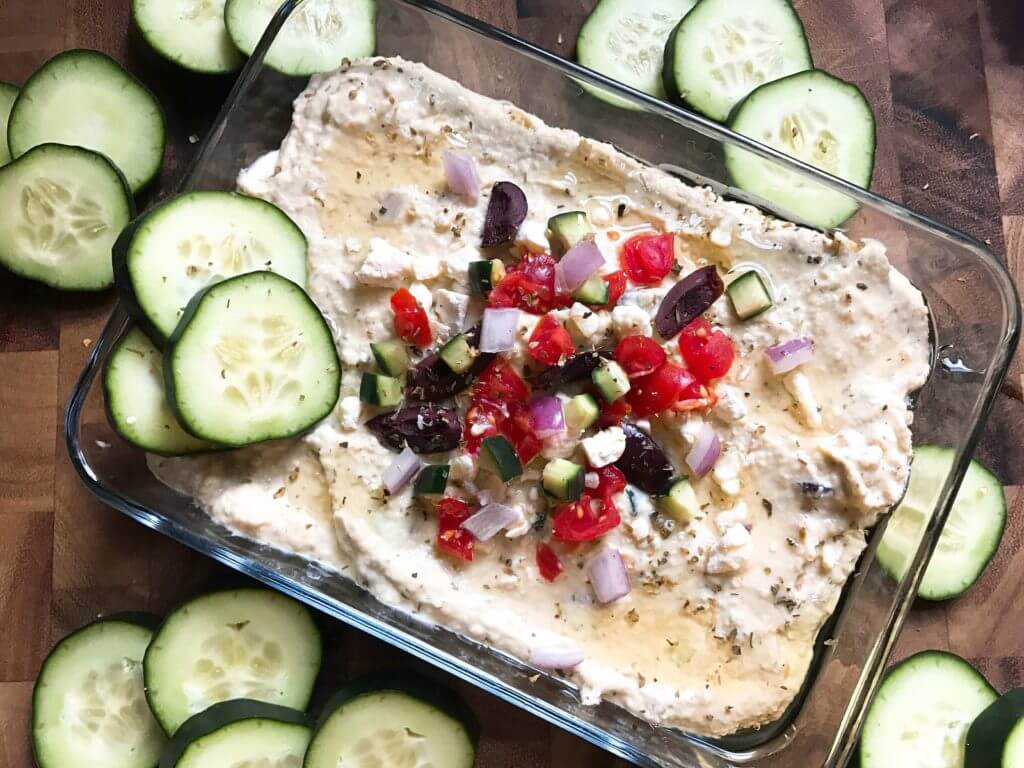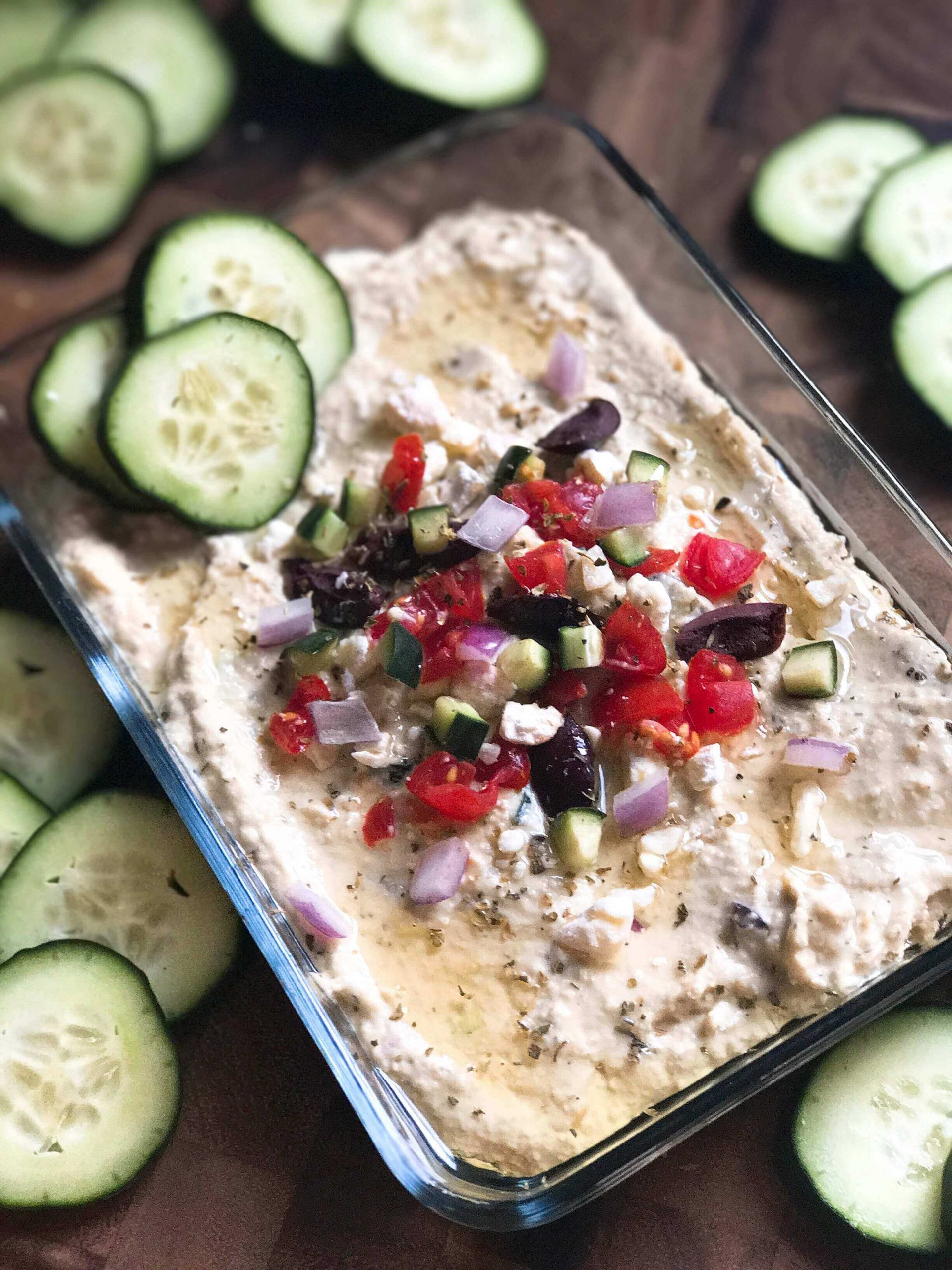 Instructions
If you do not have pre-roasted garlic, use this shortcut. Put garlic cloves with the skin still on in a nonstick skillet and heat over medium low heat. Roasting the garlic will take approximately 40 minutes. Rotate the cloves every 10-15 minutes so that they are roasted on all sides. Set aside to cool.

When garlic is cool enough to handle, peel the skins off the cloves.

Add the garbanzo beans, garlic, lemon juice, salt, tahini, dill, yogurt, and olive oil to food processor. Put the lid on and process until you reach your desired consistency, approximately 10-15 seconds. If the mixture is too thick, add water 1 Tbsp at a time and process briefly to combine. Taste and adjust seasoning to your liking.

When complete, use a spatula to put the hummus in a bowl. Mix in the cucumber, red onion, tomato, kalamata olives, and feta. Top with additional vegetables if desired.

Refrigerate for one hour and serve chilled with pita bread or assorted vegetables.
Nutrition
Calories:

471

kcal

|

Carbohydrates:

34

g

|

Protein:

16

g

|

Fat:

36

g

|

Saturated Fat:

7

g

|

Cholesterol:

18

mg

|

Sodium:

2676

mg

|

Potassium:

552

mg

|

Fiber:

8

g

|

Sugar:

9

g

|

Vitamin A:

195

IU

|

Vitamin C:

121

mg

|

Calcium:

248

mg

|

Iron:

3

mg

By