Honey, Thyme, and Lemon Glazed Carrots are a fast and simple side dish recipe ready in 20 minutes! Perfect for Italian meals or holiday dinners like Easter. Fresh and bright flavors of lemon and thyme with honey in a simple sauce. Gluten free and vegetarian. #glazedcarrots #easterrecipes #sidedishrecipes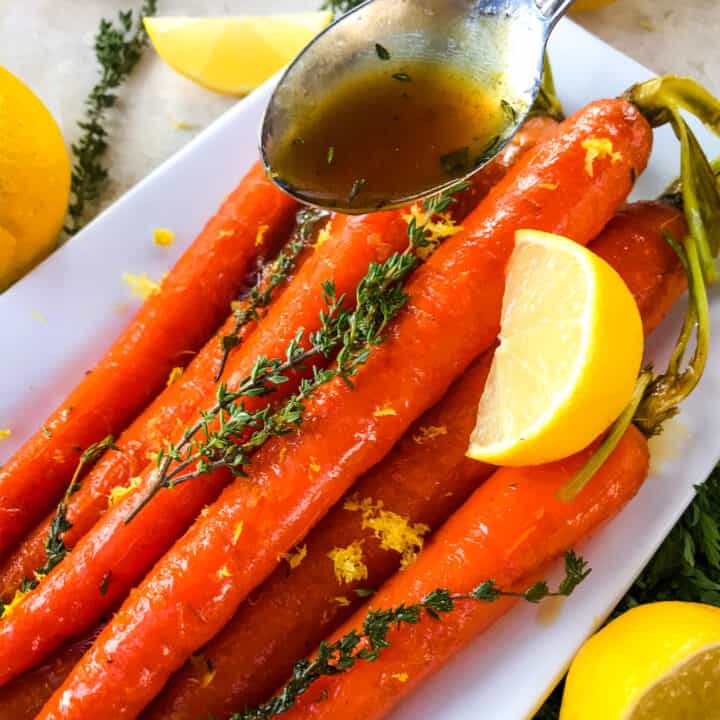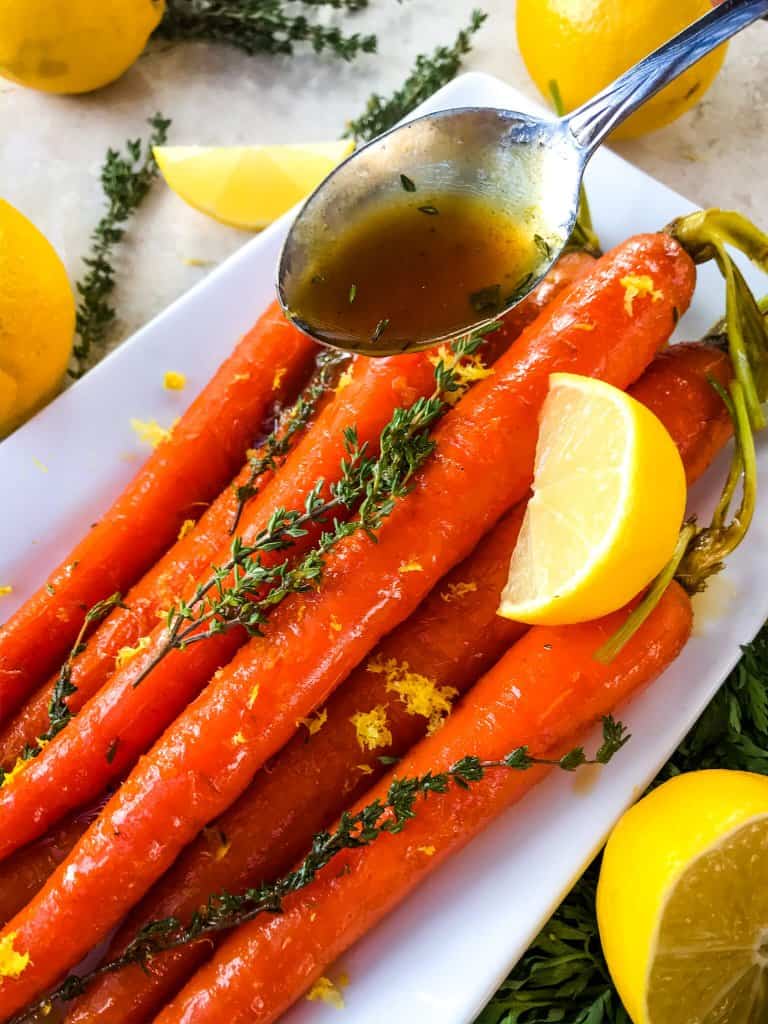 These Honey, Thyme, and Lemon Glazed Carrots are a fast and simple side dish, perfect for entertaining and holiday meals.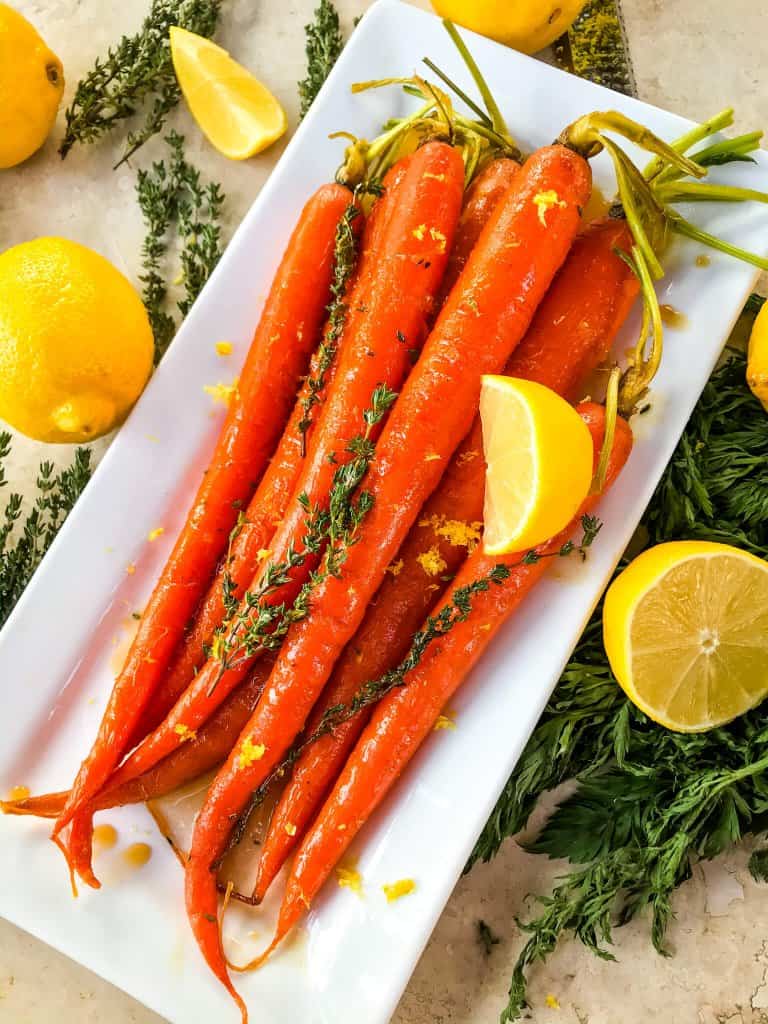 This post contains affiliate links.
These carrots are so incredibly simple to make. The Italian, spring flavors of lemon and thyme are simple and bring brightness to the dish, while the honey and butter make them a rich and sweet. I just loved how these turned out, so elegant and simple. If you want a lot of sauce or glaze, double up on all of those ingredients. The flavors are strong enough to come through as the recipe is written, but if you are a sauce lover like me, the extra sauce is a bonus!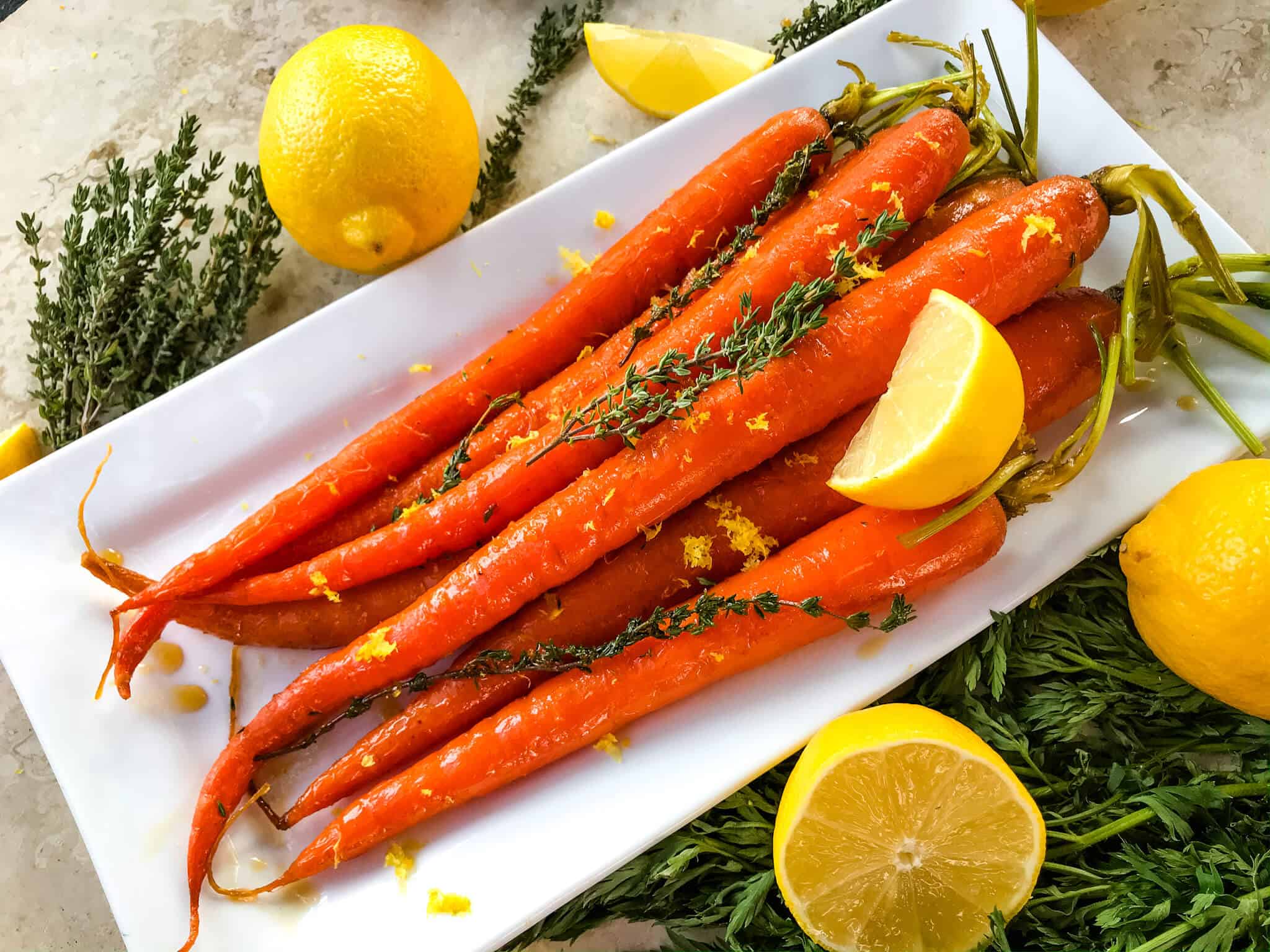 I found these beautiful, whole carrots at the store so I wanted to leave them intact. They were just so beautiful that cutting them up felt wrong, and I wanted to highlight their full carrot state with a little of the green tops still attached. They were SO long that they barely fit in the largest skillet I have, but I was determined not to cut them! I just needed to bend the ends a little into the skillet after they started to soften. But you can also cut the carrots up into bite sized pieces before cooking for ease of serving and eating. If you cut them, the cooking time will be shorter. However you choose to serve them, they make a great side dish for holidays like Easter dinner.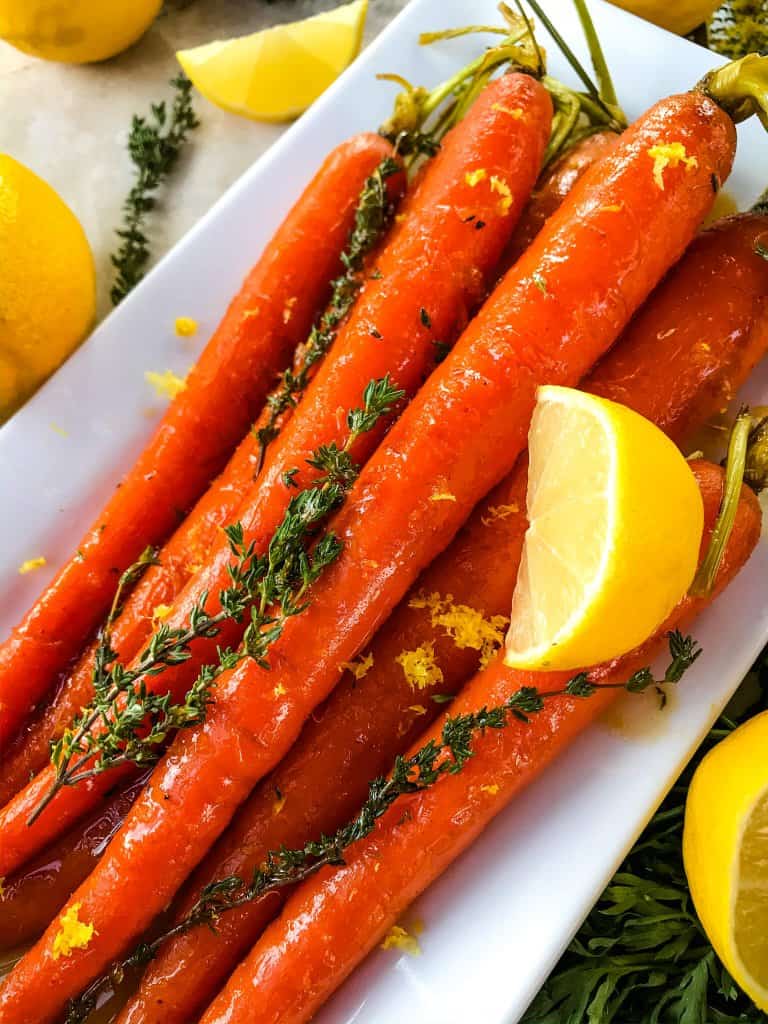 It only takes a few minutes to prepare the Honey, Thyme, and Lemon Glazed Carrots so it is a great side dish to put together while meats are resting, or you are getting ready to serve. The flavors of thyme, lemon, and honey make these carrots versatile with so many different dishes and meals. They even work well as a side for Italian dinners.
I feel like carrots are practically mandatory at Easter and this recipe is a great simple option to bring some bright, spring flavors to the holiday dinner.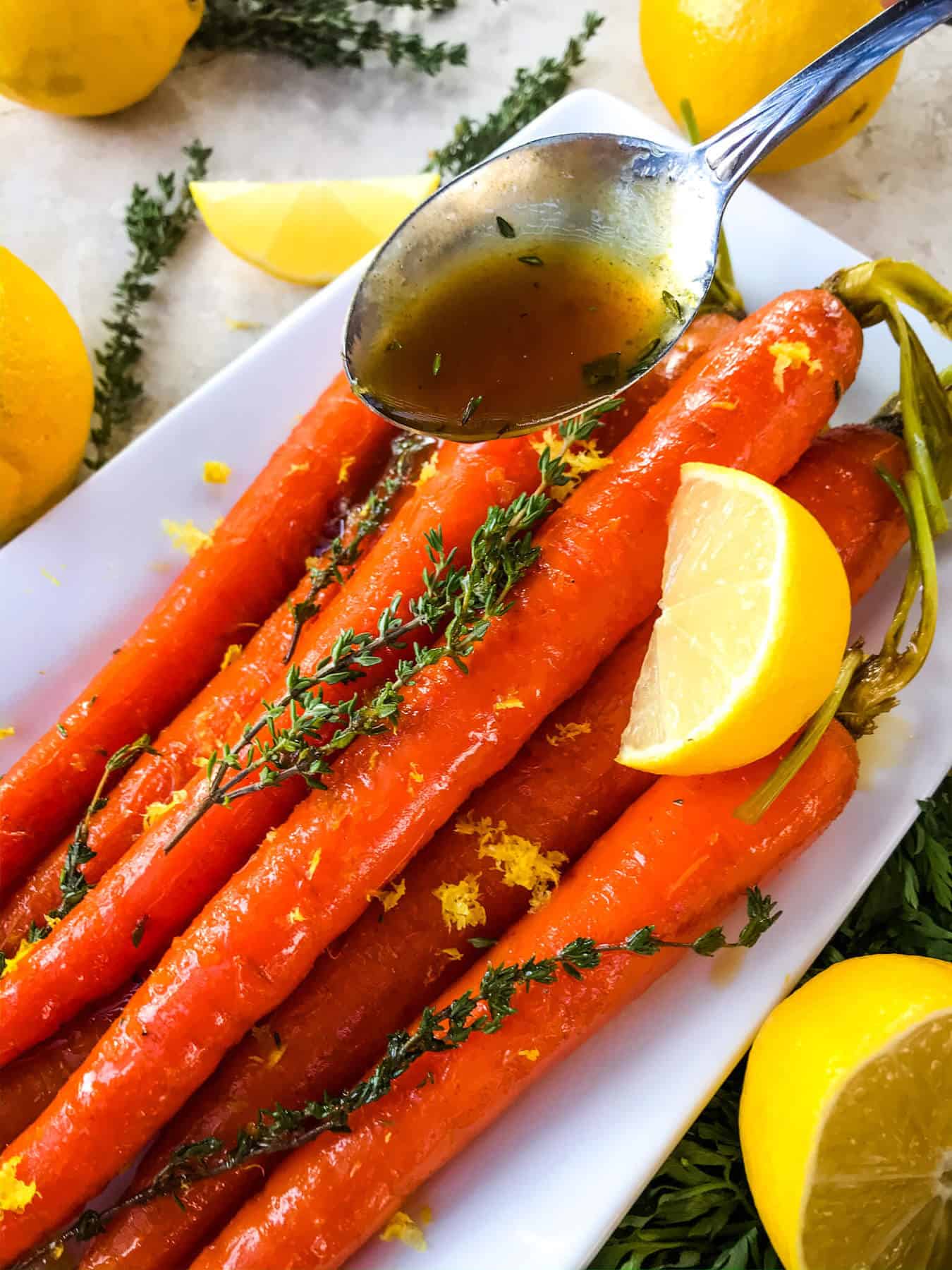 Instructions
Wash your carrots and trim as desired. Slice if you wish or keep whole.

Put the carrots in a large skillet with the stock, 1 Tablespoon of honey and salt. Bring to a boil over medium high heat.

Reduce heat to medium low, cover, and simmer until the carrots are just tender, approximately 5 minutes for cut carrots and 8-10 minutes for whole carrots. Turn or stir carrots about halfway through.

Remove the lid. Continue cooking until the liquid reduces to approximately 2 Tablespoons.

Add the rest of the honey, zest of the lemon, butter, and thyme. Continue cooking until the sauce thickens and turns a light brown.

Remove from the heat. Add the juice of 1/2 lemon. Season to taste with salt, pepper, and additional lemon as desired. Serve warm.
Notes
The honey can be replaced with 3 Tablespoons of granulated sugar instead if desired.
Nutrition
Calories:

129

kcal

|

Carbohydrates:

27

g

|

Protein:

1

g

|

Fat:

3

g

|

Saturated Fat:

2

g

|

Cholesterol:

8

mg

|

Sodium:

367

mg

|

Potassium:

400

mg

|

Fiber:

4

g

|

Sugar:

19

g

|

Vitamin A:

19094

IU

|

Vitamin C:

21

mg

|

Calcium:

44

mg

|

Iron:

1

mg

By