Make your own toasted coconut in just minutes! A perfect way to add some nuttiness and crunch to your recipes.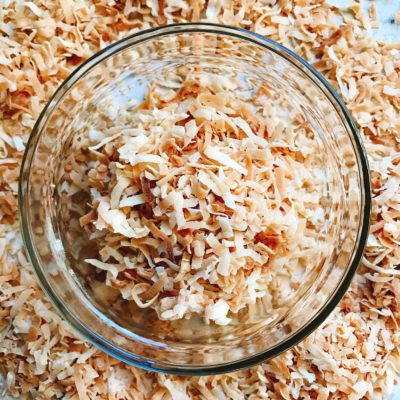 Coconut is a staple in making baking recipes.  With the holidays drawing near, odds are you will be using some!  Learn How to Toast Coconut for your recipes!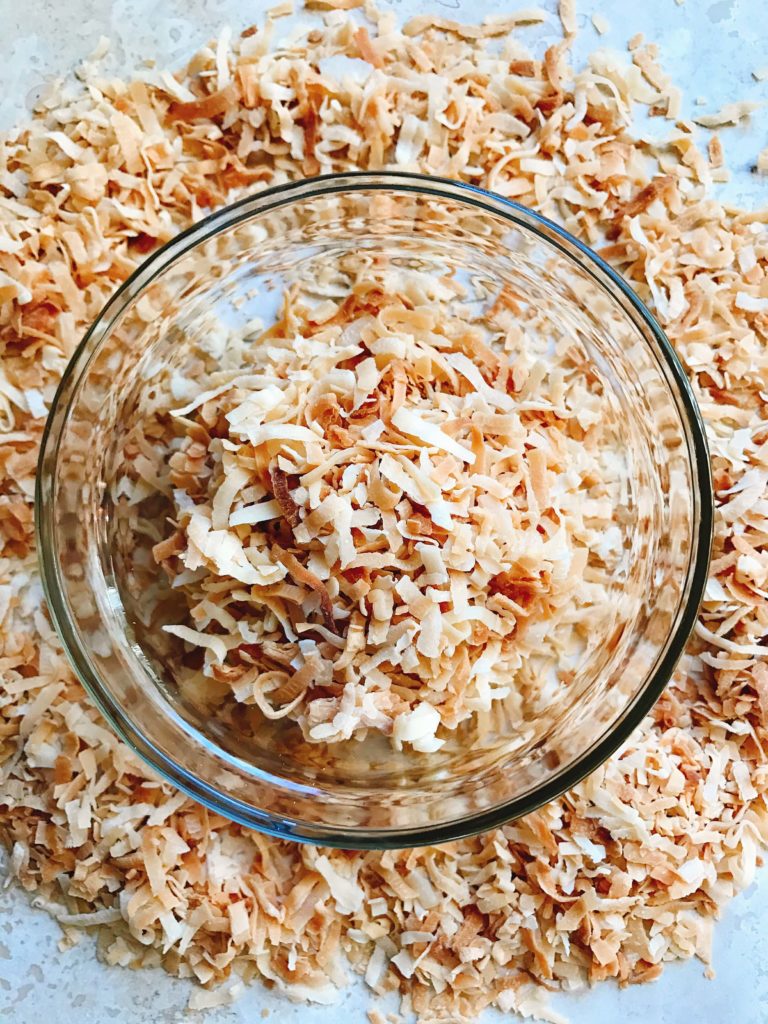 When coconut is toasted, it brings out a new depth of flavor.  The coconut becomes nuttier and a little less sweet compared to raw coconut.  It is also a great way to add some texture to your favorite desserts with some added crunch.
Toasting coconut is incredibly easy to do!  It only requires a few minutes.  You can toast a big batch or just as much as you need.  I like to toast an entire bag at a time because it is a snack favorite around here!  You can store the extra in an air tight container or resealable plastic bag.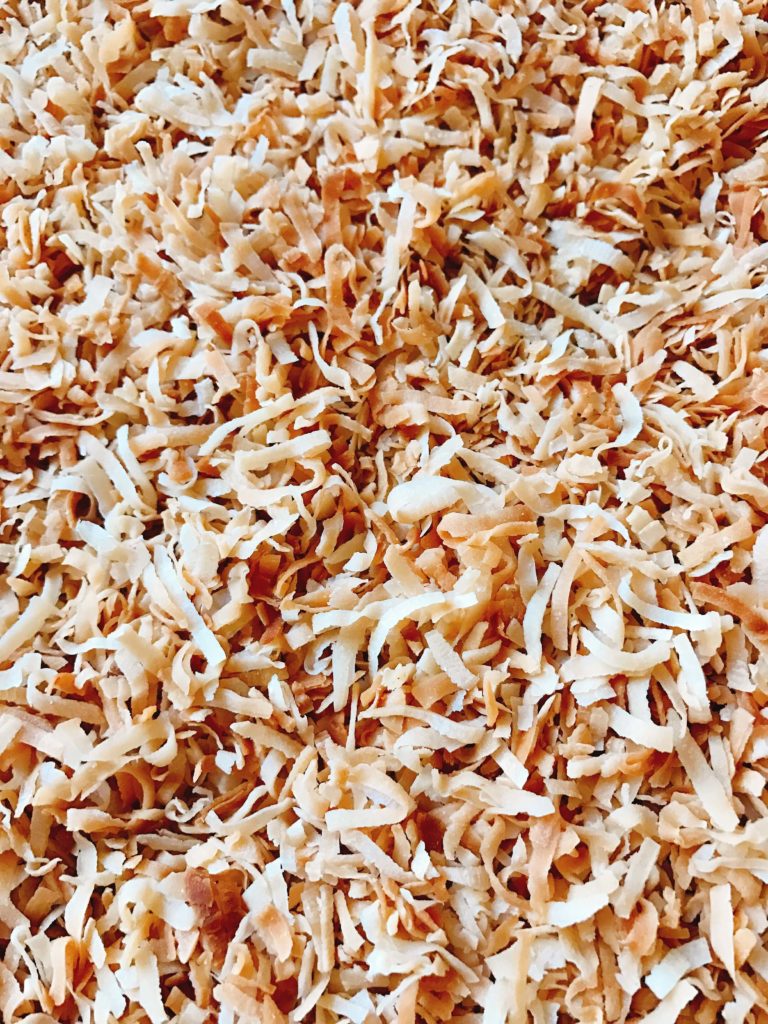 How to Toast Coconut: Just spread out your coconut over a large baking sheet and preheat your oven to 350F.  (Affiliate) I love to use silicone baking mats as often as I can because it makes easy clean up and is non-stick!
Bake the coconut and check every few minutes to stir.  This will ensure that you are getting an even toast on your coconut as the edges will cook faster.
The amount of coconut you are cooking and the depth of the layer will affect how long it needs to cook.  But after about 5-10 minutes you will have beautifully toasted coconut!  Pull the toasted coconut out of the oven when it is a light golden brown.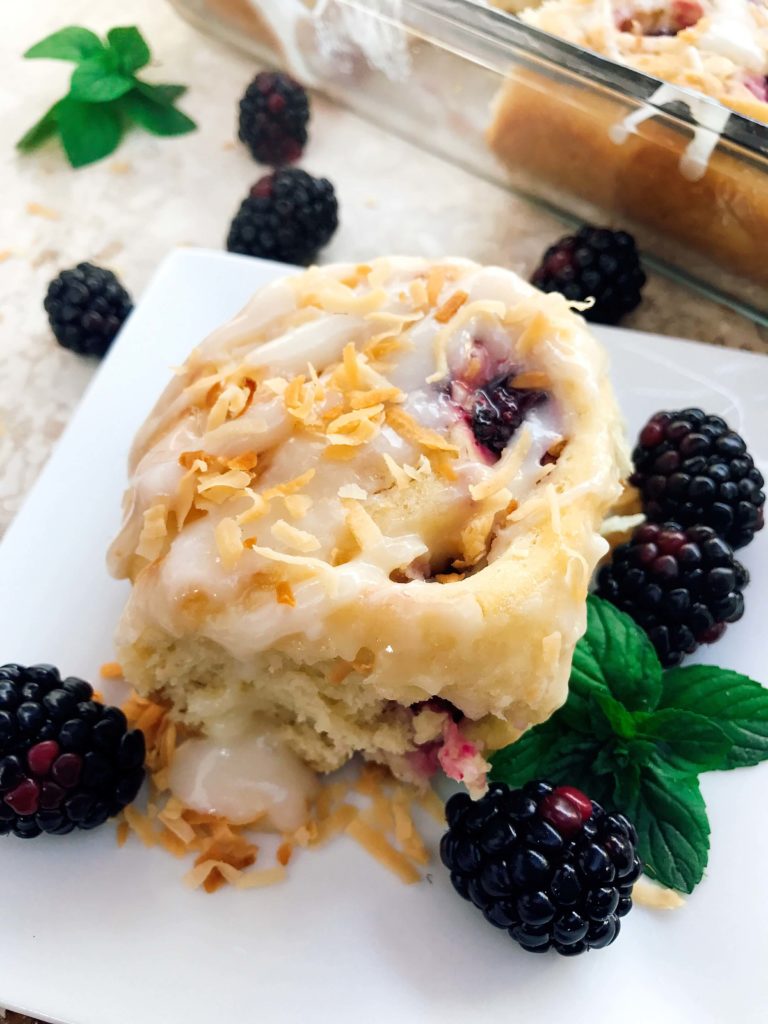 Try out some toasted coconut in our Blackberry Toasted Coconut Sweet Rolls!  The nuttiness of the toasted coconut is the perfect pairing for tart blackberries and a sweet roll base.  I make a lot of different sweet and cinnamon rolls in the house.  And these are one of the favorites!  A perfect breakfast or brunch item, especially during the holidays!  What is your favorite coconut recipe?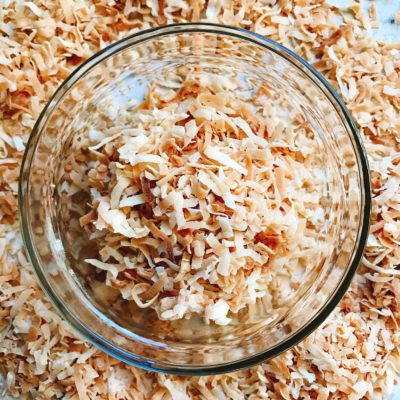 How to Toast Coconut
Make your own toasted coconut in just minutes! A perfect way to add some nuttiness and crunch to your recipes.
Print
Pin
Rate
Ingredients
1

cup

coconut

(or however much you need)

baking sheet

with edges
Instructions
Preheat your oven to 350F.

Line a baking sheet with a silicone mat for easy toasting. You can also use parchment paper or just put the coconut straight on the pan. Spread out the coconut over the baking sheet in an even layer. It can be thin or thick, it does not matter. If it is thicker, it will require more mixing as it bakes to toast evenly. I found that one bag of shredded coconut covered a large baking sheet about 1/2" deep.

Place the coconut in the oven to toast. Check every couple of minutes to mix the coconut for an even toast. Just toss and mix using a spatula.

Remove the coconut from the oven when it has turned a light brown. The time this takes will depend on how much coconut you have in the oven and how deep the layer is. My large sheet pan with an entire bag took about 9 minutes.

Use in your favorite recipes or eat it plain!
By