Just 20 minutes to make these easy Jalapeno Popper Pinwheels, a great game day or party appetizer recipe. Cream cheese mixture is blended with more cheese, spices, and diced jalapeno peppers for a twist on classic roll ups. Vegetarian.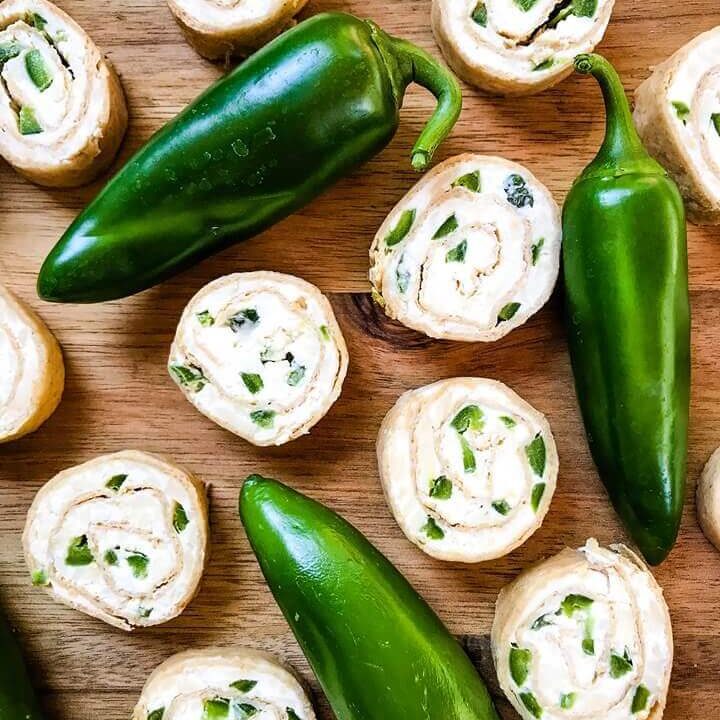 These Jalapeno Popper Pinwheels are a fast and easy appetizer recipe, perfect to make for game day and party finger food.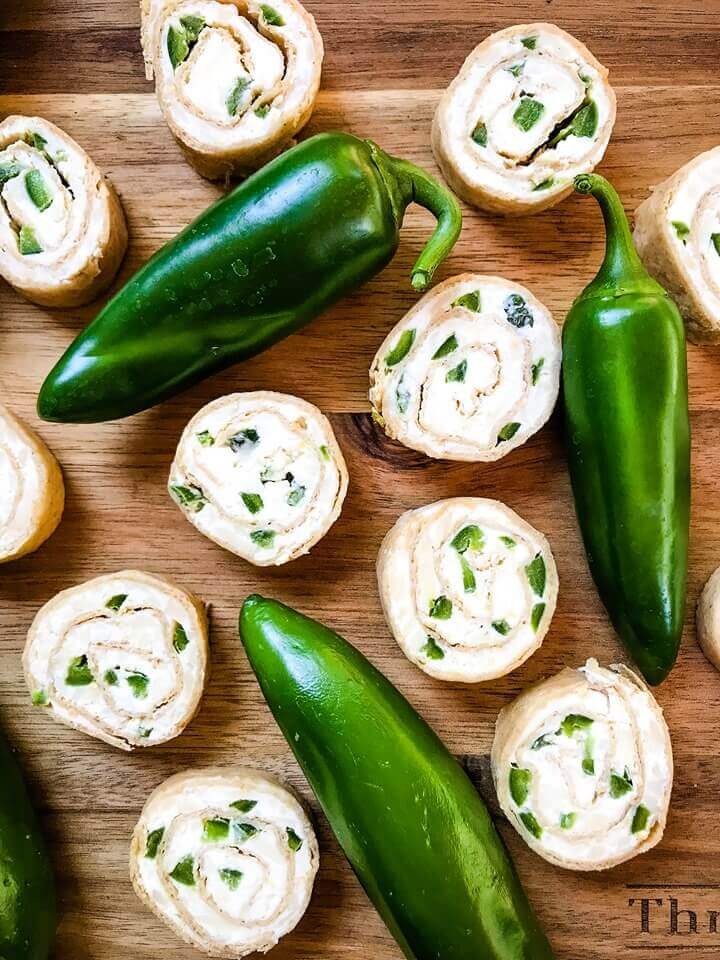 Why You Will Love This Recipe
I love making pinwheels (aka roll ups) for parties and hosting because they are so simple to make, eat, and there are so many flavor combinations you can use. Find more pinwheel recipes here!
Jalapeno poppers are a perfect blend of slightly spicy and creamy, cheesy goodness. 
While the classics are always delicious, I love to use the same flavors in new ways.  And this Jalapeno Popper Pinwheels recipe is a much easier way to enjoy those same flavors with less effort!
These roll ups are incredibly simple and quick to make which makes them perfect for feeding a crowd.  Get more jalapeno popper recipes here!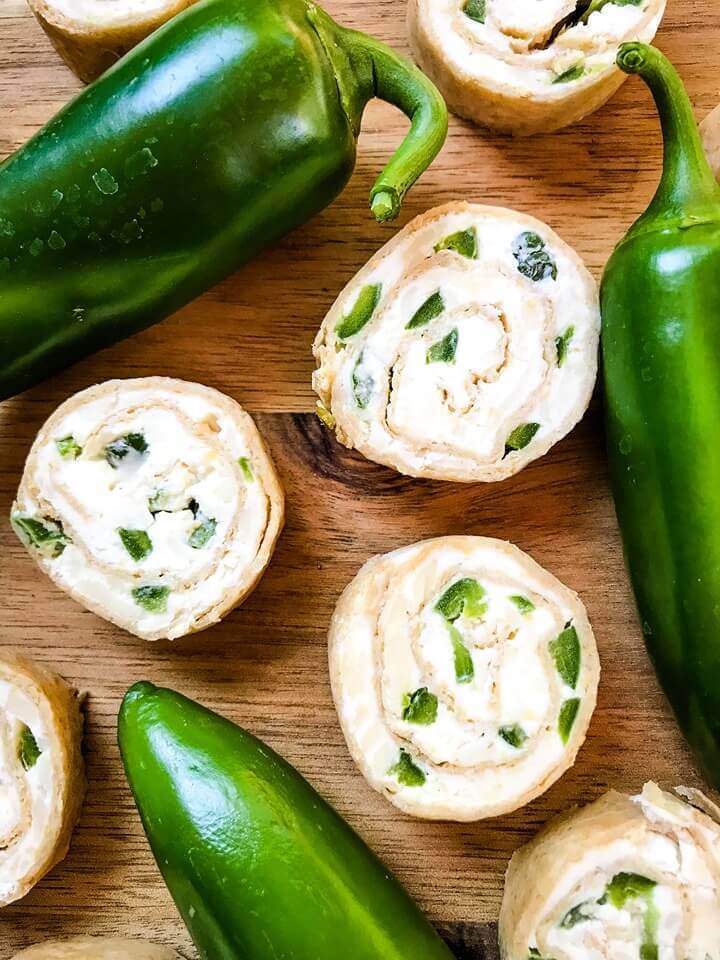 Ingredients
Here are the ingredients you need for this recipe:
Large Flour Tortillas
Jalapeno Peppers
Cream Cheese
Monterey Jack Cheese
Garlic Powder
Salt
The heat of a jalapeno can vary greatly.  I have had quite a few jalapenos with so much heat! 
So use more or less based on your heat preference as well as how hot the pepper you are using is. 
Even with all the wives tales of how you can try to tell how hot it is (cracks, curved stems, etc), none of those seem to hold true, so the best way to tell is simply to eat a piece of it. 
Or just throw them in and see what happens, which is what I normally do. 🙂 
Equipment
This is the equipment you need to make the recipe:
Small Bowl
Measuring Spoons
Knife
Spatula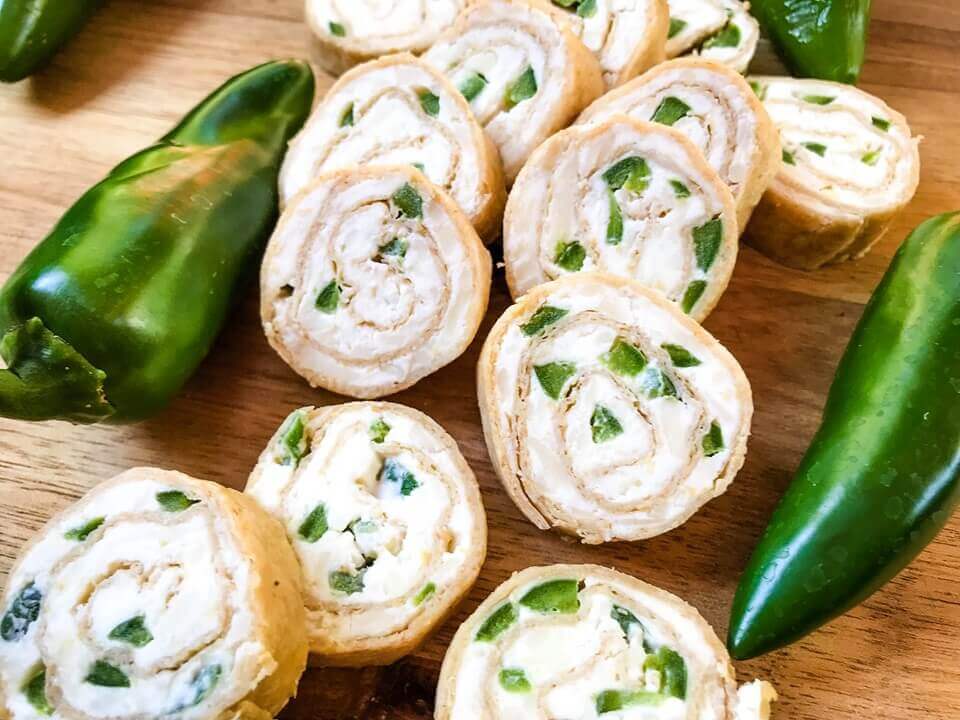 Instruction Overview
To make these Jalapeno Popper Pinwheels  first make the cheese mixture. 
Spread the cream cheese mixture across the large flour tortillas. 
Roll them up tightly, but not so tight that the cheese squeezes out. 
Chill the log in the freezer for 10 minutes, or in the refrigerator. 
Slice them up into rounds as thick or thin as you would like and serve chilled.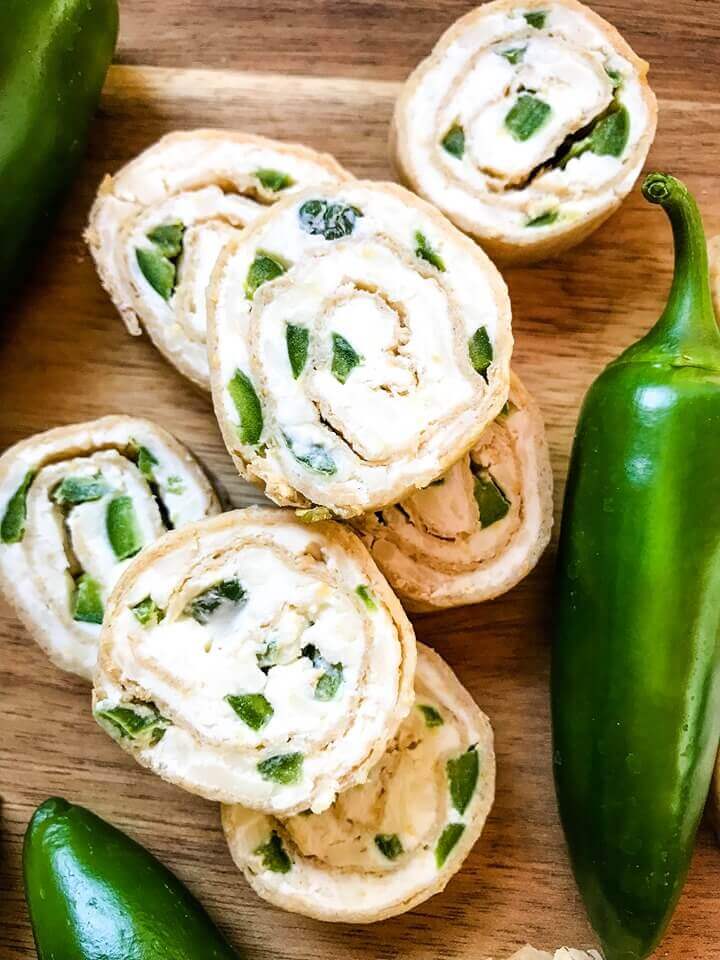 Modifications and Substitutions
Larger tortillas are best because there is less waste from the ends, but any size will work. I use burrito size.
Swap Monterey Jack Cheese for Pepperjack or white cheddar if desired.
Make them spicier by using more peppers, a hotter pepper like serrano, or adding hot sauce.
Kim's Tips
The chilled cheese will make the cuts cleaner and easier. 
FAQs
How do you make pinwheels not soggy?
Minimal moisture is key. This recipe uses a thick cheese mixture and no moisture so they will not be soggy!
Can you make pinwheels the night before?
Yes! They can be made up to a day in advance. Earlier than that and the tortillas will start to get soft.
How do you make pinwheels stick together?
They will stay rolled due to the cheese mixture causing the layers to stick together. Chilling the roll is also important to help make it stiffer.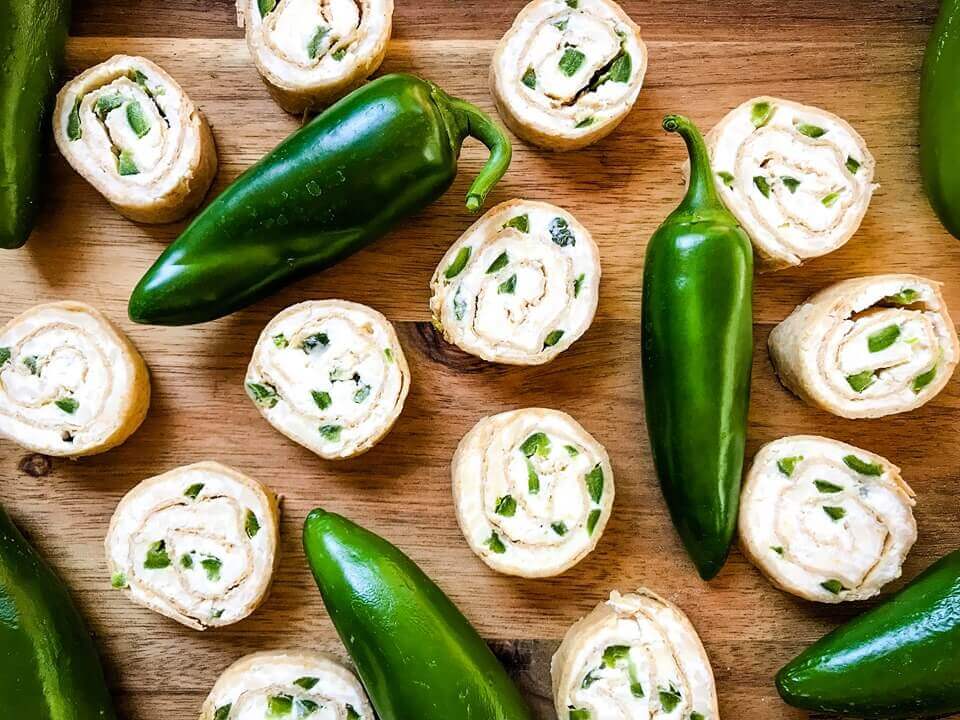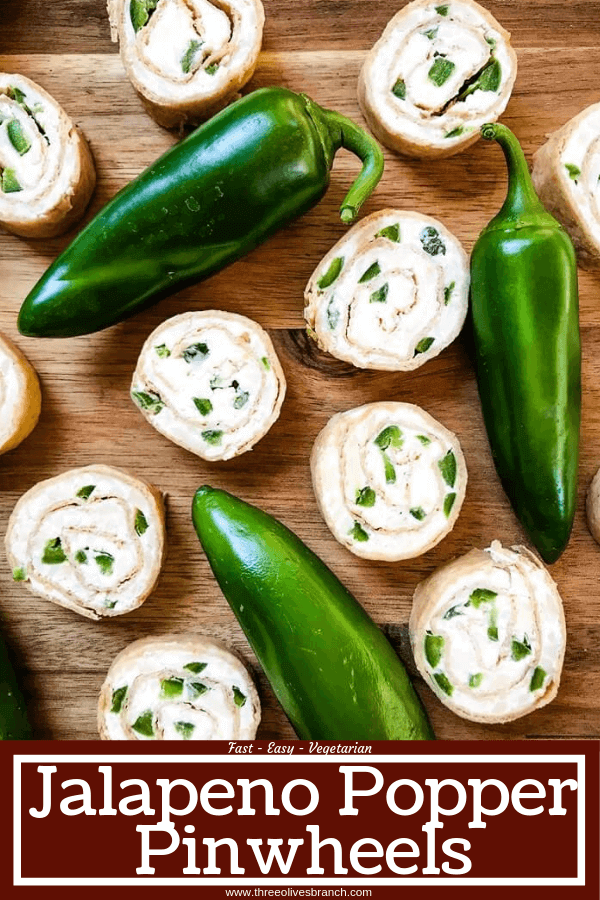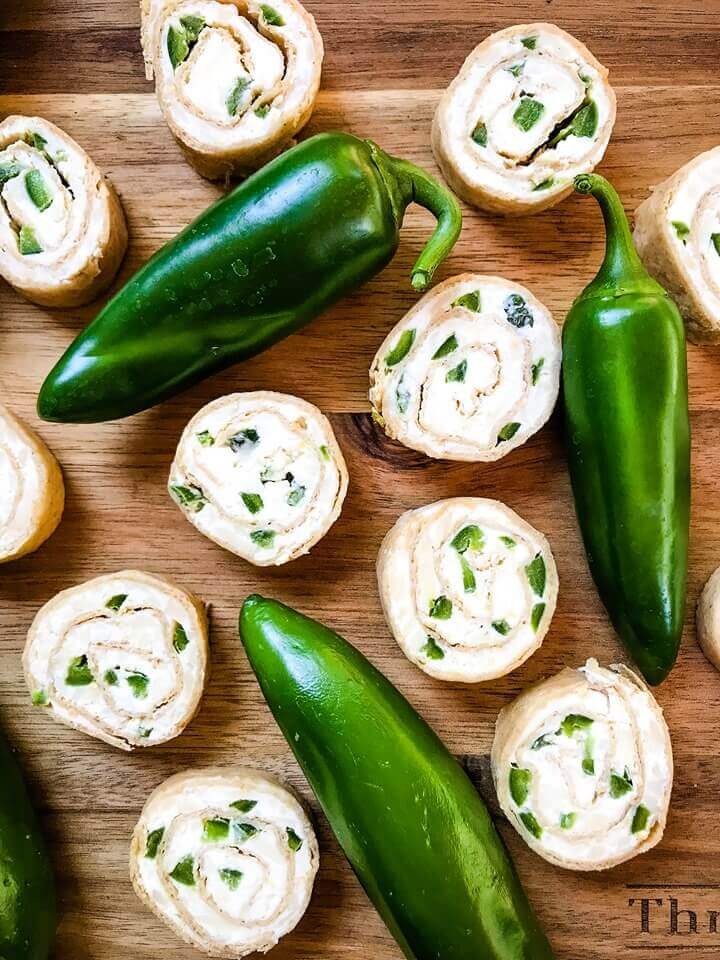 Instructions
Remove the stem, ribs, and seeds from the jalapeno and dice.

Make the cream cheese mixture by combining the cream cheese, Monterey jack, diced jalapeno, garlic powder, and salt in a small bowl.

Spread the cheese mixture across both tortillas to the edges in an even, thin layer. I skip spreading to the right and left edges by about an inch because the ends will be thrown out.

Starting from the bottom, roll the tortilla up rather tightly but without squeezing the cream cheese mixture out.

Chill the logs in the freezer for 10 minutes to firm up, or in the refrigerator if waiting longer before serving. The chilling will make them easier to slice and create cleaner cuts without everything oozing out.

When ready to serve, use a serrated knife to cut the log into half inch rounds (or as thick/thin as preferred). Discard the ends where the log is hollow (or snack on them!). Serve immediately.
Notes
For more heat, use more jalapeno, add some hot sauce to the cheese, or use spicier peppers like a serrano.
You can also use regular large tortillas however you will get fewer pinwheels per tortilla and will need more to use up the cheese mixture.
Nutrition
Serving:
1
piece
|
Calories:
37
kcal
|
Carbohydrates:
3
g
|
Protein:
1
g
|
Fat:
2
g
|
Saturated Fat:
1
g
|
Cholesterol:
7
mg
|
Sodium:
82
mg
|
Potassium:
14
mg
|
Fiber:
1
g
|
Sugar:
1
g
|
Vitamin A:
82
IU
|
Vitamin C:
1
mg
|
Calcium:
22
mg
|
Iron:
1
mg
More Pinwheel Recipes
Pinwheel Roll Up Recipes
Some of our popular pinwheel, or roll up, recipes! Perfect for parties, entertaining, snacks, and lunch!

By