A twist of traditional Spanish Pan con Tomate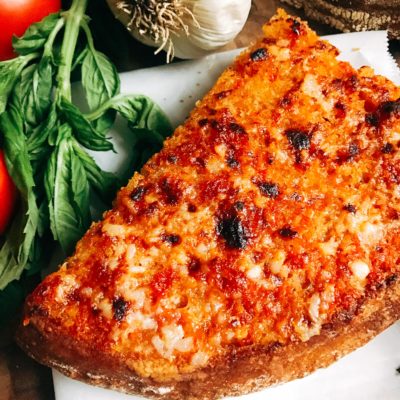 Earlier this year I spent some time in Barcelona, Spain and fell in love with their Pan con Tomate.  It is a simple toasted bread with fresh tomato, oil, a little garlic, and salt.  I was inspired to take those same flavors and turn them into a Pan con Tomate Garlic Bread!
Pan con Tomate does not look like much at first, as it appears like toasted bread with a faint pink-red hue from tomato juice.  But OH MY is it wonderful!  Across Spain, this was one of my favorite things to eat and something I was excited to bring home to try.  I decided to take those same flavors and make an amped-up garlic bread!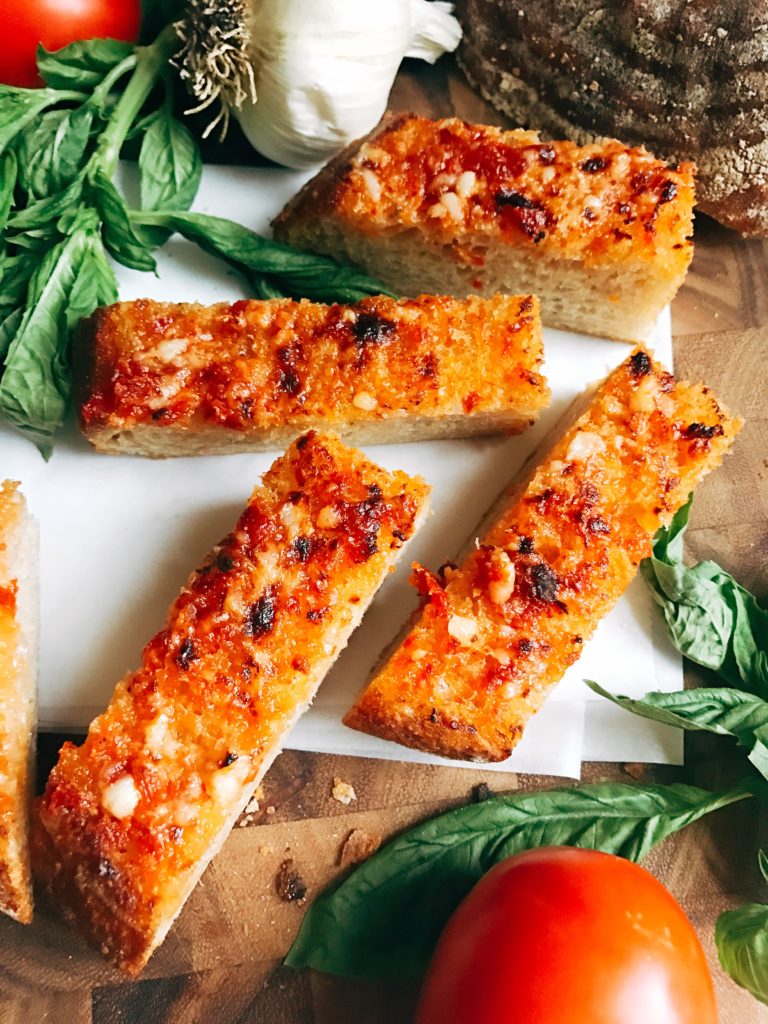 I love making garlic bread, it is so fast and simple!  The perfect addition to an Italian meal.  Just be careful when you are broiling it, the bread can burn fast!  I may have inherited the bread-burning gene from my mom, because it happens more than it should!
Pan con Tomate is simple ingredients and simple flavors.  And while I love and appreciate that type of food, I also love tons of flavor!  This Pan con Tomate Garlic Bread is full of bold ingredients.  Similar to our classic Sourdough Garlic Bread, the addition of tomato is the perfect addition for a fun and different appetizer or side.
I use my Sun-Dried Tomato Roasted Garlic Compound Butter for this Pan con Tomate Garlic Bread as it has the perfect flavors.  If you do not have the compound butter made already or are looking for a shortcut, you can simply apply each of the compound butter ingredients individually.  But this butter is so amazing I love to make a double batch so I always have some on hand.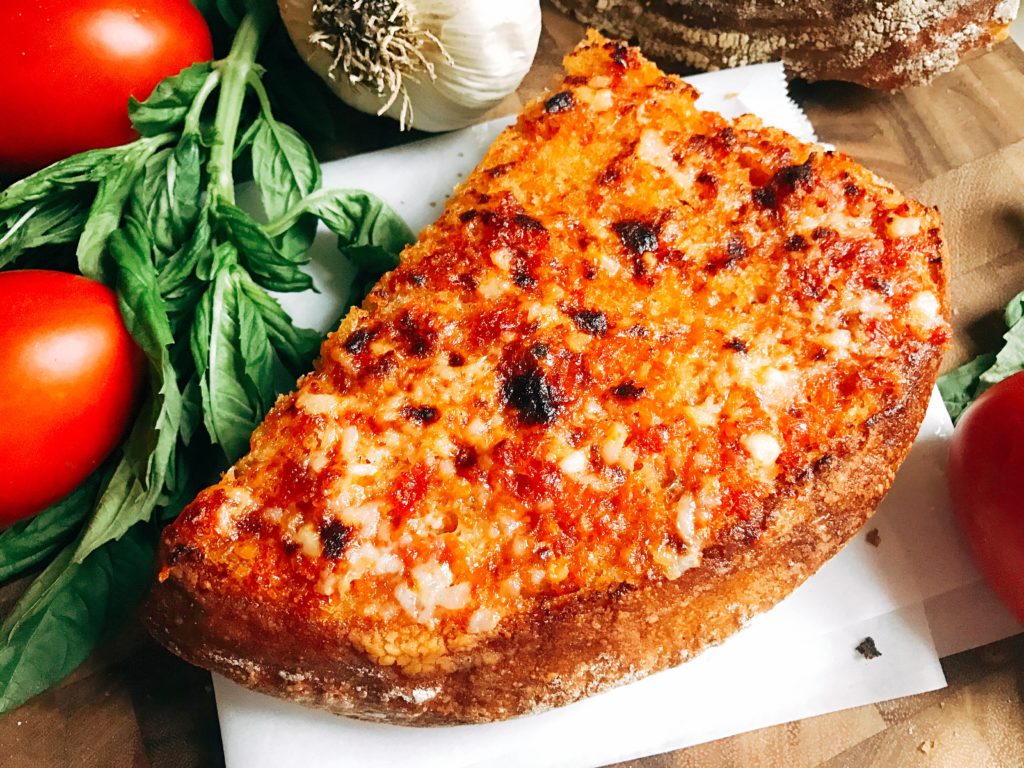 One of my favorite things about traveling is being inspired by their food and bringing those ideas home with me.  Sometimes I keep them classic, sometimes they get turned into something new like this Pan con Tomate Garlic Bread!  What is your favorite meal you have had when traveling?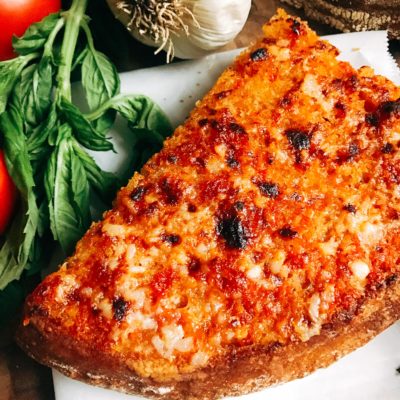 Pan con Tomate Garlic Bread
A twist of traditional Spanish Pan con Tomate
Print
Pin
Rate
Instructions
Cut a loaf of bread in half vertically so that the two ends are separated. Set one half aside.

Using one half of the loaf, slice the bread in half lengthwise as if you are building a sub sandwich so that there is a top slice and a bottom slice.

Spread the softened butter across each bread piece, using more or less as necessary.

Spread the garlic paste on top of the butter.

Set your oven to broil and put a rack on the top most position. Place the bread either directly on the rack or on a baking sheet and place on the top rack directly under the heating coils. Leave the door slightly open.

Broil the bread until it reaches your desired doneness, approximately 3-5 minutes. Make sure that you are watching the bread as it cooks fast and can easily burn. Immediately remove the bread to a cutting board and cut into slices.
Notes
You can find garlic paste at your local grocery store near the fresh herbs in a tube along with other herbs and pastes.

The exact amount of butter and garlic paste that you need will vary with the exact size/shape of your bread.

Get the recipe for Sun-Dried Tomato Roasted Garlic Compound butter here!  You can also add the ingredients individually to the bread above as follows: 4 Tbsp softened butter, 2 cloves roasted garlic, 1/4 tsp salt, and 2 Tbsp finely chopped sun-dried tomatoes (It tastes better when the flavors have melded into the butter, but this works!)

By