Pink Lady Cocktail is a fun drink recipe made with gin, lemon, and grenadine. Use an egg white for a silky foamy texture and a cherry to garnish. A great Valentine's Day drink or Grease movie drink.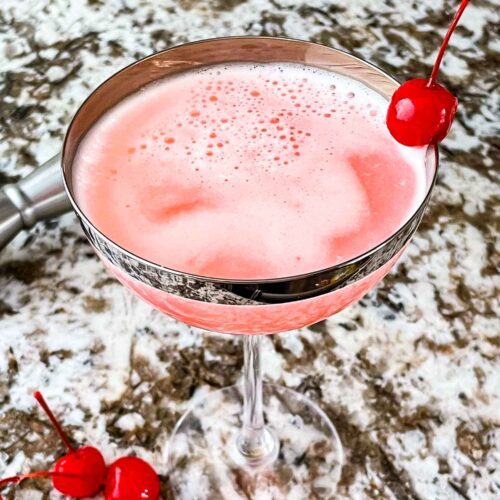 This Pink Lady cocktail is a beautiful and easy drink! Made with 4 ingredients.
Pink Cocktail
The Pink Lady may not be a widely known cocktail, but it is sure to be a hit at your party!
Made with just 4 ingredients, this cocktail has a slightly sweet, silky flavor.
I love how unique and beautiful the color is! It makes this a great Valentine's Day cocktail or even to watch the Grease movie with (Pink Ladies!).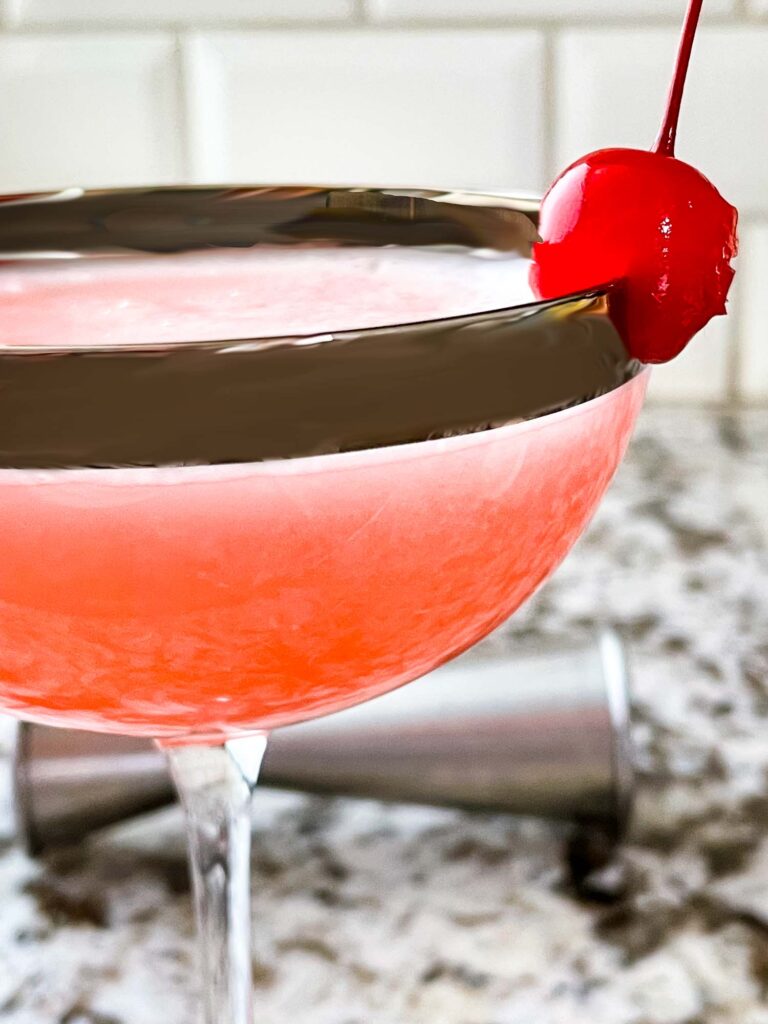 Why is it called a Pink Lady?
The exact history is debated, however the name is believed to either be from the Broadway musical with the same name, or in honor of the star of the musical.
Other Names
This cocktail is also referred to as Clover Club.
If the egg white is swapped out for heavy cream, it is called a Pink Shimmy.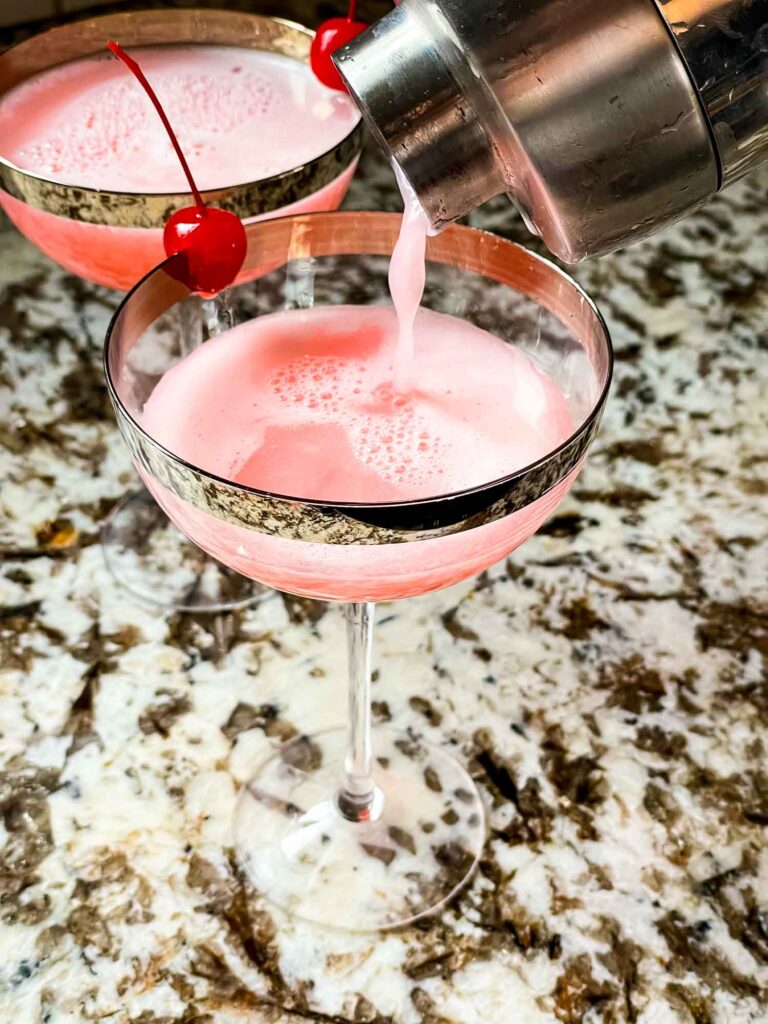 What are Pink Ladies made of?
These are the ingredients you need for this cocktail:
Gin
Lemon Juice
Egg White
Maraschino Cherry (garnish)
Garnish
The garnish for this pink cocktail is traditionally a maraschino cherry.
It can be placed inside the drink, which is more traditional, but it will be difficult to see. Or cut a small slit on the bottom and place it on the edge of the glass.
What is the purpose of egg white in a cocktail?
The addition of an egg white is going to add a silky texture and also some foam from when it is shaken and the air is trapped in the egg white.
Is raw egg safe in cocktails?
It is never 100% safe, since it is a raw egg, but the risk is minimal.
You can skip the egg white if desired.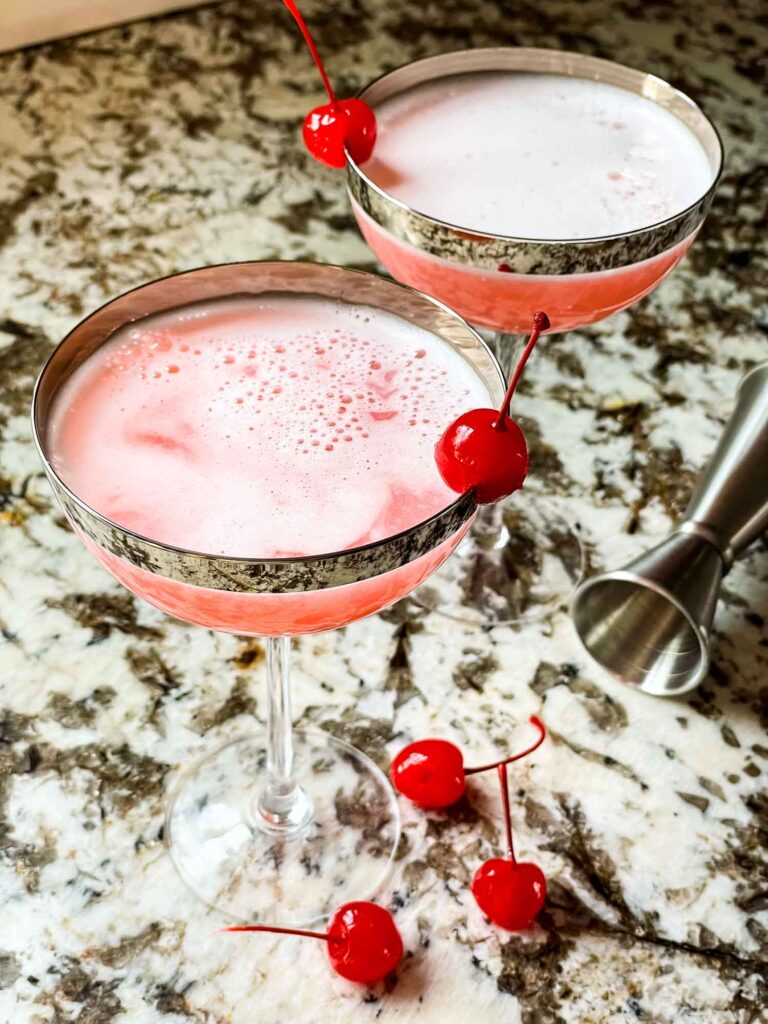 Pink Lady cocktail without Egg White
You can absolutely make this drink without the egg white.
How do you Make it Frothy without Eggs?
If you still want it to be frothy, you can substitute aquafaba, which is the juice from canned chickpeas or garbanzo beans.
Simply use 3/4 ounce of the aquafaba in place of the egg white, add it to the shaker, and shake with the rest of the ingredients.
It will not be quite as silky but will give you the same foamy texture.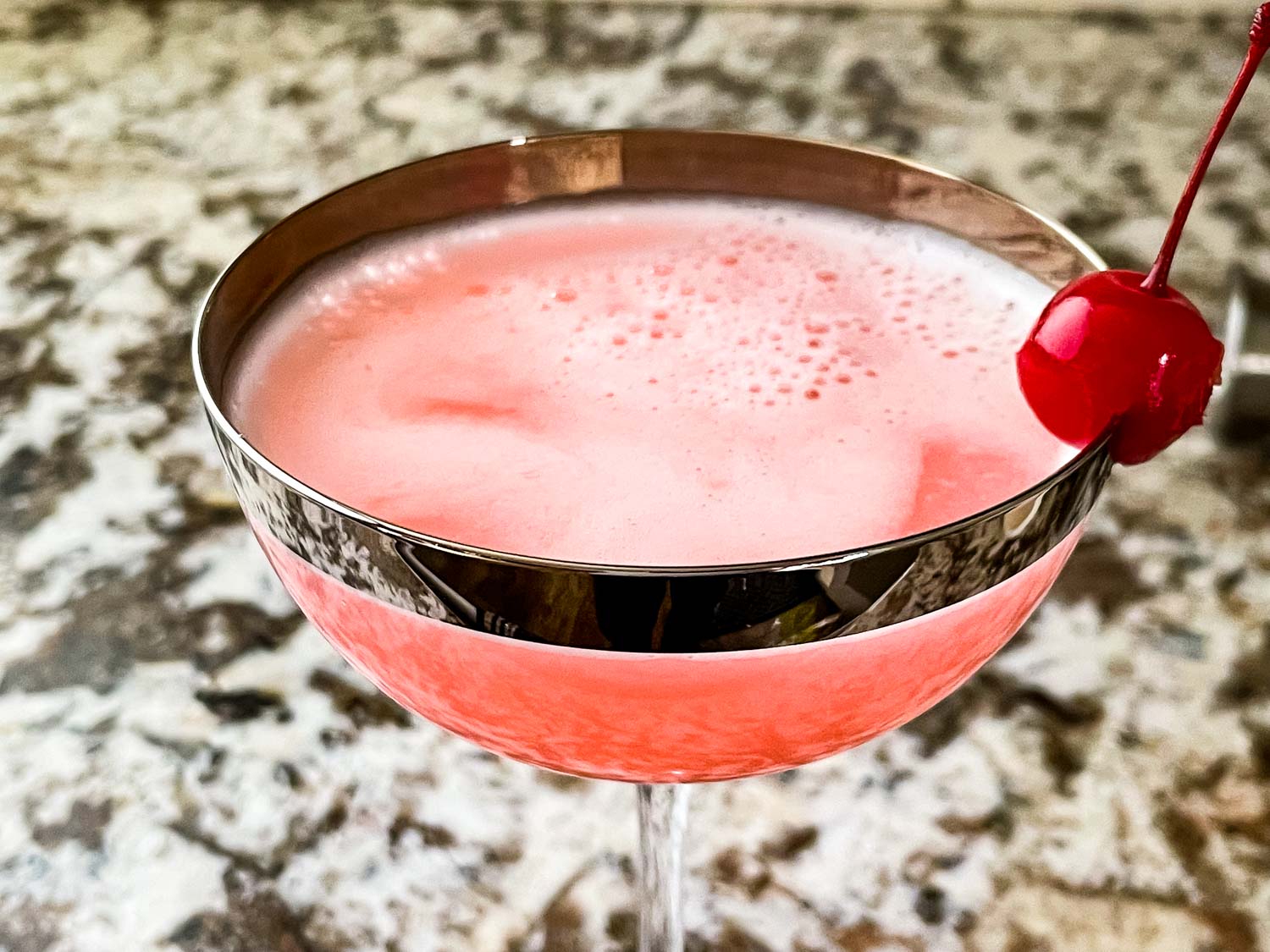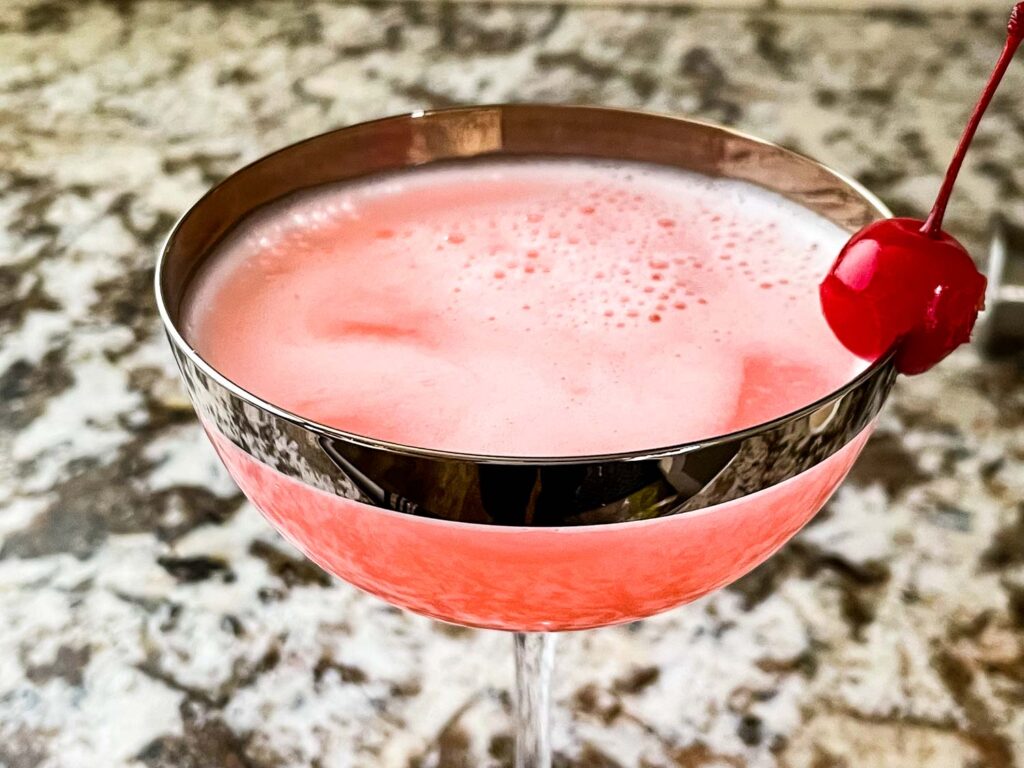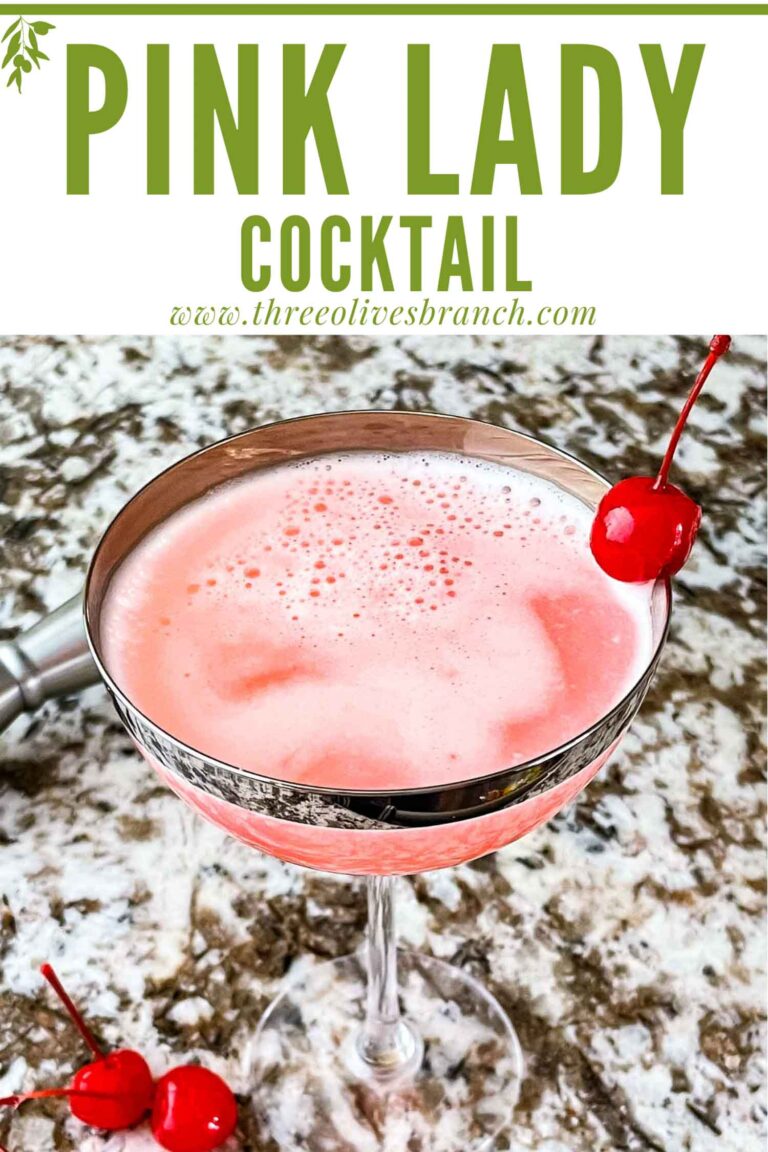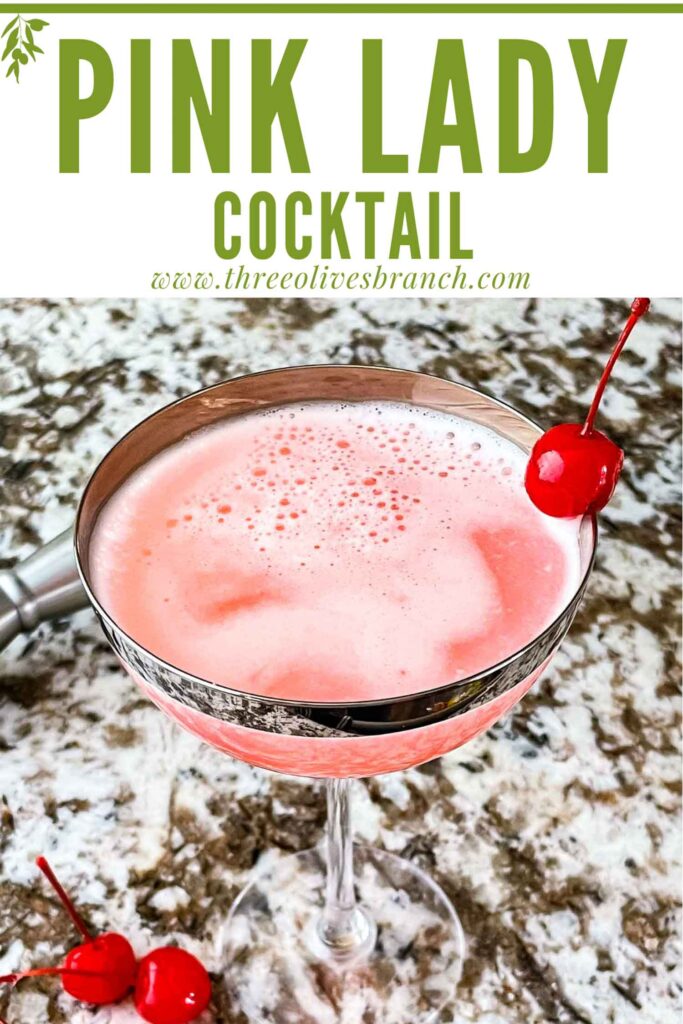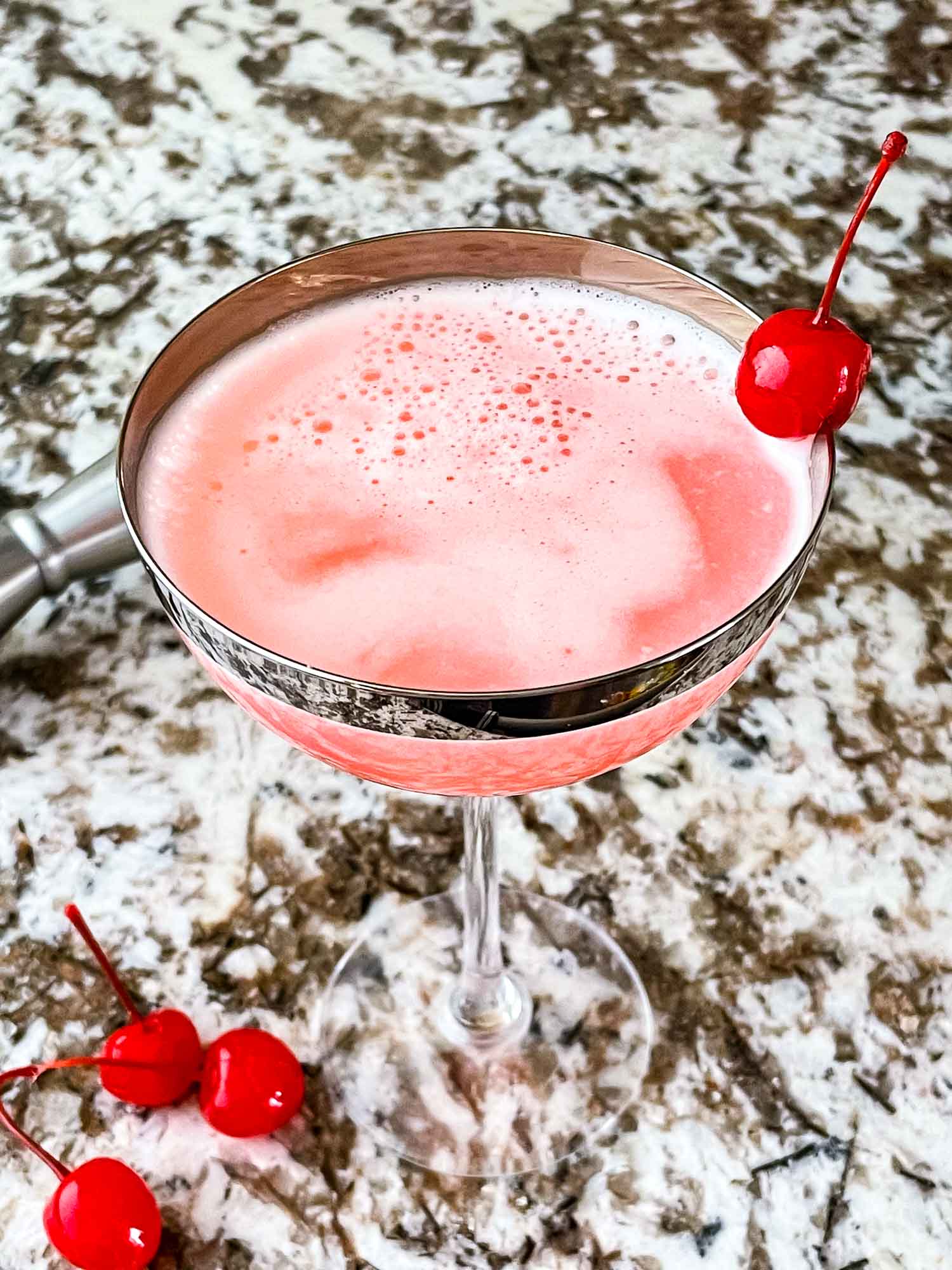 Instructions
Place all 4 ingredients in a cocktail shaker with a big scoop of ice.

Cover and shake until very cold, 30 seconds.

Strain into the cocktail glass. Garnish with a maraschino cherry either in the drink or cut and put on the edge. Serve.
Notes
Do not want to use an egg white? You can replace it with the same amount of aquafaba (juice from canned chickpeas/garbanzo beans) or skip it altogether. The egg white bring a silky and foamy texture.
Nutrition
Serving:

1

drink

|

Calories:

74

kcal

|

Carbohydrates:

14

g

|

Protein:

4

g

|

Fat:

1

g

|

Saturated Fat:

1

g

|

Polyunsaturated Fat:

1

g

|

Monounsaturated Fat:

1

g

|

Sodium:

58

mg

|

Potassium:

307

mg

|

Fiber:

1

g

|

Sugar:

3

g

|

Vitamin A:

1

IU

|

Vitamin C:

11

mg

|

Calcium:

13

mg

|

Iron:

1

mg

By