Frosted Pine Gibson Martini is a perfect winter Christmas cocktail recipe. Made with gin and earthy flavors, this drink is great for a party. Use white luster dust for the swirly, white snow effect.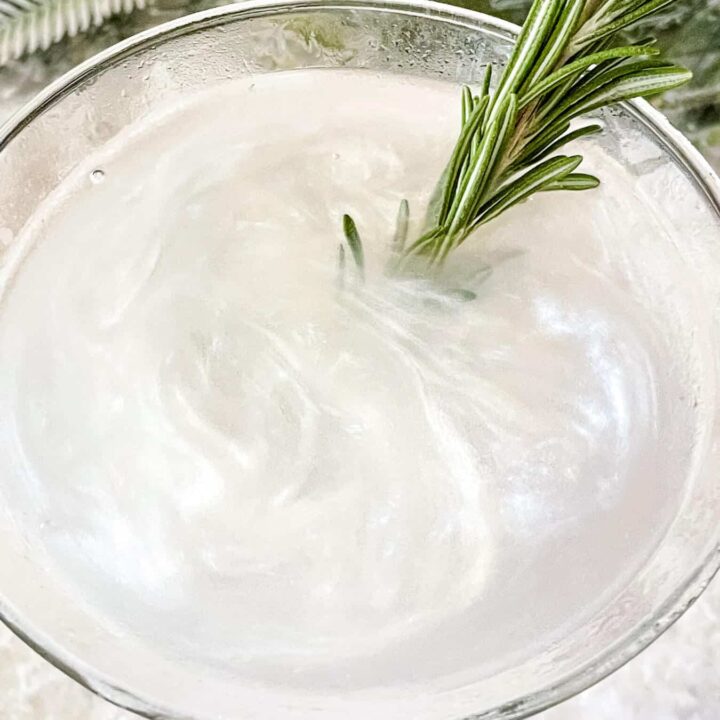 This Frosted Pine Gibson Martini is a delicious and beautiful nod to winter! Earthy flavors in a Gibson martini with a special shimmery white look.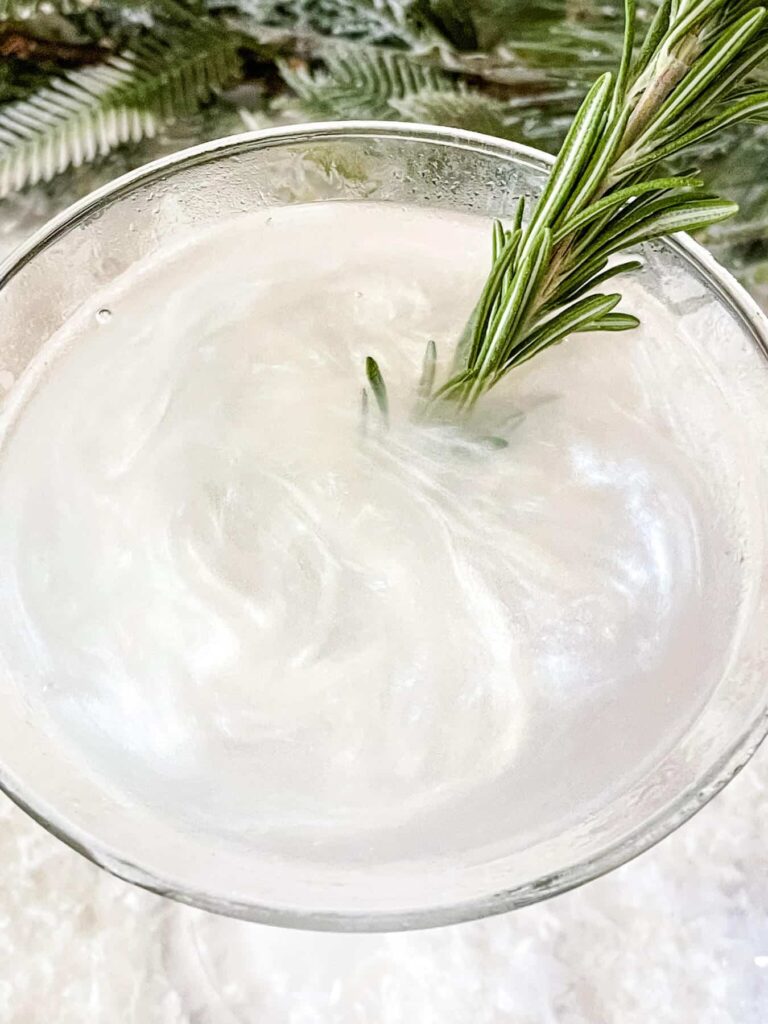 Winter Christmas Cocktail
Special cocktails are practically mandatory around here over the holidays. While the standard go-to's are always delicious, I love having something fun, unique, and festive for friends and family.
This Christmas cocktail has become one of my favorites to serve, and it is perfect all winter long!
A martini can be made with either gin or vodka, but I chose to use gin here because the earthy, woodsy flavors of gin was perfect for the flavor profiles of the drink and also the theme.
Not a gin fan? You can use vodka instead, but you will have minimal "pine" as it will just come from the simple syrup and garnish.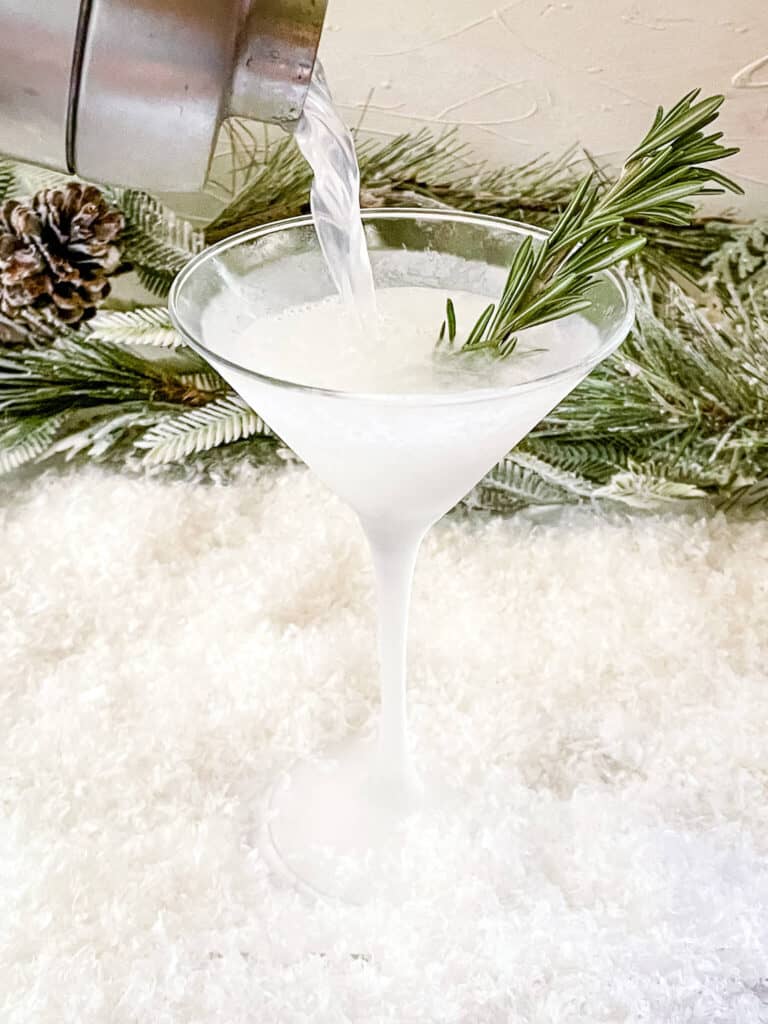 I like to use just a little of my homemade rosemary simple syrup in the cocktail. It lends just a touch of sweetness and also some additional earthy flavors.
If you choose to put cocktail onions in, I would skip the simple syrup and instead put a little rosemary in the shaker to impart the rosemary flavor in the drink.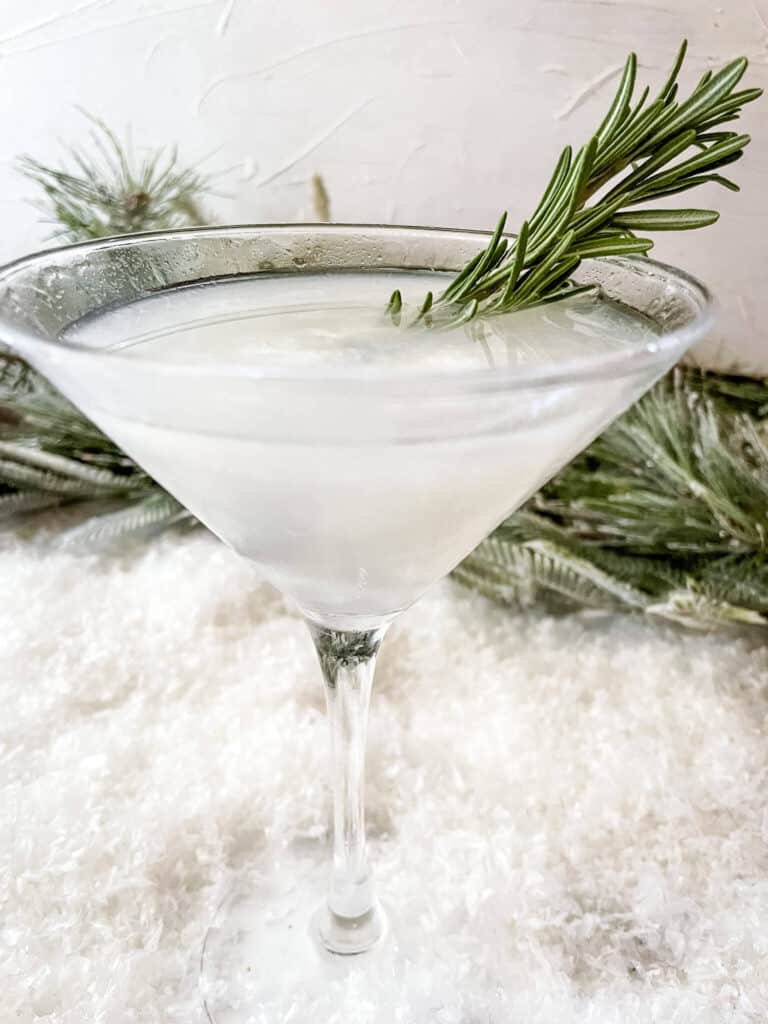 What is the difference between a martini and a gibson?
A Gibson is a variety of a martini and technically not something completely different. The only real difference is in the garnish. A martini classically uses olives while a Gibson uses cocktail onions.
Legend says that a bartender ran out of olives and used the cocktail onions instead, inventing the Gibson martini.
You can use olives if desired, or skip the olive/cocktail onions completely.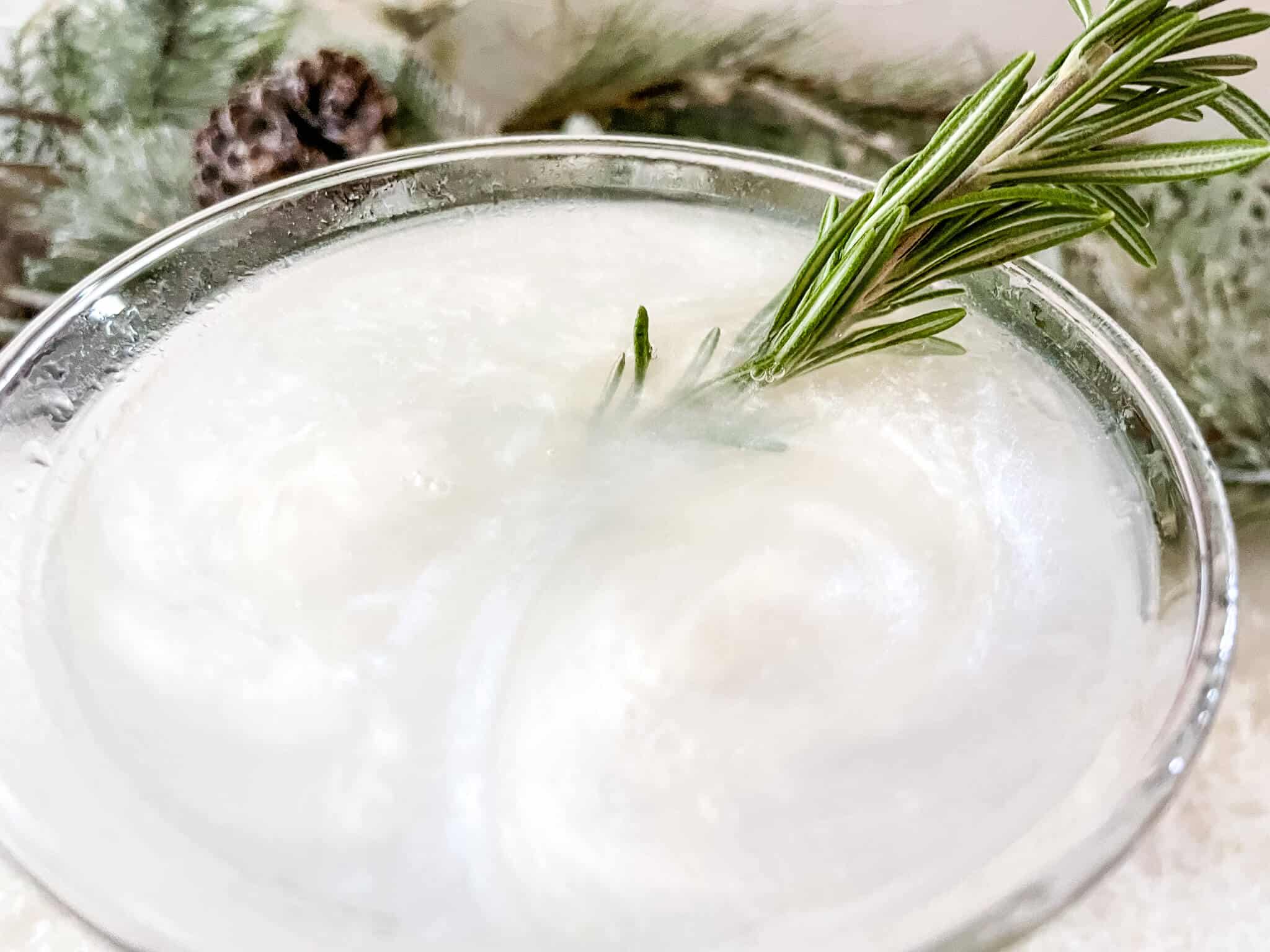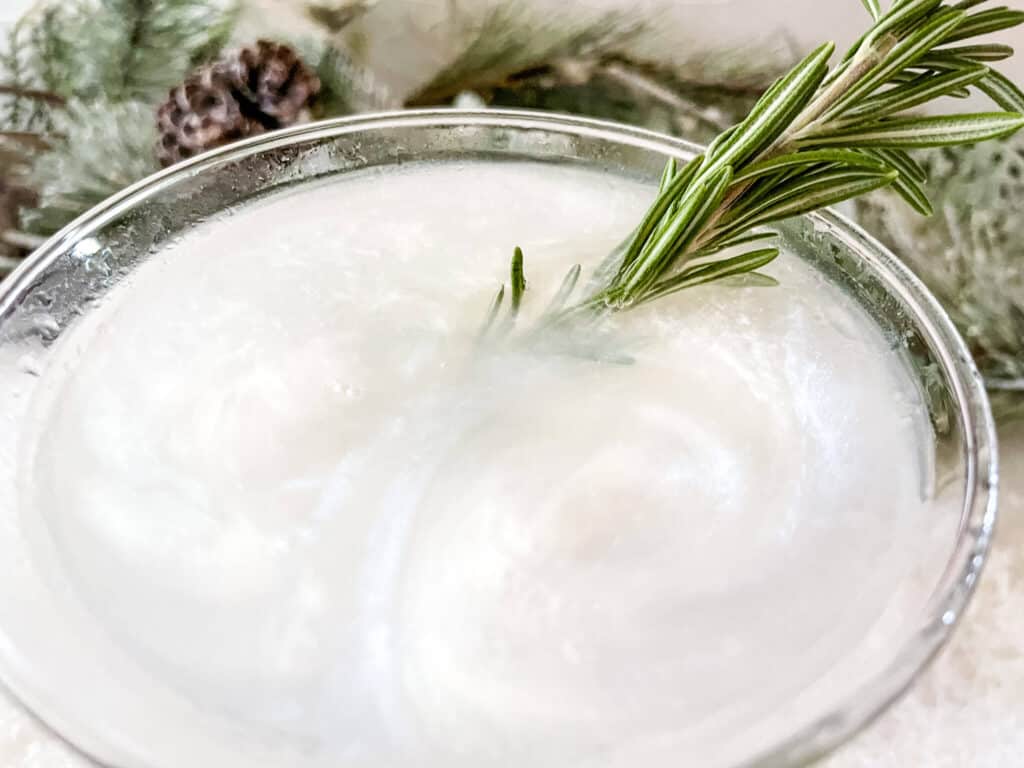 How to make the white shimmer liquid
I love making holiday cocktails shimmer and sparkle, and the best way to do this is luster dust!
You may find various names of similar products such as luster dust, pearl dust, and edible glitter.
Technically those are all different things however I have seen companies use those words interchangeably.
Ultimately, you want to use one that is not a literal glitter where it is just chunks, and instead use one that is like a powder.
And this powder should have a shimmer and sparkle, not dull.
There are a lot of options out there but I love this white luster dust which gives it exactly the color and shimmer that you want.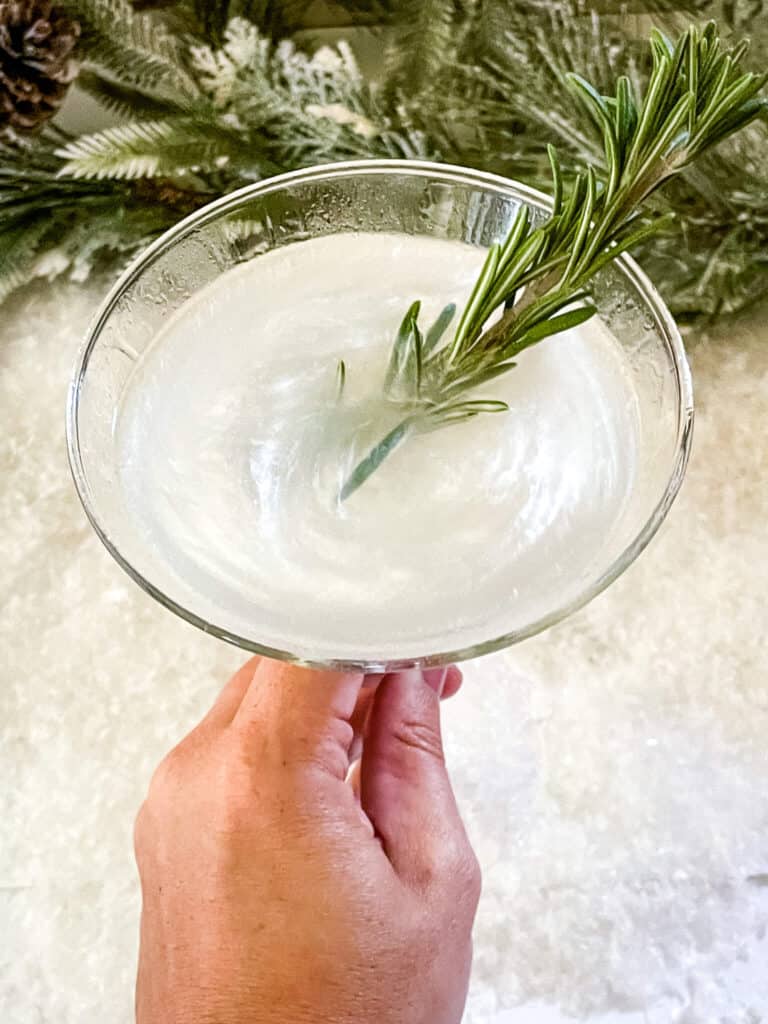 Garnishes
The classic garnish for a Gibson martini is a cocktail onion.
I add the cocktail onions to the bottom of each glass and love that they almost look like little snowballs to keep with the winter theme!
The rosemary sprig sticking out of the cocktail is just perfect. I love the color contrast and the added woodsy scent it gives the drink.
Making in Advance
This winter cocktail can easily be made in batches and advance. Simply combine all ingredients, minus garnish. I recommend chilling it until ready to serve and even storing it on ice to keep it cooler.
The white luster dust will settle, so simply stir or swirl to reactivate the pretty white shimmer and swirls.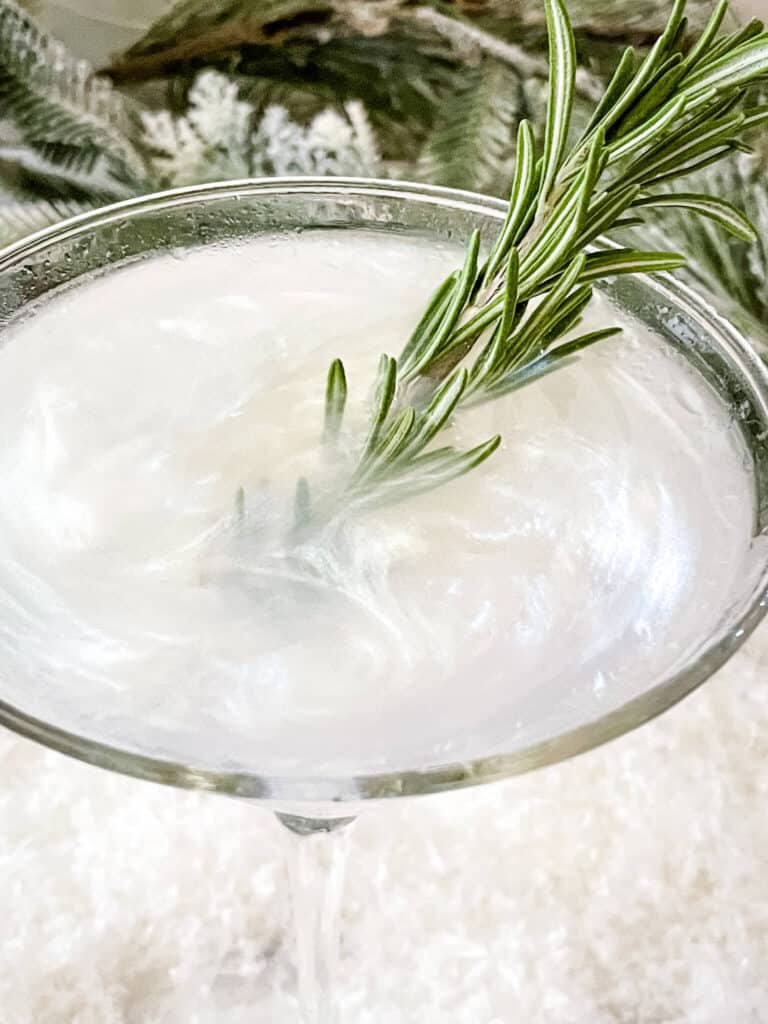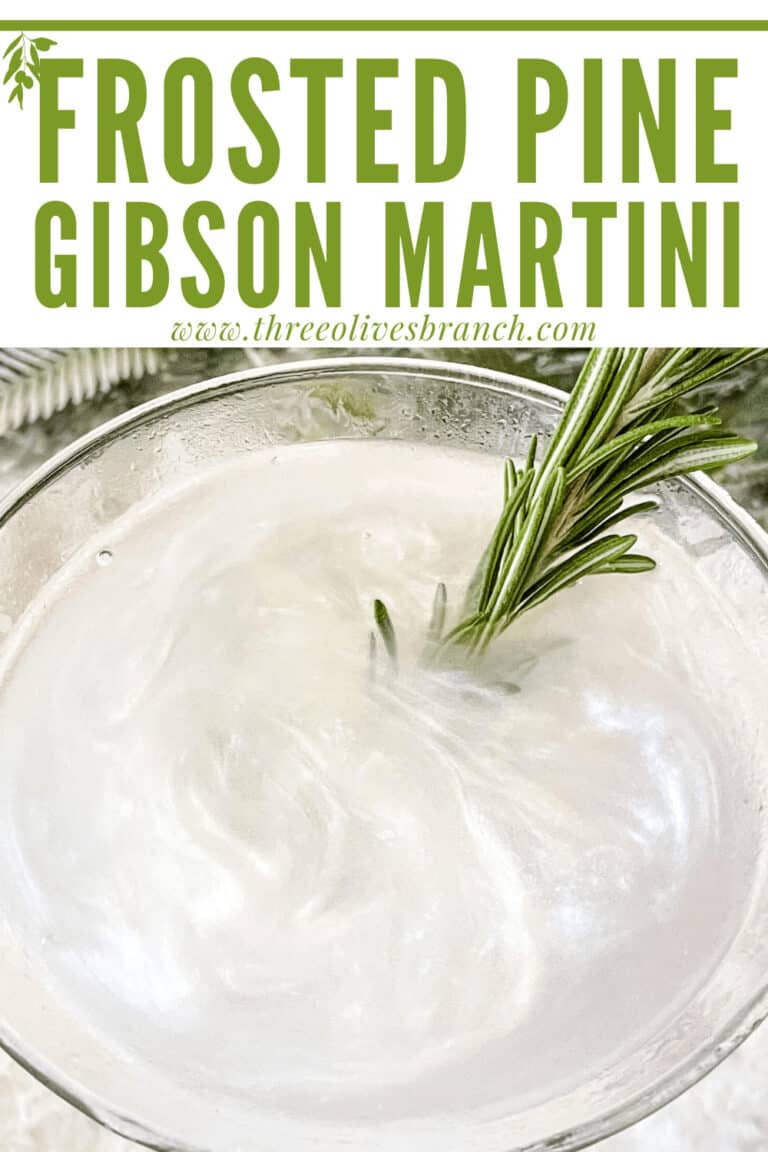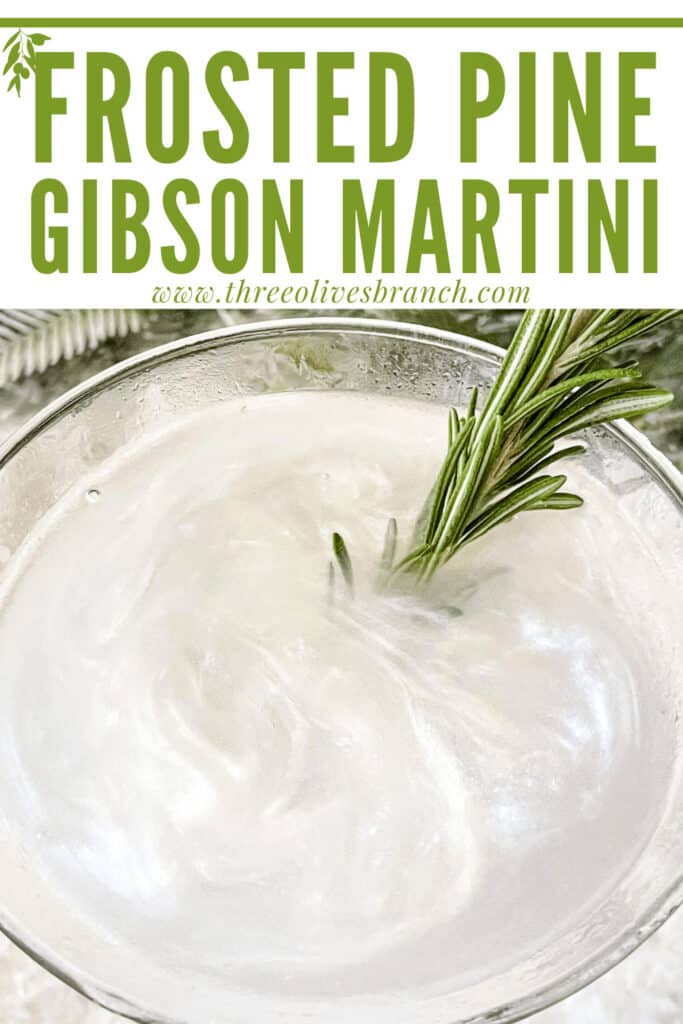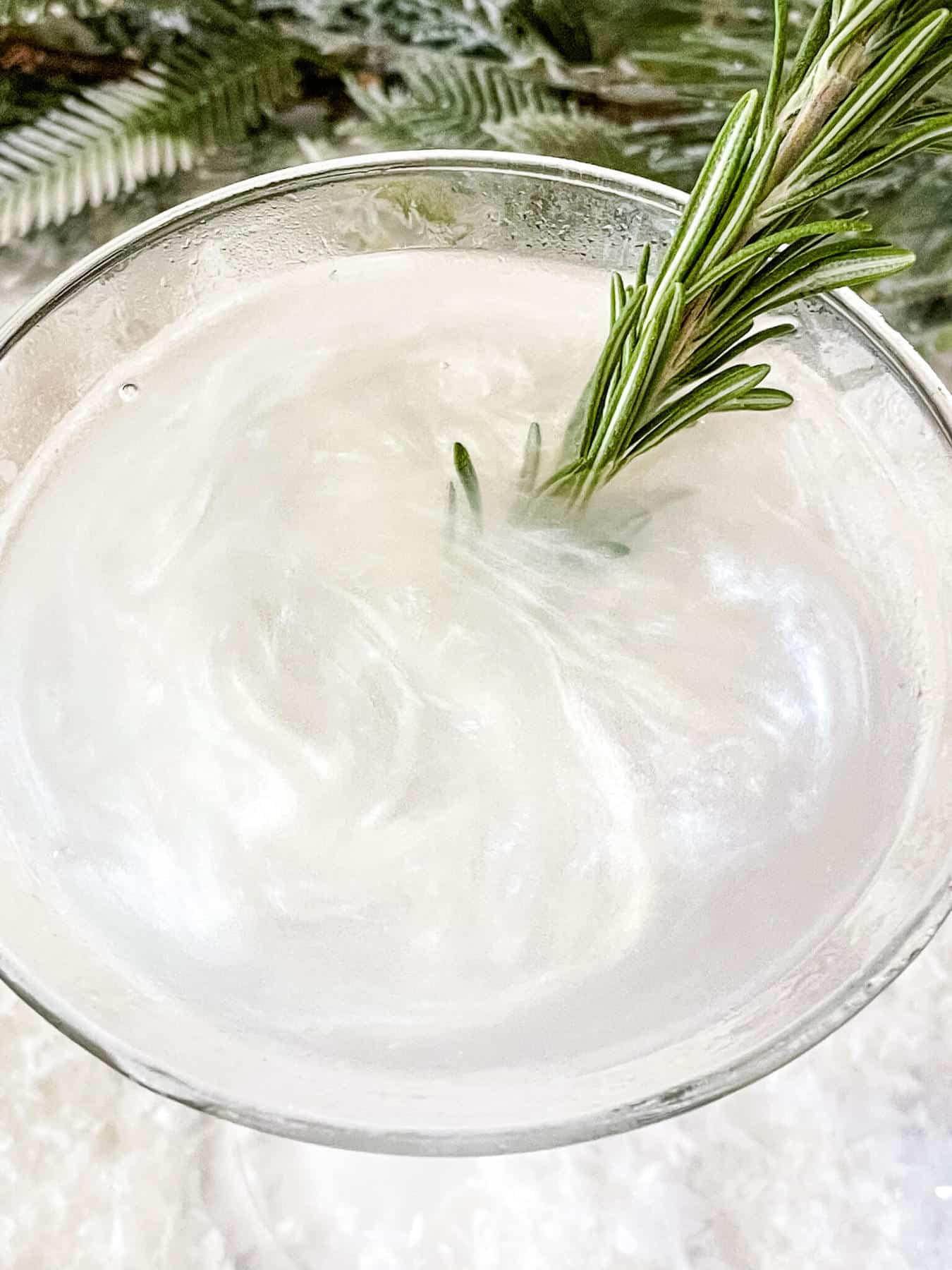 Instructions
Combine the gin, vermouth, simple syrup, and luster dust in a cocktail shaker.

Add a big scoop of ice and shake vigorously for at least 20 seconds.

Place 1 or 3 cocktail onions in the bottom of each glass. Strain the martini into glasses. Garnish with a rosemary sprig.
Notes
The rosemary simple syrup brings a little sweetness and deeper woodsy notes. But it can be skipped if preferred to avoid the sweetness.
The rosemary sprig has several purposes: garnish, adds additional woodsy notes, and to stir (see below).
The cocktail onions are a nod to winter, looking like snowballs, while also representing the Gibson. If you choose to use the onions, you may want to skip the simple syrup and instead, place a small piece of rosemary in the cocktail shaker to impart the woodsy flavor in the drink itself.
The luster dust is beautiful but will settle if it sits for too long. Simply stir with the rosemary sprig to reactivate the swirling!
I like to freeze my glasses to give it an extra "frosted" feel and to help keep the drink cool. The frosted look disappears relatively quickly.
Luster dust, pearl dust, and edible glitter are all technically different things however I have found manufacturers sometimes use any of those names. Ultimately you are aiming for a shimmering dust that is almost cloudy (versus not shimmering or solid glitter without the cloud). The ingredient link above works perfectly!
Bartending superstition believes cocktail onions should only be used in odd numbers (1 or 3) for good luck.
Nutrition
Serving:
1
drink
|
Calories:
82
kcal
|
Carbohydrates:
16
g
|
Protein:
2
g
|
Fat:
1
g
|
Saturated Fat:
1
g
|
Polyunsaturated Fat:
1
g
|
Monounsaturated Fat:
1
g
|
Sodium:
12
mg
|
Potassium:
354
mg
|
Fiber:
2
g
|
Sugar:
2
g
|
Vitamin C:
4
mg
|
Calcium:
14
mg
|
Iron:
1
mg
Winter and Christmas Cocktails
Why do I use an odd number of onions?
This is a bartender superstition. The belief is that it is unlucky to use an even number of a garnish, so therefore then use 1 or 3 onions, not 2 or 4.

By