This Pornstar Martini is a flavorful cocktail made with passion fruit, vanilla vodka, and fresh fruit served alongside champagne sparkling wine. Porn star is a delicious fruity, tropical summer alcoholic drink.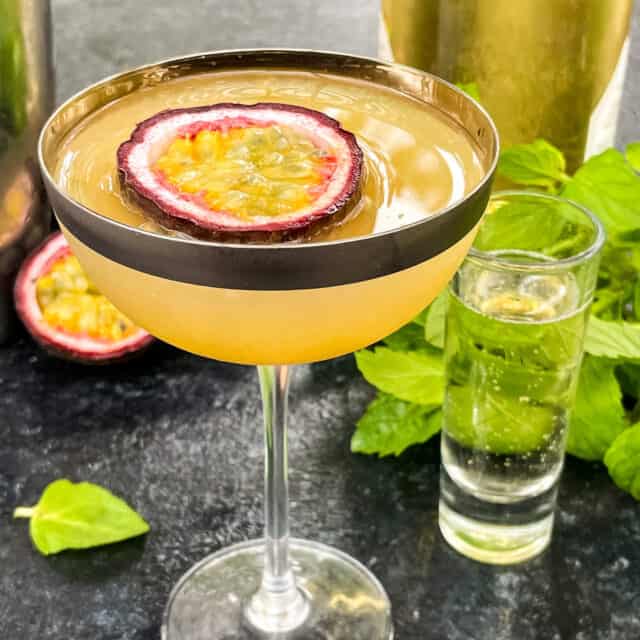 This Pornstar Martini is a delicious cocktail made with passion fruit! These bold fruity flavors with a beautiful presentation make it perfect for a summer tropical cocktail.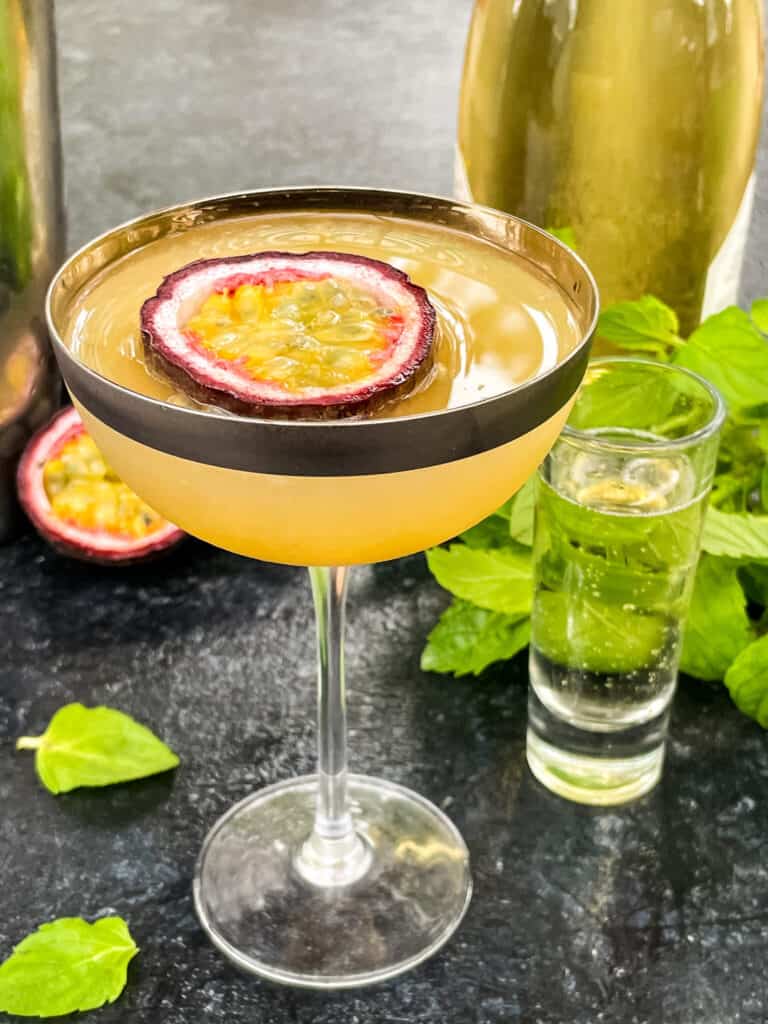 Why You Will Love This Recipe
Have you ever heard of a Pornstar Martini?
If not, let me introduce you to a very unique, flavorful, and fruity cocktail.
The pornstar martini is a popular and trendy cocktail known for its exotic flavors and eye-catching presentation. It has gained considerable popularity in recent years, both for its unique taste and its provocative name.
This cocktail is made with fresh passion fruit, passion fruit liqueur, vanilla vodka, and served alongside sparkling wine.
The taste of the pornstar martini is a delightful blend of sweet and tangy flavors. The passion fruit provides a tropical and slightly tart note, while the vanilla syrup adds a touch of sweetness. The vodka gives the cocktail a smooth and alcoholic base, and the lime juice adds a refreshing citrusy kick.
It is just BEAUTIFUL and a delicious drink to serve up at parties and holiday events.
The presentation of the pornstar martini is an essential part of its appeal. The vibrant orange color of the cocktail, along with the garnish and accompanying shot of champagne, creates an enticing visual experience.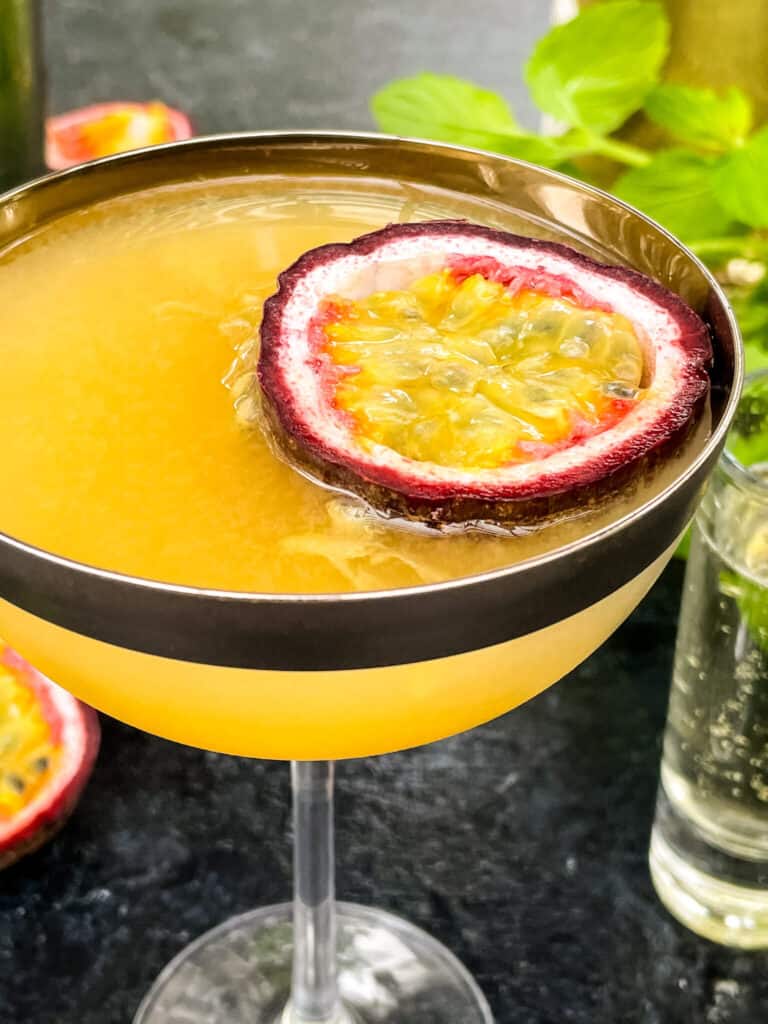 Ingredients
Here is what you need to make this beautiful and unique recipe for pornstar martini drink:
Passion Fruit
Vanilla Vodka
Passoa Liqueur
Lime Juice
Prosecco

Simple Syrup
Fresh passion fruit can be a little tricky and a little expensive compared to other options, but they are delicious! Look for them in your exotic produce section.
Can't find the fresh fruit? Look for a passion fruit puree. A juice could work, however they are typically mainly a different fruit and a lot of sugar. The closest you can get to the fresh fruit the better.
Passoa is a passion fruit liqueur which adds to the flavor, but the fresh fruit still shines through.
Equipment
Here is a list of the gear you need to make this drink:
Martini Glass
Jigger
Cocktail Shaker
Tall Shot Glass
Knife
Cutting Board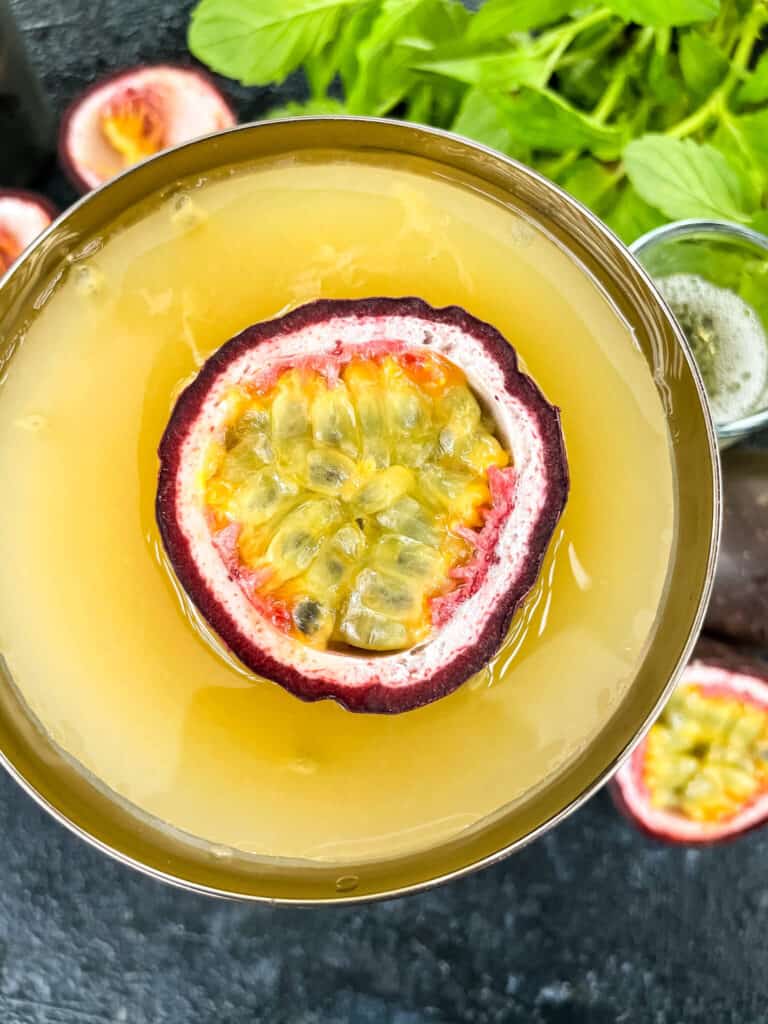 Instruction Overview
How do you make Pornstar Martini? First scoop out some of the fruit from the rind and put it in a cocktail shaker with some ice.
Add the vanilla vodka, passoa liqueur, simple syrup, and lime juice. Shake until really cold.
Strain into the martini glass and add a half of a passion fruit to float on top.
Serve alongside a tall shot of prosecco sparkling wine.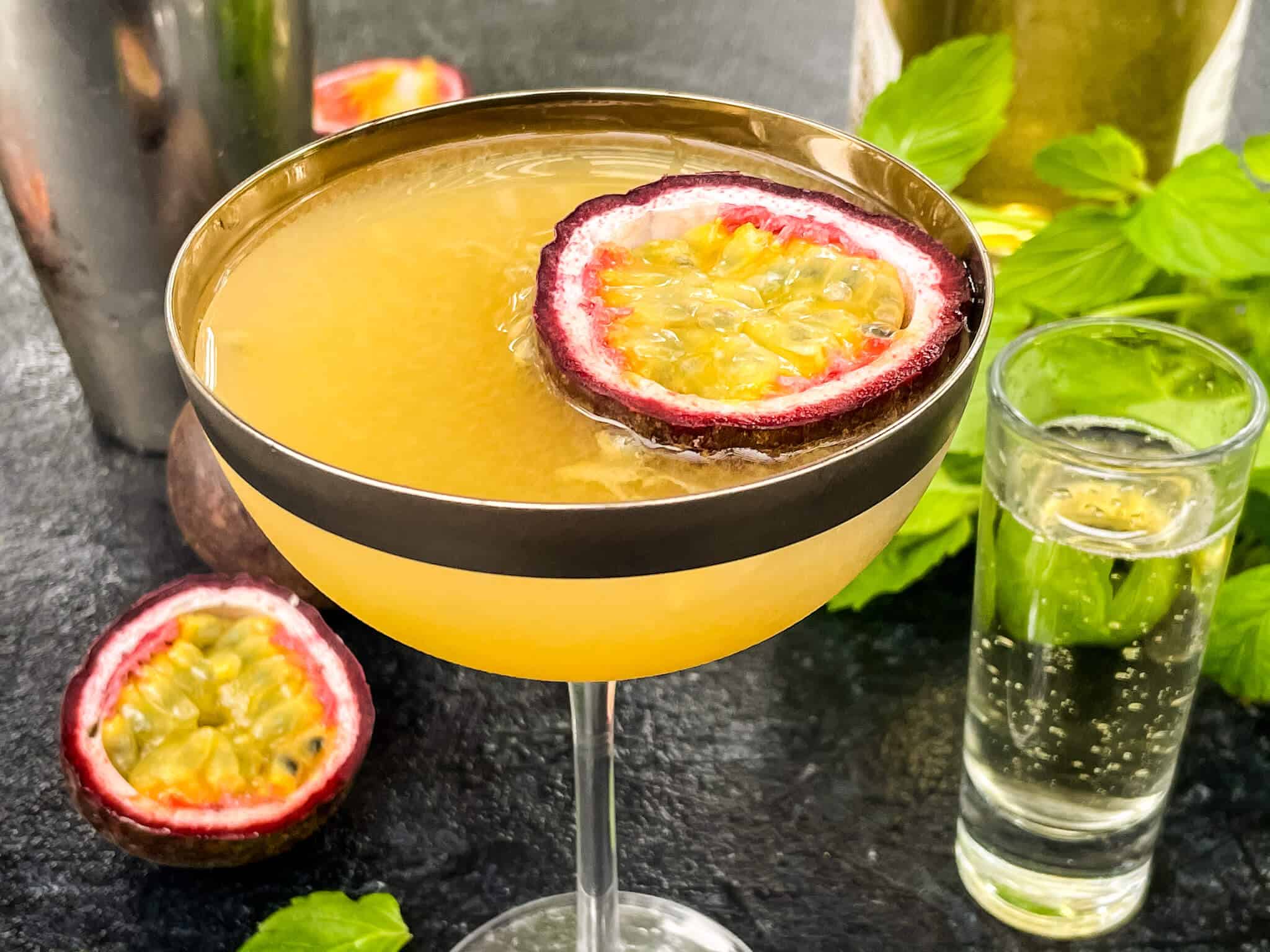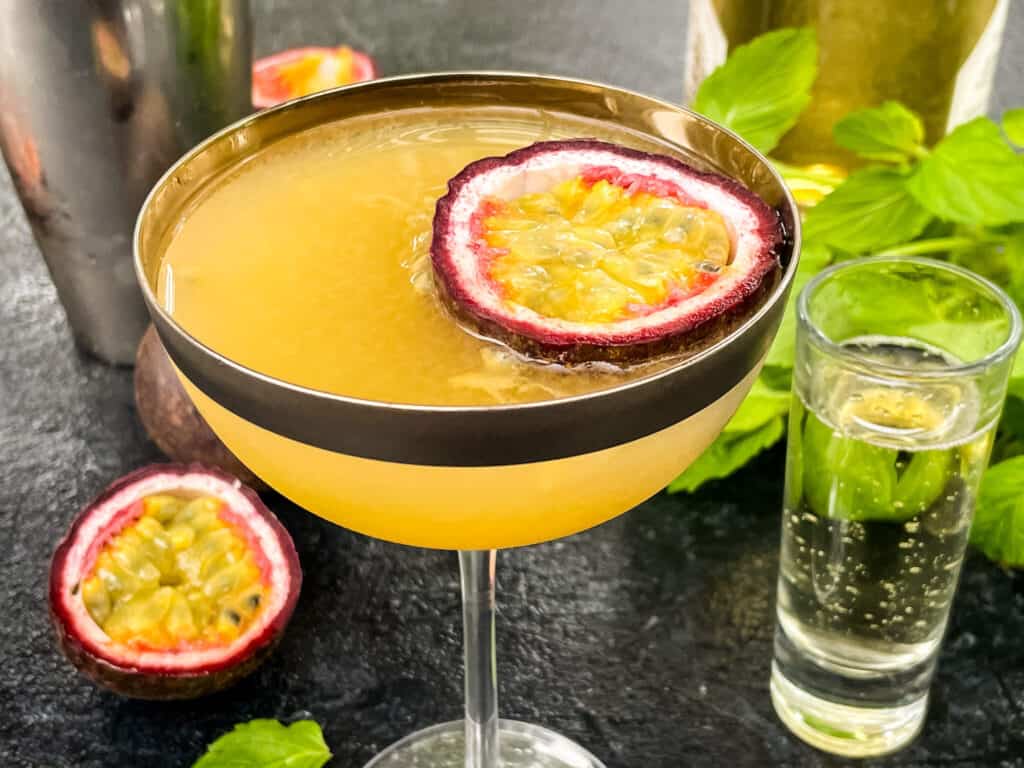 What in the World is with the Name?
I thought the same thing…strange name for a cocktail!
But the name has nothing to do with porn stars.
The name "pornstar martini" was chosen to evoke a sense of indulgence and seduction, and to challenge traditional cocktail naming conventions. It was intended to be bold, daring, and provocative, much like the world of adult entertainment it references.
The origins of the pornstar martini can be traced back to the early 2000s in London, England. It was created by renowned mixologist Douglas Ankrah, who was looking to develop a cocktail that would stand out from the crowd.
Serving the Martini
There are a couple specific suggestions for serving this Porn Star Martini.
First, it is served up in a coupe glass. Coupe glasses are traditionally meant for sparkling wine. Which, funny enough, is served alongside the drink but in a cordial glass. Just breaking all the rules here!
Also, there is supposed to be a half of a passion fruit floating in the drink. Seems a little unnecessary with how expensive passion fruit can be, but it is oh-so-pretty!
How to Drink Pornstar Martini
How do you drink a Pornstar Martini? The "original" way to drink this was by going back and forth between the cocktail and the sparkling wine.
However it is very common that people decide to dump the sparkling wine into the martini itself.
Do whatever sounds yummy!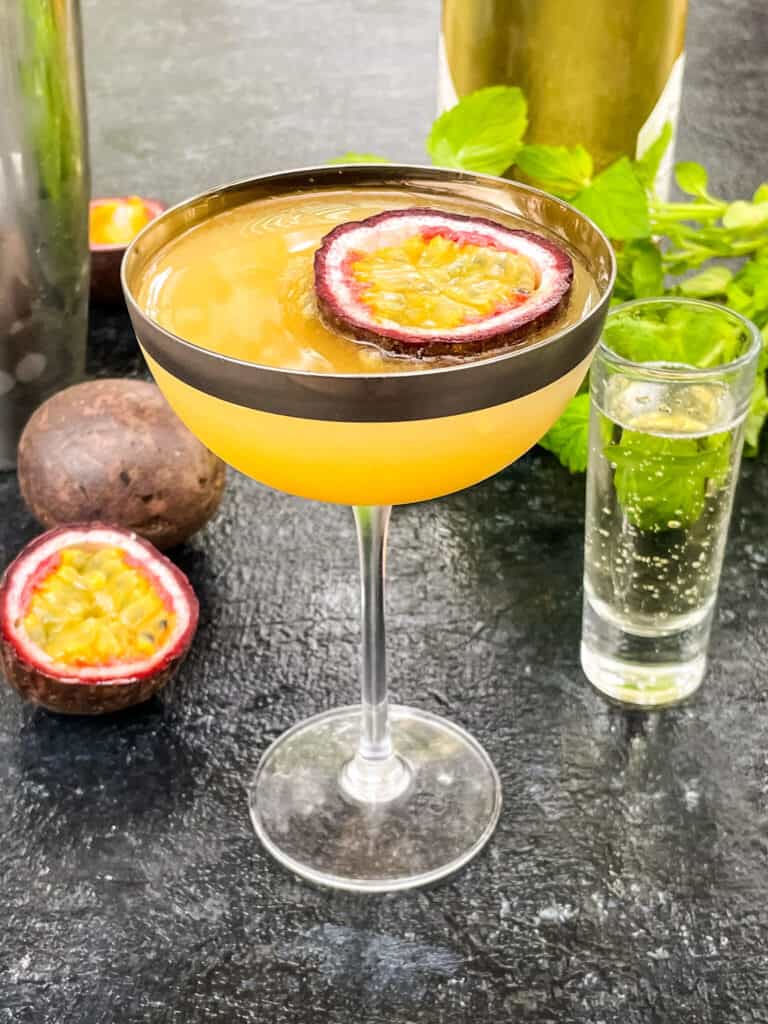 Modifications and Substitutions
A fresh passion fruit can be difficult to come by, and sometimes expensive. Cut back on the amount you use by substituting passion fruit puree for what is mixed in the shaker, and you can also skip the floating fruit half.
Prosecco is a sweet sparkling wine from Italy. You can swap it out for any sparkling wine (sweet is better than brut/dry).
No vanilla vodka? You can use regular with a very small dash of vanilla extract.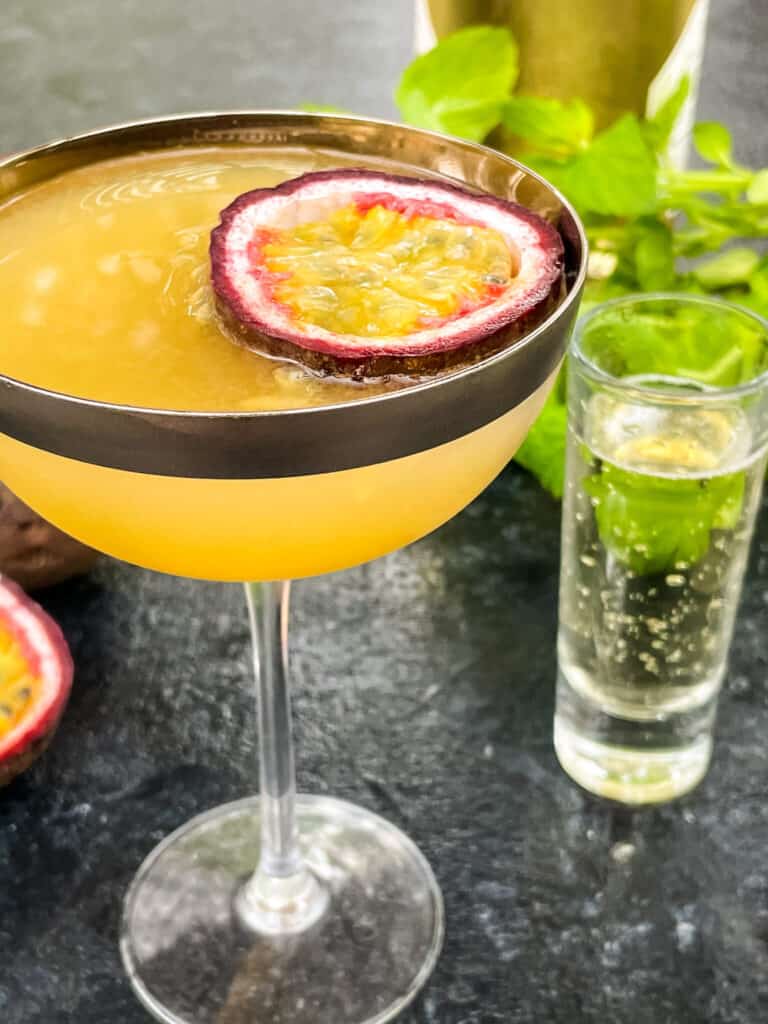 Kim's Tips
The main passion fruit martini can be made in advance, but do not pour the prosecco until serving so that it stays bubbly.
There are many ways to swap out ingredients to make this cocktail more budget friendly. See the modifications and substitutions section for more details.
FAQs
Why is it called a Pornstar Martini?
The creator of the cocktail wanted something that sounded exotic. And thought that it was something a pornstar would drink.
Do you shoot the prosecco or pour it in?
How do you drink a Pornstar Martini? You can do it either day! It was originally designed to stay on the side.
Are you meant to shoot the Prosecco?
While this is how it was originally meant to be, it does not matter! You can shoot it, sip it, or even mix it into the martini.
What ingredients are in passion fruit martini?
For this pornstar martini, you need:
Vanilla Vodka
Passion Fruit
Passoa Liqueur (Passion Fruit Liqueur)
Prosecco
Simple Syrup
Lime Juice
What type of alcohol is passoa?
It is a passion fruit flavored liqueur
How do you cut passion fruit for cocktails?
For the pornstar martini, just cut it in half and let it float in the drink!
Is passion fruit sweet or sour?
It is sweet with a little hint of tartness.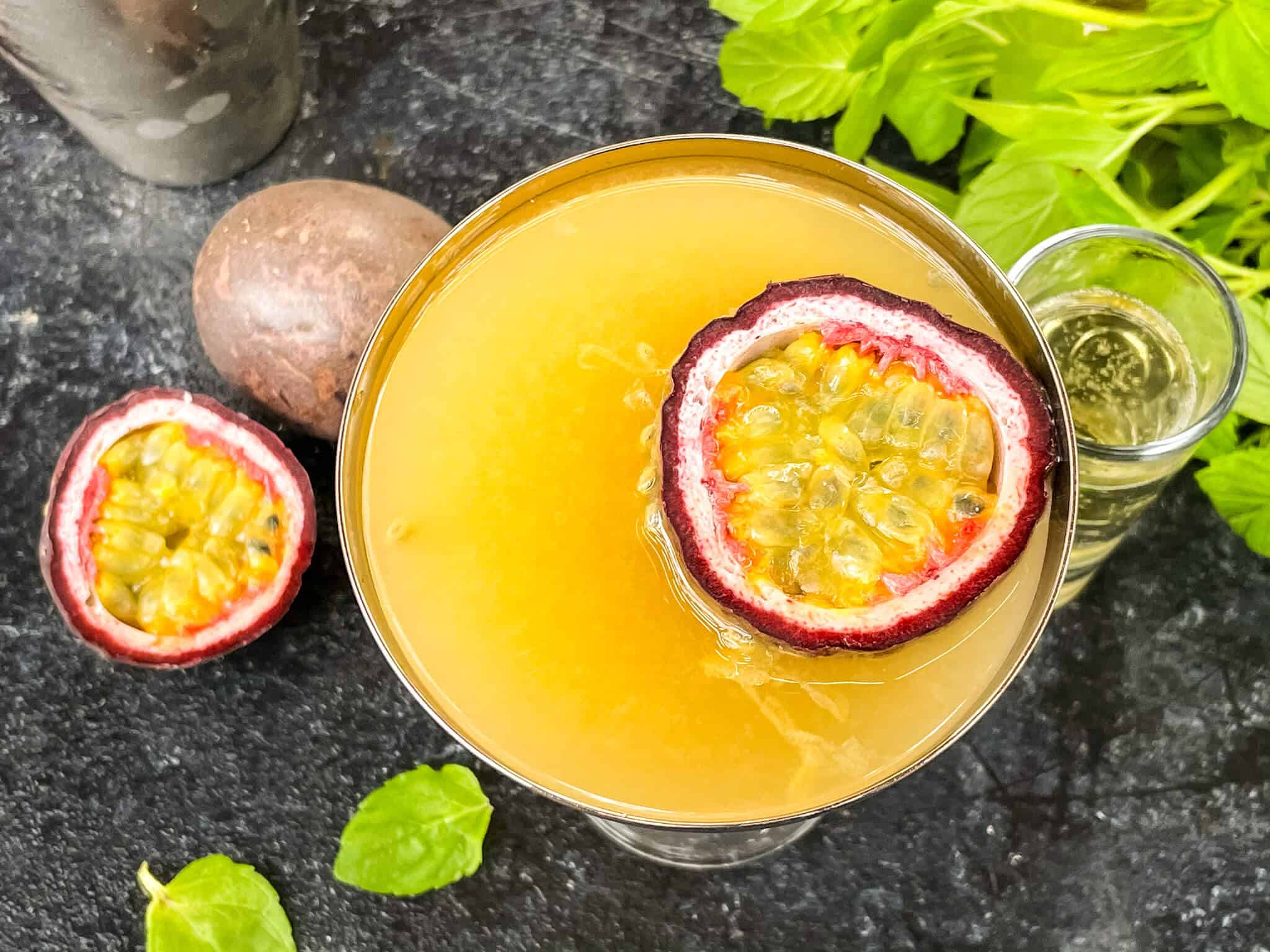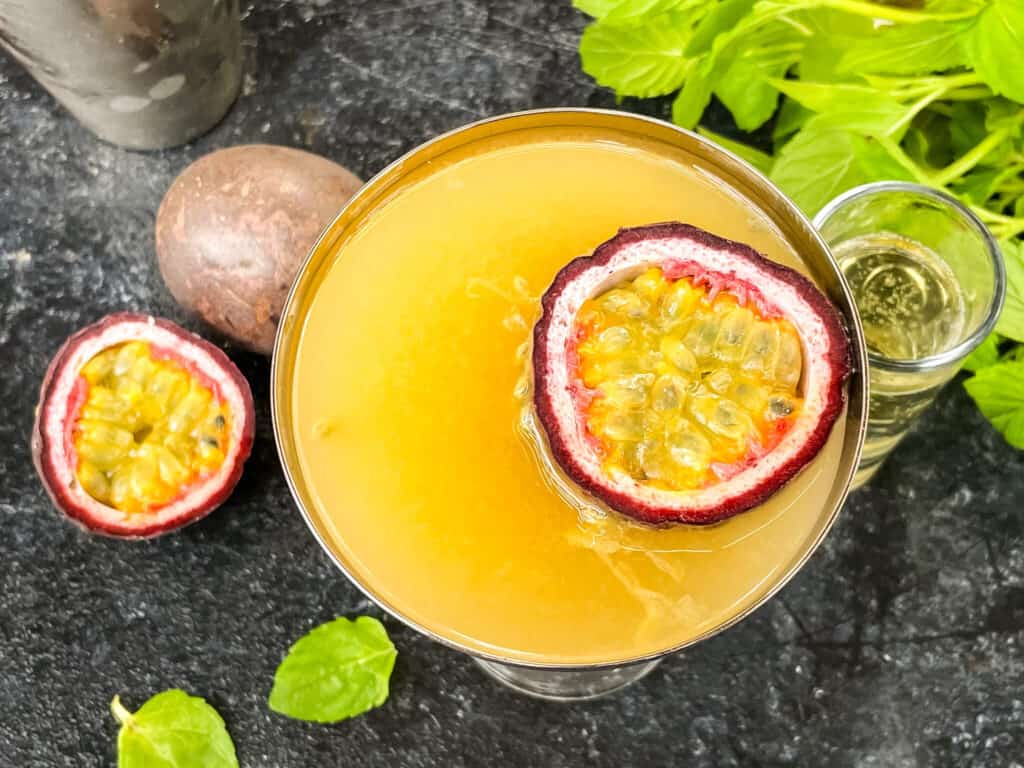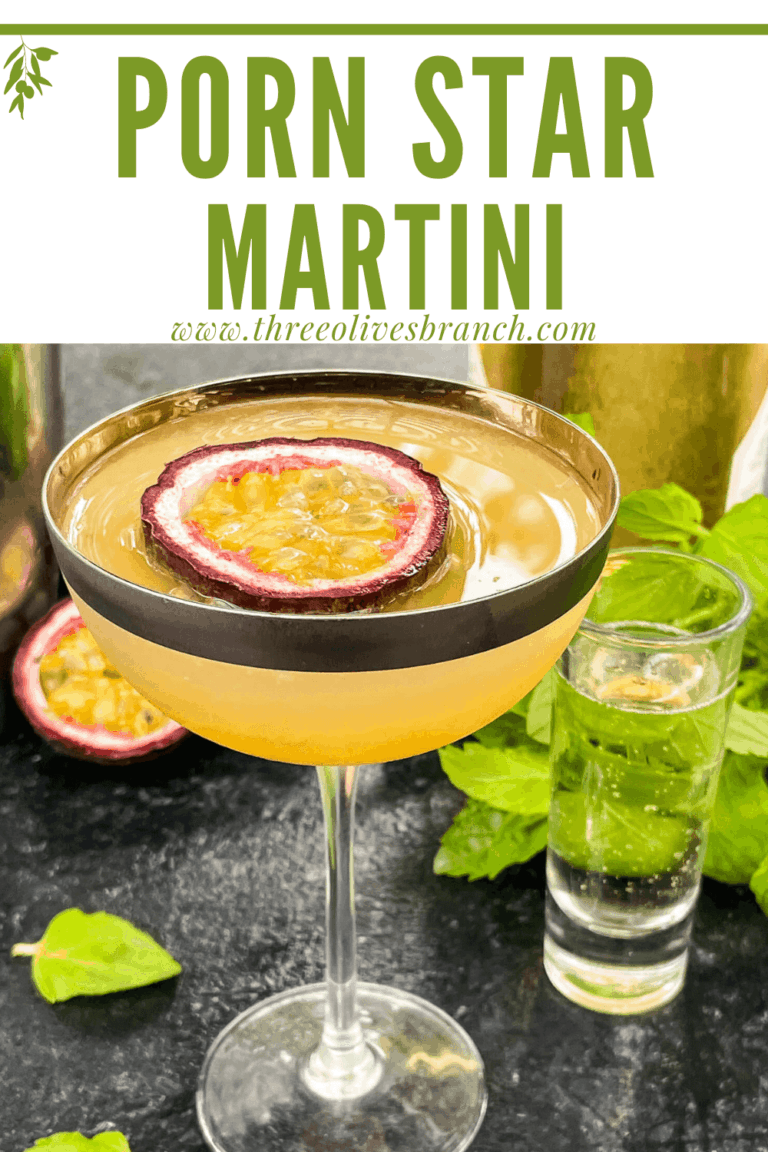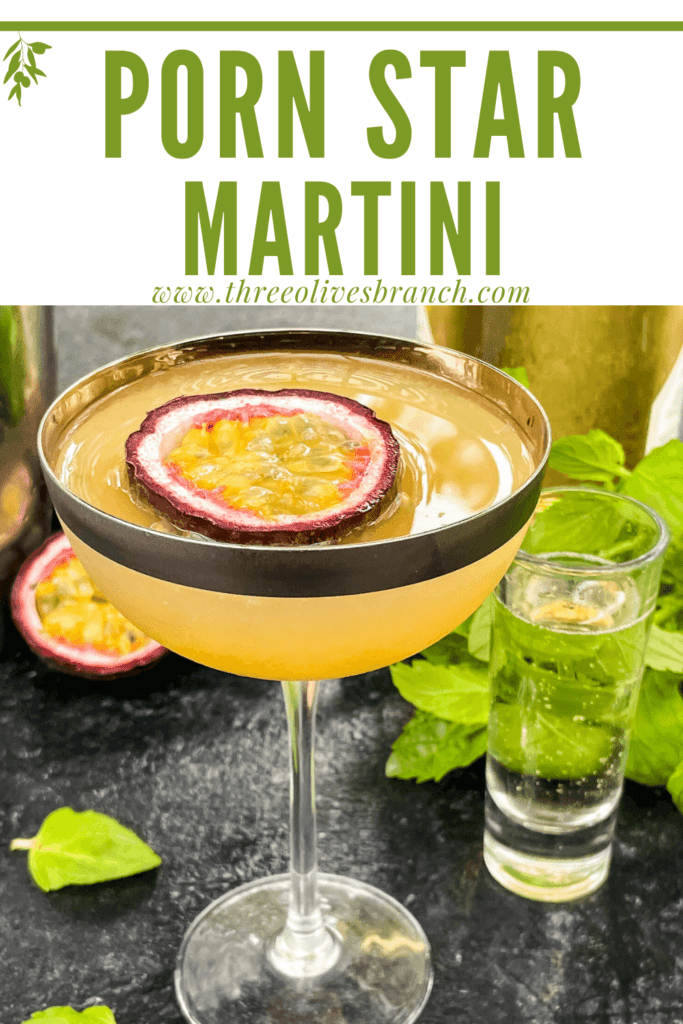 More Martini Recipes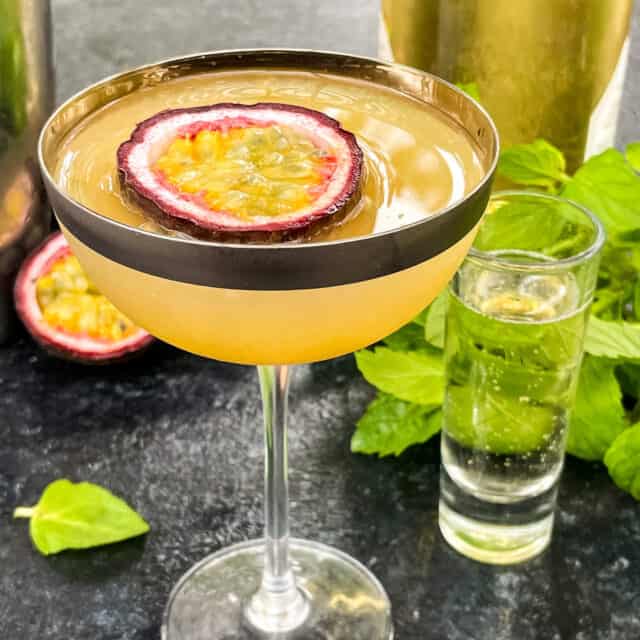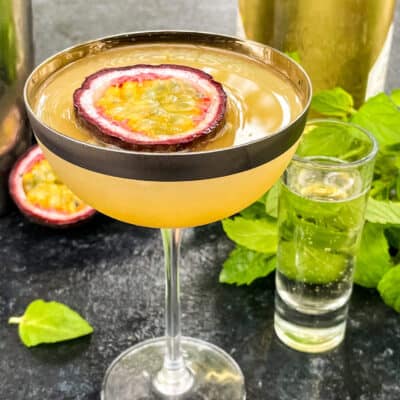 Pornstar Martini
This Pornstar Martini is a flavorful cocktail made with passion fruit, vanilla vodka, and fresh fruit served alongside champagne sparkling wine. Porn star is a delicious fruity, tropical summer alcoholic drink.
Print
Pin
Rate
Equipment
Jigger

Martini Glass

Tall Shot Glass
Ingredients
2

ounces

vanilla vodka

½

ounce

passoa liquor

(passion fruit liquor)

½

ounce

simple syrup

½

lime

2

ounces

champagne

(more or less as desired)
Instructions
Scoop out the insides of 1 ½ passion fruit and place in a cocktail shaker. Add some ice.

To the cocktail shaker add the vanilla vodka, passoa, simple syrup, and juice from ½ lime. Shake 30 seconds to chill.

Pour into a coupe glass. Float the remaining ½ passion fruit on top.

Serve alongside a cordial or tall shot glass filled with sparkling wine. Serve immediately.
Notes
You can also shake/stir the cocktail in a large glass.
Nutrition
Serving:

1

drink

|

Calories:

398

kcal

|

Carbohydrates:

52

g

|

Protein:

4

g

|

Fat:

1

g

|

Saturated Fat:

1

g

|

Sodium:

61

mg

|

Potassium:

668

mg

|

Fiber:

18

g

|

Sugar:

30

g

|

Vitamin A:

2169

IU

|

Vitamin C:

55

mg

|

Calcium:

29

mg

|

Iron:

3

mg

By