Preparing for a trip is stressful enough, let alone the added tasks and steps that need to be completed when traveling internationally.  And traveling internationally is a completely different experience.  You are walking into a world of possible different languages, currencies, traditions, laws, customs, and so on!
I have been on international trips many, many times, including a study abroad stint in college, and have learned the most important things that you need to do in order to be ready for a successful and enjoyable international trip.  Let me share with you my tips for Preparing for an International Trip to take some of the stress out of such a wonderful experience!
BONUS: Scroll down to the bottom to snatch your FREE printable of this Preparing for an International Trip list!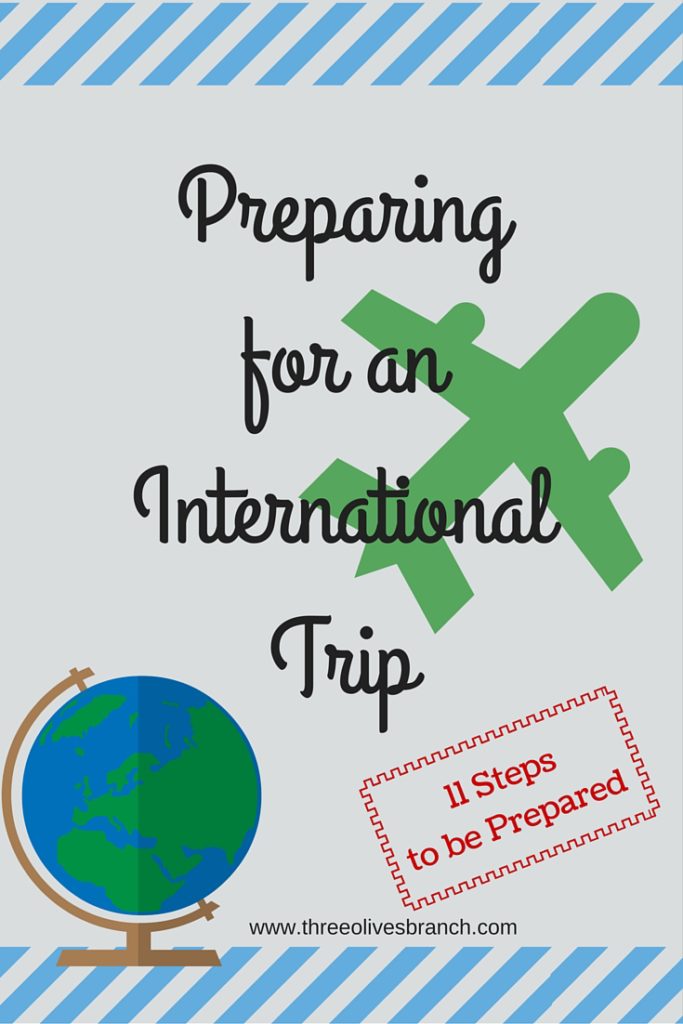 This post contains affiliate links.
---
Research Passport Requirements
The first and most obvious things that you need to think about and plan for is making sure that your passport is ready to go!  This means having a valid passport, meeting any specific requirements of where you are traveling to, as well as obtaining any visas that you need.  These requirements vary greatly from country to country.  Some countries will not even let you IN unless your passport is valid for 3-6 months after your return ticket date.  I had a friend that was stuck in London, unable to get to Spain, because he missed Spain's cutoff by just a few days!
You can check for information regarding passport and visa requirements for your destination(s) at this link (US): https://travel.state.gov/content/passports/en/country.html
Shots/vaccinations
Though rare, there are some destinations that will require specific shots or vaccines before you can travel. Learn about any requirements for your destinaion(s) at this link (US): https://travel.state.gov/content/passports/en/country.html
Currency and Banking Preparation
You also need to think about any change in currency and how you plan on paying for things when you travel.  It is not as easy as just taking your credit card and heading off!
First, you need to make sure that you inform all of your banks and credit card companies that you will be traveling.  They will keep record of this which will likely prevent them from freezing the cards due to "suspicious activity."
Next, you should talk to your bank about getting some international currency for your destination.  You always want to have some in hand when you land, even if you are not planning on using it right away, as something might come up.  The exchange rate will also be much more favorable at your bank than at the currency exchange locations.  You can always grab more at an ATM in your destination, however there are fees assessed each time you do that.  So my approach is to take a good amount of the currency I need with me and am extremely careful about how and where I keep it so it does not get lost or stolen.
You may also want to check with your bank about traveling bank accounts.  I did this for my last trip and it was AMAZING!!! They set up a temporary account that is linked to your primary bank account.  You can get debit or credit cards for it and you use that card information during all of your trip.   You can easily move funds back and forth as you want to with you banking app connected to local wifi spots. When you are back, you close it down and go back to using your primary account.
The reason why I strongly recommend this is if you lose the card, or if someone is trying to make charges to it after the trip, you can just shut it down without messing up all the other auto payments and links that you have set up for your primary account.  This literally saved us because a shady rental car company was trying to make MONTHLY charges to our card after our trip for "fees" they could not explain.  We had already shut down the account so they were unable to charge anything.  The couple we were traveling with had used their primary account and had to fight the charges that were already made, close the account, get a new one, and move everything over to the new account.  Talk about a pain!  Much easier to get a traveling account.
Download Phone Apps
Even if you are not using your phone while abroad, there are still plenty of apps that you can use to stay connected!  Avoid the surcharges of international traveling by planning out the apps you need.  I leave my phone on airplane mode and then physically connect to free wi-fi spots as needed.  Many apps will even work offline as well!  You can find a list of apps that I recommend for international traveling here (coming soon)!
Learn About Local Customs
Doing a little research on your destination(s) will explain the local customs and way of life.  Look for details about: tipping (restaurants), tipping (taxis), shopping etiquette, greetings, acceptable and unacceptable hand gestures, etc.  The more different the culture, the more differences you will find in these every day behaviors.
For example, did you know that it is not okay to pick up fruits and vegetables with your bare hands in Italy?  Or that direct eye contact in Japan is considered rude?  A quick search will give you a better understanding of what you should do, and what you should avoid, to be respectful in your destination.
Learn a Few Common Phrases
When traveling to an international destination, odds are that many of the locals will know at least some English.  Many countries are exposed to English regularly and it is part of growing up.  The odds are even higher if you are going to a heavily tourist town, such as Rome or Barcelona.  But in order to show some respect, you should learn a few phrases that you will most likely use during your time there.
When I lived in Italy for college, the Italians were always thankful for our attempts to speak Italian, and they would even help us learn how to speak correctly.  (And they in turn would speak English back, and we would help them).  Just the attempt to try and speak their language is something they value and respect.  An app will help with translation, but it is good to have a couple things memorized, even if they are simple.  Just a small attempt will go a long way.  Here are some ideas of phrases to learn:
Hello, Good Day/Afternoon/Evening
I would like to order…
Where is the Metro?
How much does this cost?
Where is the bathroom?
Thank you
Converter vs Adapter 
If you are traveling oversees, odds are you will be going to a country that has different electronic plugs, which means you need a way to fix that!  There are two different types of devices you can use: converters and adapters.  And yes, they are different.  And yes, it is important to know the difference.  Otherwise you will end up with melted plastic bits plugged into the wall like I did (oops) or a device that is dead from too much power.
Converters will change (or "convert") the electrical charge that is running through the outlet to an appropriate voltage for your devices.  European outlets are much, much stronger in voltage than American outlets and so if you plug something in that cannot handle the high voltage, it will quite possibly be fried and even melt.  It is really a two-in-one because even if a converter is not needed for a particular appliance, everything can be plugged into it.
An Adapter simply changes the plug type so that it is compatible with the outlet shape.  No voltage change happens here.  This would work only for appliances that can handle the voltage of your destination (you can normally find the safe voltage range of each item on the device itself with all the other small print).
I opt for being safe and having one that does everything I need by using a converter.  This is my favorite converter because it can handle appliances such as blow dryers (not all can) and it also has multiple ports and USB plugs.  Check it out on our Ultimate Packing List!
Know baggage limits with local airlines
Different airlines will have different baggage policies, and many of them have a different set of rules specifically for international travel.  For example, I like to fly on United.  They charge for checked bags on domestic flights (unless you have status) but if you are traveling internationally, you get one free checked bag weighing 50 pounds!  So check out your airlines website for information on their baggage policy and be in the know of what you can do for free and the fees you will still need to pay.
(Keep in mind that if you use different airlines, especially the smaller ones in Europe, they may have different policies.  I had a large heavy bag that I had to pull things out of when flying from Spain to Italy because that small, European airline had a lower bag weight limit).
Make copies of travel documents
You never know if you will end up losing something when you are traveling.  Fortunately, I have never lost anything, but it is better to be prepared than not at all!  Copy your travel documents such as the passport, IDs, visas, etc and leave them with someone at home in case you need access to them.  If for some reason you lose your passport, it is said to be easier to get a new one issued if you have a copy of the passport to provide, and that contact at home can help get it to you.  It is also smart to leave them information about your flights and hotels just in case they need to reach you (although there is an app for that!).
You will also want to keep a copy of your passport on you as well.  I leave my actual passport locked in my hotel room, but I always have the copy with me.  I have never needed it, but just in case you are asked for it such as with local authorities or at an embassy, you have something to show them.
You also want to have a list of your contact information printed and placed inside your suitcase, right on top.  I have had family members lose a suitcase at the airport and the tags were ripped off, so it took them forever to find it.  But did you know that they open the suitcases to look for "identifiable objects" that they put in their lost baggage database to help figure out who things belong to? So if you have a copy of your contact information, and even your destination and travel plans, it will be much easier for them to get a hold of you!  Bonus tip: Print it out on a brightly colored paper so it stands out!
Sign up for Travel Alerts and Warnings
You can sign up on the State Department website to receive alerts while on your vacation.  Registering is easy and can be done at this link: https://step.state.gov/step/
Have you ever gotten to a destination and realized that you forgot something extremely important and/or obvious? (I know I have!  Did not pack a razor or sunscreen on a trip to Jamaica!).  Avoid these unpleasant surprises by using an ultimate packing list, like this one that I have made!  Click here to get to the Ultimate Packing List!
There may be a lot of items on it that you do not need for your specific trip, but it is better to just cross it off than to not have it there in the first place and need it later!
---
Not too bad, right???  Hopefully now you are feeling better about Preparing for an International Trip and knowing that you are prepared and ready to jet set off to your destination.  International traveling is truly an amazing thing that I have fallen in love with and being prepared will only make your trip better.
Want to get a FREE PRINTABLE of this PREPARING FOR AN INTERNATIONAL TRIP LIST?  

Click here!

Make sure that you subscribe to this site to stay in the know about new content and more printables like this one!  We only send out a few emails each month, so we will not spam you and you can unsubscribe at any time.  You can find the subscription sign up at the top of the page!

Happy travels!

By