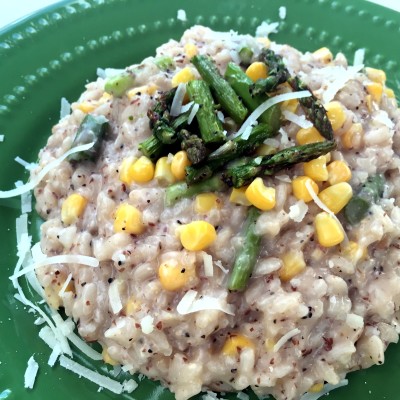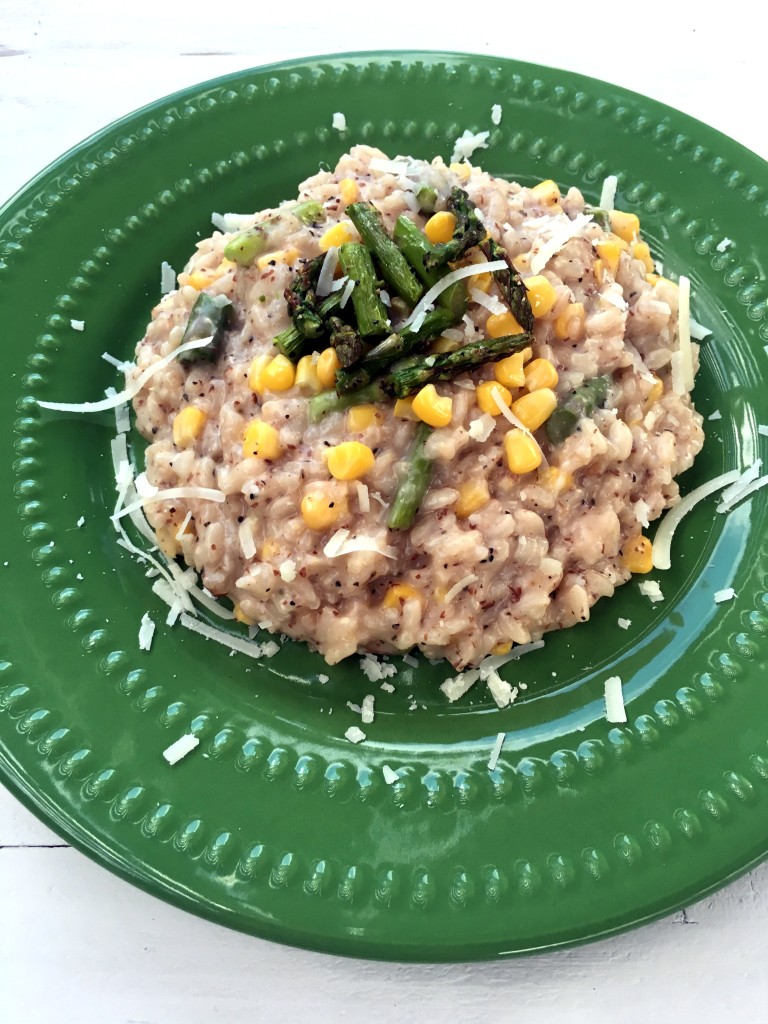 I am OBSESSED with risotto.  I am always trying to hunt down restaurants that serve risotto, especially in Italy, because it requires love and attention in order to serve it, so it will almost always be amazing.  Part of the excitement of when I do find risotto is that it is not very common since it does require some love to make it, so it makes it all that more exciting.  Roasted Asparagus and Sweet Corn Risotto is one of my favorite risottos to make and makes a frequent appearance in our menu rotation!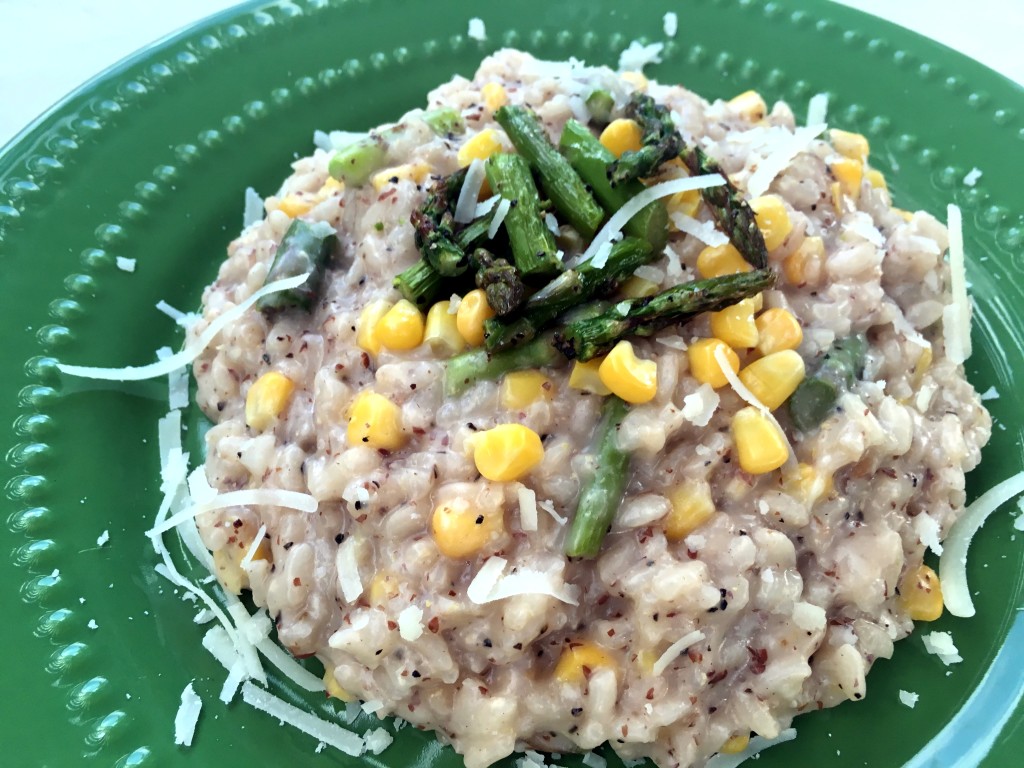 This post contains affiliate links.
The quality of Parmesan in this dish is extremely important.  The cheese is a primary flavor and so you want to use ingredients that taste good as it will just make the dish better.  If you use that fake, pre-ground, cheese in a can stuff, it will not taste as good.  You get out of it what you put into it!  I love to buy wedges of Parmesan Reggiano cheese and use (affiliate) one of my favorite tools, a food processor, to shred the brick and then I keep it in my refrigerator in plastic bags so that I always have fresh, quality cheese shredded on hand.  If you make healthier and higher-quality foods easier to access, you will use them more often.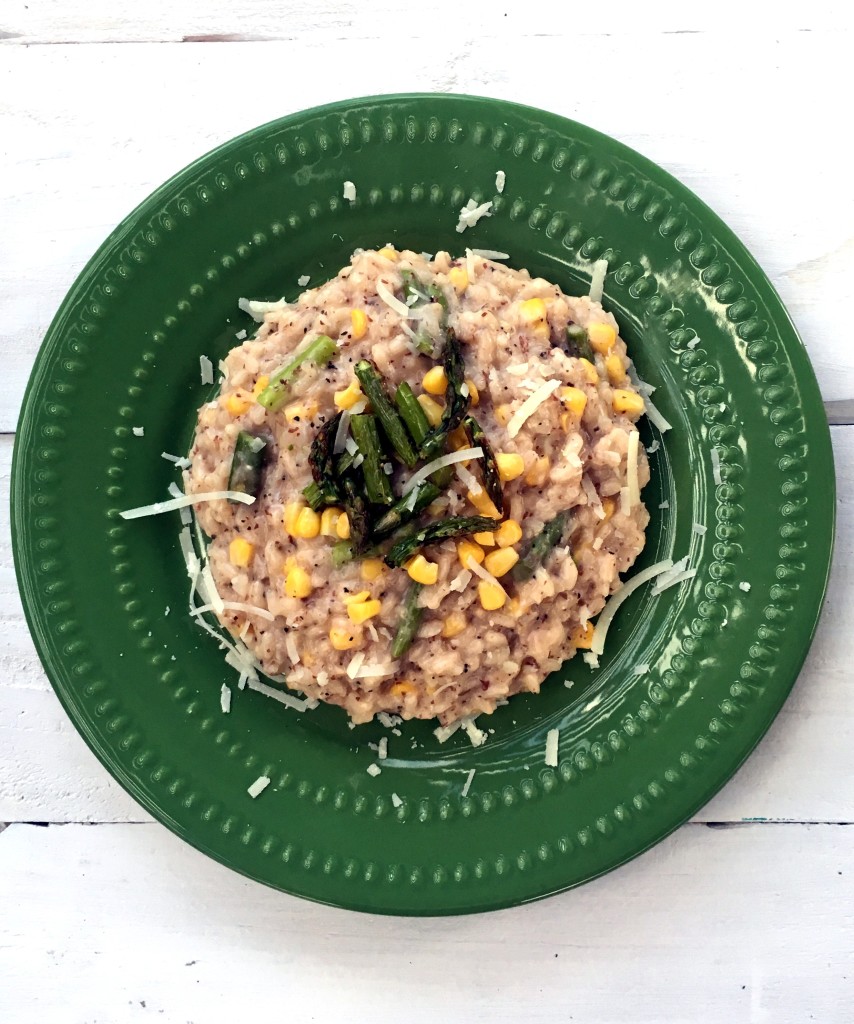 Risotto was always somewhat intimidating to me because I would hear about how difficult it is to cook with all of the stirring and the gradual adding of liquid, and so I avoided it for a long time.  But it is really not that difficult, it just takes a little time and attention with the stirring.  Just get comfortable, grab a glass of wine, and settle in for some one-on-one personal time with your Roasted Asparagus and Sweet Corn Risotto.  You can do it, too!  It is definitely worth the effort and this dish will likely become a family favorite!
Find more of our risotto recipes here!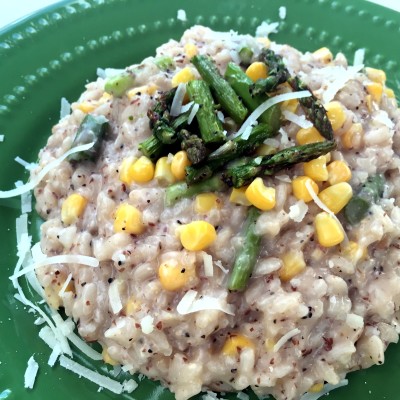 Instructions
Place the stock in a pot and heat over medium low. You want the stock to be warm when adding it to the risotto so that the temperature change does not affect the rice.

In a large pot, melt 3 tablespoons of the butter over medium heat. When melted, add the red onion. Cook until the onion is translucent but not yet browning, approximately 3-5 minutes.

Add the rice and stir. Continue cooking to slightly toast the rice until it is just starting to show a little brown color, approximately 3-5 minutes.

Add the white wine to the pot. Cook until the rice is almost dry, where most of the wine has been absorbed.

Add one cup of stock to the rice. Stir continuously until most of the stock has been absorbed. Repeat this process one cup of stock at a time until the rice is cooked thoroughly. You want the rice to have just a little bit of bite left so that it is not completely mushy. Depending on your rice, you may need more or less stock for the right consistency so start tasting the rice after 4 cups.

While cooking the risotto, trim the ends of the asparagus and cut the stalks into bit size pieces. Put them on a foil lined baking sheet. Drizzle with olive oil, salt, and pepper. Toss to combine and evenly coat. Broil the asparagus until cooked through and they just start to get some color, approximately 3-5 minutes depending on how thick the asparagus is. Set aside.

When your rice is cooked through, remove the pot from the heat. Add the rest of the butter, the Parmesan cheese, asparagus, and corn. It is important to do this before adding salt and pepper because the cheese is salty and the asparagus has salt and pepper on it. Stir to combine.

Taste the risotto and season with salt and pepper as desired.
Notes
Meat lovers?  Serve this with your favorite Italian chicken or sausage.

You need to use arborio rice in order for the risotto to work properly because the starches of the rice is what makes it creamy.  You should be able to find it at your grocery store in the rice section or online here!

By