Samoa Bread Pudding is full of Samoa Girl Scout Cookie flavors of caramel, chocolate, and coconut in a simple dessert recipe. #girlscoutcookies #samoas #breadpudding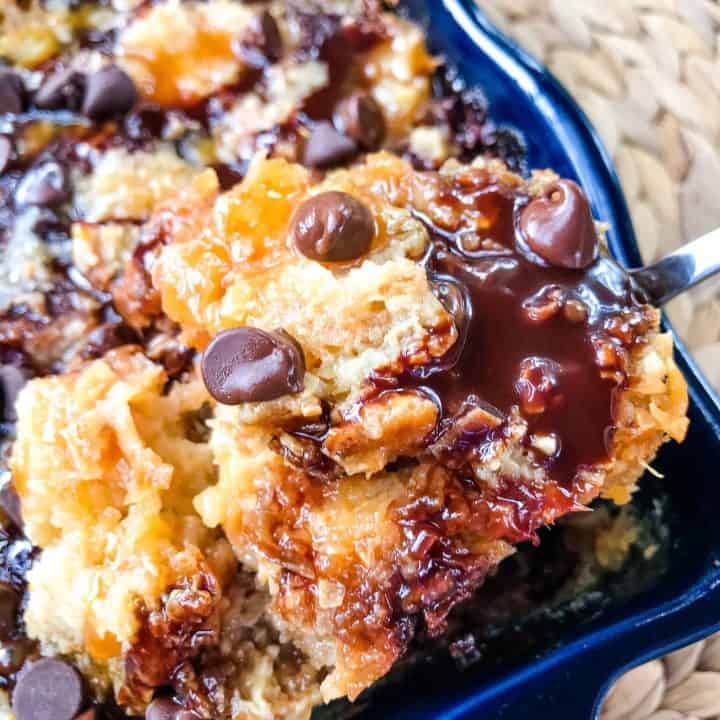 Samoa Bread Pudding is packed full of all the same flavors you love about your favorite Girl Scout cookie: chocolate, caramel, and coconut!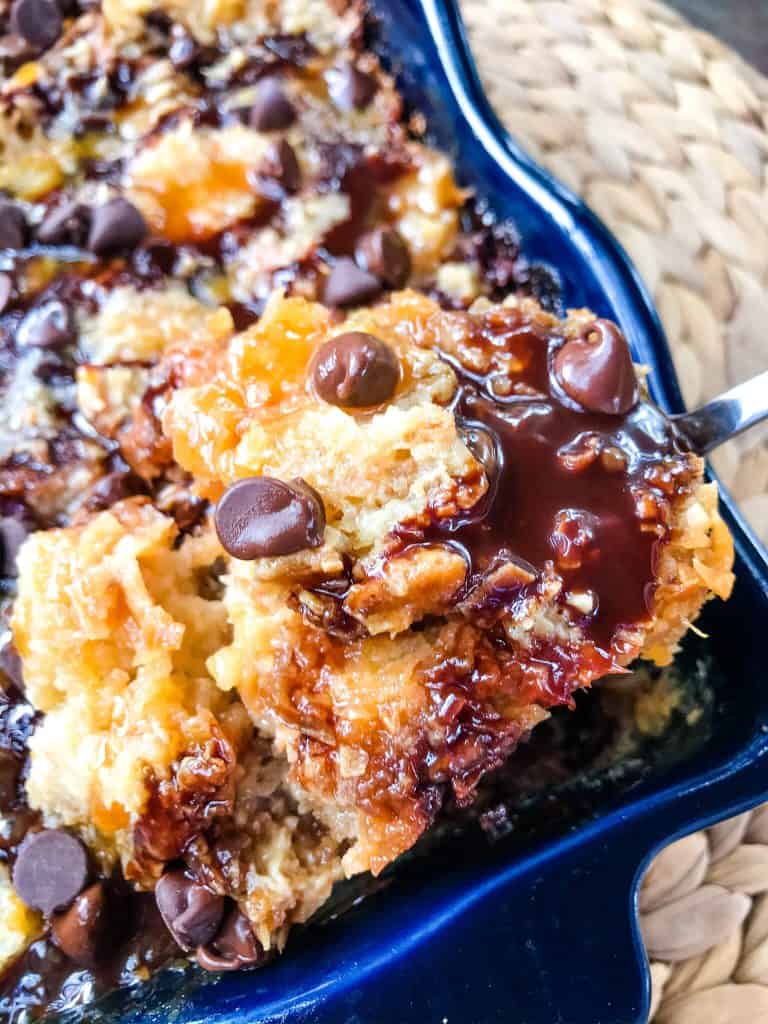 This post contains affiliate links.
Samoas are hands down, my all time favorite Girl Scout cookie. None of the others even come close (no, not even Thin Mints). And because there is not anything similar to Samoa cookies in the stores, I need to find my fix in other ways! This simple bread pudding recipe uses all of those same great flavors together in a delicious dessert.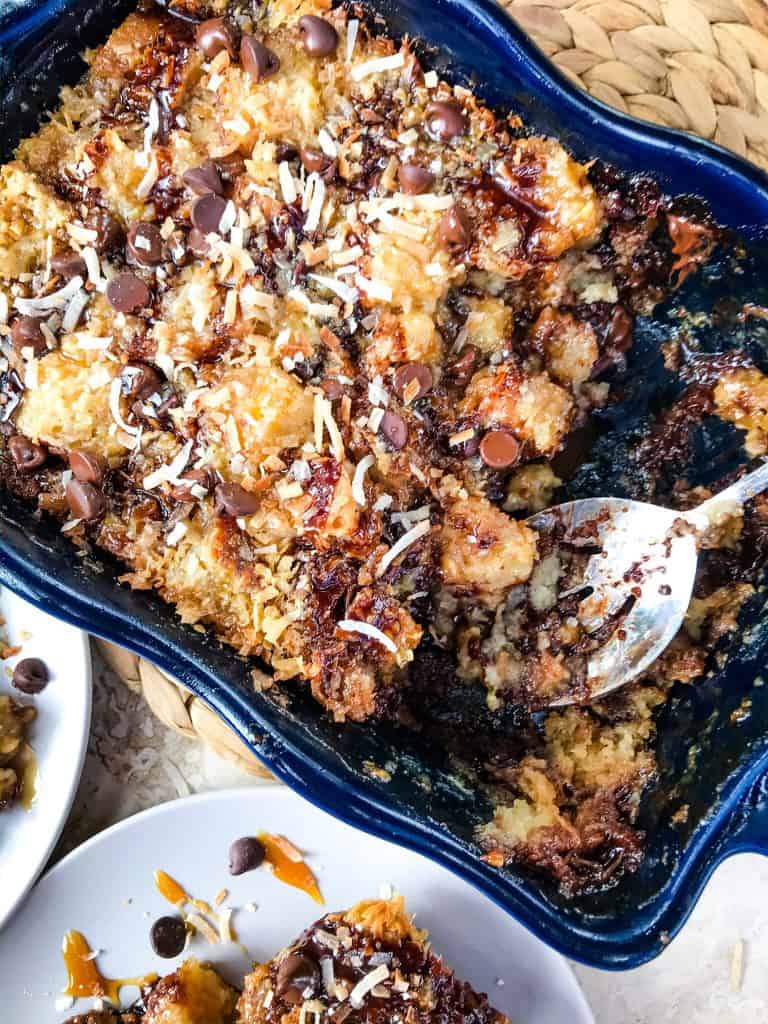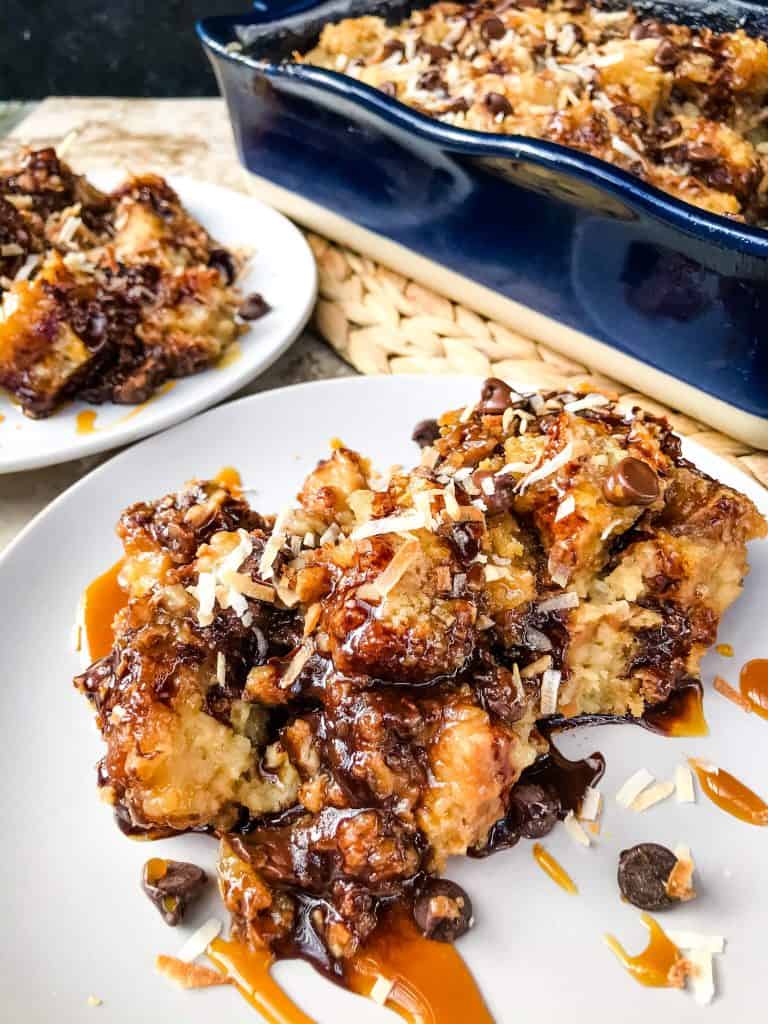 You can use any bread you like here, such as French bread, but I like to really emphasize the coconut flavor by using my Quick Coconut Bread recipe. One loaf is the perfect amount to make this bread pudding. This recipe does make a pretty large dish of bread pudding, but it can easily be halved (just skip the extra egg yolk) which means you have half a loaf of coconut bread to enjoy in other ways!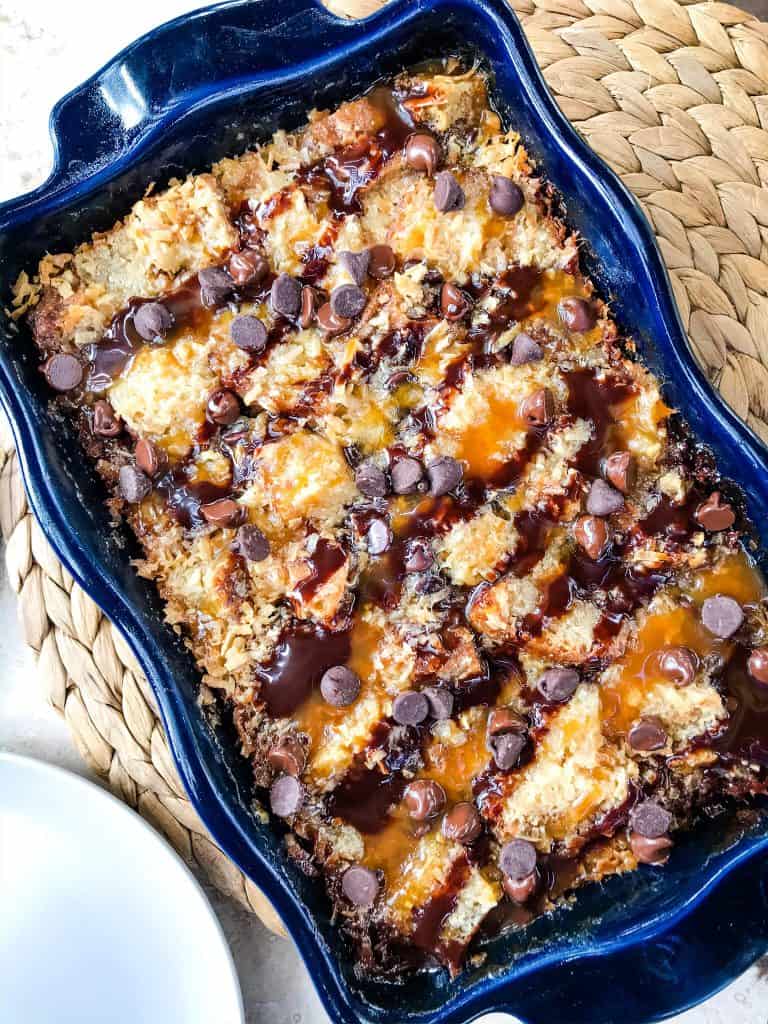 Samoa Bread Pudding can be made in advance, either up to the soaking stage and finished off in the oven, or baked all the way through and then reheated when ready. I love to serve it with some vanilla or caramel inspired ice cream! Drizzle some chocolate and caramel on top just like the cookies, and even add some chocolate chips if you want. It can get pretty sweet pretty fast with all the extra syrups and garnishes on top, so be cautious to avoid making it too sweet. The coconut milk can also be substituted for more whole milk, but I like that it brings more coconut flavor to the dessert.
And a lemon might seem a little weird, but it helps brighten the flavors just a little. You could leave it out if desired.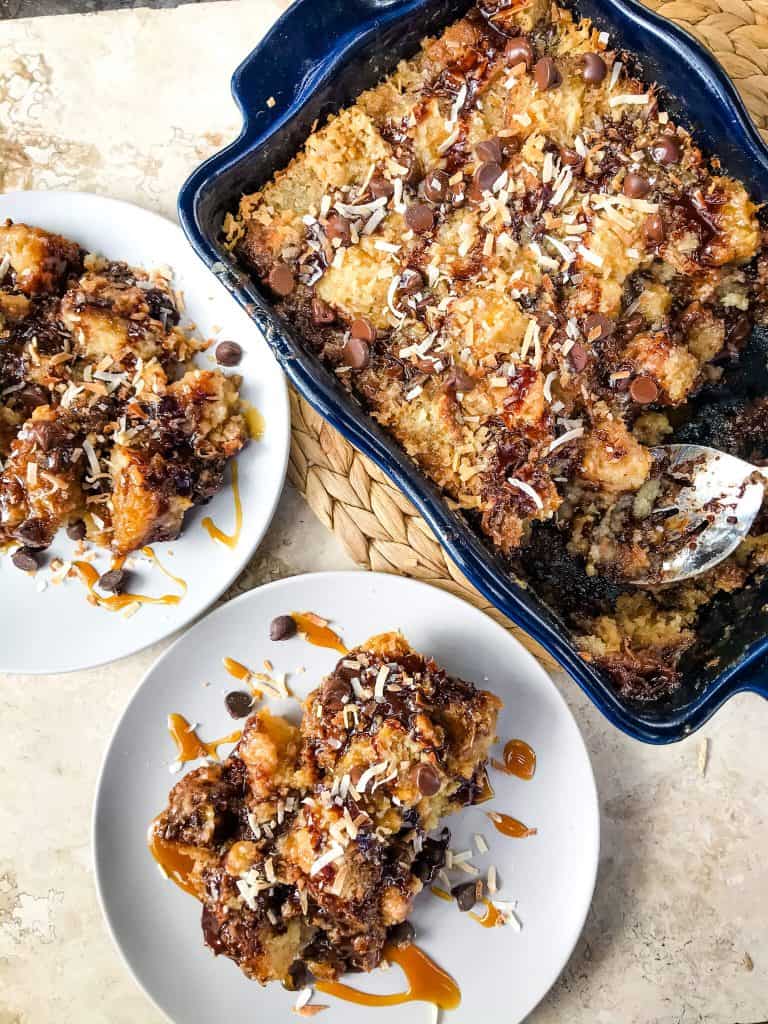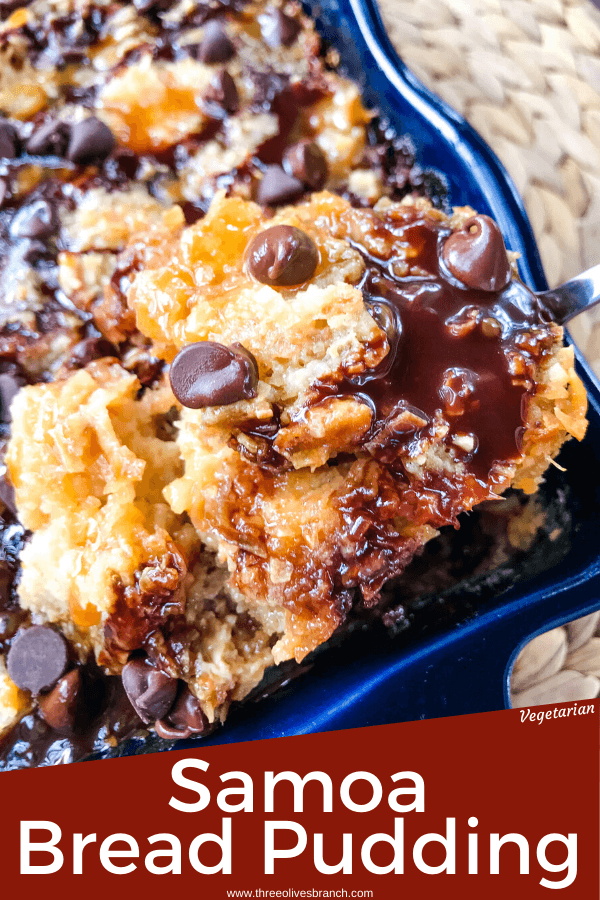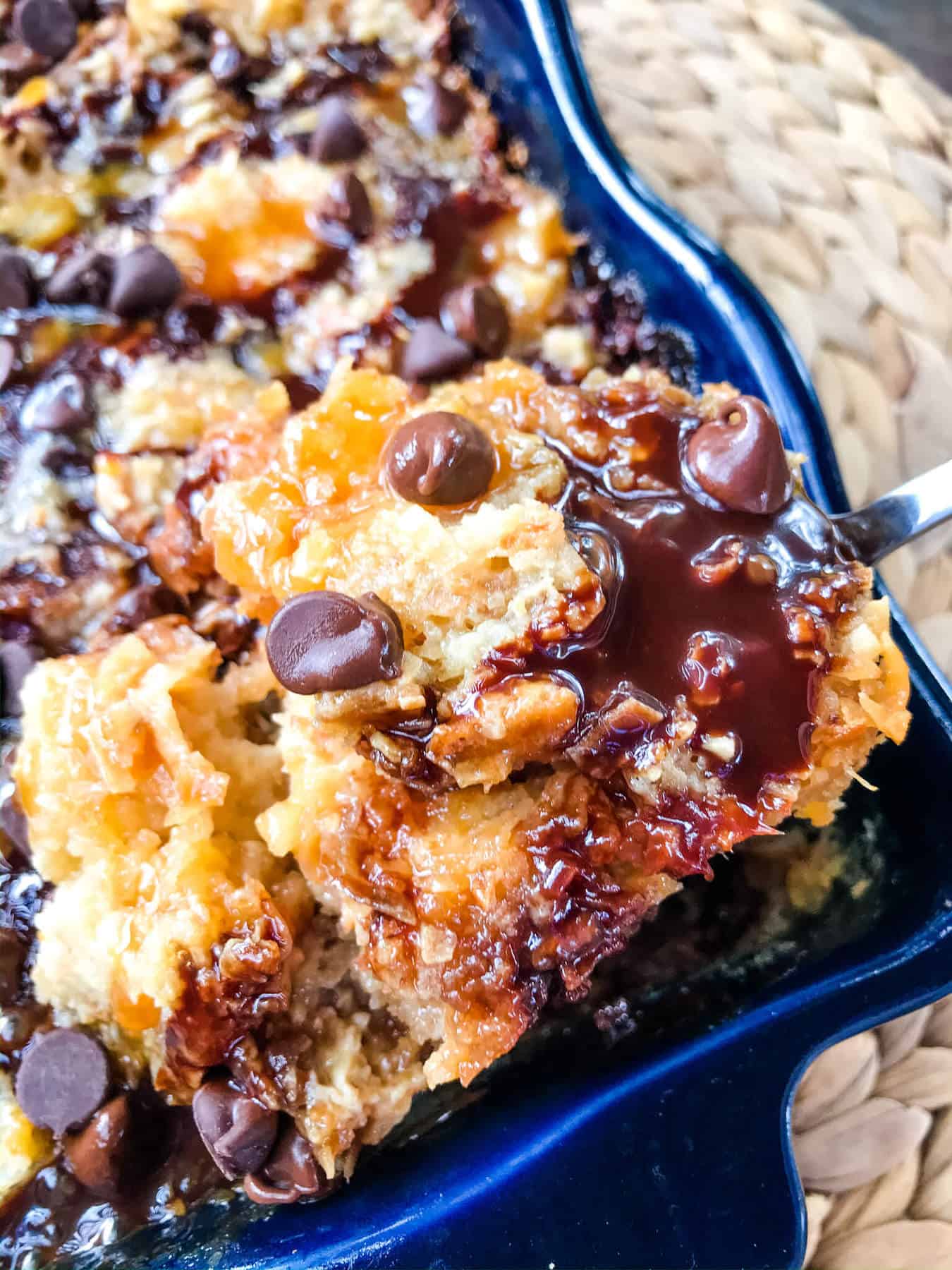 Instructions
Toast the coconut, if desired, by spreading out in a thin layer on a baking sheet in a 350F oven. Toss every 3-5 minutes until just starting to turn a light brown. Remove and set aside. (Toasted coconut deepens the coconut flavor).

Cut the bread into 1.5 inch cubes. Set aside.

Whisk together the remaining ingredients in a large bowl, using the juice of one lemon. Add the bread and toss to coat.

Coat a 9 by 13 inch baking dish with cooking spray. Pour the bread pudding mixture into the dish. Cover and let sit at room temperature for 20 minutes.

Preheat oven to 325F.

Bake the pudding on the lower middle rack until it is golden brown and puffing up around the edges, with a slight jiggle in the middle, approximately 45-50 minutes.

Let cool for 30-45 minutes before serving warm. Top with additional chocolate chips, chocolate sauce, and caramel sauce if desired. This pudding is great served with whipped cream or ice cream.
Notes
Our Quick Coconut Bread is best for this recipe because it brings extra flavor, but any type of bread will work, especially a crusty bread like French or rustic bread.  A 9.5 inch loaf was the perfect amount to get 8 cups.
You can let the bread soak in the refrigerator for up to 24 hours if needed.
Nutrition
Calories:

1342

kcal

|

Carbohydrates:

168

g

|

Protein:

33

g

|

Fat:

60

g

|

Saturated Fat:

37

g

|

Cholesterol:

235

mg

|

Sodium:

1548

mg

|

Potassium:

744

mg

|

Fiber:

12

g

|

Sugar:

53

g

|

Vitamin A:

1360

IU

|

Vitamin C:

9

mg

|

Calcium:

459

mg

|

Iron:

11

mg

By