A quick and easy vegan coconut bread packed with coconut flavor! #veganbread #coconutbread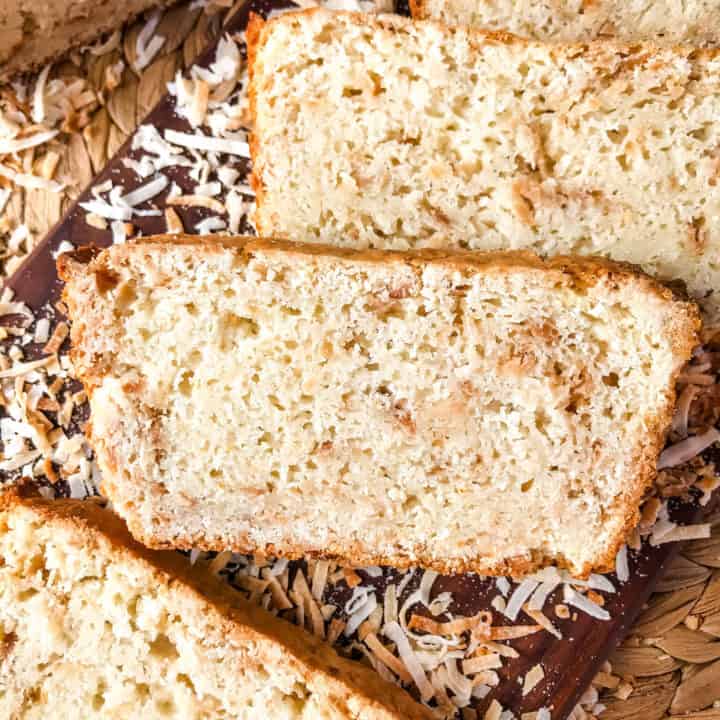 This Quick Coconut Bread recipe is a delicious simple bread, plus it is vegan! The bread is packed full of flavor from coconut milk, coconut oil, and toasted coconut.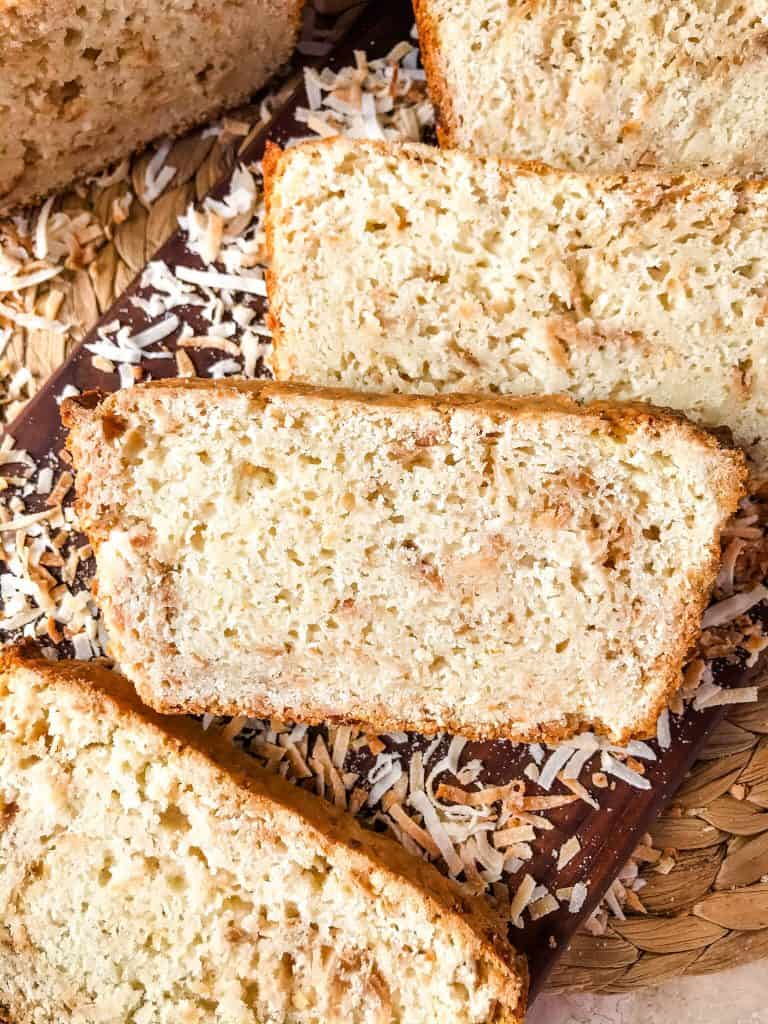 This post contains affiliate links.
This quick bread was my first ever vegan bread attempt, and honestly you wouldn't know that it didn't have eggs and milk in it. The bread is full of moisture and a ton of coconut flavor. And I am a big fan of easy bread recipes that are no-knead and easy to make but still taste amazing.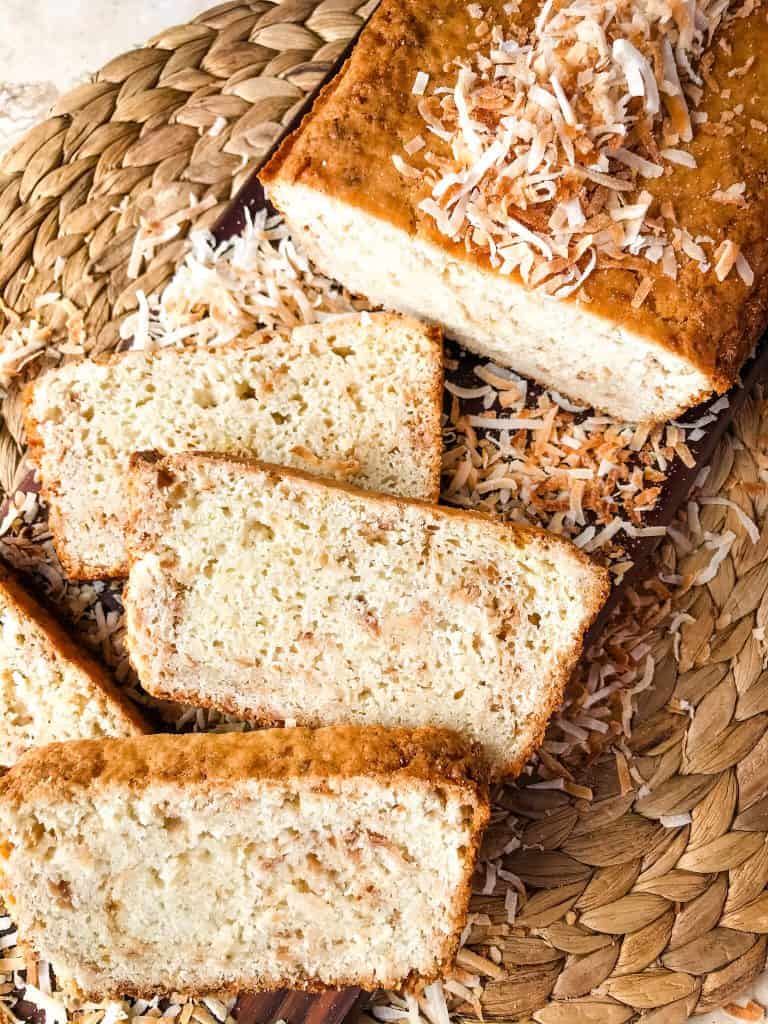 The Quick Coconut Bread is versatile and can be used for a breakfast treat, a snack, or even as dessert. This vegan bread also makes a great base for other recipes, like our Samoa Bread Pudding or Pina Colada Bread Pudding!
If you are not concerned about the bread being vegan, you can easily make some simple swaps. Use a large egg in place of the ground flax seed and water, butter instead of the coconut oil, or whole milk instead of the coconut milk. But if you leave out the coconut milk or coconut oil, there will be less of a coconut taste, so I recommend keeping those regardless! Not everyone has flax seed, though, so an egg is an easy replacement (again, if you are not concerned about it being vegan).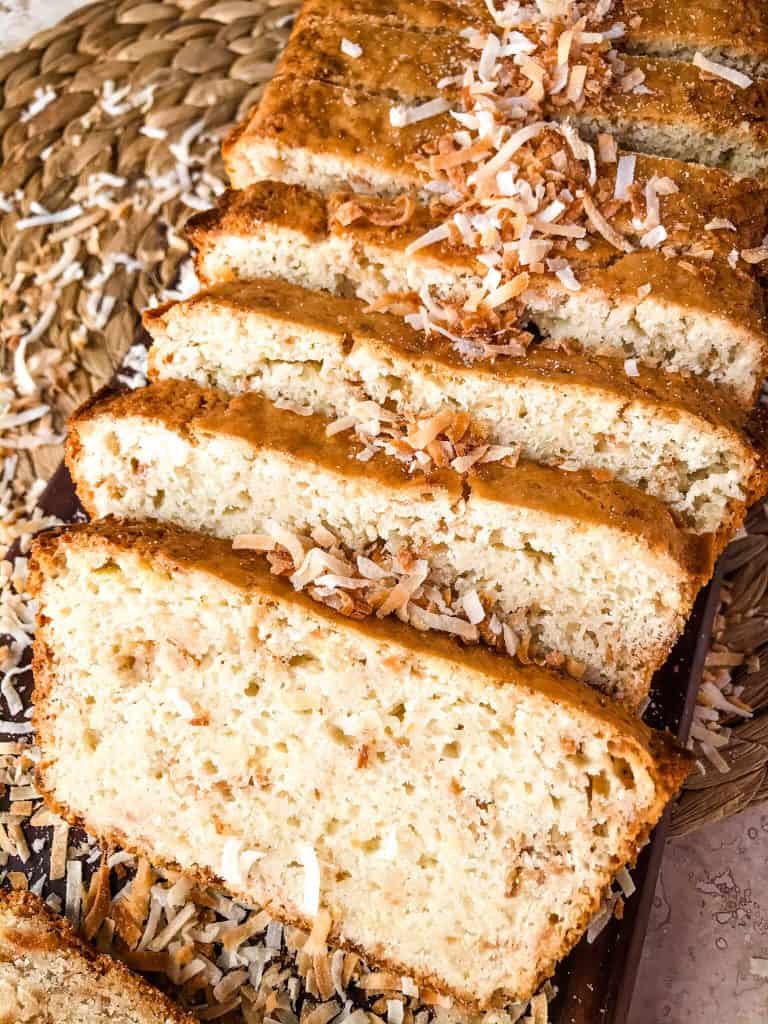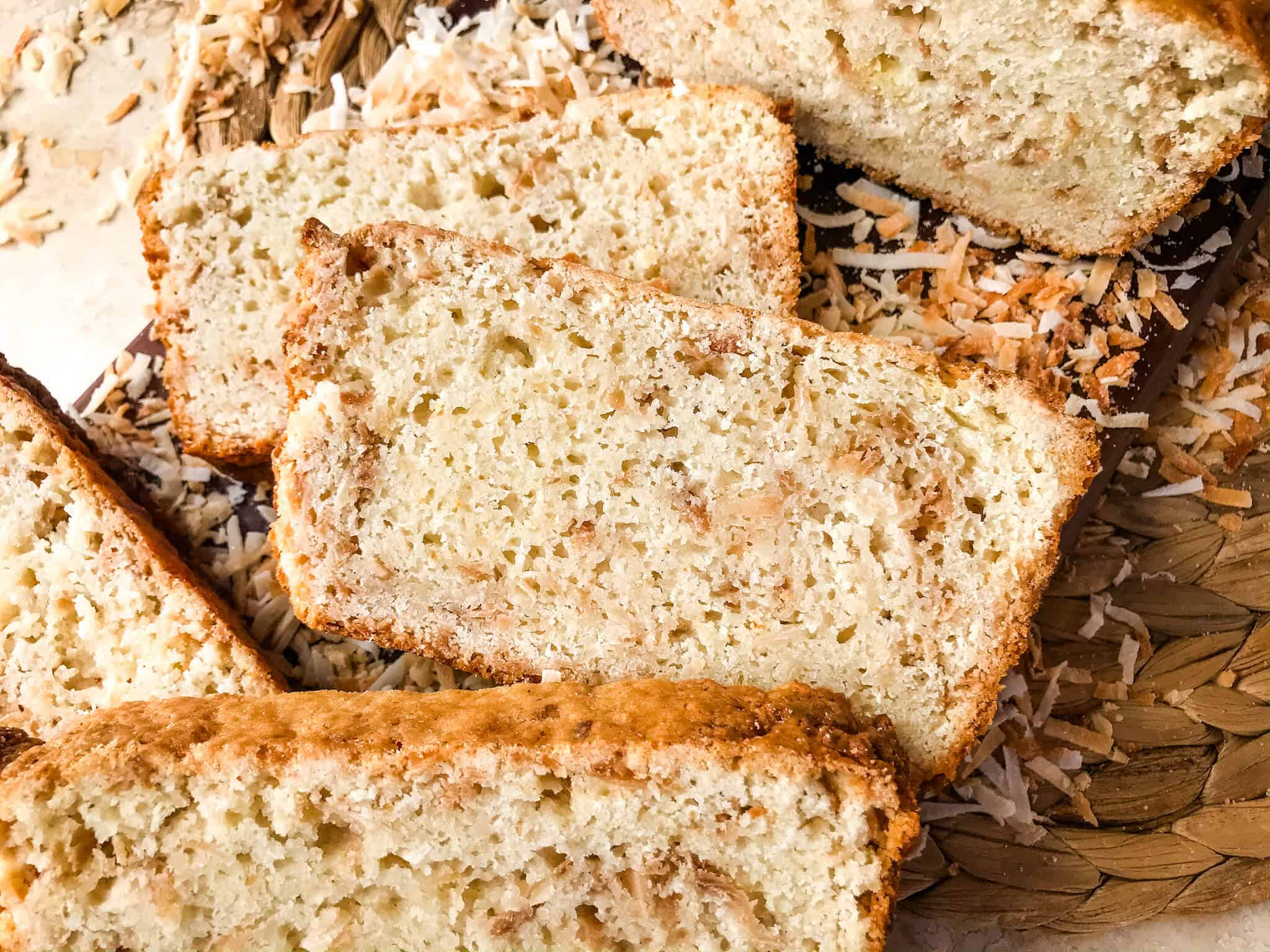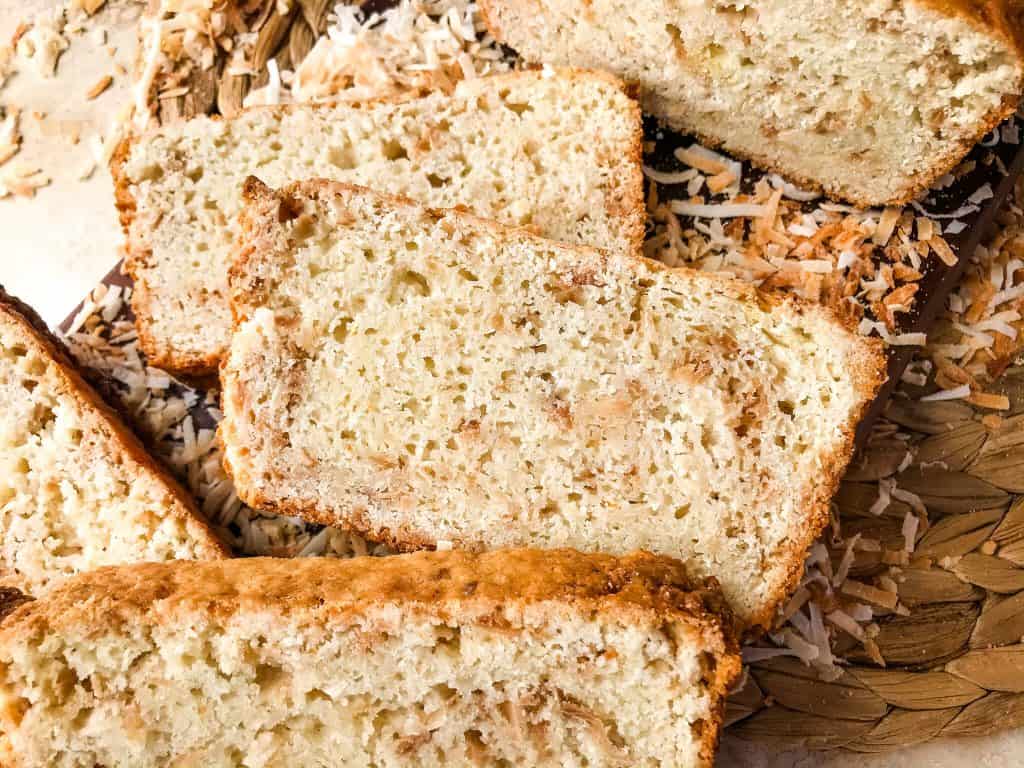 Toasting coconut is very simple and brings out a depth of coconut flavor that leaving it raw would not have. I recommend toasting the coconut for this reason while you work on making the bread, but leaving it raw or un-toasted is an option.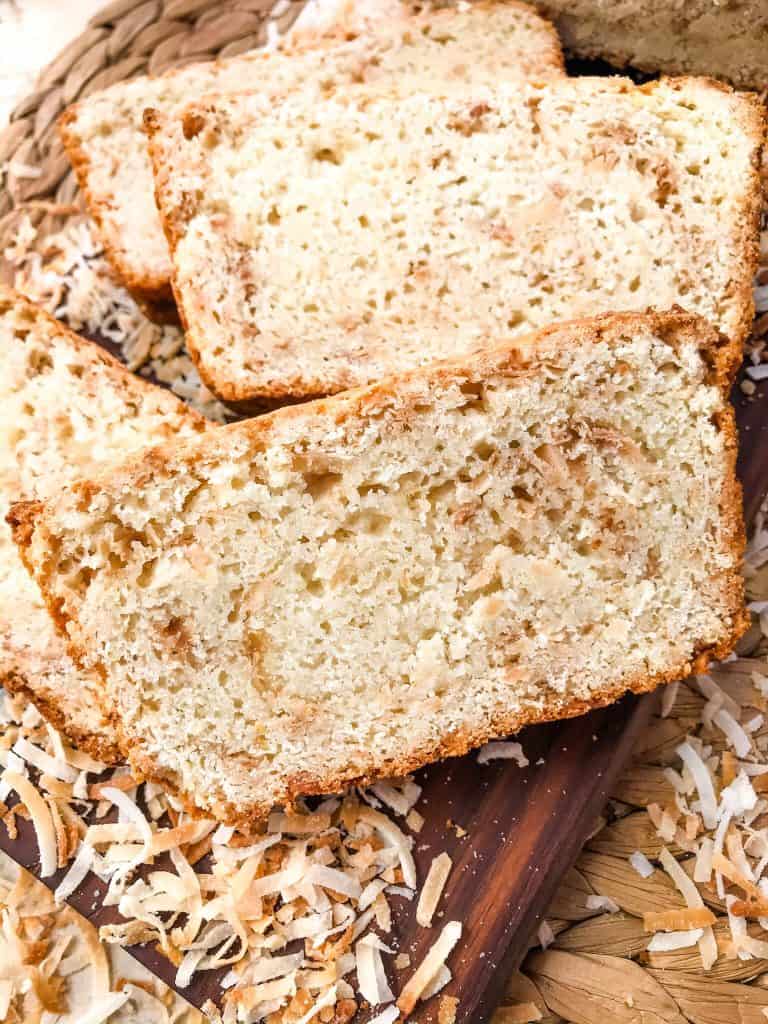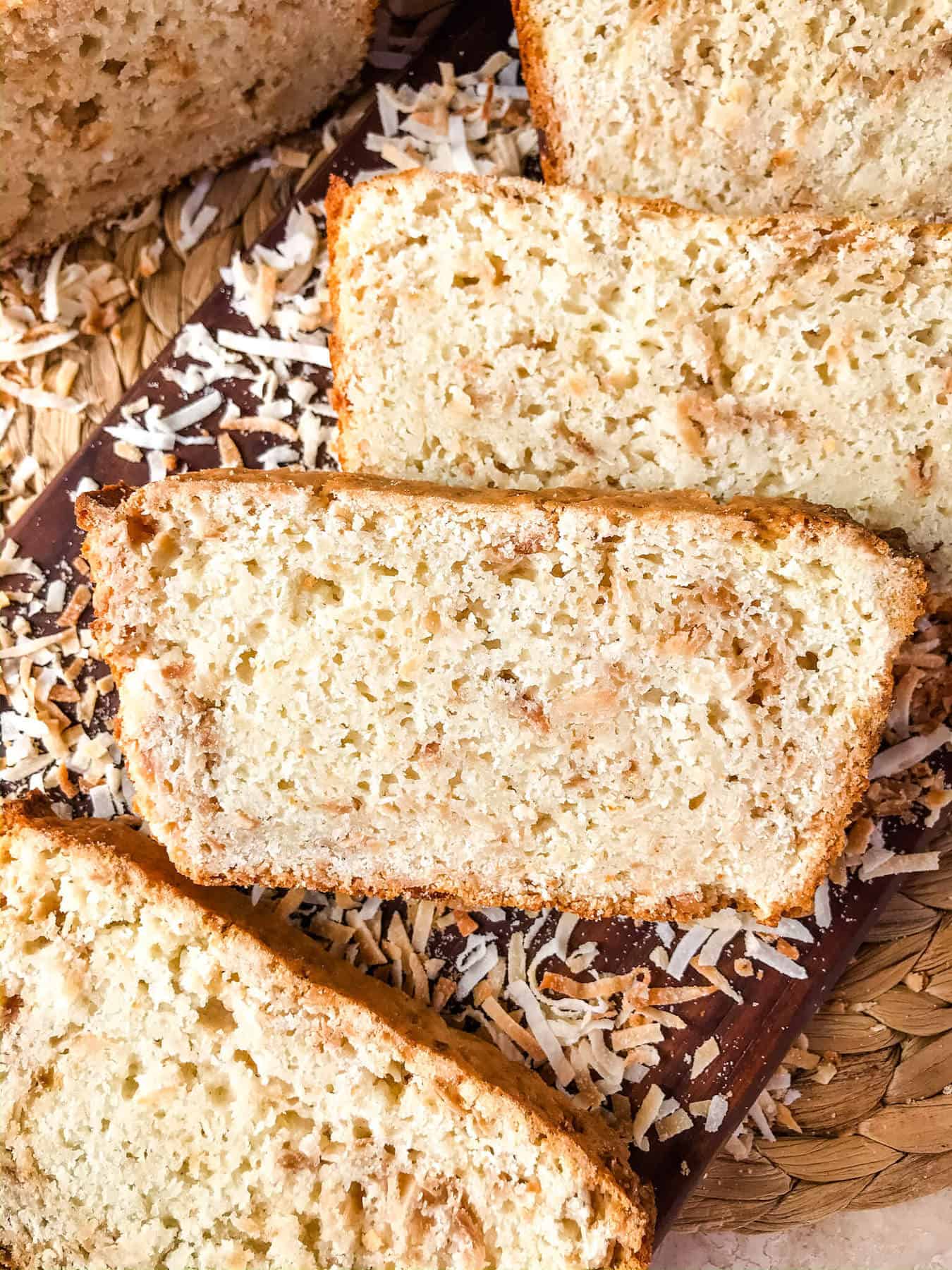 Instructions
Combine the ground flax with the water in a small bowl. Set aside to thicken.

Preheat oven to 375F with the rack in the middle position.

Toast the coconut by laying it out in a thin layer on a baking sheet. Roast in the oven, mixing every few minutes, until just starting to turn a light golden color, approximately 10 minutes. Remove and set aside.

Generously coat a 9x5 bread loaf pan with nonstick spray.

In a large bowl, whisk together the flour, sugar, salt, baking powder, and baking soda.

In a medium bowl, whisk together the coconut milk, coconut oil, juice of the lemon, and flax seed mixture.

Add the liquid mixture and toasted coconut to the flour mixture. Gently fold together until just incorporated. Do not over-mix.

Scoop the batter into the bread pan and smooth out the surface with a spatula.

Bake at 375F until golden brown for approximately 1 hour. The bread is done when a toothpick inserted in the center comes out with just a few crumbs.

Remove from oven. Let the bread rest in the pan for 10 minutes then remove from pan and let cool on wire rack until completely cool.
Notes
It is best to let the bread completely cool before slicing into it, which will help prevent it from crumbling.
If you are not concerned about the bread being vegan, you can use 1 large egg instead of the flax/water combination, whole milk instead of the coconut milk, and butter instead of the coconut oil. But the coconut oil and milk add extra coconut flavor, so you will be compromising the coconut taste.
Click on the ingredient links in the recipe to find where you can get those items online!
Nutrition
Calories:

391

kcal

|

Carbohydrates:

48

g

|

Protein:

4

g

|

Fat:

22

g

|

Saturated Fat:

19

g

|

Sodium:

329

mg

|

Potassium:

217

mg

|

Fiber:

2

g

|

Sugar:

26

g

|

Vitamin C:

6

mg

|

Calcium:

35

mg

|

Iron:

3

mg

By