Perfect to make in advance for a fast and easy breakfast day-of! A great treat for summer and camping trips.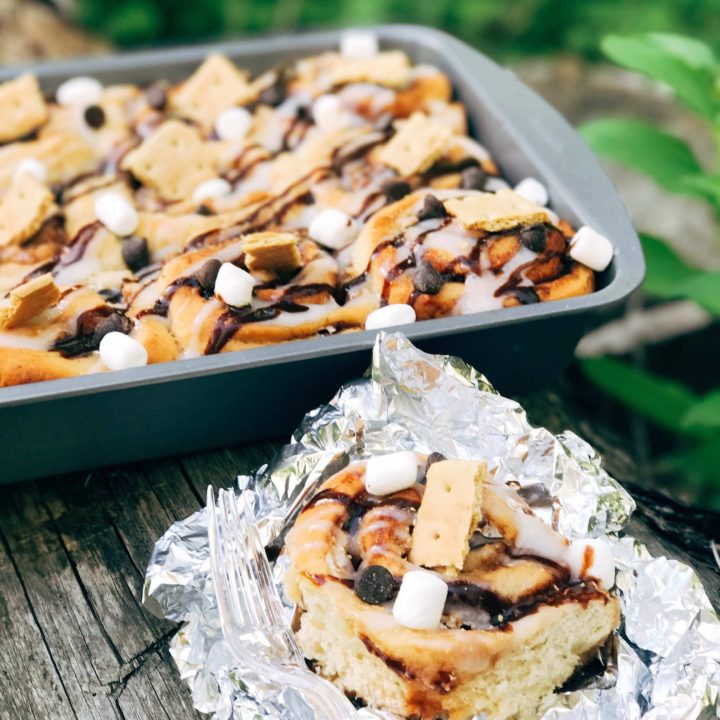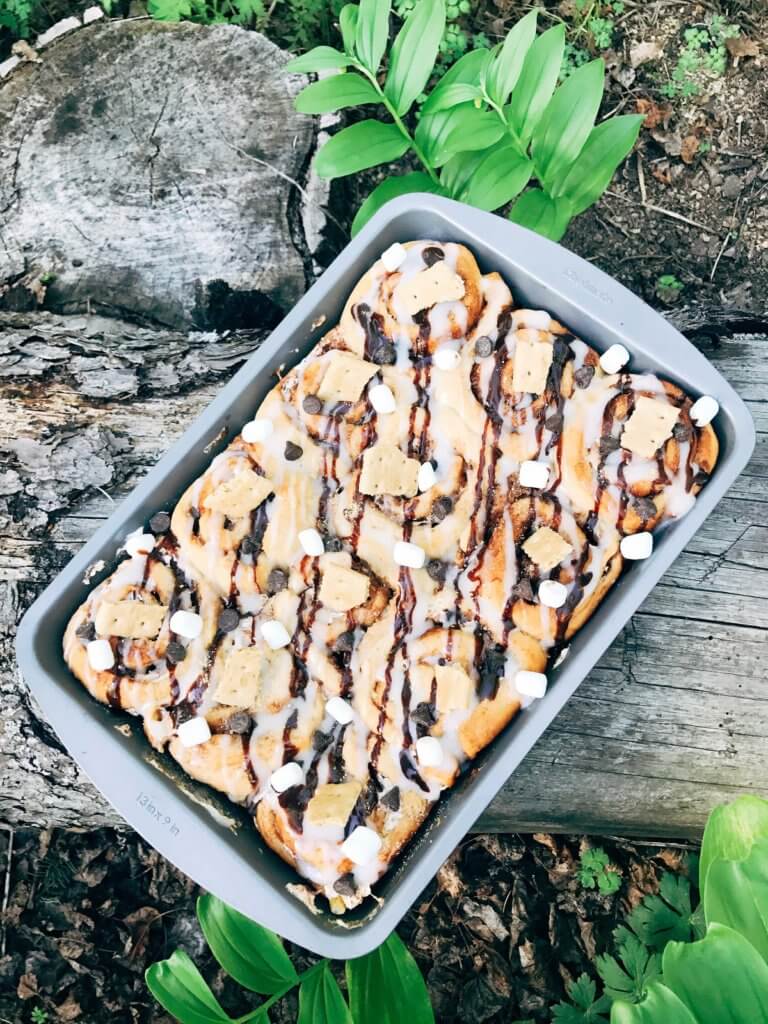 Recently we went camping, which is one of our favorite summer activities, and we went to one of our favorite spots not too far into the mountains. We always bring a lot of great food with us, and S'mores are mandatory. So this time I also made my S'mores Cinnamon Rolls for the trip, a perfect summer and camping treat!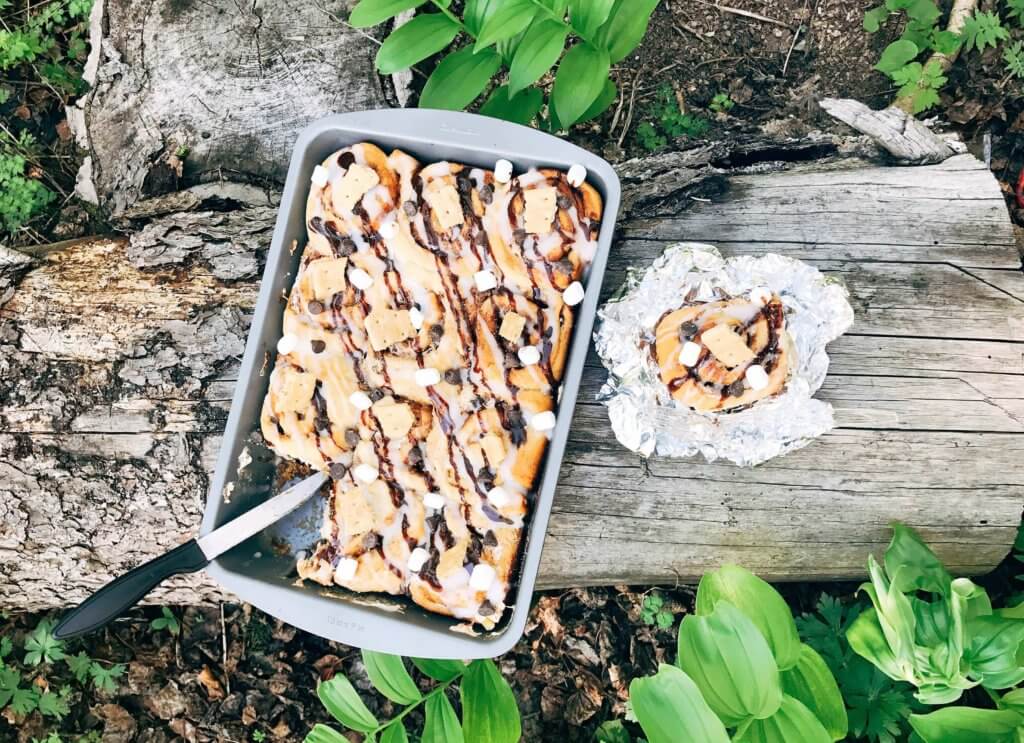 This post contains affiliate links.
Around here, making cinnamon rolls is a tradition on every holiday. I tend to mix it up based on the season (these are PERFECT for summer and camping!) and rotate through the flavors. And the BEST thing about these rolls are they are perfect to make the day before. You can bake them all the way through, or make them right up to the point where they go in the oven and refrigerate them overnight. Then pop them in the oven to bake morning-of and your house will smell like HEAVEN in no time.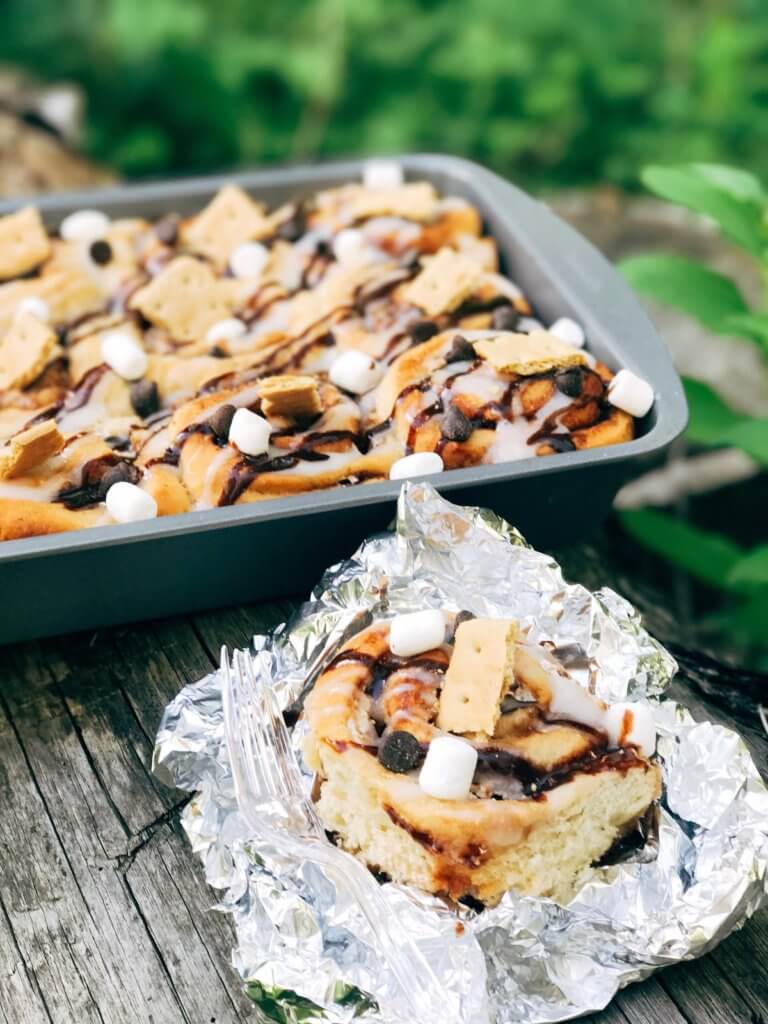 I always make at least two batches because people are known to eat 2 or 3 each! And this also gives me the perfect excuse for making different flavors to please everyone. One of the most popular in our family is Blackberry Toasted Coconut Sweet Rolls. Find your own favorites in our breakfast section!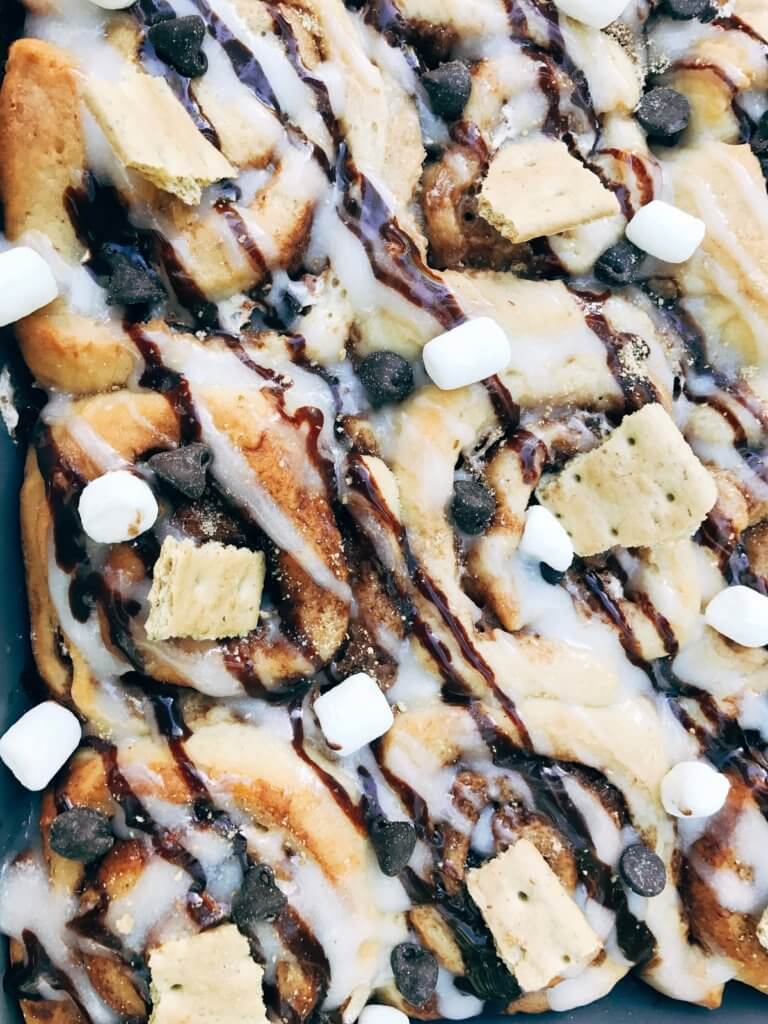 I love camping and even with our hectic schedules we typically can get up into the mountains a few times a year. Good food is incredibly important to me when I am camping so I am always prepping and getting everything ready for the trip. I would rather do a lot of work ahead of time and have a lot of great food than be disappointed with what we have to eat. So these S'mores Cinnamon Rolls are fantastic for that reason! I can get them completely done in advance for an easy breakfast at the campsite.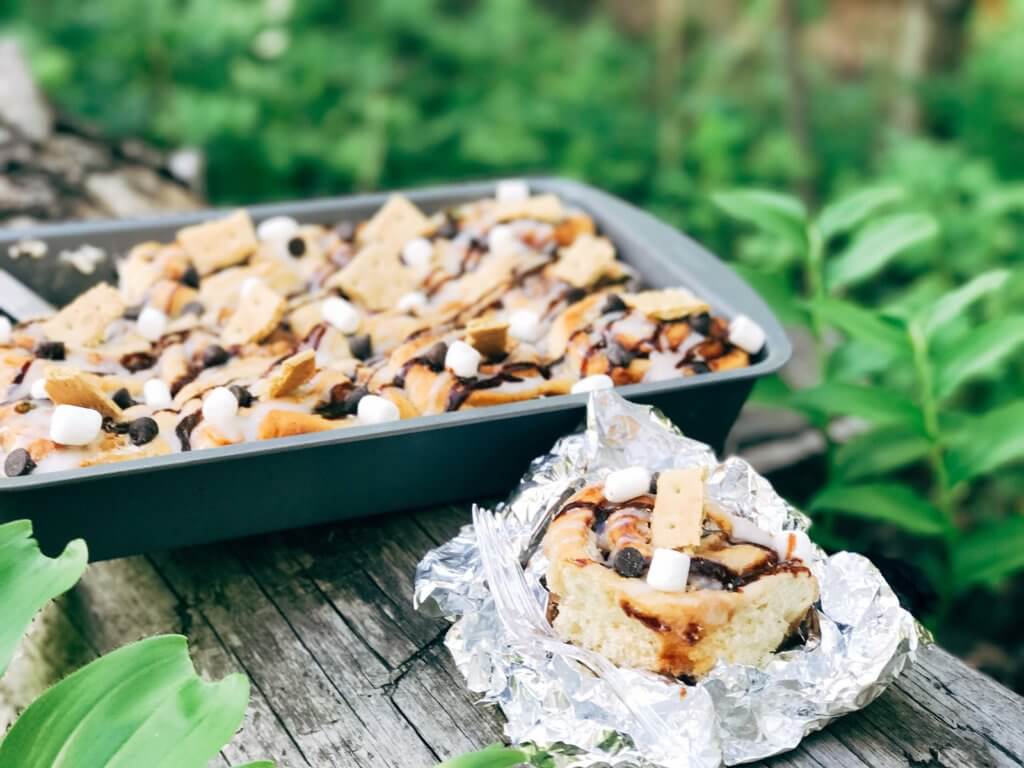 Even if you are not going camping, these S'mores Cinnamon Rolls with Cream Cheese Frosting are a great way to celebrate the flavors of summer. They do take some time to make, but they are completely worth it. The trick with these is making them the day or night before. This way, you do not have to wake up in the middle of the night to get these going. Just prep them in advance, throw them in the oven day-of, and your house will smell like heaven in no time!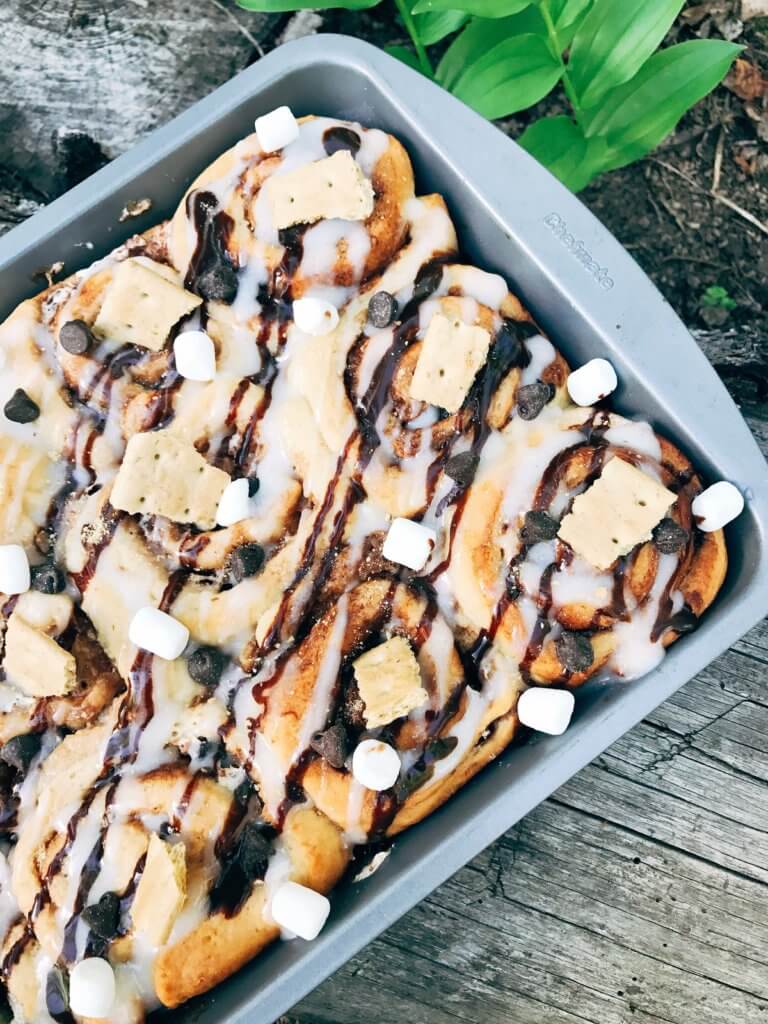 I am loving these S'mores Cinnamon Rolls this summer and celebrating these warmer months. What are some of your favorite summer activities?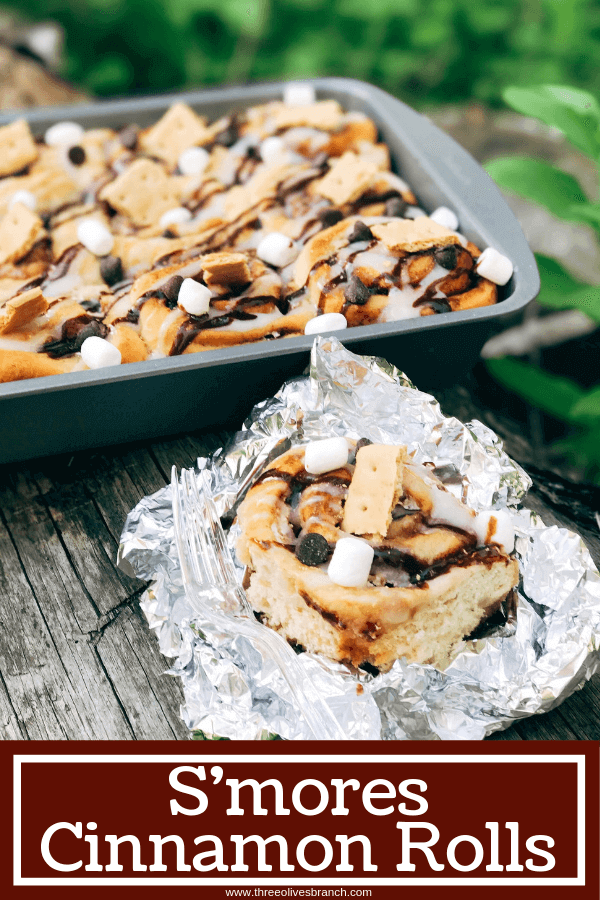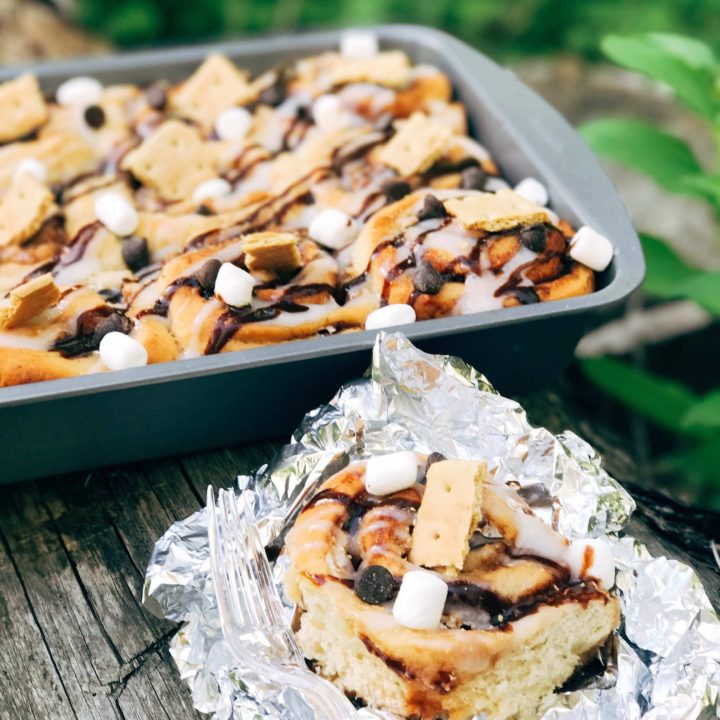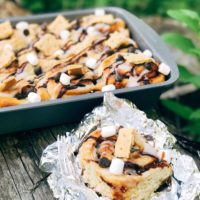 S'mores Cinnamon Rolls
Perfect to make in advance for a fast and easy breakfast day-of! A great treat for summer and camping trips.
Print
Pin
Rate
Instructions
Scald your milk by heating 3/4 cup of milk over medium high heat in a skillet. Once the milk is simmering, turn the heat off. You should have approximately 1/2 cup left. Measure out the 1/2 cup milk and discard the rest.

In a small bowl, dissolve yeast in 1/2 cup warm water as per package directions for the correct temperature to ensure that you keep your yeast alive.

In a large bowl, mix the 1/2 cup milk, sugar, melted butter, salt, and egg. Let it sit if the temperature of this mixture is over 110F otherwise it will kill the yeast. Once at 110F or below, add yeast mixture and mix to combine.

Add in 2 cups of flour and 1/2 cup graham cracker crumbs and mix until smooth. Add additional flour 1/2 cup (or less) at a time until the dough is easy to handle (the amount of flour that you need will vary).

Roll the dough out onto a lightly floured surface and knead for 5 to 10 minutes. Place the dough into a greased bowl (you can use 1-2 tsp of vegetable oil to coat the bowl you mixed everything in). Cover bowl with saran wrap and then a kitchen towel. Let sit until the dough has doubled in size, approximately 60-90 minutes.

When dough has doubled in size, punch it down. Then put it back on a floured surface and using a rolling pin, roll the dough into a rectangle approximately 15x9 inches.

Scoop the marshmallow fluff into a small bowl and microwave for 15 seconds. This will make it softer and easier to spread. If you are using the cinnamon, mix it into the fluff now. Spread the marshmallow fluff across the dough. Sprinkle the chocolate chips and additional graham cracker crumbs across the fluff. Drizzle with chocolate syrup. Let the dough sit like this for about 5-10 minutes for the fluff to cool again which will help prevent it from oozing out of the rolls too much from being warm.

From the long edge, tightly roll the dough all the way to the other long edge and pinch dough together to seal. Using a serrated knife, cut the log in half. Then cut each half into half again so that you have four equal pieces. Lining up two pieces at a time, cut each into three rolls so that you have a total of 12.

Coat the bottom of your 9x13" baking dish with some additional melted butter and sugar to coat. Place the cinnamon roll slices close together in the dish (four rows of three) and let them rise until the dough has doubled again, approximately 45 minutes. (If you are making these the night before, once the rolls have doubled in size, cover them in plastic wrap and place them in the refrigerator. In the morning, pull them out to warm to room temperature before baking).

Preheat the over to 350F. Once the rolls have doubled in size, place them in the oven and bake for about 30 minutes or until they are starting to brown.

While the rolls are baking, prepare the icing. Whisk the cream cheese in a stand mixer until creamy. Add the milk and whisk in until combined. Sift in the powdered sugar and whisk until smooth. You can also add some flavorings such as vanilla if desired.

Pour the glaze over the rolls. Decorate with pieces of graham crackers, mini marshmallows, and chocolate chips if desired. Serve warm.
Notes
The rolls can be made all the way up to the point before they go in the oven and then left overnight in the refrigerator to save time in the morning.  Just bring your dish to room temperature as the oven is heating so that it is not ice cold going in the oven.  I have had a cold dish explode on me before from the change in temperature 🙂

I like to make these without the cinnamon, but you can mix in 2 Tbsp of cinnamon into the marshmallow fluff for more of a cinnamon roll taste.  It pairs very well with chocolate!

By