Classic spinach artichoke dip flavors as a pizza! Easy to customize with your favorite toppings for a fun twist.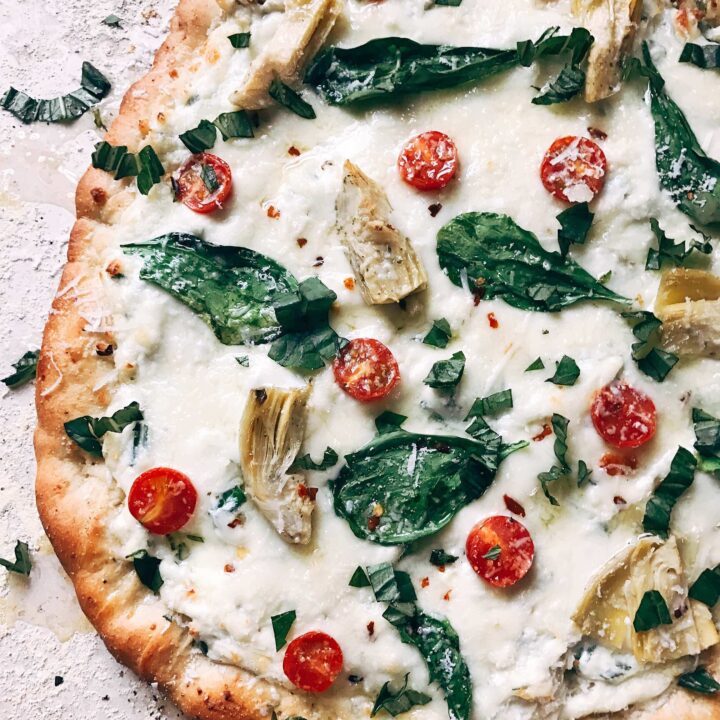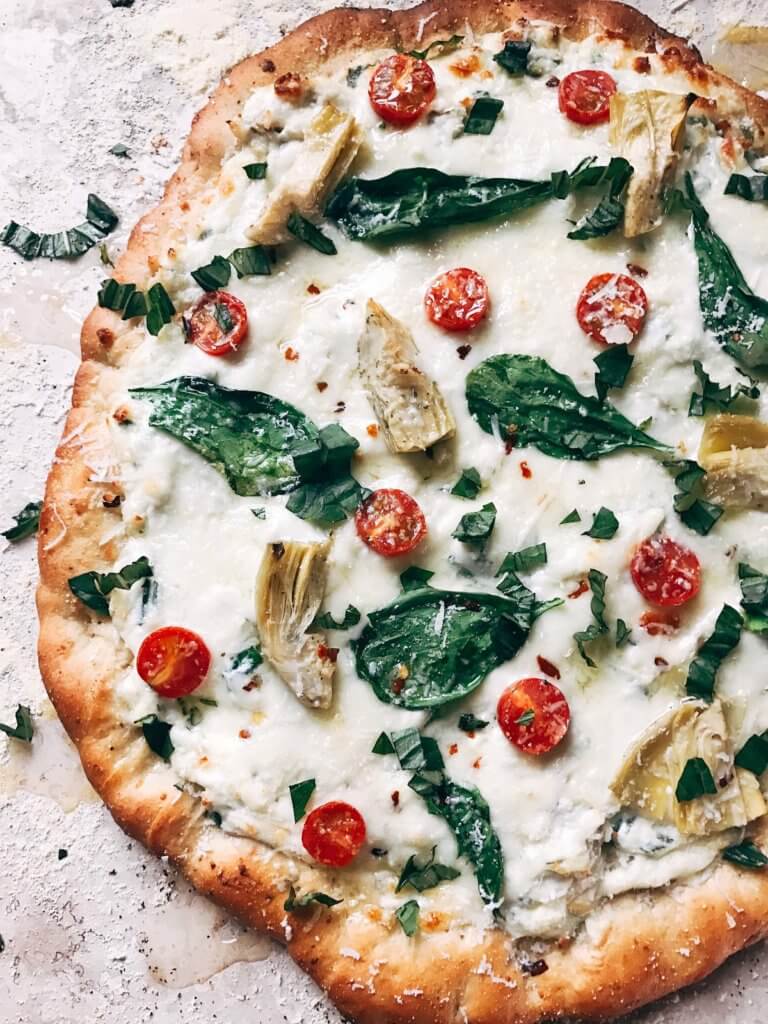 Oh.  My.  WORD.  This Spinach Artichoke Dip Pizza is just a slice of heaven.
We recently had a dinner party with a pizza night theme.  I made several different pizza flavors and this one was my absolute FAVORITE.  I was worried it might be too heavy, as I am not a big fan of excessively heavy food, but it wasn't!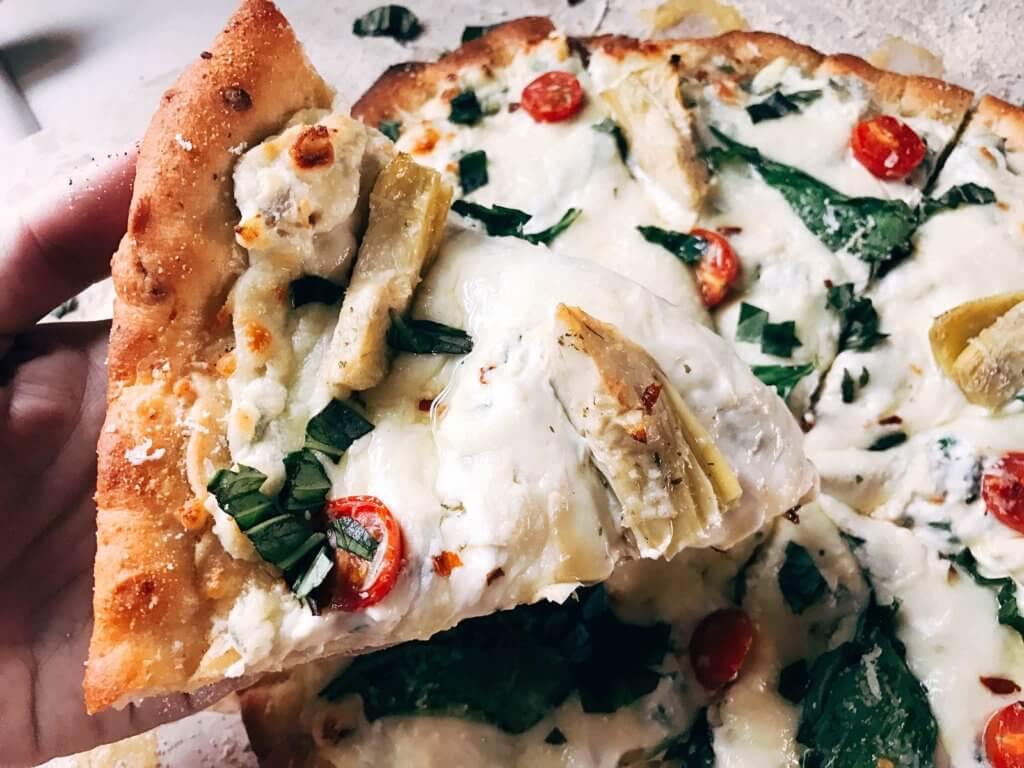 This post contains affiliate links.
Have you ever done a pizza night?  It is one of my favorite dinner themes to do.  Whether I am making one or four types, for a group or just us, it is such a fun experience.  I tend to make each pizza different flavors and cut them all up for everyone to pick from, but it is also a lot of fun to let everyone build their own!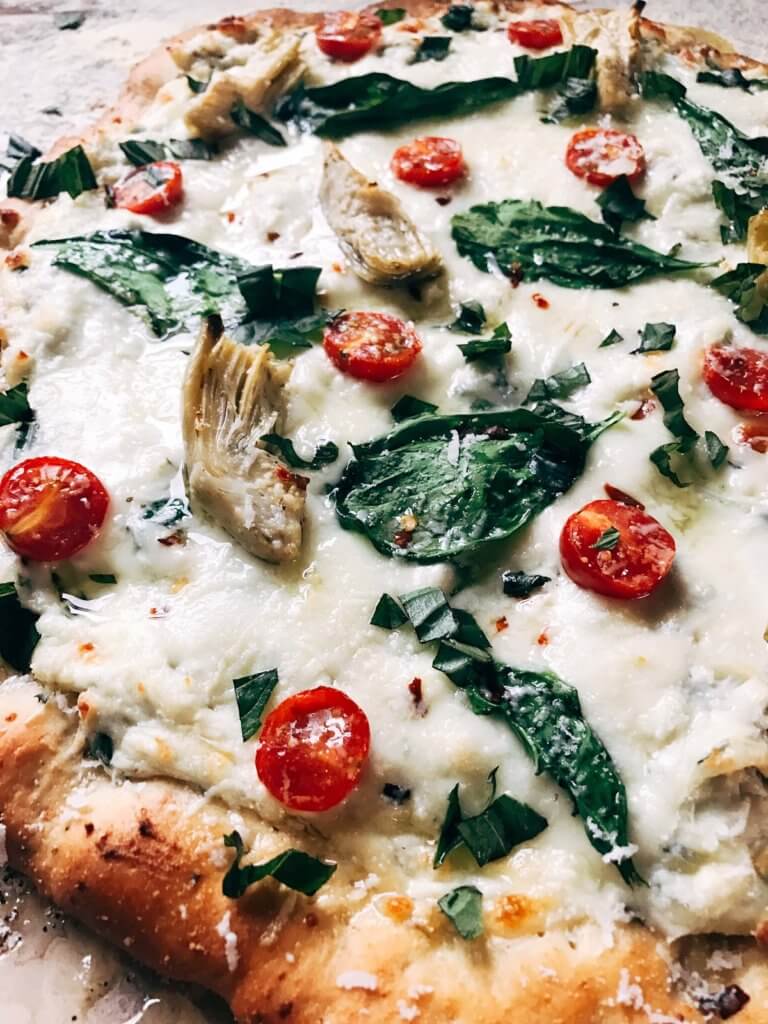 The veggies balance out the creamy sauce on this Spinach Artichoke Dip Pizza, and the fresh tomatoes are perfect in providing a pop of acid and brightness to the pizza.  Out of all the pizza flavors I made, this one disappeared first.  And FAST.
Even the meat eaters were completely devouring this pizza and skipping the ones that actually had meats on them.  I was not expecting this, especially with alfredo pizzas being an option.  Should have just made a few of these and everyone would have been more than happy!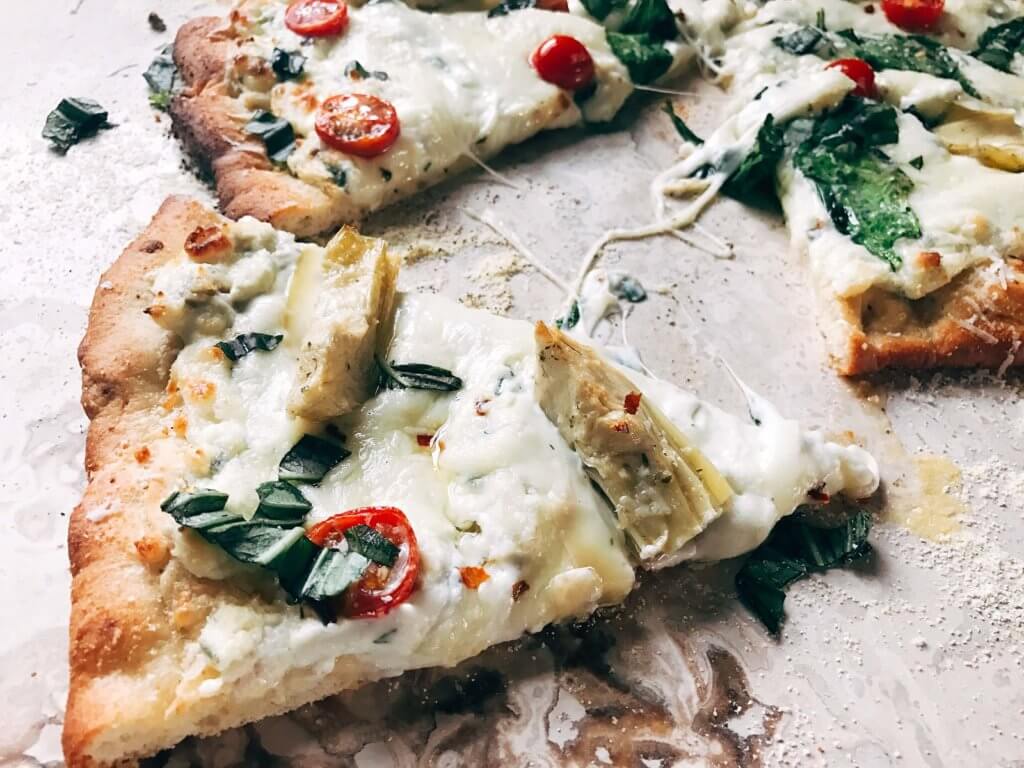 The base of this pizza is a modification of a spinach artichoke dip.  So, automatically, we are starting on a REALLY good foot.  Then throw on some additional veggies as toppings, or even some meats if you are a meat eater, and you will have something amazing.
I am putting this Spinach Artichoke Dip Pizza at the top of the list for pizza ideas when we have a pizza night for the foreseeable future.  I seriously still think about it…and am totally making it this weekend.  But this time I am not sharing!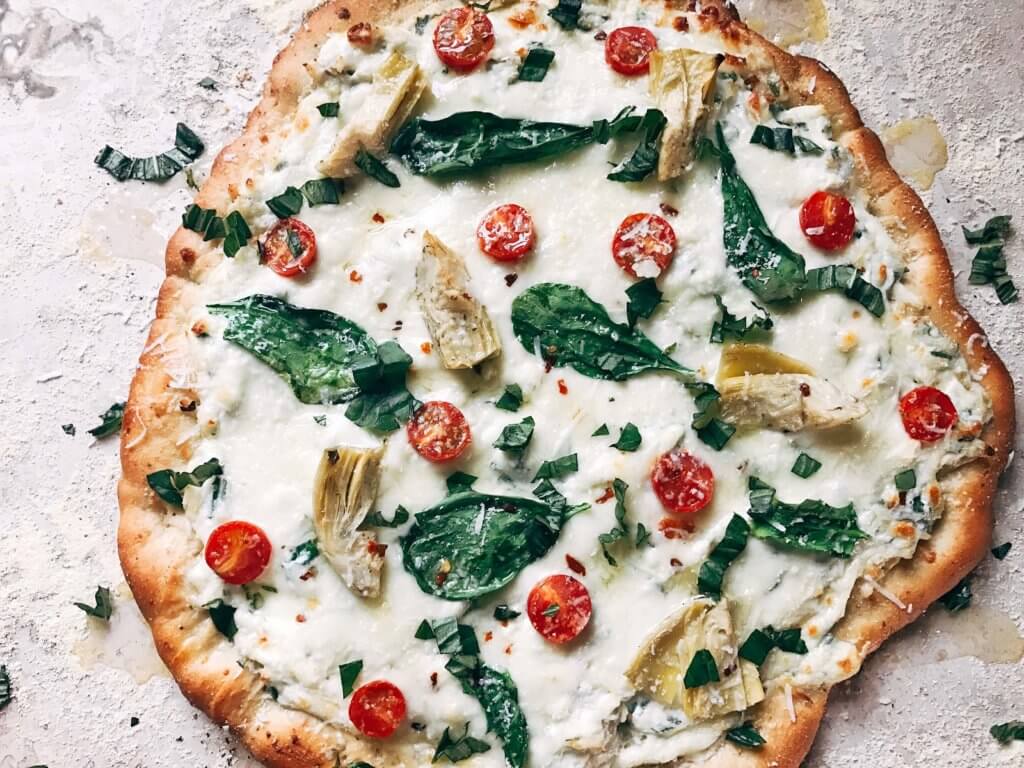 Find more of our ever-popular pizza recipes here!  From dough to sauce to toppings, we have you covered.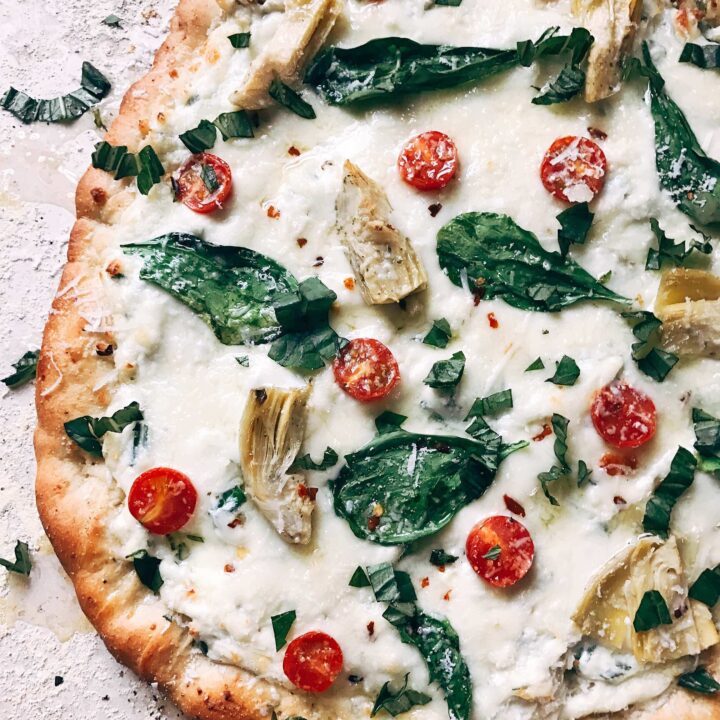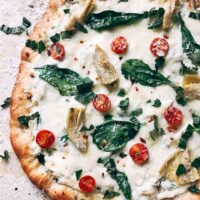 Spinach Artichoke Dip Pizza
Classic spinach artichoke dip flavors as a pizza! Easy to customize with your favorite toppings for a fun twist.
Print
Pin
Rate
Ingredients
Spinach Artichoke Dip Sauce
Instructions
In a medium bowl, combine the spinach artichoke dip sauce ingredients. Set aside.

Prepare the pizza dough if not completed already. If following one of our recipes, follow instructions until the crust is par-baked and set aside.

Preheat oven to 450F. Place your pizza stone or baking sheet in the oven to heat.

Place your pizza crust on a peel or another surface that will allow you to easily transfer it to the oven (such as a flexible cutting board).

Brush the outer crust area with some olive oil and sprinkle with garlic salt or Parmesan if desired.

Spread out the spinach artichoke dip across the pizza to taste.

Sprinkle the pizza with mozzarella to taste.

Add toppings as desired. I love to use spinach, artichoke hearts, and tomatoes (for a bright and fresh flavor). Dust with fresh Parmesan cheese.

When the oven is finished preheating, transfer the pizza to your pizza stone or baking sheet.

Cook until the cheese has started to turn brown, approximately 10-12 minutes (or to your desired doneness).

Remove the pizza from the oven. Sprinkle the fresh basil on top and some red pepper flakes if desired for an extra kick. Serve warm.
Notes
I use artichoke hearts in oil. You can use frozen artichoke hearts however be sure to thaw and drain them before using to eliminate extra moisture.

Please note that the exact cook time will vary with your oven.

If you use a different pizza crust, the cook time will vary based on size and thickness.

Make the crust in advance for a quick dinner!  If your crust is ready to go, the total cook time will be closer to 10 minutes. A raw dough will lead to a cook time around 20-30 minutes.

The better quality ingredients you use, the better it will taste!

A par-baked pizza crust means that it is not raw. It is typically cooked just enough where the dough is no longer raw but it is not done (no golden brown edges). This ensures the crust cooks all the way through and that the addition of toppings does not leave a raw center.

By