This Spinach Artichoke Risotto recipe is filled with artichoke hearts, spinach, cream cheese, and Parmesan cheese. A great side dish or meal, vegetarian or add some chicken, shrimp, or tofu. #risottorecipes #spinachartichoke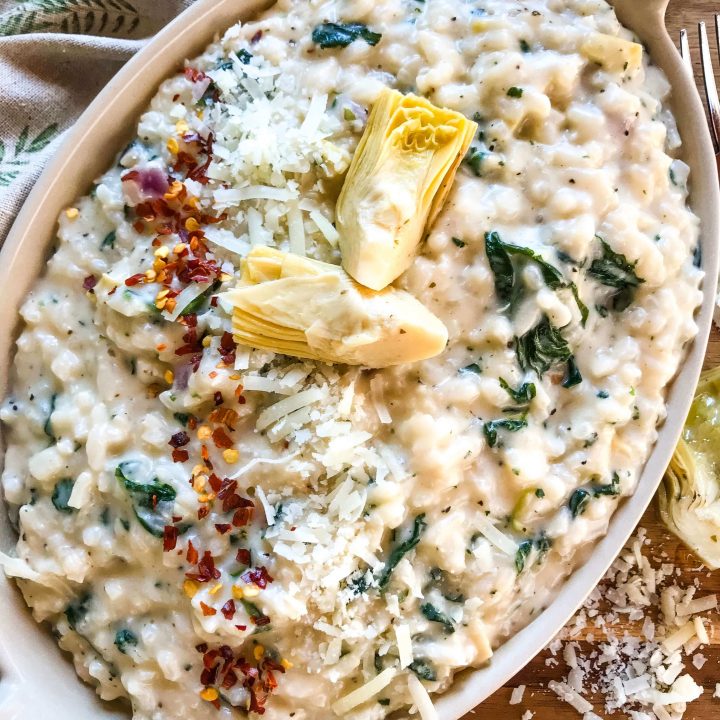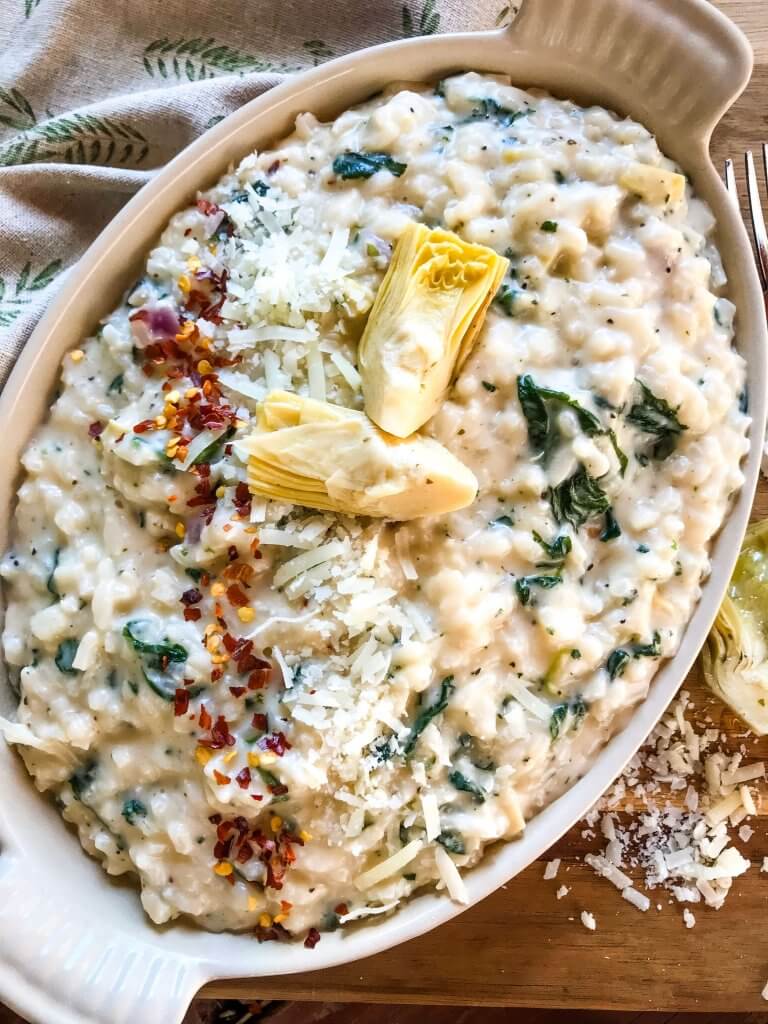 Spinach Artichoke Risotto is a delicious, cheesy rice recipe. Serve it up as a main course, either as-is or with some shrimp or chicken, or as a side to your Italian meal.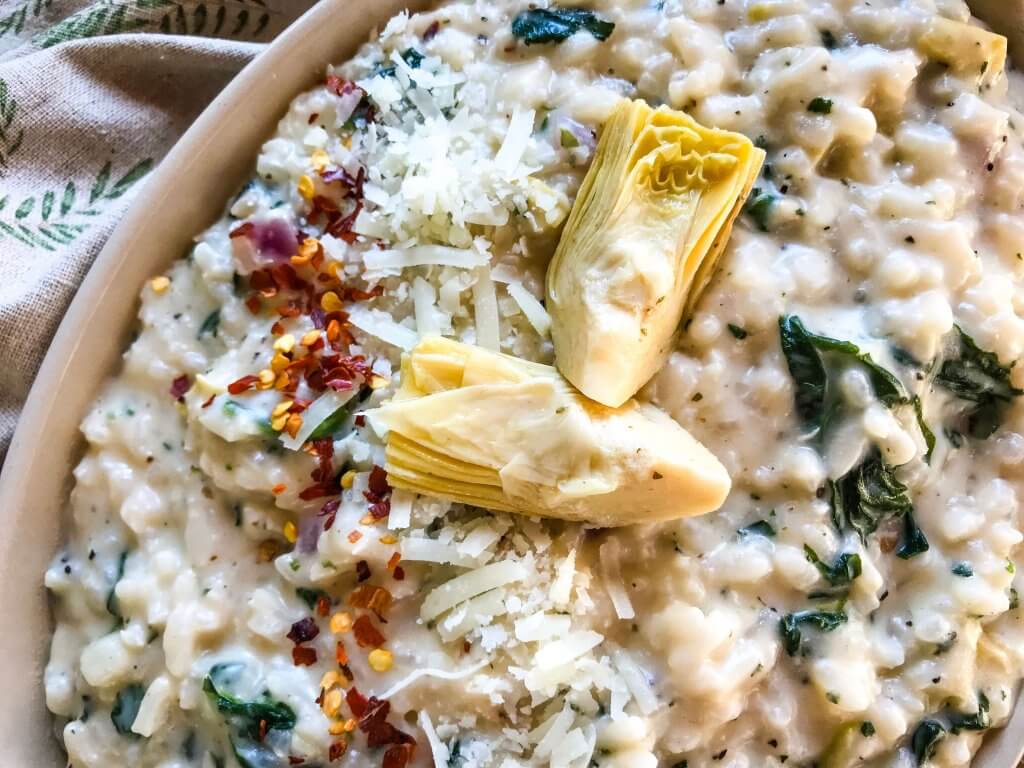 This post contains affiliate links.
This Spinach Artichoke Risotto is one of my many flavor combinations for risotto. I am OBSESSED with risotto and once I figured out a great base recipe, watch out! I have been on a risotto kick ever since, making as many fun flavors as possible. Find more of our risotto recipes here!
I also LOVE spinach artichoke dip. So naturally, I wanted to combine the two ideas. Ever since I found an amazing recipe (inspired by Alton Brown) I have been using variations of it in so many different ways. Find our spinach artichoke recipes here!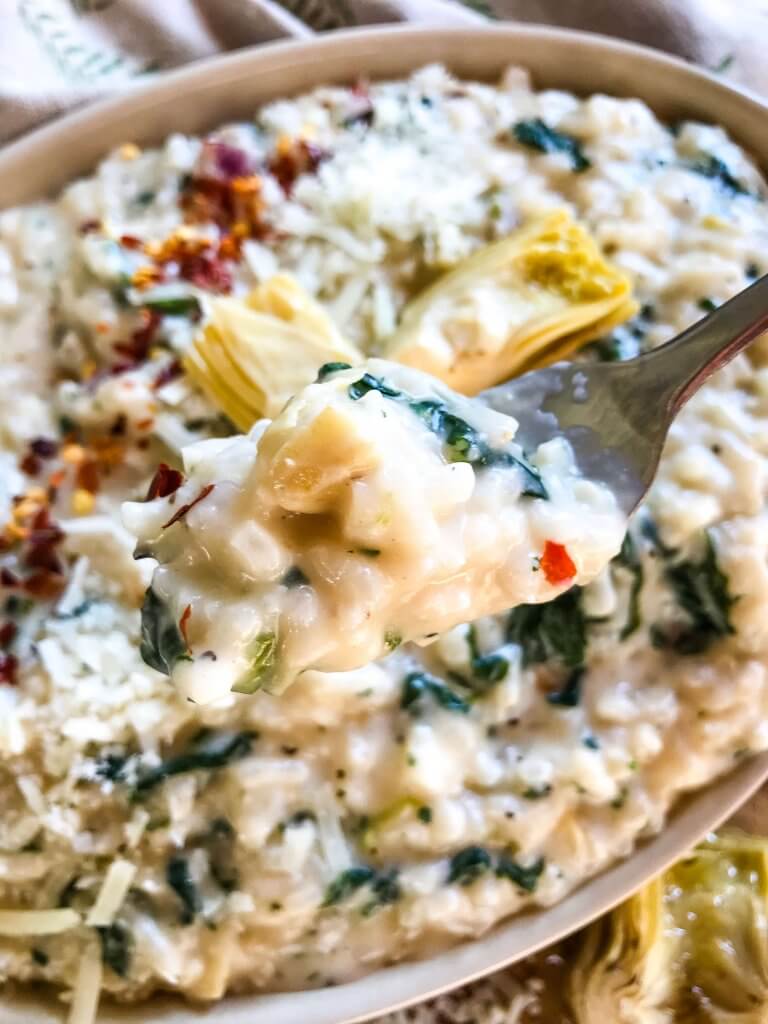 This gluten free risotto recipe is perfect just by itself, but you can use it as a side or add some chicken, tofu, or shrimp to the mix. I like to eat risotto with a vegetable or salad on the side to help break the richness of the cheese.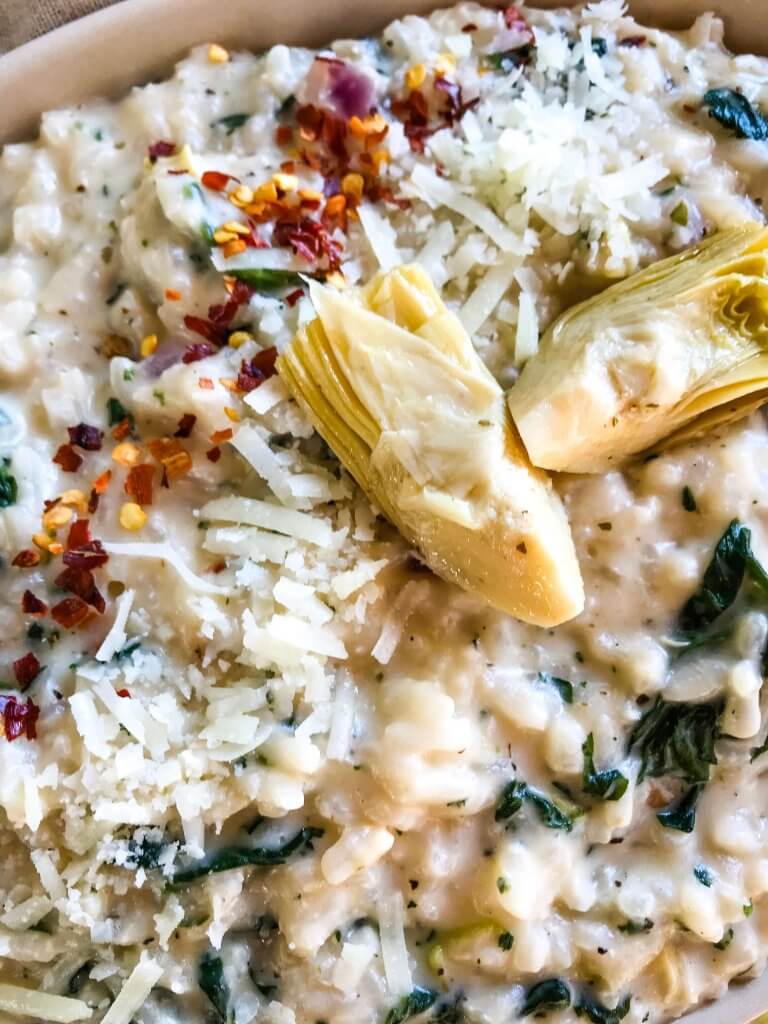 Does the rice type really matter?
Yes! Arborio rice is high in starch and as this starch is released in the cooking process, it gives risotto the creamy texture. Arborio is also a short grain which means it stays a little firm and chewy. You want risotto to have just a little bite or texture to it and not be soggy or too soft. You can find arborio rice at most grocery stores. I like to get mine online in bulk here.
Do I really need to stir it that much?
In my opinion, yes. Some people say that they do not notice a difference and just let the rice sit there and cook in all of the liquid at once. But I DO notice a difference. The stirring and gradually adding of the liquid definitely makes the risotto creamier. Grab a glass of wine or a friend and hang out with your risotto for a bit, stirring as it cooks. Yes, you can go back and forth to the pot stirring every few minutes, but the best ever risotto I made was when I was constantly stirring.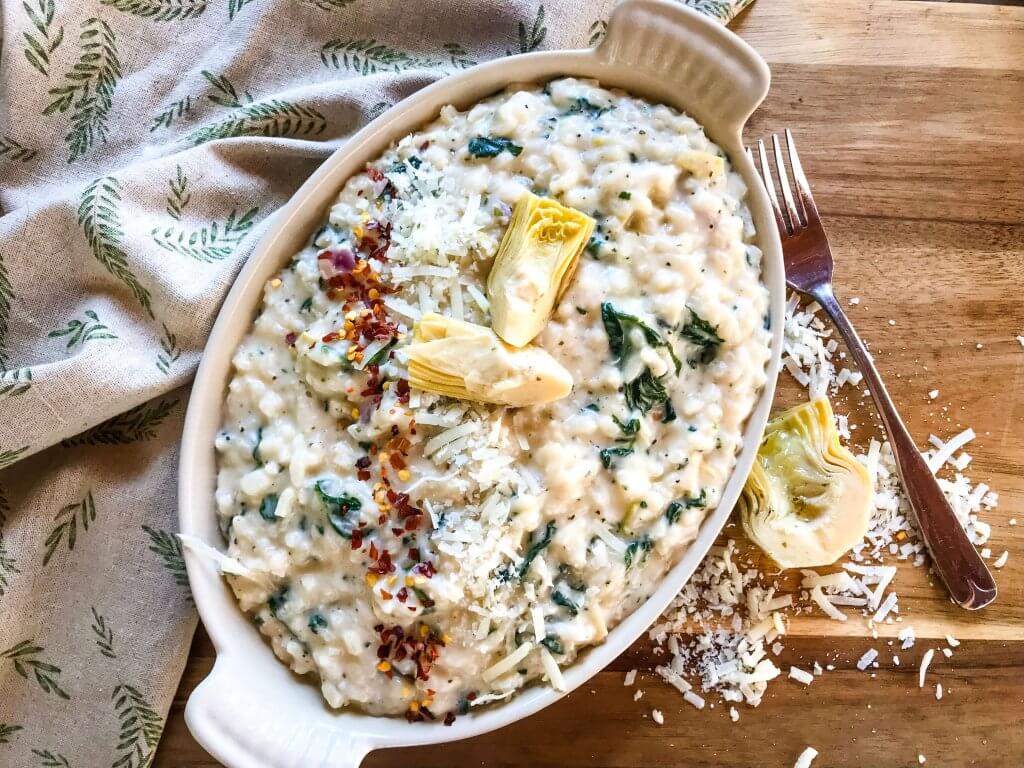 Can I just use my canned Parmesan instead?
The quality of Parmesan in this dish is extremely important. The cheese is a primary flavor and so you want to use ingredients that taste good as it will just make the dish better. If you use that pre-ground, cheese in a can stuff, it will not taste as good. You get out of it what you put into it! I love to buy wedges of Parmesan Reggiano cheese and use one of my favorite tools, a food processor, to shred the brick and then I keep it in my refrigerator in plastic bags so that I always have fresh, quality cheese shredded on hand. If you make healthier and higher-quality foods easier to access, you will use them more often.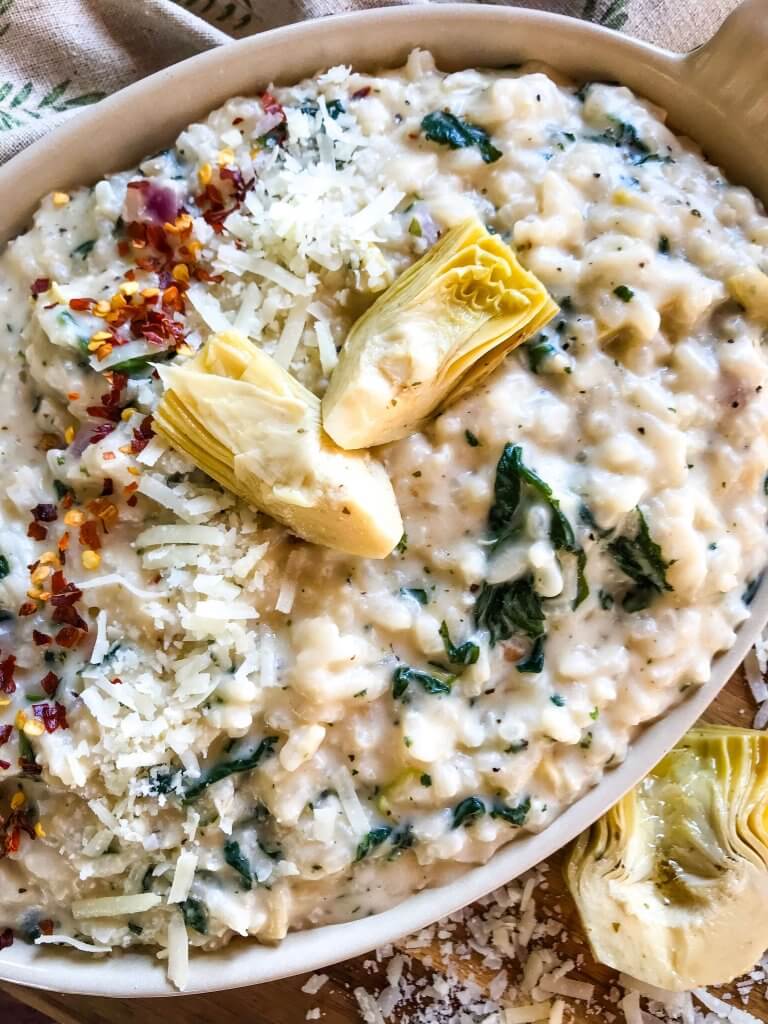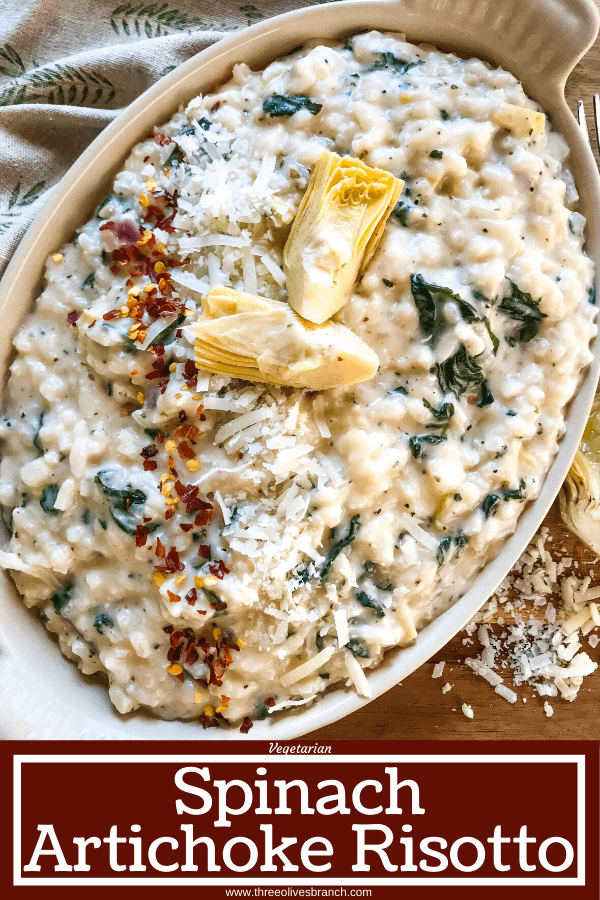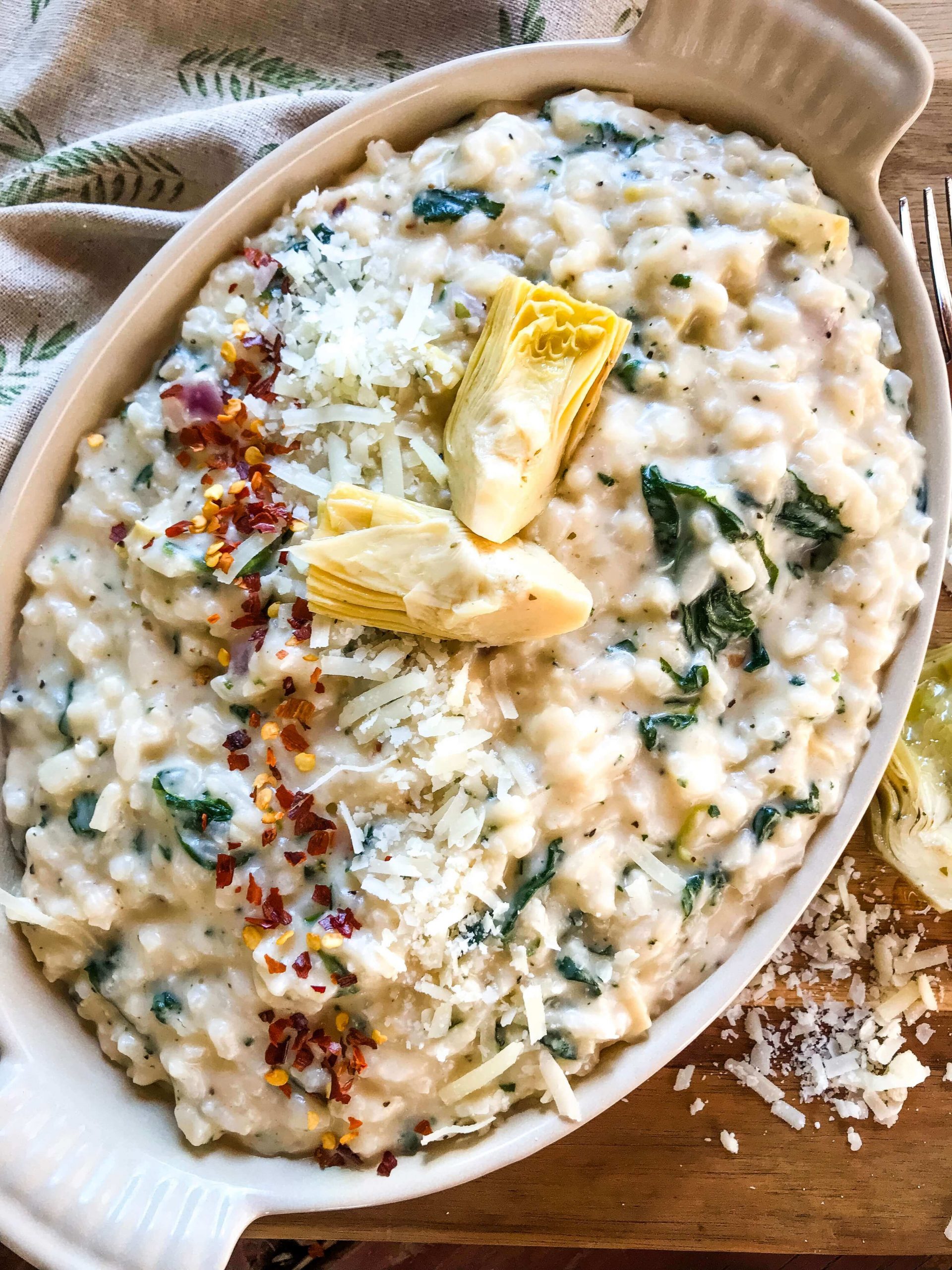 Instructions
Place the stock in a small pot and heat over medium low. You want the stock to be warm when adding it to the risotto so that the temperature change does not affect the rice.

In a large pot, melt the butter over medium heat. When melted, add the red onion. Cook until the onion is translucent but not yet browning, approximately 3-5 minutes.`

Add the rice and stir. Continue cooking to slightly toast the rice until it is just starting to show a little brown color, approximately 3-5 minutes.`

Add the white wine to the pot. Cook until the rice is almost dry, where most of the wine has been absorbed.

Add one cup of stock to the rice. Stir continuously until most of the stock has been absorbed. Repeat this process 1/2 cup of stock at a time until the rice is cooked thoroughly. You want the rice to have just a little bit of bite left so that it is not completely mushy. Depending on your rice, you may need more or less stock for the right consistency so start tasting the rice after 4 cups.

When your rice is cooked through, remove the pot from the heat. Add the cream cheese, thawed and drained spinach, artichoke hearts, and Parmesan cheese. It is important to do this before adding salt and pepper because the cheese is salty. Stir to combine.

Taste the risotto and season with additional Parmesan, artichokes, salt, and pepper as desired. I like to use a dash of red pepper flakes (around 1/4 teaspoon) for a slight kick. Depending on your cheese, you may need no salt, or a couple teaspoons. Serve immediately.
Notes
Get arborio rice online here.
Use any white wine that you enjoy drinking. I advise staying away from sweet wines as it will make the risotto very sweet as well. Chardonnay or sauvignon blanc are the ones I tend to use.
To ensure a truly vegetarian dish, use vegetarian cheeses.
Nutrition
Calories:

664

kcal

|

Carbohydrates:

71

g

|

Protein:

17

g

|

Fat:

29

g

|

Saturated Fat:

16

g

|

Cholesterol:

76

mg

|

Sodium:

2119

mg

|

Potassium:

237

mg

|

Fiber:

4

g

|

Sugar:

5

g

|

Vitamin A:

4272

IU

|

Vitamin C:

9

mg

|

Calcium:

346

mg

|

Iron:

4

mg

By