Loaded with veggies, this Pasta Primavera recipe is a great way to get your carb fix while packed with vegetables. A light white wine sauce makes this Italian pasta perfect for any season or occasion. Made with tomatoes, asparagus, and corn or any other vegetables you want!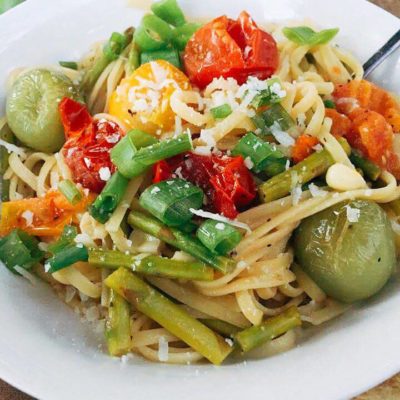 I love vegetables.  And I also love pasta.  So when I need a good pasta fix, I love going with a fresh and healthier option such as this Spring Vegetable Fettuccine Pasta Primavera with White Wine Sauce.
This post contains affiliate links.
Pasta with Vegetables
The first time I made this, I had a friend over to cook with me and so it is lovingly known as "Ashley Pasta" in my house. It has evolved some since that time, but this is my favorite rendition of the dish.
What is Pasta Primavera?
Primavera means "spring" in Italian, so it references a spring-focused pasta. This is most easily done with lots of fresh vegetables!
Who Invented Pasta Primavera?
It is believed that this dish was invented in New York City at Maccioni's and was made popular in 1977 from a New York Times article.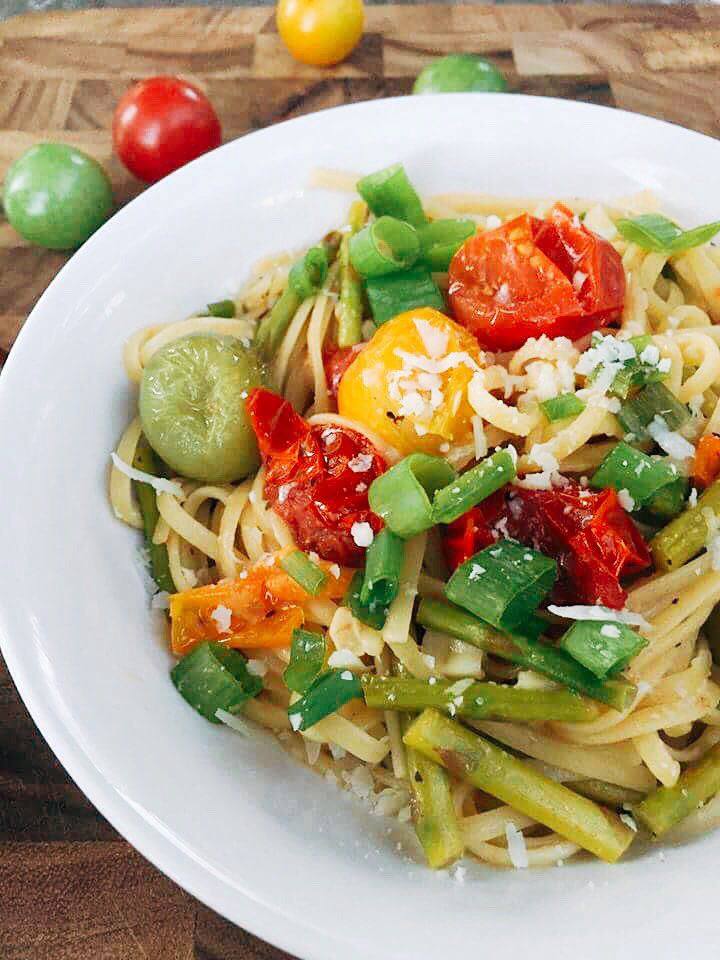 What is Primavera Sauce Made of?
I have seen different variations.
Some are a light tomato sauce base, some are chicken stock based, and some, like this recipe, are based on a wine sauce.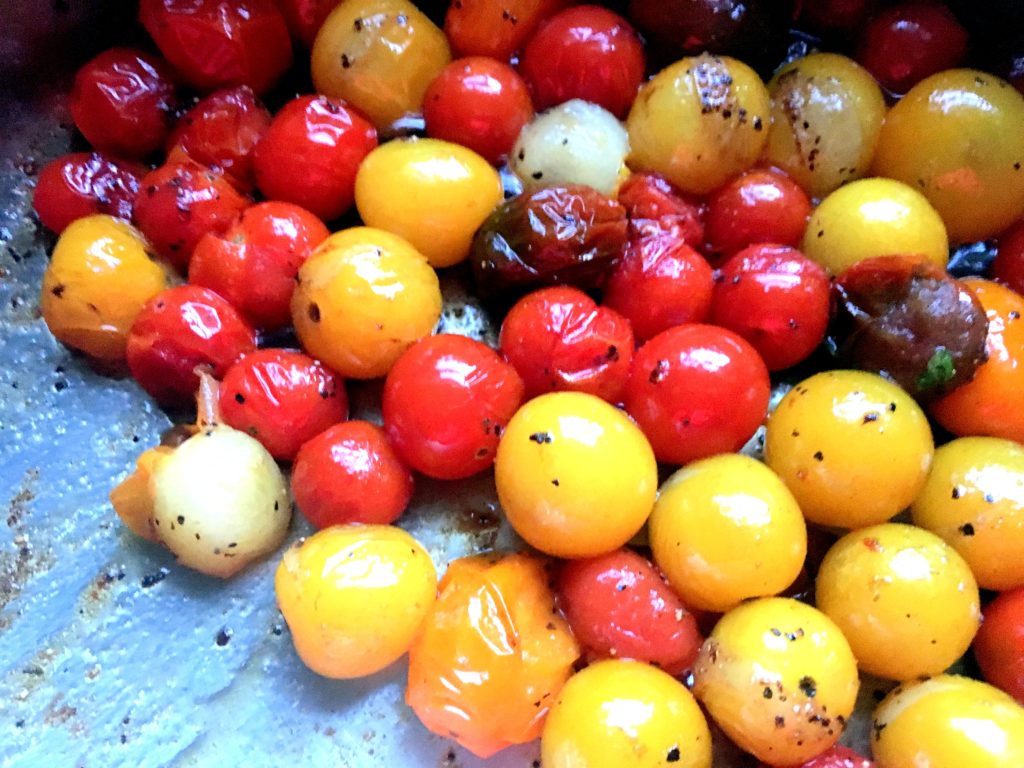 What is in Pasta Primavera?
Here is what you need to make this recipe:
Pasta
Cherry Tomatoes (or grape)
Asparagus
Corn
Spinach
Vegetable Stock (or chicken)
White Wine
Butter
Salt
Parmesan Cheese
Look at those tomatoes, aren't they beautiful???  If you have any home-grown tomatoes or are able to get some fresh ones from the farmer's market stand, this dish is a great way to highlight the tomatoes and the amazing flavor that comes with them.
The sauce has a rich, luxurious taste to it without requiring cream or milk. You can cut back on the butter a little if you wish but it does add a velvety texture.
There is definitely a high vegetable ratio in this pasta which is a great way to cut back on the pasta itself without losing any of the flavor. You will want to make sure that you are using a large pot or deep skillet for this because once everything is added in, there is a lot of food to toss around.
I also like to throw in some shrimp with the asparagus and spinach so that they cook in the sauce itself. Have some leftover chicken? Just dice it up and throw it in when tossing. Sausage is also a good option here.
Even if it is not spring, you can use vegetables that you have on hand to make this year round. Just saute or broil before tossing everything together! This is part of our regular recipe rotation, and I think you will find a place for it in yours as well.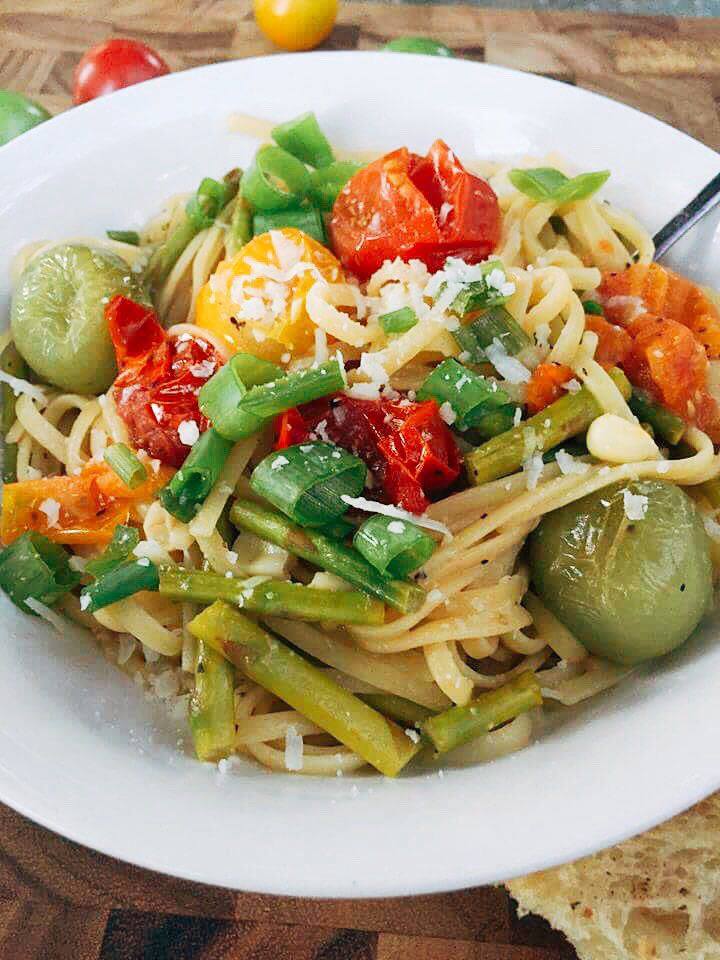 What Does White Wine in Pasta do?
The white wine brings flavor plus acidity to the dish.
How Long Does it Take to Cook off White Wine?
Based on some studies, it is believed that it takes 3 hours or more of cooking for alcohol to completely cook off. And that about 40% of alcohol cooks off after 15 minutes.
So when you are making this recipe, a good portion of the alcohol burns off but not everything. But there are alternatives if you are worried about this!
What Can I Use Instead of Wine when Cooking?
If you do not want to cook with wine, you can use a little lemon juice or a plain vinegar instead. Just use to taste as desired as you will not need as much as you do wine.
How Do You make Pasta Primavera?
First cook the pasta to al dente.
Then start cooking the tomatoes in butter until they are busting open.
Add the stock and other vegetables and cook to finish the sauce.
Toss the pasta in and add cheese. And you are ready to serve!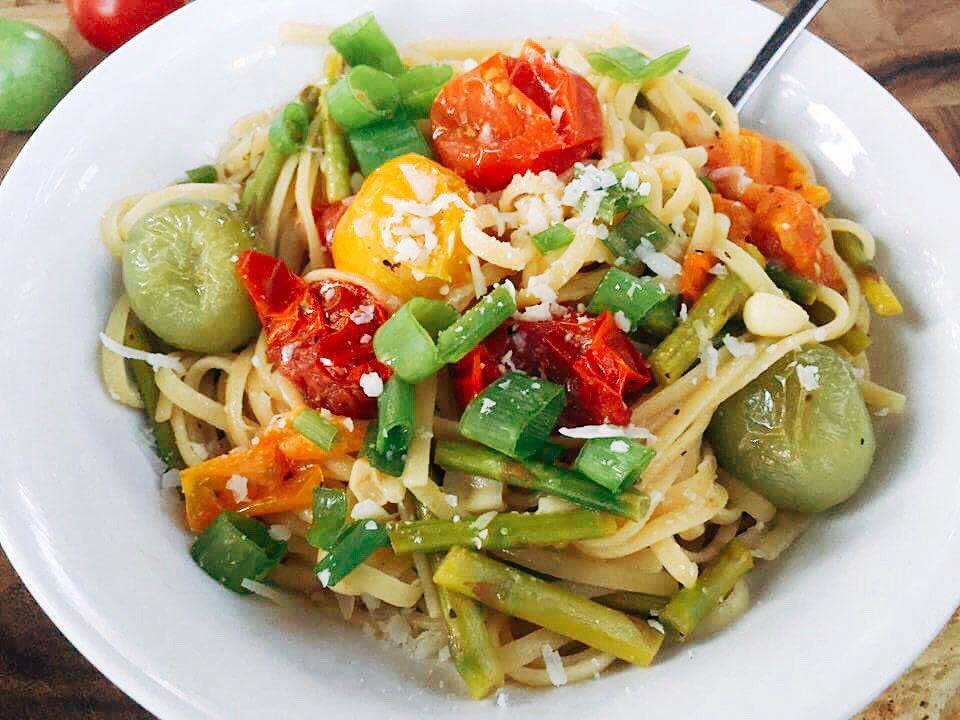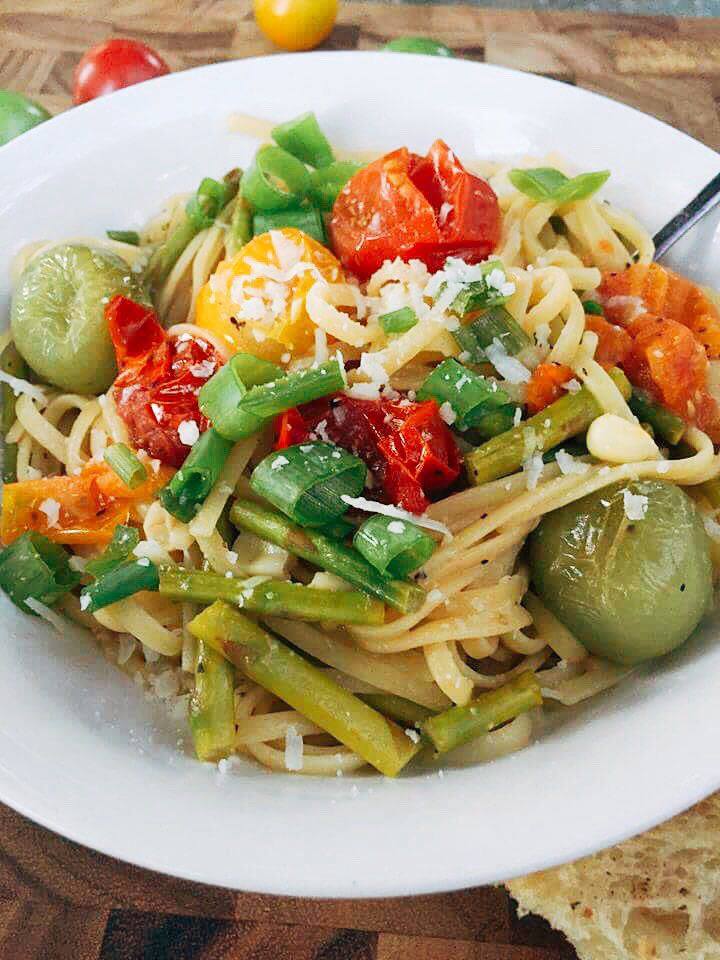 Instructions
Start cooking fettuccine as per package directions in salted water. When the pasta reaches al dente, reserve 1 cup of the pasta water. Drain the pasta and set aside.

Meanwhile, melt 3 tablespoons of butter in a large skillet or pot over medium heat. Add the tomatoes, 1 teaspoon salt and 1/2 teaspoon pepper. Cook tomatoes until they just start to burst and soften, approximately 5 minutes.

Add the garlic and cook until fragrant, approximately 1 minute. Add the wine and cook until reduced by half, about 5 minutes.

Add the vegetable stock, spinach, asparagus, and corn to the skillet and bring to a simmer. Let the vegetables simmer until the asparagus is cooked, approximately 5 minutes.

Add the fettuccine to the pan. Add the green onions, Parmesan, and the remaining tablespoons of butter. Toss and season with salt and pepper as needed. If the pasta is dry, add some pasta water a little at a time. Top off with more Parmesan cheese.
Notes
Meat lovers?  You can easily add some shrimp, chicken, or sausage to this dish.
Fresh Parmesan is best, but canned also works, you just might not need as much cheese.
To ensure a truly vegetarian dish, ensure you are using vegetarian cheeses.
Nutrition
Calories:

788

kcal

|

Carbohydrates:

101

g

|

Protein:

28

g

|

Fat:

28

g

|

Saturated Fat:

16

g

|

Cholesterol:

157

mg

|

Sodium:

722

mg

|

Potassium:

895

mg

|

Fiber:

7

g

|

Sugar:

9

g

|

Vitamin A:

2909

IU

|

Vitamin C:

38

mg

|

Calcium:

312

mg

|

Iron:

5

mg

By