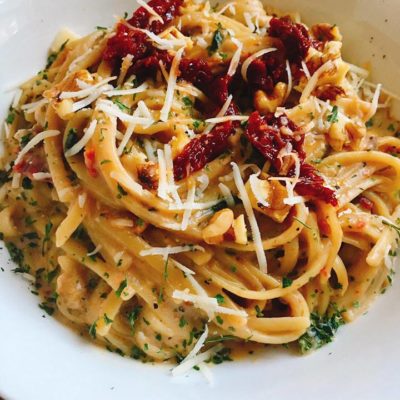 I am a little obsessed with my newest pasta creation, this Sun-dried Tomato and Walnut Linguine with Parmesan Cream Sauce!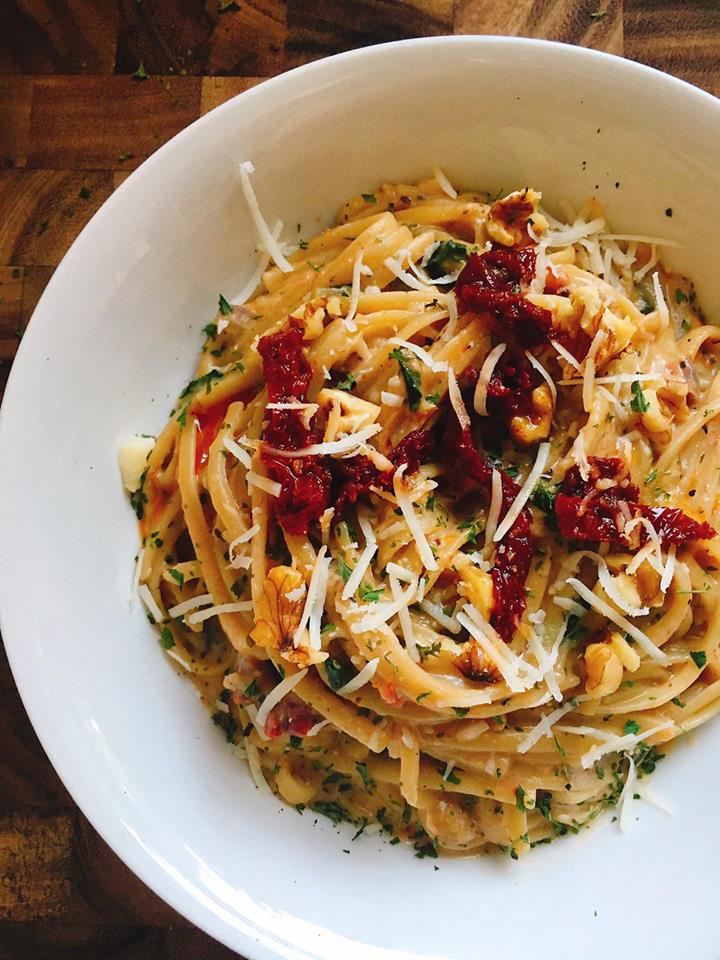 I was honestly not expecting to be too thrilled with this pasta, but I figured that it would be a good change of pace.  After a couple versions and some adjustments,  I am CRAVING this thing a little too often!  My favorite part is the roasted garlic, it is amazing!  It may seem like this recipe calls for a lot of garlic, but when it is roasted, the flavors are very mild and completely transformed so you will not be getting the same harsh bite that raw garlic brings.
Plus, I am a little obsessed with garlic in the first place.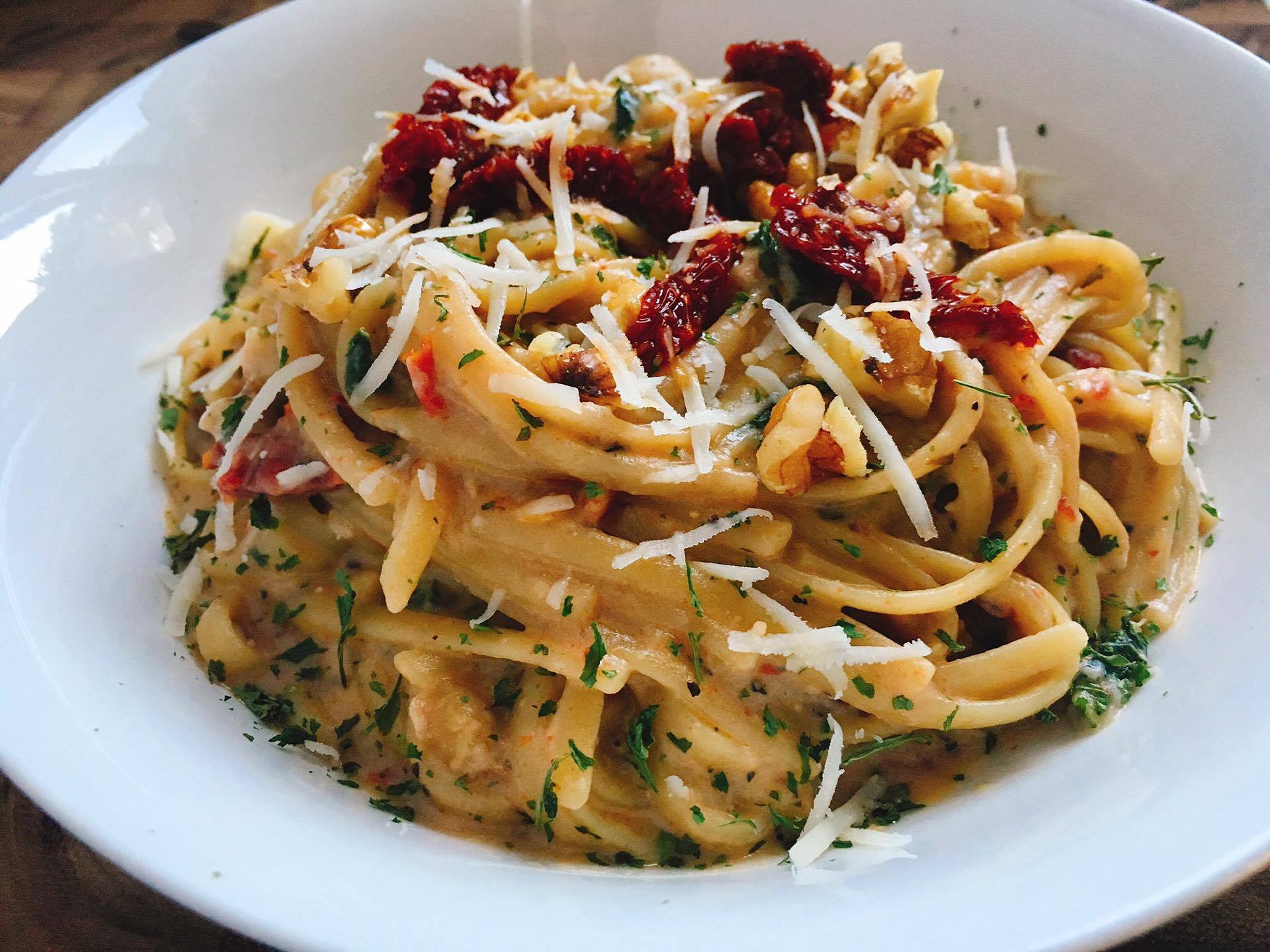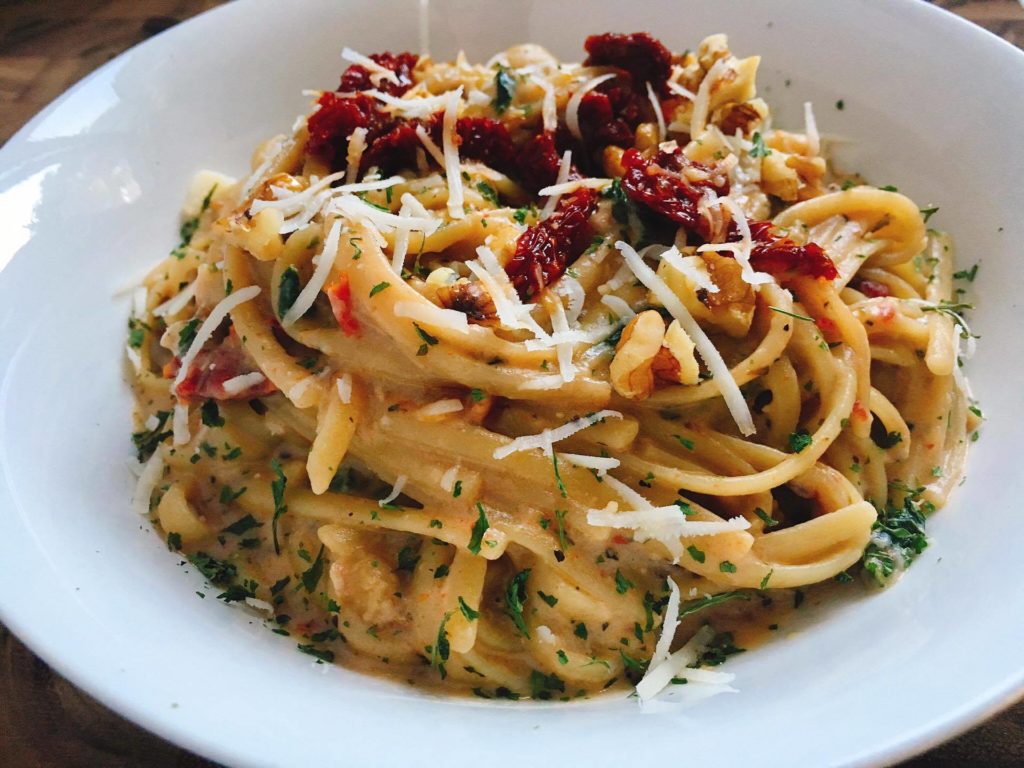 While we are talking about obsessions, I am also recently obsessed with adding balsamic glaze to pretty much everything.  It is my new favorite weapon in the kitchen and there are seriously so many uses for it.  The acidity of the balsamic cuts through some of the richness in this Sun-dried Tomato and Walnut Linguine with Parmesan Cream Sauce, it is amazing!  Learn how to make your own balsamic glaze in 15 minutes here!
The spinach is totally optional here, so if you don't like it or have it just leave it out, but I love to use healthy foods such as spinach and kale as much as I can, especially in ways that are not so obvious, such as this pasta.  You really do not notice that it is there, so I figure I might as well bump up the health quotient of the dish.  Throw in any other vegetables that you might have and love.  Mushrooms or asparagus would be great here too!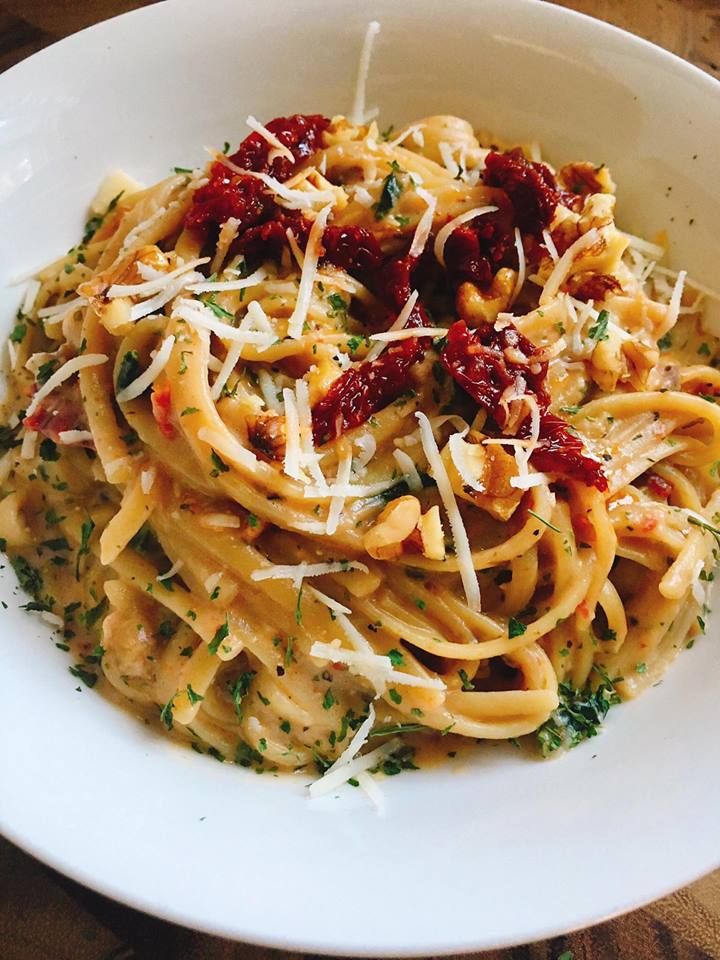 I knew I had found the perfect recipe because of my hubby's reaction.  (Affiliate link) These are the sun-dried tomatoes that I use (they are so good!).  They are julienne cut already (thin strips) so they only need a little dicing.  The jar is pretty large and will last a while.  He is not a huge fan of sun-dried tomatoes generally speaking.  I have to fight to get them into my basil pesto!  So when I was working on this recipe, he was not too excited when I kept trying to make it better.  I was determined, and I knew I could get it where I wanted, but I had to do some convincing to get him on board with letting me make this so many times.
I should have known that using roasted garlic would have won him over.  As soon as I decided to switch from raw to roasted, he was sold and I knew that this Sun-dried Tomato and Walnut Linguine with Parmesan Cream Sauce was perfect!  I hope you enjoy it as much as we do 🙂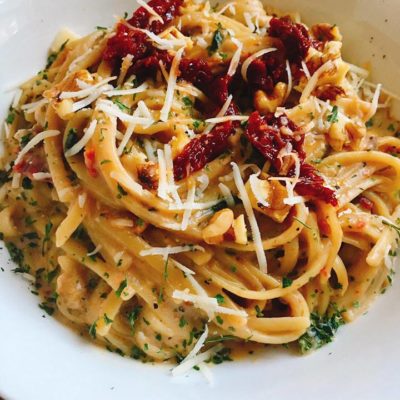 Instructions
Start a pot of salted water for the linguine over high heat. When it is boiling, cook as per package directions until al dente.

Meanwhile, in a large pot, melt the butter over medium heat.

Add the diced onions and cook until translucent, approximately 3-5 minutes.

Add the flour to the butter and onions. Whisk to combine and cook until it is a light brown color, approximately 2-3 minutes.

Remove the roasted garlic from the skins into a small bowl. Mash the garlic with a fork until it is a paste. Some chunks are okay.

Whisk in the roasted garlic, walnuts, spinach, and sun-dried tomatoes to combine. Add the milk, garlic powder, salt, and pepper and whisk together. Simmer, stirring occasionally, until the sauce just starts to thicken, approximately 5-8 minutes.

Turn heat down to medium-low and add the Parmesan cheese. Simmer until the sauce starts to thicken, approximately 5-8 minutes. Season to taste with salt and pepper, cheese, or tomatoes.

When your sauce is thickened and seasoned, add the pasta to the sauce pot. If the sauce is too thick, add a little of the pasta water or a little more milk.
Notes
Learn how to make roasted garlic here! 

The roasted garlic is the star here, but if you are pressed for time and do not have roasted garlic, you can use three minced cloves of fresh garlic instead (but you will be missing out on some flavor!).

If trying to keep it truly vegetarian, make sure you are using vegetarian cheese.

As with all recipes, season to your taste preference with the cheese, salt, pepper, and garlic powder.  Everyone likes things a little different, and you can make it perfect for yourself when you taste along the way!

I think the sauce tastes a lot better the next day after the flavors have time to meld together.  So if you can plan in advance, you can make the sauce the morning of or even the night before.  Then when ready cook the pasta as per package directions, drain, add the sauce and stir to coat until heated through.  Yum!

*Note: This recipe was created using fresh Parmesan cheese.  The fresh cheese thickens the sauce and melts in better (while also tasting better!).

By