Teriyaki Chicken Stir Fry recipe is a perfect weeknight meal idea! Made with boneless skinless chicken thighs or breasts in a homemade sauce with lots of veggies. Use any vegetables you like and serve with white rice, brown rice, or noodles. Gluten free.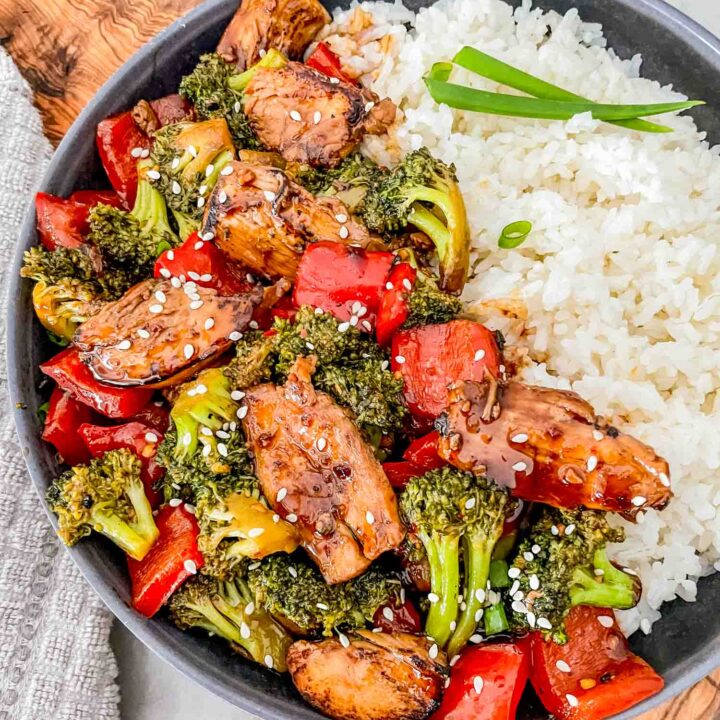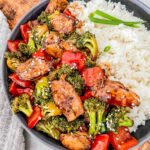 This homemade Teriyaki Chicken Stir Fry is sure to be a hit with the entire family! Kid friendly flavors paired up in a homemade Asian inspired sauce with vegetables.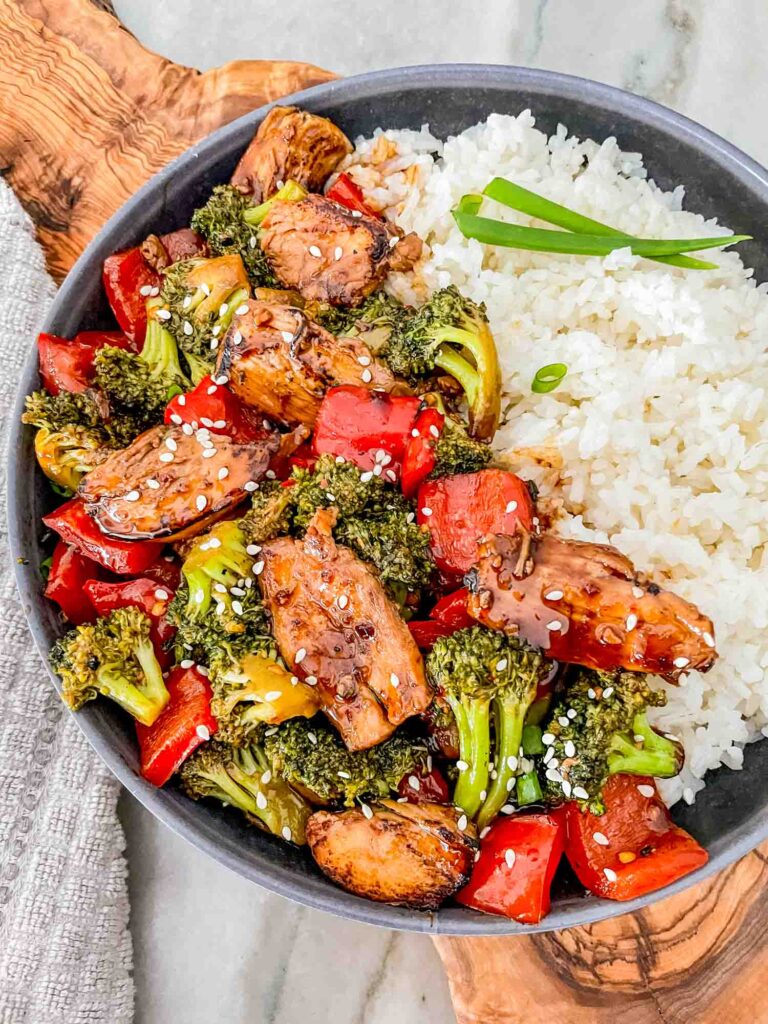 Why You Will Love This Recipe
This Teriyaki Chicken Stir Fry cooks up so fast it makes a perfect, healthy, gluten free weeknight meal!
A great chicken dinner idea that uses any cut of chicken you prefer, whether white breast meat or boneless skinless chicken thighs.
And you can use any mix of vegetables that you love or have on hand for a versatile chicken recipe.
Serve it up with rice or noodles!
Ingredients
These are the ingredients you need to make the chicken stir fry:
Chicken
Broccoli
Bell Pepper
Chicken Stock
Soy Sauce
Sugar
Green Onions
Ginger
Garlic
Cornstarch
Red Pepper Flakes
White Wine Vinegar
Equipment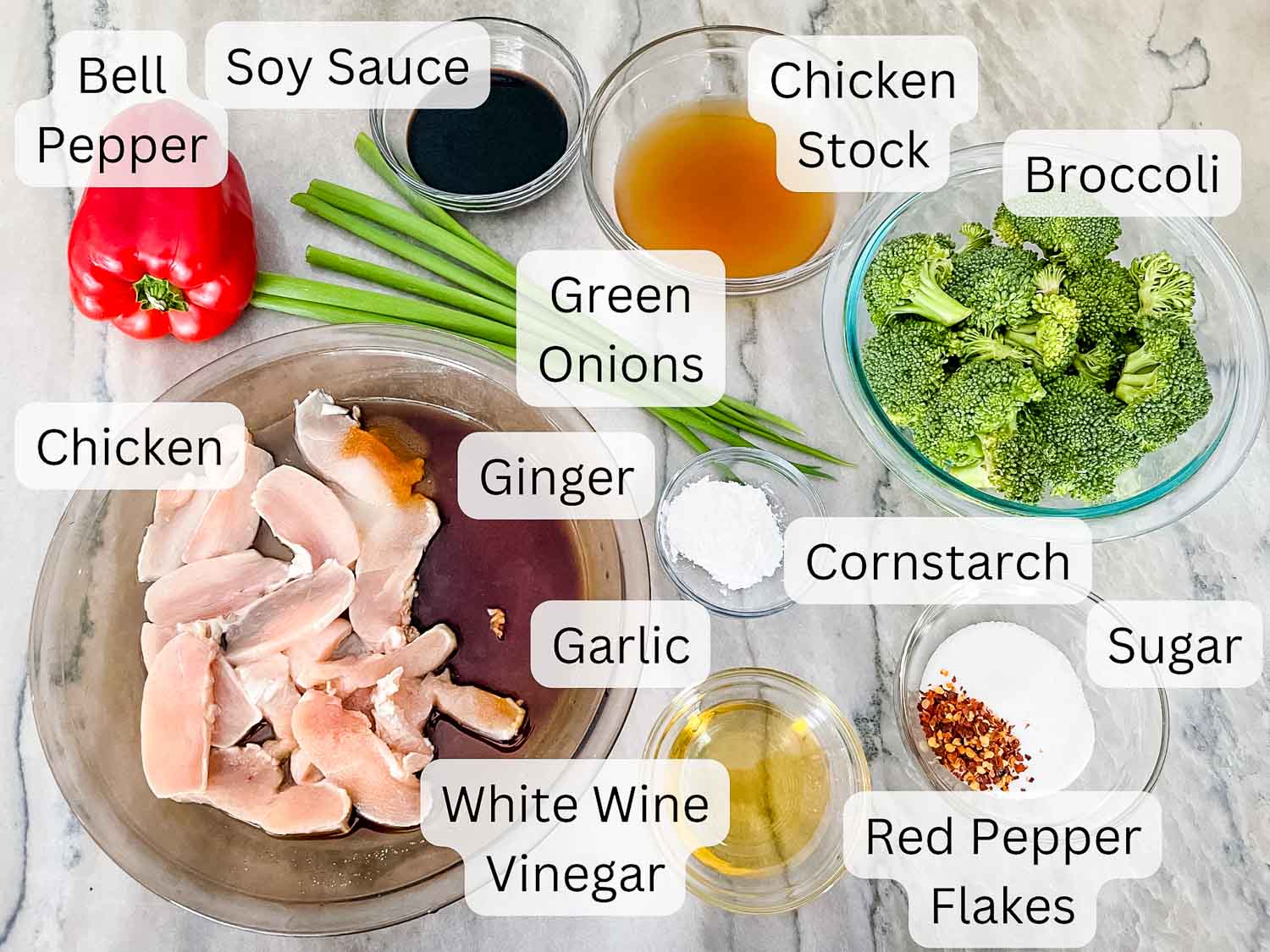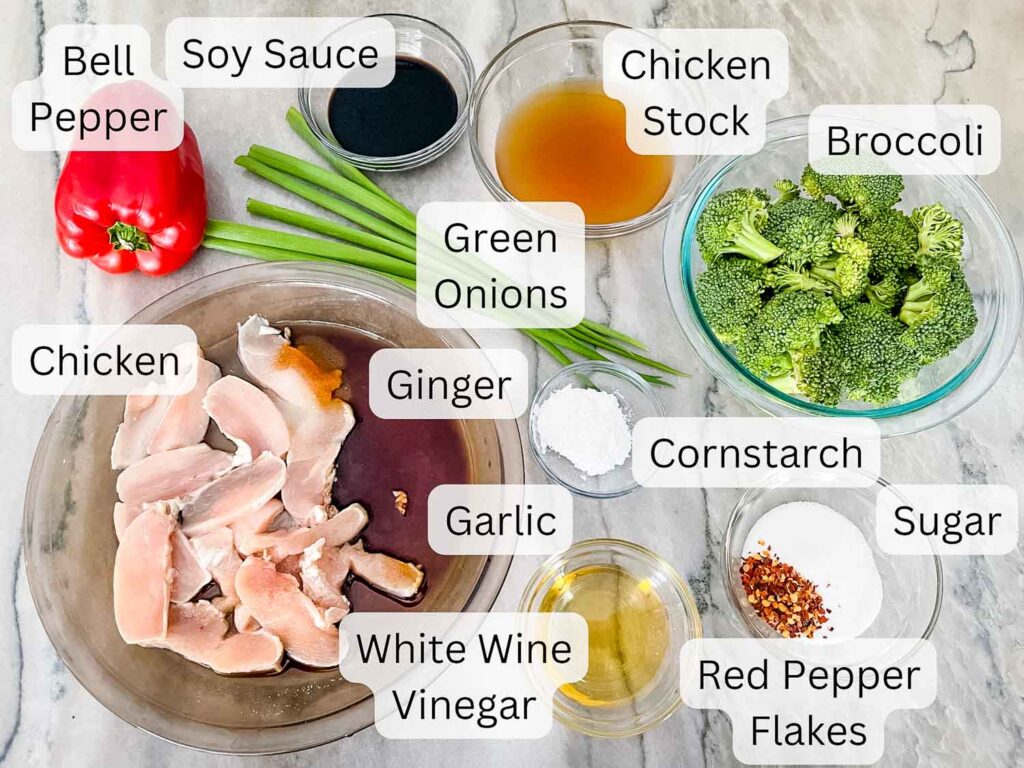 Instruction Overview
Marinate your chicken for at least 30 minutes, up to 1 hour.
Make your sauce and cut all your veggies so they are all ready to go. It cooks and comes together very quickly!
Preheat a large skillet with some oil.
Add half of the chicken and cook on each side until cooked through.
Remove the chicken and repeat with the remaining meat.
Remove all meat and cook the broccoli with some water to steam.
Add the other vegetables and cook.
Add the ginger and garlic and cook briefly.
Put the chicken back in with the sauce and cook until just thickened.
Modifications and Substitutions
Want a thick sauce? Double up the cornstarch.
You can use either chicken breasts or boneless skinless chicken thighs.
Use any veggies you love or have on hand! Great options include cauliflower, water chestnuts, baby corn, and bean sprouts.
Kim's Tips
Everything cooks VERY fast so make sure it is all ready to go and close to the stove when you start cooking!
This dish is great served with white rice, brown rice, or noodles!
Cooking on a high heat is key for stir fry, but also makes it easier to burn. Watch your pan and adjust your heat accordingly to keep it hot without being too hot and burning.
FAQs
Can you marinate teriyaki chicken too long?
Yes. If left marinating too long, the vinegar and sauce ingredients can start to almost cook the chicken and change its texture.
If making far in advance, you can make the sauce but keep it separate from the chicken until when ready to start cooking.
How many minutes should I marinate chicken?
I suggest marinating at least 30 minutes to ensure the flavor is absorbed.
You can marinate up to 24 hours before it starts to affect the texture of the chicken.
Is teriyaki sauce the same as stir fry sauce?
Not exactly.
Teriyaki sauce is a kind of stir fry sauce. But stir fry sauces can come in many flavor options.
In what order should foods be added to a stir fry?
You want to start with the ingredients that are harder and take longer to cook.
If you add any ingredients, consider how long they would need based on this factor when you are choosing when to add them.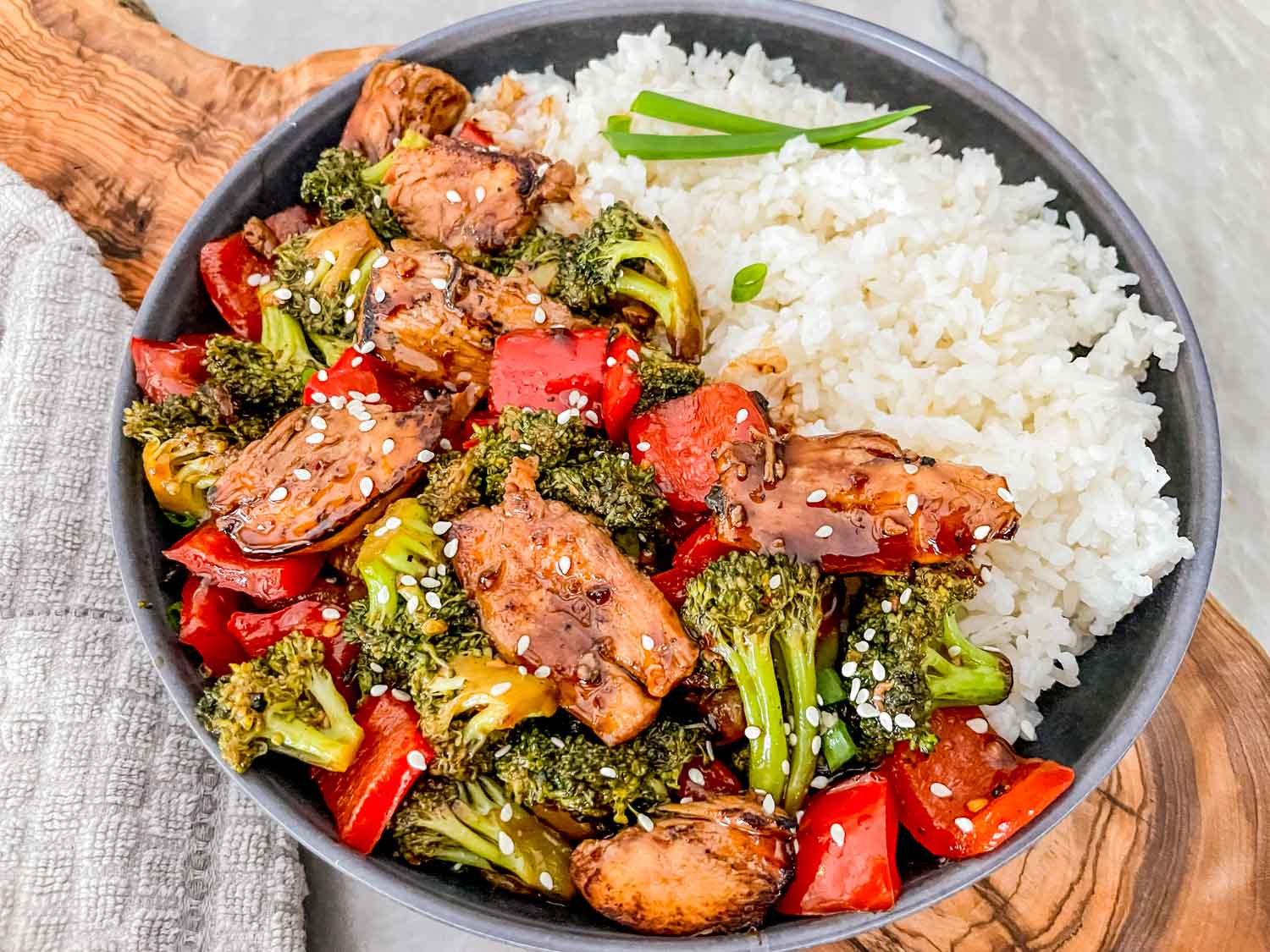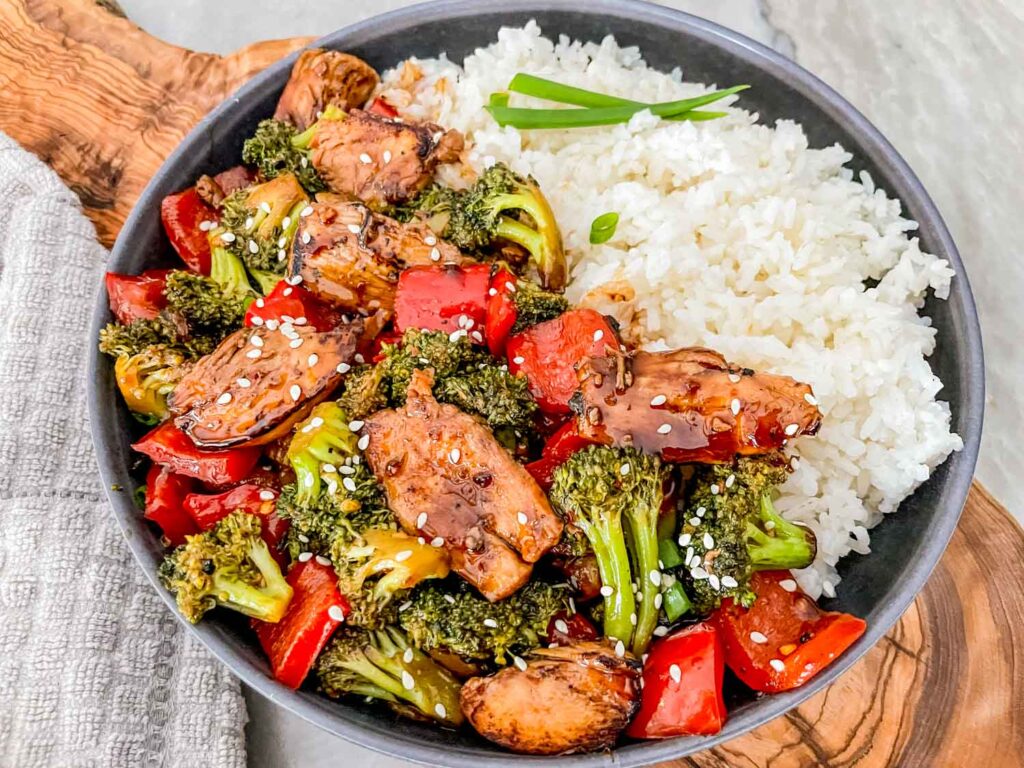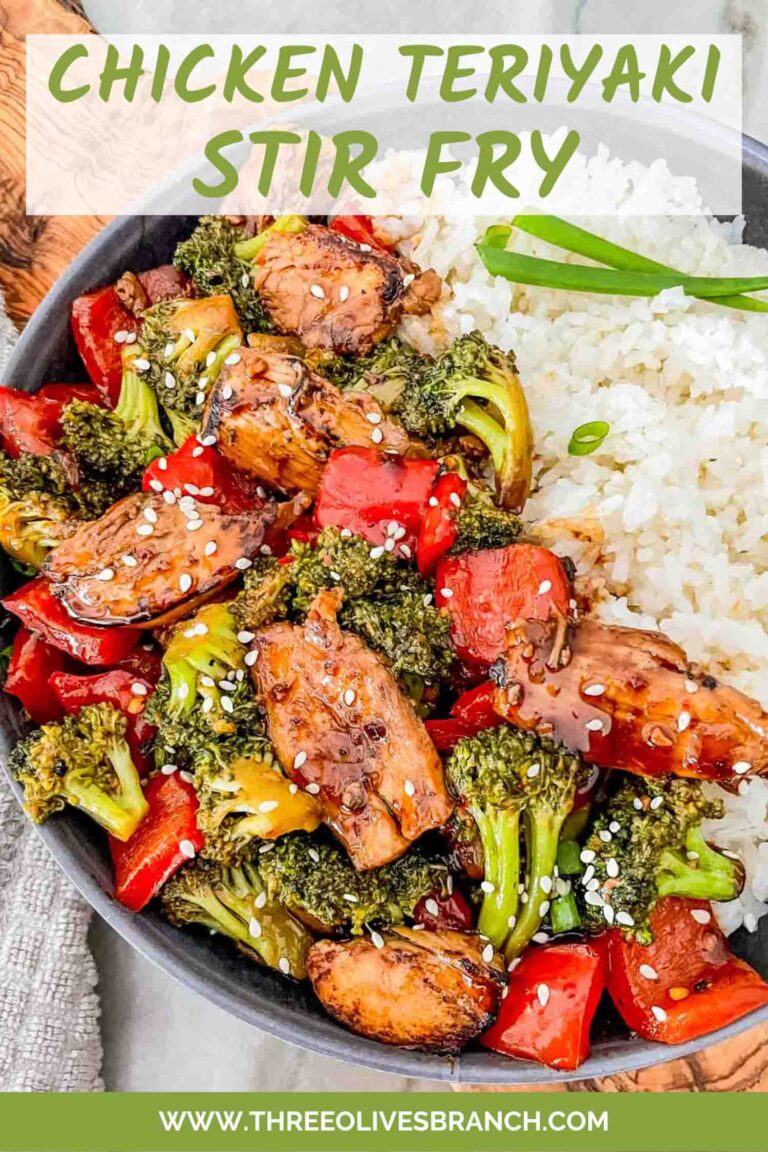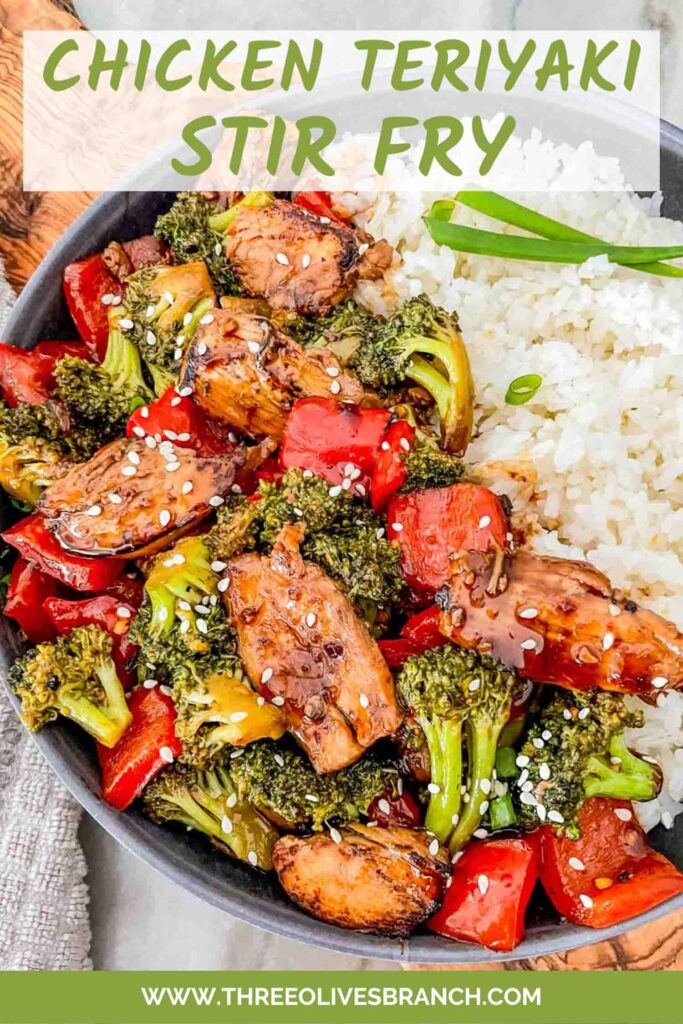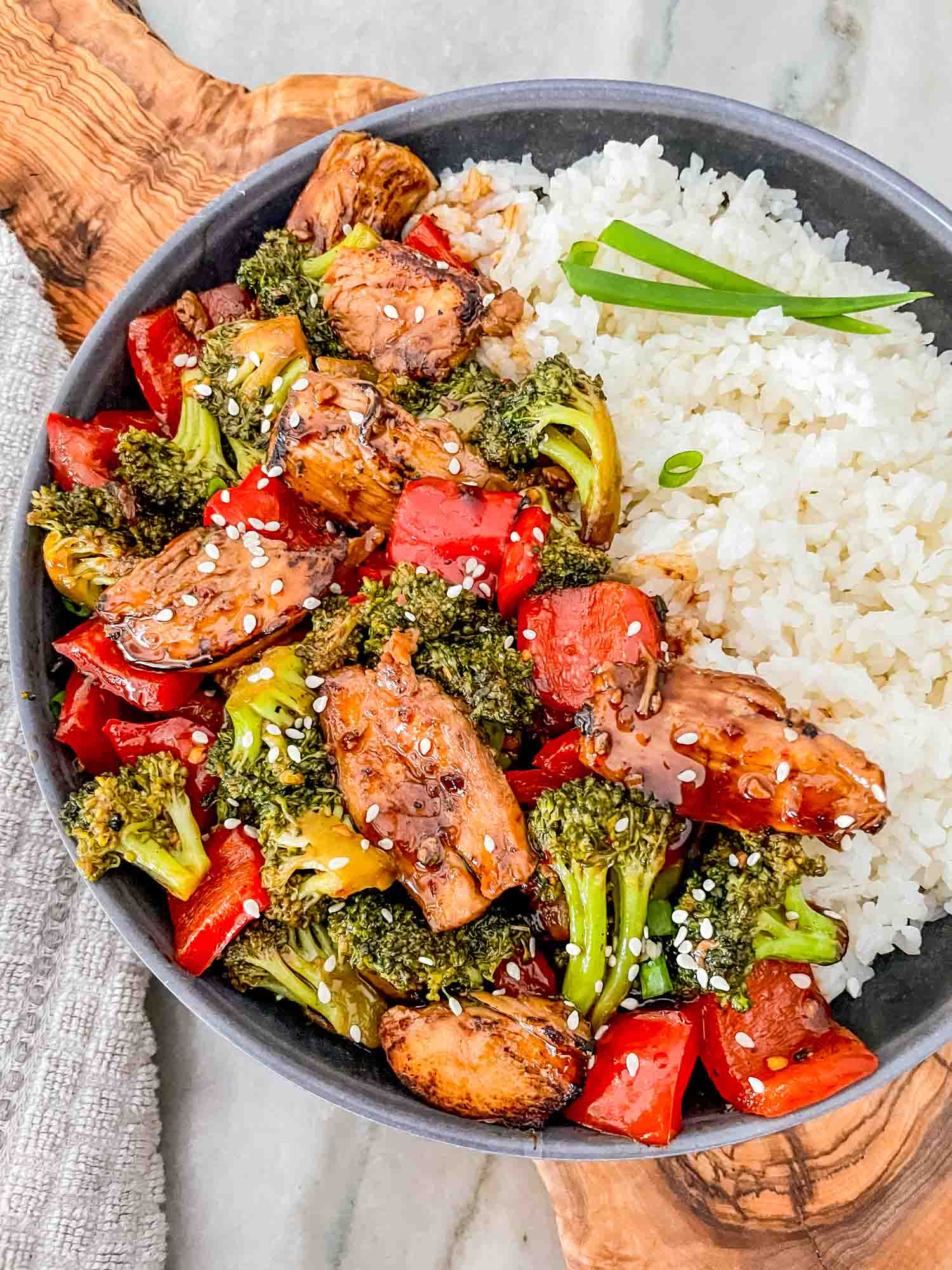 Instructions
First, prepare your chicken to marinate.

Cut the chicken with the grain into into thin slices approximately 1/4 inch thick. For long pieces, cut them in half.

1 pound boneless skinless chicken thighs

In a medium bowl, combine the 2 Tablespoons soy sauce, 1 Tablespoon sugar, and big pinch of salt. Stir to combine.

2 Tablespoons soy sauce,

1 Tablespoon granulated sugar,

pinch salt

Add the chicken sliced to the marinade, mix, and let marinate ideally at least 30 minutes.

If cooking within an hour, you can leave it out on the counter.

If making in advance, refrigerate, but take out of the refrigerator for 30 minutes before cooking so that it is not too cold. If too cold, you will not get as great of a sear.

Meanwhile, prepare your teriyaki sauce by whisking all sauce ingredients together. Set aside or refrigerate if making later.

½ cup chicken stock,

3 Tablespoons soy sauce,

2 Tablespoons white wine vinegar,

2 Tablespoons sugar,

2 teaspoons cornstarch,

½ teaspoon red pepper flakes

Also prepare your vegetables.

Cut the broccoli into bite sized florets, trim and cut the bell pepper into bite sized pieces about one inch square, and cut the green onions into two inch long segments. Set aside.

¾ pound broccoli,

1 red bell pepper,

4 green onions

When ready to cook, have all of your ingredients out and ready to go (it goes fast!).

Heat a large skillet over medium high heat.

When very hot, add a teaspoon of oil to the skillet and half of the chicken pieces in a single layer with room around them.

Do not overcrowd or cook more than one layer as you will not get the sear.

2 Tablespoons vegetable oil

Let cook, without touching the meat, for one minute.

Flip all the pieces and let finish cooking, an additional 1-2 minutes.

Remove the cooked chicken, set aside in a clean bowl, and repeat the process with the remaining meat.

When the chicken is all cooked, add another teaspoon of oil to the hot skillet.

Add the broccoli in a single layer and add the water.

Cover immediately and let the broccoli steam for 2 minutes.

Remove the cover, push the broccoli to one side, and another teaspoon of oil to the empty side, and add the bell pepper and green onions to the open side of the skillet.

Cook the vegetables for 2-3 minutes until starting to get some color and softening but still crisp.

Add the garlic and ginger to the pot. Stir and let cook until fragrant, about 30 seconds.

2 cloves garlic,

1 Tablespoon fresh ginger root

Add the cooked chicken and the sauce into the skillet.

Stir and cook until the sauce is just thickened, 1-2 minutes.

Remove from heat and serve. Garnish if desired with fresh green onions, sesame seeds, cashews, or peanuts.

Great with white/brown/jasmine rice or noodles.
Notes
Want it to have a kick? Add more red pepper flakes or a chili paste!
Use any vegetables you like or have. Great options include broccoli, cauliflower, green onions, white/yellow onion, bell pepper, snow peas, snap peas, baby corn, water chestnuts, green beans, or carrots.
Want it super saucy? Double the sauce portion of the recipe.
Nutrition
Serving:
1
serving
|
Calories:
244
kcal
|
Carbohydrates:
21
g
|
Protein:
28
g
|
Fat:
6
g
|
Saturated Fat:
1
g
|
Polyunsaturated Fat:
1
g
|
Monounsaturated Fat:
2
g
|
Trans Fat:
0.02
g
|
Cholesterol:
109
mg
|
Sodium:
1438
mg
|
Potassium:
743
mg
|
Fiber:
3
g
|
Sugar:
13
g
|
Vitamin A:
1683
IU
|
Vitamin C:
117
mg
|
Calcium:
71
mg
|
Iron:
3
mg
More Stir Fry Recipes
By