Teriyaki Beef Stir Fry is a fast and easy dinner recipe. Great family and kid friendly dinner idea with homemade teriyaki sauce. Use broccoli, bell peppers, green onions, or any vegetables you want and serve with rice or noodles. Gluten free Asian Chinese take out recipe.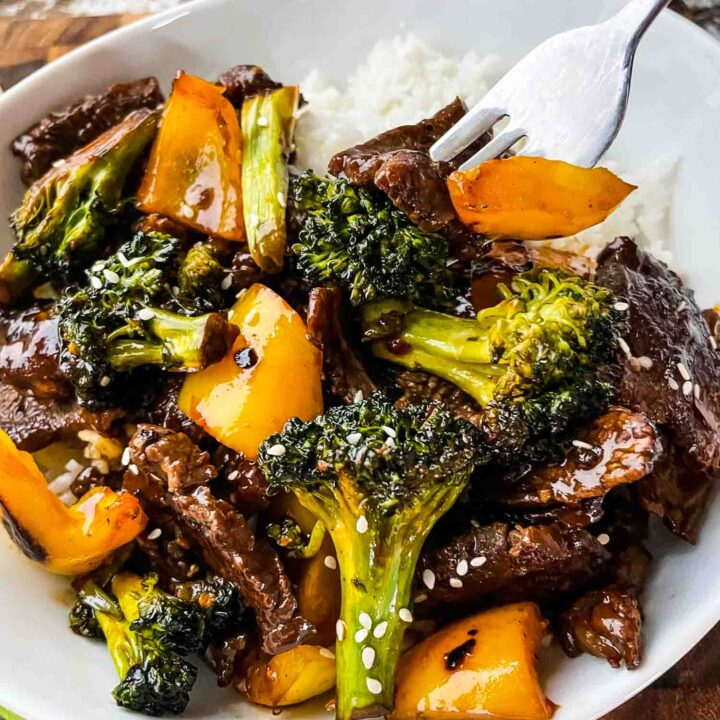 Delicious Teriyaki Beef Stir Fry in a homemade, easy teriyaki sauce. A wonderful Asian inspired dinner recipe for a weeknight. Gluten free.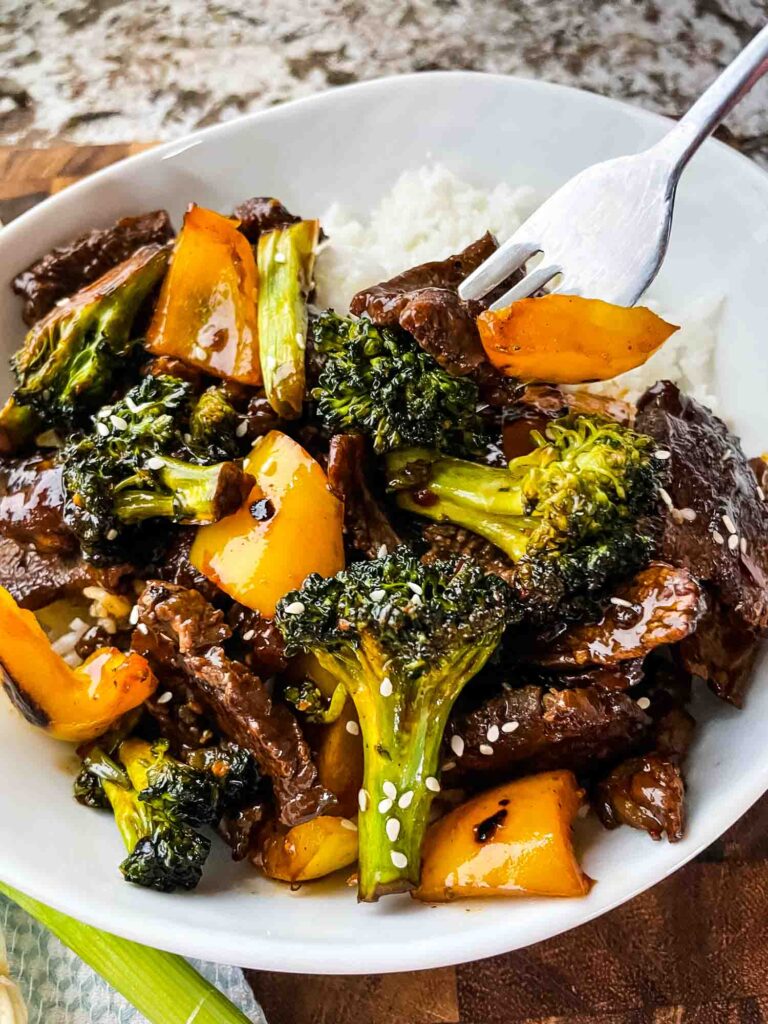 Easy Beef Stir Fry Recipe
This Teriyaki Beef Stir Fry is just amazing and a great family friendly recipe that everyone will love!
It comes together in just minutes and flexible based on the vegetables you prefer or have on hand. And a great way to make takeout at home!
This would also be great with boneless chicken breasts or thighs in place of the beef!
What is the Secret to a Successful Stir-Fry?
Here are my tips for making an amazing stir fry!
Make sure you are cooking on a HOT heat, medium high or high. I go with medium high because high on my particular stove is way too hot. You want it to be smoking and sizzling but not burning. This heat is going to give you great color, which means flavor, without overcooking the food.
Do not cook meat that is too cold. Try to leave it out at room temperature for about 30 minutes, or during the marinade time if one hour or less. And if you are freezing the meat to slice it thinner as explained above, definitely let it thaw out completely before cooking.
Cook the meat in batches for proper cooking and browning. If you overcrowd the pan, the meat will start to steam and you will not get the sear and color you are looking for. Cook the beef in two batches and make sure they are in a single layer and not crowded.
Have everything ready to go, chopped, and mixed ahead of time. (Mise en place) I am normally a fan of cooking, chopping, mixing, etc as I go as it is efficient and takes less time overall. But for a stir fry, everything goes FAST. So have your sauce made and everything cut up before you start cooking so you can focus on each step that quickly comes up!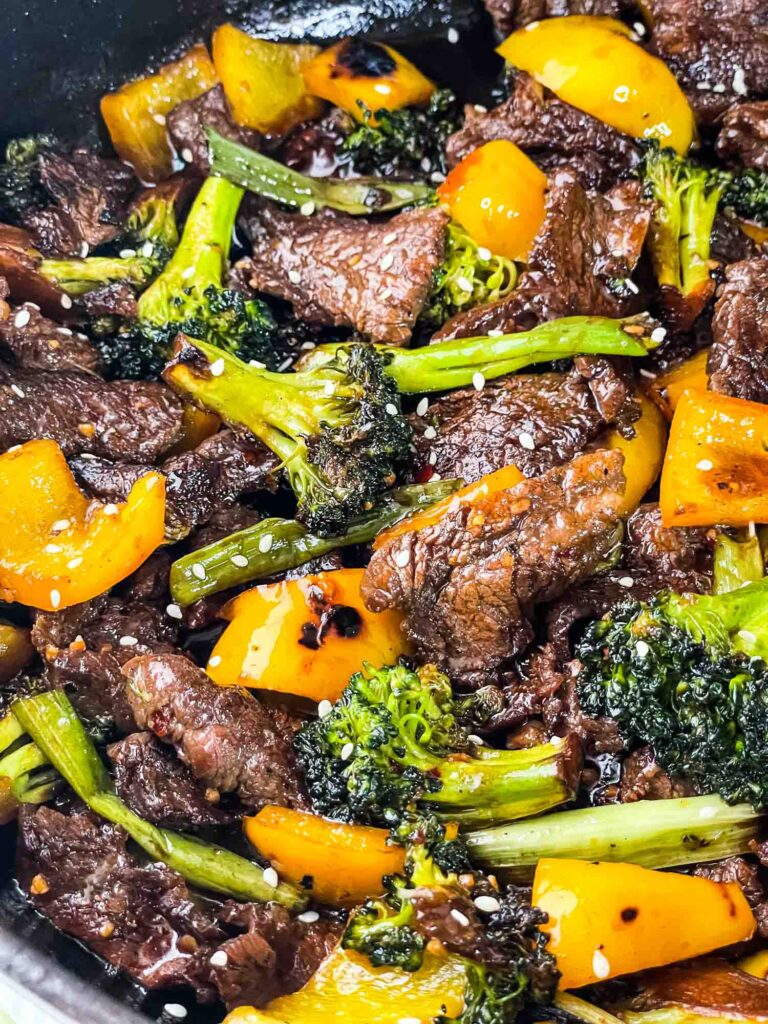 Ingredients for Beef Stir Fry
Here is what you need to make the Teriyaki Sauce:
Chicken Stock (or vegetable stock)
Soy Sauce
Rice Wine Vinegar
Sugar
Red Pepper Flakes
Cornstarch
Vegetable Oil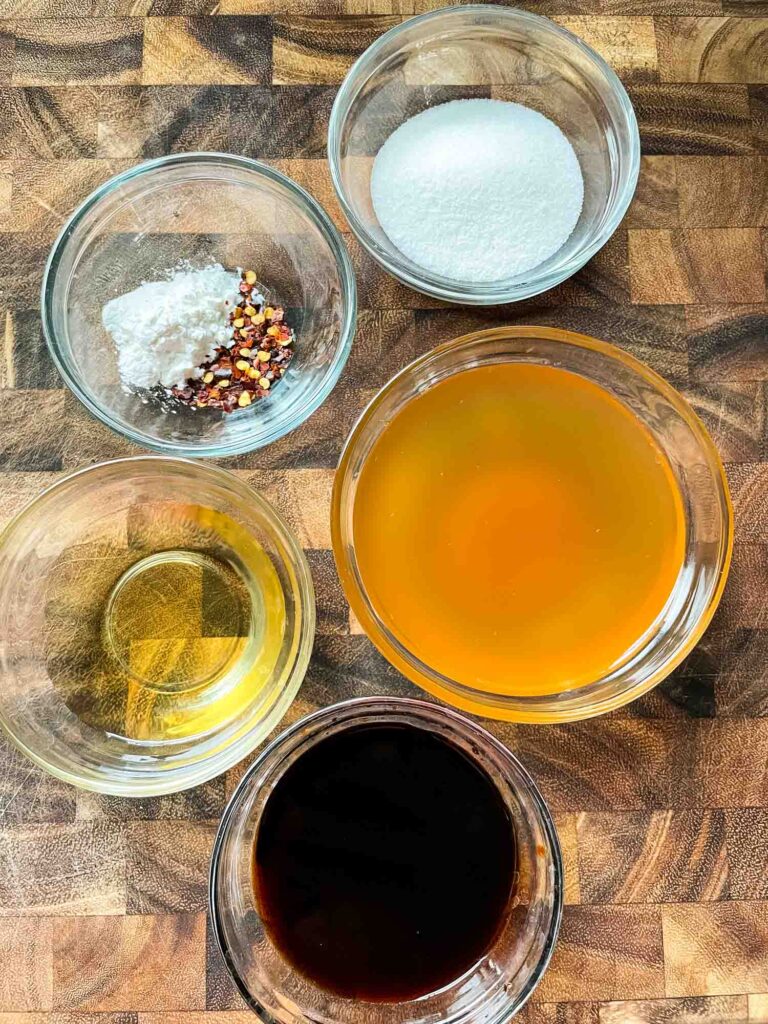 Here is what you need for the rest of the recipe:
Flank Steak (or other steak of choice, see below)
Broccoli Florets
Bell Pepper
Green Onions
Soy Sauce
Sugar
Salt
Garlic
Ginger (fresh or ground)
You can also use any mixture of stir fry vegetables that you love or have on hand. Other great options include water chestnuts, baby corn, cauliflower, snap peas or snow peas, onion, carrots, and green beans.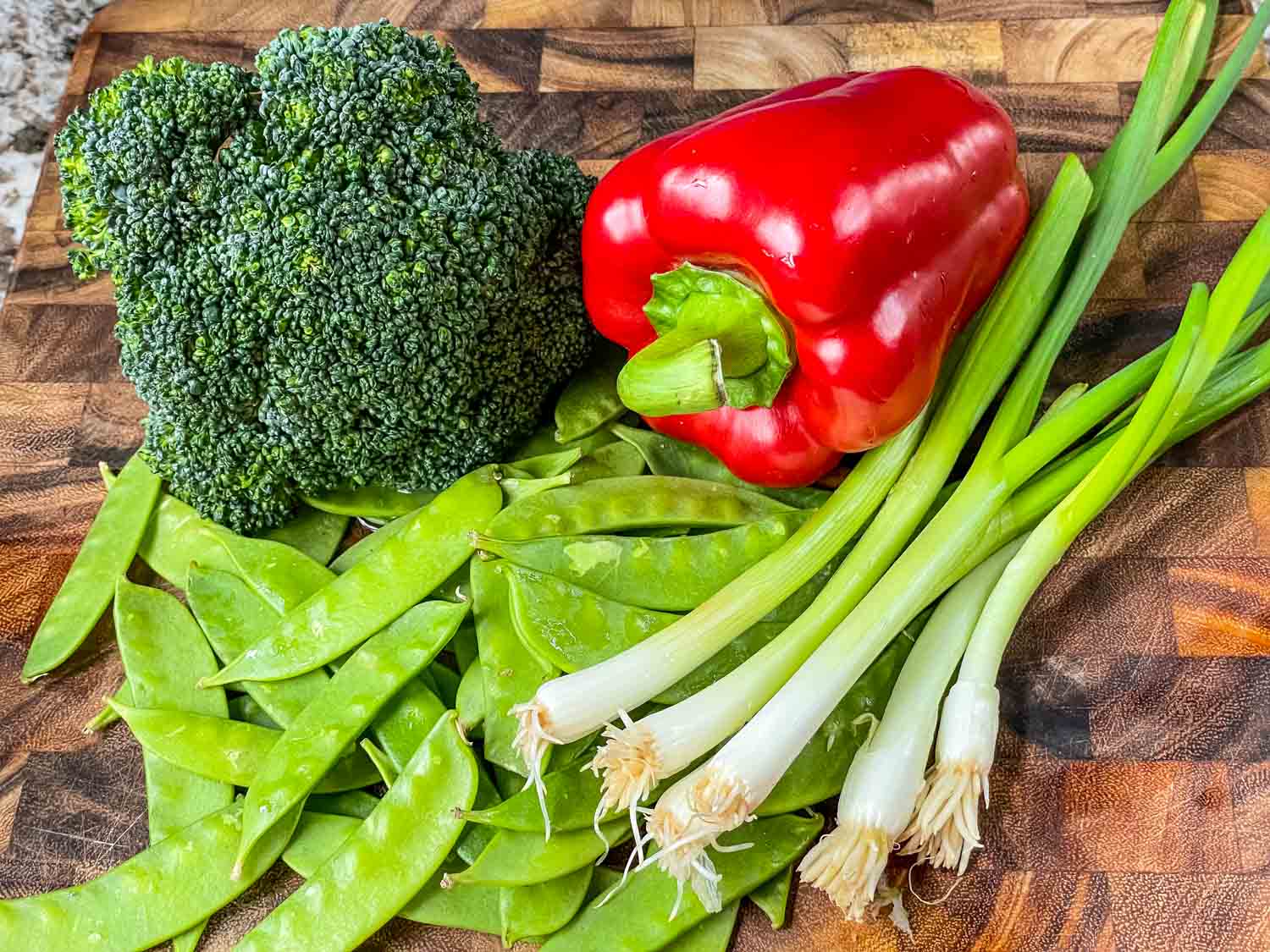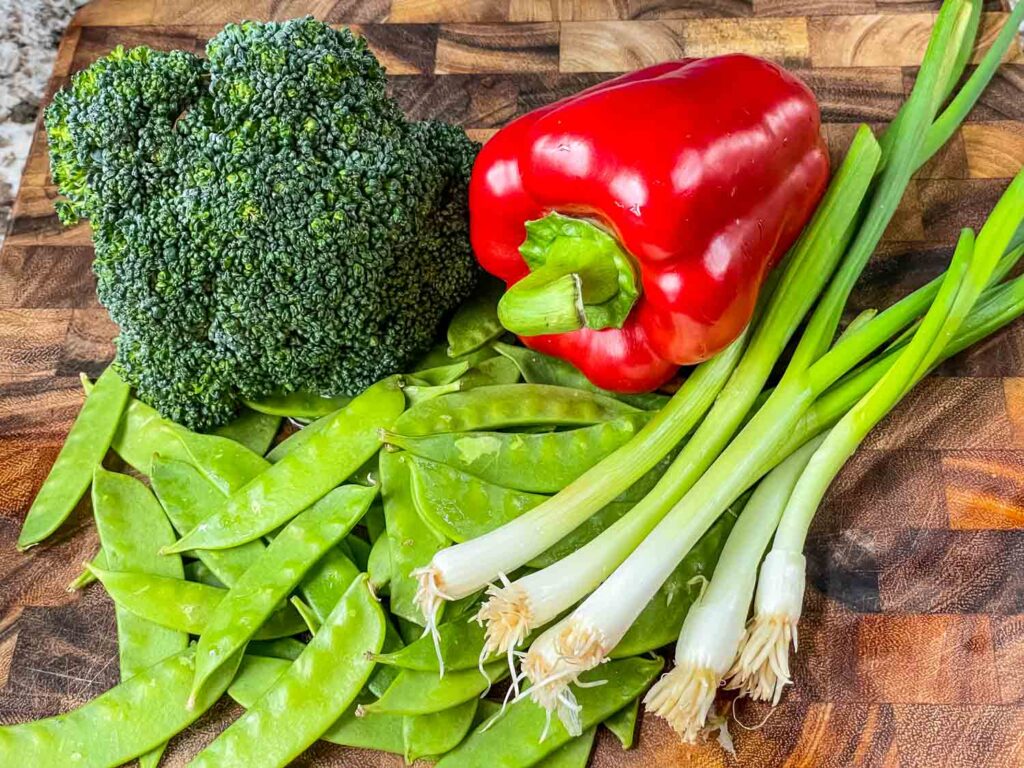 What Beef Meat is Good for Stir-Fry? What Kind of Beef is Used for Chinese Stir-Fry?
Typically a flank steak is used in a stir fry and is my favorite cut to use for this and also Mexican recipes like fajitas.
You can also use flat iron, tri tip, sirloin, rib eye, top round, strip steak, skirt steak, and hanger steak to name a few.
Some of these names are interchangeable, so ask your grocery butcher for suggestions if needed!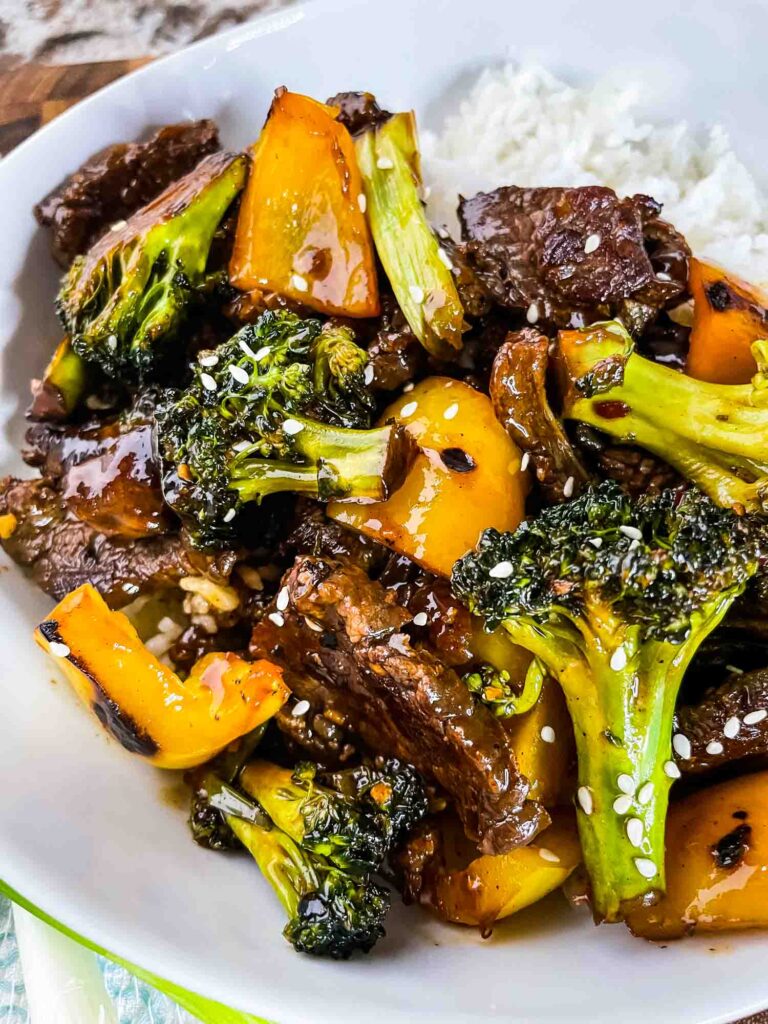 Which Oil is Not Suitable for Stir-Frying?
This is VERY IMPORTANT!
Do NOT use olive oil when cooking at a high heat, whether on the stove or in the oven, for any recipe such as this stir fry.
Olive oil has a low smoke point which means it burns at a lower temperature compared to other oils. So if you are using it at a medium high to high heat, it is burning.
Olive oil also produces carcinogens when it is burning and too hot.
It is best to use vegetable, canola, grape seed, or another oil of choice that has a higher smoke point and will not burn at these temperatures.
Can I Use Butter for Stir-Fry?
I would not use butter either, as just like olive oil, it has a low smoke point.
The solids in the butter will burn very easily in this recipe.
How to Make Teriyaki Stir Fry
First make your sauce by whisking all of the sauce ingredients together and set aside.
Then cut your steak first with the grain into sections about two inches wide. With the grain means in the same direction as the lines in the meat.
Then, cut each section into very thin slices, about 1/4 inch thick, now against the grain (perpendicular and through the lines in the meat). Marinade the meat in the soy sauce and sugar that is not part of the sauce recipe.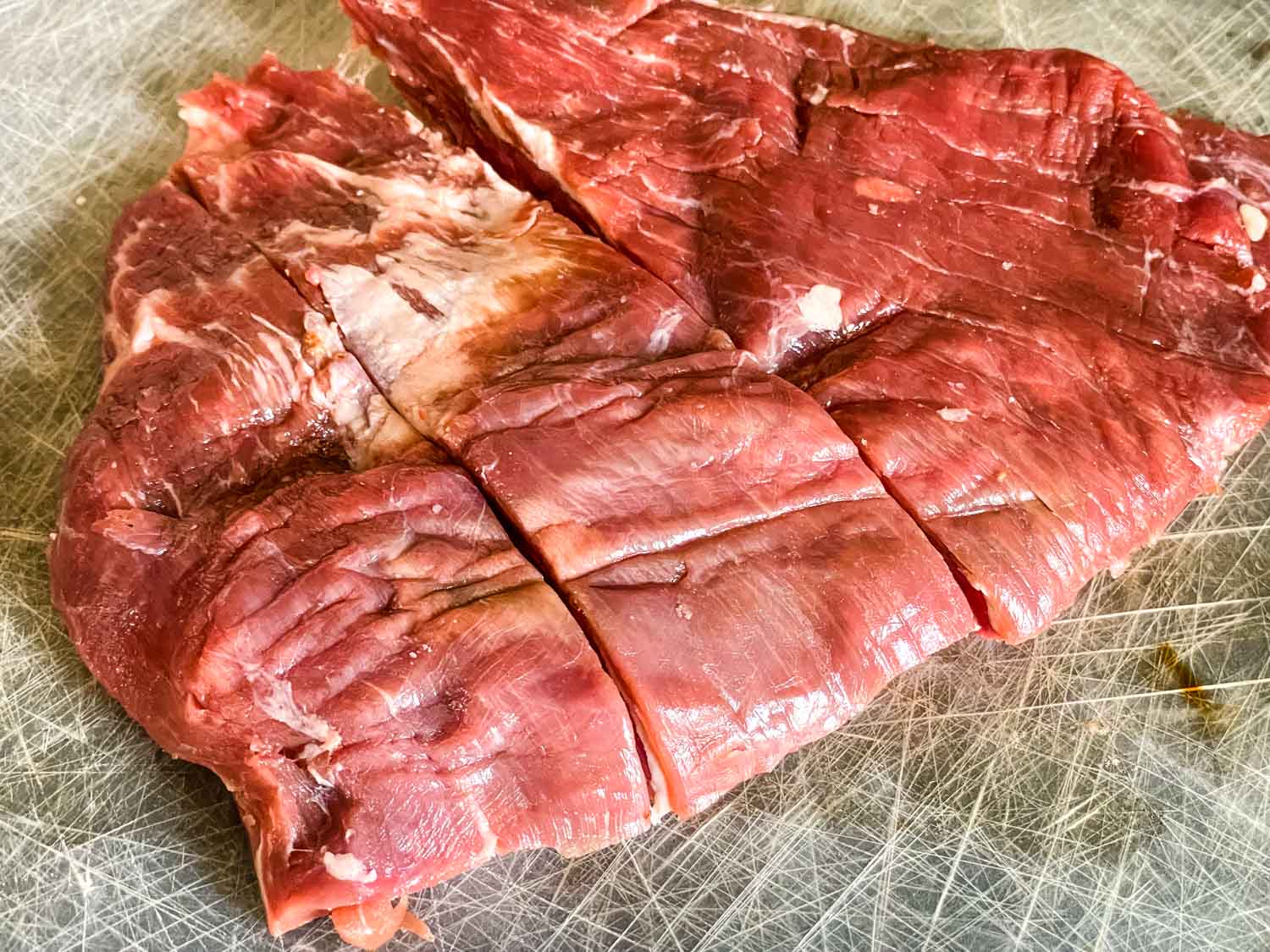 Cut your broccoli, bell pepper, and green onions and have them ready to go. (Or other vegetables of choice).
When ready to cook, heat a large skillet over medium high or high heat. (If your oven is a little weak, go high. If strong, go medium high so it does not burn. If you are not sure, start with high heat and just watch to make sure there is no burning. There WILL be steam and sizzling).
Add a teaspoon of oil to the pan and when hot, spread out half of the meat in an even layer, leaving room around the pieces. Do not move for 1 minute, and then flip. Cook for an additional 2 minutes. Remove from the pan and set aside, and repeat with remaining meat.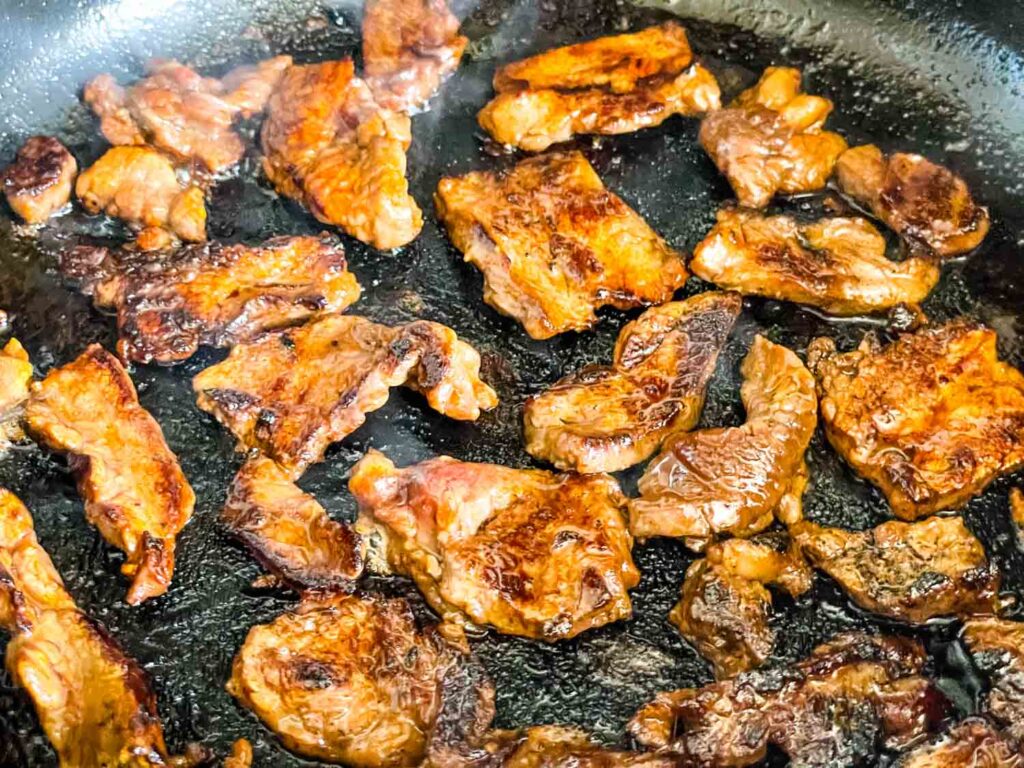 Add a little more oil and add the hard vegetables like broccoli in a single layer. Add water, cover, and let steam for 30 seconds. Remove the lid and push the broccoli aside, add another splash of oil, and then the remaining non-hard vegetables (bell pepper and green onion).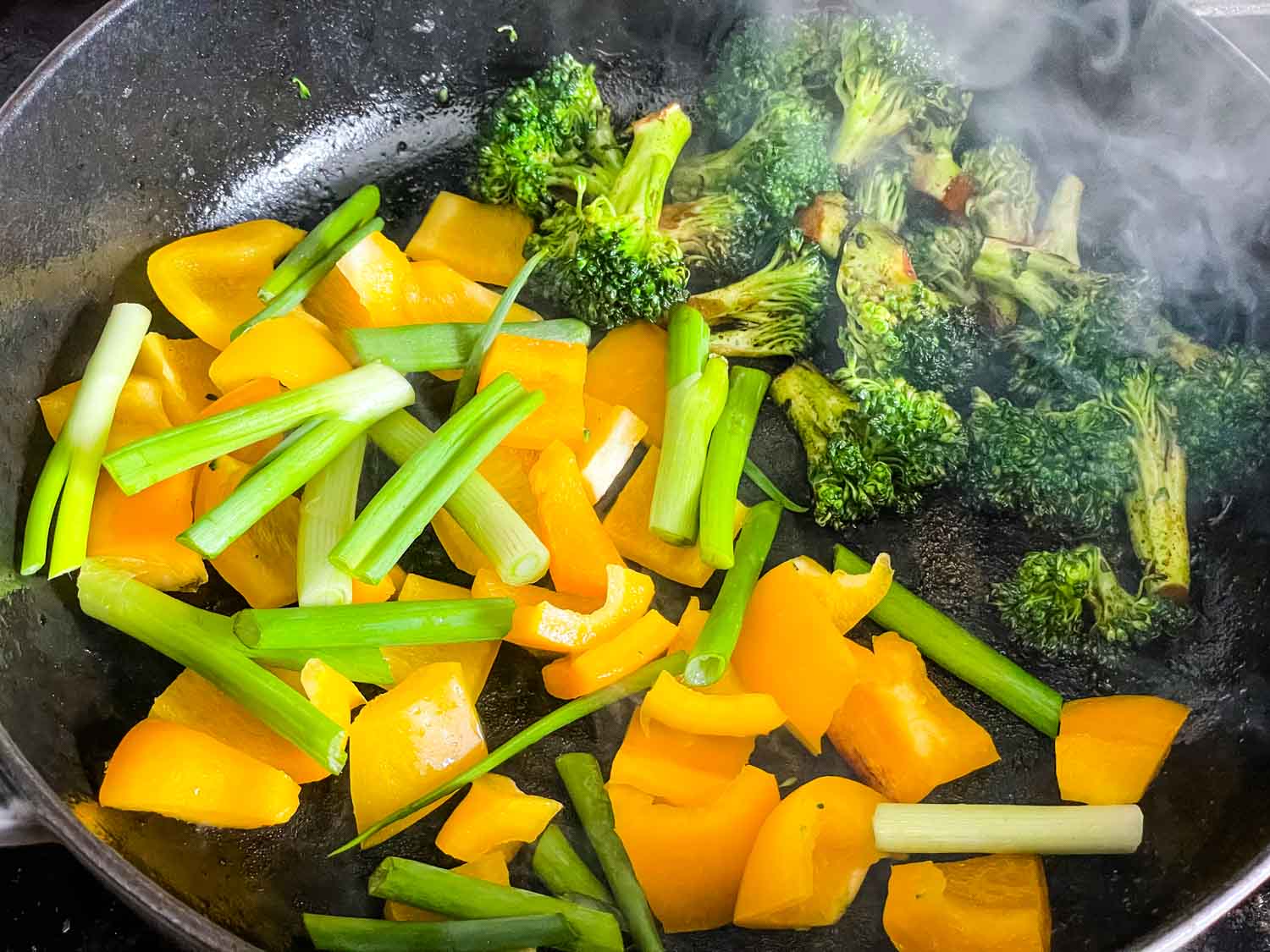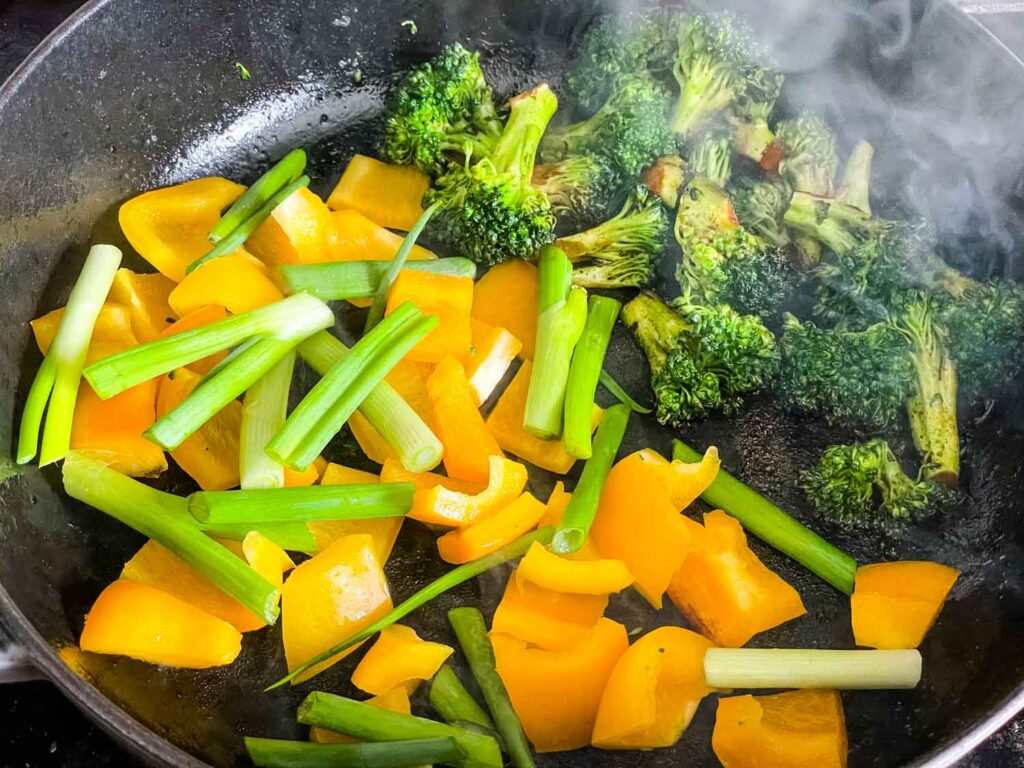 Sautee vegetables for 2-3 minutes until starting to soften but still crisp. Add the ginger and garlic until fragrant, 30 seconds.
Add the beef and sauce to the pot, stir, and cook until sauce is thickened, about 2 minutes. Serve immediately.
How do you Make Stir-Fry Meat Tender?
The marinade will help break down the meat and make it more tender, so a longer marinade time will help here.
You can choose to use a more tender meat cut as well. Sirloin, rib eye, and tri tip are all options that are typically a little more tender.
How do you Make Beef Stir Fry Without it Being Chewy?
A key here is cutting the beef into very thin strips. Since the strips are ultimately cut against the grain, this is the key as the "grain" of the meat is difficult to bite through.
An example of this is cheesesteaks where beef is shaved into very, very thin pieces.
If you want it to be ultra thin, make sure you are using a sharp knife. You can also put the meat in the freezer for 30-60 minutes to help it firm up before slicing.
Do You Need to Add Water to Stir-Fry?
Only if you need to steam any hard vegetables like broccoli, cauliflower, etc.
This recipe includes instructions for doing so. I do not steam softer vegetables like peppers and onions because I prefer to keep a little texture to them so they are not overly soft.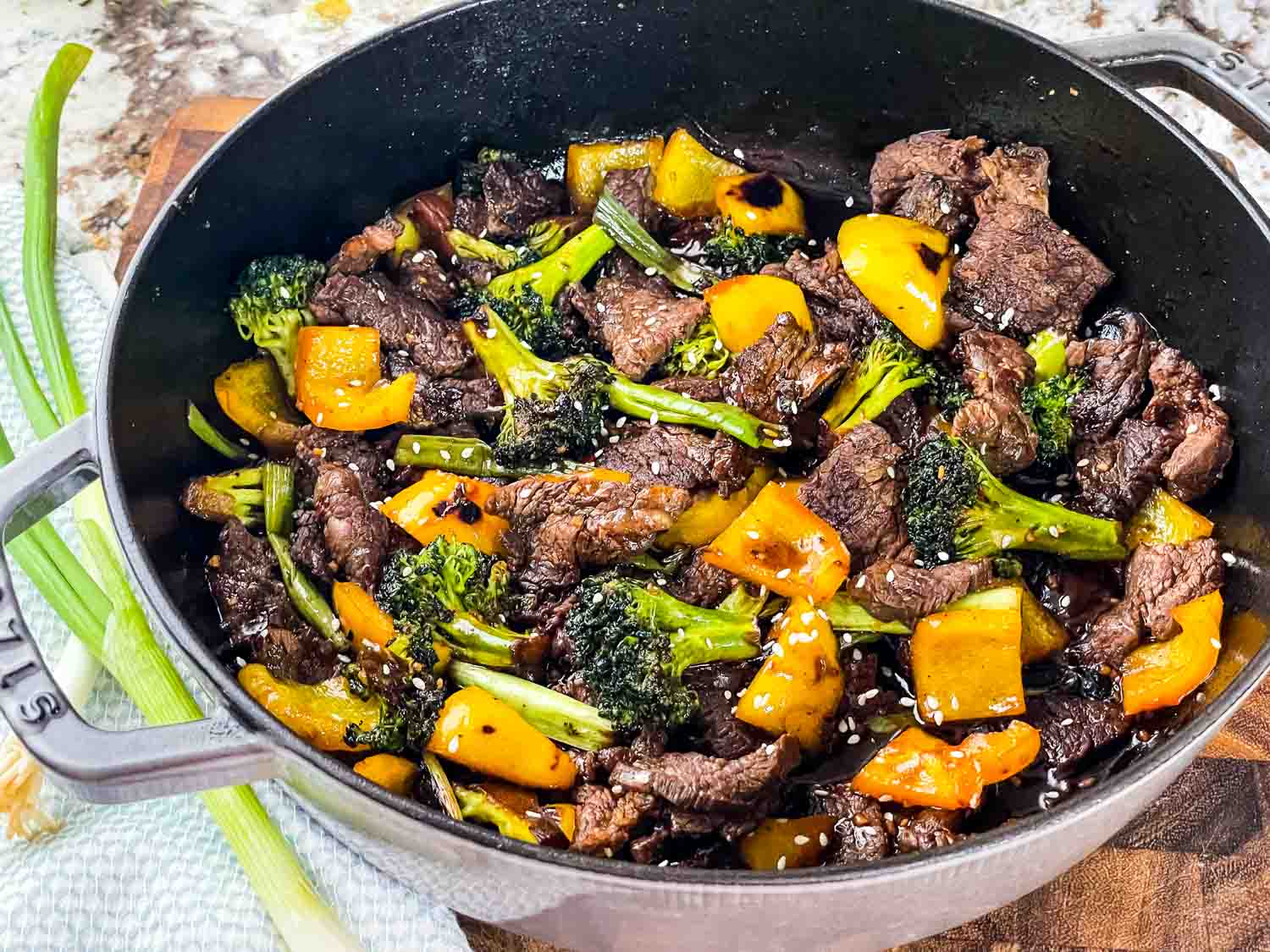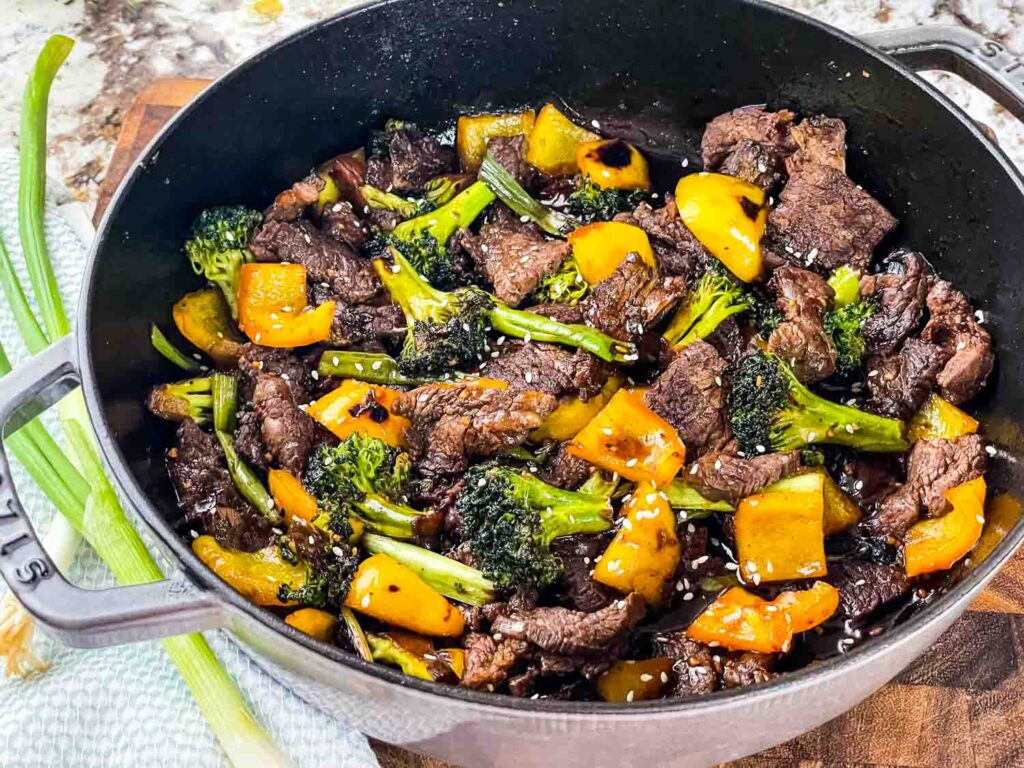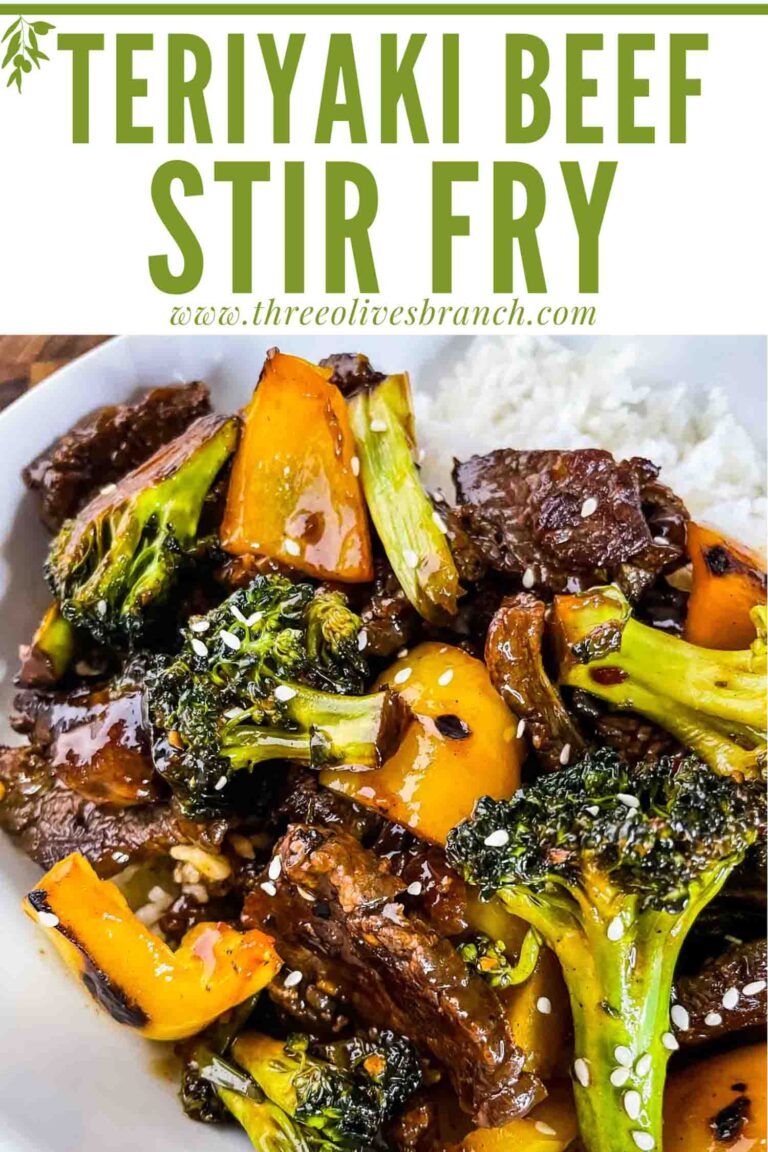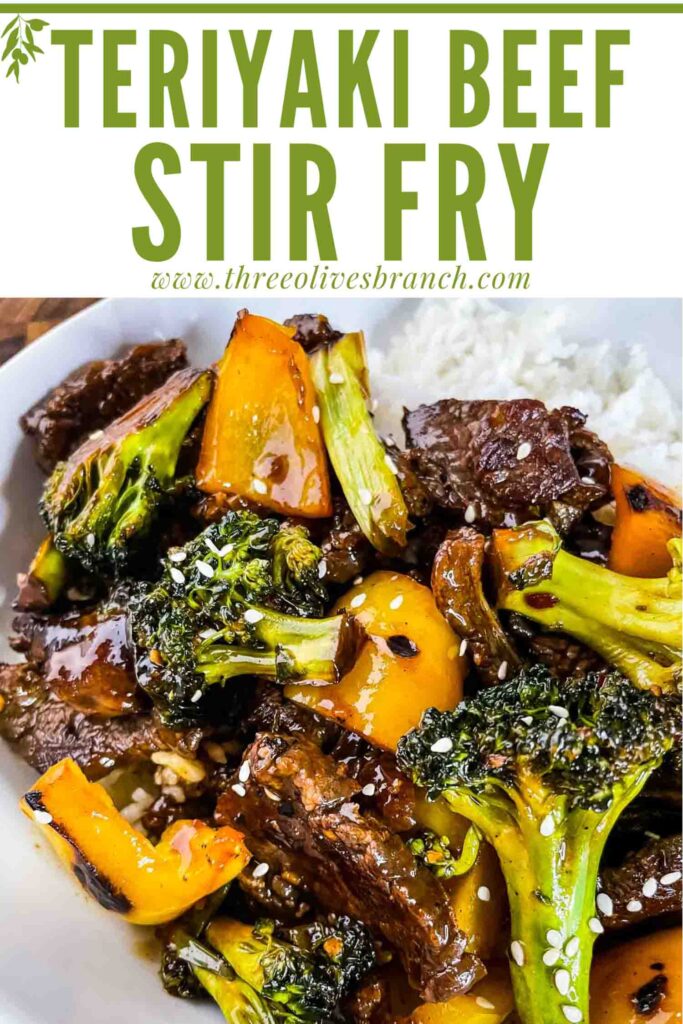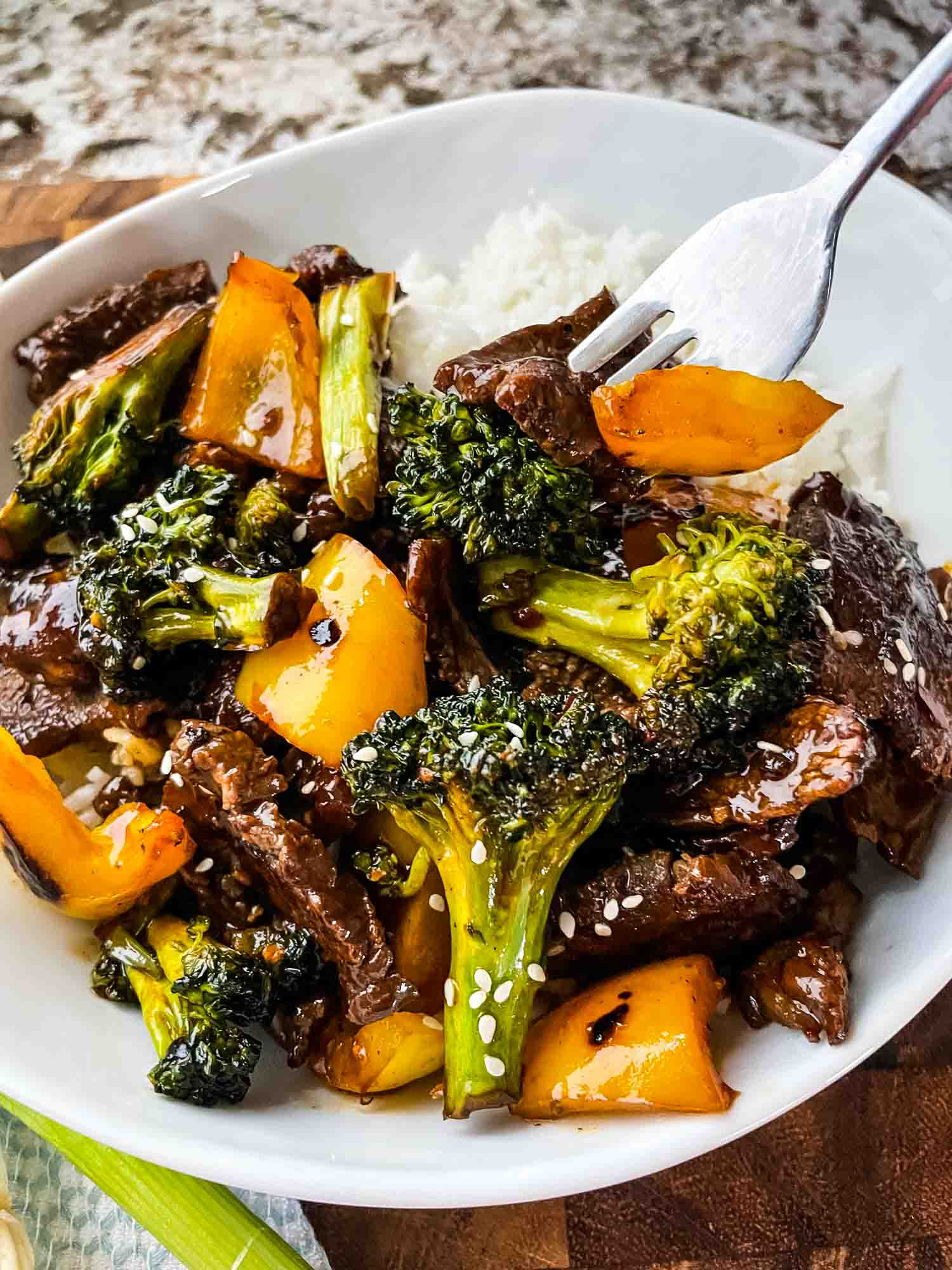 Instructions
First, prepare your steak to marinate.

Cut the steak with the grain into sections approximately 2 inches wide. (With the grain means in the same direction as the lines in the meat).

Then, cut each section, against the grain, into thin slices, 1/4 inch thick.

In a medium bowl, combine the 2 Tablespoons soy sauce, 1 Tablespoon sugar, and big pinch of salt. Stir to combine.

2 Tablespoons soy sauce,

1 Tablespoon granulated sugar,

pinch salt

Add the steak sliced to the marinade, mix, and let marinate ideally at least 30 minutes.

If cooking within an hour, you can leave it out on the counter.

If making in advance, refrigerate, but take out of the refrigerator for 30 minutes before cooking so that it is not too cold. If too cold, you will not get as great of a sear.

Meanwhile, prepare your teriyaki sauce by whisking all sauce ingredients together. Set aside or refrigerate if making later.

½ cup chicken stock,

3 Tablespoons soy sauce,

2 Tablespoons white wine vinegar,

2 Tablespoons sugar,

2 teaspoons cornstarch,

½ teaspoon red pepper flakes

Also prepare your vegetables.

Cut the broccoli into bite sized florettes, trim and cut the bell pepper into bite sized pieces about one inch square, and cut the green onions into two inch long segments. Set aside.

¾ pound broccoli,

1 red bell pepper,

4 green onions

When ready to cook, have all of your ingredients out and ready to go (it goes fast!).

Heat a large skillet over medium high heat.

When very hot, add a teaspoon of oil to the skillet and half of the steak pieces in a single layer with room around them.

Do not overcrowd or cook more than one layer as you will not get the sear.

2 Tablespoons vegetable oil

Let cook, without touching the meat, for one minute.

Flip all the pieces and let finish cooking, an additional 1-2 minutes.

Remove the cooked steak, set aside in a clean bowl, and repeat the process with the remaining steak.

When the steak is cooked, add another teaspoon of oil to the hot skillet.

Add the broccoli in a single layer and add the water.

Cover immediately and let the broccoli steam for 2 minutes.

Remove the cover, push the broccoli to one side, and another teaspoon of oil to the empty side, and add the bell pepper and green onions to the open side of the skillet.

Cook the vegetables for 2-3 minutes until starting to get some color and softening but still crisp.

Add the garlic and ginger to the pot. Stir and let cook until fragrant, about 30 seconds.

2 cloves garlic,

1 Tablespoon fresh ginger root

Add the cooked steak and the sauce into the skillet.

Stir and cook until the sauce is just thickened, 1-2 minutes.

Remove from heat and serve. Garnish if desired with fresh green onions, sesame seeds, cashews, or peanuts.

Great with white/brown/jasmine rice or noodles.
Notes
Want it to have a kick? Add more red pepper flakes or a chili paste!
Use any vegetables you like or have. Great options include broccoli, cauliflower, green onions, white/yellow onion, bell pepper, snow peas, snap peas, baby corn, water chestnuts, green beans, or carrots.
Want it super saucy? Double the sauce portion of the recipe.
Nutrition
Serving:

1

serving

|

Calories:

264

kcal

|

Carbohydrates:

21

g

|

Protein:

30

g

|

Fat:

7

g

|

Saturated Fat:

3

g

|

Polyunsaturated Fat:

1

g

|

Monounsaturated Fat:

2

g

|

Cholesterol:

69

mg

|

Sodium:

1396

mg

|

Potassium:

852

mg

|

Fiber:

3

g

|

Sugar:

13

g

|

Vitamin A:

1656

IU

|

Vitamin C:

117

mg

|

Calcium:

84

mg

|

Iron:

3

mg

By