Traditional and authentic shredded pork, but with a fast cooking time! Instant Pot Pork Carnitas are full of flavor and can be used in your favorite Mexican recipes such as tacos, burritos, nachos, and more. Gluten free.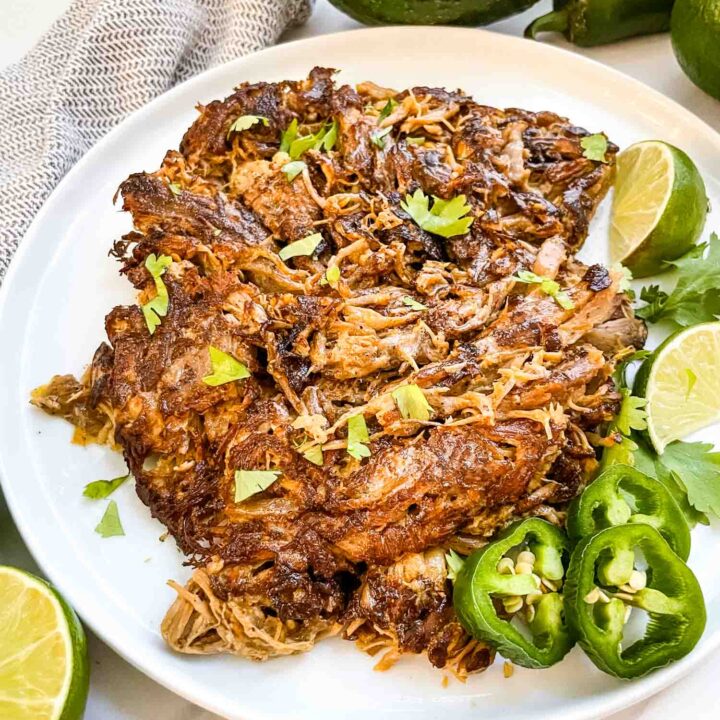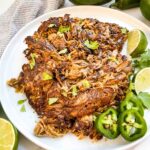 This Instant Pot Pork Carnitas recipe is a great way to make the popular Mexican shredded pork at home in a short period of time! Amazing spice and citrus flavors for a classic meat that you can use in all of your favorite Mexican dinner ideas.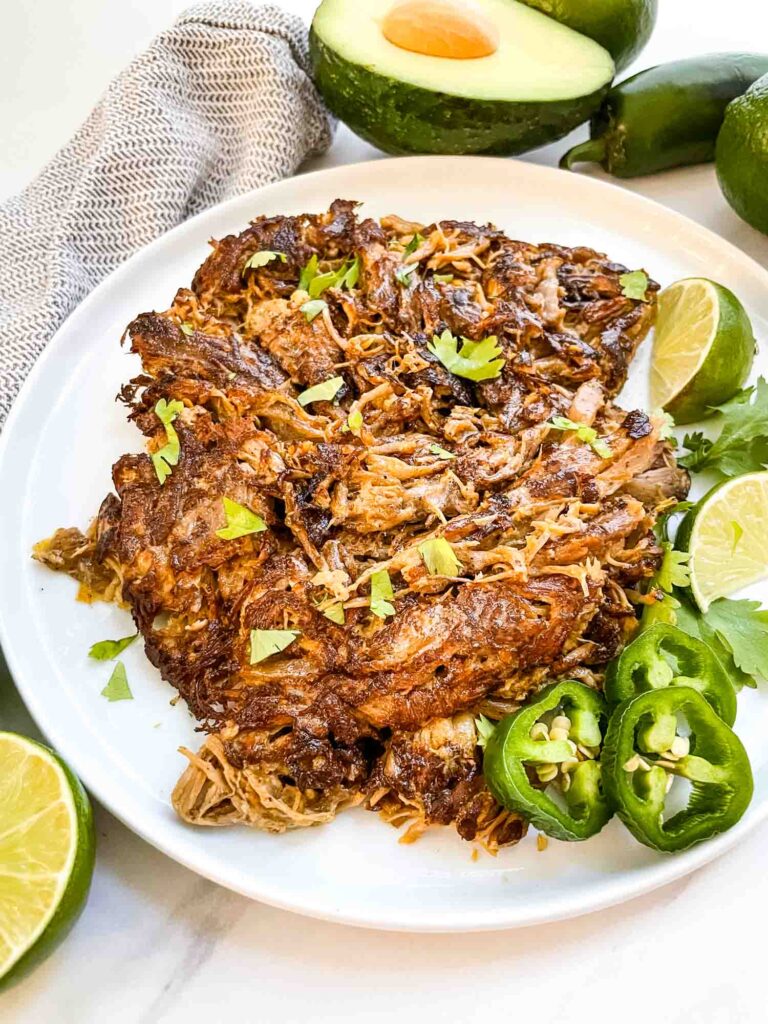 Why You Will Love This Recipe
Pork carnitas are a popular Mexican dish known for their flavorful, tender, and crispy texture.
If this is your first time making Mexican pulled pork, this is a great recipe with an easy cooking process for fall-apart tender meat.
This traditional carnitas recipe is made even easier because it is full of wonderful flavors and cooks in such a short period of time by using a pressure cooker! We get the same flavors of slow cooking in a Dutch oven with a handy gadget.
This Mexican shredded pork is perfect for all of your favorite Mexican food recipes. Check out our Pork Carnitas Tacos! Plus it is gluten free and dairy free!
Ingredients
These are the ingredients you need to make homemade carnitas:
Pork Shoulder – or pork butt
Fresh Orange Juice – fresh is best but you can use bottled if needed
Ground Cumin
Dried Oregano
Paprika
Garlic Powder
Vegetable Oil
Salt
Yellow Onion
Jalapeno
Depending on how you are serving the authentic pork carnitas, you will also want to gather associated ingredients as needed such as corn tortillas, flour tortillas, salsa, cilantro, sour cream, onion, a squeeze of lime juice, cheese, radishes, etc.
Equipment
This is the equipment you need to make this carnitas recipe:
Instant Pot
Measuring Cups
Measuring Spoons
Cutting Board
Knife
Small Bowl
Tongs
Paper Towels
Using an Instant Pot
I love a good kitchen gadget but am particular about what I will buy – I have so much stuff and do not need clutter for the sake of clutter!
What I love about the Instant Pot is how you can use it for so many things, and speed up the cooking time of foods. Just like this shredded pork recipe!
I find this is the best way to make carnitas because this pot will allow you to cook things much more quickly while still being tender by using pressure.
There are a lot of resources out there if you are new to a pressure cooker like Instant Pot. Just follow along with the recipe and you will have an amazing shredded pork in a fraction of the time!
Instruction Overview
Here is an overview of this Instant Pot carnitas recipe. Find full instructions in the recipe card below.
Dry off your pork roast with a paper towel.
Coat it in the spice rub on all sides.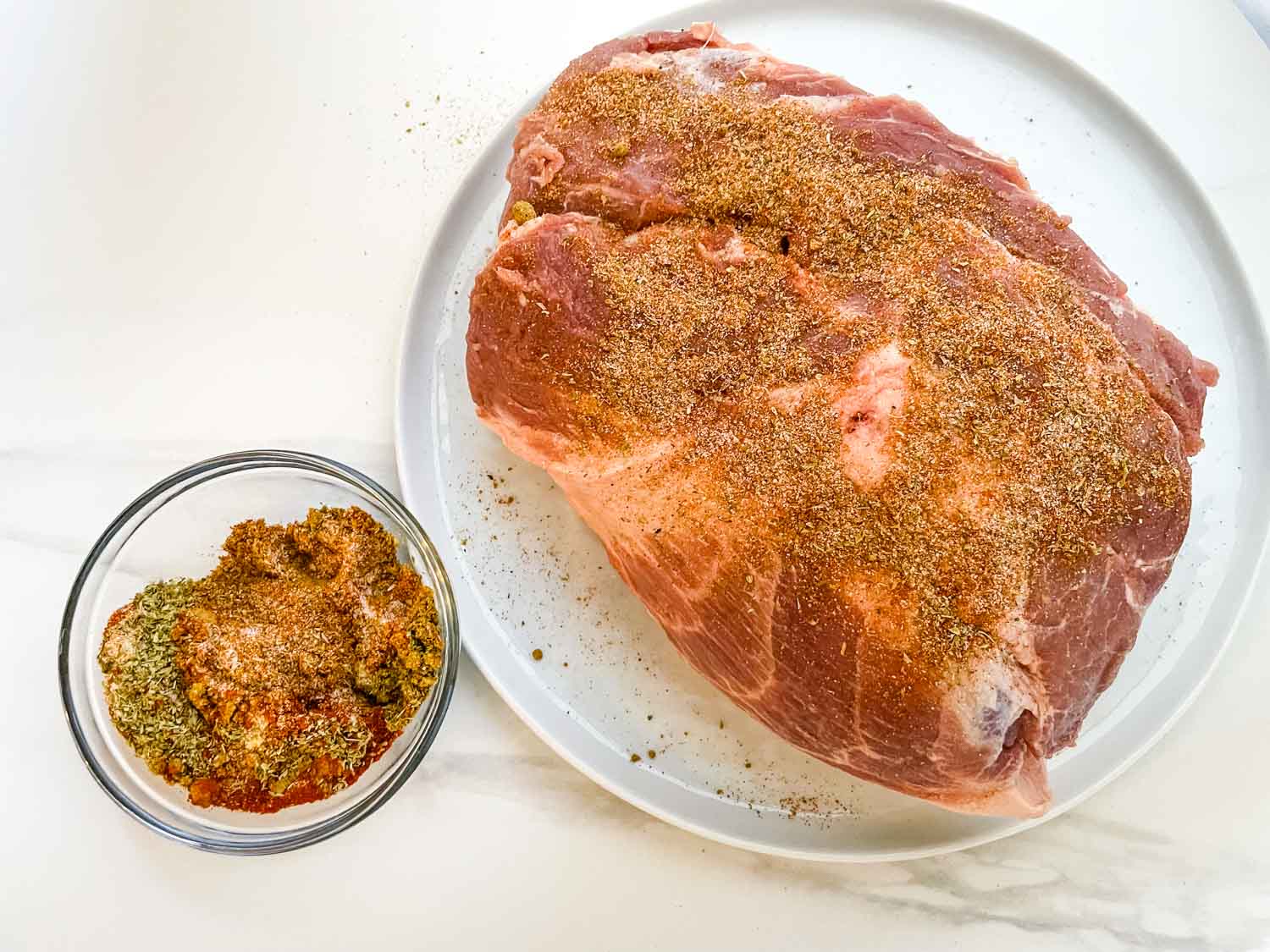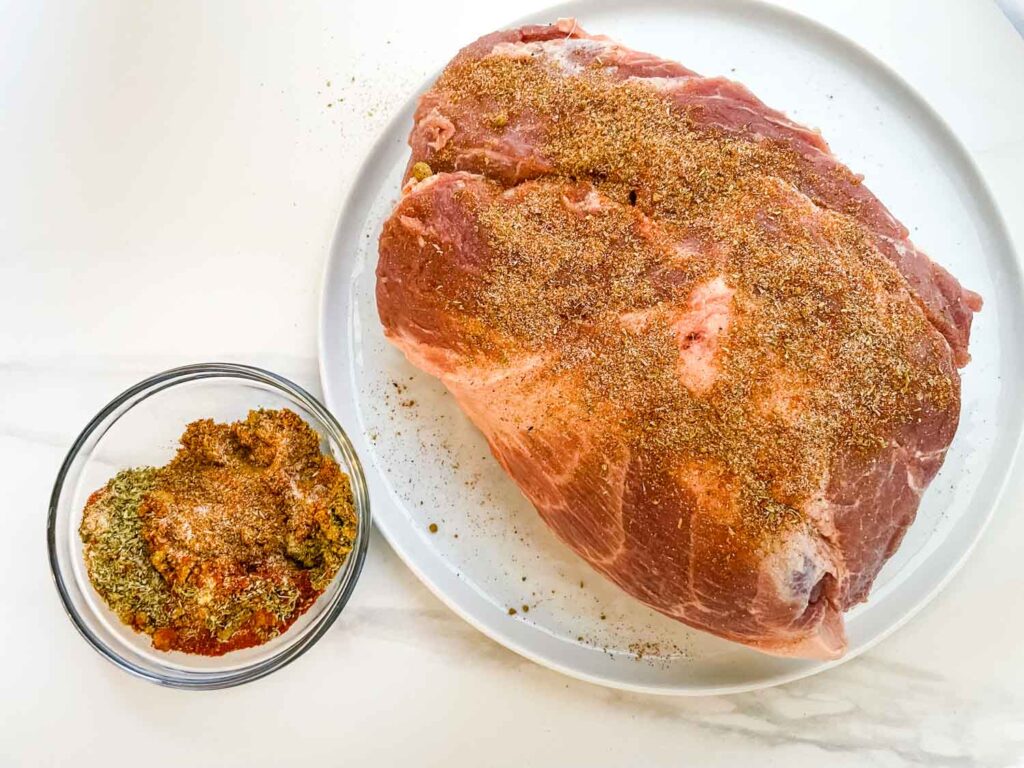 Heat your Instant Pot to simmer.
When hot, add the oil and the roast.
Sear the roast until golden brown on the 4 larger sides for about 3-5 minutes per side. The crust will be soft when cooked, but it is going to give us great flavor!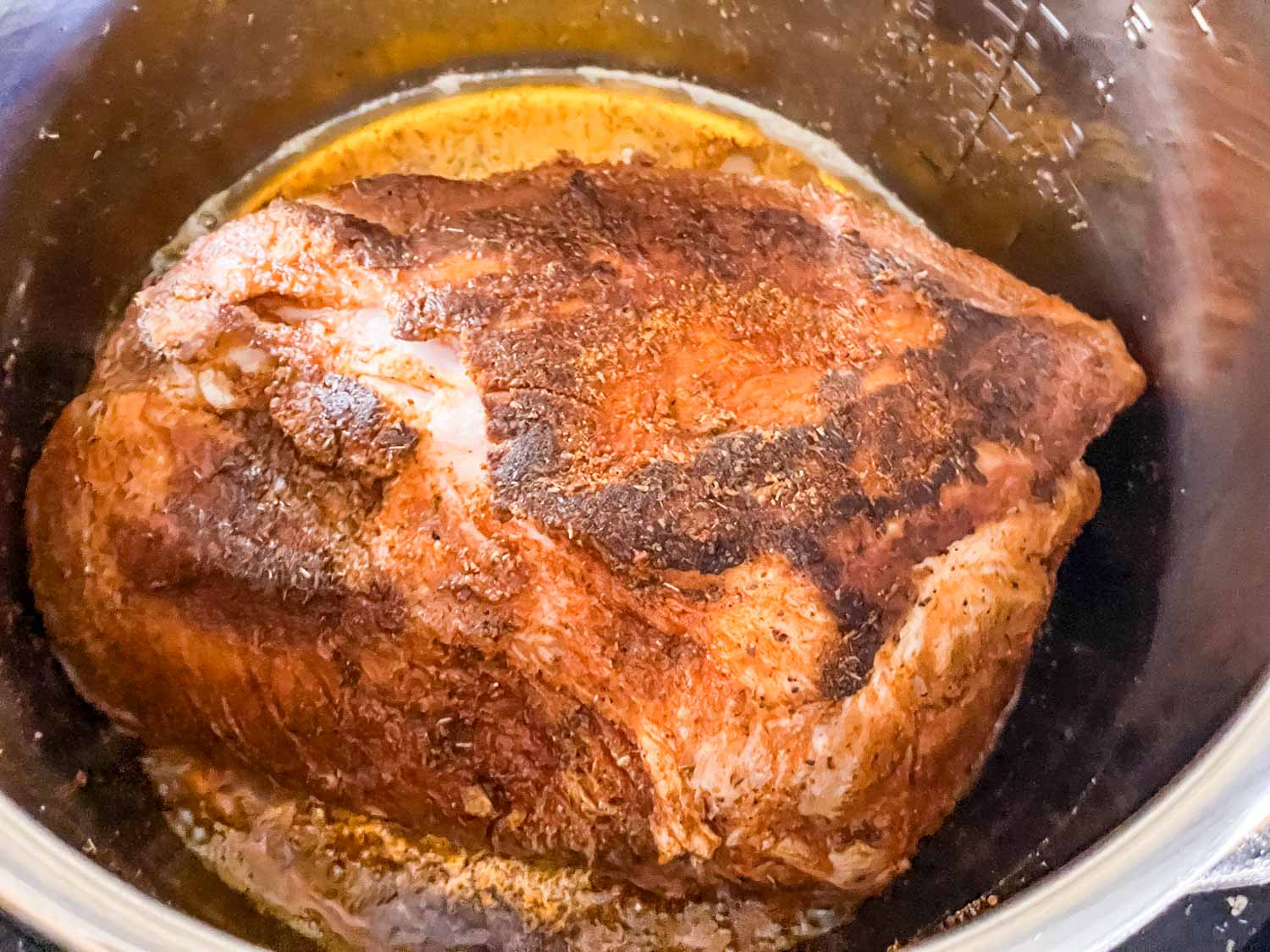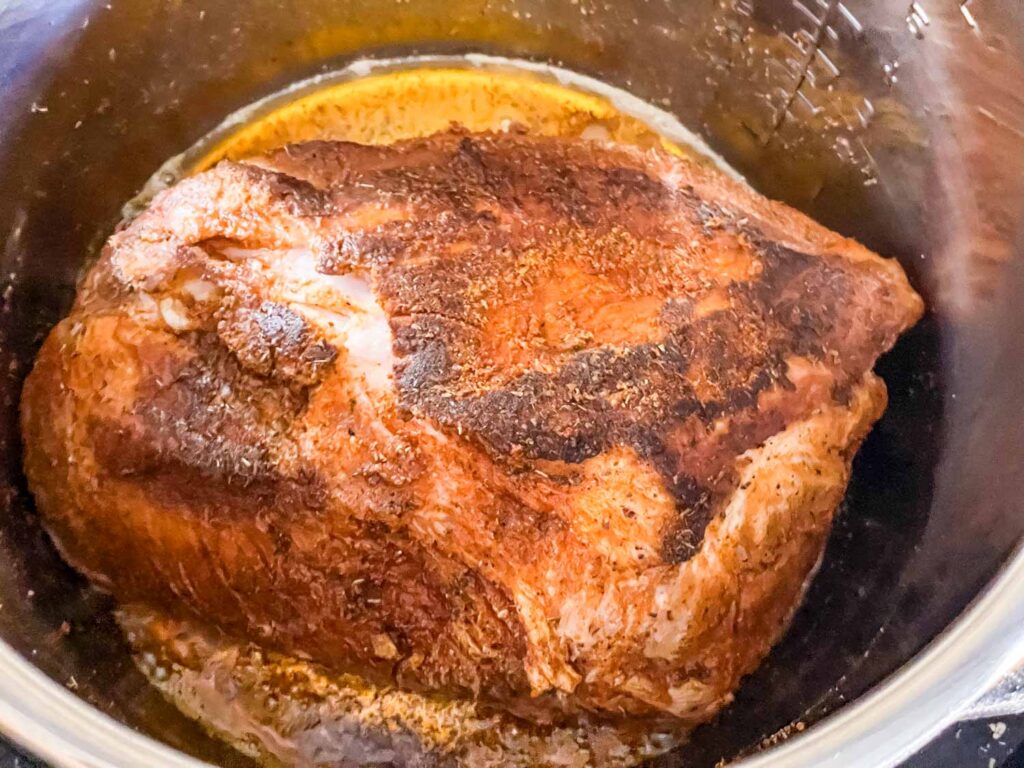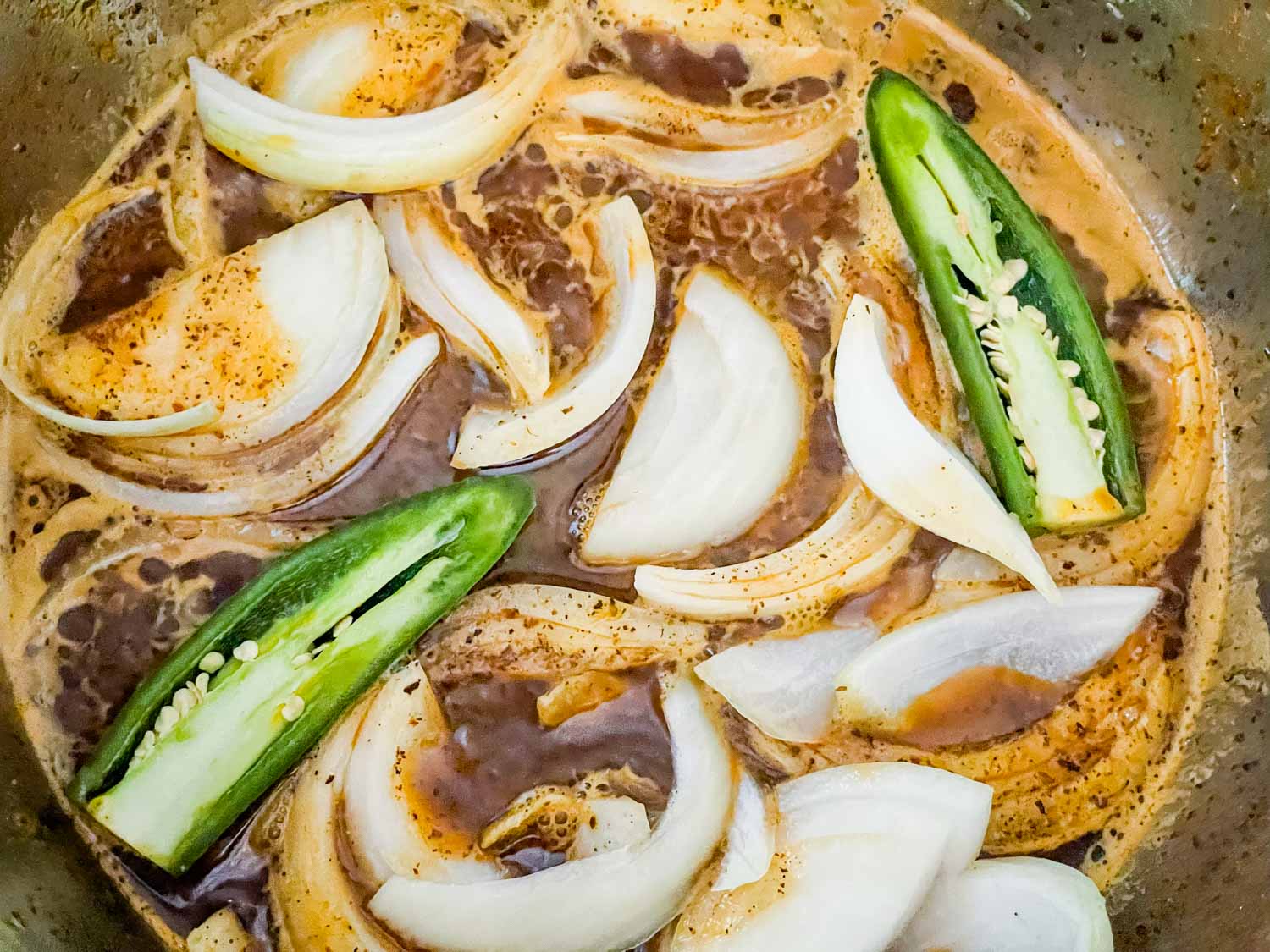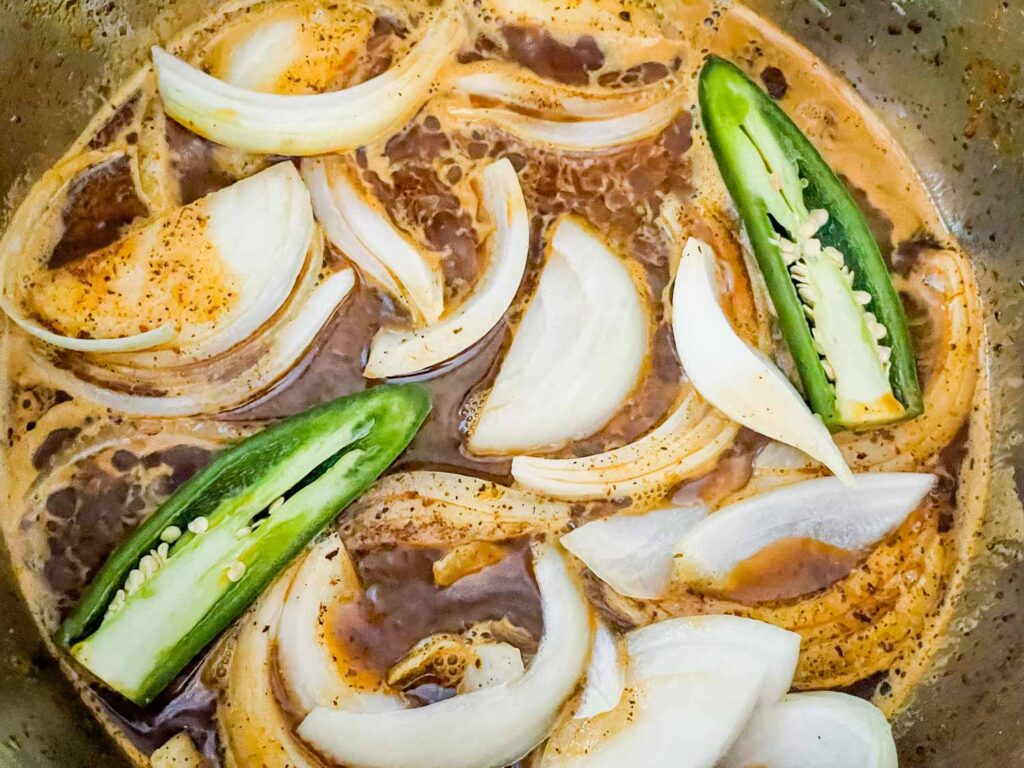 Remove the roast and add the orange juice. Stir the cooking liquid to loosen up the stuck on bits at the bottom of the pot.
Add the onion and jalapeno to the pot, and then put the pork roast back in on top.
Turn your pressure cooker on to manual high pressure setting for 90 minutes and let cook.
Natural release for 15 minutes, then manual release.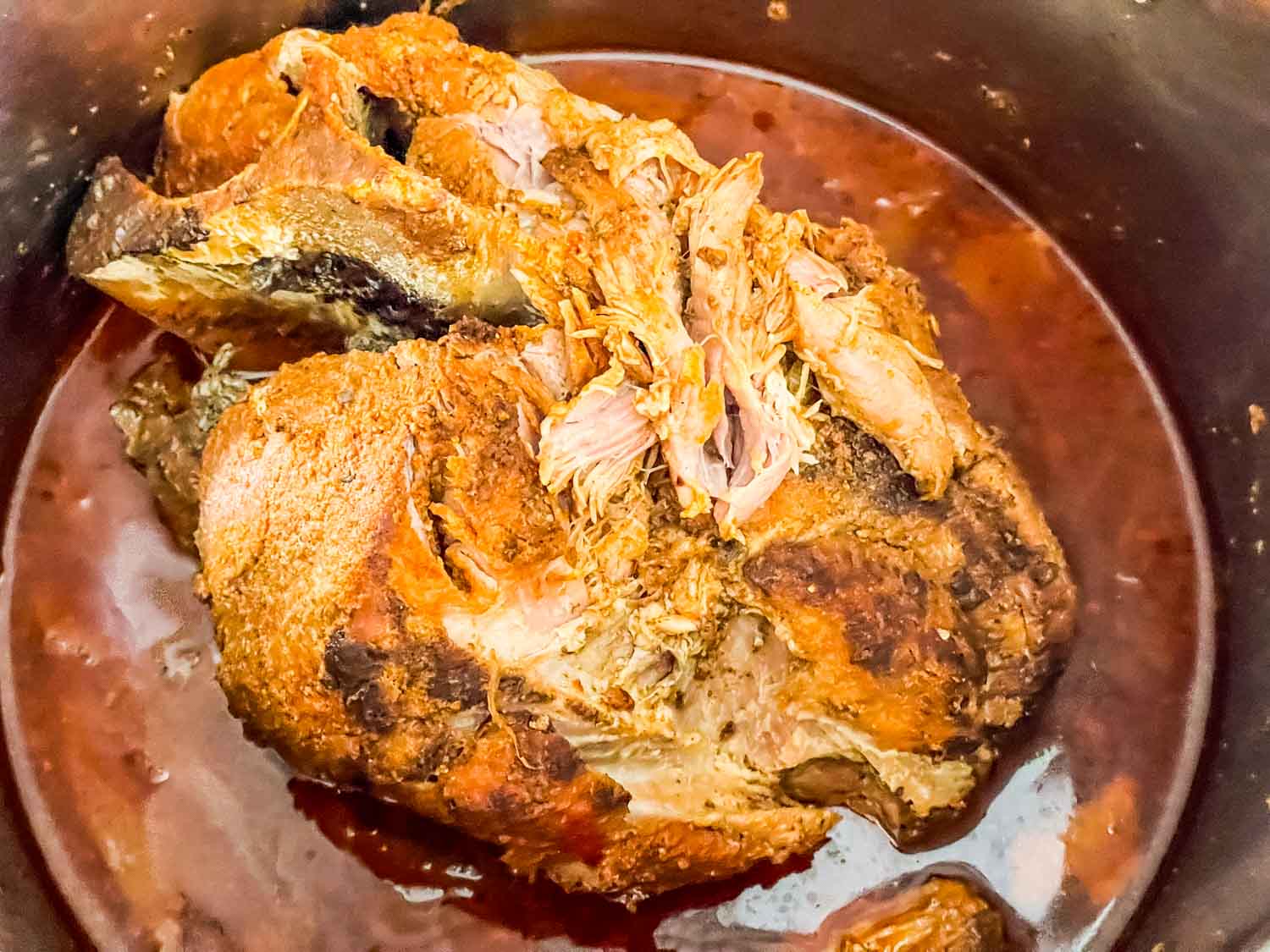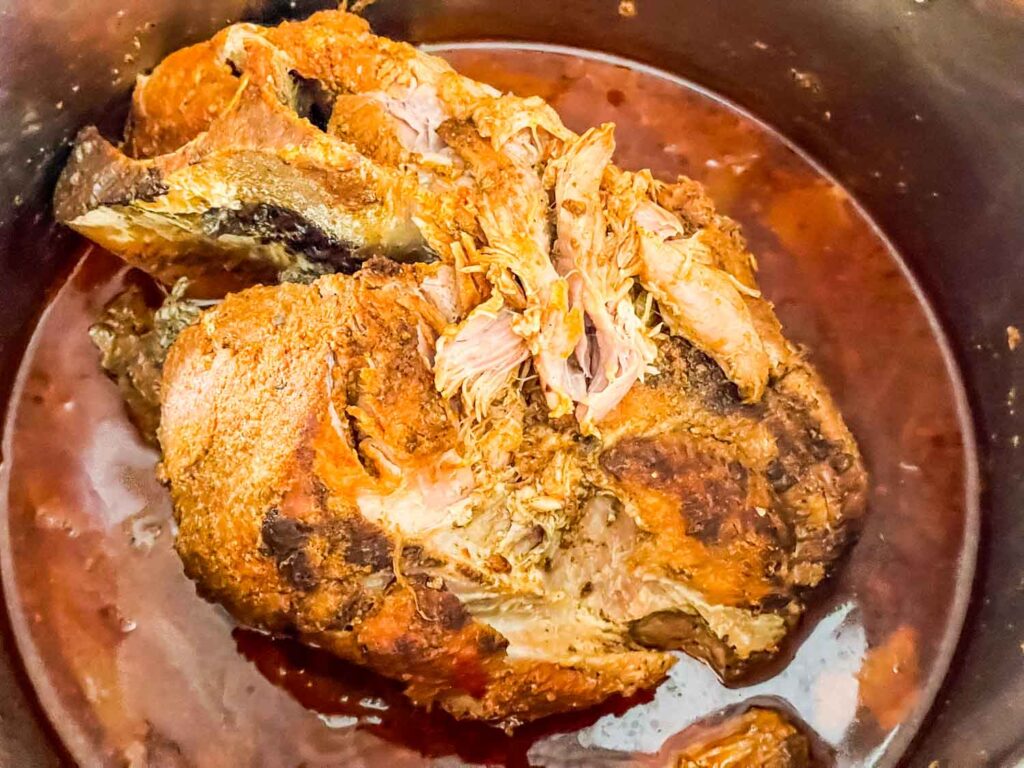 Shred the pork and toss with as much of the cooking juice as desired.
If searing (which is traditional for an authentic carnitas recipe), do not add TOO much cooking liquid, just enough to coat.
Then heat a skillet over medium-high heat and sear the meat in batches to develop a little crust and flavor on the pork.
Use as desired in any Mexican recipe!
Modifications and Substitutions
Want to make it spicy? Add more peppers, hotter peppers (such as serrano), chili powder, and/or add cayenne to the dry rub mixture.
Fresh orange juice is best because there are no added sugars and it tastes fresher.
Kim's Tips
While many Instant Pot shredded pork recipes list a shorter cooking time, I found 90 minutes resulted in a softer, more tender roast.
Leftover carnitas are great for pork tacos, carnitas enchiladas, and any other different recipes.
FAQs
Is pork shoulder the same as carnitas?
No, but carnitas is a type of pulled pork, typically made from pork shoulder.
What is the difference between pulled pork and carnitas?
Carnitas is a type of pulled pork.
Carnitas is cooked with Mexican spices and citrus (typically orange). And what makes it carnitas is cooking the finished, shredded pork to give it a little sear.
Why is my pulled pork tough in the Instant Pot?
This typically happens because your cooking time was too short and/or you did not let it sit on natural release before manually releasing the pressure.
Why do you put orange juice in carnitas?
The acidity helps make the meat tender and the orange juice is a softer flavor compared to lime or lemon that also lends a little sweetness.
Do you trim the fat off pork shoulder carnitas?
This is not necessary as it will render down. If you feel like there is an excessive chunk of fat on the roast, you can trim that part down. You can also easily remove large chunks of fat after cooking.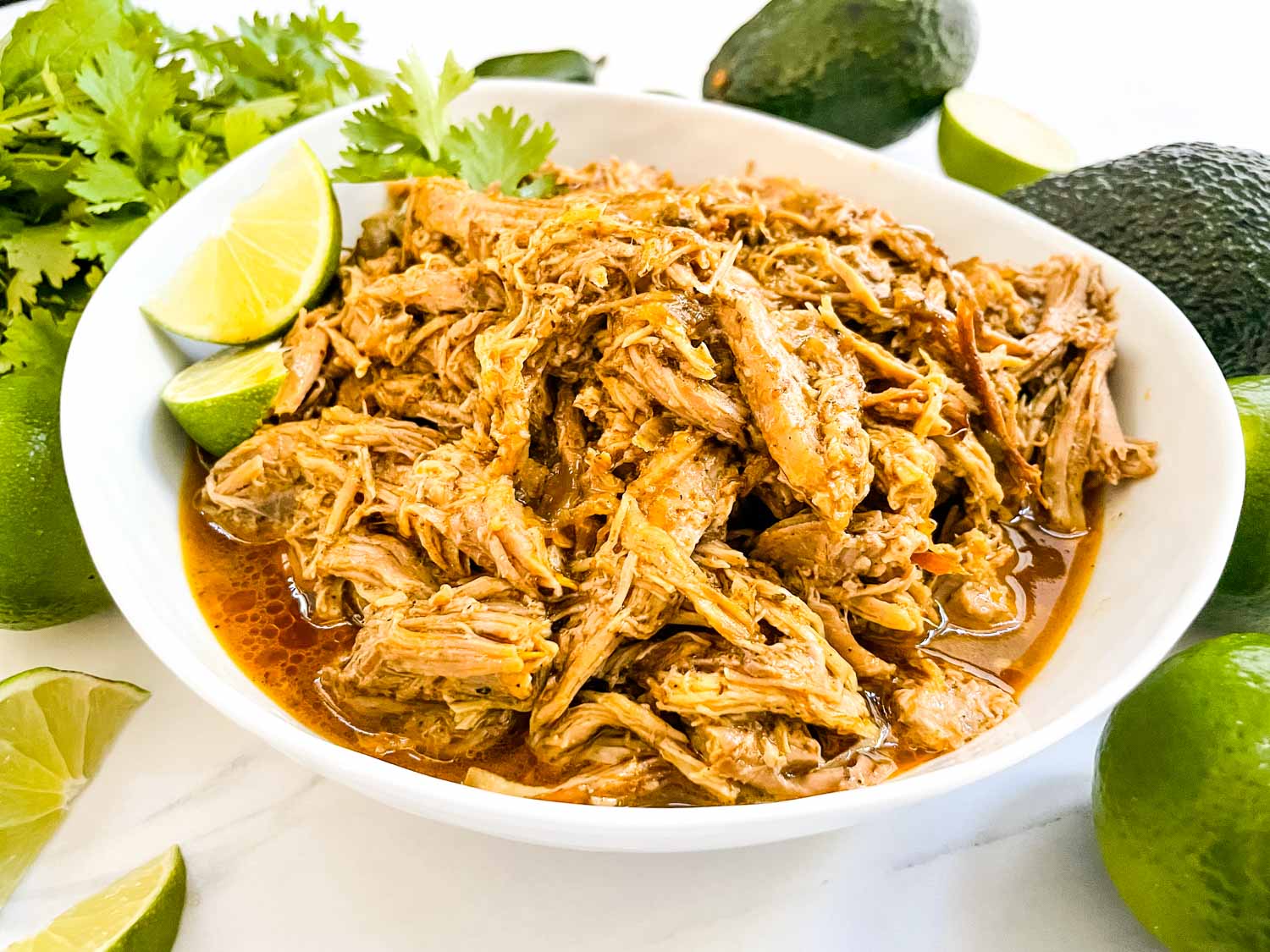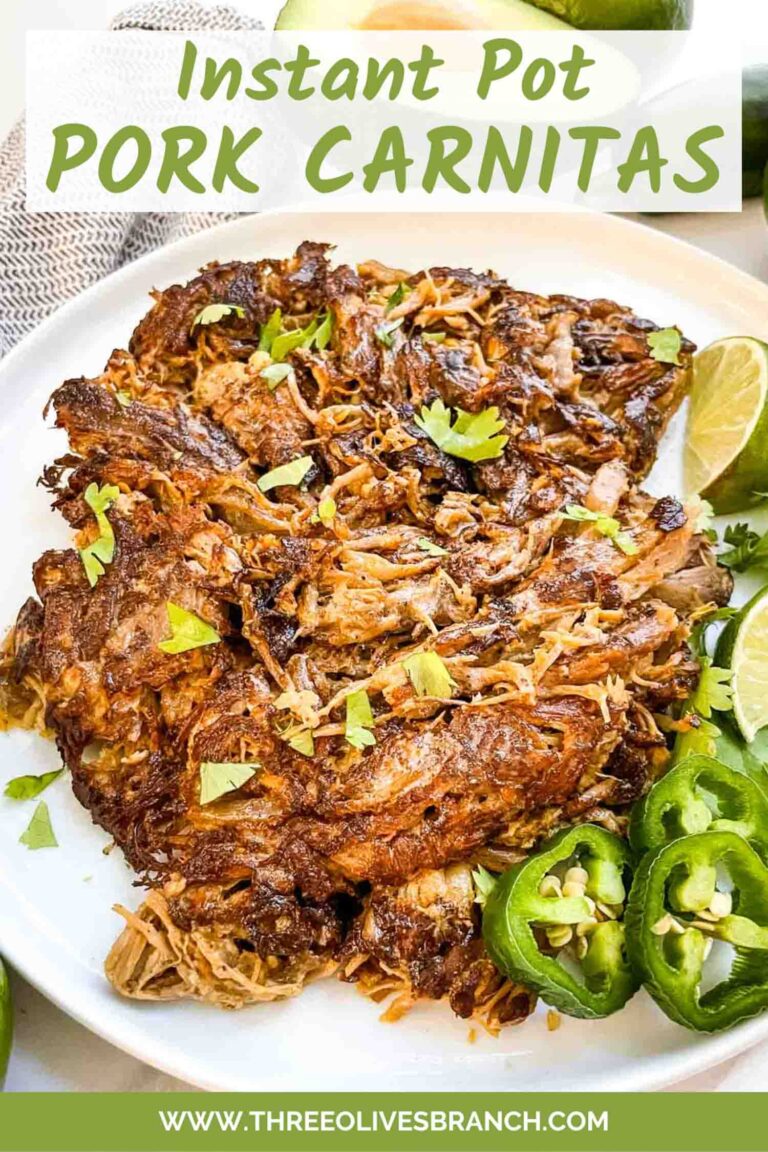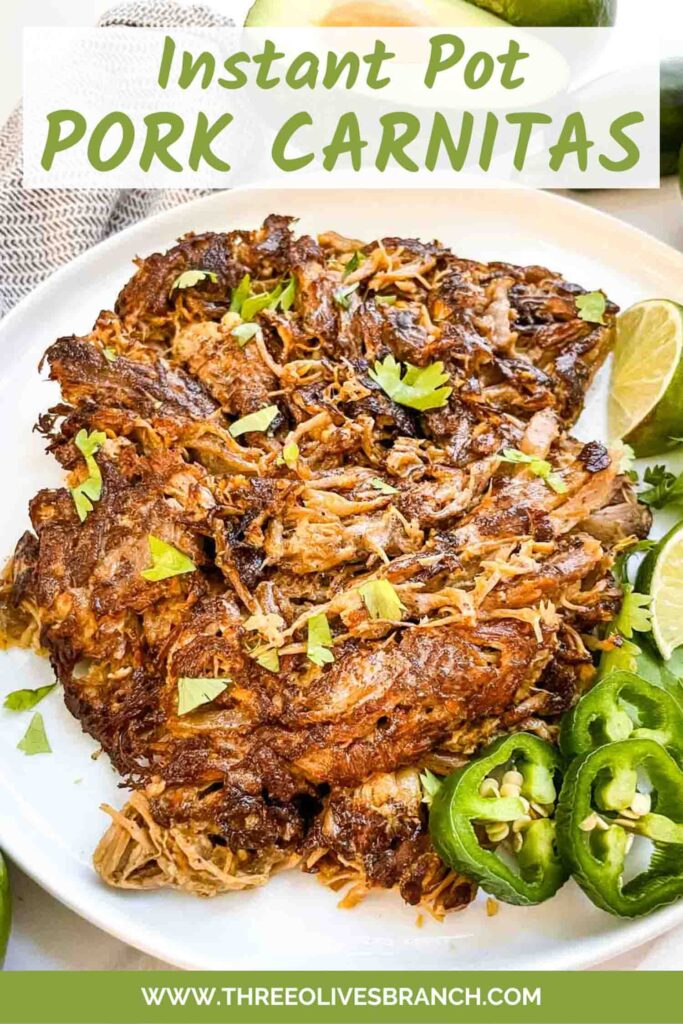 More Pork Carnitas Recipes
Mexican Pork Carnitas Recipes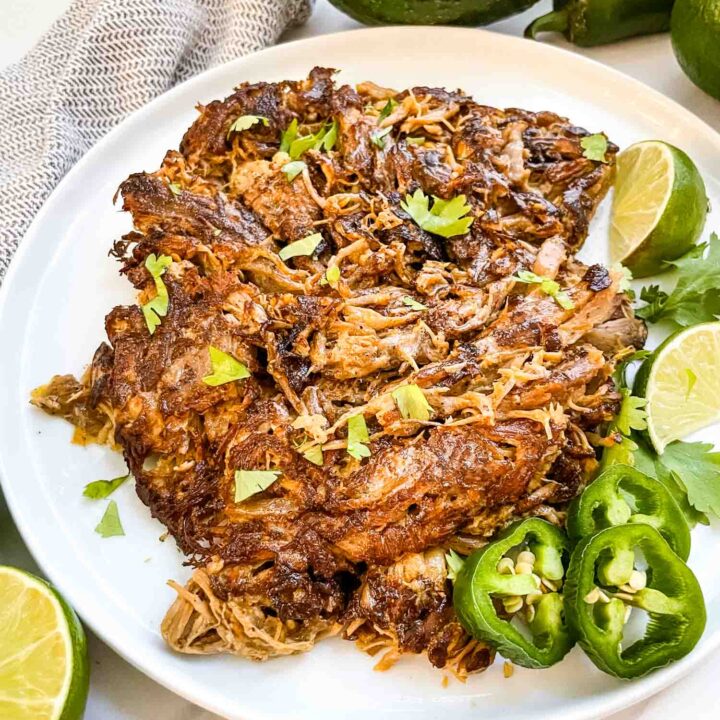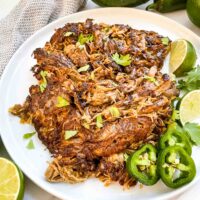 Instant Pot Pork Carnitas
Traditional and authentic shredded pork, but with a fast cooking time! Instant Pot Pork Carnitas are full of flavor and can be used in your favorite Mexican recipes such as tacos, burritos, nachos, and more. Gluten free.
Print
Pin
Rate
Servings:
8
cups shredded (about 6-8 servings)
Instructions
Combine the spices together in a small bowl to make a rub mixture.

1 Tablespoon paprika,

1 Tablespoon ground cumin,

1 Tablespoon dried oregano,

½ Tablespoon garlic powder,

3 teaspoons salt

Trim the pork roast of any excessive fat, if desired. Pat dry with paper towels.

Rub the pork on all sides with the dry rub, pressing into the meat.

Heat your Instant Pot over the sauté function.

2 Tablespoons vegetable oil

Add the pork roast and sear on all sides, approximately 3 minutes per side.

Remove the pork from the pot and set aside.

Add the orange juice and scrape up the bits on the bottom of the pot.

Add the sliced onions and halved jalapeno to the liquid.

1 yellow onion,

1 jalapeno

Put the pork roast back into the pot.

Turn off the sauté function. Put the lid on and set to manual pressure for 90 minutes.

Once cooking is done, let sit on natural release for 15 minutes. Then use manual release to remove the remaining pressure.

Shred the pork with forks or a hand mixer.

To sear the pork, mix the shredded pork with a little of the juice, just enough to coat.

Heat a large skillet over high heat.

Add the shredded pork and cook to develop color and a crust, approximately 2 minutes. Flip if desired to sear the other side.

Serve the pork as desired such as for tacos, burritos, nachos, or on its own.
Notes
This recipe will work for pork roasts from 2-4 pounds. Increase cooking time by 20 minutes per additional pound.
Portions: Plan on your pork shrinking by about 40% in the cooking process. A serving of carnitas is 1/3-1/2 pound depending on how you are using it and if you want standard or larger portions.
A 4 pound roast will give you around 2.5 pounds of cooked carnitas which is approximately 6-8 servings and 8 cups of shredded meat.
Pork carnitas is traditionally seared off to develop a little crust and additional flavor. This is recommended, but optional.
Nutrition
Serving:

1

serving

|

Calories:

230

kcal

|

Carbohydrates:

5

g

|

Protein:

28

g

|

Fat:

10

g

|

Saturated Fat:

3

g

|

Polyunsaturated Fat:

1

g

|

Monounsaturated Fat:

5

g

|

Cholesterol:

93

mg

|

Sodium:

980

mg

|

Potassium:

590

mg

|

Fiber:

1

g

|

Sugar:

3

g

|

Vitamin A:

525

IU

|

Vitamin C:

16

mg

|

Calcium:

45

mg

|

Iron:

3

mg

By