Vegan Lentil Taco Stuffed Peppers are bell peppers stuffed with lentils cooked in a taco tomato sauce. Vegan stuffed peppers are gluten free and vegetarian Mexican food recipe. #veganstuffedpeppers #stuffedpeppers #vegantacos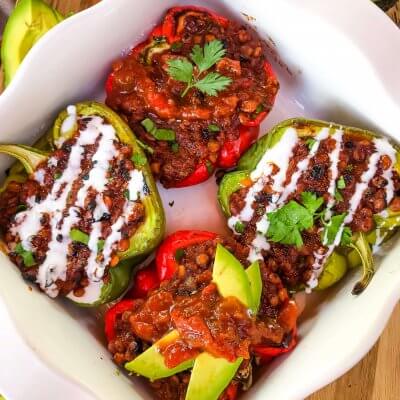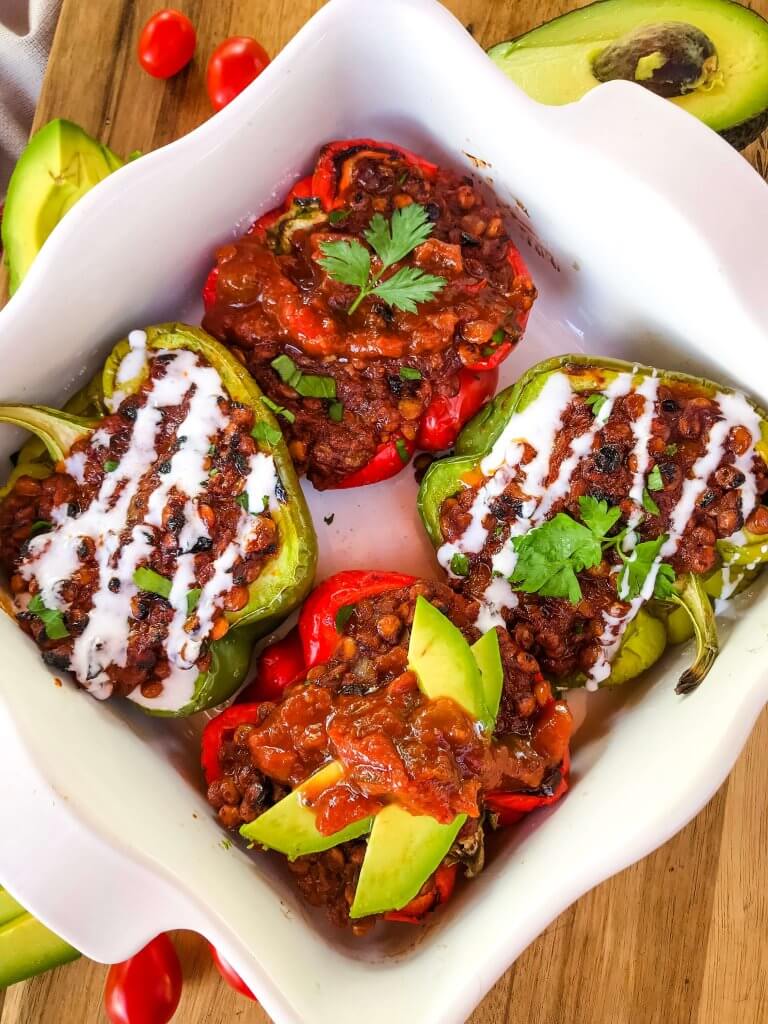 These Vegan Lentil Taco Stuffed Peppers are a delicious Mexican stuffed bell pepper. Vegan, vegetarian, gluten free recipe.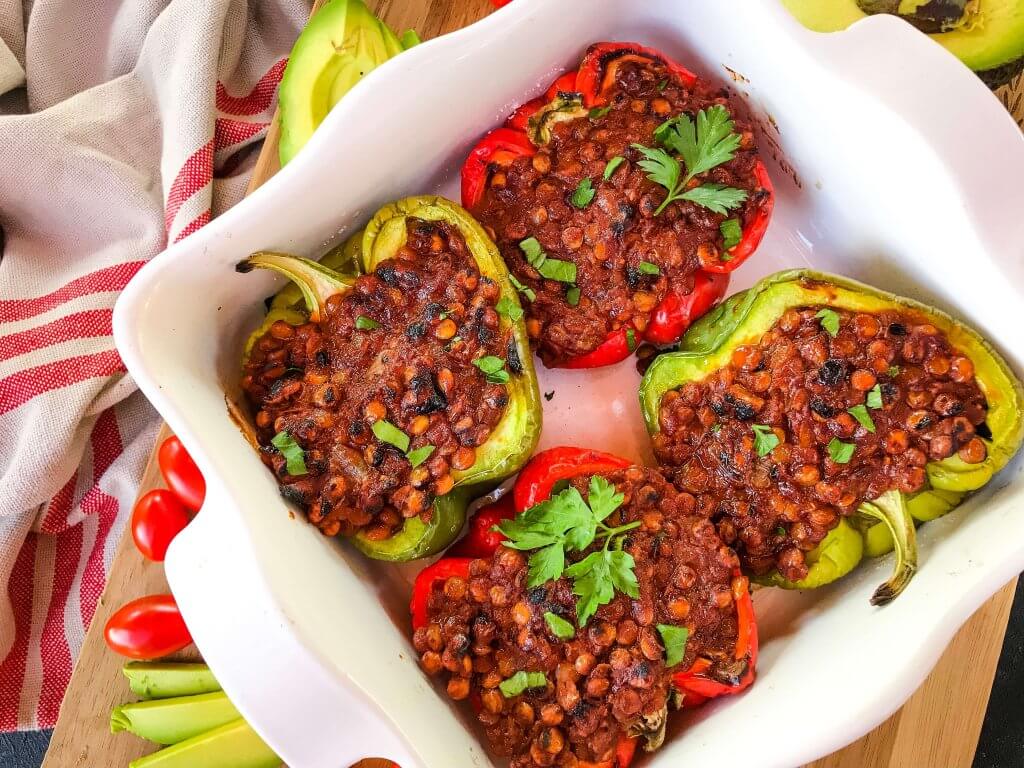 This post contains affiliate links.
Mexican flavors are one of my favorite things. I definitely trend more toward preference for Mexican recipes that highlight peppers and fresh flavors. These gluten free Vegan Lentil Taco Stuffed Peppers are incredibly filling. You could easily top them with cheese, add some beans or corn, and more, but this base version is simple and delicious. With the vegan stuffed peppers being so filling, this batch makes a lot which is great for leftovers or feeding a group. They would be delicious served with your favorite Mexican rices, beans, or sides. Check out our Green Chile Rice or a light Mexican Street Corn Salsa (one of the most popular all-time recipes on the site!).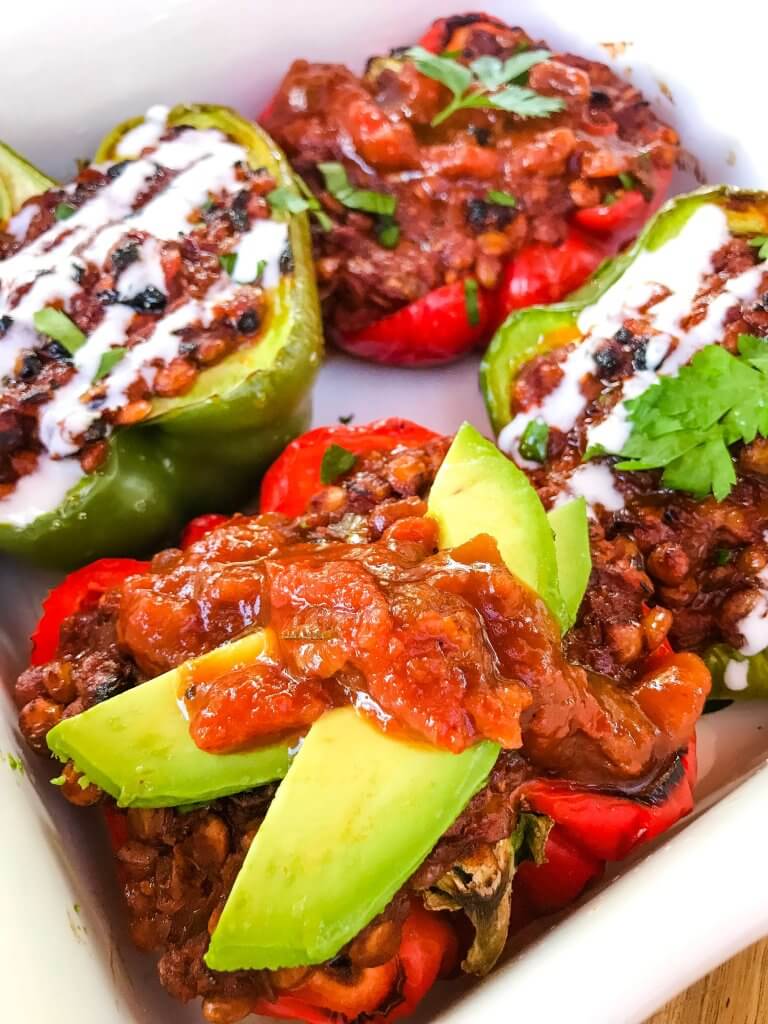 Not a fan of soft peppers? The trick is to cook them until they are JUST starting to soften because the residual heat will have them continue to cook a little more once you remove them from the oven. I like to leave mine a little on the firm side for some texture, just remove at whichever point you prefer.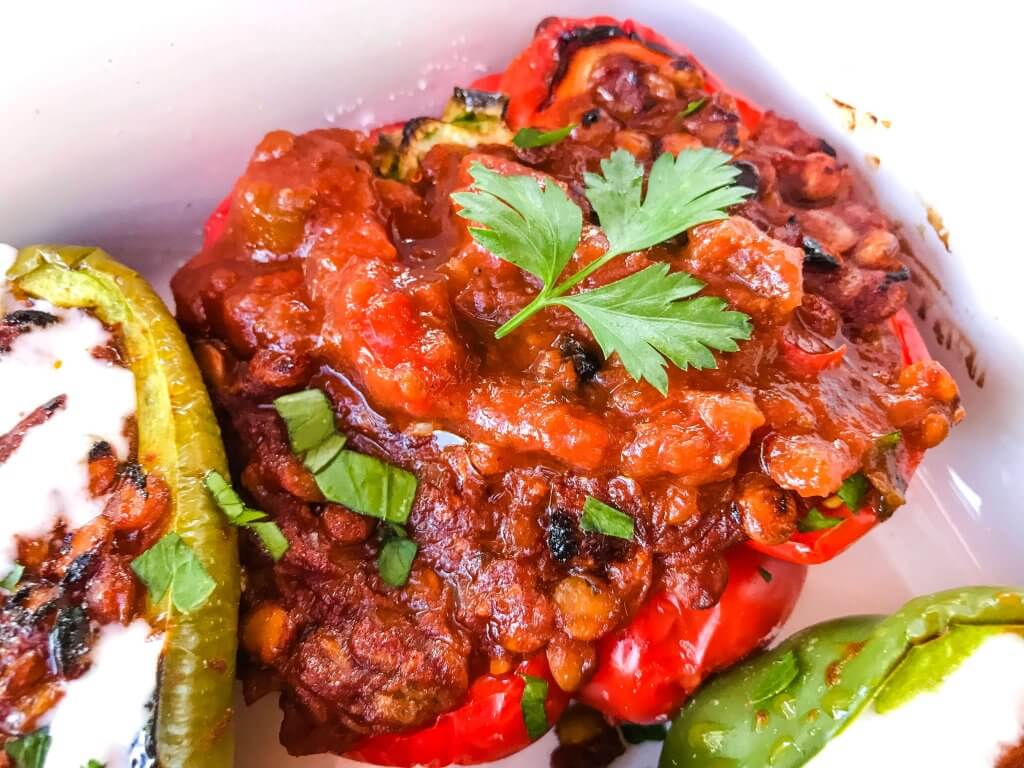 Load up these Vegan Lentil Taco Stuffed Peppers with your toppings of choice! From lettuce to tomatoes to hot sauce, avocados, and more, the peppers are very customizable. You can also load them up with some shredded vegan or regular cheese for the last 15 minutes of baking for a cheesy top. There are so many options here, make them your own! Add some corn, beans, other vegetables, etc to the filling as well.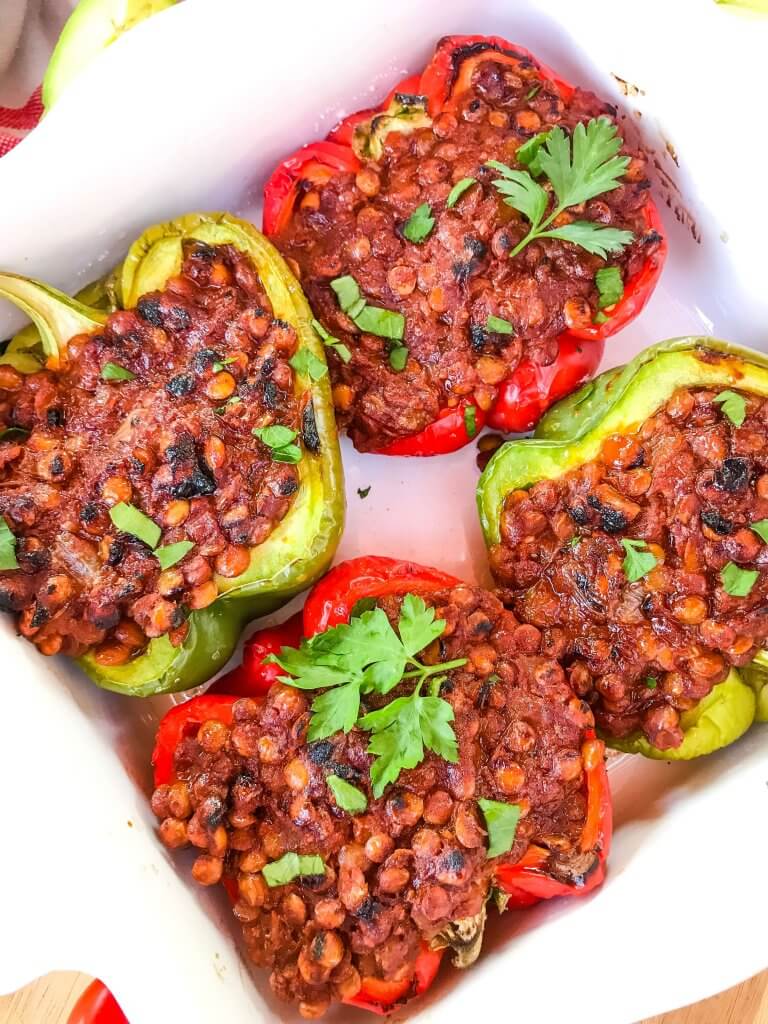 You can easily make the filling for these vegan stuffed peppers in advance. Then stuff and bake when ready to serve for a fast meal. The peppers will not freeze well, but the filling does!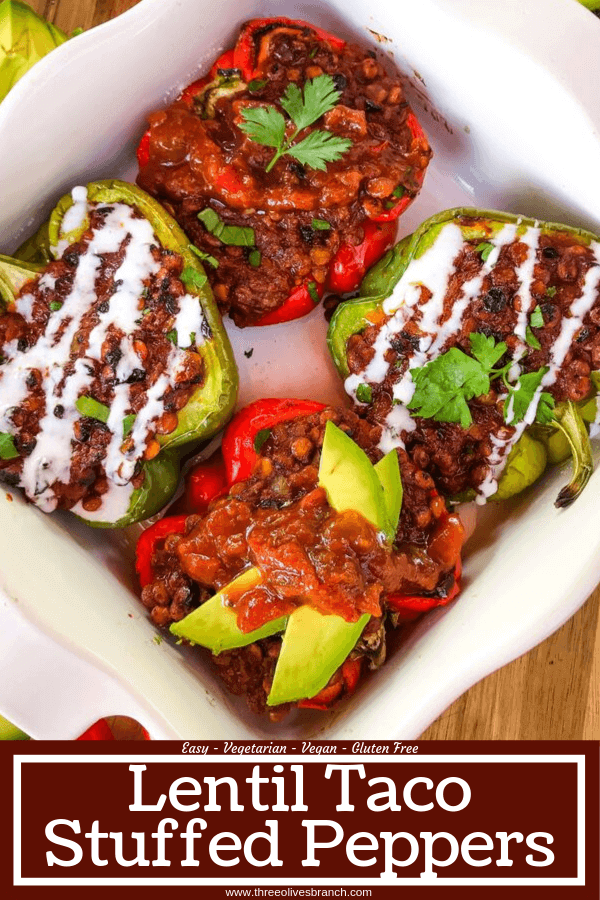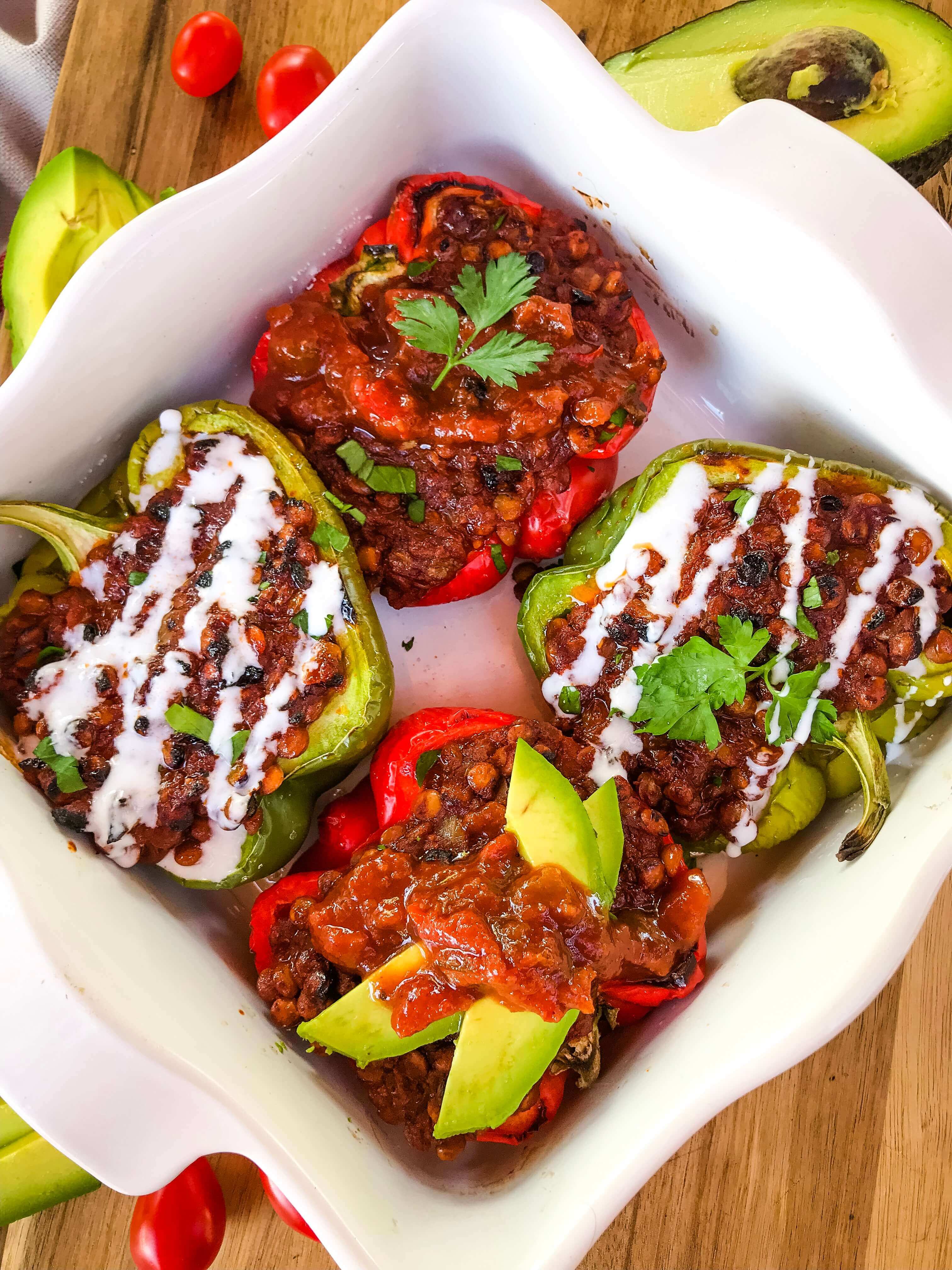 Instructions
Cook your lentils by bringing them to a boil with three cups of water over high heat and 1/4 teaspoon salt. When boiling, reduce to a simmer and cover. Cook until the lentils are tender but not mushy, approximately 20 minutes (cook time will vary on type and how dry they are). Drain and set aside. (If liquid is absorbed but lentils are still firm, add another 1/2 cup of water).

Preheat oven to 350F.

In a large skillet or small pot, heat 1 Tablespoon oil over medium heat. Add the onion and cook until soft, about 5 minutes. Add the garlic, chili powder, cumin, coriander, oregano, and cayenne and cook until fragrant, approximately 30 seconds.

Add the tomato paste and water to the pot. Add the lentils and stir to combine.

Simmer until the flavors are melded and the sauce slightly thickens. Add a little water if needed to loosen. Taste and adjust flavors to preference, including salt.

While the sauce is cooking, prepare the peppers by cutting them in half lengthwise and removing the seeds and ribs. Place them in a baking sheet, cut side up.

Fill each pepper with the lentil mixture. Bake at 350F until the peppers are just starting to soften, approximately 30 minutes.

Serve immediately with your favorite toppings.
Notes
A serving is 1-2 pepper halves depending on the pepper size, hunger level, and if you are serving them with anything else.
You can also use one 15 ounce can of tomato sauce instead of both the tomato paste and water.
Red, yellow, and orange bell peppers are sweeter than green.  Use any colored bell pepper that you prefer.
You can easily make the lentil filling up to two days in advance, then simply assemble and back for a fast dinner.
Nutrition
Calories:

163

kcal

|

Carbohydrates:

28

g

|

Protein:

9

g

|

Fat:

3

g

|

Saturated Fat:

2

g

|

Sodium:

394

mg

|

Potassium:

754

mg

|

Fiber:

11

g

|

Sugar:

8

g

|

Vitamin A:

3659

IU

|

Vitamin C:

113

mg

|

Calcium:

48

mg

|

Iron:

4

mg

By