Walnut Raisin Zucchini Bread is a quick and easy zucchini bread recipe. Cinnamon, raisins, and chopped walnuts flavor this zucchini squash bread. Great for breakfast, brunch, dessert, or a snack. #zucchinibread #zucchinirecipes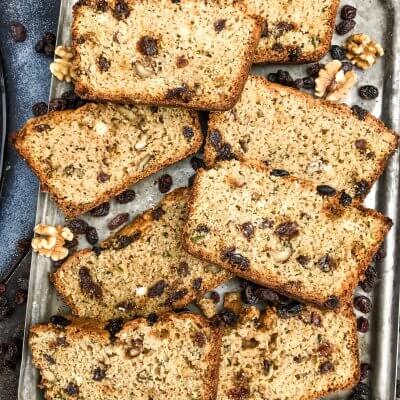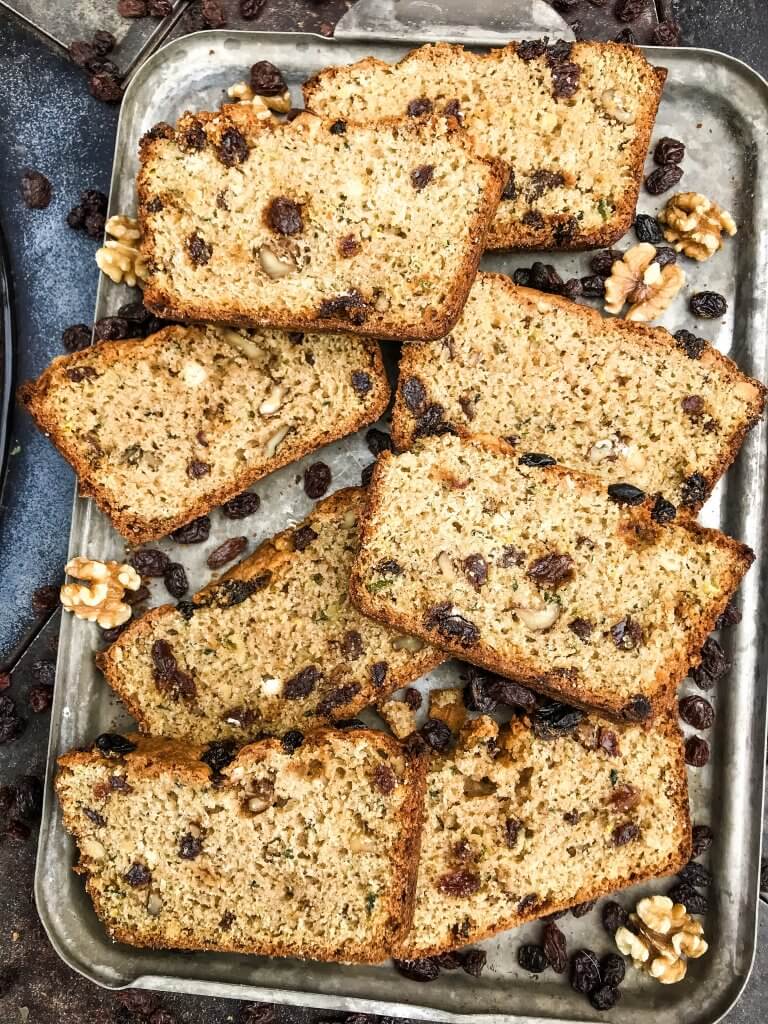 Walnut Raisin Zucchini Bread is a great bread recipe to use up zucchini! A moist zucchini bread is flavored with cinnamon and filled with chopped walnuts and raisins.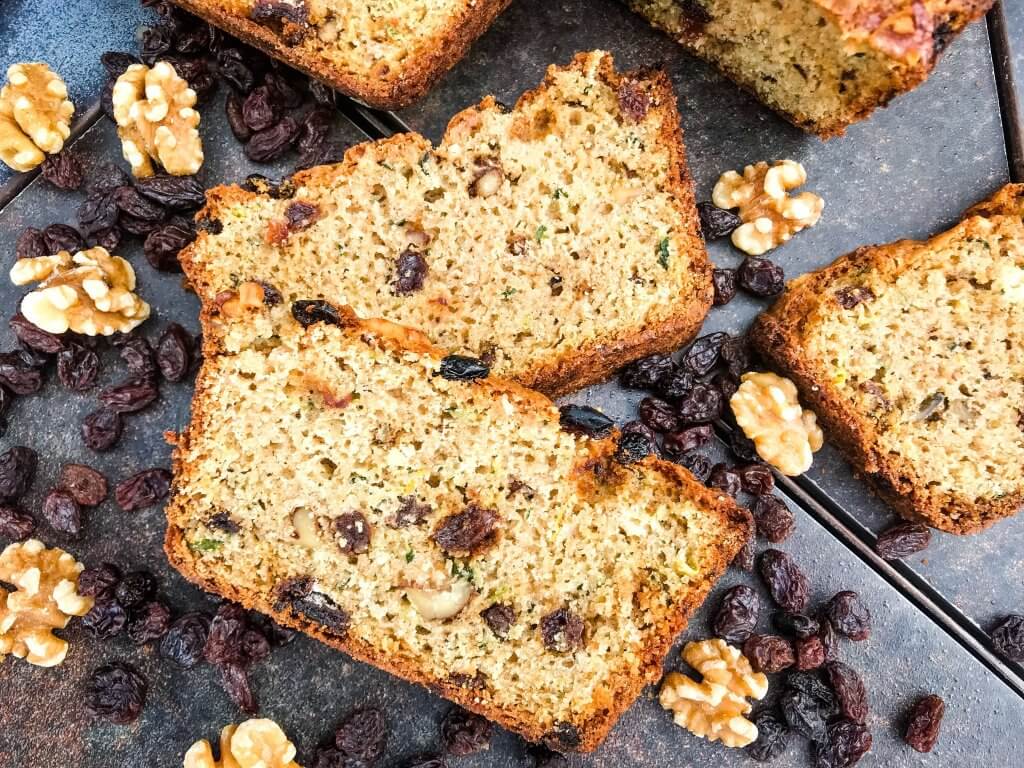 This post contains affiliate links.
This year my zucchini crop in my garden was just completely out of control! I had SO much zucchini and was pulling more out of the garden each week than I could use and give away. And with that wonderful problem comes the need to find new ways to eat zucchini, such as this Walnut Raisin Zucchini Bread. Zucchini bread really does not have much of a vegetable, health-food taste to it, so it is still passable as a regular bread for any picky eaters out there. I love the little flecks of green from the zucchini rind, it makes it look so pretty! Want to hide the "green stuff"? Just peel the zucchini before shredded and it will completely blend in. No green in sight.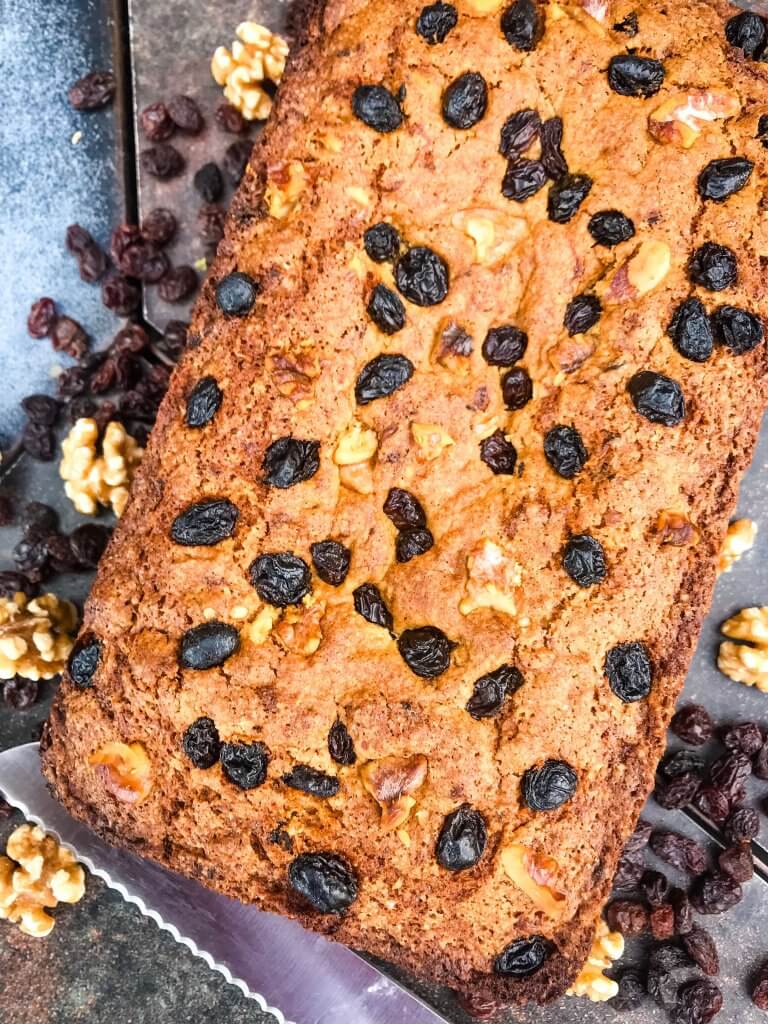 Zucchini bread recipes are great because they are so versatile. Use them for breakfast, a snack, dessert, anything! It is great warm with some butter, fruit spread, or plain. I love making new flavors of zucchini breads. You can find more zucchini recipes here! And more bread recipes here!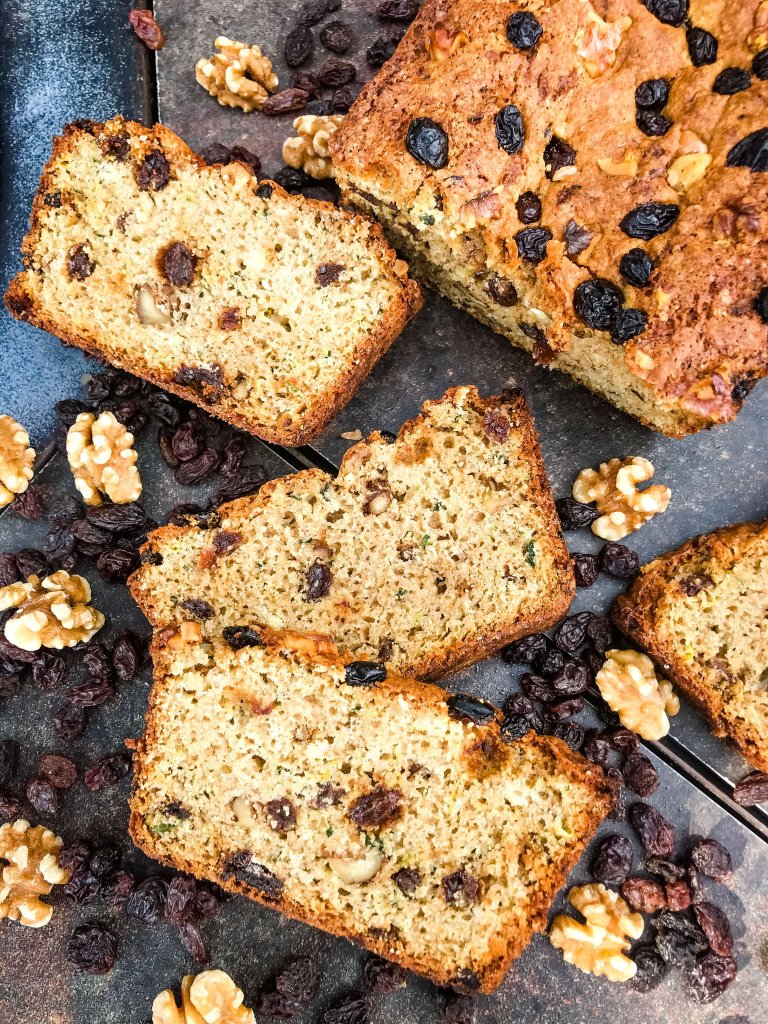 It is very important to get a lot of the moisture out of the zucchini, otherwise it will end up in the bread and the batter will be too thin. I grate the zucchini first and let it sit in a strainer while getting the dry and wet ingredients together, then squeeze and squeeze it to get as much moisture out as possible. Putting the shredded zucchini in a clean towel is the best way to do this. Gather up the towel ends and wring the zucchini "ball." It does not have to be completely dry, just get the moisture you can out until it does not seem overly wet!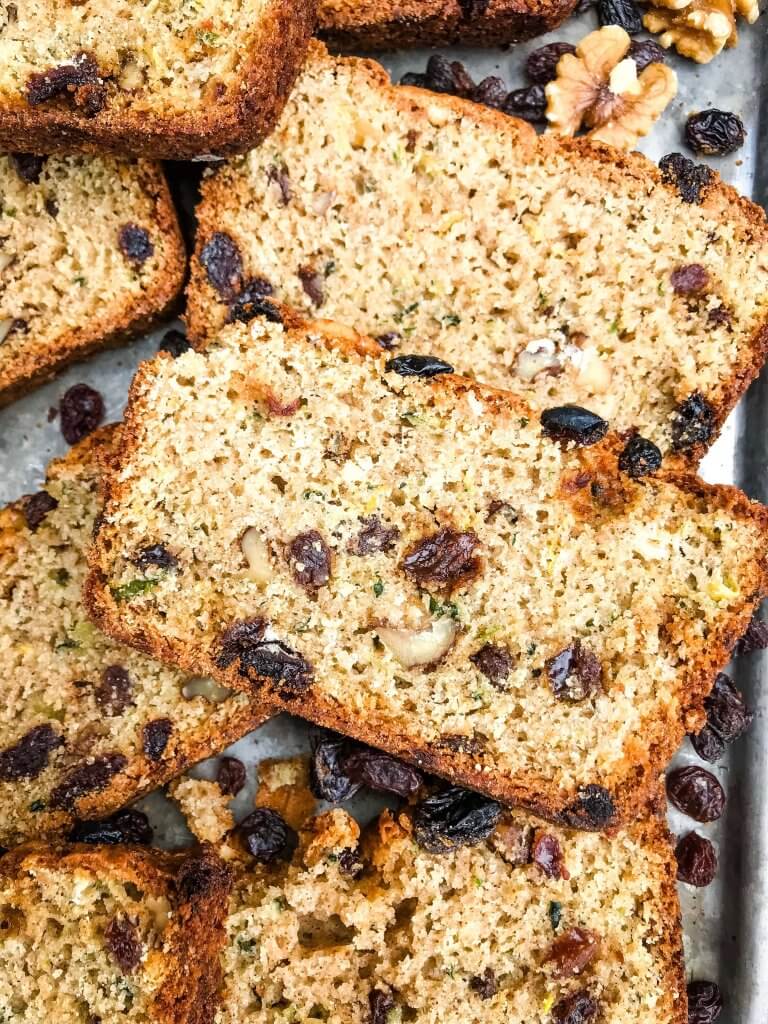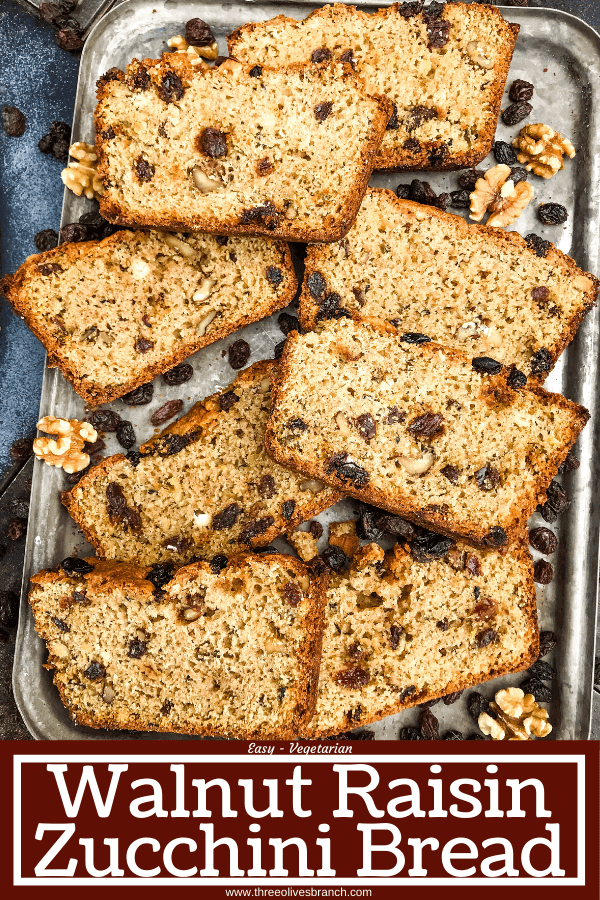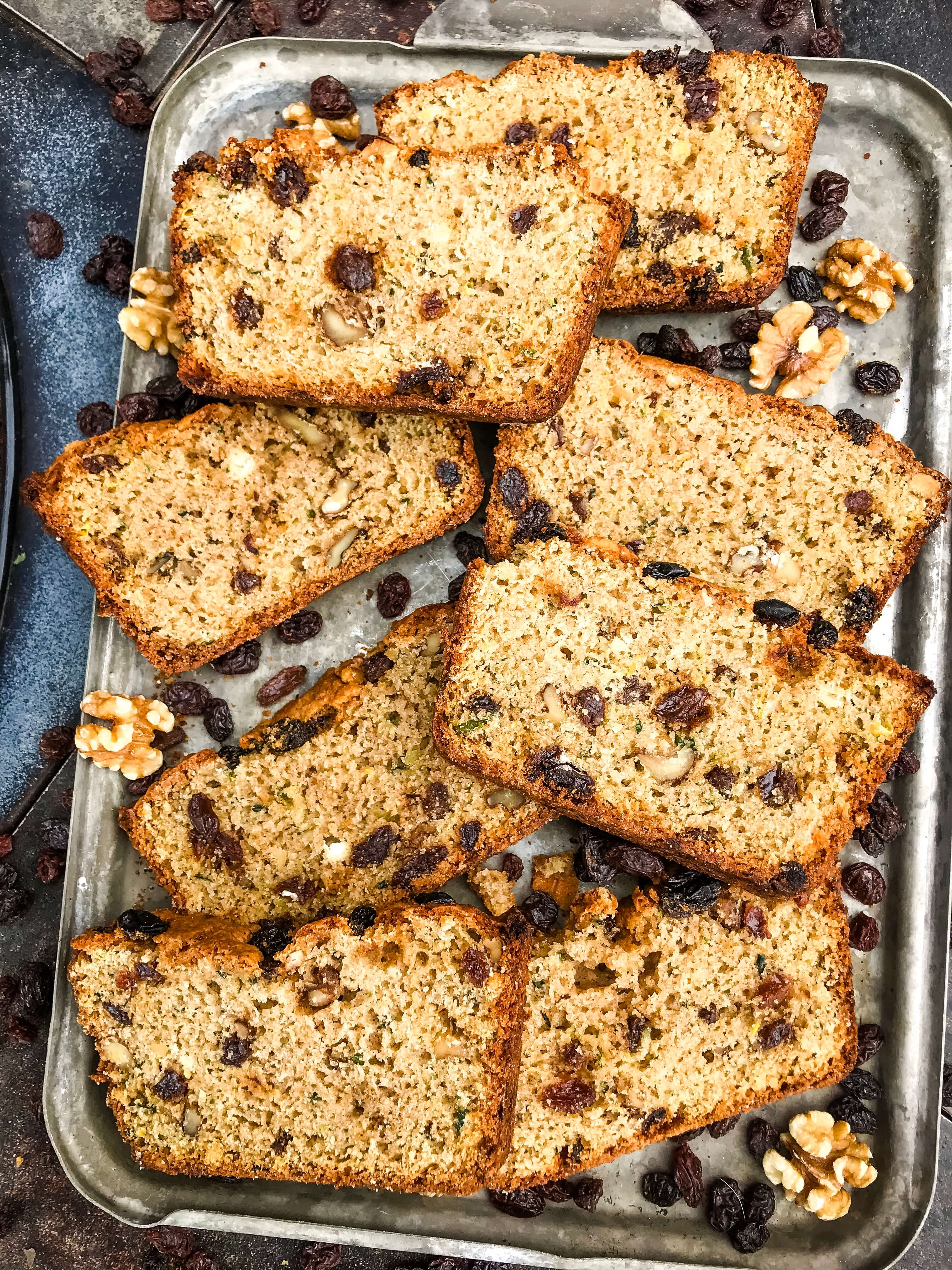 Instructions
Preheat oven to 375F with the rack in the middle position.

Remove the stems from the zucchini and shred on a large hole grater. Let the zucchini strain in a sieve or place between clean towels and squeeze extra moisture out of the zucchini.

In a large bowl, whisk together the flour, baking soda, baking powder, cinnamon, salt, raisins, and chopped walnuts.

In a medium bowl, whisk together the sugar, melted butter, eggs, yogurt, and lemon juice.

Add the egg mixture and zucchini to the flour mixture. Fold until the ingredients are just combined. You will have a very thick batter.

Spray a bread loaf baking pan generously with nonstick spray. Scoop the batter into the pan and level out the top. If desired, add a few more raisins and chopped walnuts to the top.

Bake for approximately 50-60 minutes until a toothpick inserted in the center is clean of dough and has just a few crumbs.

When done, remove the bread from the oven and let cool in the pan for 10 minutes. Remove the bread from the pan and finish cooling on a rack for one hour.
Notes
It is very important to remove the moisture from the zucchini, otherwise it will end up in your bread.
Nutrition
Calories:

378

kcal

|

Carbohydrates:

64

g

|

Protein:

6

g

|

Fat:

12

g

|

Saturated Fat:

5

g

|

Cholesterol:

61

mg

|

Sodium:

314

mg

|

Potassium:

356

mg

|

Fiber:

3

g

|

Sugar:

32

g

|

Vitamin A:

368

IU

|

Vitamin C:

9

mg

|

Calcium:

57

mg

|

Iron:

2

mg

By