A simple homemade Apricot Jam Recipe with no pectin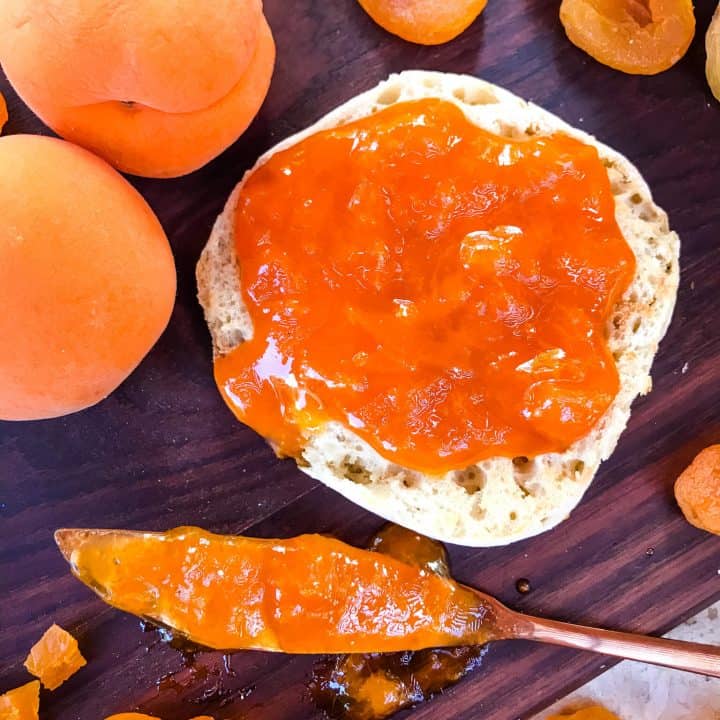 This simple Apricot Jam Recipe is a delicious homemade condiment highlighting the amazing fresh fruit. Just three ingredients, no pectin, and ready in 30 minutes!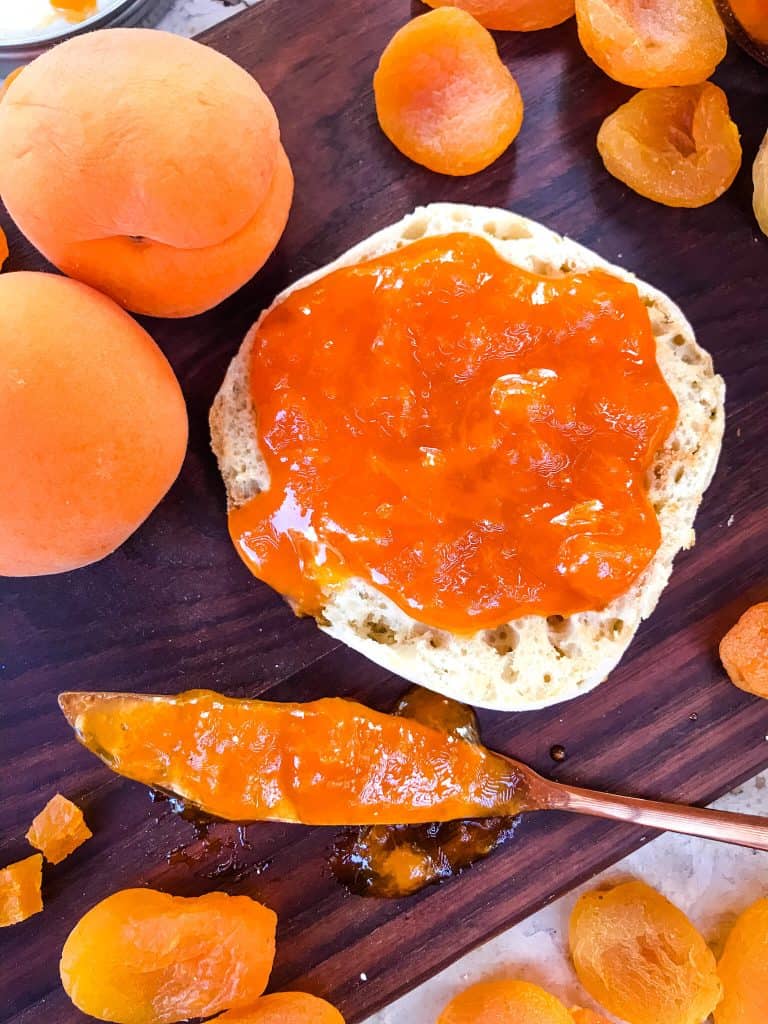 This post contains affiliate links.
Apricot recipes are a tribute to my grandparents. I remember they always had a bowl of fresh apricots in the kitchen, and dried apricots to snack on.
I did not appreciate apricots back then, but now I love them.
Whenever I am at the grocery store and find the large piles of apricots, I take a big inhale and the distinct smell takes me right back to dancing in my grandma's high heels in the kitchen with my sisters.
I am sure they would have loved all of these apricot recipes!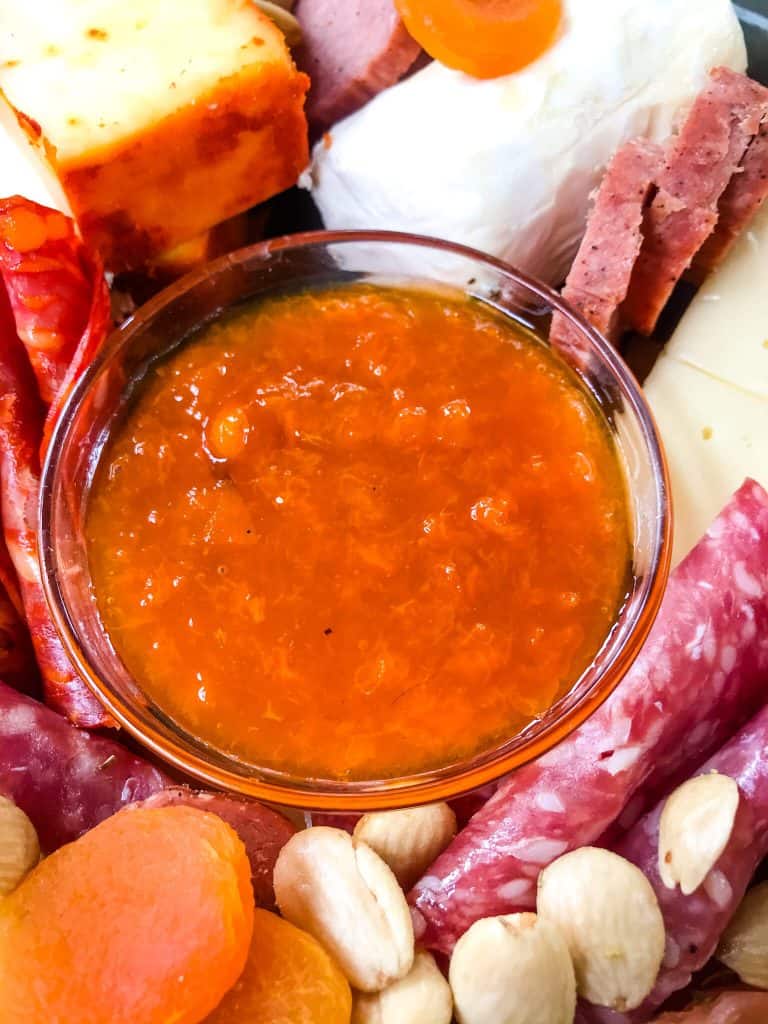 What is the difference between jam and jelly?
The terms jam and jelly are often interchanged, and oftentimes both can be used in the same ways such as for breakfasts.
But technically, there is a difference!
Jelly is traditionally made from the juice of the fruit.
Jam is traditionally made from the flesh of the fruit, or the whole fruit.
This means that it is common for jam to be a thicker consistency and to include seeds.
Jelly has much more of a gelatin texture from what is needed to make it set, and a much smoother and consistent texture.
I, personally, am on the jam train. I LOVE little bits of fruit and the texture that jam brings.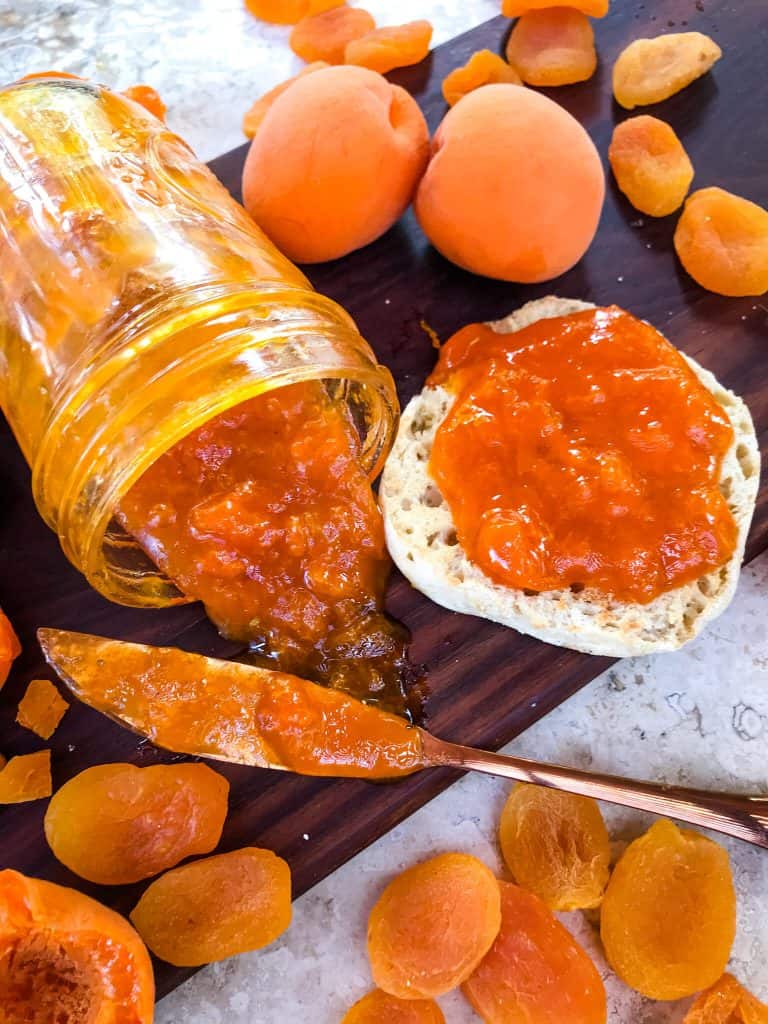 When you make this homemade Apricot Jam Recipe, you can make it as thin or thick as you like.
The instructions are for a typical jam consistency. I love mine a little further on the thick side, which also gives a little more texture.
You can also choose to make a thinner jam that runs a little, which will also give you a greater yield.
The thicker the jam, the more it reduces and the less you will have.
The variation in how much jam you get is somewhat slight, so I suggest cooking more toward your preference with less concern about volume unless you really need a certain quantity.
Also, the volume will vary some naturally from the exact fruits you are using.
This will make approximately 2 cups of jam, or enough for one pint sized mason jar or two 8 ounce mason jars, which are a cute jam size!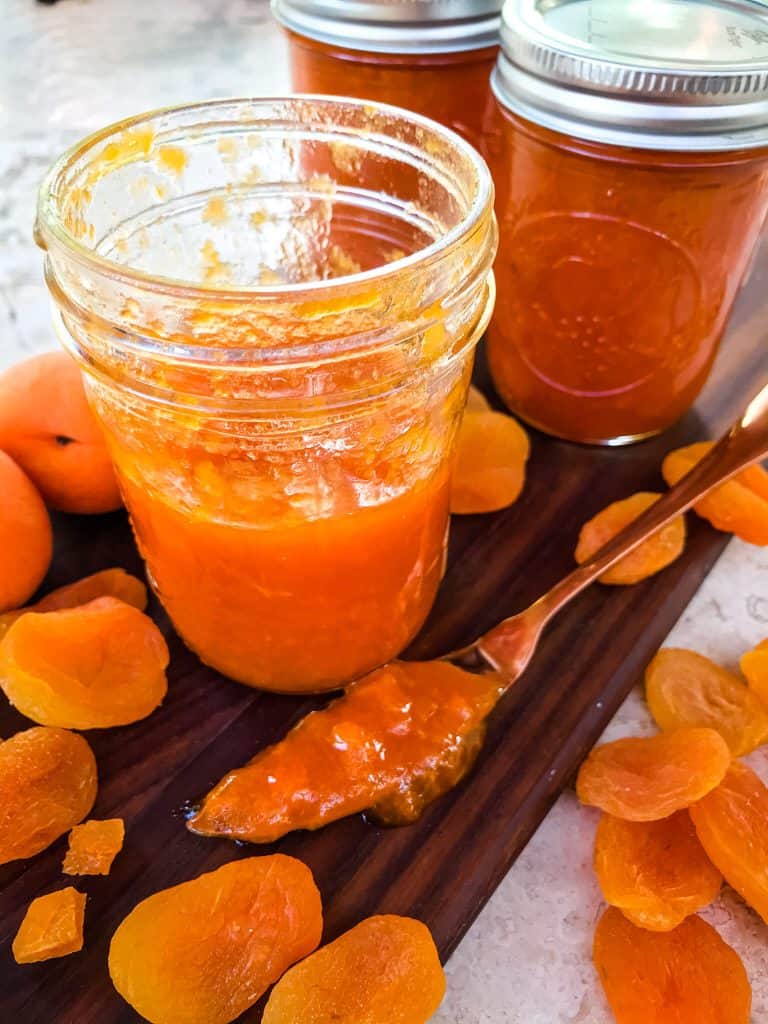 One of my favorite uses for this Apricot Jam Recipe is with charcuterie boards!
Apricots are an amazing pairing for cheeses and meats, and I always serve up dried apricots.
Our newest obsession is serving fresh jam as well!
Any of our homemade jam recipes will work well, but this is one of my favorites!
Pile some on with a soft cheese like burrata or a salty cheese like Parmesan on a cracker – yum!!!
Homemade Jam
Make your own homemade jams! They are easy and use just a few ingredients, with no pectin.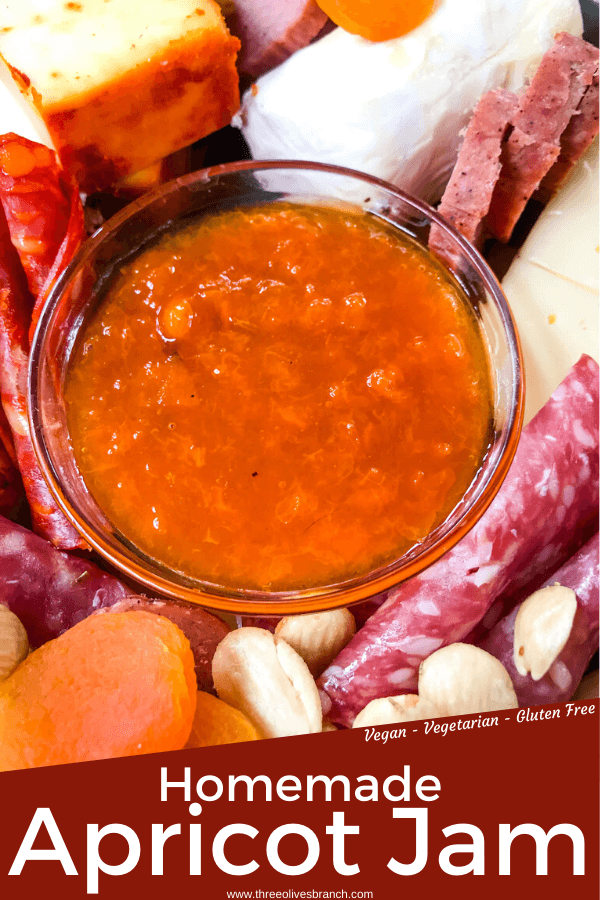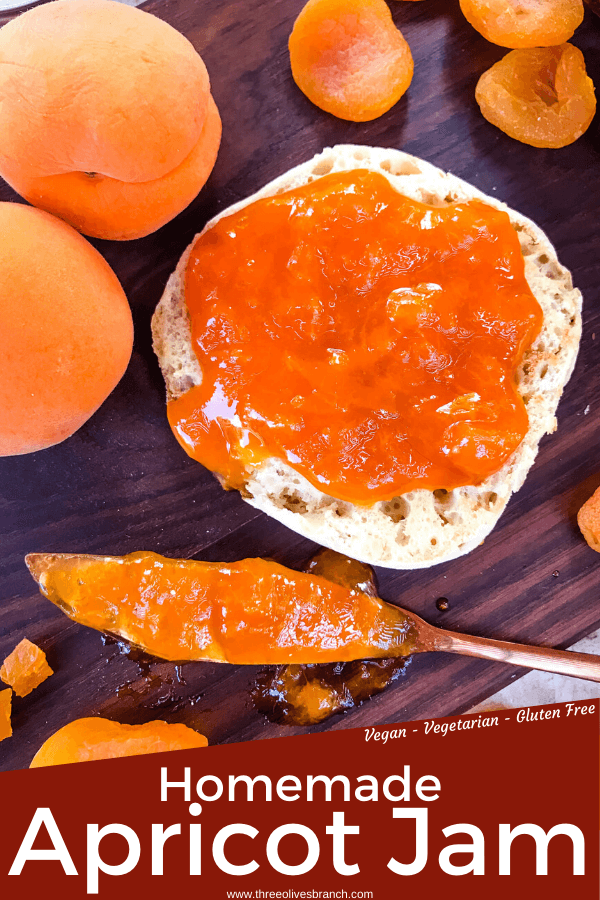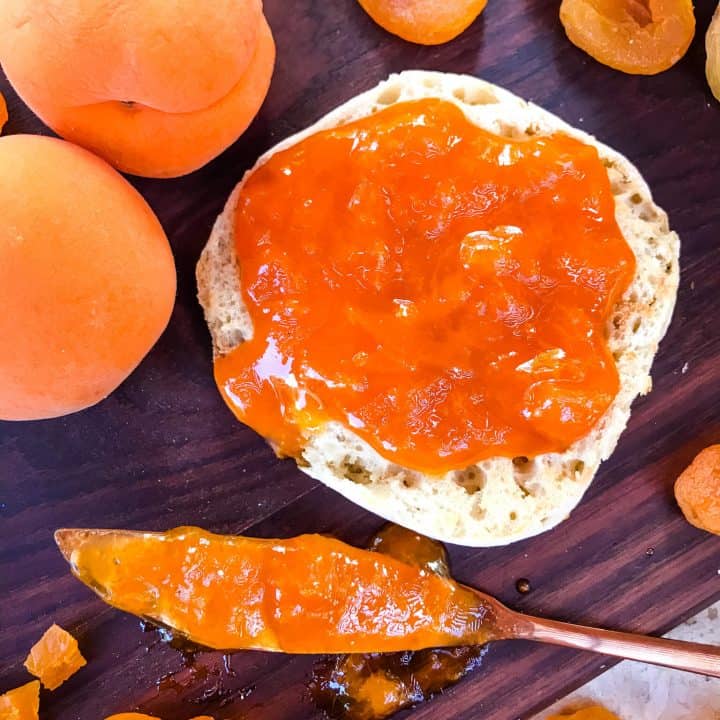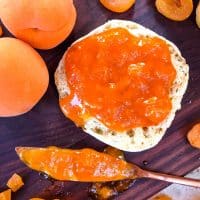 Apricot Jam Recipe
A simple homemade Apricot Jam Recipe with no pectin
Print
Pin
Rate
Instructions
Cut the apricots in half and and remove the pits. Chop them into large chunks. Place the apricots, sugar, and lemon juice in a medium saucepan.

Bring the apricots to a boil over medium high heat. Reduce heat to medium and simmer to thicken, approximately 15 minutes.

Use a potato masher or fork to mash the fruit as much or little as desired.

The jam is done when it is thick and more of a clump when put on a cold spoon or cold plate and tilted. If it runs like honey, it is not thick enough yet and you need to heat it longer. You want the jam to move slowly when tilted.

Store in a jar in the refrigerator for up to three weeks. Or freeze.
Notes
Follow proper canning procedures to store at room temperature. You can also freeze this jam.
The volume you get will vary with how long you cook it (how thick it is) and how much you mash it.
This will roughly fill one pint sized mason jar, which is perfect for storing in the refrigerator.
Nutrition
Serving:

1

cup

|

Calories:

370

kcal

|

Carbohydrates:

93

g

|

Protein:

3

g

|

Fat:

1

g

|

Saturated Fat:

1

g

|

Sodium:

3

mg

|

Potassium:

587

mg

|

Fiber:

5

g

|

Sugar:

88

g

|

Vitamin A:

4368

IU

|

Vitamin C:

28

mg

|

Calcium:

29

mg

|

Iron:

1

mg

By