A fast and easy homemade jam made with strawberries. No canning, no pectin.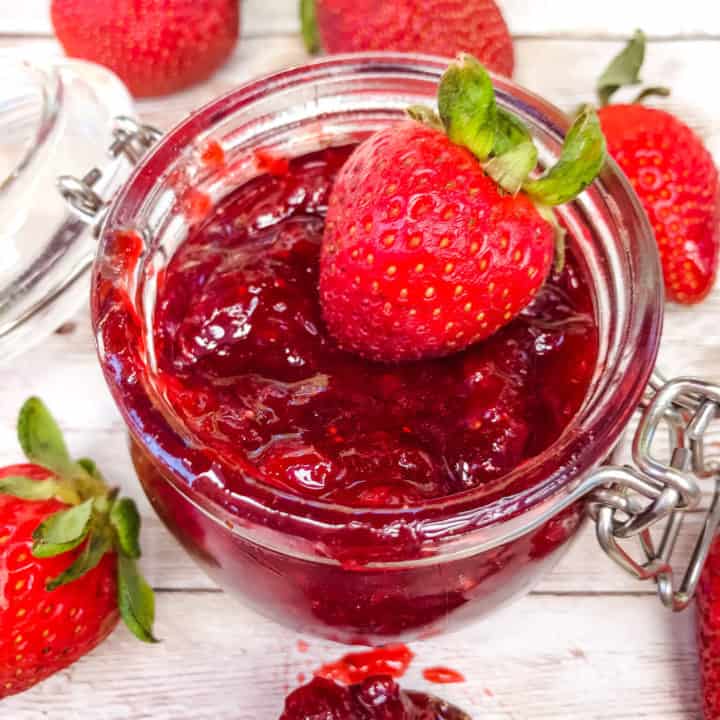 Learn How to Make Homemade Strawberry Jam using just three ingredients, no pectin, and no canning!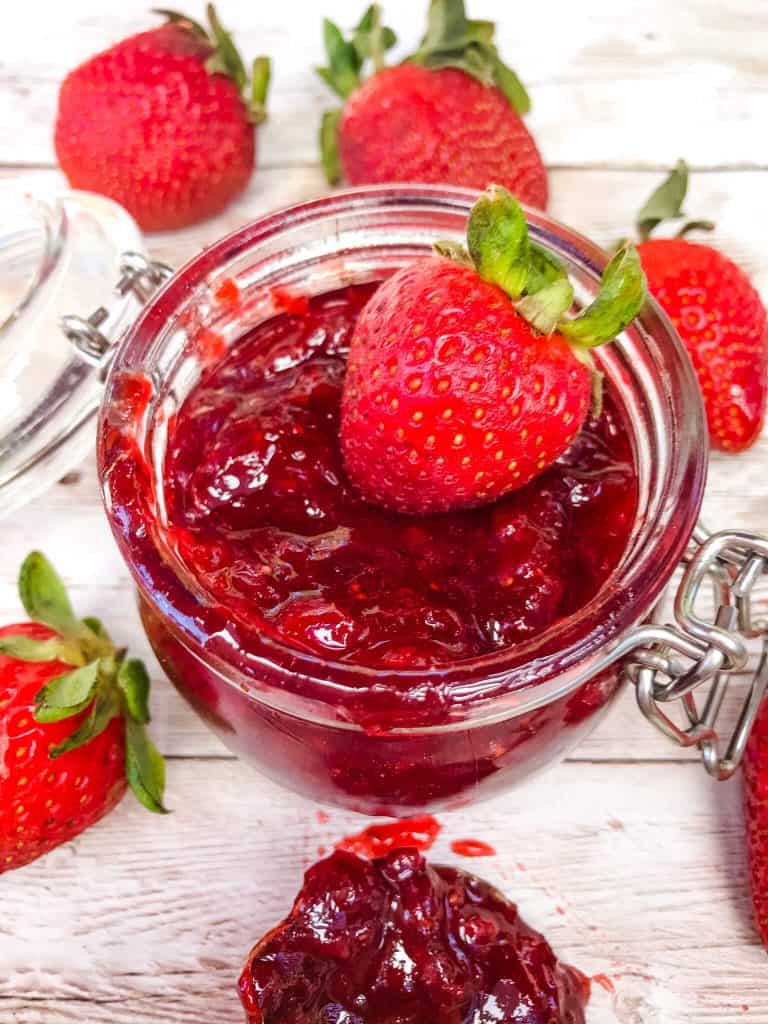 This post contains affiliate links.
I had never made my own jam because it just seemed so incredibly intimidating. I would hear of people using pectin and then there is the whole canning process, and it just did not seem worth it. But lately I found myself with a large stockpile of strawberries that I needed to do something with. So I figured, sure, I will try jam. And this is how my new obsession began. Homemade jam is now one of my favorite things to make, especially since it is fruit season.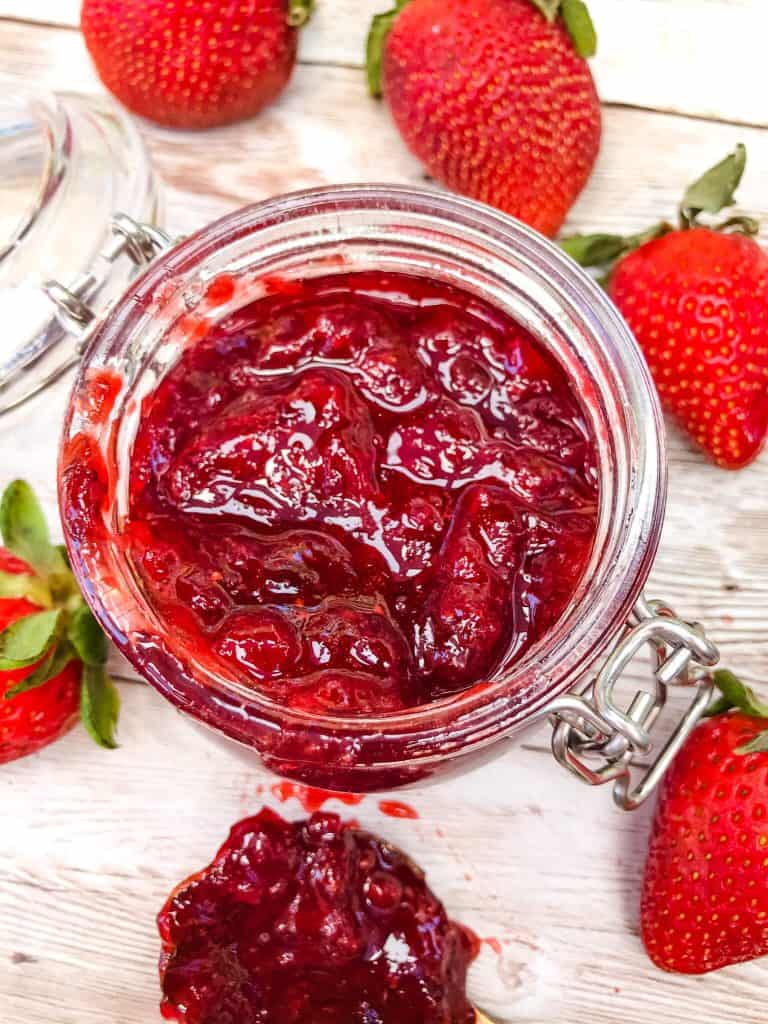 So now I am hooked. The first time I tried to learn How to Make Homemade Strawberry Jam was easy and after it had cooled, I was in love. It was amazing. And because it is such an easy homemade jam, I can whip up a new batch anytime in just minutes with minimal effort. I have made jam with both fresh and frozen berries, and both work beautifully although I have a slight preference toward the fresh when possible.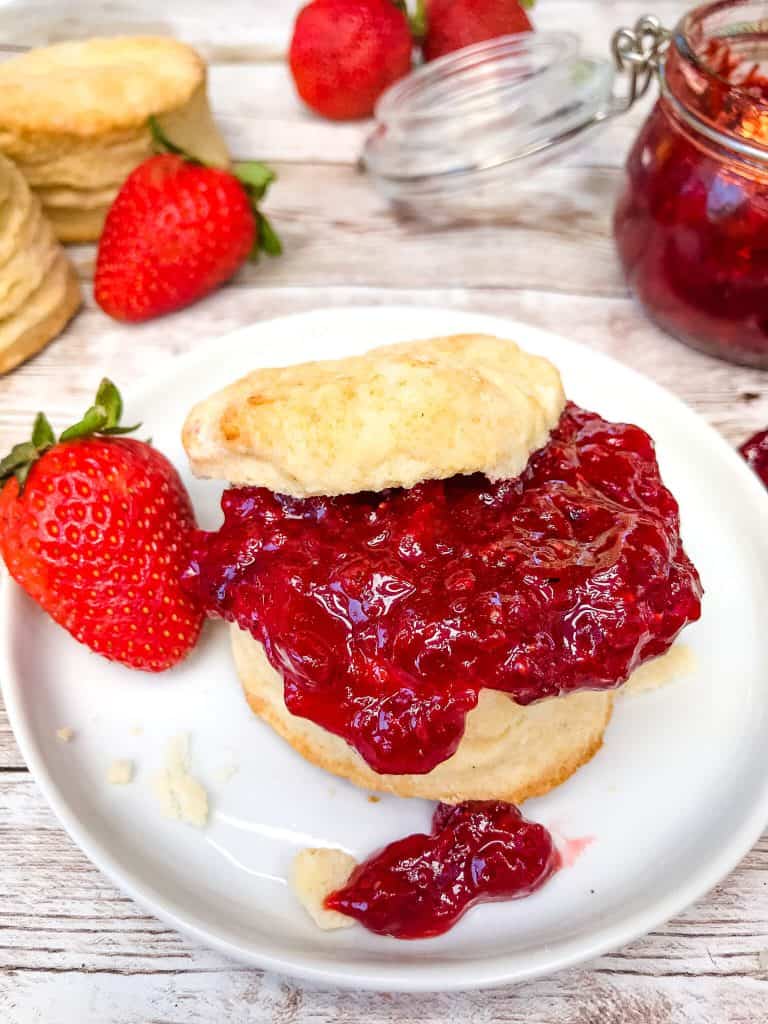 I personally like to make the refrigerator jam just a touch on the thicker side which I think makes it easier to eat and also concentrates the flavor down just a little. It reduces my batch size a little, but it is worth it. So make the homemade strawberry jam as thin or thick as you would like! The typical "thickness" will result in around 2 cups which is perfect to fill up a 16 ounce mason jar. The same goes for how chunky or smooth you want the homemade jam. For extra smooth or no-seed jam, press it through a fine mesh strainer. For a chunky jam with lots of berry pieces, go light on the mashing until it is where you want it.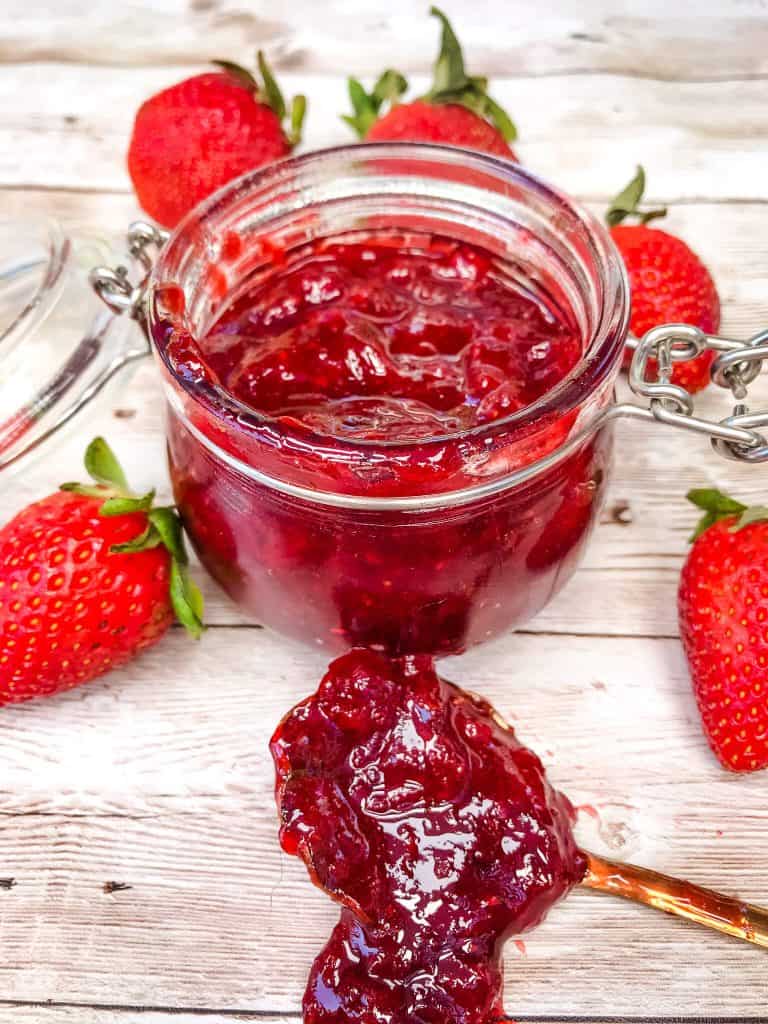 Homemade Jam
Make your own homemade jams! They are easy and use just a few ingredients, with no pectin.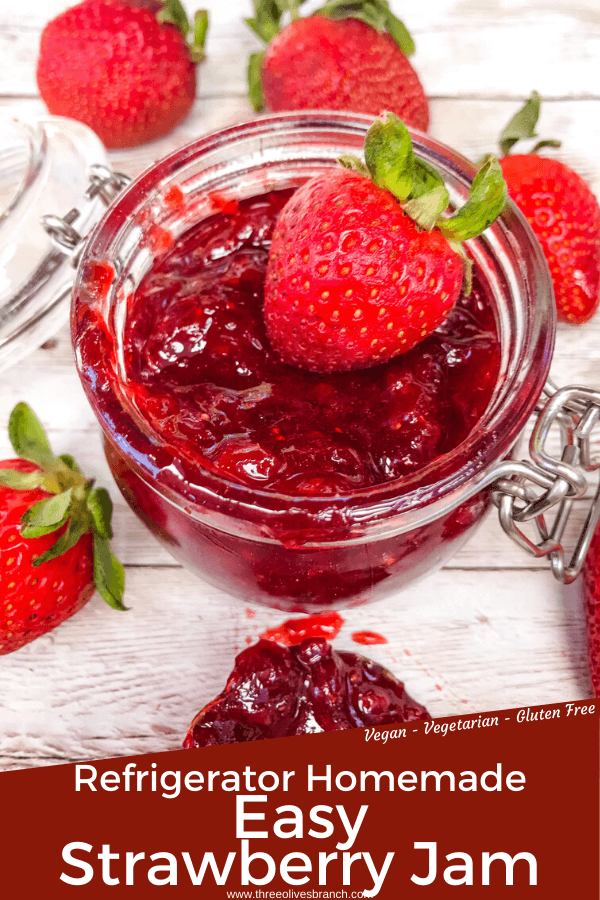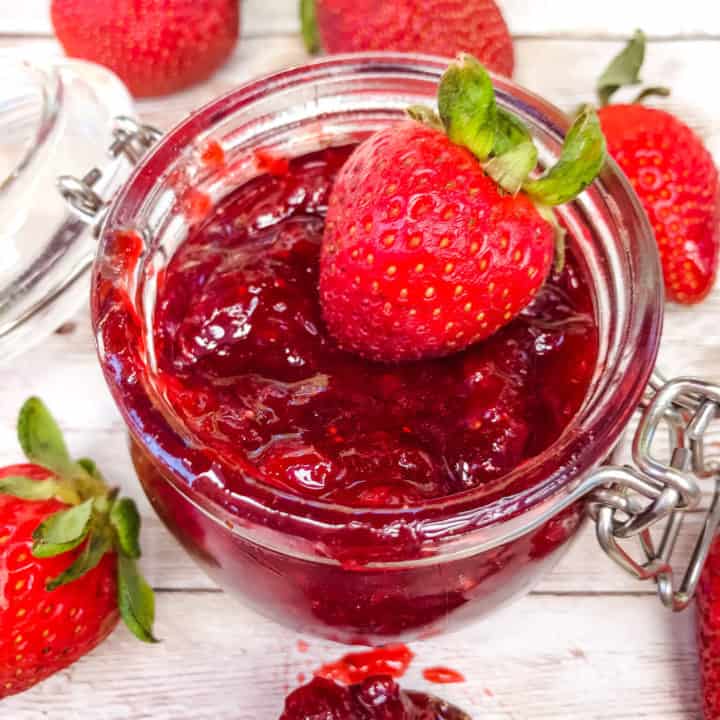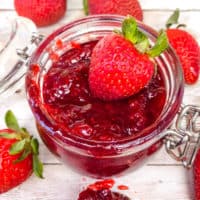 Refrigerator Homemade Easy Strawberry Jam
A fast and easy homemade jam made with strawberries. No canning, no pectin.
Print
Pin
Rate
Instructions
Trim the strawberry tops off and roughly chop.

Place the strawberries, sugar, and lemon juice in a medium saucepan.

Bring the strawberries to a boil over medium high heat. Reduce heat to medium and simmer to thicken, approximately 15 minutes.

Use a potato masher or fork to mash the berries as much or little as desired.

The jam is done when it is thick and more of a clump when put on a cold spoon or cold plate and tilted. If it runs like honey, it is not thick enough yet and you need to heat it longer.

Store in a jar in the refrigerator for up to three weeks.
Notes
As this jam is not canned or heat treated, it cannot be stored in the pantry.
The volume you get will vary with how long you cook it (how thick it is) and how much you mash it.
This will roughly fill one pint sized mason jar, which is perfect for storing in the refrigerator.
Nutrition
Serving:

1

cup

|

Calories:

501

kcal

|

Carbohydrates:

128

g

|

Protein:

2

g

|

Fat:

1

g

|

Saturated Fat:

1

g

|

Polyunsaturated Fat:

1

g

|

Monounsaturated Fat:

1

g

|

Sodium:

5

mg

|

Potassium:

546

mg

|

Fiber:

7

g

|

Sugar:

117

g

|

Vitamin A:

42

IU

|

Vitamin C:

209

mg

|

Calcium:

57

mg

|

Iron:

1

mg

By