These easy homemade Banana Peanut Butter Dog Treats and packed with whole ingredients. Gluten free, your dog will love them!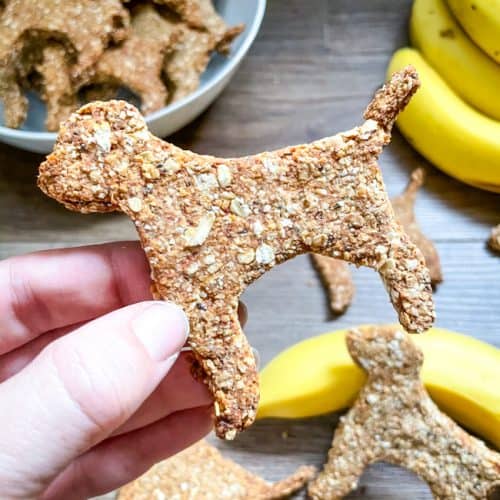 These Banana Peanut Butter Dog Treats are easy to make and a great treat for your fur baby!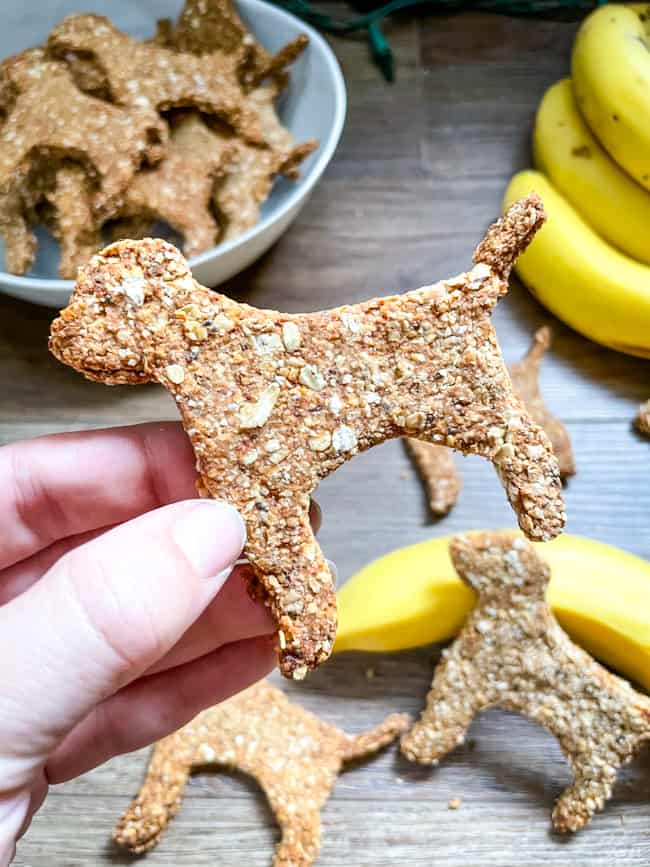 My puppy is rather spoiled and just LOVES homemade dog treats. (Cranberry Oat Dog Treats are his favorite only second to gingerbread treats).
And if you add peanut butter to the mix, he is all over it!
Please make sure that you talk to your veterinarian about homemade food or any dietary concerns that you have with your pet.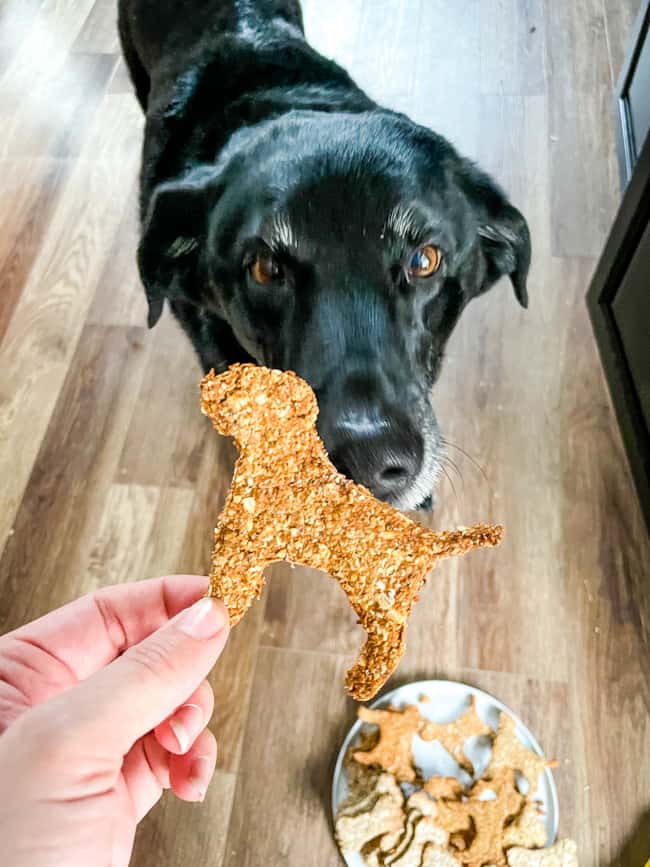 When I made these Peanut Butter Banana Dog Treats, I had them up on the kitchen table awaiting pictures.
And my puppy was RIGHT there with me the whole time, nose up, trying to get those treats!
So I had a very cute, fluffy, and close helper that was ready to do some quality control.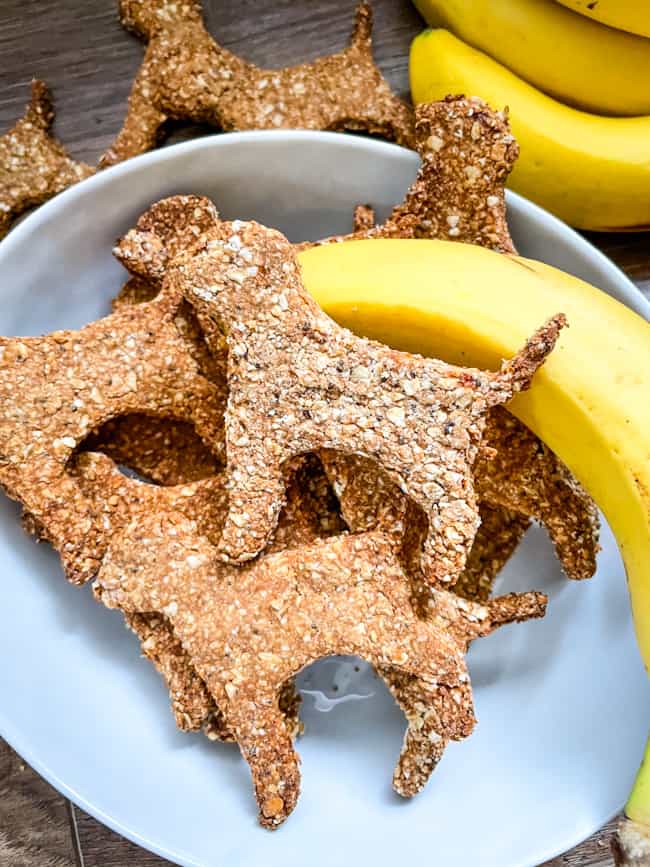 These gluten free dog treats are simple and easy to make.
Plus they are also vegan dog treats! I do love to use honey to add a touch of sweetness, but they can be kept vegan by using water, or more peanut butter, as needed for the dough to stick together.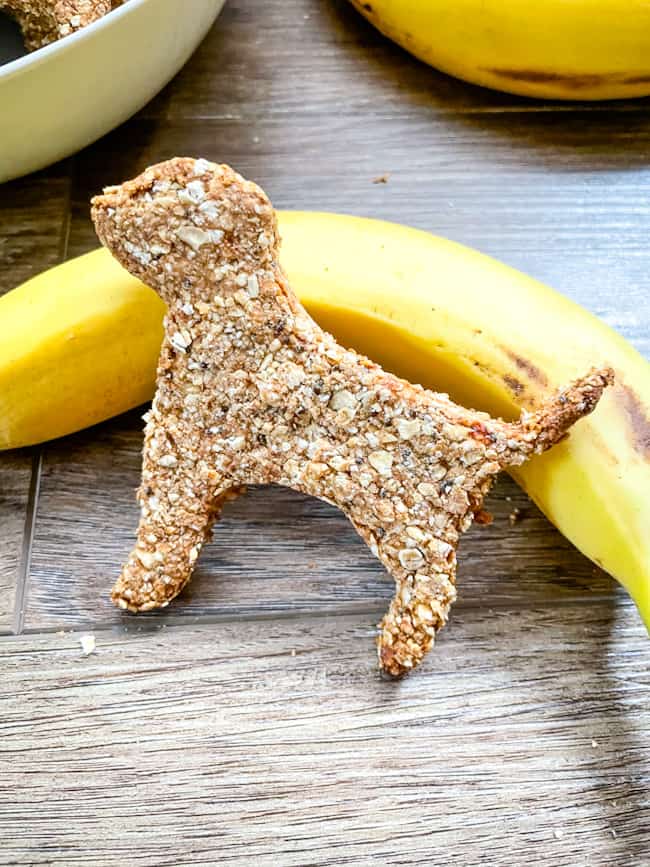 Using Oats for Dog Treats
These banana dog treats are gluten free, using only oats as their base.
I simply grind up some oats using a food processor until it is like a thicker flour.
You could also try doing this in any blender.
Want to leave the oats whole? You can! But you will need more oats or less banana/peanut butter to get a non-sticky consistency.
Adding whole wheat flour is another option, but then they will not be gluten free.
Any type of oat should be fine. I like to use the classic, old fashioned rolled oats.
Your end goal is to get the mixture to stick together, not too crumbly so it does not fall apart when rolling out, but not wet and sticky. Just adjust each ingredient as you need to.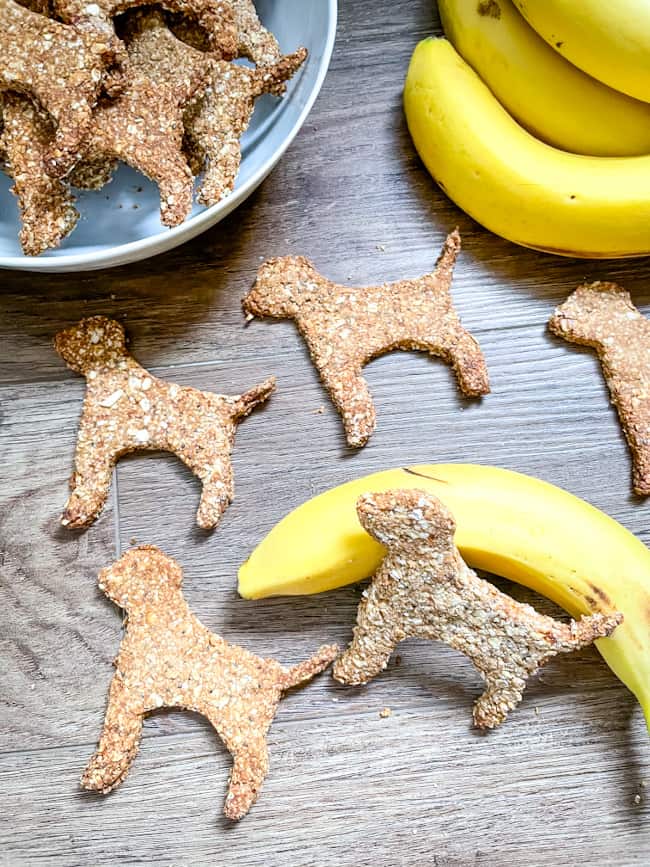 Hard Treats or Soft Treats
I make most of my homemade dog treats as hard treats.
When they are hard and dried out, they do not mold nearly as fast because there is no moisture.
The hard treats also are good for their teeth as they somewhat clean them as they chew.
I make them hard by leaving them in the warm oven for a couple hours to dry them out completely.
They can then be stored in a cookie jar or at room temperature for several weeks.
Softer treats should be stored in the refrigerator after a couple days (since they do not have preservatives) and no need to leave them in the oven.
Whatever your puppy likes, or if you want to change them up, they taste amazing regardless!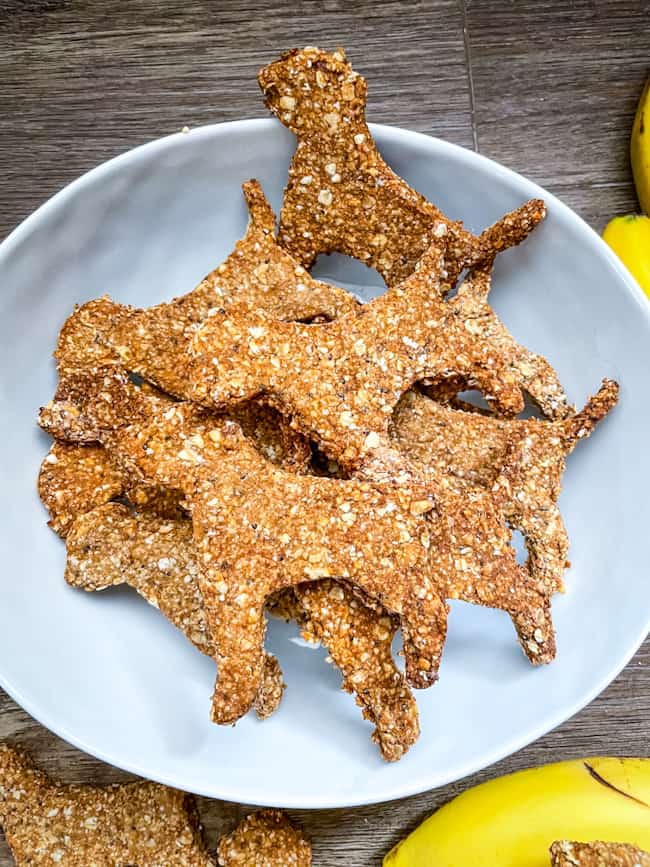 Your dog is sure to think these are the best dog treats!
Make more flavors of dog treats below and your puppy will love the variety!
Dog Treats
Homemade baked dog treats to spoil your puppy!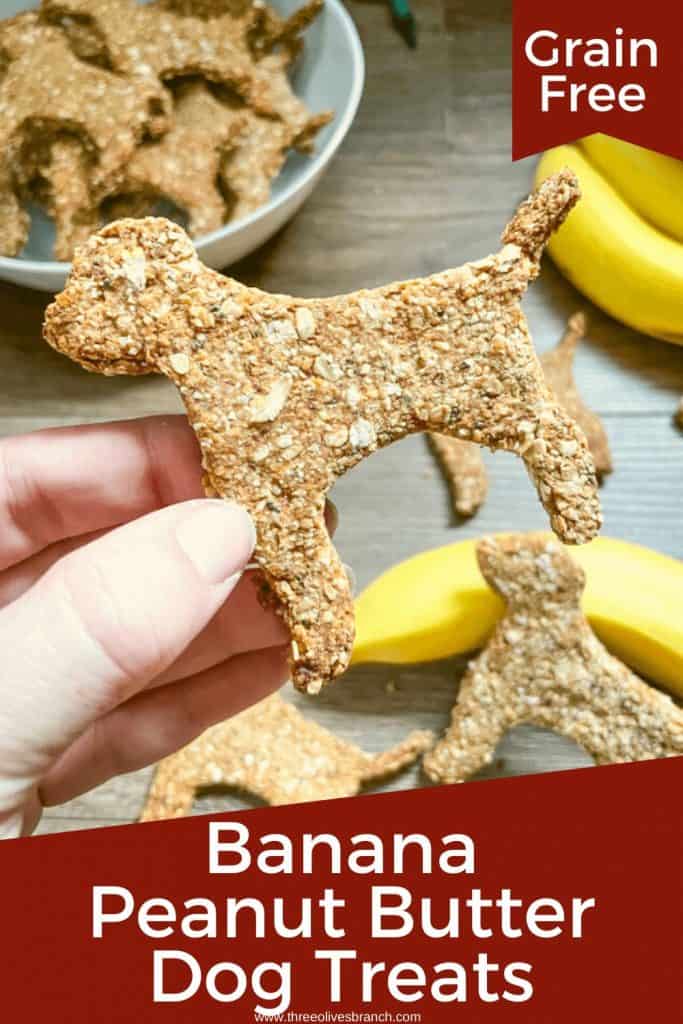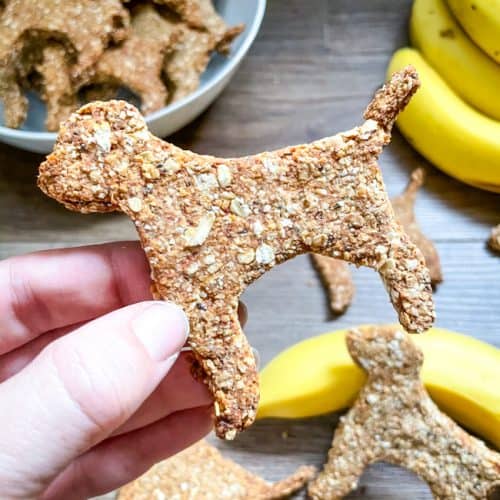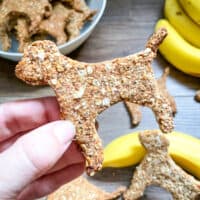 Banana Peanut Butter Dog Treats
These easy homemade Banana Peanut Butter Dog Treats and packed with whole ingredients. Gluten free, your dog will love them!
Print
Pin
Rate
Instructions
Mash the bananas in a large mixing bowl.

Place 2 cups of the oats in a food processor and grind until it has a flour-like consistency. Place the ground oats in the large mixing bowl.

To the mixing bowl, add the remaining 1 cup of whole oats, peanut butter, cinnamon, flax seed if using, and honey or water. Mix to combine. Add additional oats if the mixture is too wet, and banana, peanut butter, honey or water if it is too dry. You want the dough to hold together but not be sticky or wet.

Preheat oven to 350F. Lightly dust the surface with flour or additional ground oats. Roll out the dough to approximately 1/4" thick.

Using your desired cookie cutter, cut out the treat shapes and place them on a silicone baking mat or parchment paper lined baking sheet.

Bake treats at 350F for 15 minutes. Turn off the oven, leaving the cookies inside, and let them sit for two hours. This will make the cookies crunchier. For soft cookies, remove them after the 15 minutes to cool at room temperature.

Store soft treats in an airtight container, kept in the refrigerator, for up to 2 weeks. Hard treats can be kept at room temperature up to 3 weeks.
Notes
The number of treats will vary with the thickness of the dough and size of the cookie cutter. This makes 26 treats that are 2″ circles.
Ground flax seeds are completely optional but a great healthy ingredient to add as they provide fiber and are anti-inflammatory. Talk to your vet for more information. Chia seeds are another great addition.
Any type of oats that you have should work well.
Talk to your vet about cooking for your dog and any dietary concerns.
Nutrition
Serving:

1

treat

|

Calories:

80

kcal

|

Carbohydrates:

11

g

|

Protein:

3

g

|

Fat:

3

g

|

Saturated Fat:

1

g

|

Sodium:

24

mg

|

Potassium:

102

mg

|

Fiber:

2

g

|

Sugar:

3

g

|

Vitamin A:

6

IU

|

Vitamin C:

1

mg

|

Calcium:

10

mg

|

Iron:

1

mg

By