An easy homemade dog treats highlighting cranberries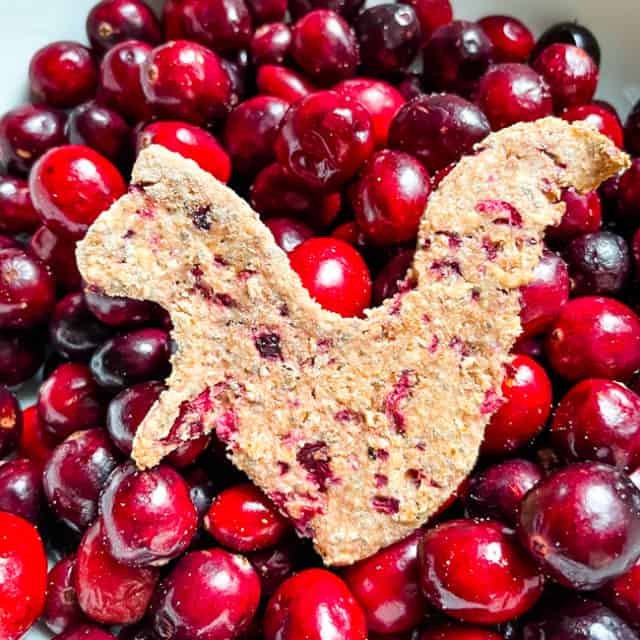 This Cranberry Dog Treats recipe is easy to make and your puppy is sure to love them!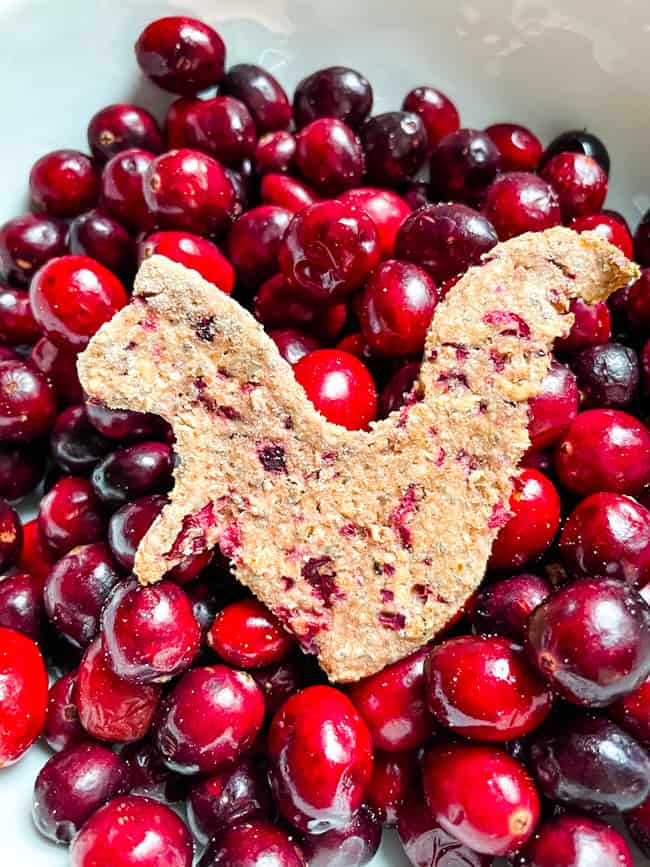 I love to make homemade dog treats for my puppy.  
They are very similar to making cookies and a great way to spoil your fur-baby!  
One of his favorite versions are these Cranberry Dog Treats with honey and oats.
Here is our baby, isn't he cute?!?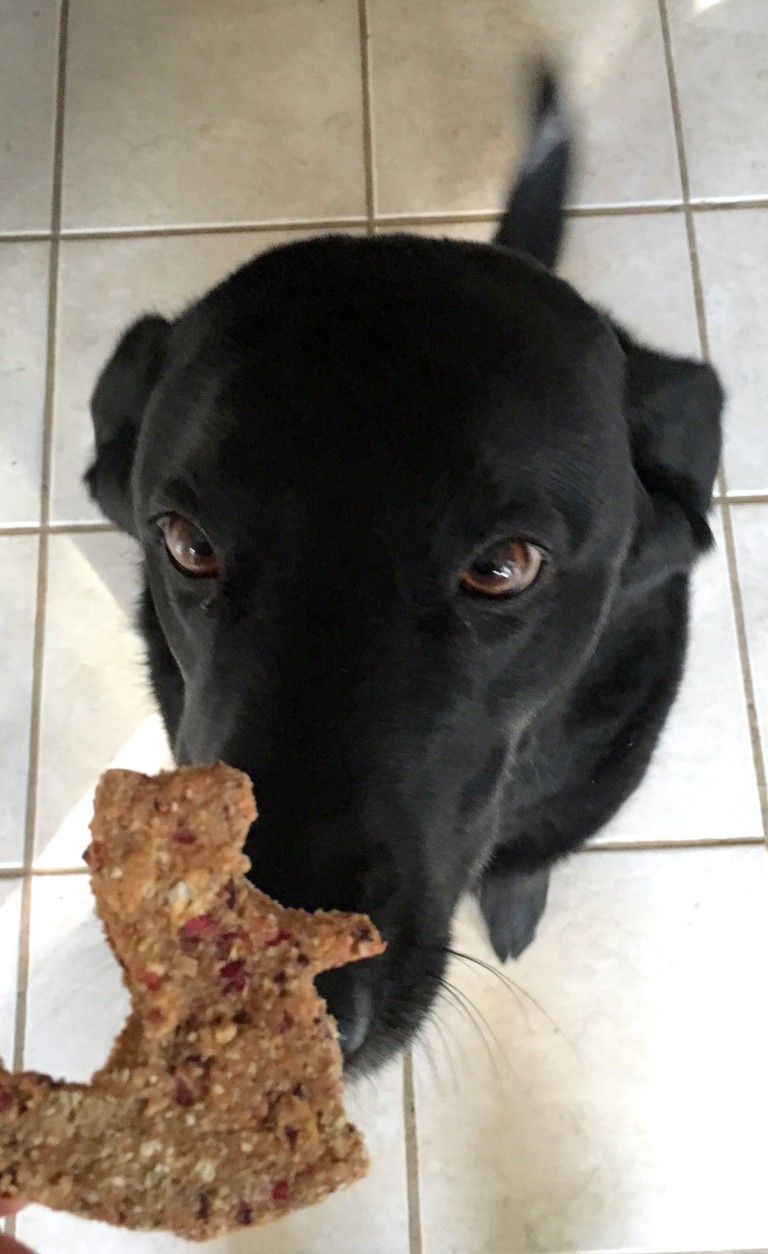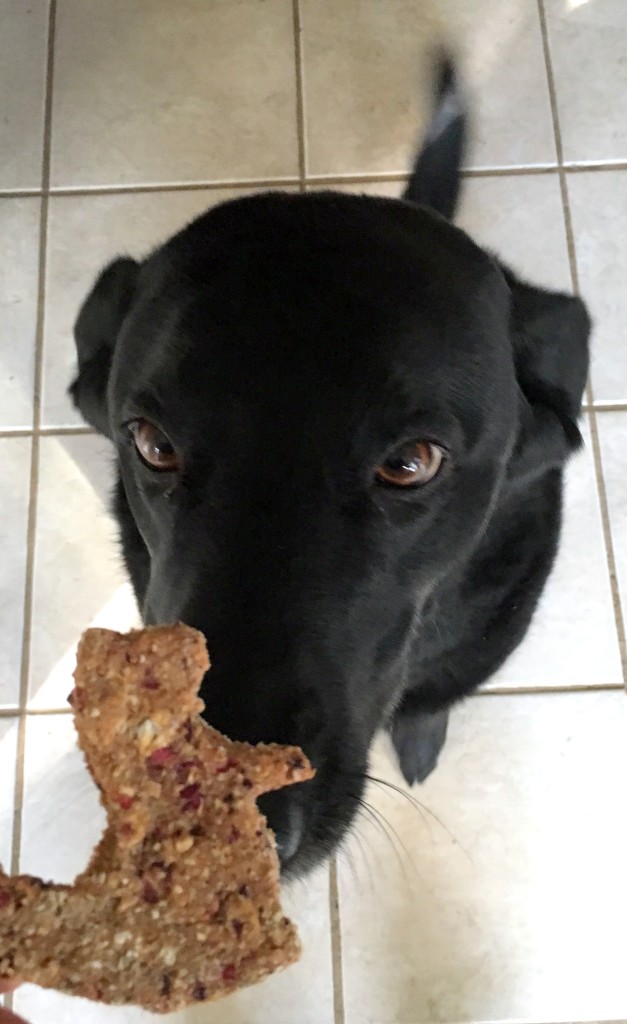 Don't be fooled, he runs the house and only really listens or sits perfectly when he wants something. Like these Cranberry, Honey, and Oat Dog Treats.
Homemade treats are very easy to make and the process is similar to baking cookies.  
There are so many options of what you can do and use, but if you have any questions about what is safe for your pup please check with your vet.  
Some dogs may have allergies or sensitivities or certain products.  Luckily, we only have to worry about our pup's picky preferences.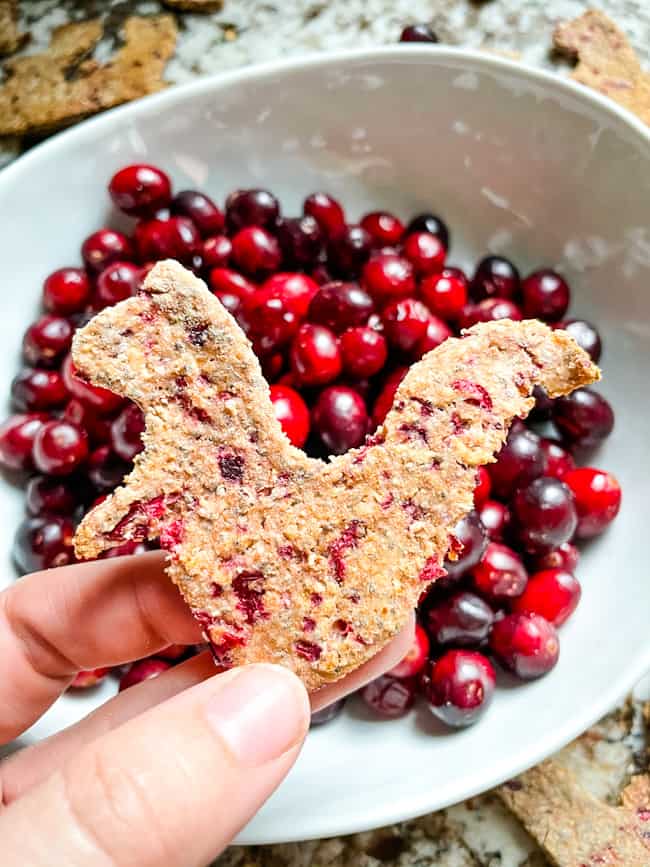 This is the infamous "normal" squirrel cookie cutter in my family.  Other family members have their own squirrel cookie cutters but they tend to come out rather funky and shaped a little odd.  This one is perfect!  
We love making squirrel shaped dog treats because there are a lot of squirrels here in Colorado and all of the family dogs love guarding the yards from them.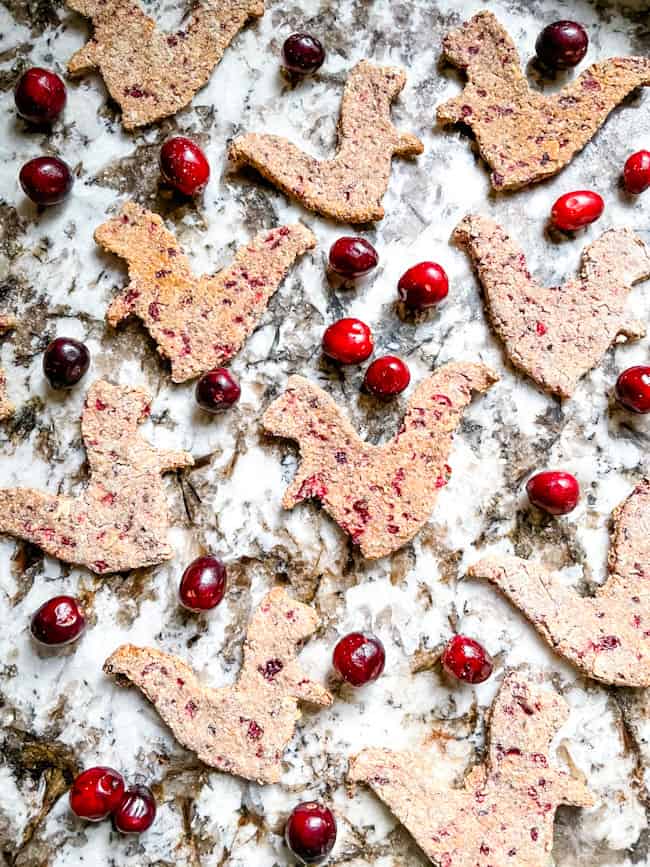 Making Gluten Free Treats
This recipe uses some whole wheat flour, but I often make dog treats as gluten free treats.
To make this modification, simply omit the flour altogether.
Instead, process 2 cups of oats in a food processor until it is like a coarse flour.
Add to the bowl with the other ingredients and one cup of whole oats.
Adjust for moisture as needed with more oats.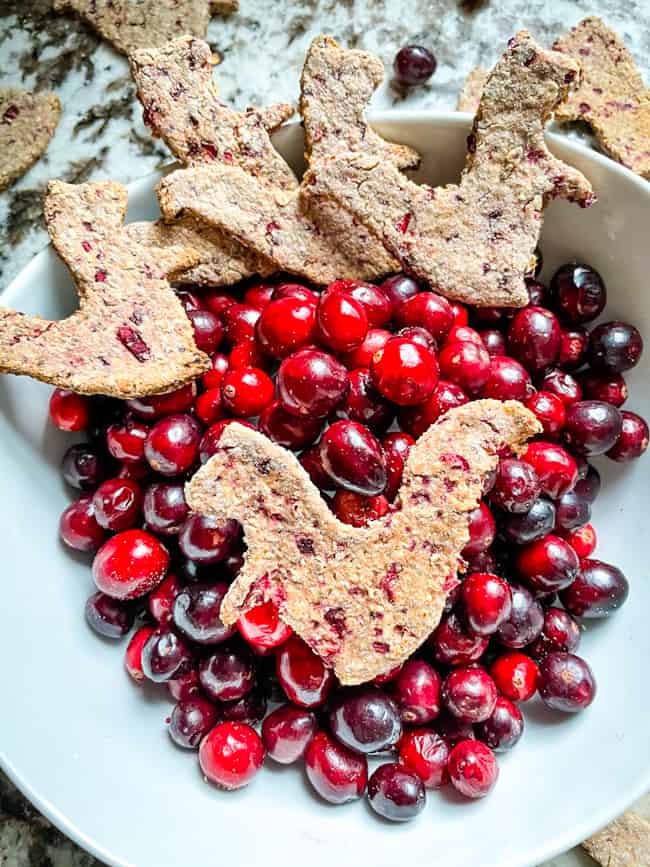 I made this recipe with cranberries because they are packed with antioxidants and nutritional power!  
They are also full of vitamins and minerals to help promote overall health.  
You can easily substitute raspberries, strawberries, blackberries, or blueberries (one of our puppy's favorites!) instead, or even a mixture of a few.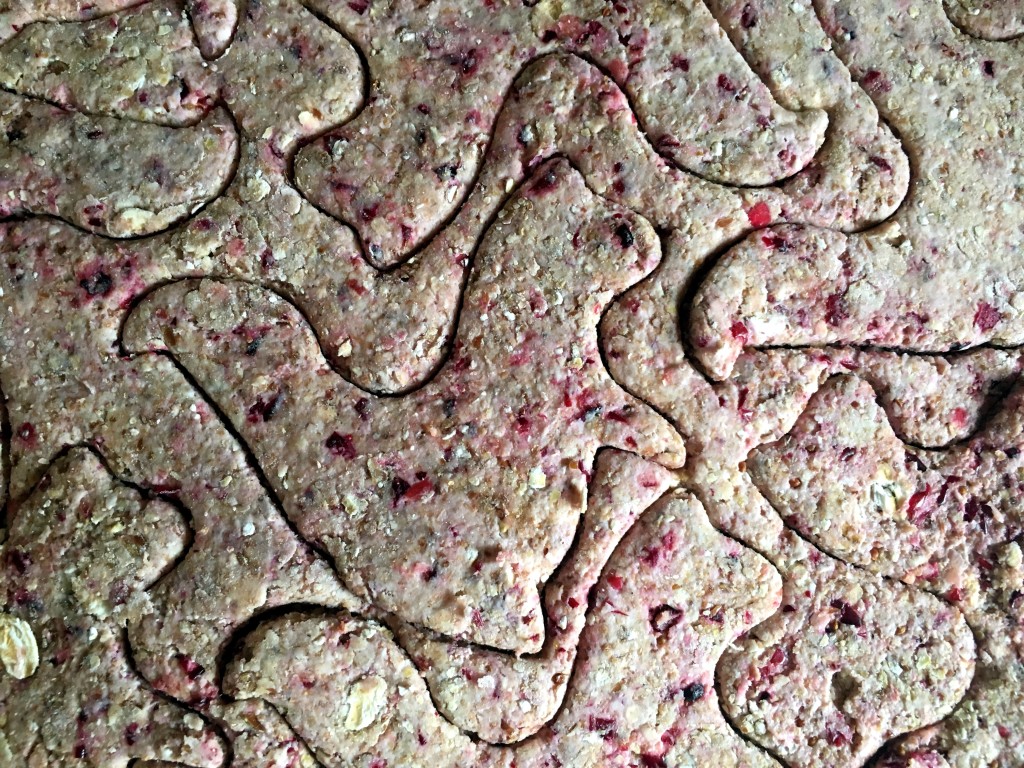 If fresh berries are not in season, you can easily use frozen cranberries instead.  
I tend to stock up on a couple extra bags during the holidays and pop the cranberries in the freezer just so I am ready to make this cranberry dog treat recipe!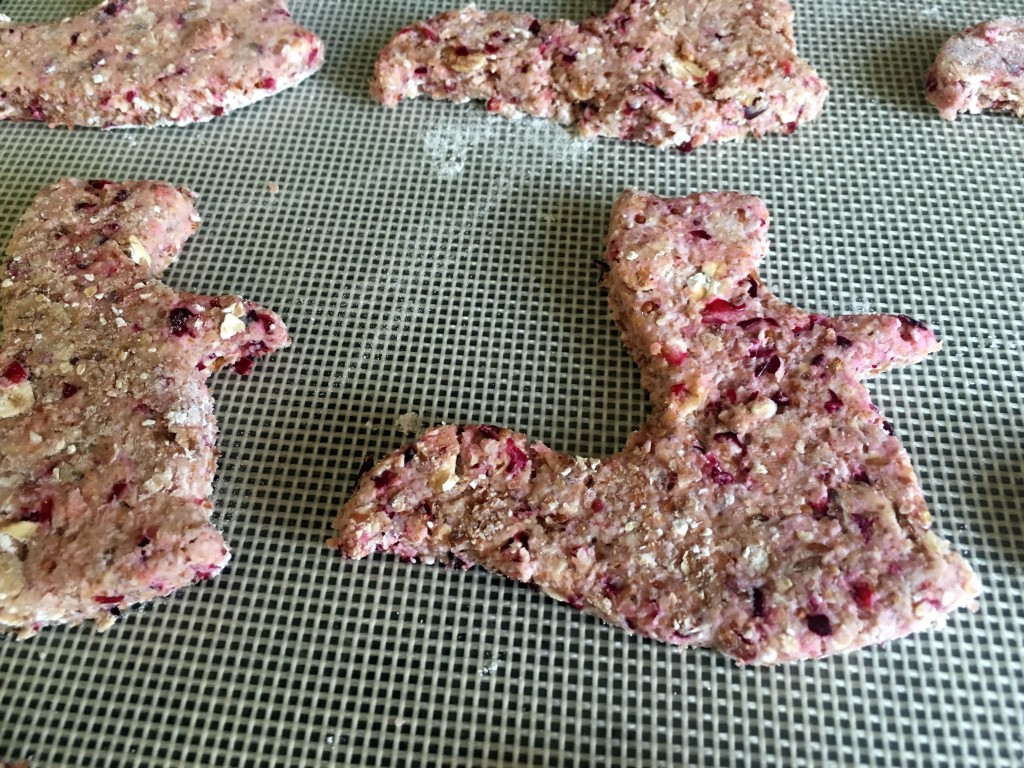 Cranberry treats for dogs is one of my favorite dog treat recipes because of all the healthy ingredients.  
Greek yogurt!  Flax seed!  Berries!  
Making dog treats with flax seed is optional. You could also use chia seeds. I love adding either when I can for extra nutrition.
Perfect for protecting our furry family members and giving them something special.  
If you make these, share a picture with us on social media (see links to the right of this post), we would love to see them enjoying your homemade treats!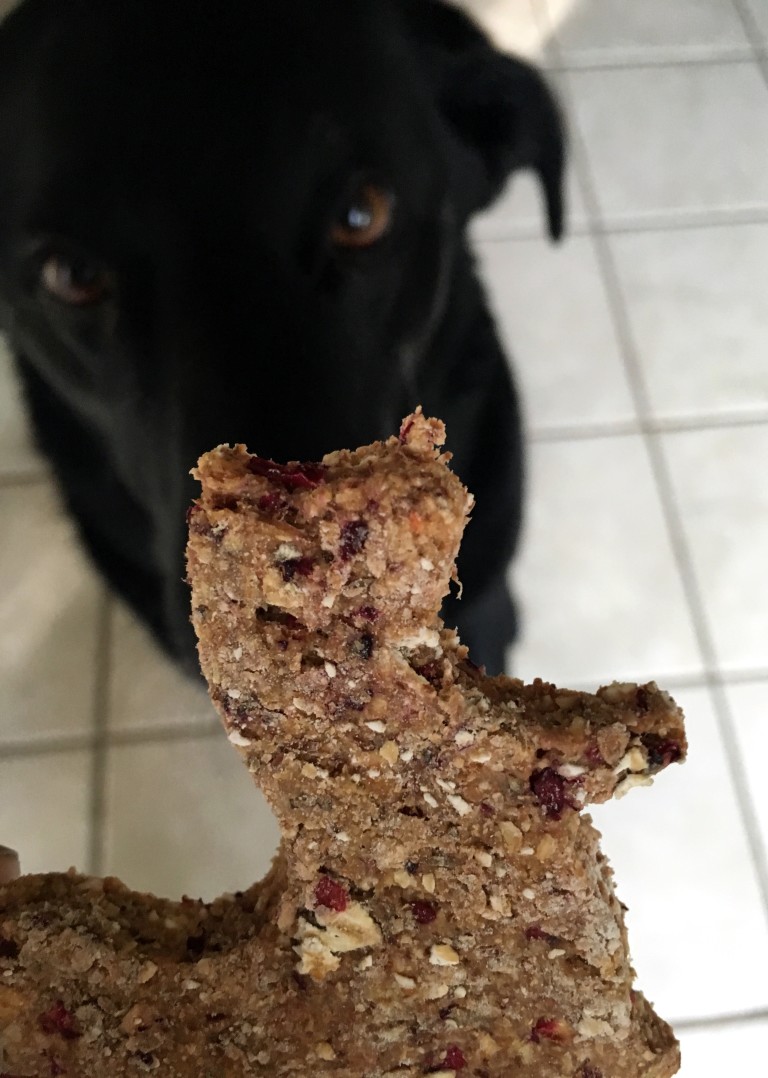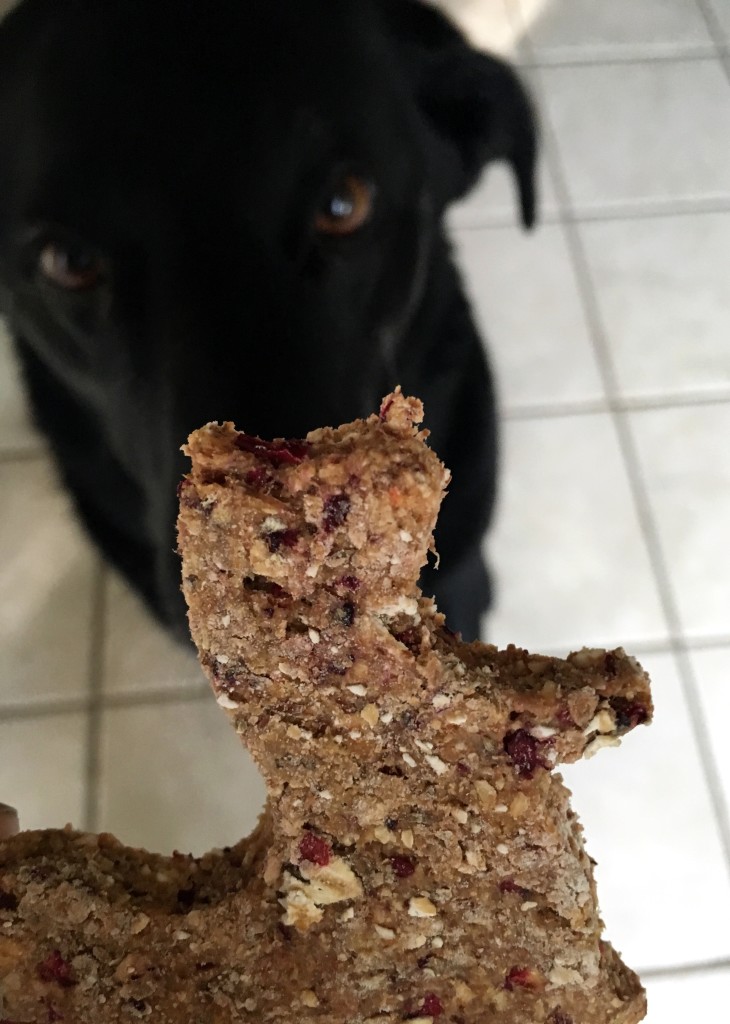 *Disclaimer: Please check with your vet if you have any concerns about what your pet can or cannot eat.
This post was originally published on January 14, 2016 and has been updated with new pictures and formatting.
Recipe adapted from this site.
Dog Treats
Homemade baked dog treats to spoil your puppy!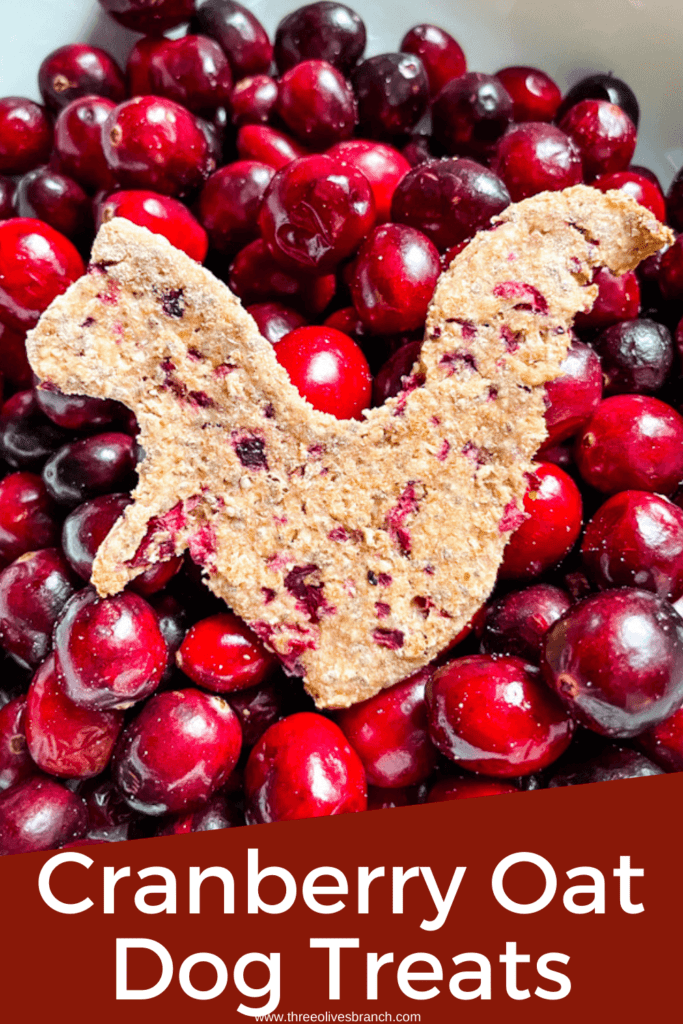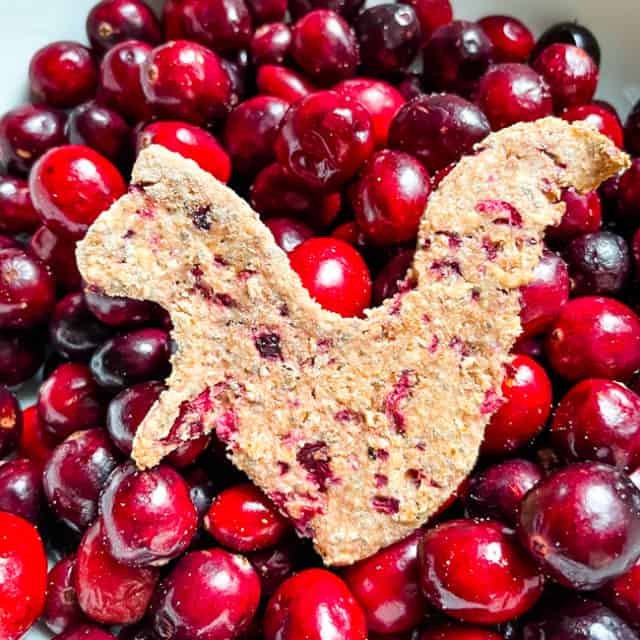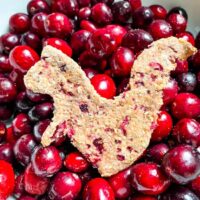 Cranberry, Honey, and Oat Dog Treats
An easy homemade dog treats highlighting cranberries
Print
Pin
Rate
Servings:
24
large cookies (3×3″)
Instructions
Preheat oven to 350º.

Put 2/3 cup oatmeal in a food processor and grind until fine in texture, similar to flour. Add to medium sized mixing bowl.

In the same food processor, puree cranberries. If you are using fresh or defrosted berries, it will likely be a liquid. If they are frozen, it will typically look like a coarse meal (see pictures). Add cranberries to the bowl.

Add the flour, 1/4 oats, ground flax seed (optional), honey, and yogurt to the bowl. Mix the ingredients together until incorporated and the dough holds together. The water content in the berries can affect the moisture in the dough. If it is too wet, add a little flour at a time. If it is too stiff or not combining, add a little water at a time.

Lightly flour a large cutting board or clean counter. Flip dough out onto surface and roll to 1/4 inch thickness.

Cut out cookies in the size and shape you want and place on a sil pad or parchment lined baking sheet. The cookies can go close together as they will not grow much in size.

For soft cookies: Bake for 15-18 minutes. Remove from oven and cool on rack. Store in refrigerator for up to two weeks.

For hard cookies: Bake for 15 minutes then flip cookies. Bake an additional 15 minutes. Turn off the oven and leave the cookies in the hot oven for approximately two hours. Cookies will be hard and crunchy. Let cool completely before storing or else the heat will cause them to turn soft again. Store in air tight container for up to one month.
Notes
If making smaller cookies, the cooking time will greatly decrease.  Cook until the edges begin to brown.
Make these gluten free by omitting the flour, blending 2 cups of oats into a coarse flour in a food processor, and mixing in a cup of whole oats. Adjust as needed for moisture.
Nutrition
Serving:

1

treat

|

Calories:

45

kcal

|

Carbohydrates:

8

g

|

Protein:

2

g

|

Fat:

1

g

|

Saturated Fat:

1

g

|

Cholesterol:

1

mg

|

Sodium:

2

mg

|

Potassium:

52

mg

|

Fiber:

1

g

|

Sugar:

1

g

|

Vitamin A:

3

IU

|

Vitamin C:

1

mg

|

Calcium:

12

mg

|

Iron:

1

mg

By