These Brandied Cherries are a delicious alcoholic treat! Fresh cherry fruit soaked in a sweet brandy syrup. Use as a cocktail garnish or a condiment on dessert like ice cream.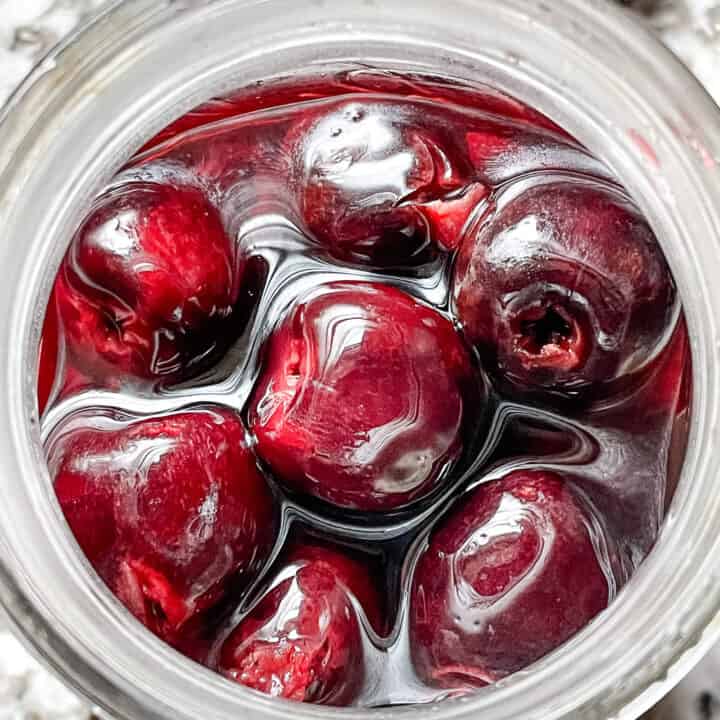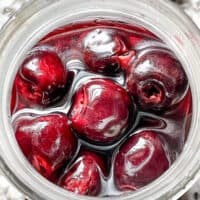 These Brandied Cherries are a perfect boozy and sweet addition to your cocktails and desserts!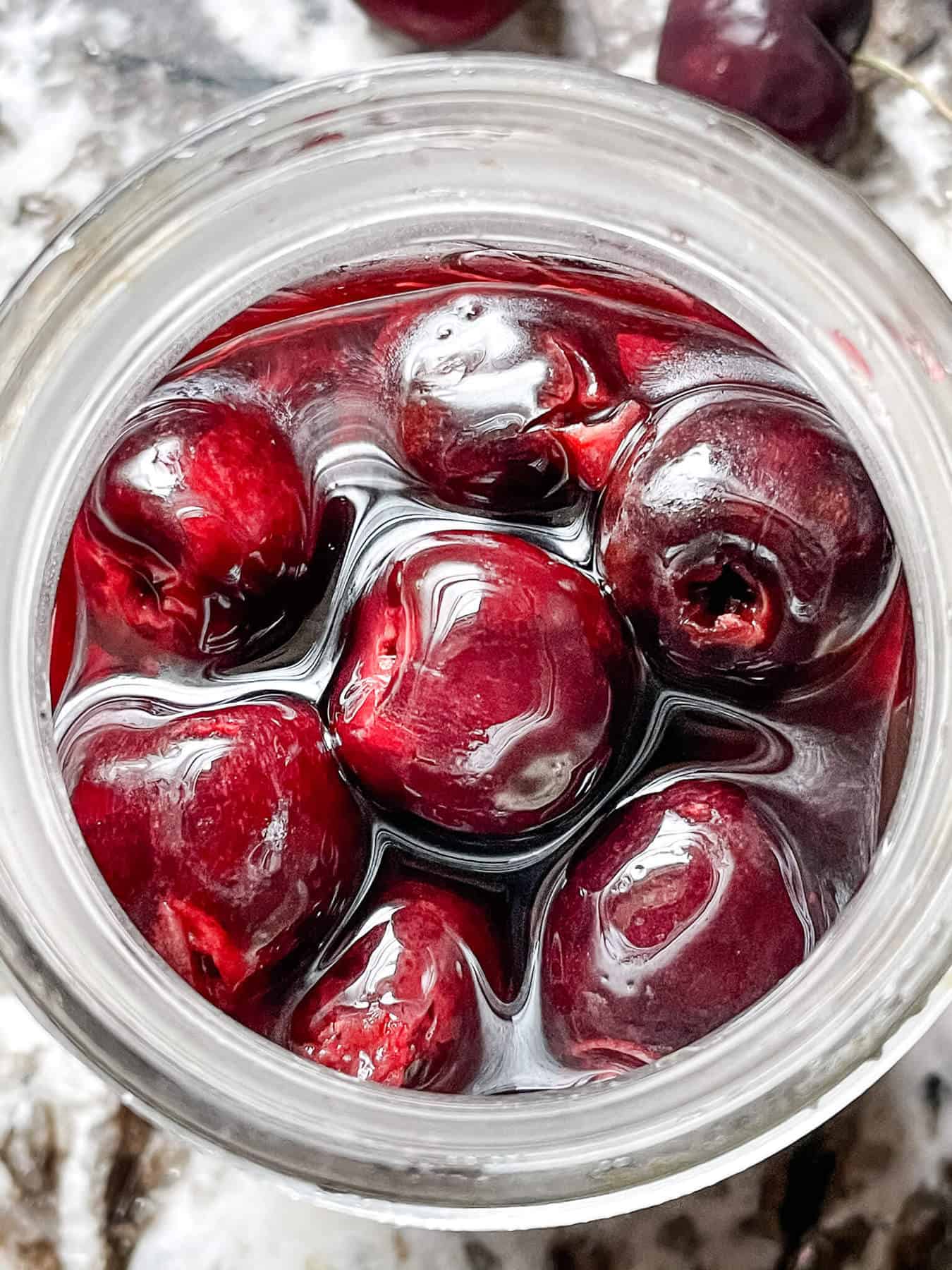 Brandied Cherries
Ever since I started making my crazy-popular Homemade Cherry Jam, I have been making lots of recipes using cherries!
Making these cocktail cherries is so simple and they add such class and flavor!
I love making batches of these in cherry season. Especially for cocktail parties around the holidays!
What are they? Simply put, they are cherries soaked in a mixture of simple syrup and brandy. Yummers.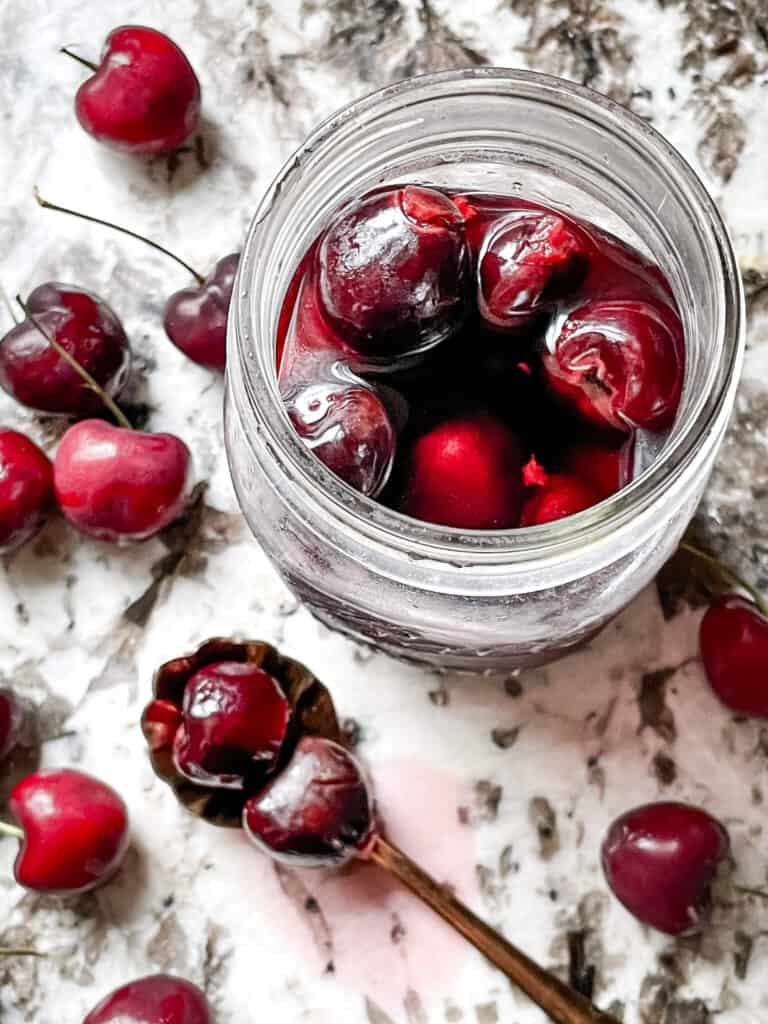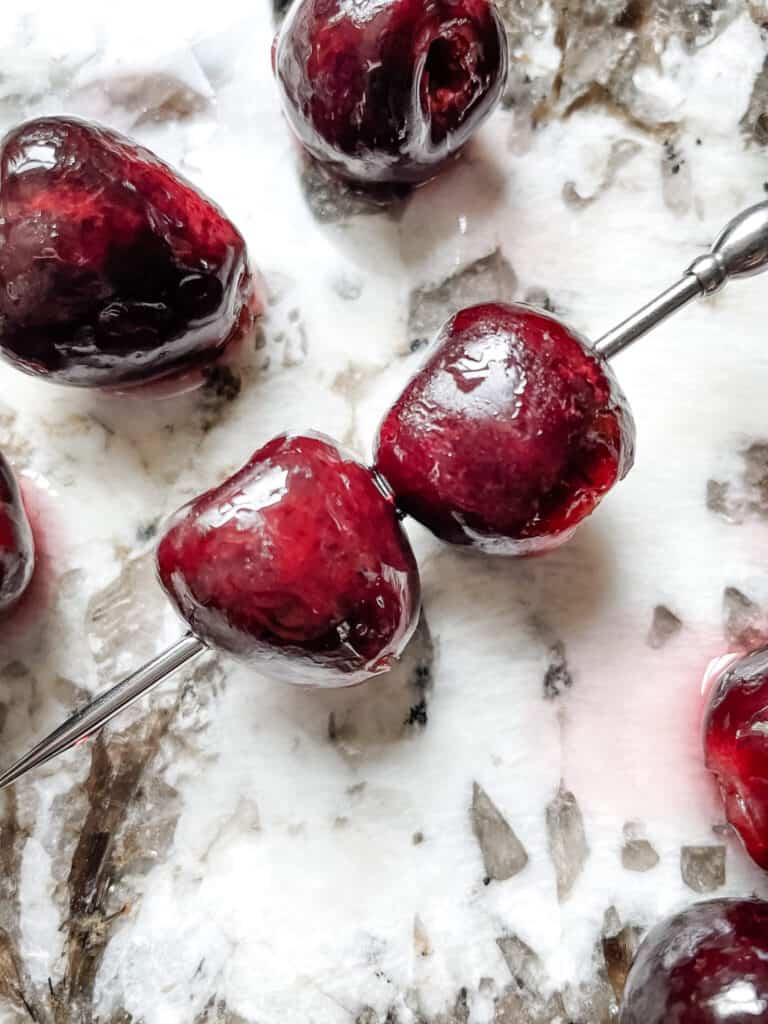 How to Make Brandied Cherries
Making these cherries will take just a few minutes of work.
Get all of your cherries washed with stems and pits removed.
When preparing the cherries, I highly recommend using a cherry pitter.
I am not a fan of one use tools in the kitchen, where a gadget is only good for one thing. But a cherry pitter makes it SO much faster and easier to pit a cherry, that it is completely worth it!
Then make your syrup on the stove by simmering water and sugar until it is dissolved. Add the brandy, pour over the cherries, and you are done!
The syrup that these cherries sit in is very thin. You can use it, too!
If you want a thicker syrup like consistency, double up on the sugar with the same amount of water and brandy.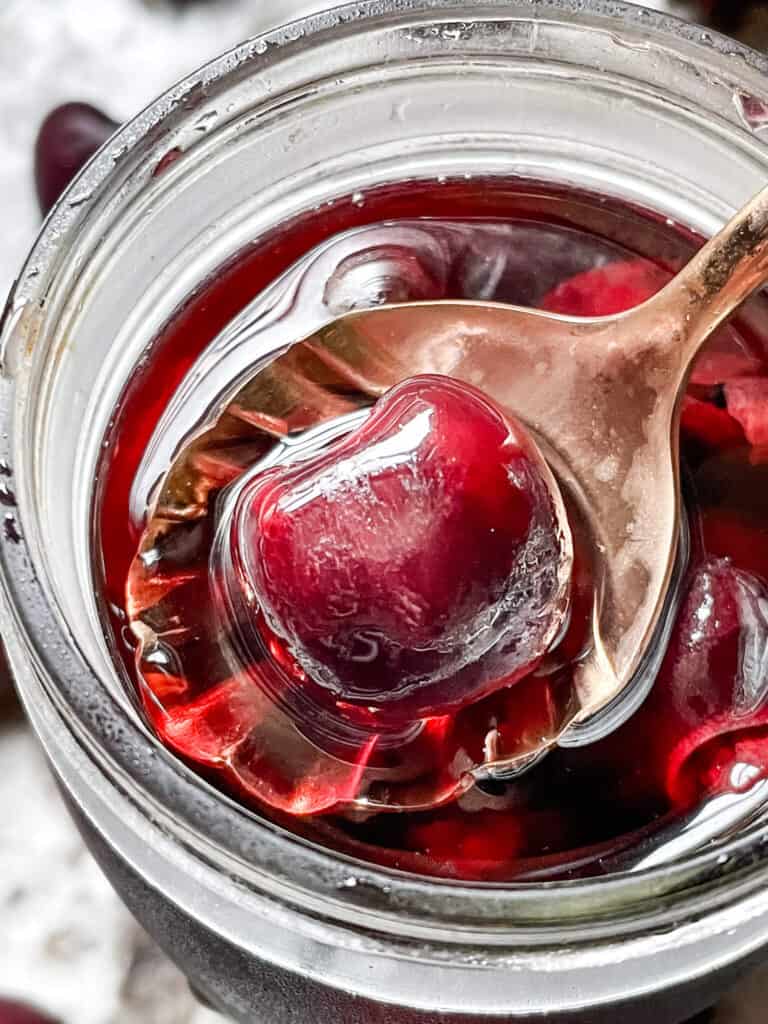 Do brandied cherries need to be refrigerated?
Unless you are canning the cherries properly, they do need to be refrigerated.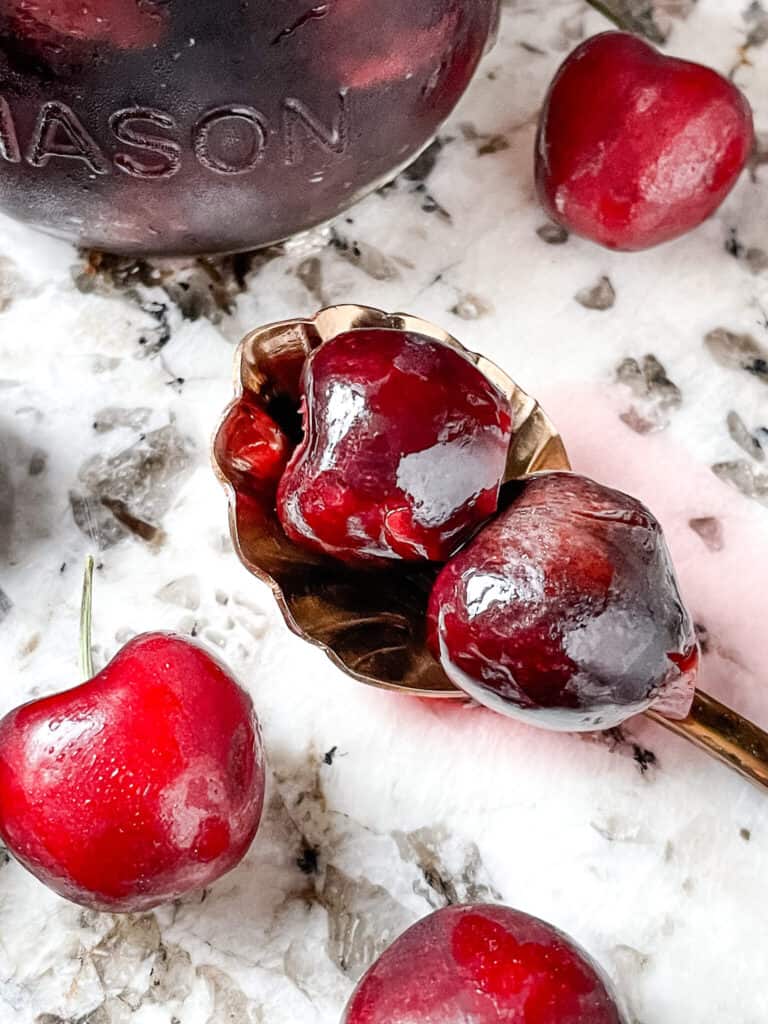 Can I use frozen cherries?
Yes, you can use frozen cherries, however the texture will change.
Frozen fruit will release a lot more moisture, so you want to thaw and drain them before using.
And because of the freezing process, they will also be much softer.
So the frozen version will work, but I recommend just sticking to fresh wherever possible for the best possible product.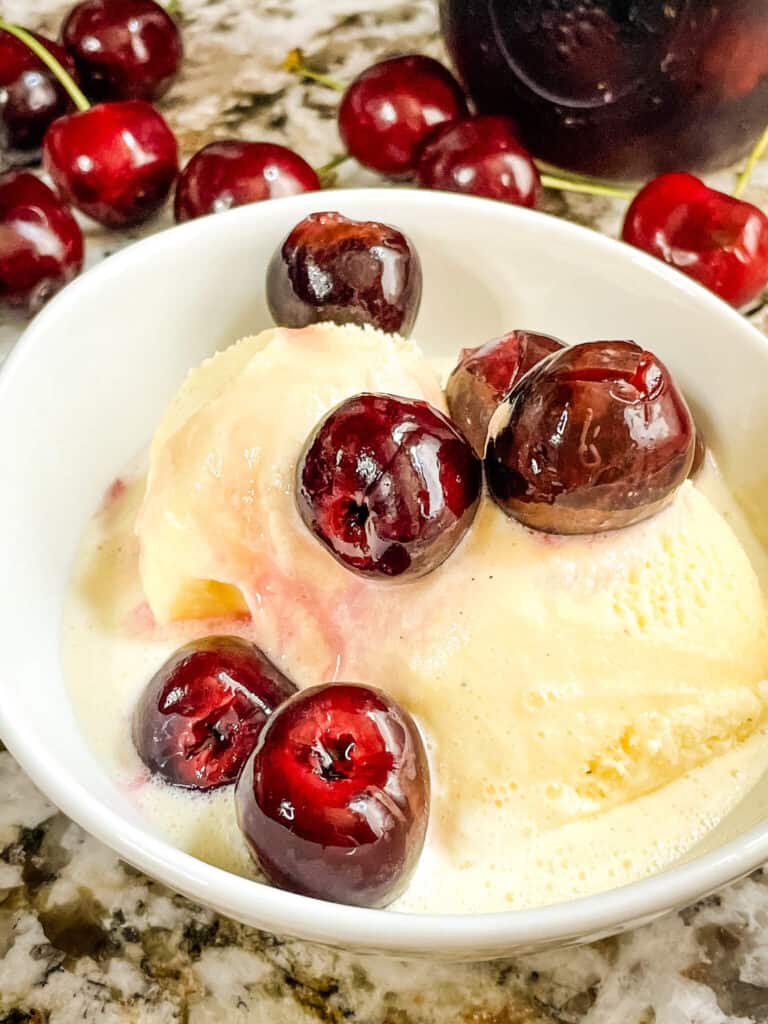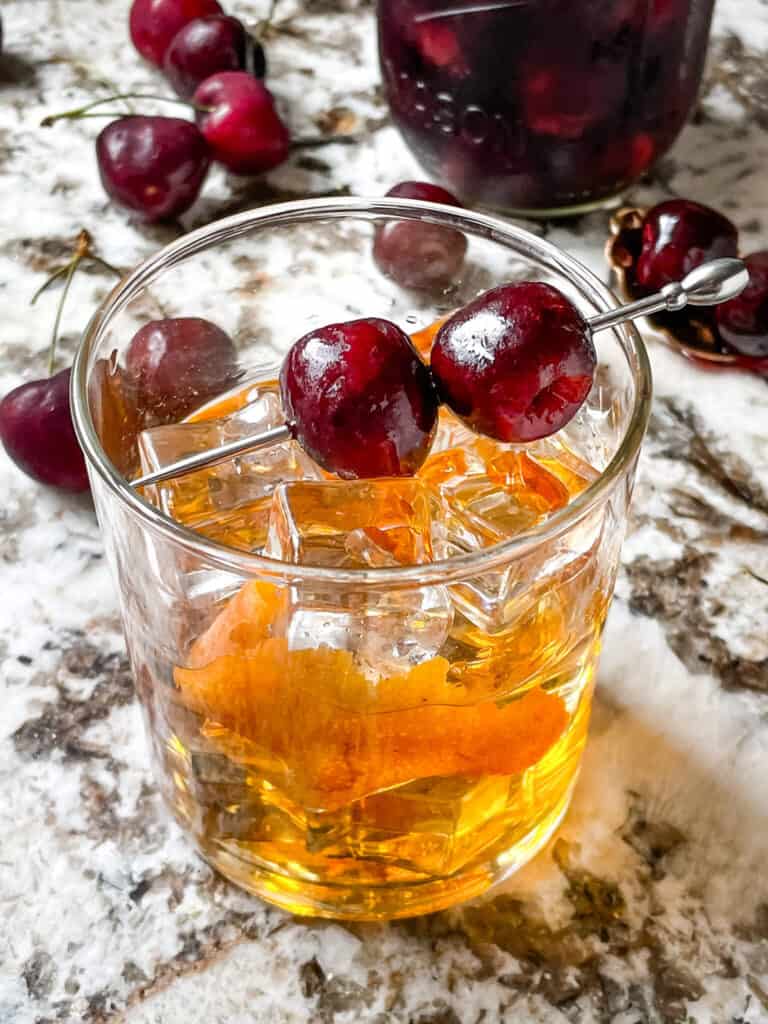 How to use Brandied Cherries
My favorite way to use these cherries is as a cocktail or mocktail garnish.
You can also scoop them onto ice cream or desserts, and even use the syrup as a sauce.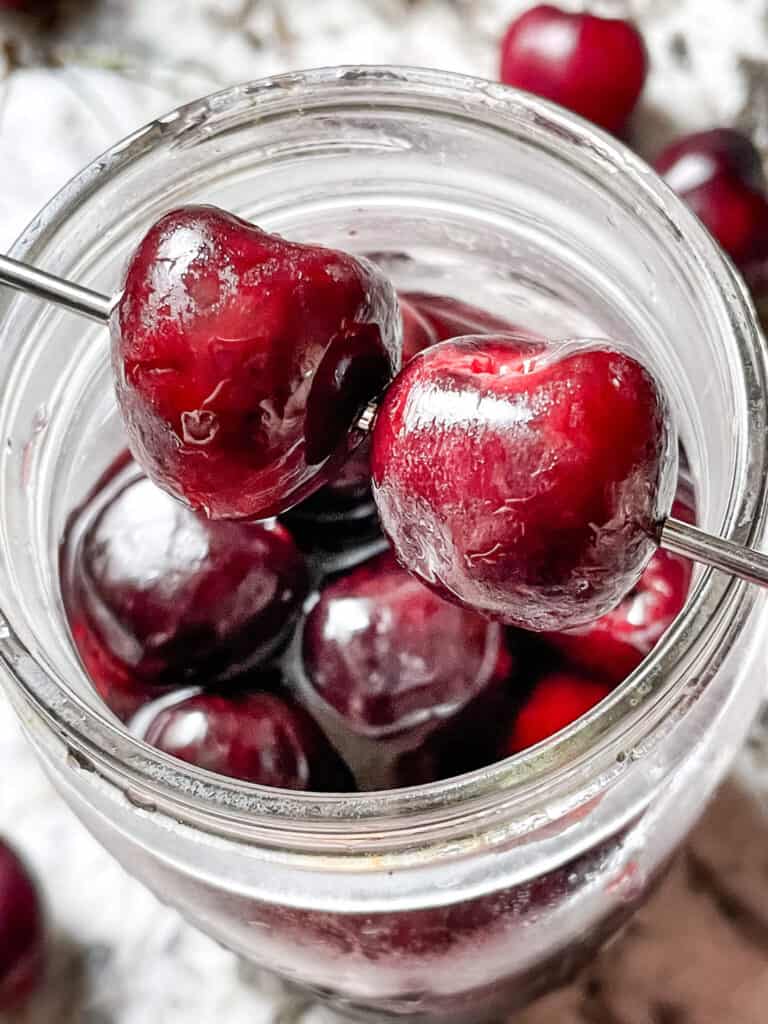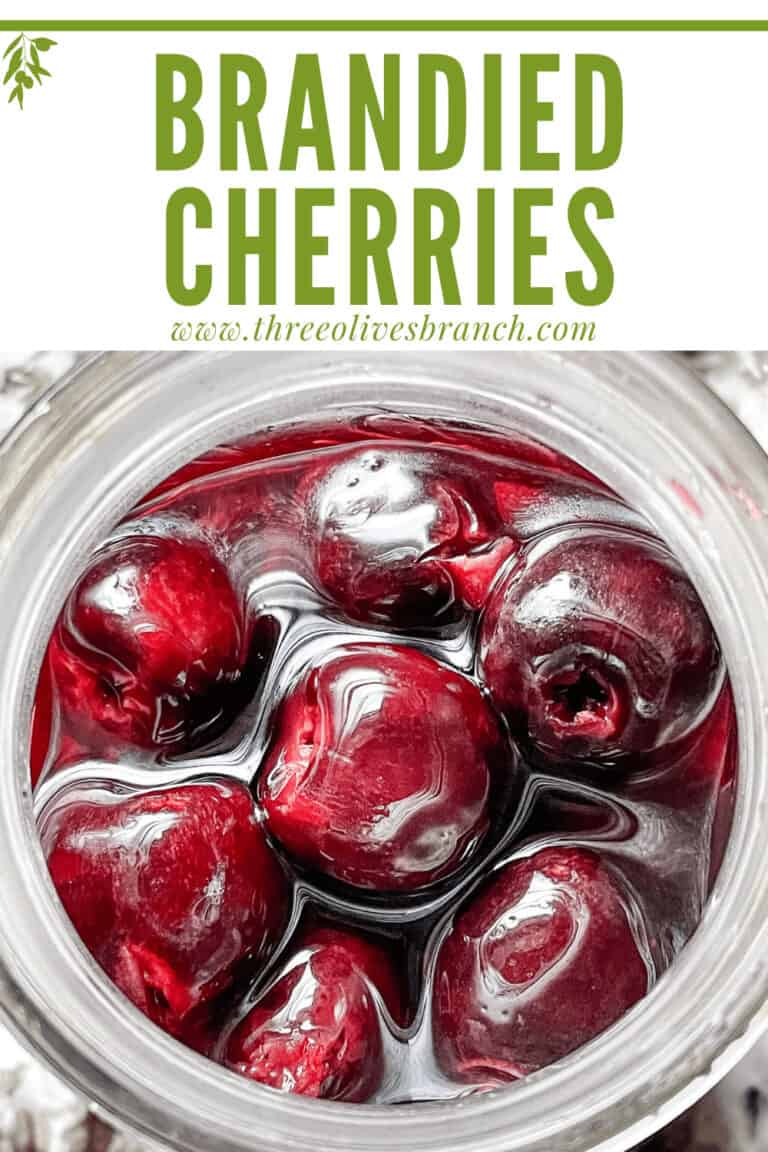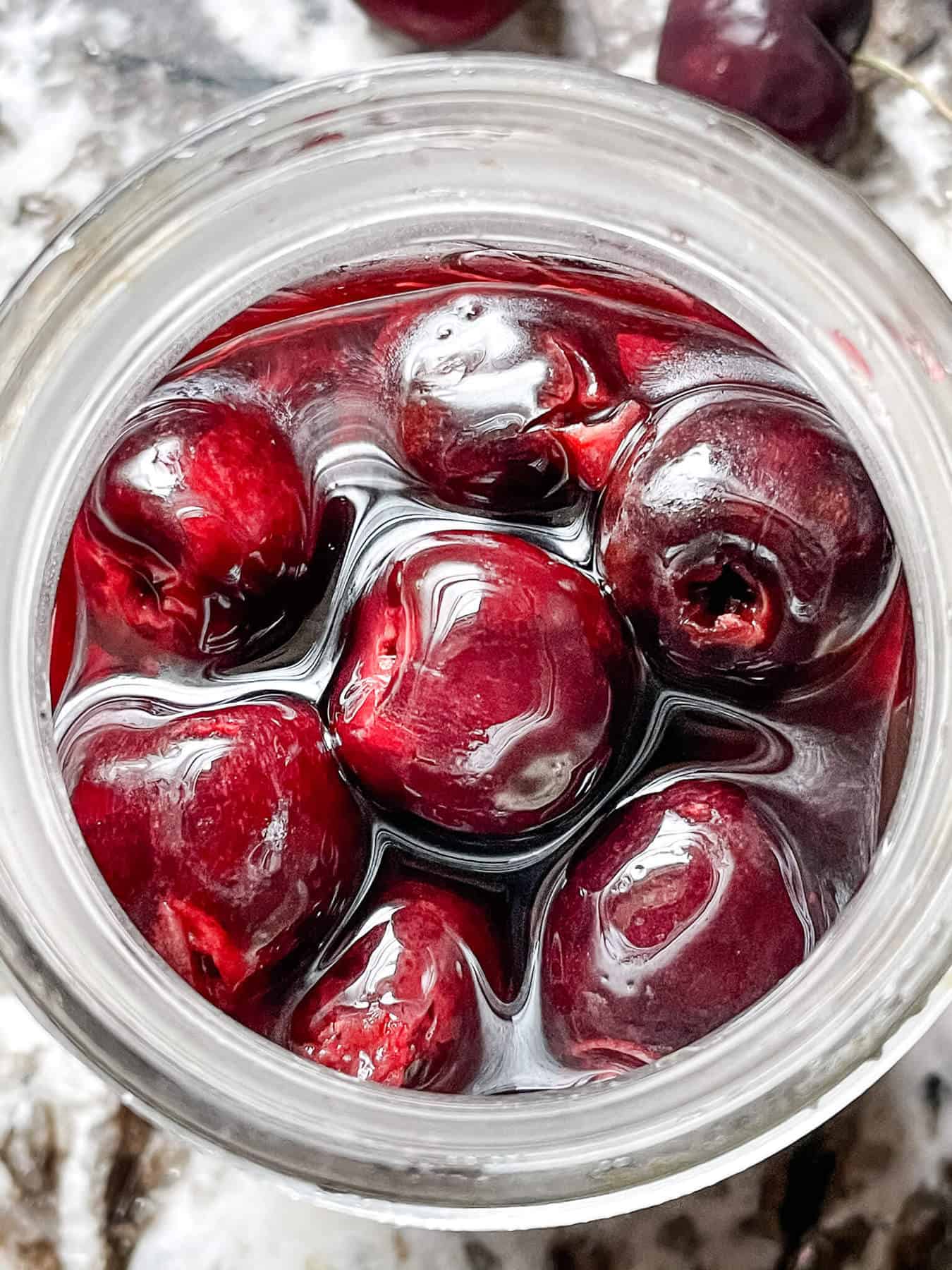 Ingredients
2

cups

cherries

(approximately 3/4 pound or 300 ounces)

⅓

cup

sugar

⅓

cup

water

½

cup

brandy
Instructions
Wash the cherries. Remove the stems and pits.

In a small pot over medium high heat, combine the water and sugar and simmer until the sugar has dissolved.

Add the brandy to the syrup mixture.

Put the cherries in a 16 ounce mason jar or other container and pour the liquid over the cherries.

Cover and refrigerate 24 hours before use. Keep up to 6 months in the refrigerator.
Notes
No need to use a nice brandy here since it is being added to the sugar and cherries – the complexity would be lost.
These cherries should last at least 6 months in the refrigerator. 
If you want a thicker syrup like consistency for the "sauce", double up on the sugar with the same amount of water and brandy.
Nutrition
Serving:

1

cup

|

Calories:

355

kcal

|

Carbohydrates:

55

g

|

Protein:

1

g

|

Fat:

1

g

|

Saturated Fat:

1

g

|

Polyunsaturated Fat:

1

g

|

Monounsaturated Fat:

1

g

|

Sodium:

3

mg

|

Potassium:

308

mg

|

Fiber:

3

g

|

Sugar:

51

g

|

Vitamin A:

88

IU

|

Vitamin C:

10

mg

|

Calcium:

19

mg

|

Iron:

1

mg

By