This Chicken Campfire Stew is an easy campfire chicken recipe. Cook in a Dutch oven for a hearty and warm outdoor meal. Prep in advance and stove top option. Easy camping meals and camping dinner ideas.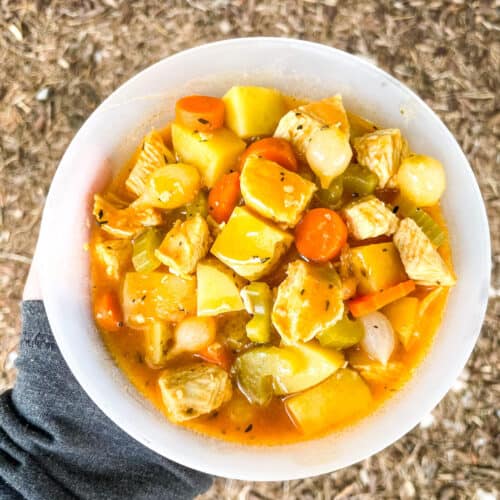 This Chicken Campfire Stew is one of my favorite camping dinner ideas for cooking on a campfire! Easy to make with chicken, lots of veggies, and a herbed tomato broth for a hearty dinner.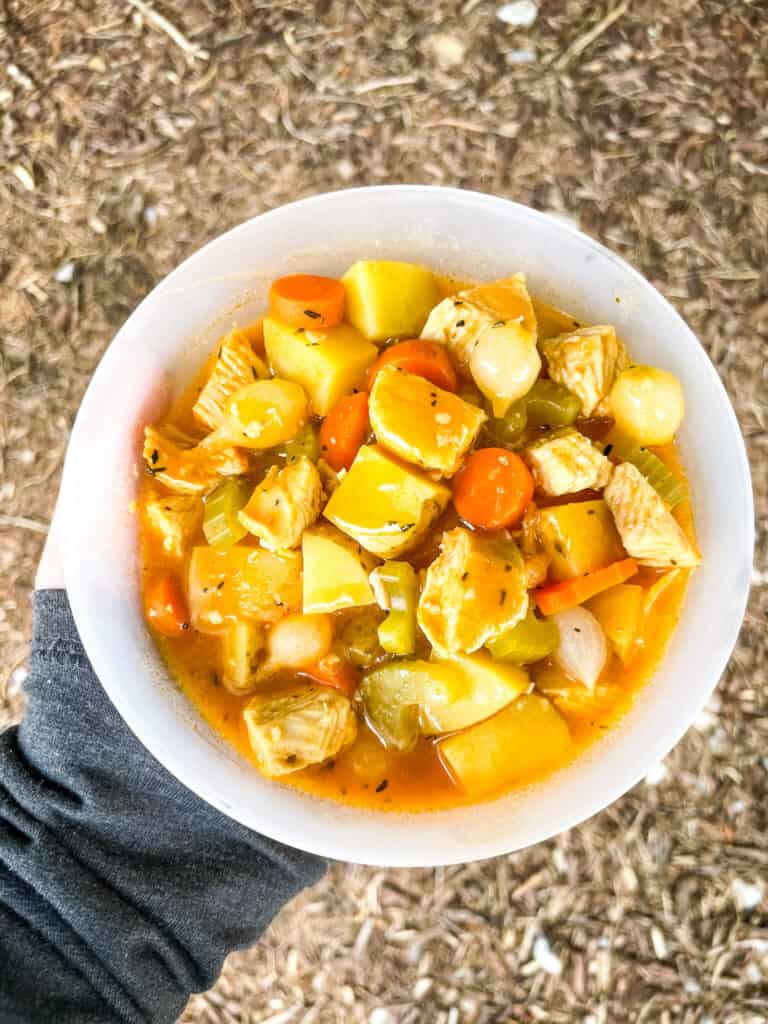 Chicken Campfire Stew
We just love to go camping and spending time outside with friends and family.
And if I am going camping, I am making sure to bring good food with me! I am always on the hunt for new camping food ideas.
Normally this means "typical" recipes that have a lot of prep in advance to make it easy camping meals.
Recently we took my sister-in-law's family up to our favorite campground here in Colorado and since they are soup lovers, I wanted to make something fun and new for them!
And that is how this Chicken Campfire Stew came about. They prefer to stay away from red meat and I wanted to make something that was still hearty without being dairy focused that would be easy to make on a campfire and enjoyed by the entire crew, including the kids.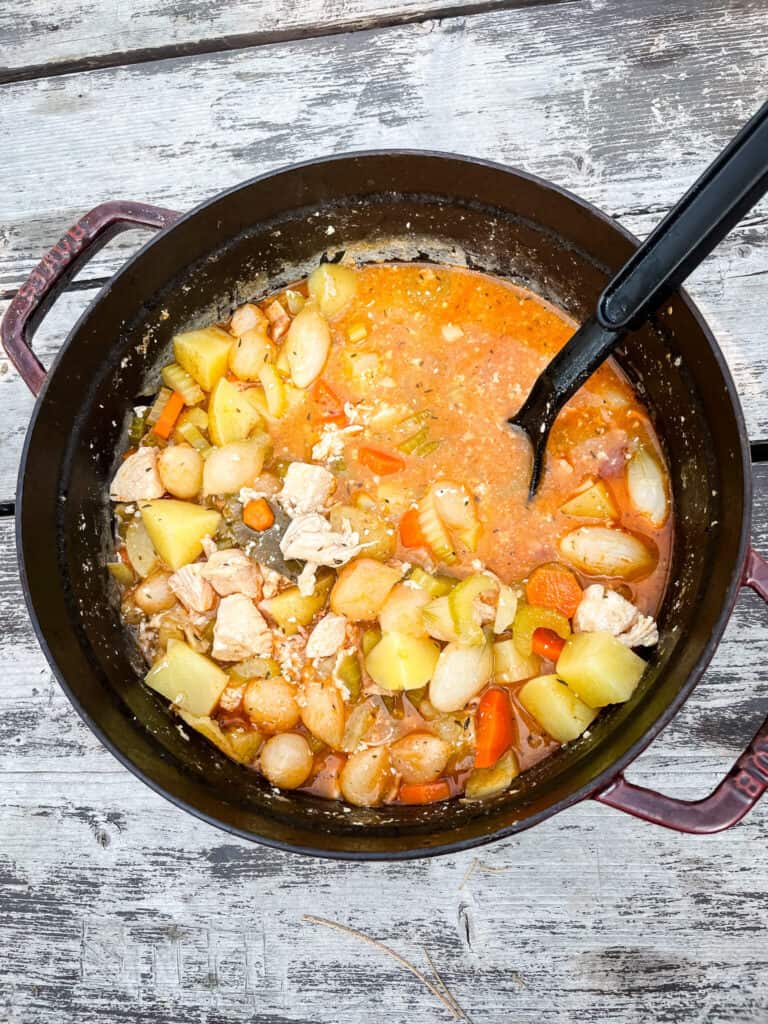 Tips for Cooking on a Campfire
Cooking on a campfire can sometimes feel tricky! You do not have the same control over the heat source and the elements compared to a stove.
The more you cook on a campfire the more comfortable you will get with it.
First piece of advice is to not stray too far from the campfire and to check in regularly. You want to check on the fire and the heat it is giving off (do you need to add more wood? Did it die down too much?) and adjust as necessary.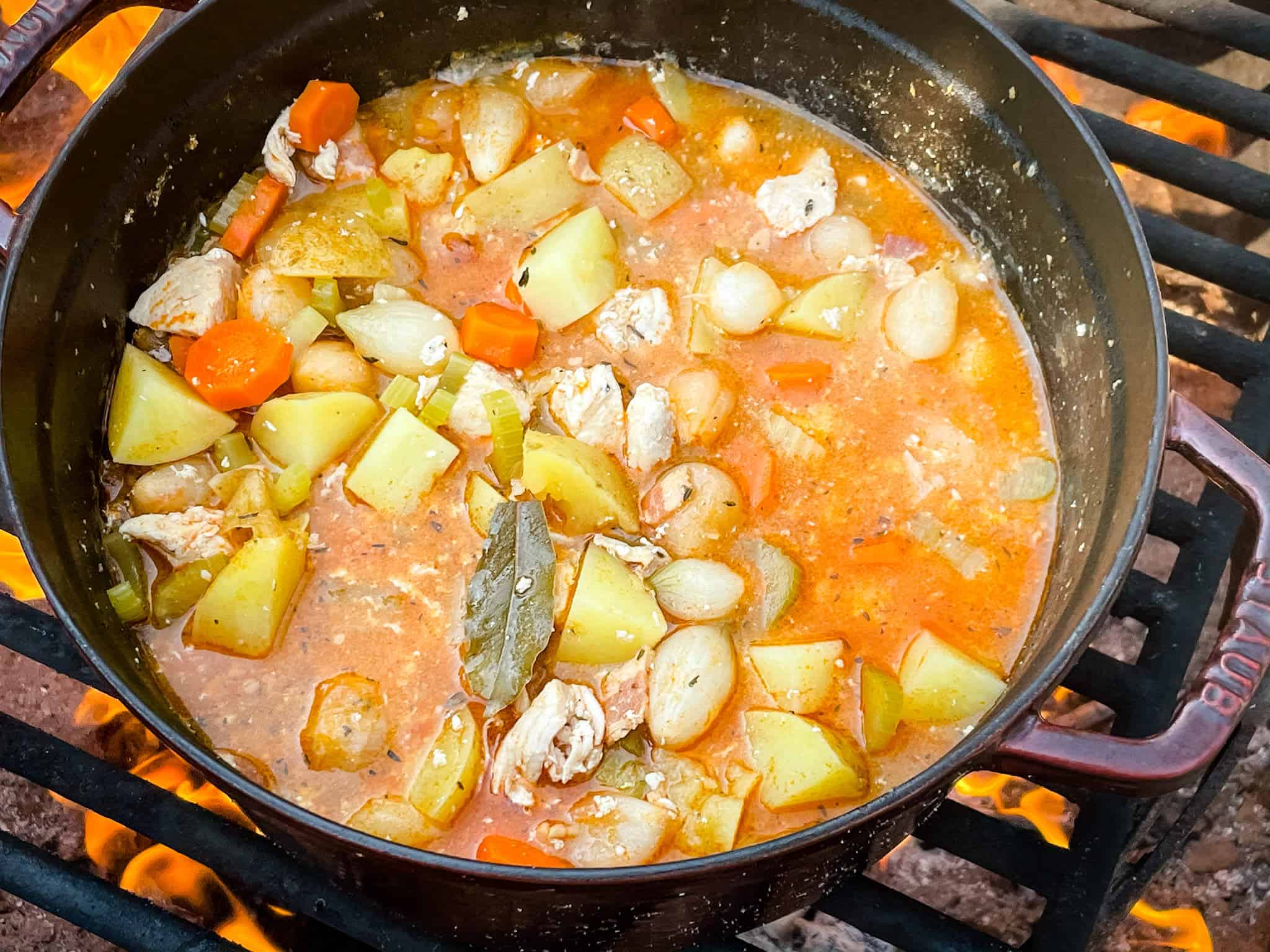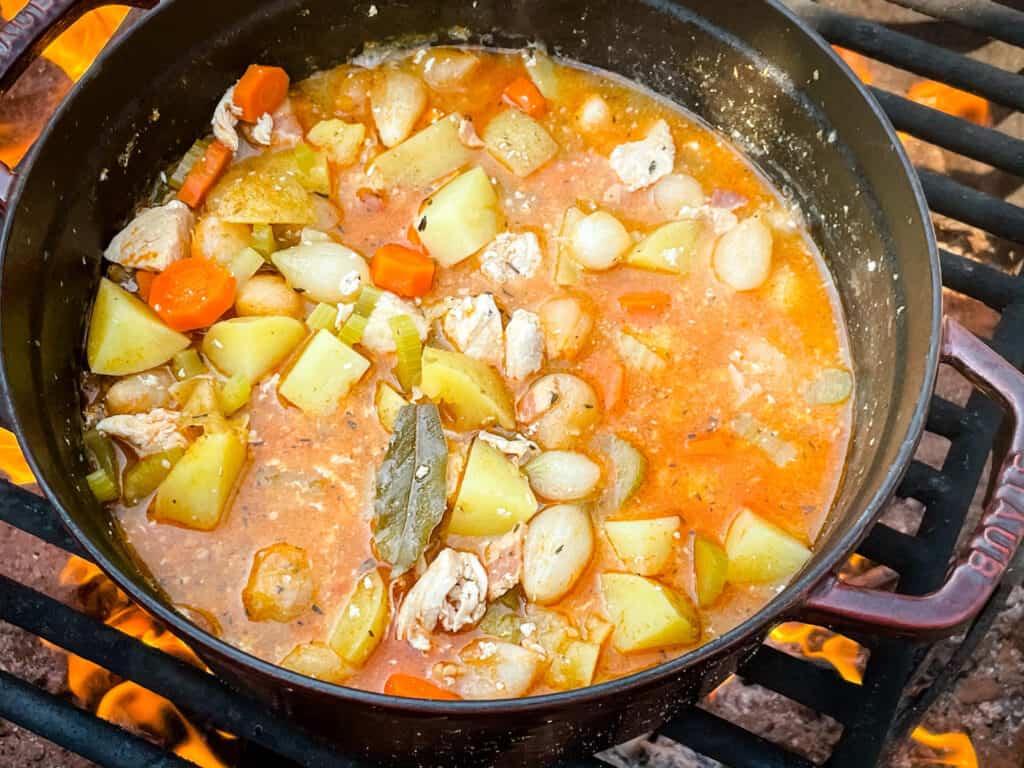 Luckily, this stew is very forgiving to any temperature changes! Plus since it is a Dutch oven camping recipe, the Dutch oven provides extra protection from burning and helps retain the heat well.
If you do not have a Dutch oven, cook in a thick bottomed pot and/or put the pot on top of a cast iron skillet or something else (skillet, baking sheet, etc) that it fits on top of to help manage the heat and prevent the burning and sticking.
And because of this, you also might want to consider starting cooking earlier than you intend to eat. Because if things do not go according to plan, your dinner will be delayed. If it is done early, it is easy to keep warm over a low indirect heat.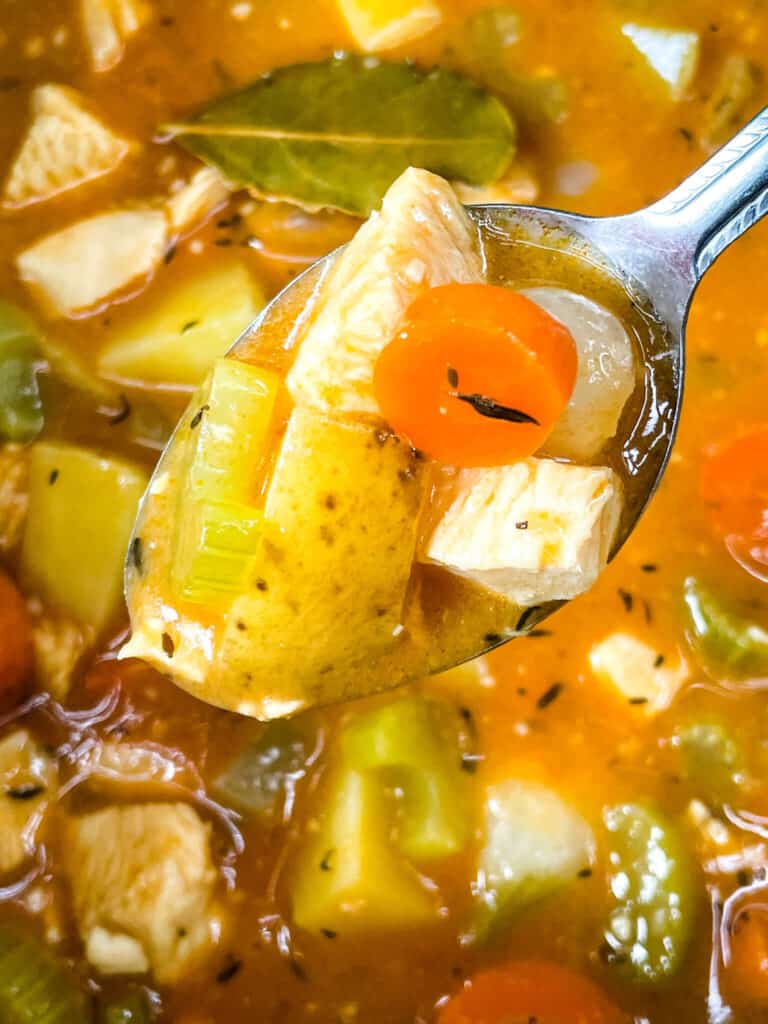 Preparing the stew to take camping
I like to put the campfire chicken and stew portions into reusable gallon bags for reduced waste while making them incredibly easy to pack and fit into a cooler.
Low on cooler space? Freeze the prepped ingredients ahead of time to add extra chill factor to the cooler!
Yes, you can throw the chicken right in with everything else instead of it being separate. But I like to try and get some color on the chicken plus get it cooking so I know it is cooked through when serving.
Pair it up with your favorite campfire dessert from our collection!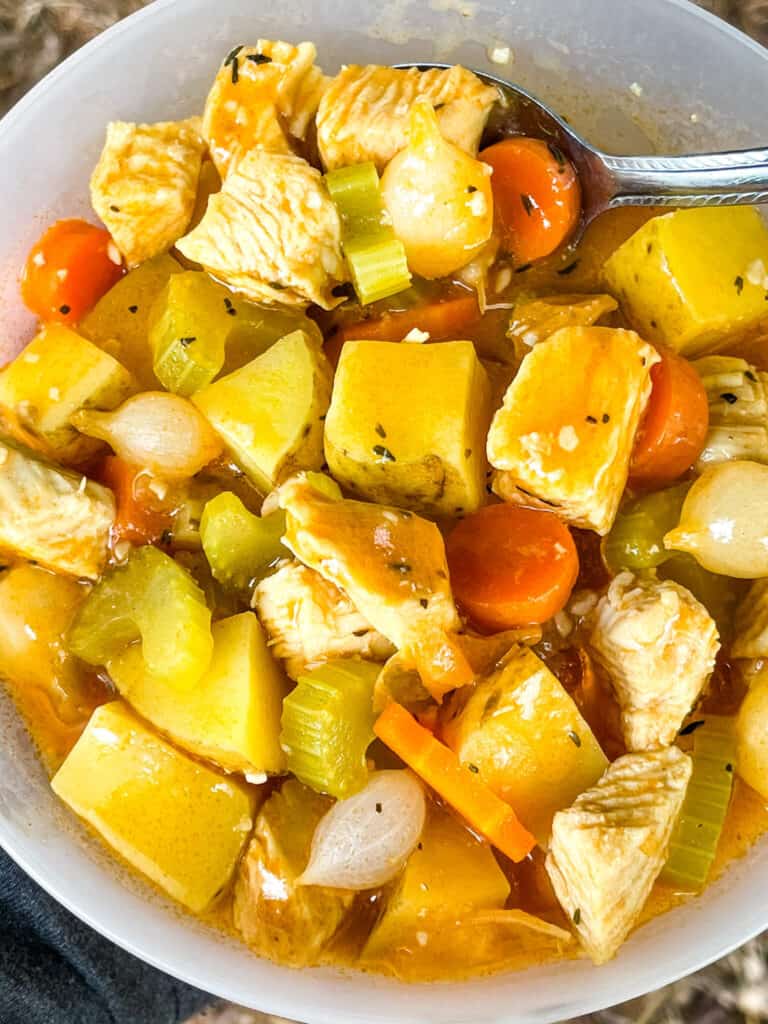 Want to make it at home?
You can absolutely make this stew at home! It was SO good it will definitely make its way into the winter soup rotation.
Simply follow the same steps while cooking the chicken on medium to medium high heat. After bringing everything to a simmer, reduce to medium low and cook 1.5 to 2 hours as needed.
If desired, you could choose to cook the vegetables in stages to develop deeper flavors, which is something I skip for the easy campfire version.
This means after you cook the chicken, add all the vegetables, tomato paste, and spices and cook 3-5 minutes until they just start to soften. Then add the stock, flour roux mixture, stir to combine, and let it simmer.
This recipe was adapted from Recipe Tin Eats.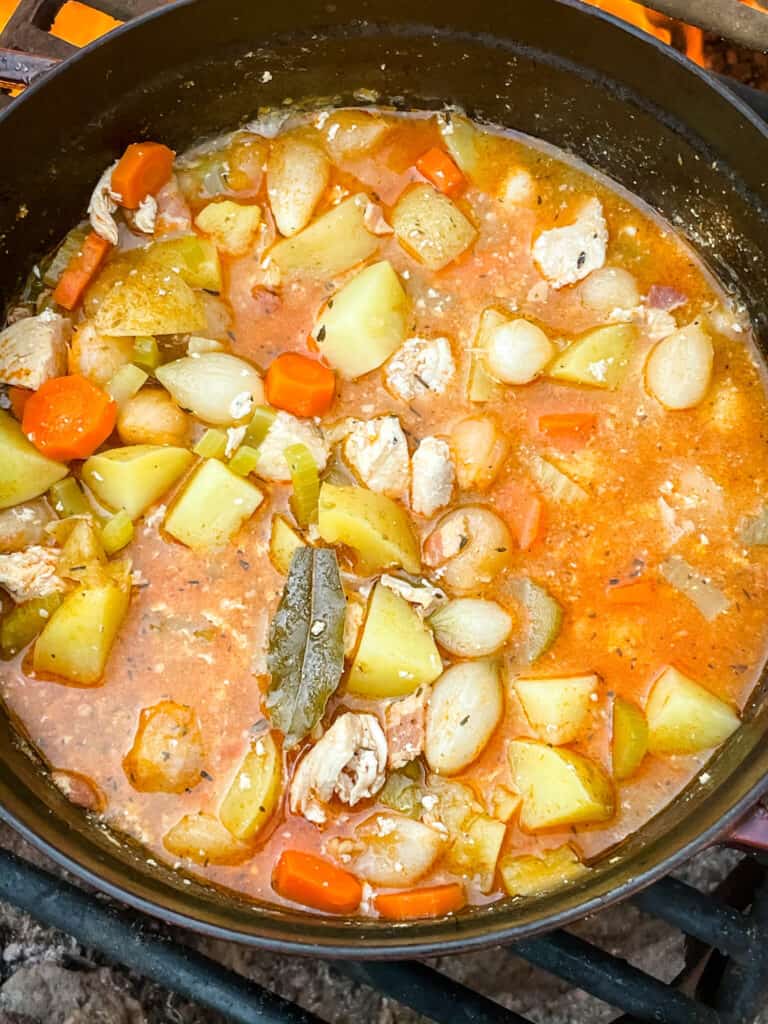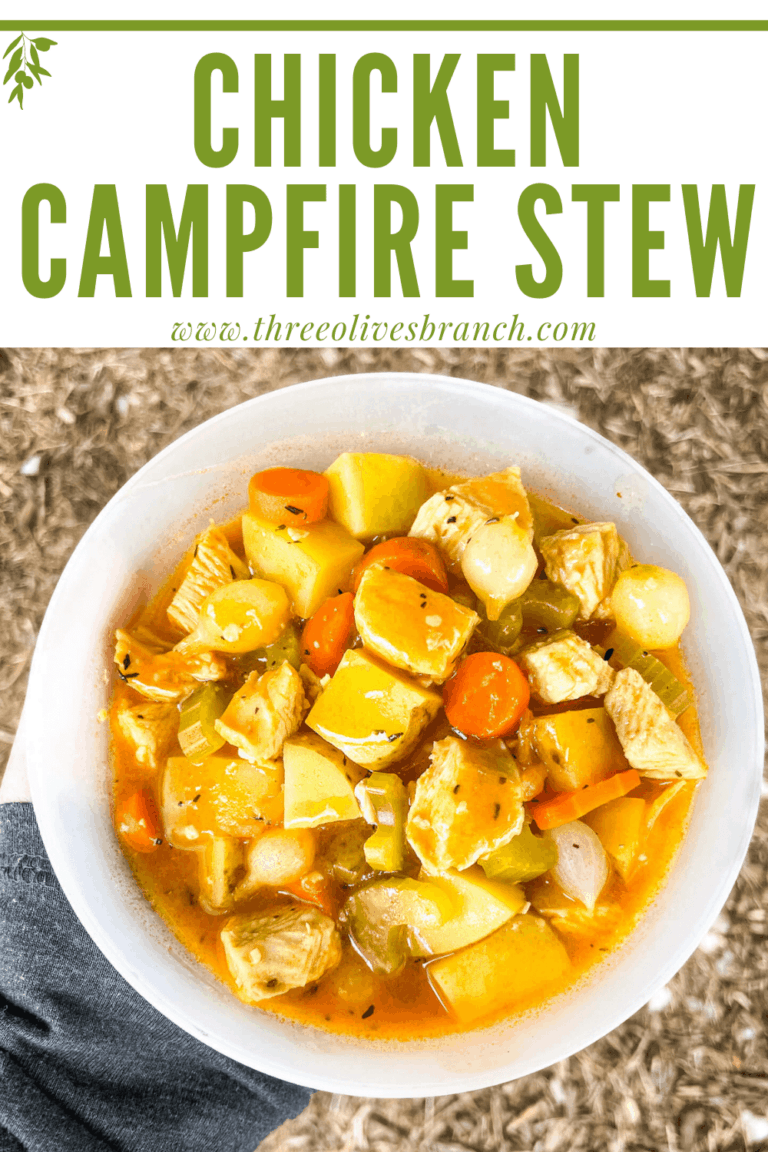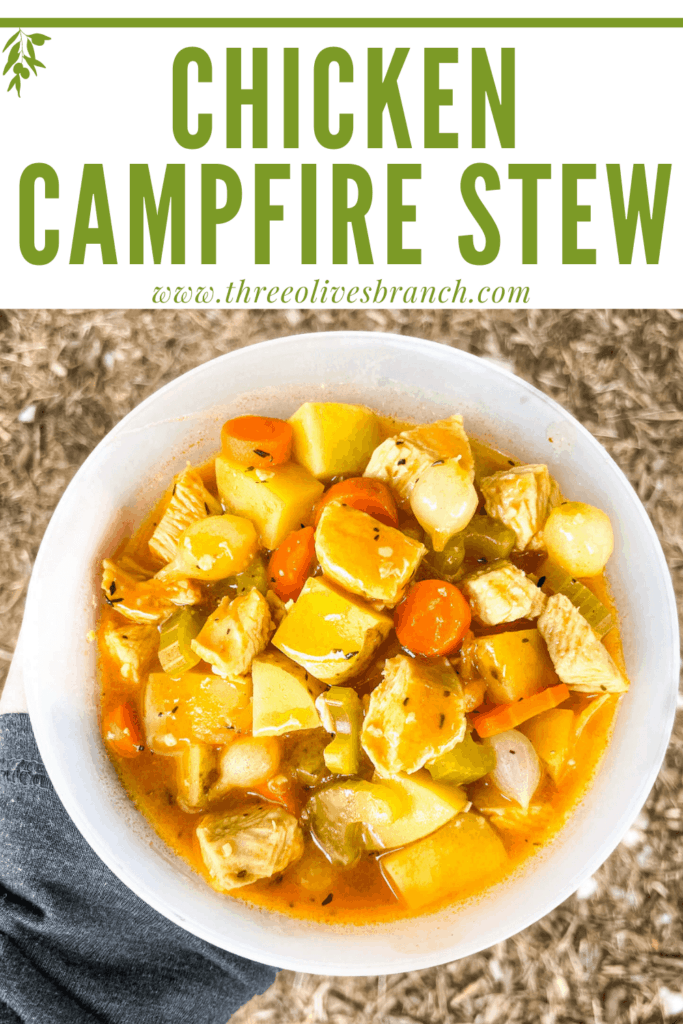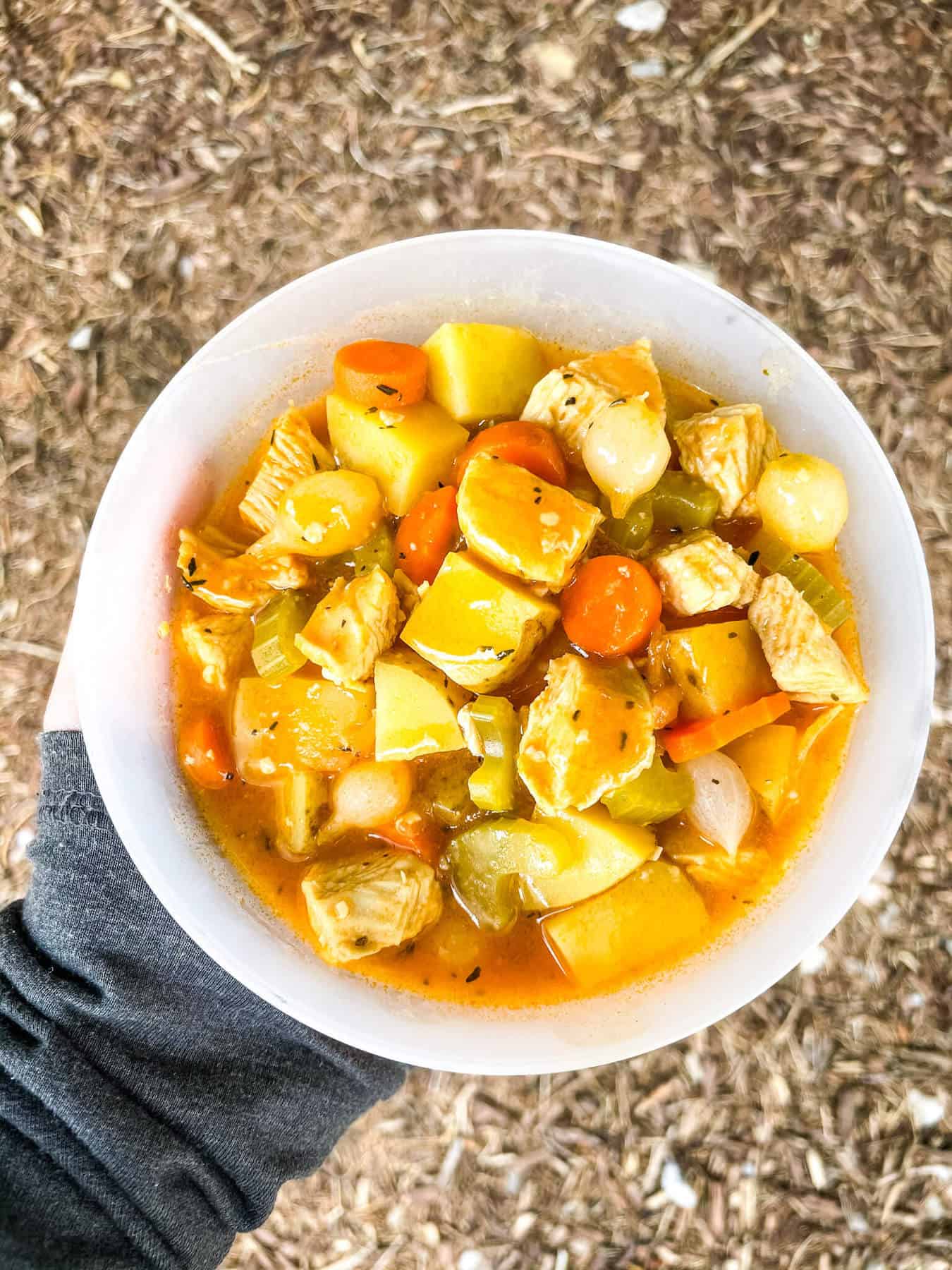 Ingredients
2

pounds

chicken breast

cut into large bite sized chunks (or boneless thighs)

2

Tablespoons

vegetable oil

1/2

teaspoon

salt

plus more to taste at end

1/2

teaspoon

black pepper

plus more to taste at end

¼

cup

flour

4

cups

chicken stock

12

ounces

pearl onions

or 1.5 cups diced yellow onion

1

pound

gold potatoes

cut into 1 inch chunks

3

large

carrots

trimmed and sliced

3

celery stalks

sliced

2

cloves

garlic

minced

2

Tablespoons

tomato paste

1

teaspoon

dried thyme

⅛

teaspoon

cayenne red pepper
Instructions
Cut up the chicken into large bite sized chunks and place in a bag with 2 Tablespoons of oil, 1/2 teaspoon salt and 1/2 teaspoon black pepper.

Make a roux by whisking the flour with 1/4 cup (or so) of the stock until it is combined in a slurry.

Prepare the vegetables and place in a gallon sized bag. Add the remaining ingredients including the roux to the vegetable bag.

When ready to cook, place the Dutch oven on the fire at a high heat area. Let it get hot. Dump in the chicken and cook until it has a little color and is mostly cooked through, approximately 10 minutes.

Adjust the pot over the heat to a medium heat source. Add the vegetable bag with the remaining ingredients. Stir, cover, and cook for 1.5 to 2 hours. Stir occasionally to prevent it from sticking and keep it at a simmer. Adjust the pot over the heat source as needed to stay at a medium or medium low temperature.

Season to taste with salt and pepper. Serve warm with bread for dunking.
Stove Top Instructions
Heat a large pot over medium heat with 2 Tablespoons of oil.

When hot, add the diced chicken with 1/2 teaspoon salt and 1/2 teaspoon black pepper.

Once lightly browned, add the flour and stir to combine. Cook for 30 seconds.

Add the remaining ingredients and bring to a simmer. Reduce heat to medium low (or low as needed) and cook until vegetables and potatoes are tender, approximately 30 minutes. Serve warm.
Notes
Use any boneless chicken you like (breasts, thighs, or a combination).
You can make this when camping in a Dutch oven or large, heavy bottomed pot. Thin pots are much more likely to scorch and burn.
Want it even faster? Cook it at home and simply reheat at the campsite.
If the stew is too thick, add some water as needed when cooking. If too thin, let it cook some without the lid.
This recipe has been adapted from

Recipe Tin Eats

. 
Bay leaves are edible but incredibly tough, so it is best to remove them before serving.
This makes 6 moderate servings or 4 large servings.
Any type of potato will work but I like waxy potatoes like Yukon gold because they hold up better in the stew.
Nutrition
Serving:

1

serving

|

Calories:

334

kcal

|

Carbohydrates:

20

g

|

Protein:

38

g

|

Fat:

11

g

|

Saturated Fat:

5

g

|

Polyunsaturated Fat:

1

g

|

Monounsaturated Fat:

3

g

|

Trans Fat:

1

g

|

Cholesterol:

102

mg

|

Sodium:

669

mg

|

Potassium:

999

mg

|

Fiber:

3

g

|

Sugar:

7

g

|

Vitamin A:

6183

IU

|

Vitamin C:

10

mg

|

Calcium:

47

mg

|

Iron:

2

mg

By