A fast and easy grilled plum dessert topped with a honey ginger yogurt mixture. Healthy and easy!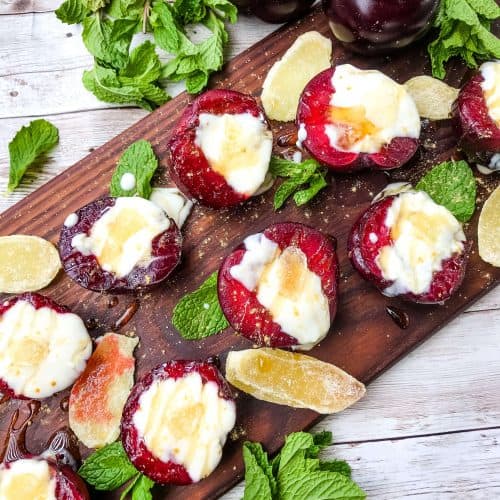 A simple summer dessert, Grilled Plum Dessert with Ginger Honey Yogurt is ready in just minutes!
This post contains affiliate links.
In the summer, we try to grill as much as we can. I have even seen toast for breakfast being grilled here…
So of course, that means dessert gets thrown on the grill, too! This plum dessert recipe is perfect for a crowd at a BBQ. With minimal prep time and a fast cooking time, this will quickly become one of your favorites.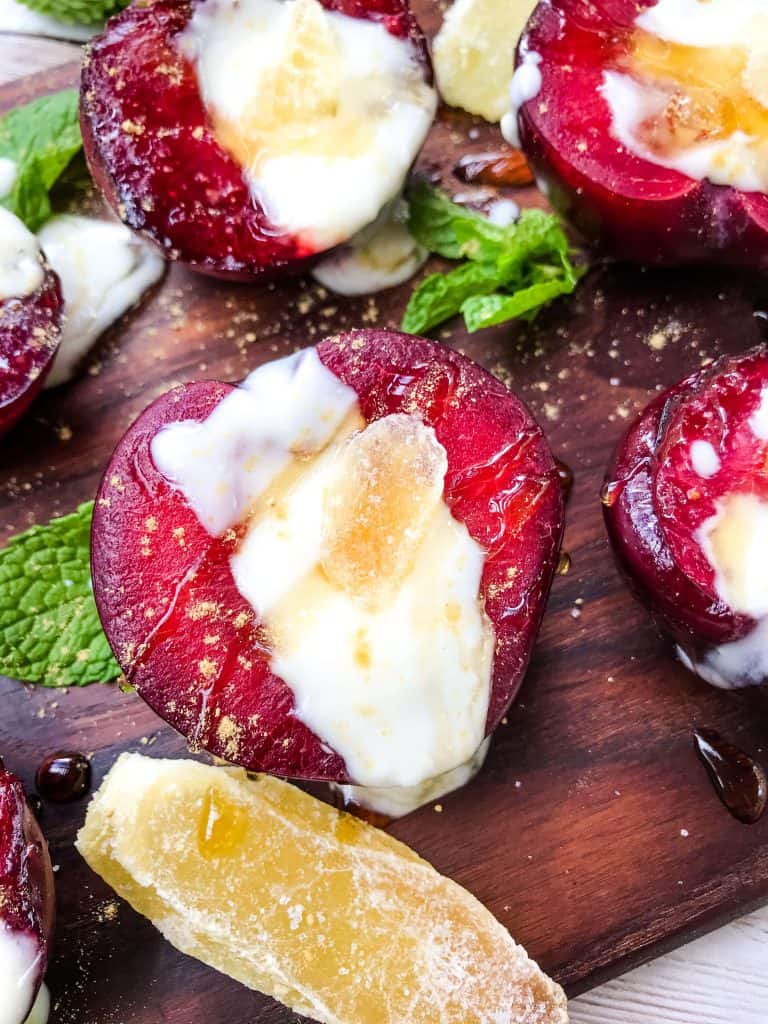 I do not see much about plums, even when they are in season. Peaches and apricots seem to pop up everywhere. But I have grown fond of plums. Not only do they have an amazing sweet taste, but they are also beautiful! Just look at that purple and dark pink hue. Their color just pops.
Use plums that have a firm texture. Cut them in half around the pit and gently twist to separate. Use a knife if needed to gently and carefully cut the pit out. We seem to only get cling pit stone fruit around here, where the pit does not easily separate from the flesh, so cutting the pit out is very common. If you are lucky, try to find and get the freestone pits where the pit easily comes out.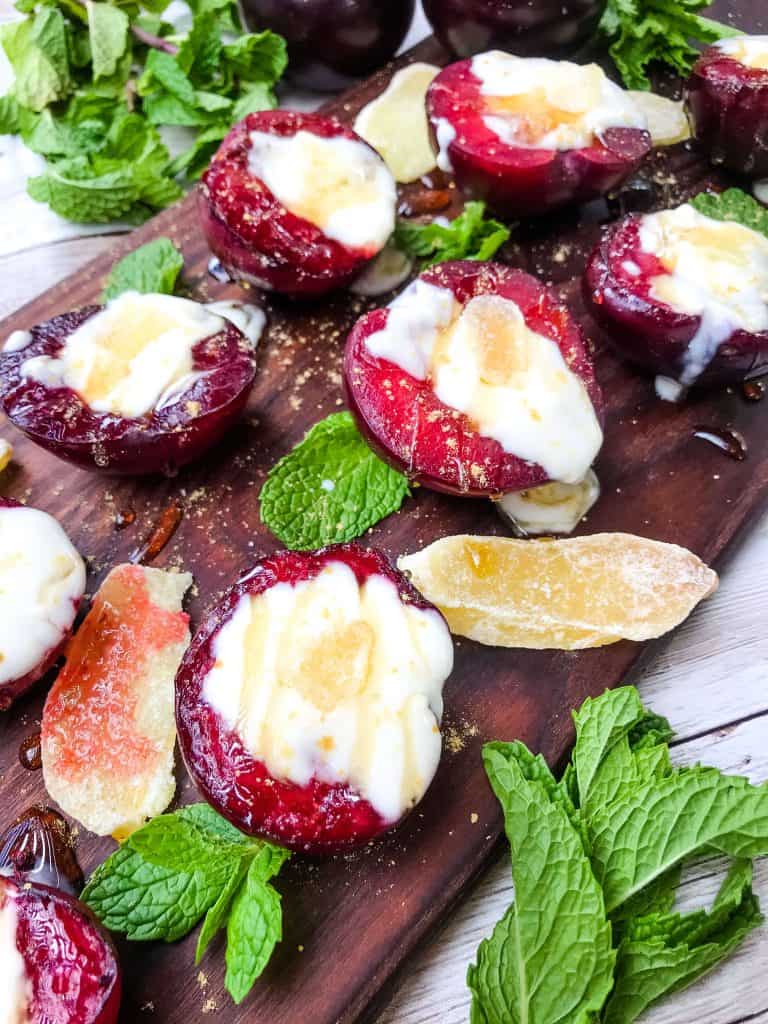 You could also make this plum dessert with peaches, nectarines, or any stone fruit! Or mix it up with a variety to choose from.
If you are a ginger lover, try adding some chopped pieces of candied ginger on top! The sweetened ginger adds some texture and an extra zing!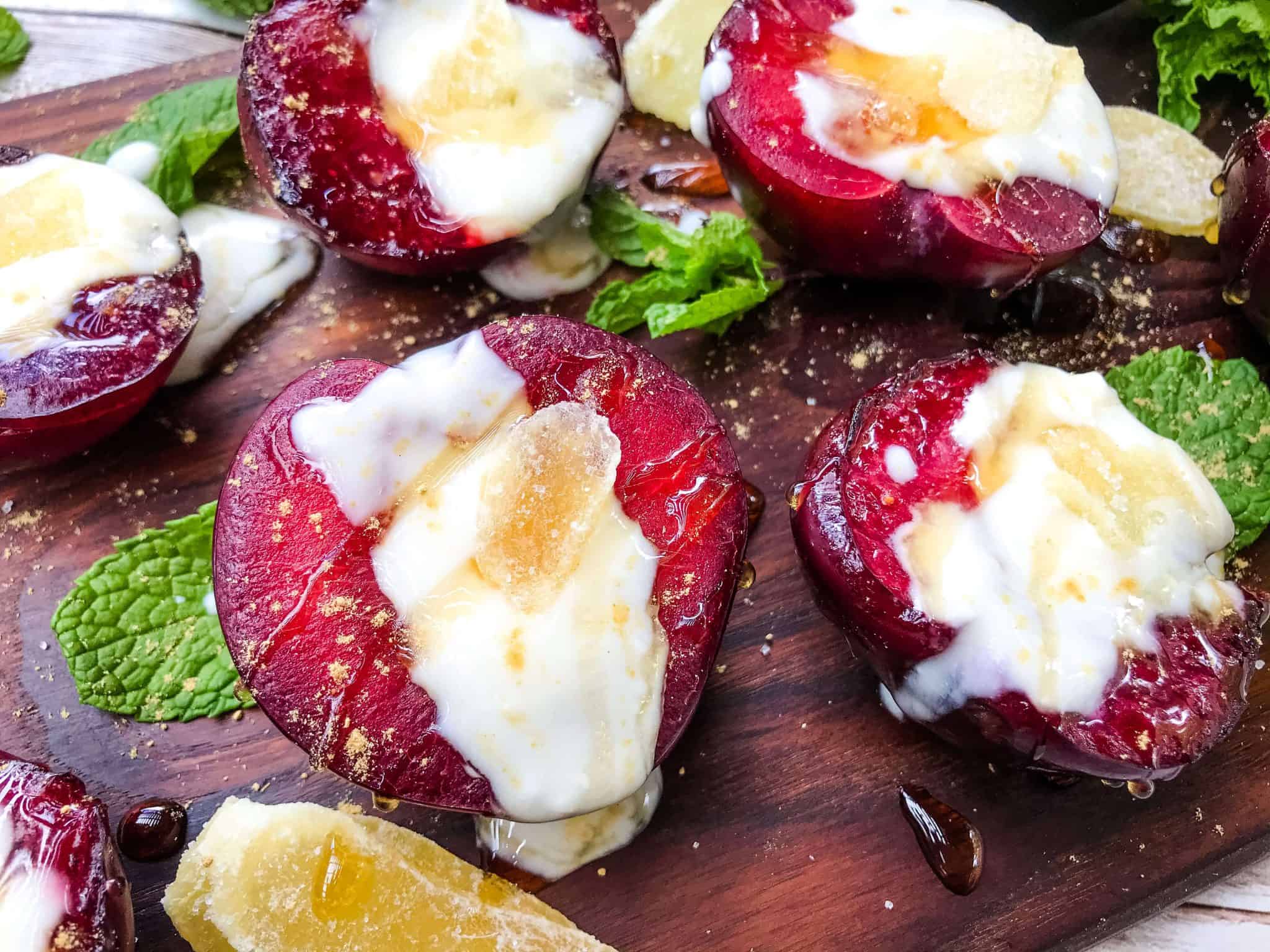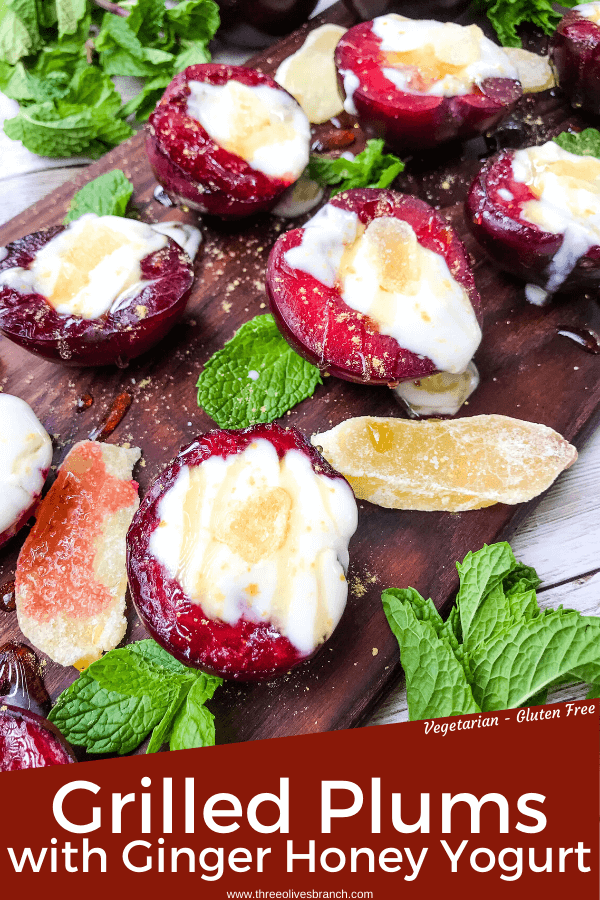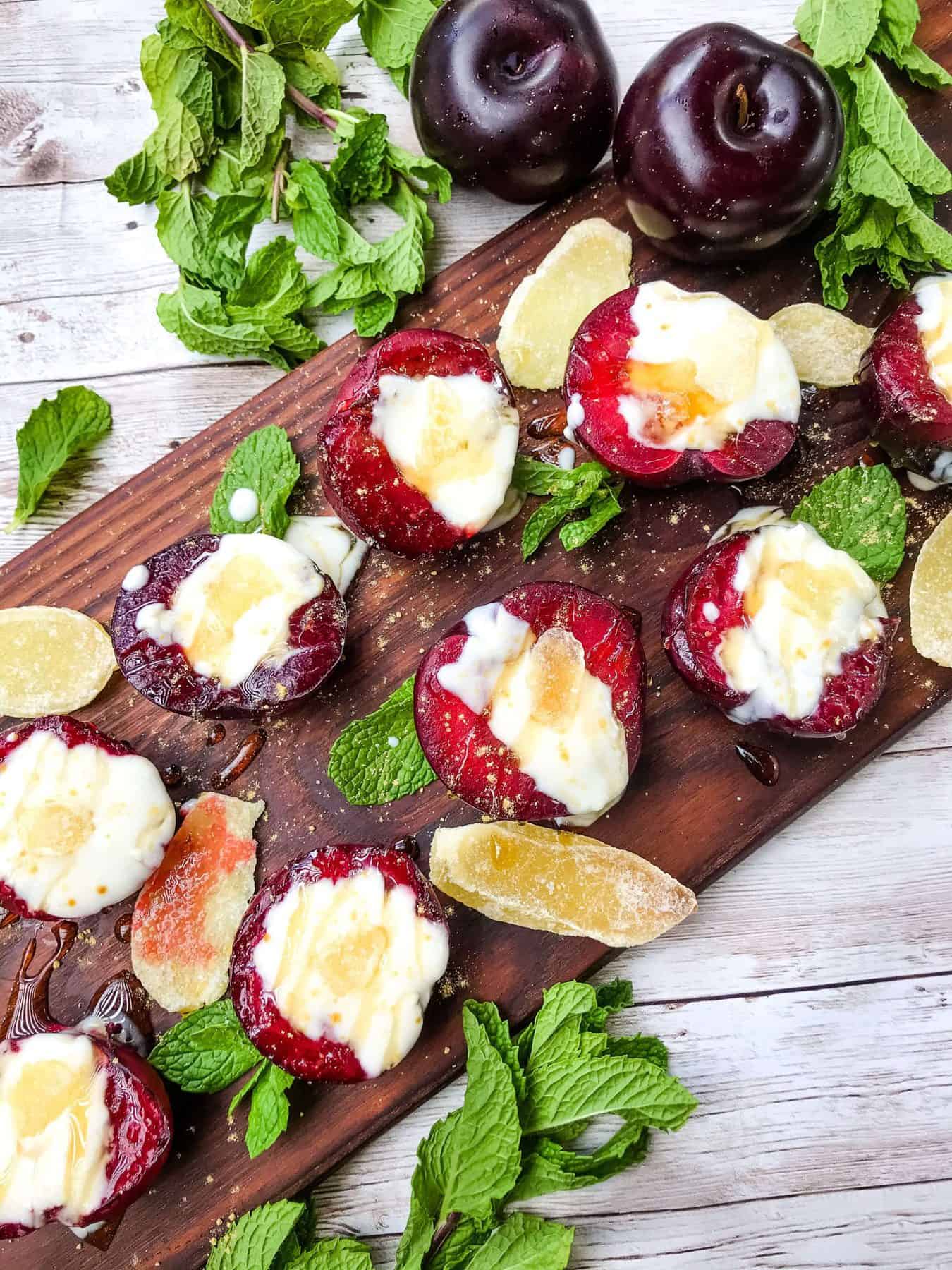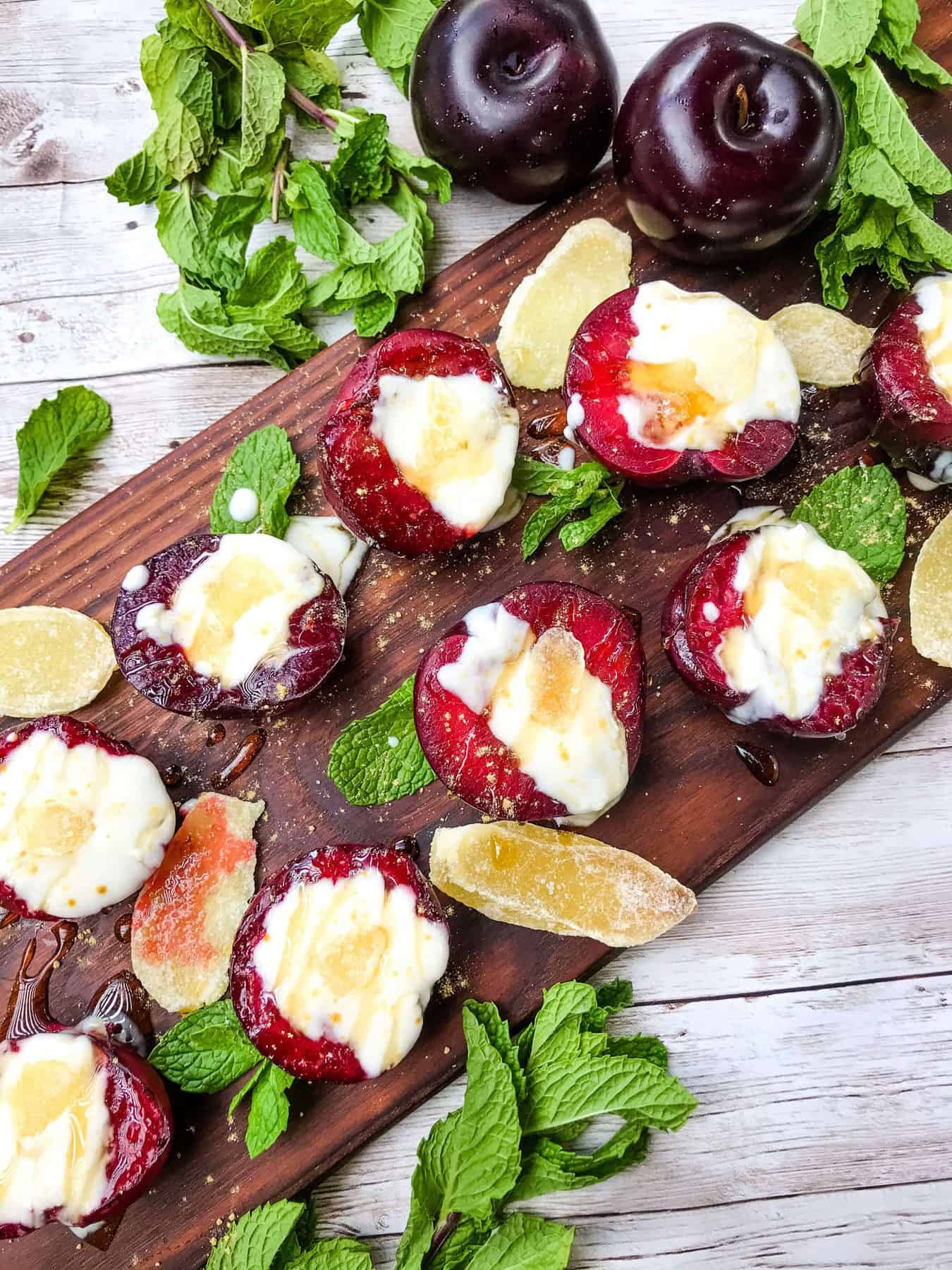 Instructions
Preheat your grill to medium heat.

Cut your plums in half and remove the pits. If they do not come out easily, carefully carve around them with a knife.

Put your plum halves on the grill cut side up for two minutes.

Flip and cook cut side down approximately 5 minutes until heated through and you have some grill marks.

While the plums are grilling, make your yogurt. Combine the yogurt, honey, ginger, and a pinch of salt in a small bowl. Season to taste.

Remove the plums from the grill. Top each with approximately 1 Tablespoon of the yogurt mixture as desired. Drizzle with honey and serve warm.
Notes
For a pop of freshness, sprinkle some chopped mint on top!
This would also be great with peaches or other stone fruit.
You can use a flavored yogurt, however the flavor of the mixture will change accordingly. You can also use plain Greek yogurt but the sauce will be much thicker.
If you are a ginger lover, try adding some chopped pieces of candied ginger on top!
Nutrition
Calories:

82

kcal

|

Carbohydrates:

18

g

|

Protein:

2

g

|

Fat:

1

g

|

Saturated Fat:

1

g

|

Cholesterol:

4

mg

|

Sodium:

15

mg

|

Potassium:

151

mg

|

Fiber:

1

g

|

Sugar:

17

g

|

Vitamin A:

258

IU

|

Vitamin C:

6

mg

|

Calcium:

41

mg

|

Iron:

1

mg

By