Chocolate Overnight Oats is a fast and easy breakfast recipe. Made with just 6 ingredients. Gluten free. A simple breakfast idea for meal prep. Great for weight loss.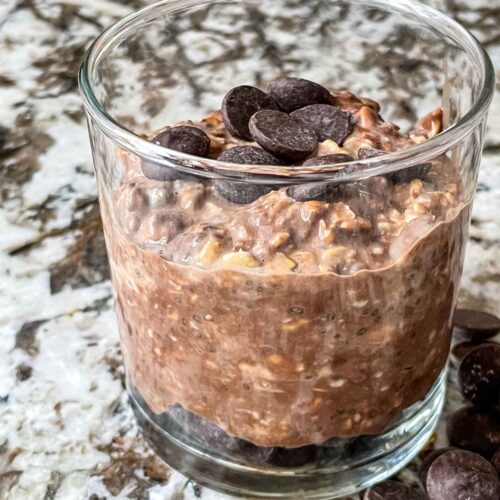 Chocolate Overnight Oats are a fast and easy breakfast idea! A great meal prep recipe using just 6 ingredients.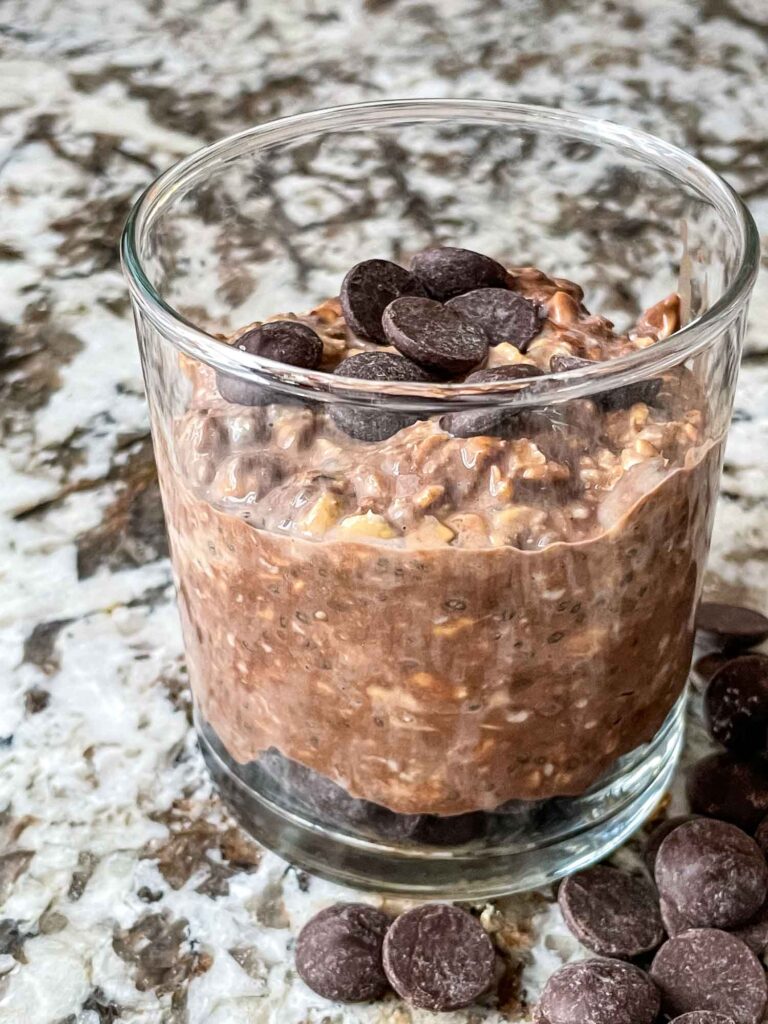 Overnight Oats Recipe
If you need easy and fast breakfast ideas, this is for you!
Making Chocolate Overnight Oats is incredibly fast and easy, and a great meal prep recipe to have healthy breakfast ready to go all week.
Using just a little cocoa powder makes this cold oatmeal rich and decadent while still keeping a healthy profile.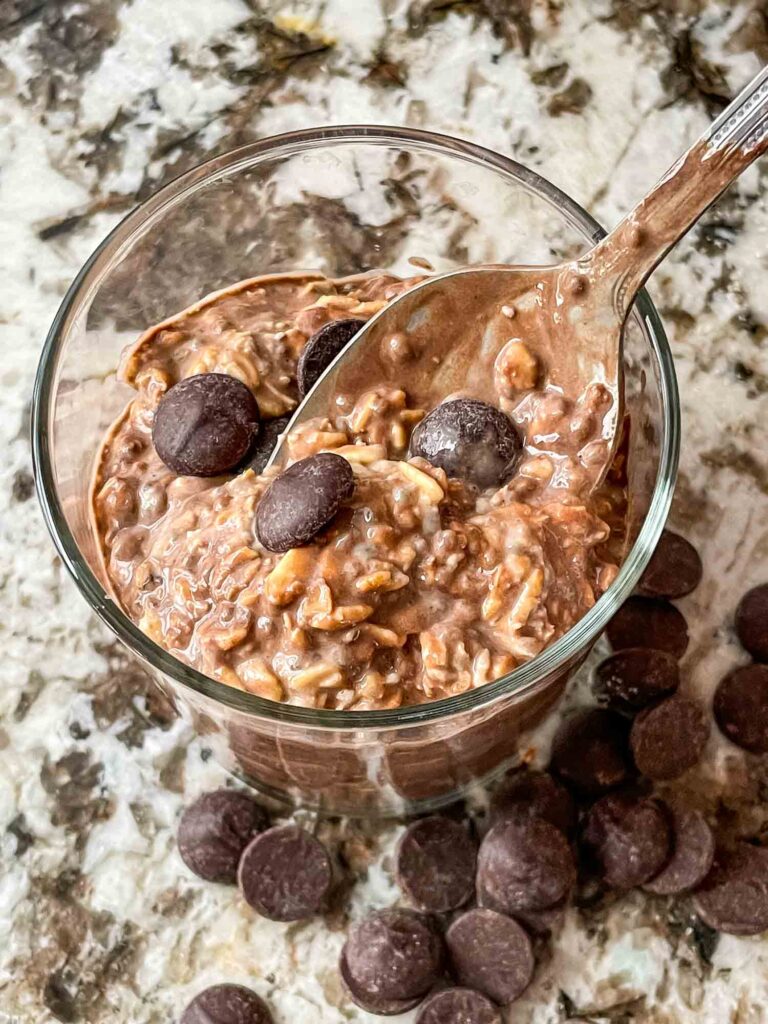 What are Overnight Oats?
Overnight oats are a way to prepare a variation of oatmeal in the refrigerator overnight.
It consists of using yogurt and milk to hydrate the oats with the addition of chia seeds for health benefits. Additional flavors and ingredients are added for fun flavor options.
Ingredients Needed for Chocolate Overnight Oats
This is what you need to make these oats:
Oats (any kind except instant)
Milk (any kind)
Plain Yogurt (I like to use Greek)
Chia Seeds
Cocoa Powder
Maple Syrup (or agave, or honey)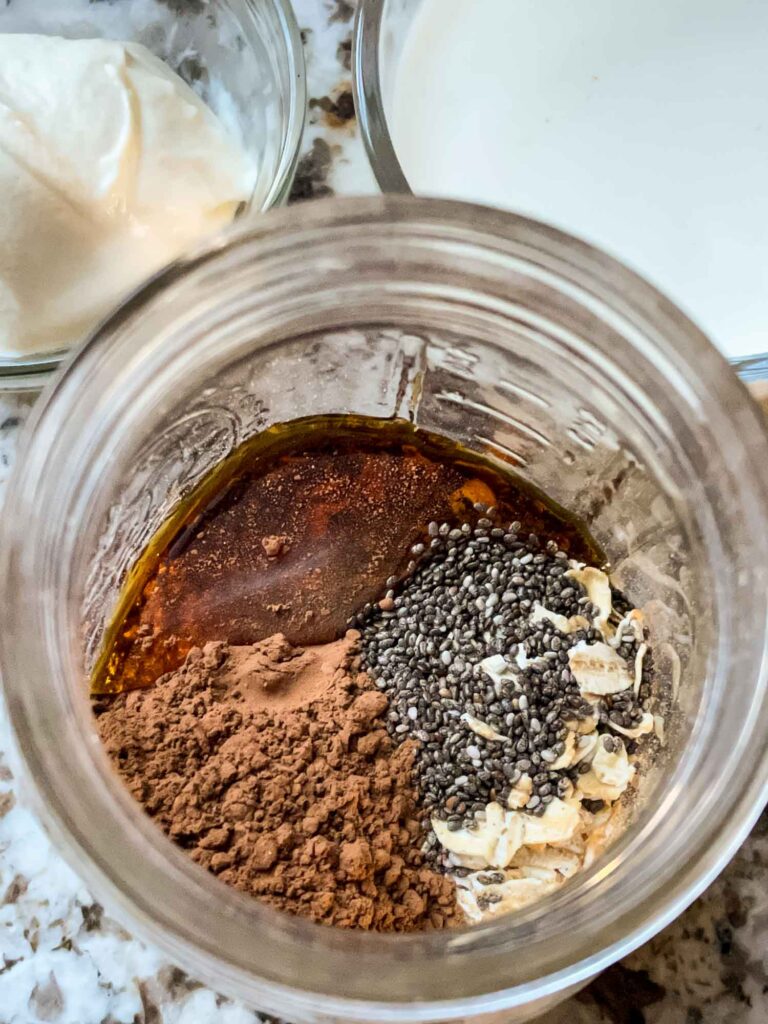 How to Make Chocolate Overnight Oats
The process to make this recipe is very fast and simple!
Assemble these in a mason jar or any container that has a lid or can be sealed.
Add all of the ingredients into the jar and mix to combine.
Seal it up and place in the refrigerator overnight. That is it!
Are Chia Seeds Necessary for Overnight Oats?
No. You could make this without the chia seeds.
They do absorb moisture, so if you omit them, I would reduce the milk to 1/3 cup.
Another alternative is to use flax seeds. They will also absorb a little moisture and also have great health benefits.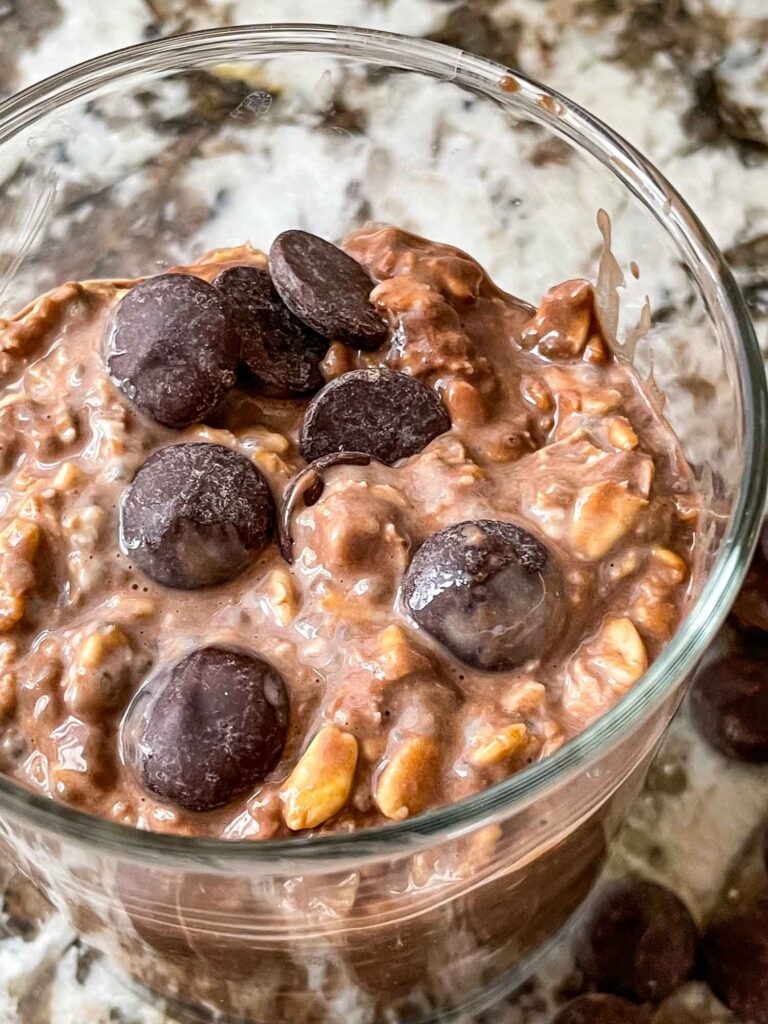 Do You Eat Overnight Oats Cold or Hot?
You can eat them either way!
If you want them hot, heat the microwave safe jar or bowl in the microwave for 45-60 seconds.
Also do not add any fruits or ingredients that would not stand up well to heat until after they are heated.
This recipe would be fine as-is to heat everything together. If you do decide to add some bananas or strawberries, add those after heating.
What is the difference between overnight oats and oatmeal?
One difference is that overnight oats are traditionally served cold (while they can be heated if desired) and oatmeal is traditionally hot.
Overnight oats also includes more dairy in the milk and yogurt versus traditional oatmeal using just water or just milk.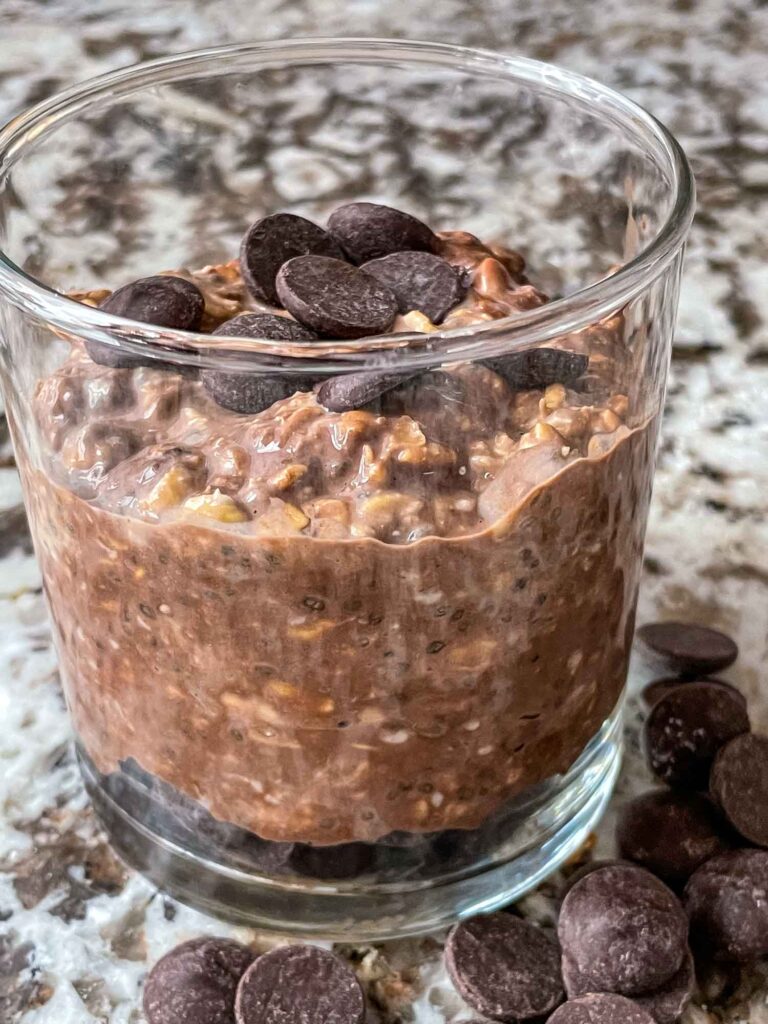 Are Overnight Oats good for weight loss? Are overnight oats healthy?
Overnight oats are a great healthier option.
They are full of fiber, which keeps you full longer, plus lots of protein, vitamins, and minerals.
Since the fiber keeps you full longer, it is beneficial for those looking to lose weight.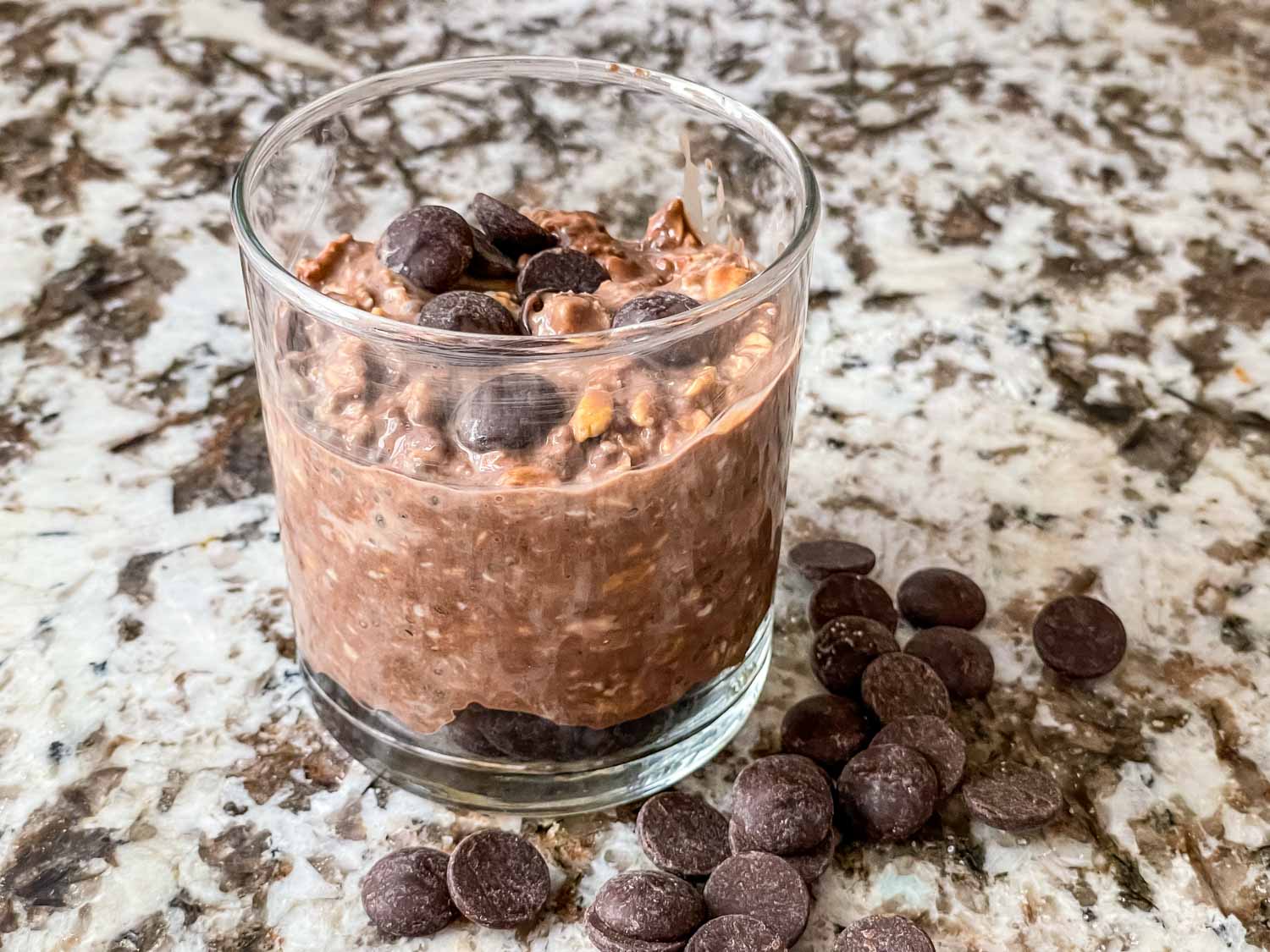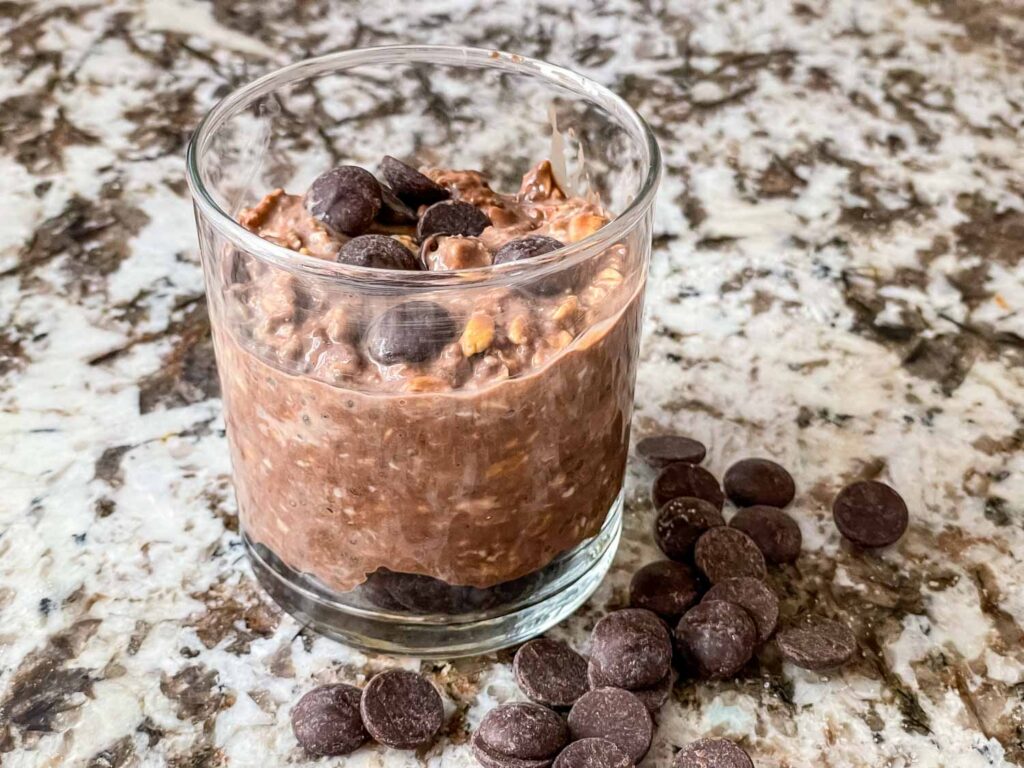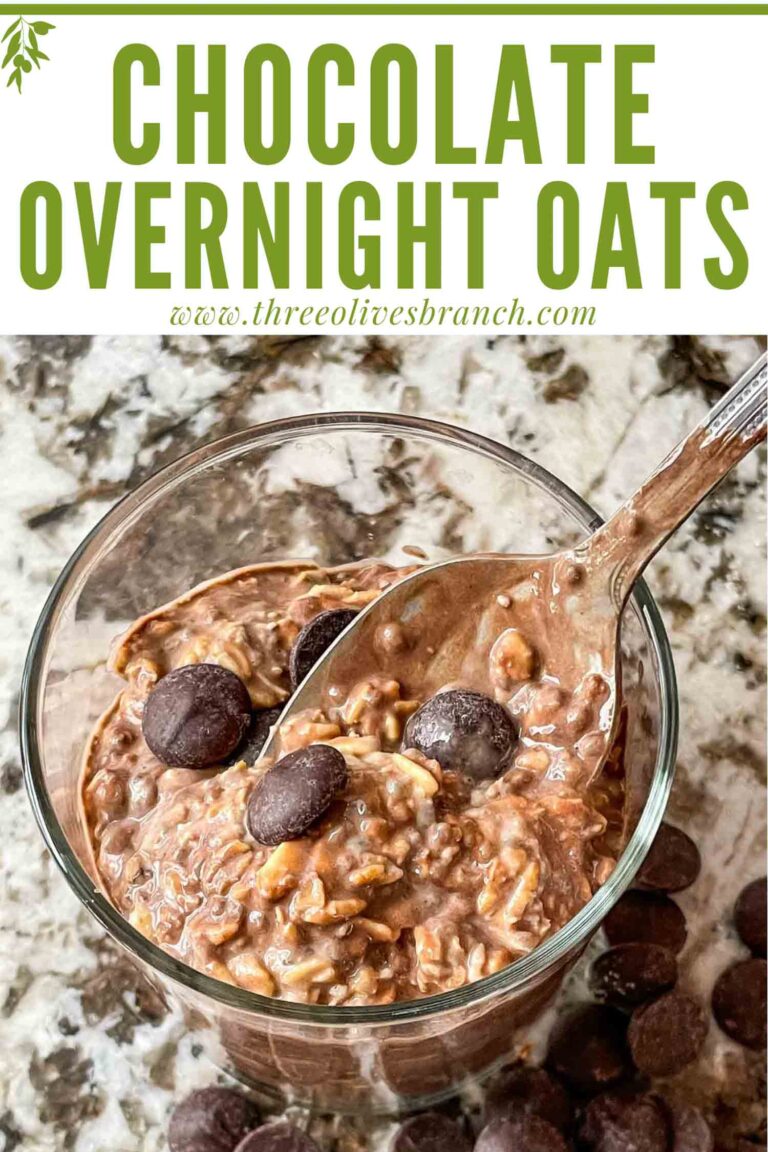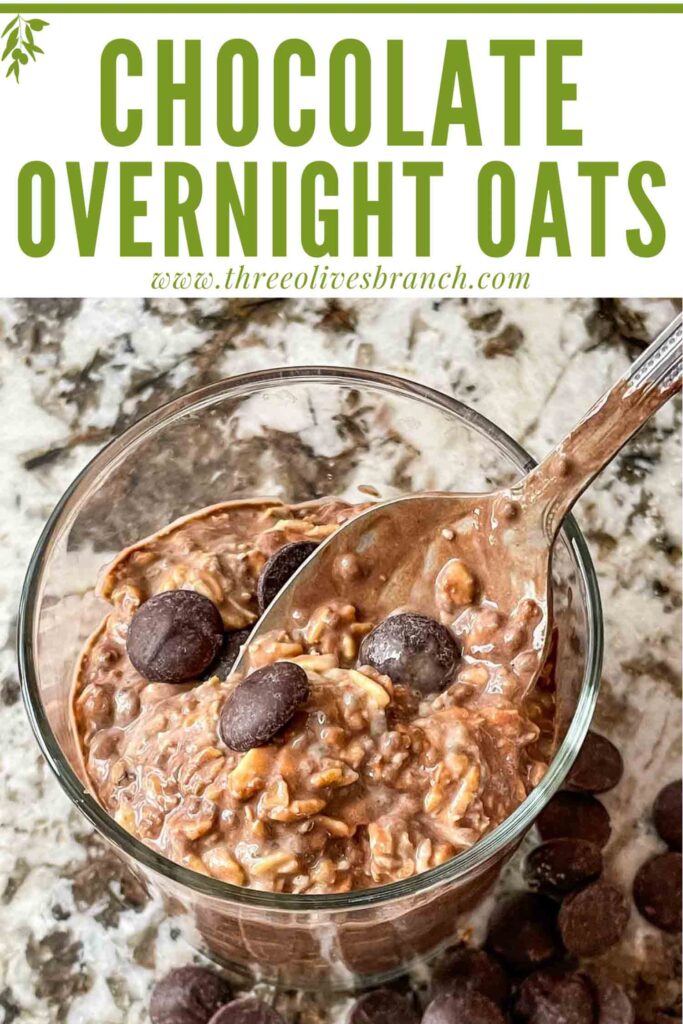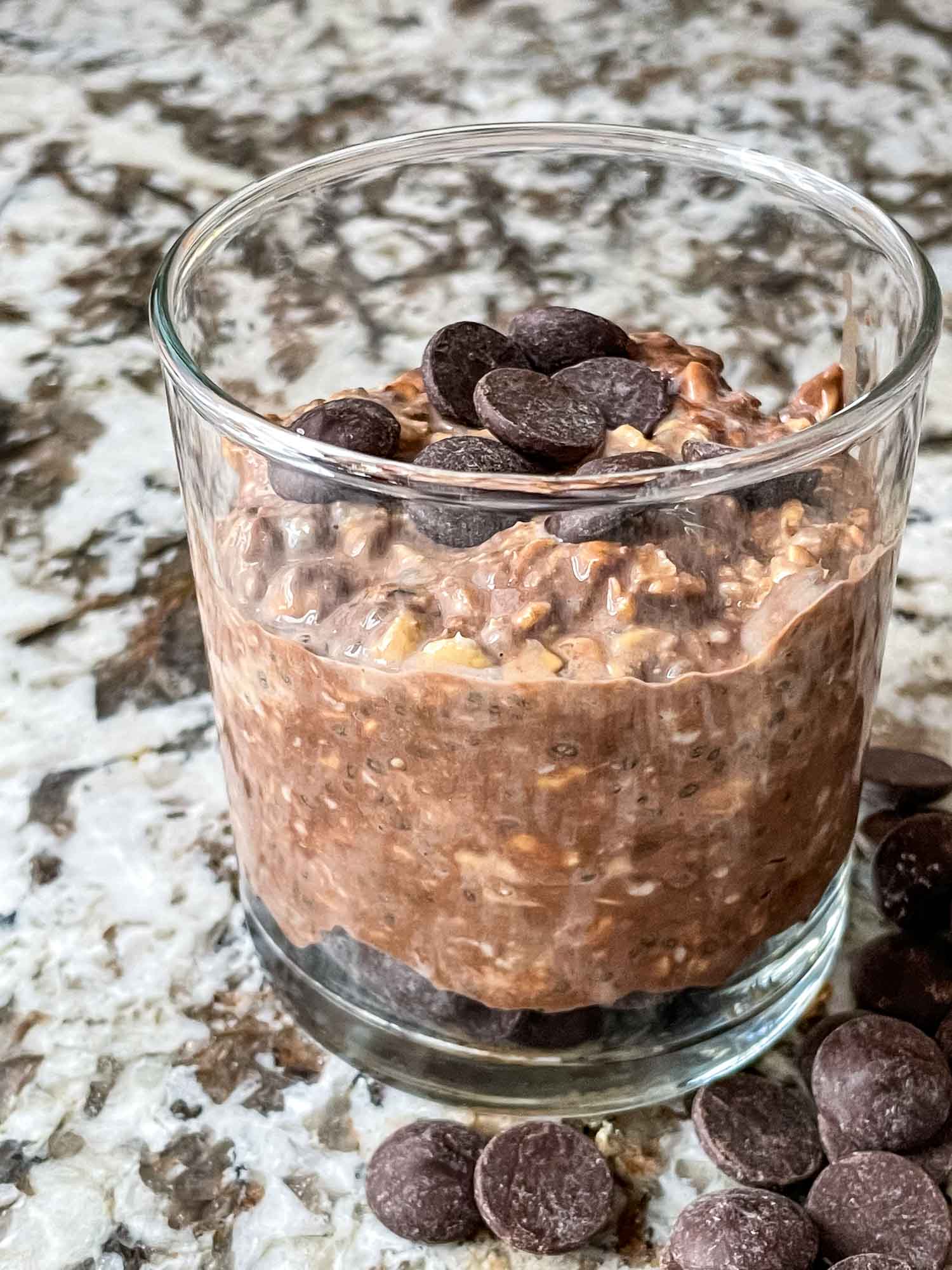 Instructions
Place all of the ingredients in a jar or sealable container. Mix well to combine.

Store in the refrigerator overnight.

Eat straight out of the jar, or heat in the microwave for 45 seconds. Best eaten within 24 hours of making, but lasts up to 5 days.
Notes
Old fashioned or steel cut oats are best as they have great texture. Quick oats will have a softer texture.
You can use a flavored plain or Greek yogurt for additional flavor. Anything that pairs well with chocolate will work such as honey, strawberry, and raspberry.
Nutrition
Serving:

1

serving

|

Calories:

381

kcal

|

Carbohydrates:

57

g

|

Protein:

17

g

|

Fat:

11

g

|

Saturated Fat:

4

g

|

Polyunsaturated Fat:

4

g

|

Monounsaturated Fat:

2

g

|

Trans Fat:

1

g

|

Cholesterol:

15

mg

|

Sodium:

78

mg

|

Potassium:

548

mg

|

Fiber:

10

g

|

Sugar:

20

g

|

Vitamin A:

206

IU

|

Vitamin C:

1

mg

|

Calcium:

318

mg

|

Iron:

3

mg

By