Peanut Butter Overnight Oats are a fast and easy recipe for grab and go breakfast! Healthy and full of protein and fiber for weight loss. Easy meal prep made with yogurt, milk, and chia seeds or flax.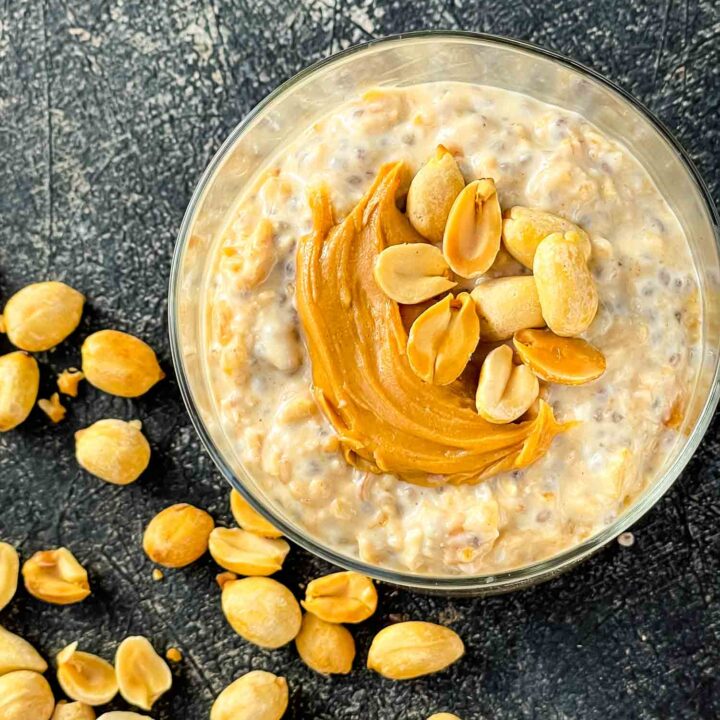 This quick and easy breakfast recipe is perfect for the PB lovers! Peanut Butter Overnight Oats only require a few ingredients and a few minutes to make, and you will have a grab and go breakfast ready for you in the morning!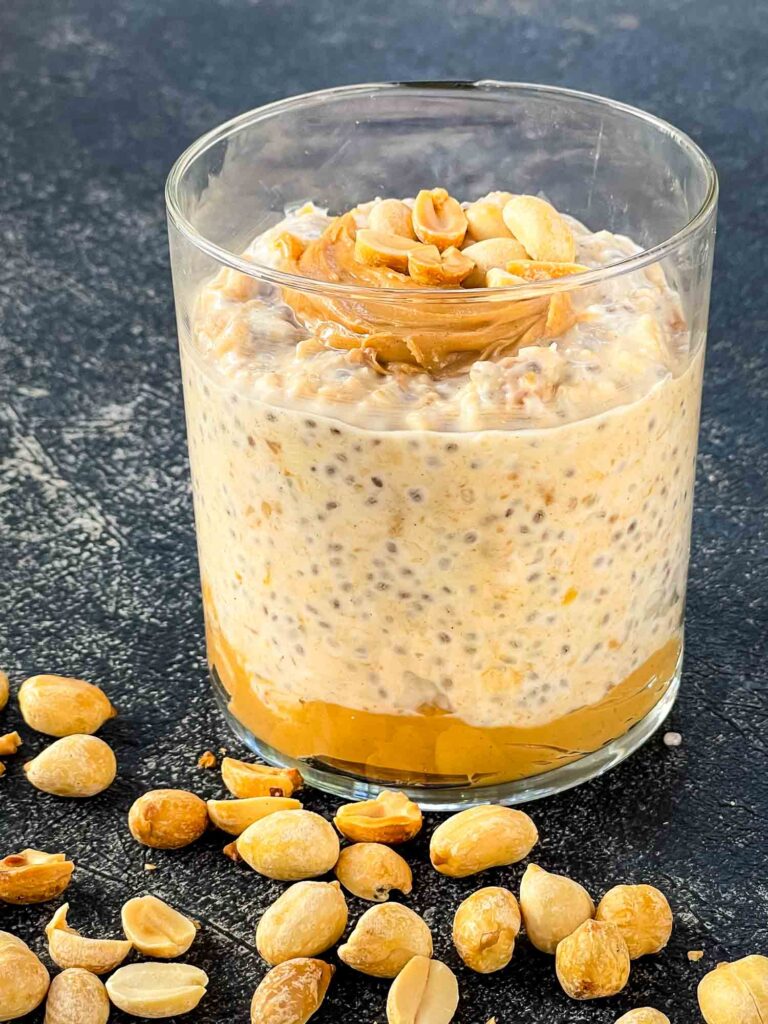 Overnight Oats with Yogurt
I love how incredibly fast and easy these overnight oats are to make!
Just a few ingredients and a few minutes, and you have a breakfast meal prep ready for the week.
Make these oats in glass mason jars for individual portions or in any sealed container in a batch.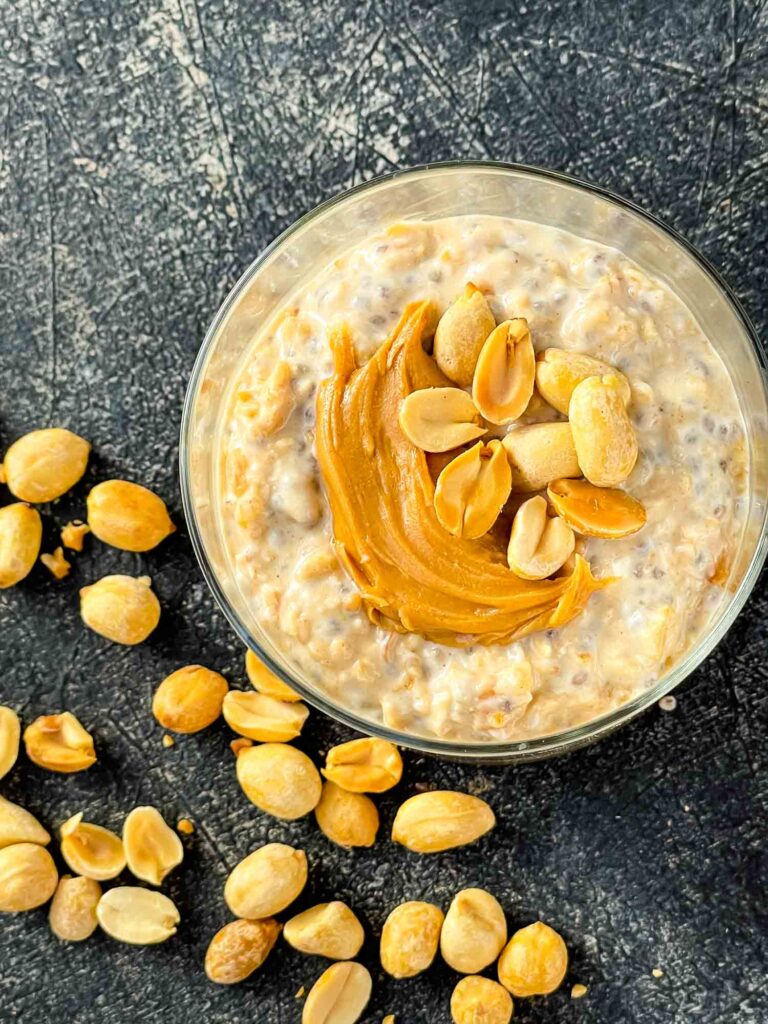 Are Overnight Oats Good for Weight Loss?
Yes. A primary reason why they are seen as healthy are that overnight oats have lots of fiber.
This fiber is not only good for you but keeps you full longer.
Is Peanut Butter and Oatmeal Good for You?
Yes! In addition to the benefits from oats, peanut butter is full of healthy fats and protein.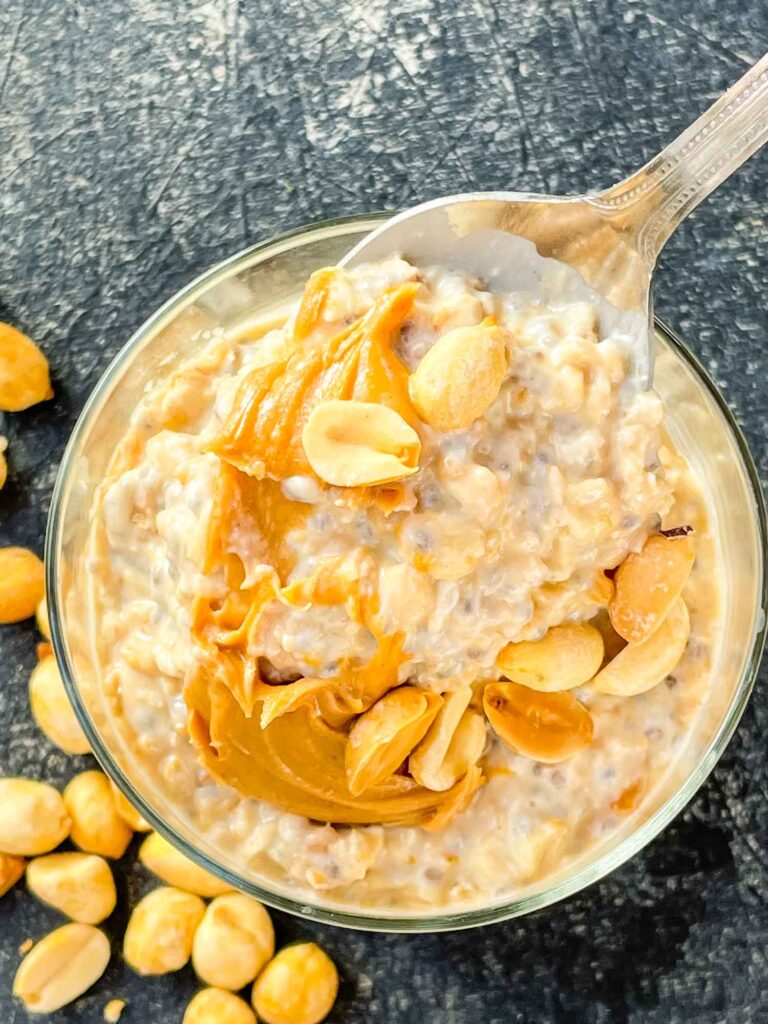 What is in Peanut Butter Overnight Oats?
Here are the ingredients you need:
Oats
Milk (or any plant milk)
Plain Yogurt (can be Greek) (or any complimentary flavor like honey, etc)
Honey (or maple syrup, or agave)
Peanut Butter
What Type of Oats are Used in Overnight Oats?
Old fashioned or steel cut oats are best as they have great texture.
Quick oats will have a softer texture.
How to Make Overnight Oats
Simply combine all of the ingredients in a jar or sealed container, stir, and place in the refrigerator.
Let them sit overnight and the liquids will absorb giving you a delicious breakfast or snack!
The oats are best in the first 24-48 hours, but can be made 5 days in advance.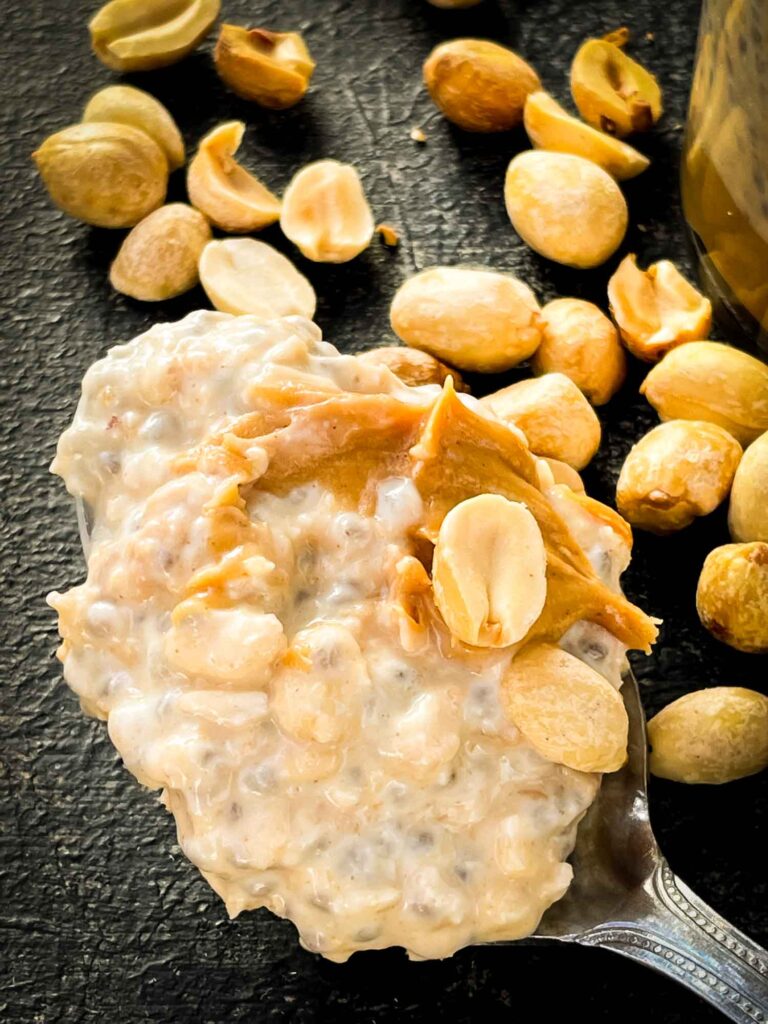 Do Overnight Oats have to be in a Glass Jar?
No, you can use any container that you can cover and put in the refrigerator.
Bowls, containers, and even drinking glasses work as long as you put a lid or covering on top to keep the moisture in.
Are Chia Seeds Necessary for Overnight Oats?
Yes, as it helps thicken the oats.
But you can also use flax seeds as they have the same thickening effect and are also good for you.
Do You Eat Overnight Oats Cold?
You can eat the oats either cold or hot.
To warm, simply heat in a microwave for 30-60 seconds as desired and stir.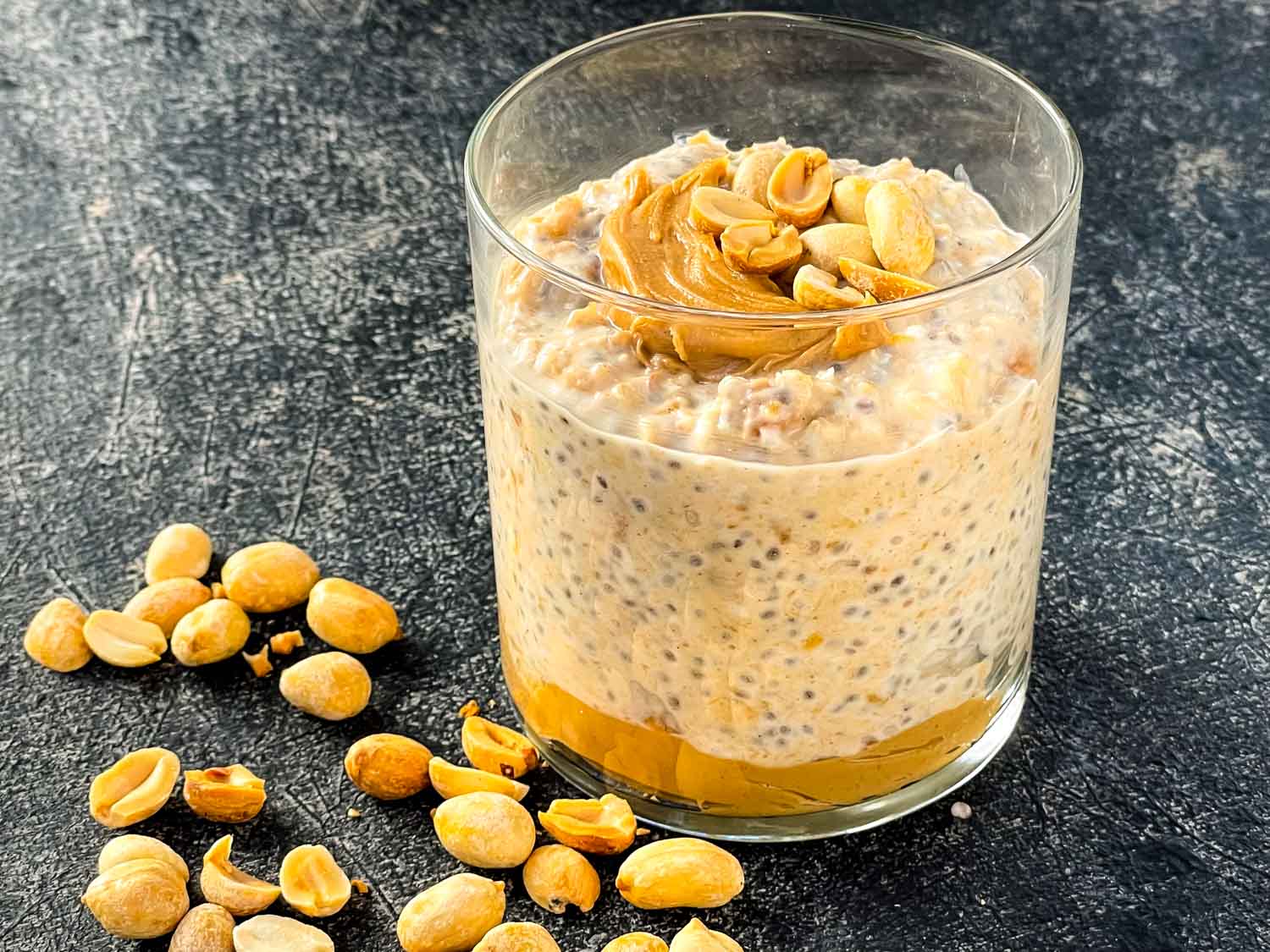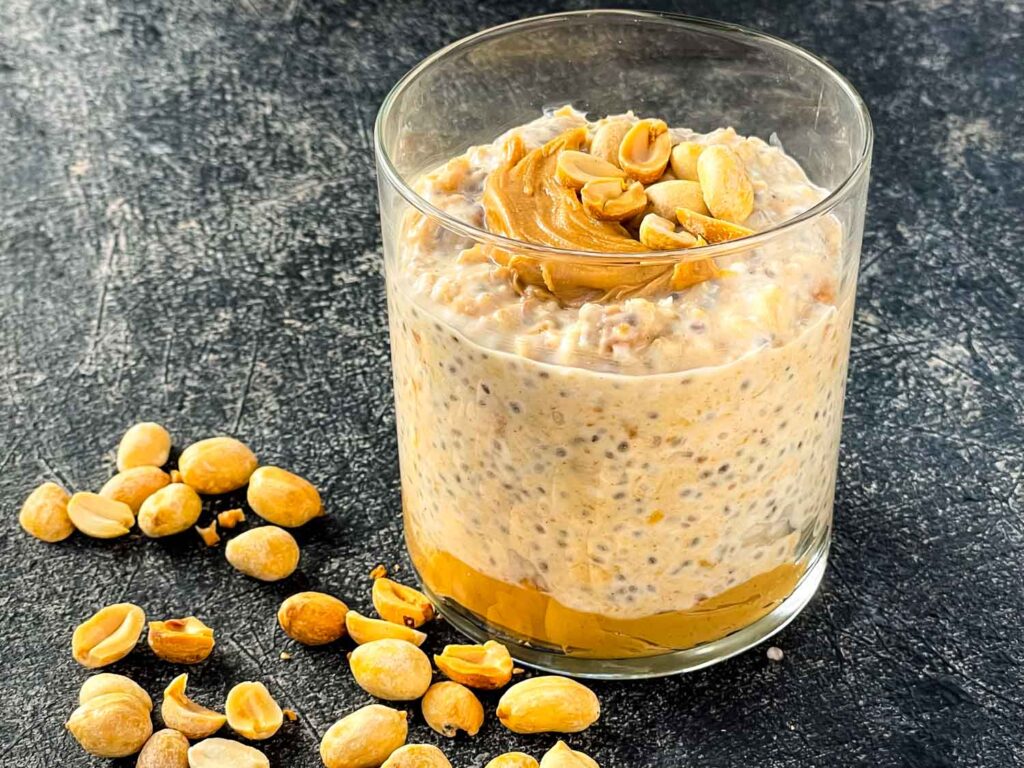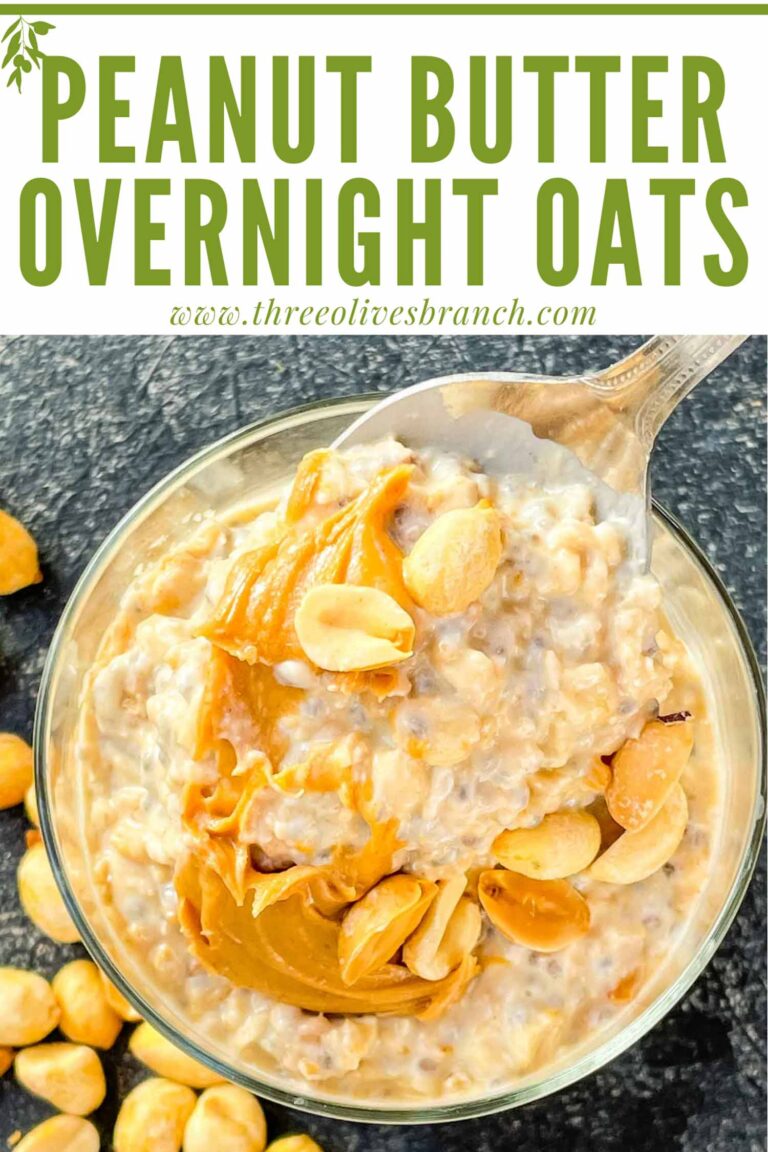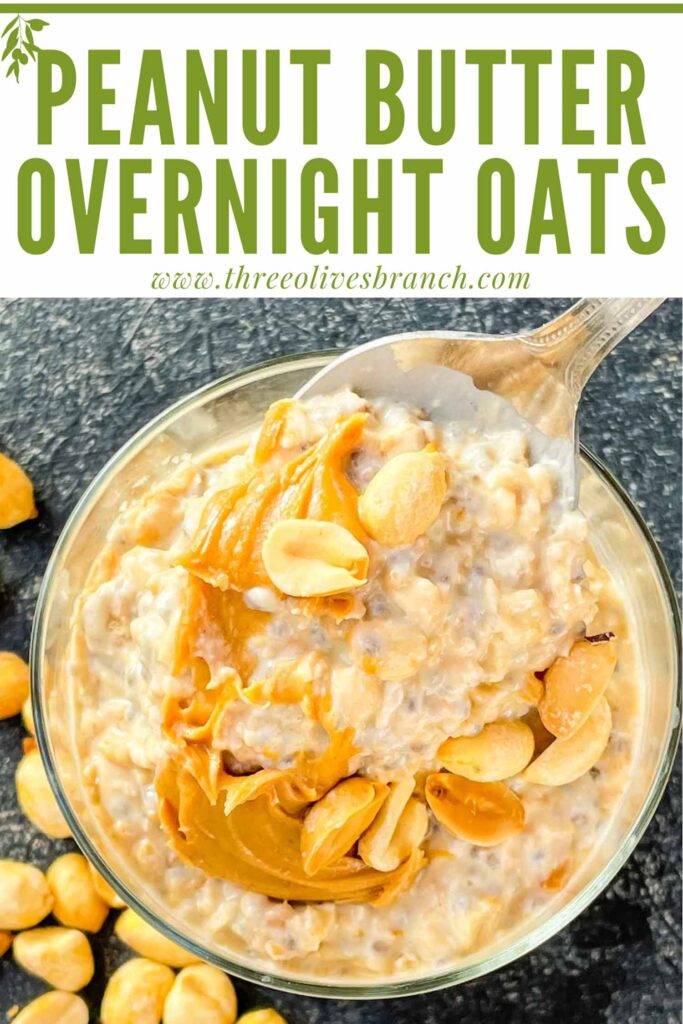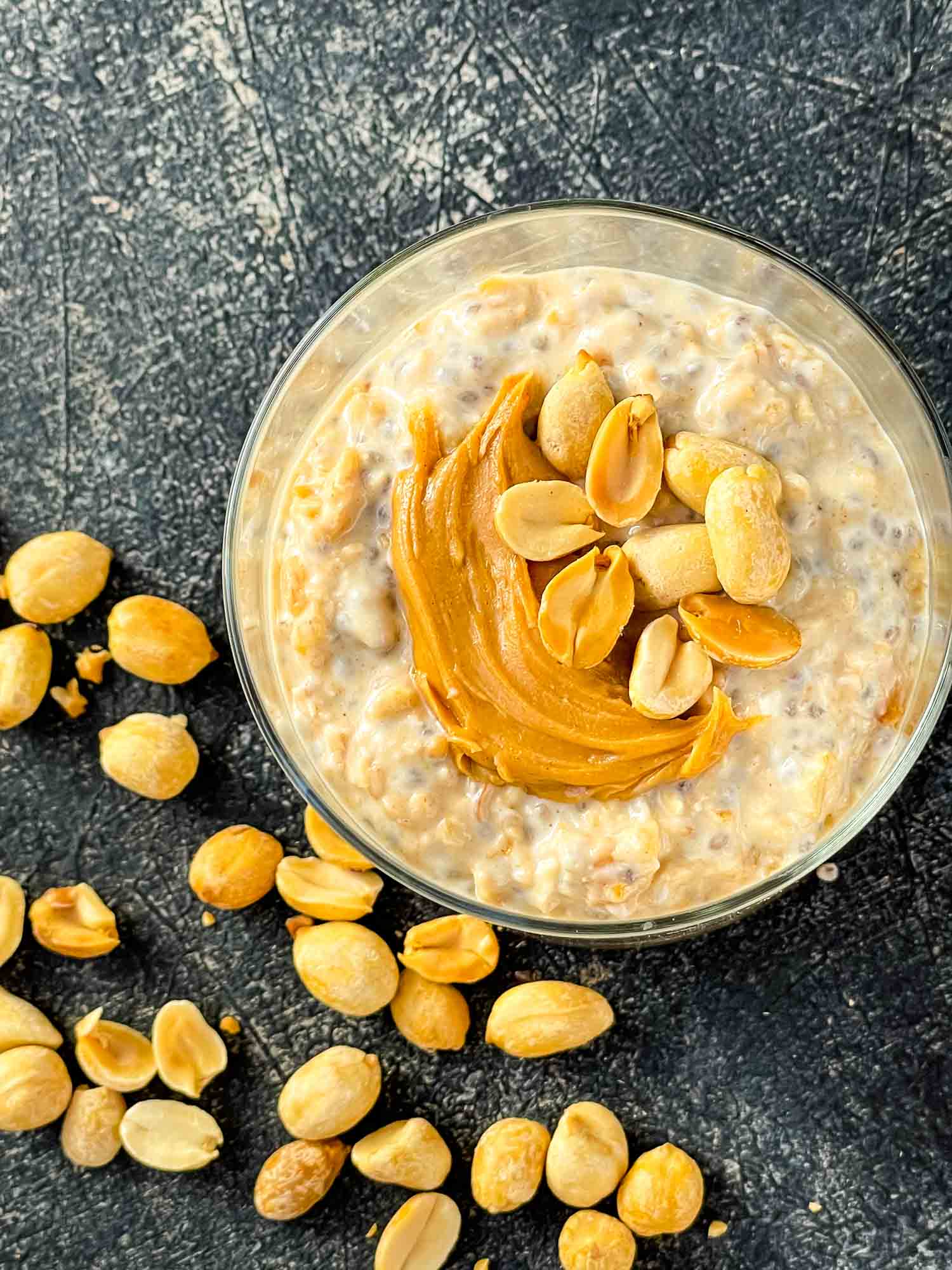 Instructions
Place all of the ingredients in a jar or sealable container. Mix well to combine.

Store in the refrigerator overnight.

Eat straight out of the jar, or heat in the microwave for 45 seconds. Best eaten within 24 hours of making, but lasts up to 5 days.
Notes
Old fashioned or steel cut oats are best as they have great texture. Quick oats will have a softer texture.
You can use a flavored plain or Greek yogurt for additional flavor. Anything that pairs well with peanut butter will work such as honey.
Nutrition
Serving:

1

serving

|

Calories:

381

kcal

|

Carbohydrates:

57

g

|

Protein:

17

g

|

Fat:

11

g

|

Saturated Fat:

4

g

|

Polyunsaturated Fat:

4

g

|

Monounsaturated Fat:

2

g

|

Trans Fat:

1

g

|

Cholesterol:

15

mg

|

Sodium:

78

mg

|

Potassium:

548

mg

|

Fiber:

10

g

|

Sugar:

20

g

|

Vitamin A:

206

IU

|

Vitamin C:

1

mg

|

Calcium:

318

mg

|

Iron:

3

mg

By