Coconut Oatmeal Raisin Scones are a brunch or breakfast recipe based on a classic cookie. Rolled oats are mixed with raisins and flaked coconut for a morning pastry. #oatmealraisin #scones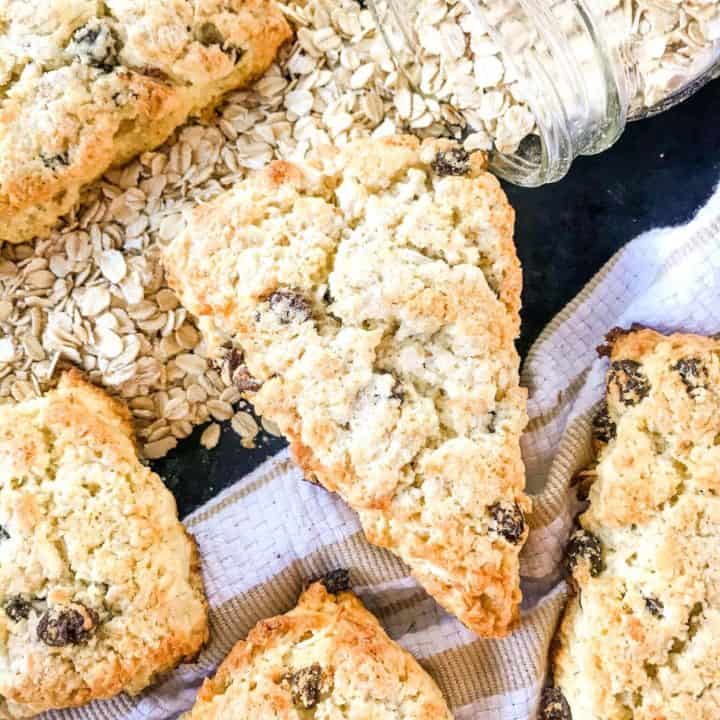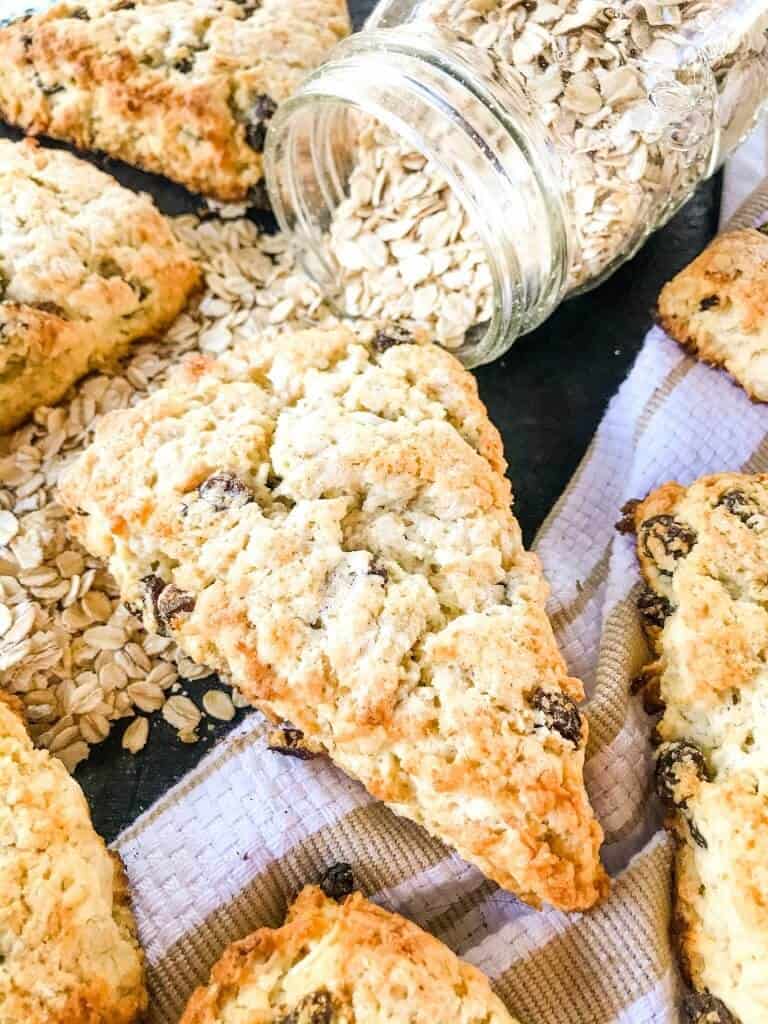 Coconut Oatmeal Raisin Scones are full of raisins, coconut flakes, and rolled oats for a yummy breakfast or brunch baked good!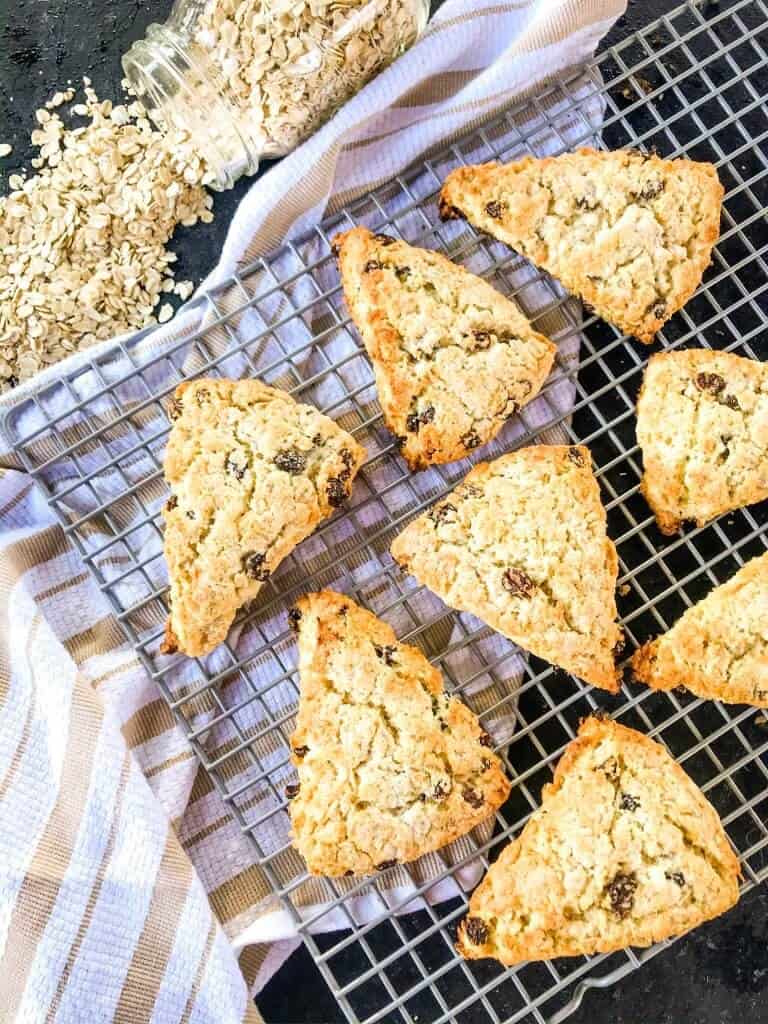 This post contains affiliate links.
I am not traditionally a huge breakfast person, but one of my favorite breakfast foods is scones. It think it is because of the great texture and all the amazing mix ins and flavors you can add! These Coconut Oatmeal Raisin Scones are a rift off of the cookie, with some coconut for texture and flavor. (Sometimes I even add some chocolate chips to them!)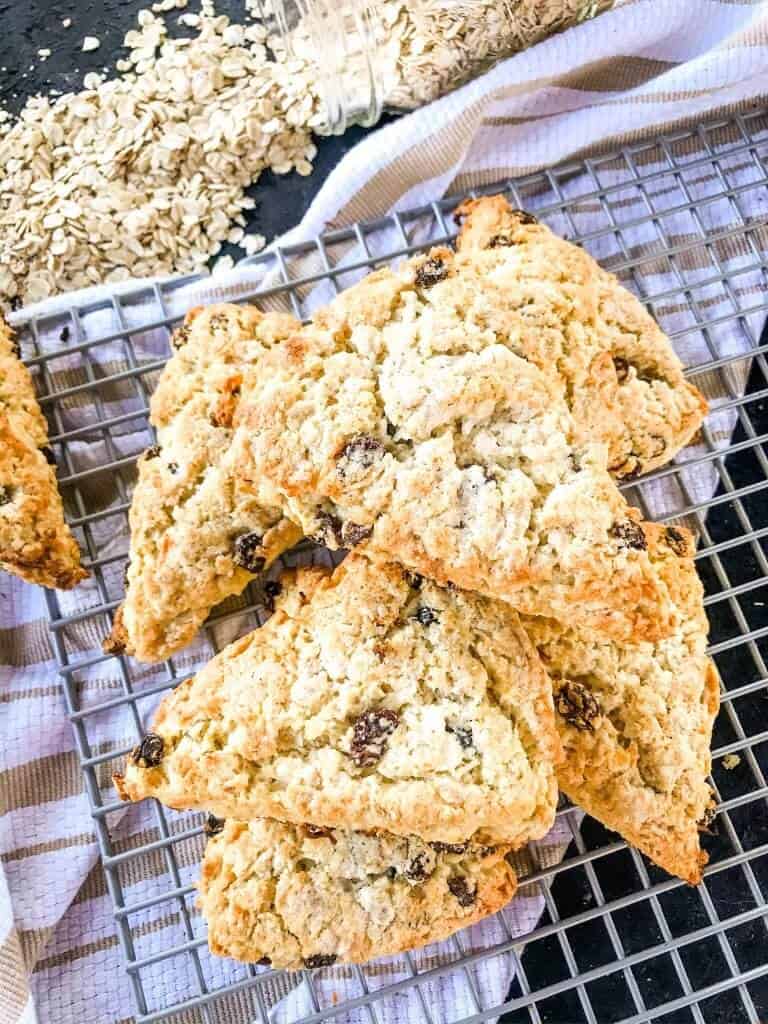 Oatmeal raisin might seem like an old fashioned flavor combination, but it is a classic for a reason! If you reeeeally love raisins, or coconut, you can increase the amount you add. These are also great with some walnuts or pecans! The rolled oats provide a wonderful texture to the dough and gives them a little chew, making them my go-to for many scone dough bases. You can find more scone recipes here!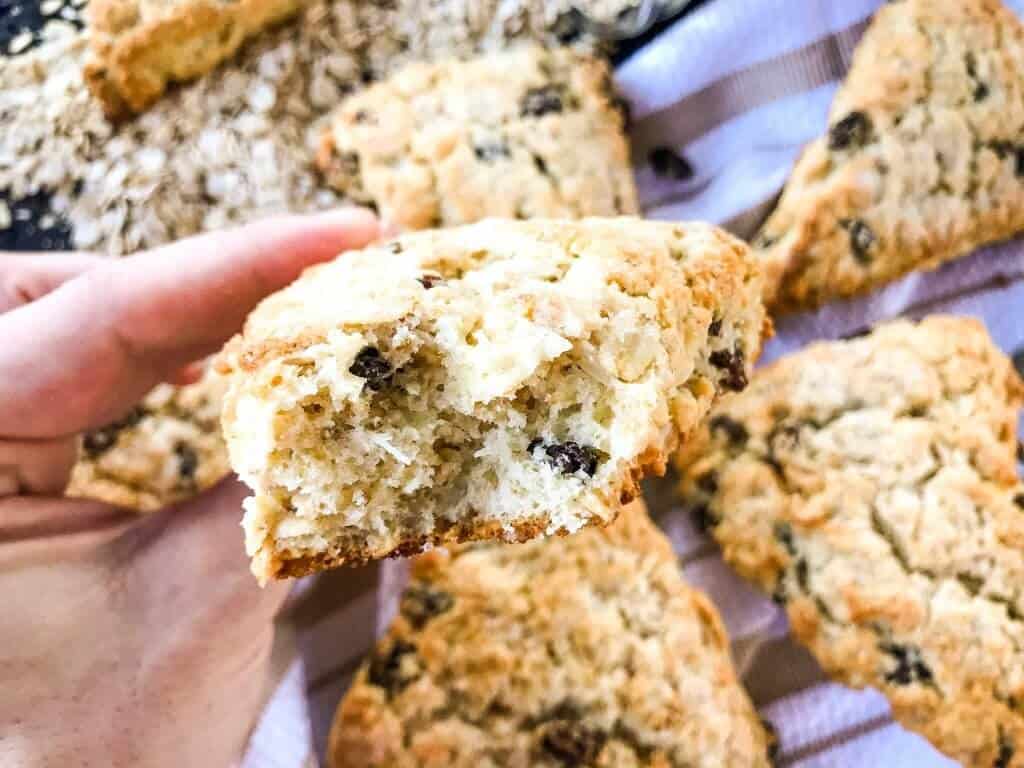 These Coconut Oatmeal Raisin Scones are also great because you can easily freeze them. Put the raw dough wedges in the freezer, separated, until hard and store in a plastic bag. Then when you want to bake some, pull out exactly what you need and follow the same baking temperature, but just a little longer. They taste freshly made! Such a great trick for lazy mornings or unexpected guests.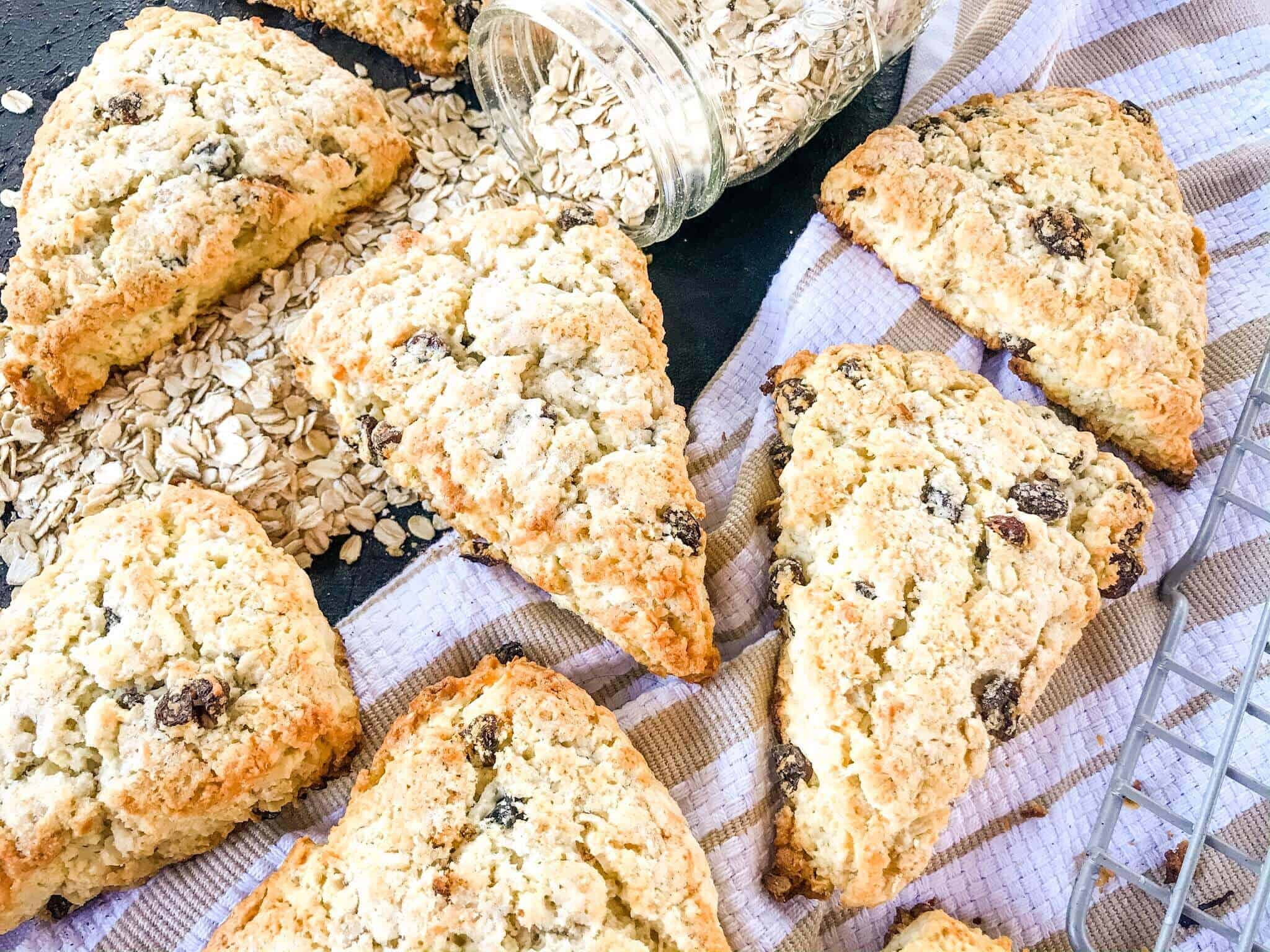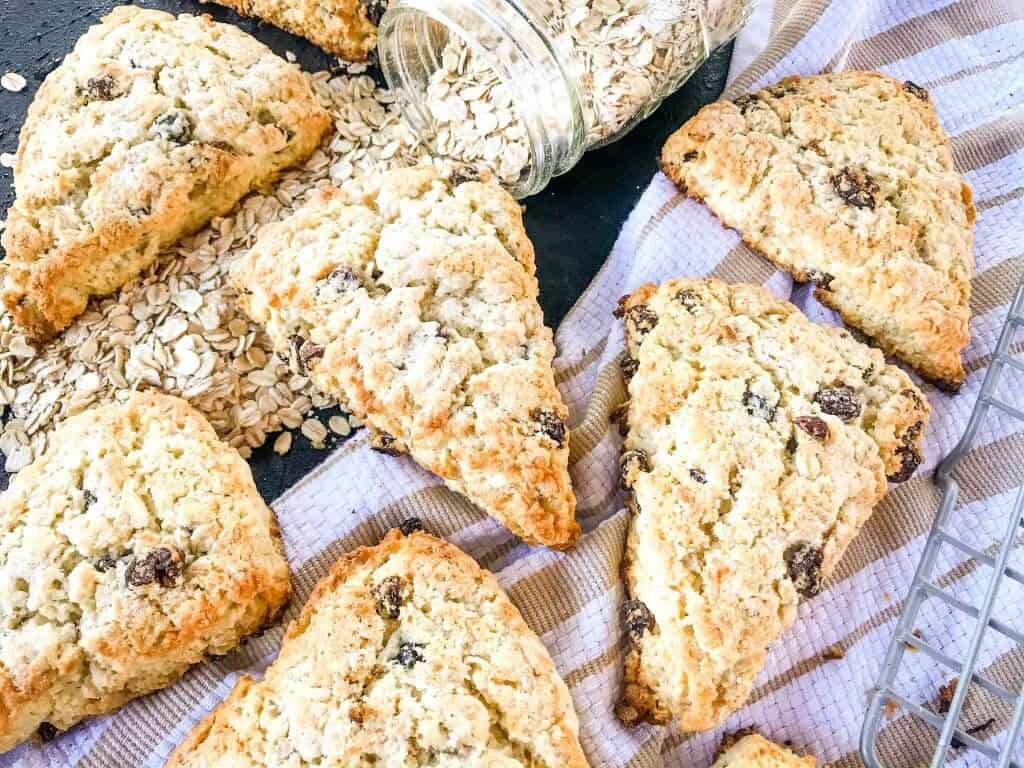 A fun trick for shaping the scones, which I just recently learned about, is in a cake pan! Press the dough in a round cake pan until even and forcefully tap out onto a cutting board or counter. You will have beautiful, round edges. I am also a fan of just forming a dough disc by hand, because I like a rustic and homemade look, so either option will work perfectly!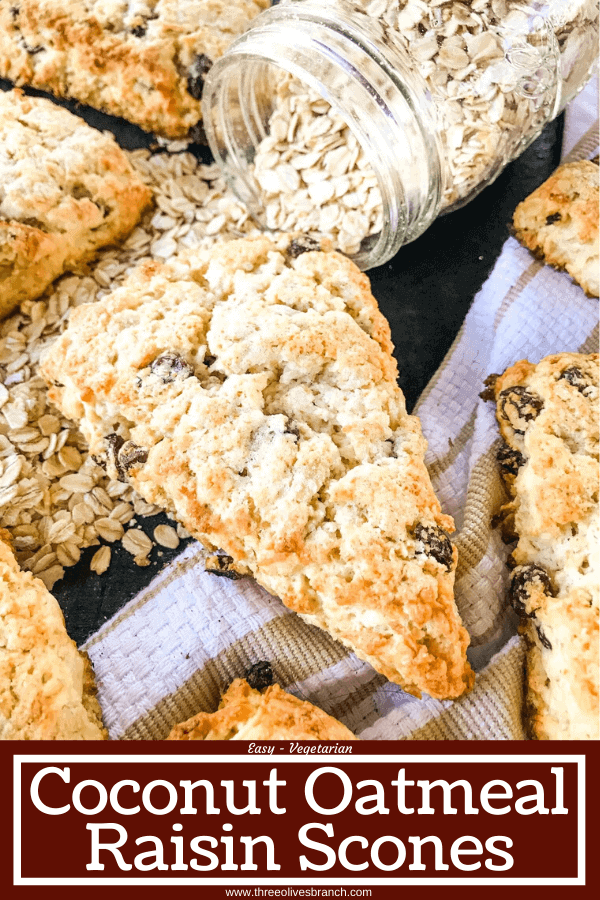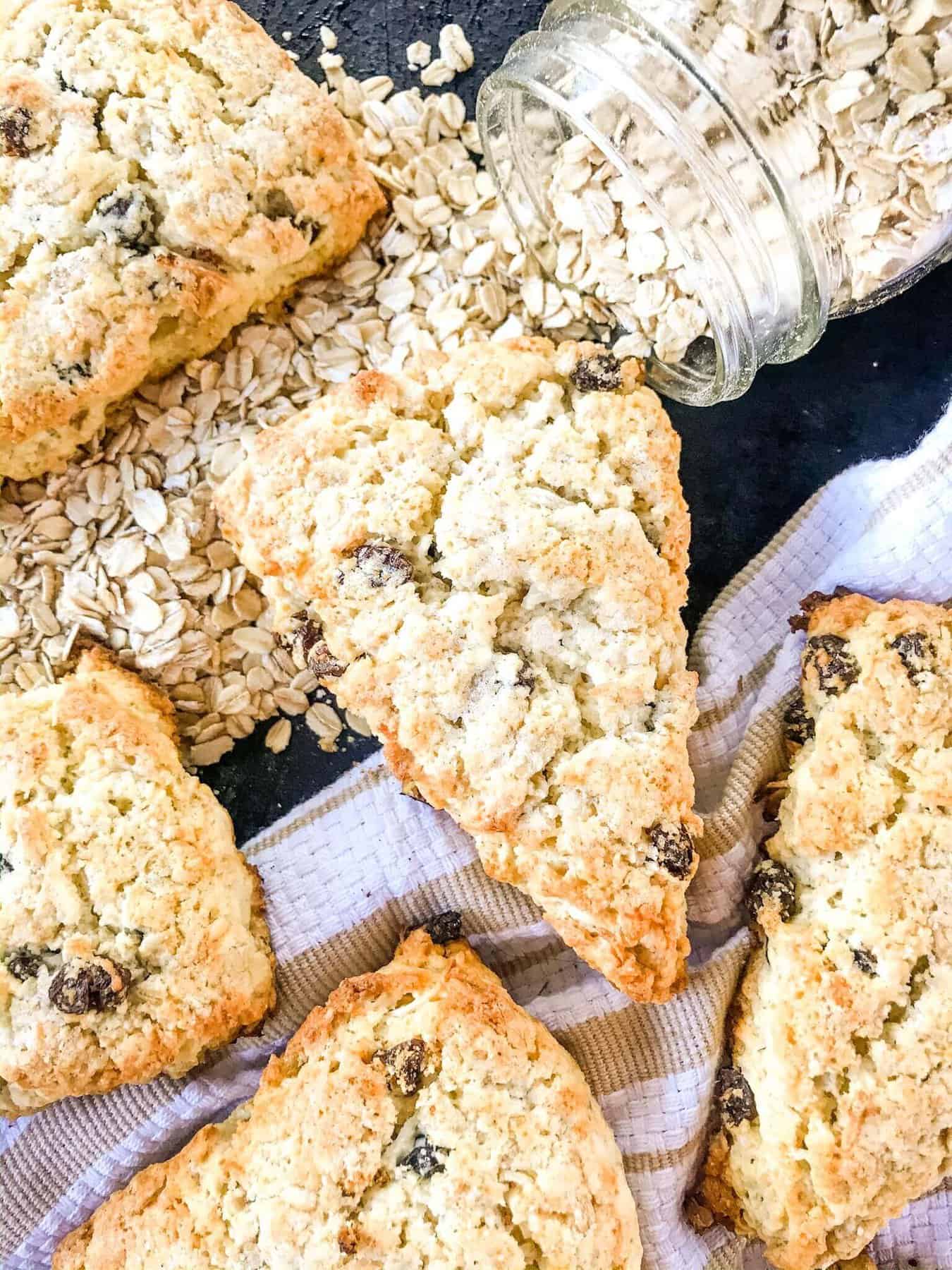 Instructions
Preheat oven to 450F with the rack in the middle position.

Whisk the milk, cream, and egg together in a large measuring cup.

Put the flour, sugar, baking powder, and salt in a food processor and pulse to combine a few times.

Add 10 Tablespoons of the chilled butter, cut into 1/4 inch chunks, across the flour (reserve one tablespoon of butter for later). Process the mixture until in looks like coarse cornmeal.

Put the flour mixture in a large bowl. Add the oats, raisins, and coconut. Stir to combine.

Add the milk mixture and stir until fully incorporated. The dough will be very thick.

Option 1: For a round, clean edge, use a round cake pan. Press the dough into the pan in an even layer. Press firmly to make sure the dough is sticking together. Flip the pan over and forcefully tap the pan against a cutting board or clean counter, and the dough should come out in a clean, round disc. You may need to use a lot of force to get it out. You can also spray with nonstick spray first if desired just in case.

Option 2: On a lightly floured cutting board, pour out the dough and press into a disc approximately 9 inches wide. Make it as even as possible.

Using a knife, cut the disc like you would a pizza into 8 wedges.

Melt the remaining 1 Tablespoon of butter in a small bowl or cup. Brush it across the top of the scones. Sprinkle the scones with some granulated sugar as desired.

Use the knife under each scone to move them to a parchment or silicone baking mat lined cookie sheet. Leave space between them as they will expand.

Bake the scones until cooked through, approximately 12-15 minutes.

Remove from the oven and let cool at least 10 minutes. The scones can be served warm or at room temperature.
Nutrition
Calories:

430

kcal

|

Carbohydrates:

50

g

|

Protein:

7

g

|

Fat:

24

g

|

Saturated Fat:

15

g

|

Cholesterol:

79

mg

|

Sodium:

172

mg

|

Potassium:

352

mg

|

Fiber:

4

g

|

Sugar:

9

g

|

Vitamin A:

641

IU

|

Vitamin C:

1

mg

|

Calcium:

82

mg

|

Iron:

2

mg

By