These Peach Scones are packed with warm cinnamon and fresh stone fruit in a savory pastry. Perfect for breakfast, brunch, or tea time in the summer.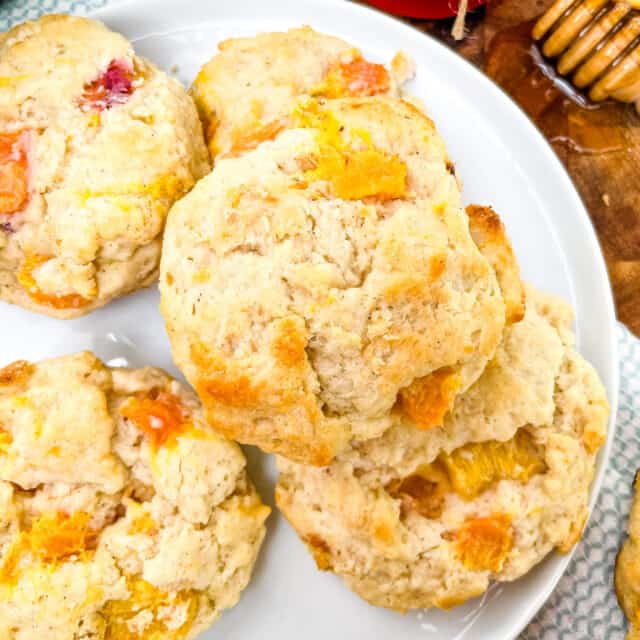 These Peach Scones are a perfect soft pastry that is great for breakfast, brunch, tea time, and snacks. Filled with fresh, juicy peaches and a hint of cinnamon.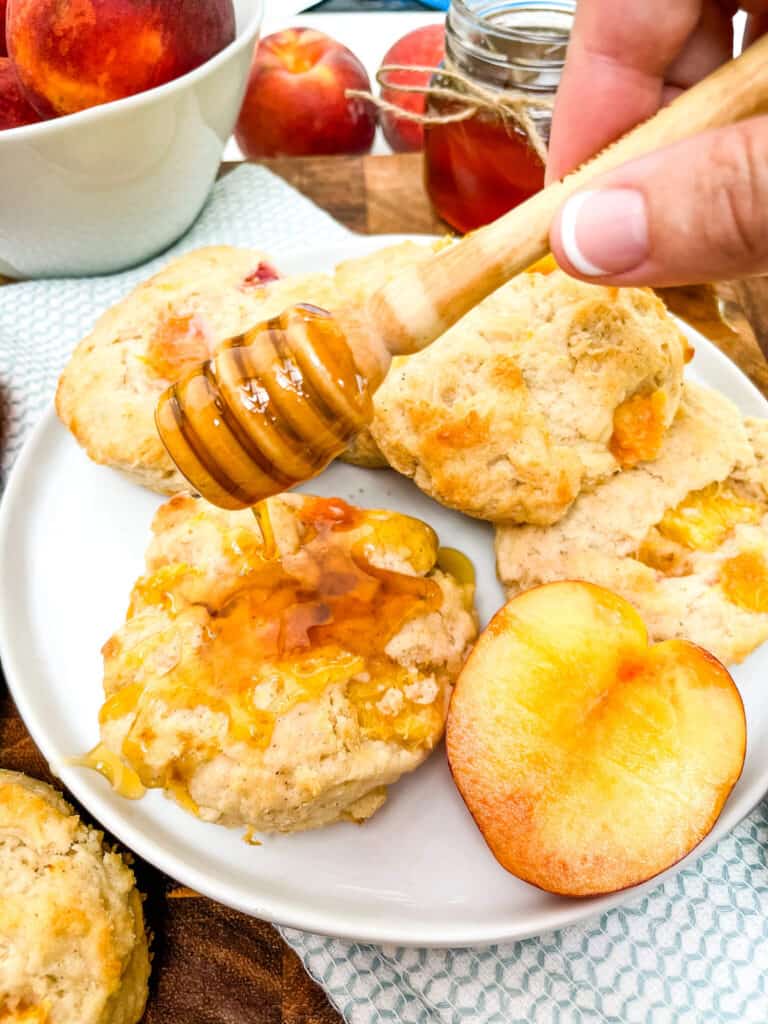 Peach Scones
These Peach Scones were inspired by fresh peaches I had on my counter and some amazing honey I had from my sister-in-law's wedding! (Just look at how adorable those honey jars are!)
And while the scones alone are absolutely delicious, the fresh honey just takes them over the top.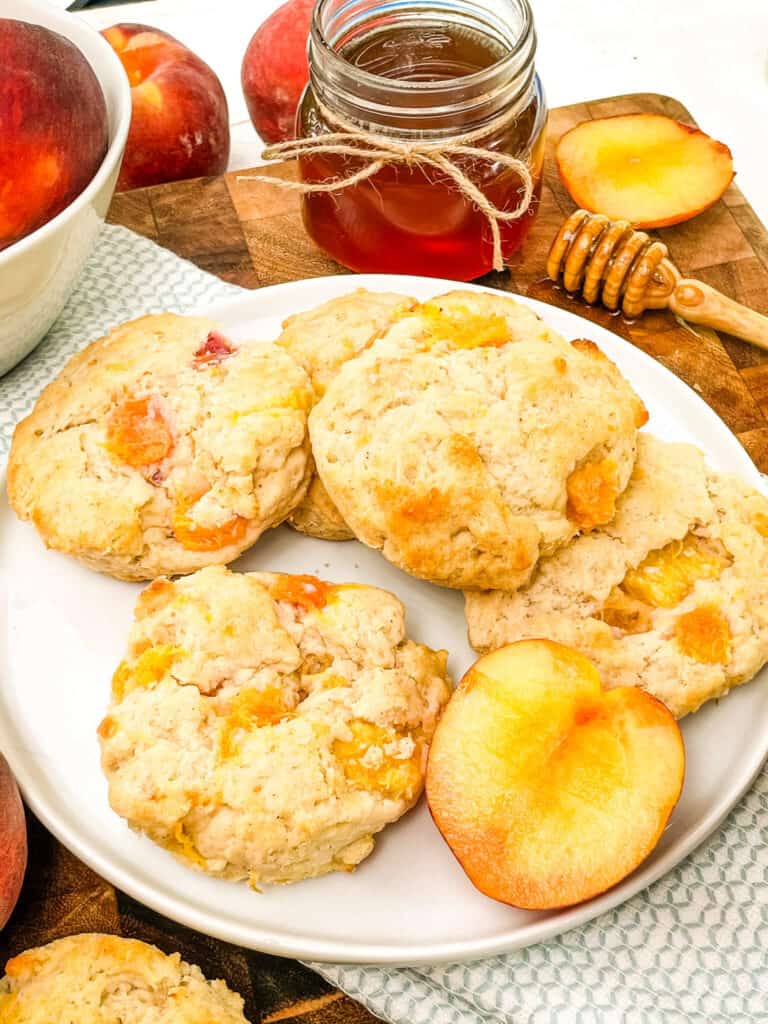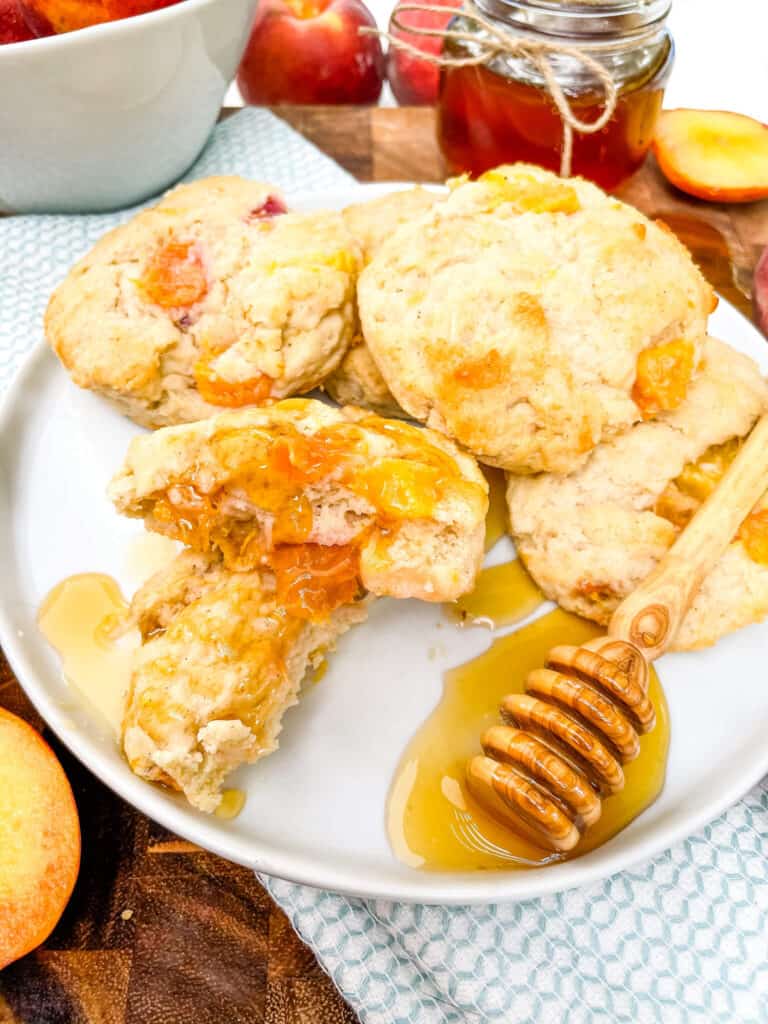 What is the secret to making good scones?
A few tips for making great scones:
Use very cold butter! It is important for the butter to be cold and not warm
Do NOT over mix the dough! Just get it pressed together enough that it holds its shape and is mostly incorporated. Too much mixing and pressing will result in more gluten and a tougher texture.
Chill the scones before you bake them! Just like with cookies, the chilling helps hold their shape, prevent them from spreading too much, and letting the butter do its magic instead of leaking out. Even just 30 minutes in the fridge will help.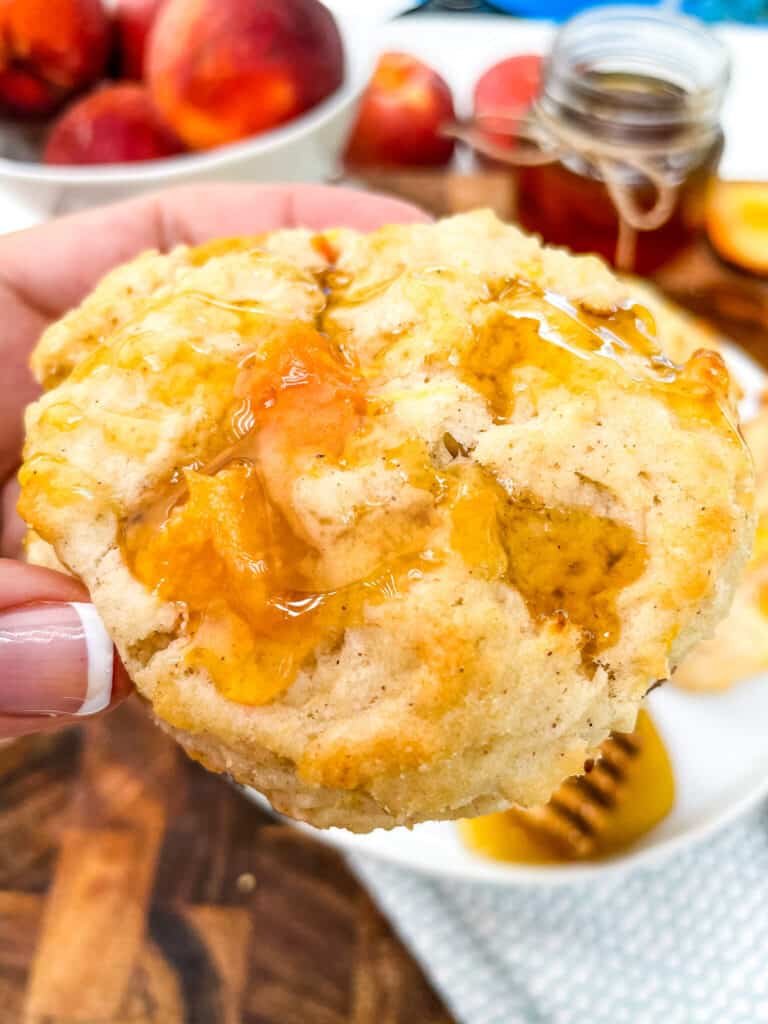 How do I get my scones to rise and be fluffy scones?
When you cut into the scones, especially if you are using a round cutter, just press down firmly. Do NOT twist it.
When you twist the cutter, you are twisting and almost sealing the sides together which can prevent them from rising as much as they would otherwise.
You also want to make sure that your baking powder is still fresh and not expired as it does lose its power over time.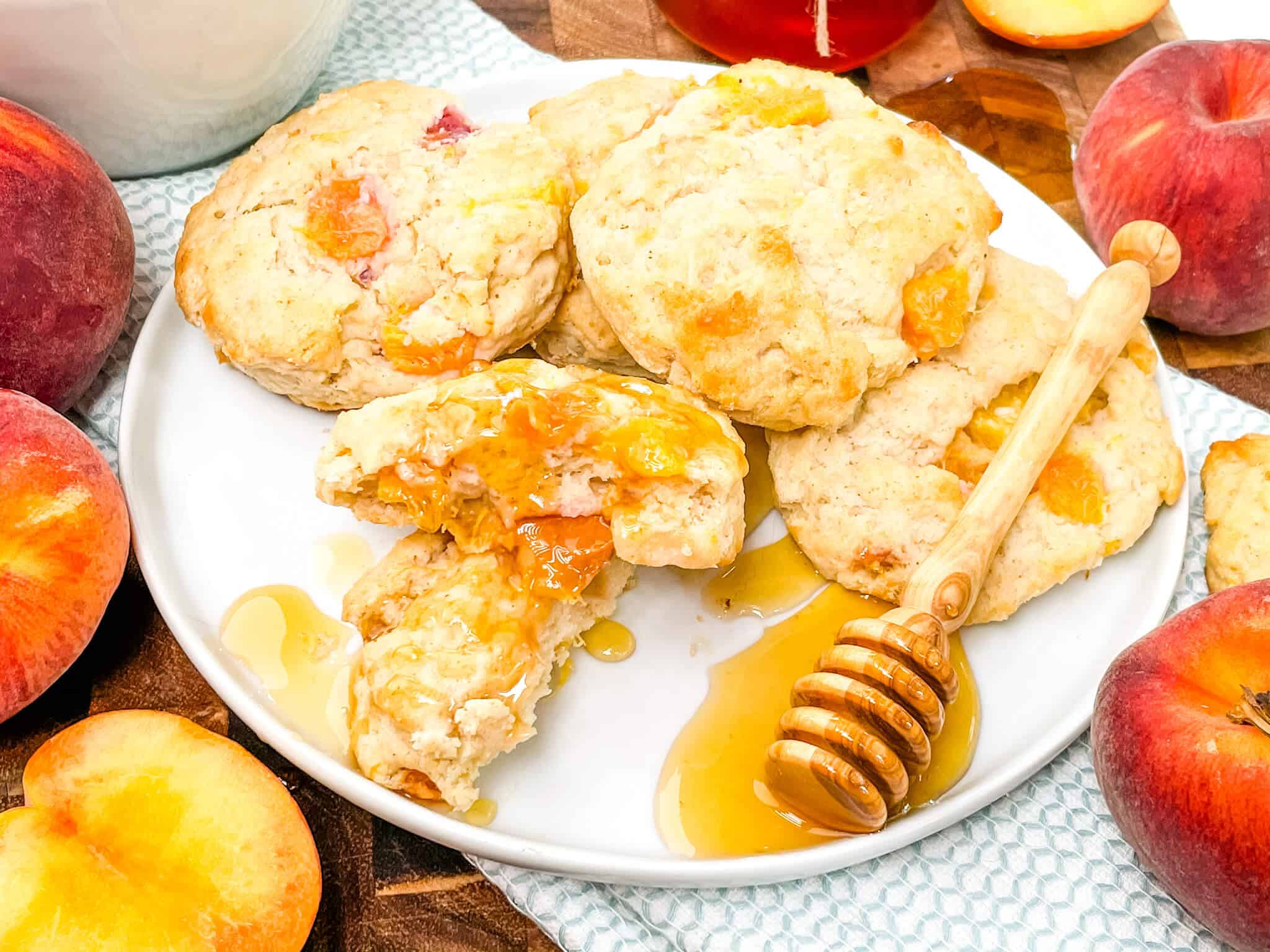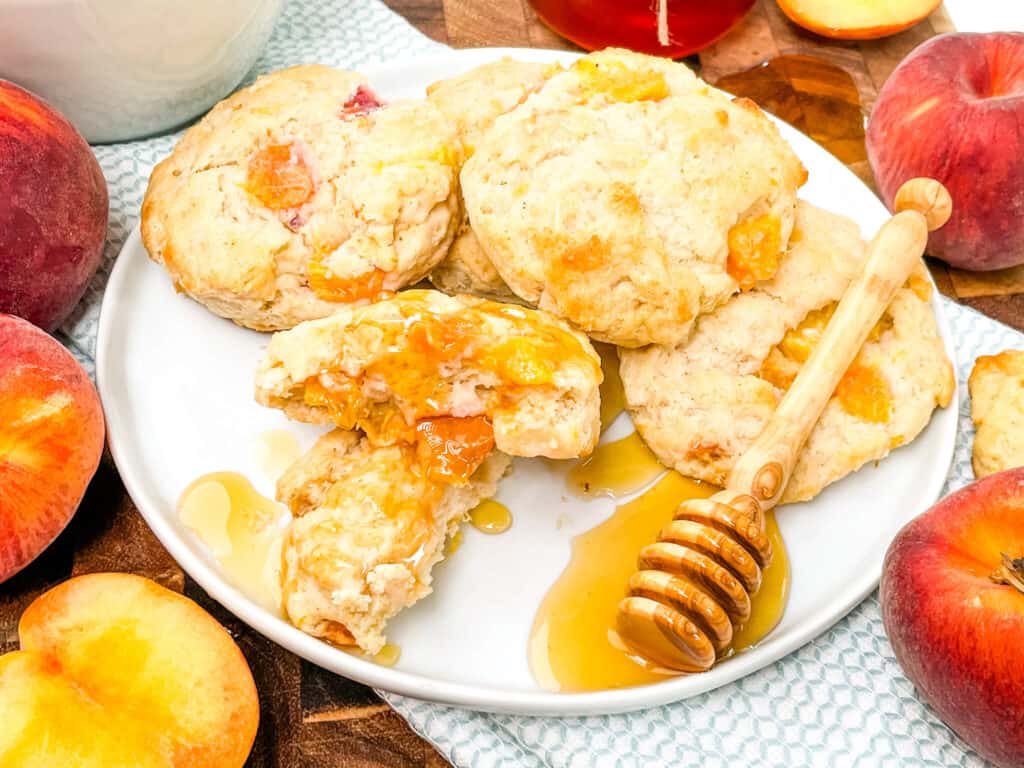 What are scones traditionally served with?
Scones traditionally come from England, and the traditional condiments to top them with are clotted cream and jam.
Other options include butter, honey, or a glaze.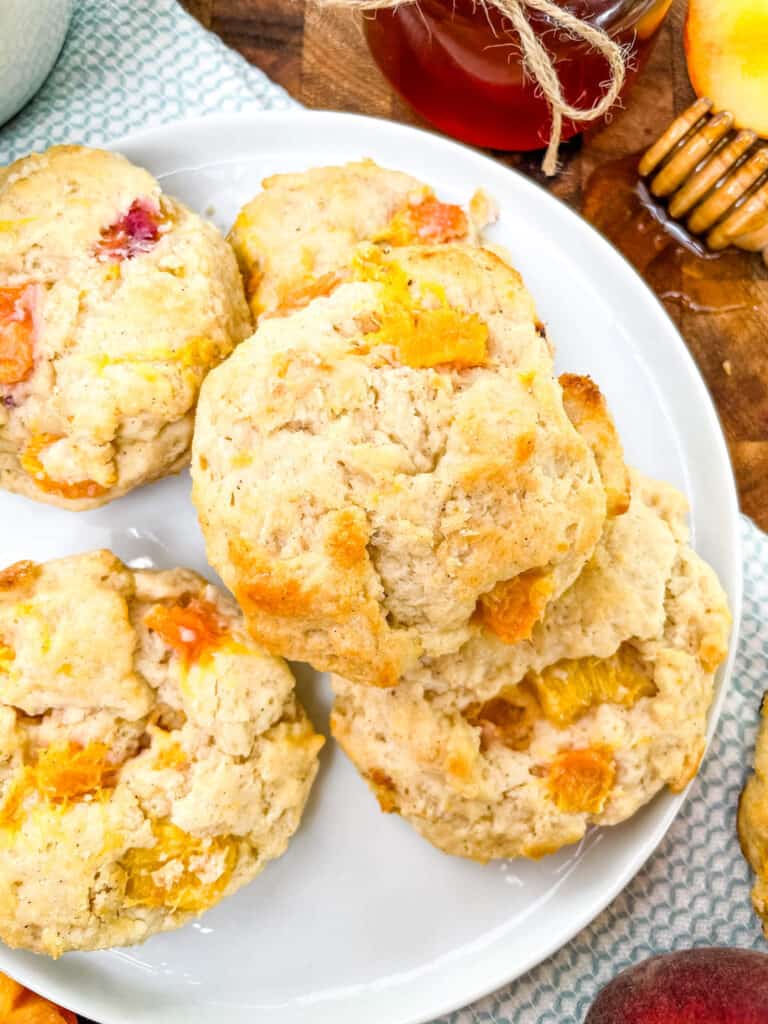 Why are my scones so dense?
Scones can be dense for a few reasons. If you did not add enough baking powder, or if the baking powder was expired, it will lessen the rise and make them more dense.
This can also happen if you handle the dough too much before baking or if your oven runs cool (lower than it should). Know if your oven runs hot, cool, or as expected by placing an oven thermometer inside. You might be surprised!
Is it OK to make scone dough in advance?
This dough can be prepared and chilled up to 24 hours before baking.
This is also typically true of most scone recipes.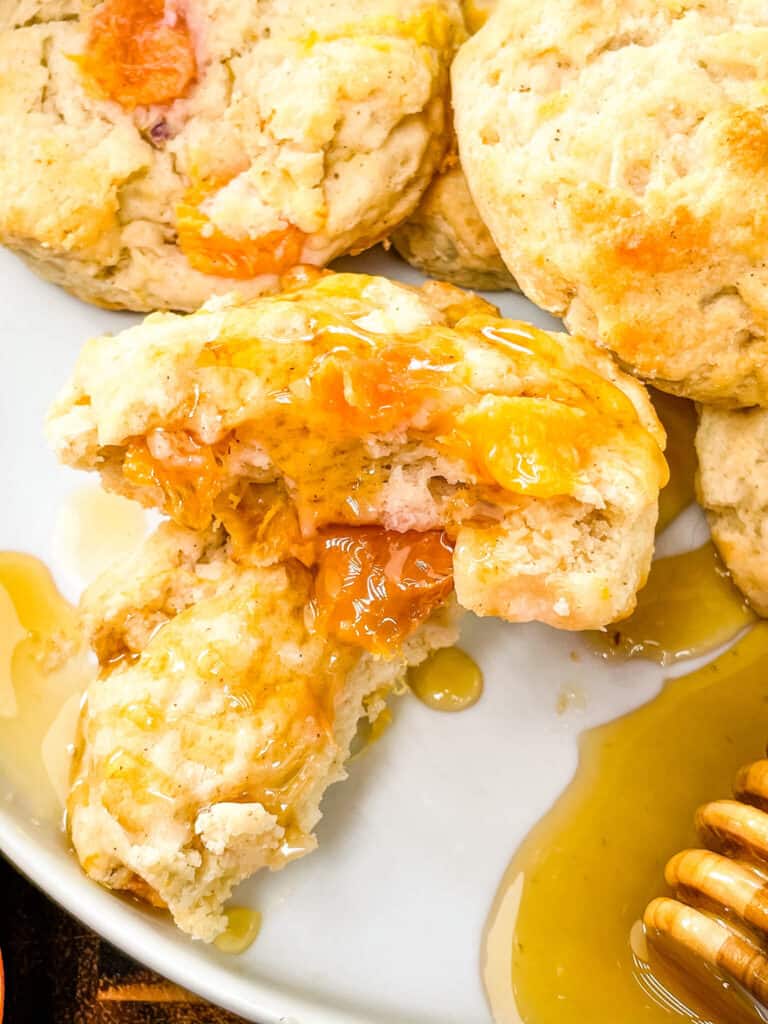 Instructions Overview
You will incorporate most of the ingredients in a food processor.
Can you do this by hand? Yes. Simply cut the butter into the flour mixture with a pastry cutter, a fork, or your fingers. But it will take much longer. Also, be careful if using your fingers as the heat from your hands will warm up the butter and you might have to stop and pop it in the refrigerator.
The trickiest part of making scones is getting the dough mixed together enough but not overmixing.
You want to almost doubt yourself that you did not mix enough where it has just come together and is maybe even a little unincorporated.
You can see the reasons why overmixing is bad in the sections above. But even if you do end up with a little over mixing, they will still taste amazing!
I also made these particular stone fruit scones as small rounds with a round cookie cutter. But you can also make them into the traditional triangle shape. For instructions on the triangle shape, go to our Coconut Oatmeal Raisin Scones and start at step 7 after the dough is done.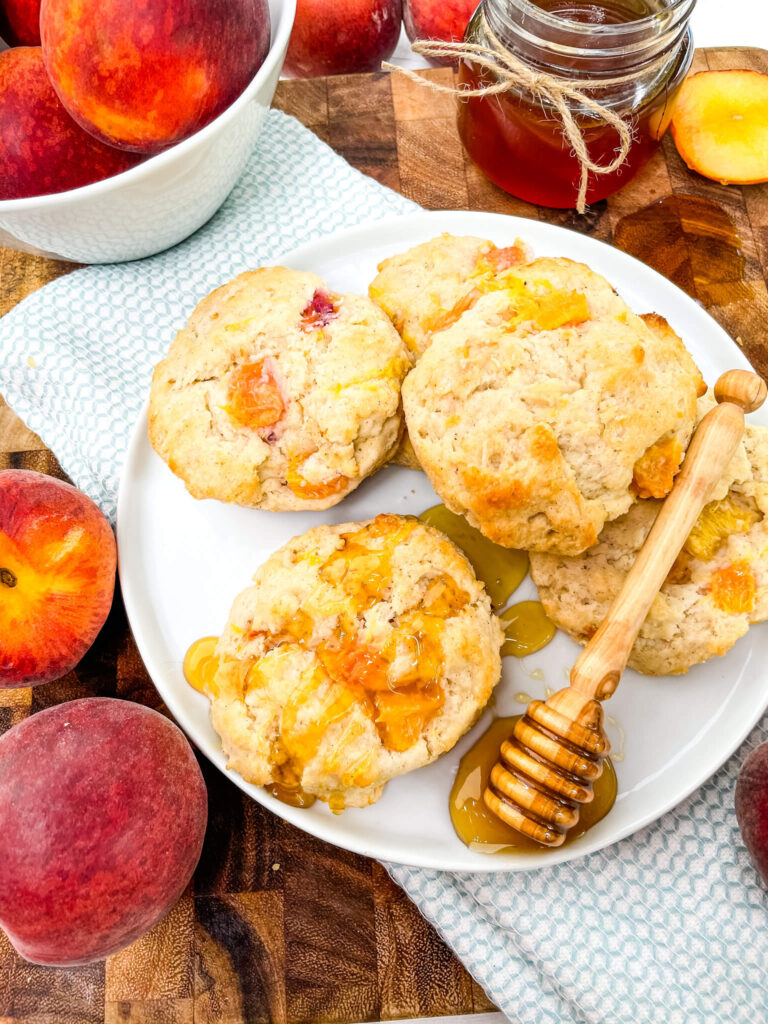 Peach Recipes
Recipes highlighting delicious peaches!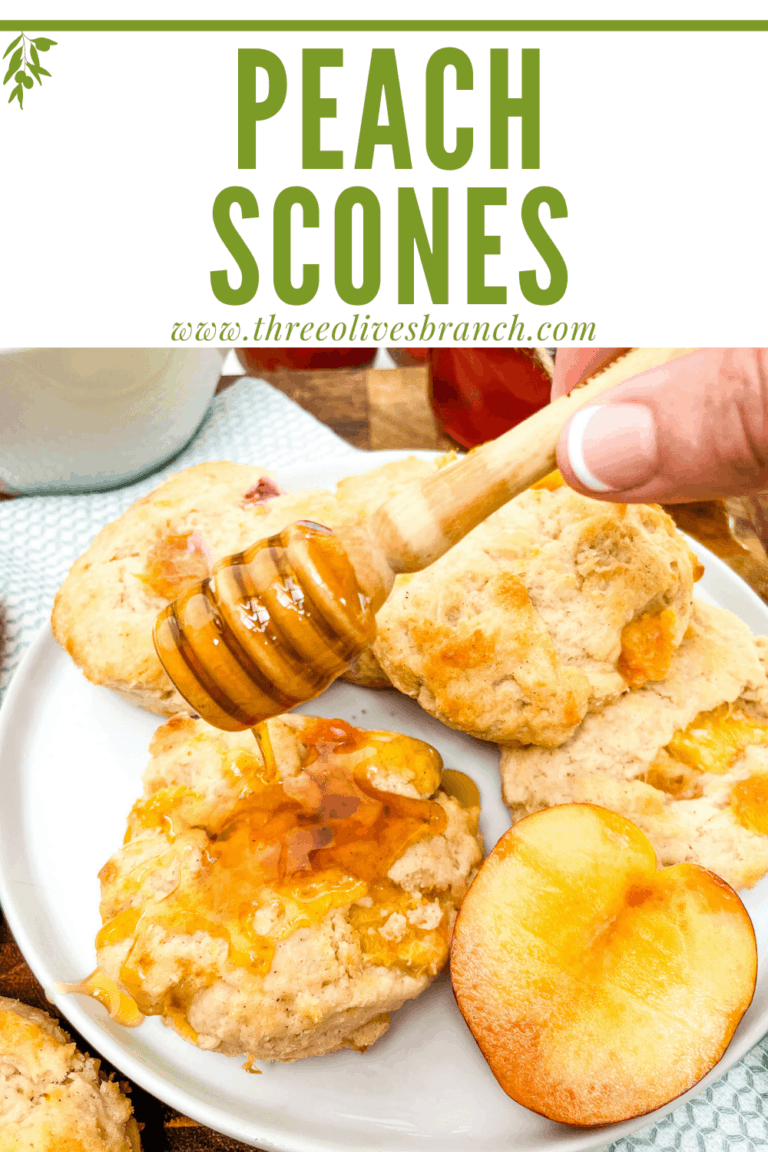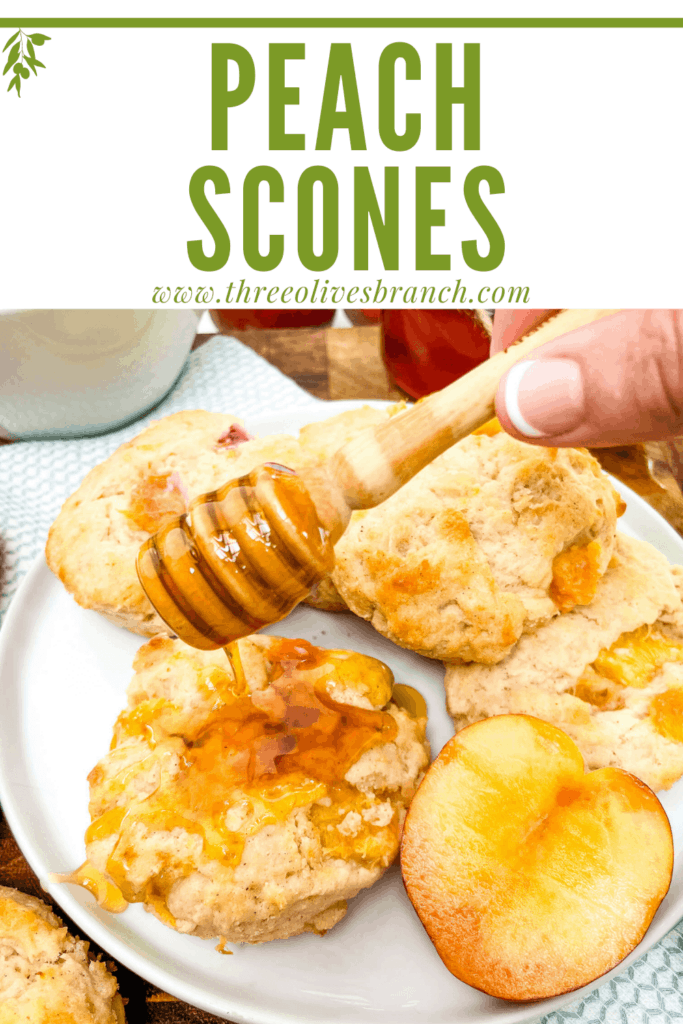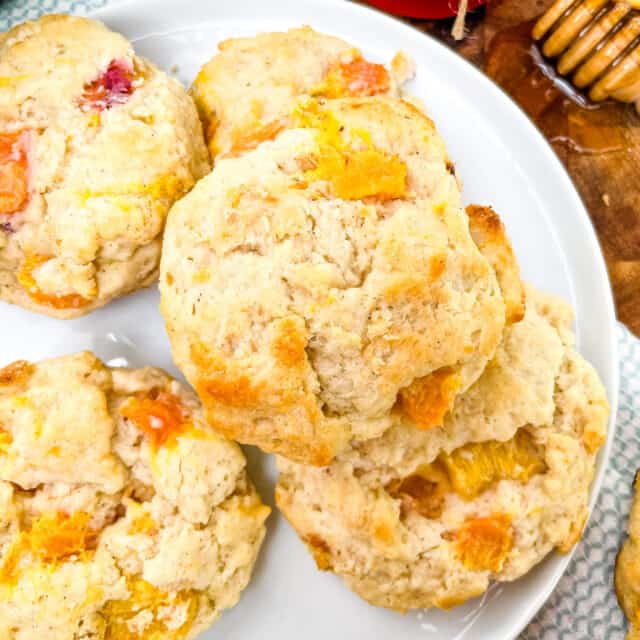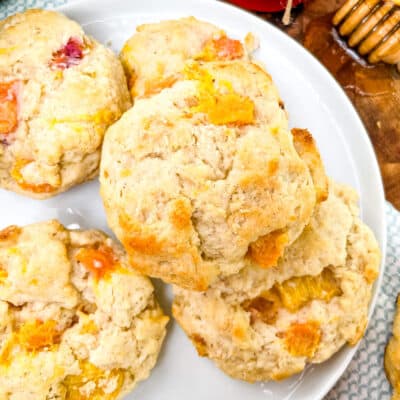 Peach Scones
These Peach Scones are packed with warm cinnamon and fresh stone fruit in a savory pastry. Perfect for breakfast, brunch, or tea time in the summer.
Print
Pin
Rate
Instructions
Preheat oven to 450°F (232°C) with the rack on the middle shelf.

Add the flour, sugar, baking powder, cinnamon, and salt to a food processor. Pulse a few times to mix.

Scatter the cold butter across the flour. Pulse until it resembles cornmeal or wet sand, approximately 10-12 pulses.

Pour out the flour mixture into a bowl. Add the chopped peaches and heavy cream. Mix until just barely incorporated. Do not overmix (a little dry mixture is okay and preferred to overmixing).

Dump the dough out onto a lightly floured surface. Gently and briefly knead or press to incorporate the dough and press into a 1½-2 inch slab. Kneading should be just 30-45 seconds and the dough will be sticky.

Flour a round cookie cutter and cut out scones by pressing straight down (do not twist). Repeat with remaining dough, very gently pressing back together. (Re-pressed dough will likely result in scones slightly more dense or flat due to the extra handling).

Place the scones on a lined baking sheet. If desired, sprinkle with additional sugar for texture and color.

Chill the scones in the refrigerator for 30 minutes. This is not mandatory, but will help the scones rise and be light.

Bake for 13-15 minutes until lightly golden brown. Rotate the baking sheet halfway through baking. Cool on a wire rack for at least 10 minutes. Store in a sealed container for up to 5 days.
Video
Notes
If preferred, make 8 triangle scones instead by following the instructions for our Coconut Oatmeal Raisin Scones at step 7.
Scones can be covered and refrigerated up to 24 hours before baking after cutting.
Freeze the scones after cut and before baking for up to a month. Then bake as desired and directed in instructions, without thawing, although you may need to bake them a few minutes longer.
Nutrition
Serving:

1

scone

|

Calories:

209

kcal

|

Carbohydrates:

22

g

|

Protein:

3

g

|

Fat:

12

g

|

Saturated Fat:

8

g

|

Polyunsaturated Fat:

1

g

|

Monounsaturated Fat:

3

g

|

Trans Fat:

1

g

|

Cholesterol:

40

mg

|

Sodium:

147

mg

|

Potassium:

189

mg

|

Fiber:

1

g

|

Sugar:

5

g

|

Vitamin A:

521

IU

|

Vitamin C:

2

mg

|

Calcium:

63

mg

|

Iron:

1

mg

By