Cream Puffs are a delicious dessert recipe from France and Italy. Made with pate a choux and filled with pastry cream or fruit! Fun dessert for a holiday.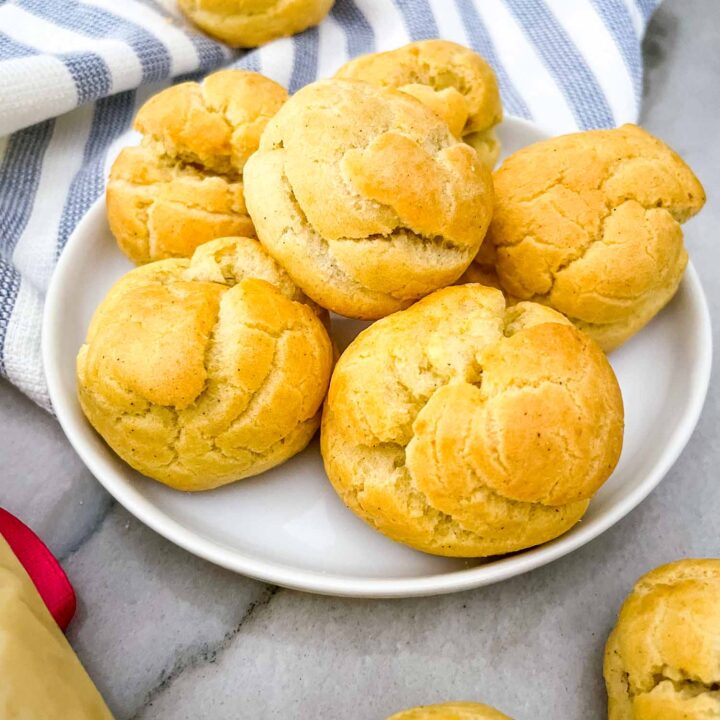 Making Cream Puffs for a holiday or event is a special dessert that everyone will love! A simple pastry dough piped into balls and filled with your favorite flavors!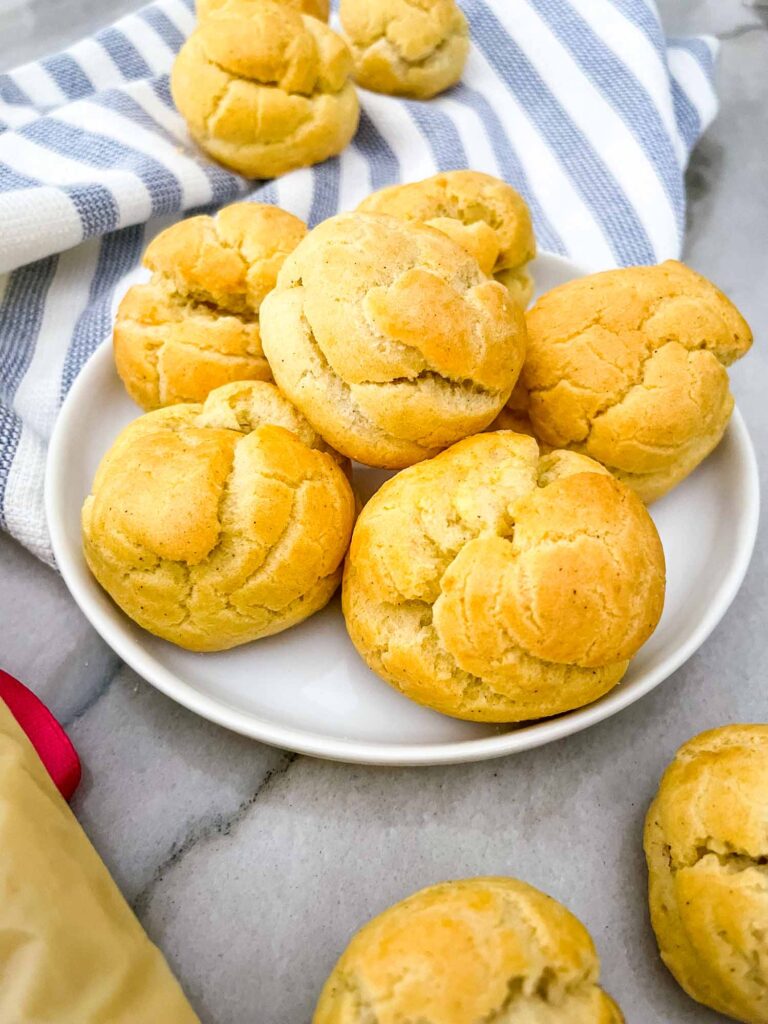 Easy Old Fashioned Cream Puffs
Cream Puffs are a classic European dessert recipe that are not only beautiful but also delicious!
A thin, crisp dough is filled with cream or other fillings.
I absolutely love making these puffs for all sorts of holidays! They are always a hit!
I have a bunch of common questions answered below, plus some trouble shooting tips and recommendations. So be sure to read through this information before cooking!
Why Is It Called Pate a Choux?
The words mean "paste of cabbage" and refers to the fact that the pastries look like little cabbages after baking.
What is the Difference Between an Éclair and a Cream Puff?
They are very similar, and their pastry dough is made the same way.
The difference comes in the shape and fillings.
Eclairs are long and straight with cream puffs being round.
Eclairs are filled with a custard, and cream puffs are filled with whip cream or pastry cream.
What is the Difference Between a Cream Puff and a Profiterole?
The two names are used interchangeably and often mean the same thing. So what is another name for cream puff? Profiterole.
Some believe that the fillings are different, where a cream puff has whipped or pastry cream with a profiterole being filled with anything like fruit, ice cream, and sauce.
Is a Choux Bun the Same as a Cream Puff?
Yes!
What Does Croquembouche Mean in French?
It means "crunch in the mouth" and refers to a tower of cream puffs that have a spun caramel sugar around it, giving the crunch.
Are Cream Puffs French or Italian?
They are historically French, although French cuisine is rooted in Italian cuisine.
The Medici family is credited with this as Catherine di Medici married King Henry II and moved to France, and brought some of the best chefs with her, whom then transformed French food.
Who invented cream puff? Catherine di Medici's pastry chef. 🙂
Why is Choux Pastry Difficult?
Cream puffs, made with choux pastry, are known for being difficult.
But really the issues of why or how it is difficult are things that can be easily monitored to get a perfect dessert recipe!
Make sure you are following the instructions and reading ahead to know what to anticipate, and do NOT multi task! Which I know is SO hard in the kitchen but with things moving so fast, things can go wrong.
The common issue areas I have found are over boiling the water and butter to where there is not enough moisture (leaving it on boil too long), stirring too much and making the dough tough, and the dough being too hot when the eggs are added and they cook and clump.
What Do I Need to Make Cream Puffs?
Here are the ingredients you need for this recipe:
Butter
Water
Salt
Flour
Eggs
Cinnamon
Filling(s) of Choice
How to Make Cream Puffs
First bring the butter, water, and salt to a boil in a small pot. (Larger pots actually make the mixing part difficult, so definitely recommend the small pot!)
As soon as it is boiling, reduce the heat to medium, add the flour, and stir stir stir!
Keep mixing until the dough comes together primarily in one clump or ball, and it has a slightly shiny look to it as if it has been sweating.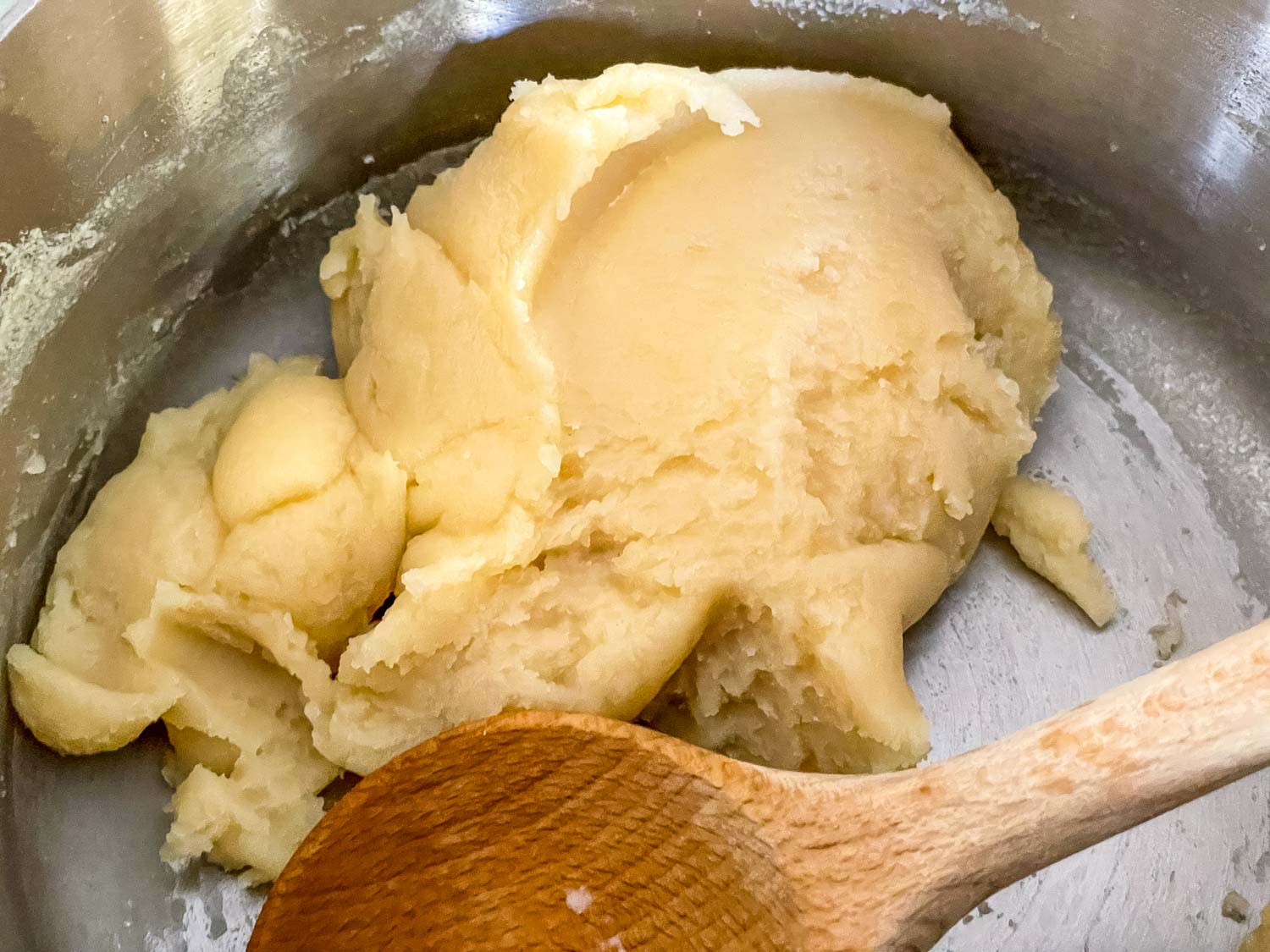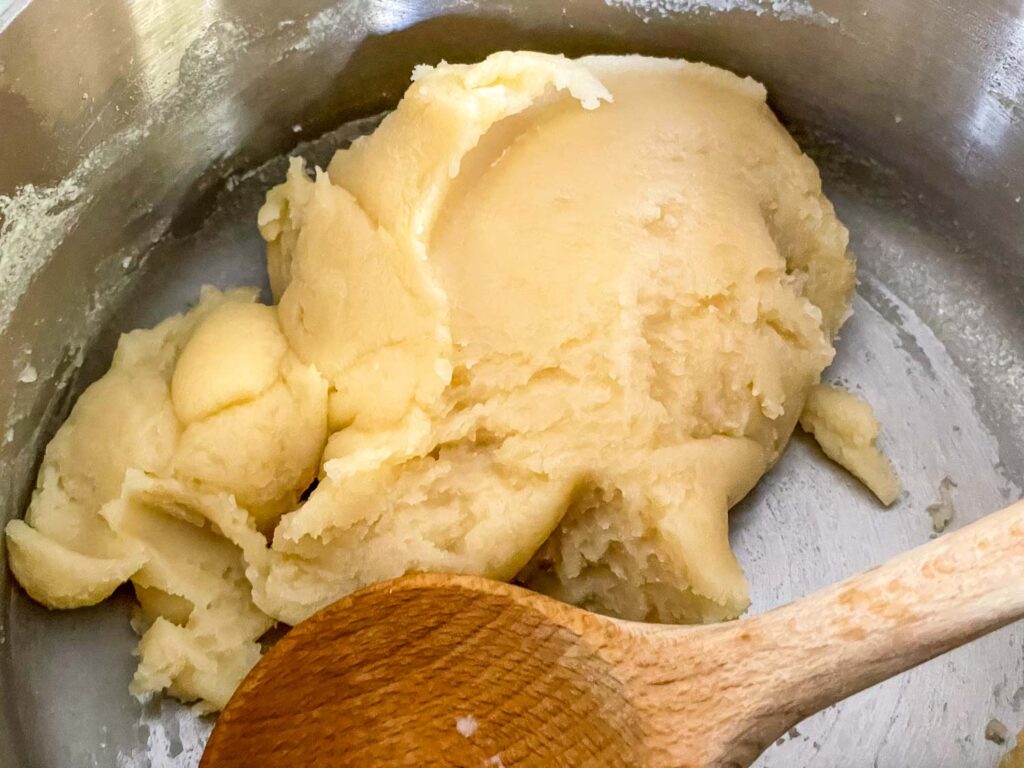 Remove it from the heat, put the dough in the stand mixer, and let it sit for 5-10 minutes to cool slightly. This is important because if it is too hot, it can cook the eggs!
Turn the mixer on and add one egg at a time, completely mixing in between them. Then add the cinnamon and let it run just a little longer to incorporate.
Scoop the dough into your piping bag and pipe onto lined baking sheets in your desired size.
Use your fingers dipped in water to smooth out the top of each puff along with any ridges. The ridges, if severe, can cause the puffs to grow in weird shapes so I like to do this to help keep them on the rounder side.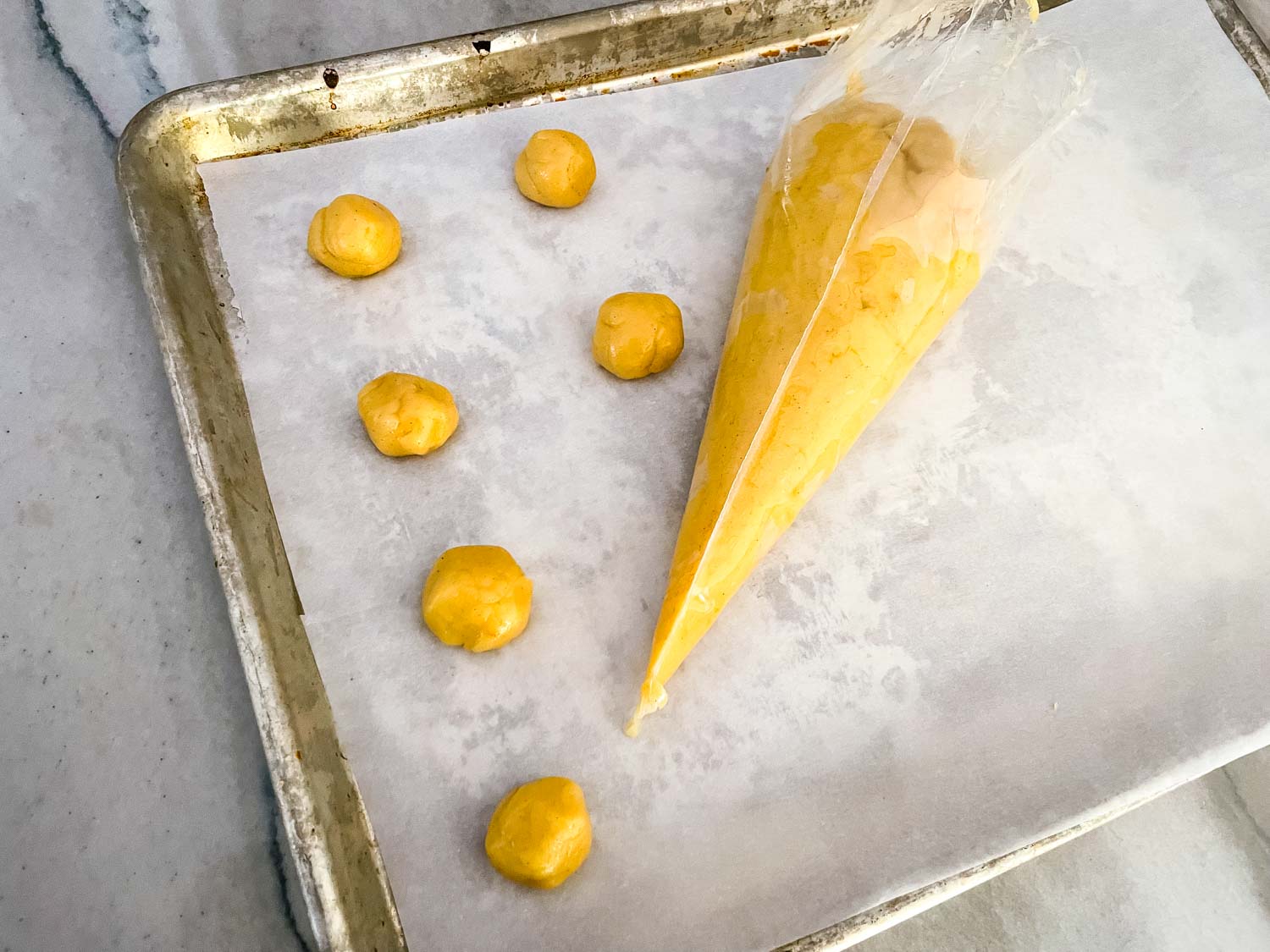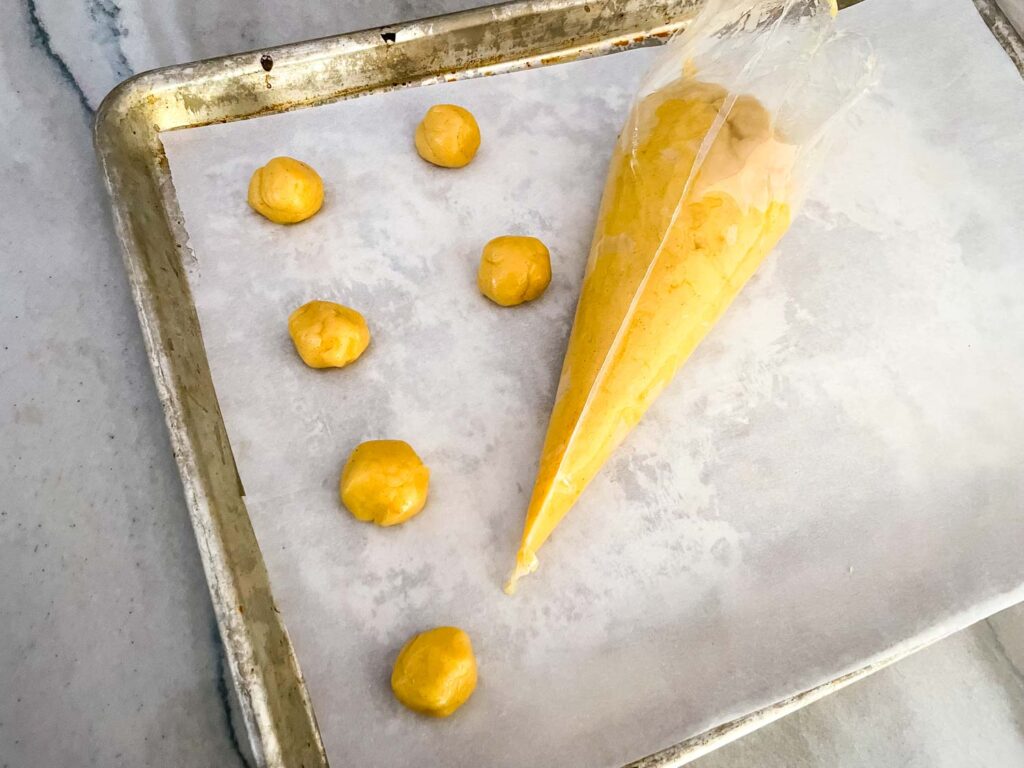 Bake for about 20-25 minutes at 425F, flipping the sheet pan half way through. If using two sheets, also rotate the top to the bottom and vice versa.
They tend to not puff up too much until about 10 minutes in, so don't worry when you do not see immediate results!
When letting them cool, poke a hole in the bottom of each puff with a knife. This helps the steam escape and helps you keep a crisper puff. The steam otherwise will soften them up.
Fill them but cutting the tops off or piping into the hole in the bottom.
How Large Should Each Piped Cream Puff Be?
For smaller puffs, each one should be around 1-1.5 inches wide.
For large puffs, pipe each one about 2 inches wide.
I typically get about 15 puffs in the small size, and 9 in the large size, per batch.
How Should I Pipe Cream Puffs?
When you pipe each puff, slowly pull your piping bag up as you are squeezing the dough out.
If you leave the tip on the baking sheet, you are going to end up with flat mounds and therefore flat puffs.
How Thick Should Choux Be?
It will resemble a very thick batter.
How runny should choux pastry be? If you scoop some out and plop it down on a sheet or plate, it should come off easily enough where you do not need to shake the spoon, but also be thick enough that it is not runny.
Can You Overwork Choux Pastry?
Yes! When in the pot and mixing in the flour, stop when it is pulling away from the sides and mainly in a large clump.
Since we are using flour, over working the flour can lead to too much gluten and a tough dough.
Can You Bake Cream Puffs on Parchment Paper?
Yes! And it is the recommended way to do it.
The parchment helps the puffs to not stick while also allowing great access to the heat of the pan.
What is Cream Puff Filling Made Of?
I prefer to use a pastry cream inside my cream puffs, and the flavor options are endless!
Find a list of our cream puff flavors under the recipe below. Vanilla Pastry Cream is always a classic!
Another option is simple whipped cream.
When Should You Fill Cream Puffs?
Wait to fill the puffs until the are completely cooled.
A puff that is even remotely warm will cause the fillings to melt and leak out.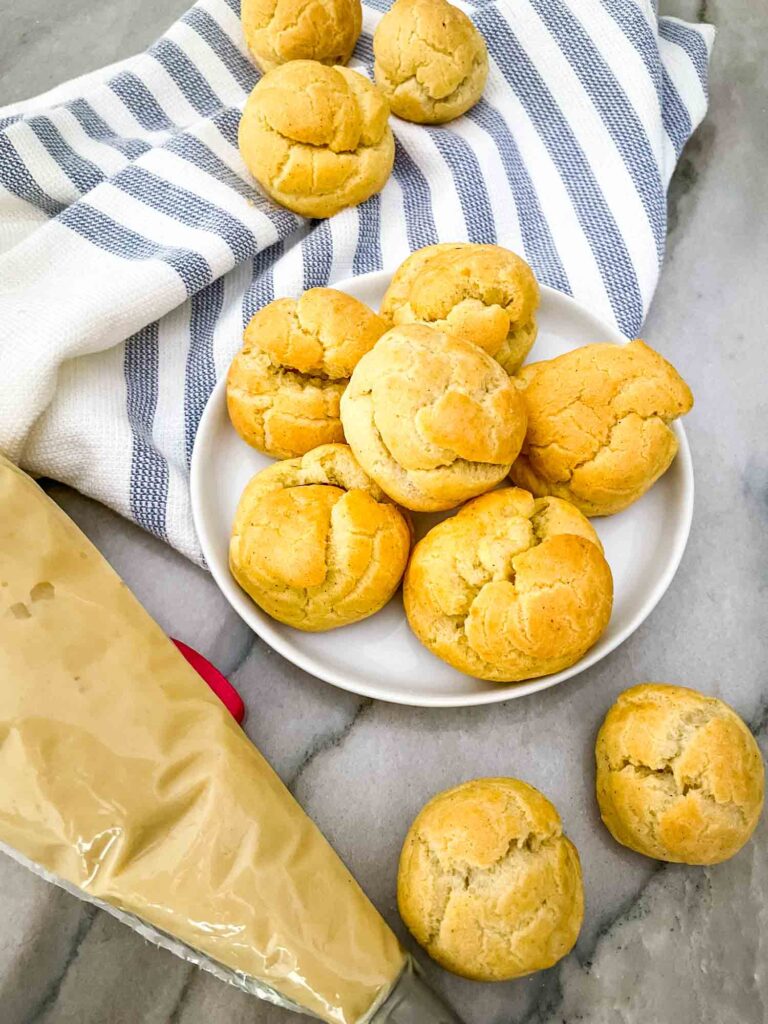 Do Unfilled Cream Puffs Need to be Refrigerated?
No! If unfilled, they can be kept in an air tight container or bag at room temperature for 2-3 days.
Can Pastry Cream Sit Out Overnight?
No. The cream should only be out of refrigeration for 2 hours at most.
If in the puffs already, make sure the puffs are either eaten or placed in the refrigerator.
Why Do My Cream Puffs Go Flat?
Most likely either your dough was too wet or it was not cooked enough.
How Do You Keep Cream Puffs Crispy?
I poke holes into the bottom of each puff once out of the oven, when they are still hot. This lets steam escape for the puffs to dry out and be crisp.
If no hole is poked, the steam is trapped and the moisture from the steam is then absorbed into the puff itself as it cools.
Should Cream Puffs be Served Cold?
The puffs themselves can be room temperature, but you want the fillings to be cold.
Hot puffs do not go well as it melts the fillings.
Why Do My Cream Puffs Taste Eggy?
It is possible too much egg was added, the dough was not cooked enough, or the egg was not fully incorporated into the dough in the mixer, leaving chunks behind.
How Do You Eat Cream Puffs?
You can eat bits out of it just like a cupcake!
If large or if looking for a more proper way to eat it, you can cut it with a fork and knife.
How Long Will Cream Puffs Stay Fresh?
The puffs are best eaten the same day, but can be stored, with fillings, in an air tight container for up to 3 days.
They do lose some of their crisp texture from both the moisture and the cold.
Alternatively, you can store the puffs in an air tight bag at room temperature and then fill them as you eat them.
Can You Freeze Cream Puffs with Cream in them?
Yes! Freeze, filled, on a tray and then place in a bag or container for storage.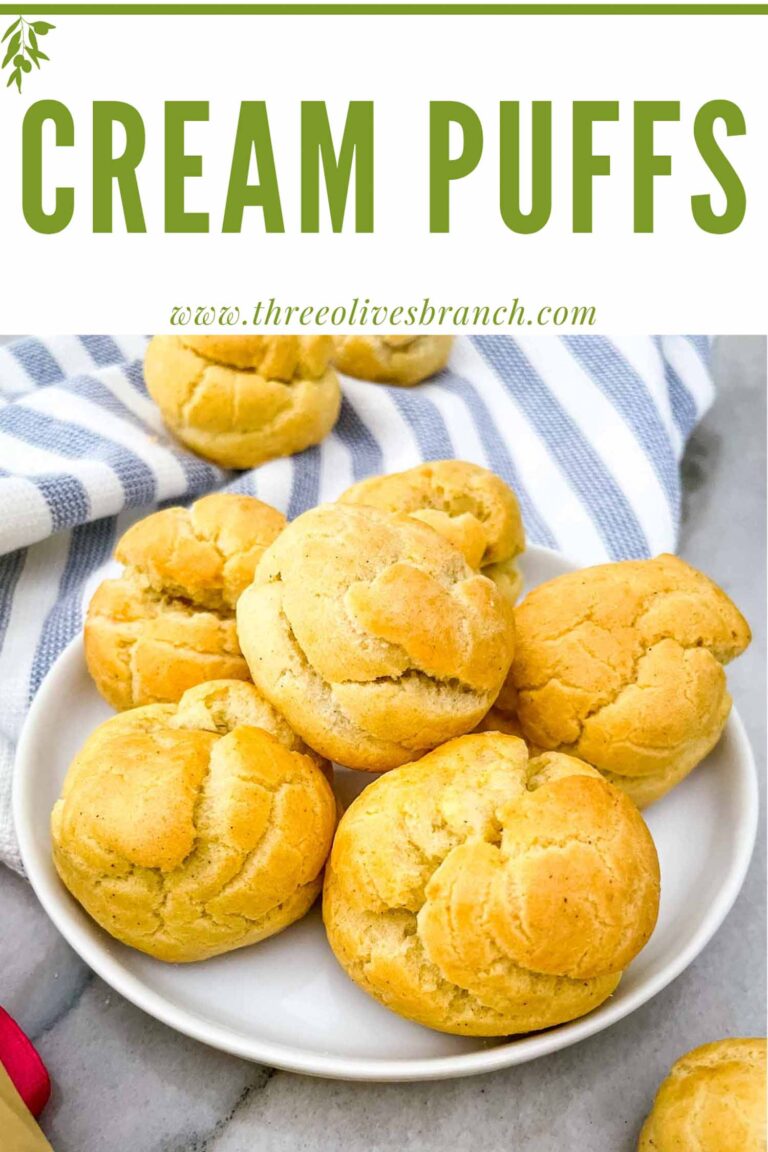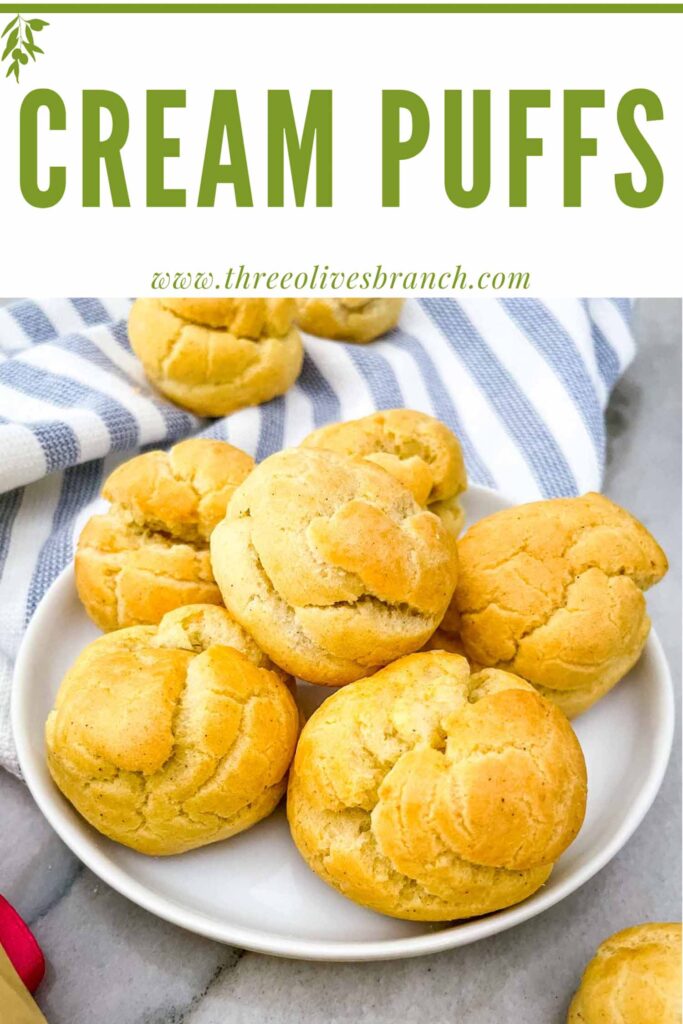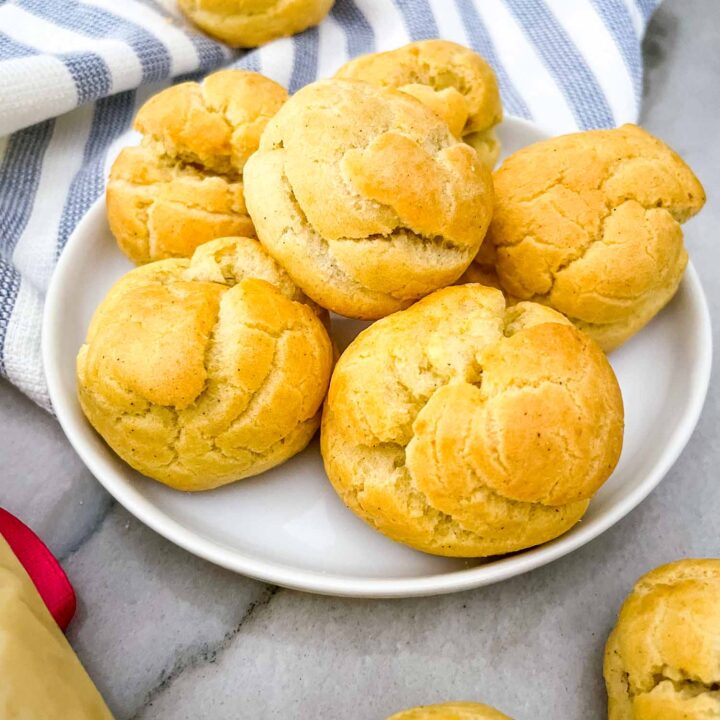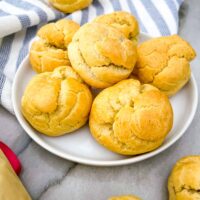 Cream Puffs Recipe
Cream Puffs are a delicious dessert recipe from France and Italy. Made with pate a choux and filled with pastry cream or fruit! Fun dessert for a holiday.
Print
Pin
Rate
Equipment
Liquid Measuring Cups

Wooden Spoon

Pastry Bag

or large resealable bag
Instructions
Bring the butter, water, and salt to a boil in a small pot over high heat.

When boiling, turn the heat down to medium, add the flour, and stir continuously over the heat.

Stir until the dough has all clumped together primarily in one ball and the dough has a slight sheen to it (like it is glistening or sweating).

Move the dough into the bowl of a stand mixer and let sit 5-10 minutes to cool slightly.

On medium speed, add the eggs one at a time, fully incorporating each one before adding the next.

Add the cinnamon and mix briefly to combine.

Remove the dough and scoop into a piping bag. Pipe the dough onto parchment lined baking sheets to the size desired, leaving one inch between. They will grow slightly.

(Puffs around 1-1.5 inches wide will give you about 15 puffs, and larger puffs at 2 inches wide is about 9 puffs).

Bake the puffs in the oven for about 20-25 minutes, flipping the tray(s) around halfway through.

If using two trays, flip which is on top and bottom as well.

The puffs will have expanded and be a light golden brown.

Poke a hole in the bottom of each puff with a knife before cooling to help steam escape.

Let the puffs cool completely before filling. Either cut off the top or pipe the pastry cream in with a piping bag into the bottom holes. Refrigerate until ready to serve.

Puffs are best when served the same day but can be made and filled up to three days in advance.
Nutrition
Serving:

1

small puff (without filling)

|

Calories:

51

kcal

|

Carbohydrates:

3

g

|

Protein:

1

g

|

Fat:

4

g

|

Saturated Fat:

2

g

|

Polyunsaturated Fat:

0.3

g

|

Monounsaturated Fat:

1

g

|

Trans Fat:

0.1

g

|

Cholesterol:

33

mg

|

Sodium:

10

mg

|

Potassium:

15

mg

|

Fiber:

0.1

g

|

Sugar:

0.04

g

|

Vitamin A:

129

IU

|

Calcium:

5

mg

|

Iron:

0.3

mg

By