Pumpkin Spice Cream Puffs are a perfect fall dessert recipe! Full of warm autumn flavors in a light and crisp pastry and filled with a creamy, rich pastry cream. Delicious for Thanksgiving dessert.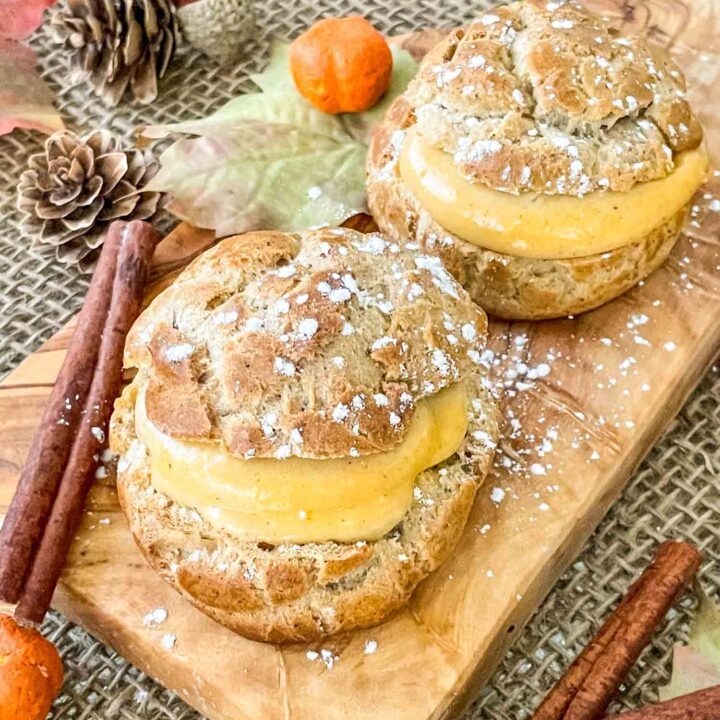 Get ready for fall with these Pumpkin Spice Cream Puffs! Light yet right pastries filled with a decadent cream, all flavored with autumn favorites.
Homemade Cream Puffs
I love a great fall dessert recipe. These amazing cream puffs are flavored with pumpkin spice and also filled with a pumpkin pastry cream for maximum fall flavor!
Cream puffs are a perfect fun dessert for holidays and gatherings. I have used my classic cream puff recipe and modified it for this fall-centered favorite!
Serve them up for Thanksgiving or any event and you will "fall" in love with these amazing flavors!
What is the Difference Between a Cream Puff and a Profiterole?
The two names are used interchangeably and often mean the same thing. So what is another name for cream puff? Profiterole.
Some believe that the fillings are different, where a cream puff has whipped or pastry cream with a profiterole being filled with anything like fruit, ice cream, and sauce.
Are Cream Puffs French or Italian?
They are historically French, although French cuisine is rooted in Italian cuisine.
The Medici family is credited with this as Catherine di Medici married King Henry II and moved to France, and brought some of the best chefs with her, whom then transformed French food.
Who invented cream puff? Catherine di Medici's pastry chef. 🙂
Why is Choux Pastry Difficult?
Cream puffs, made with choux pastry, are known for being difficult.
But really the issues of why or how it is difficult are things that can be easily monitored to get a perfect dessert recipe!
Make sure you are following the instructions and reading ahead to know what to anticipate, and do NOT multi task! Which I know is SO hard in the kitchen but with things moving so fast, things can go wrong.
The common issue areas I have found are over boiling the water and butter to where there is not enough moisture (leaving it on boil too long), stirring too much and making the dough tough, and the dough being too hot when the eggs are added and they cook and clump.
What is in Pumpkin Spice Cream Puffs?
Here are the ingredients you need to make this recipe:
Flour
Butter
Water
Salt
Pumpkin Spice Blend
Eggs
Pumpkin Pastry Cream (or other filling of choice, like Vanilla Pastry Cream)
What is Pumpkin Spice?
Pumpkin spice is a blend of warm spices often used in pumpkin pies and pumpkin flavored goods.
You can easily make your own homemade pumpkin spice blend or buy a premade blend at the store. I love my homemade blend because you can adjust it to your personal preference very easily!
How to Make Pumpkin Spice Cream Puffs
First make sure your pastry cream is already done as it has to chill for a while.
To get the puffs started, boil the water, butter, and salt in a small pot over high heat.
Once boiling, add the flour and stir vigorously until combined into one larger ball. The dough will have a slight sheen to it.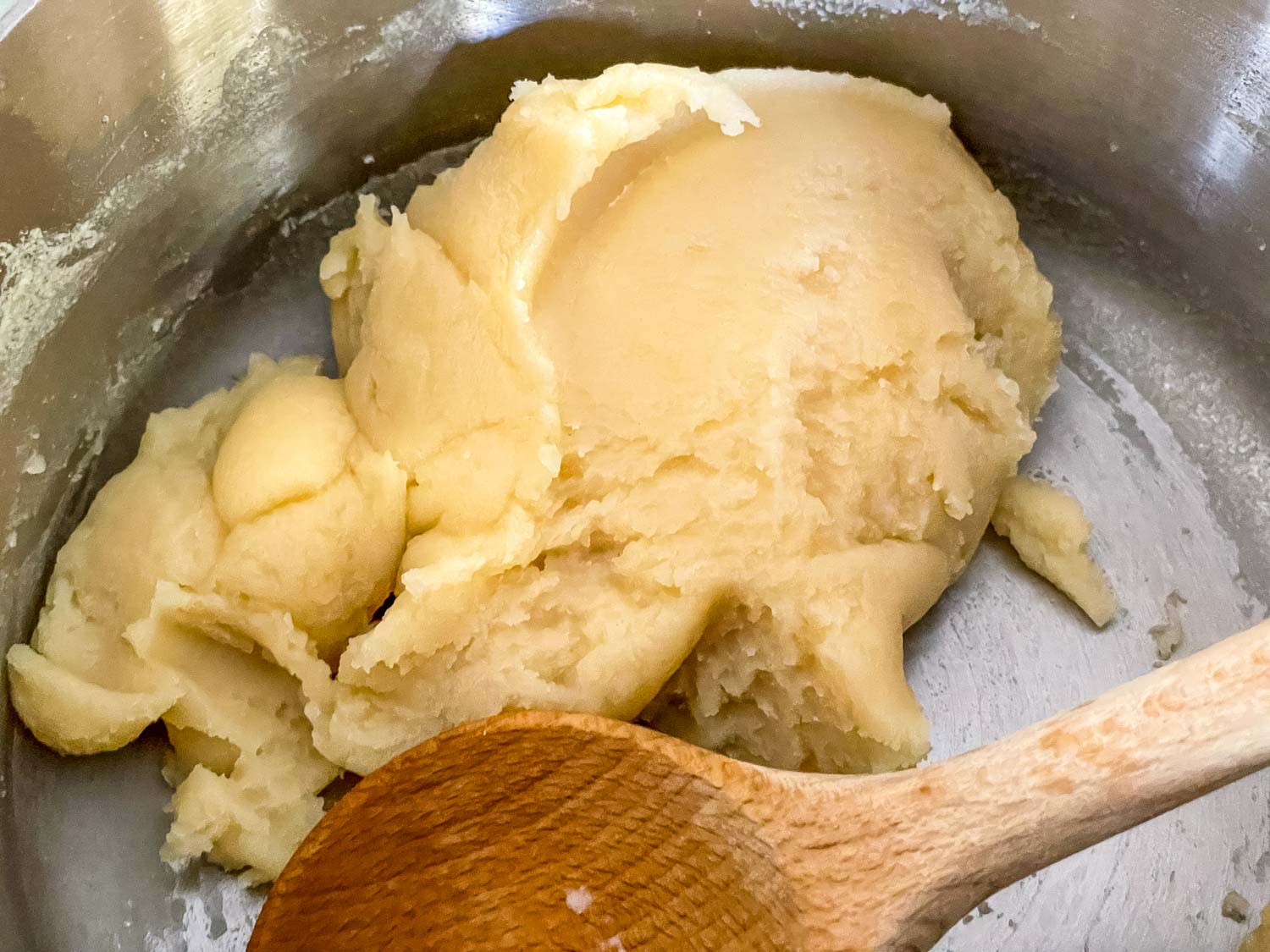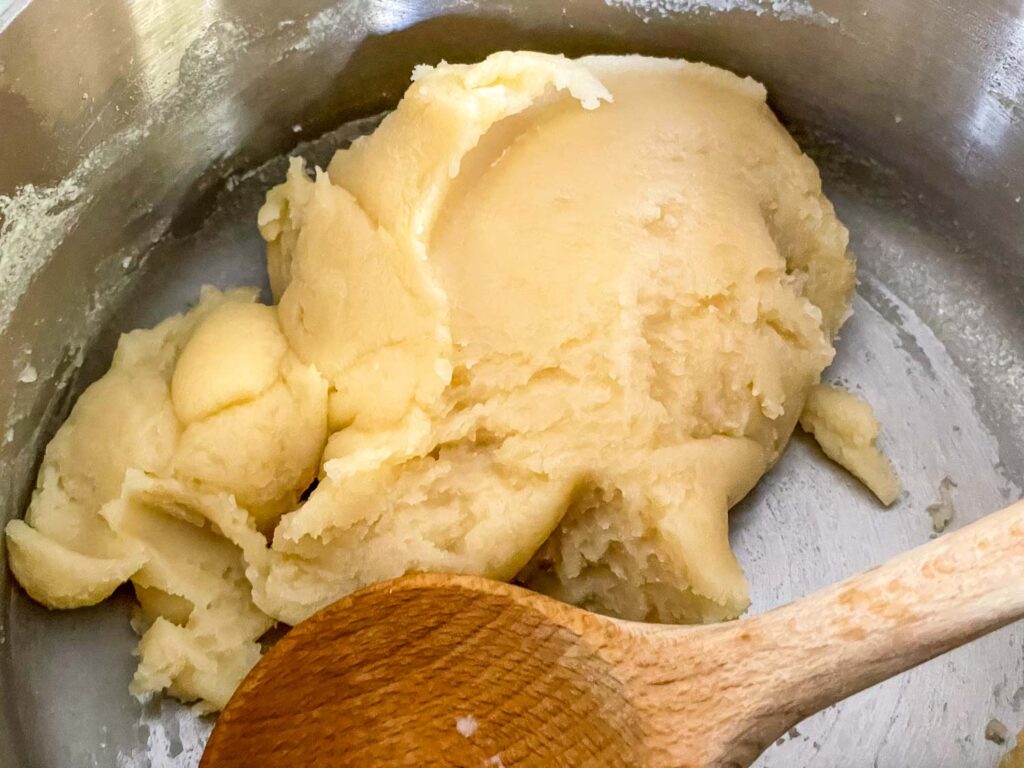 Put the dough in the bowl of a mixer and let it cool 5-10 minutes. This is important so that it is not too hot for the eggs!
Beat the dough on medium speed and add one egg at a time until fully incorporated.
Add the pumpkin spice and blend a few seconds until mixed in.
Put the dough in a pastry bag and pipe into mounds on parchment lined baking sheets. Make them 1-1.5 inches wide for small puffs and 2 inch wide mounds for larger puffs.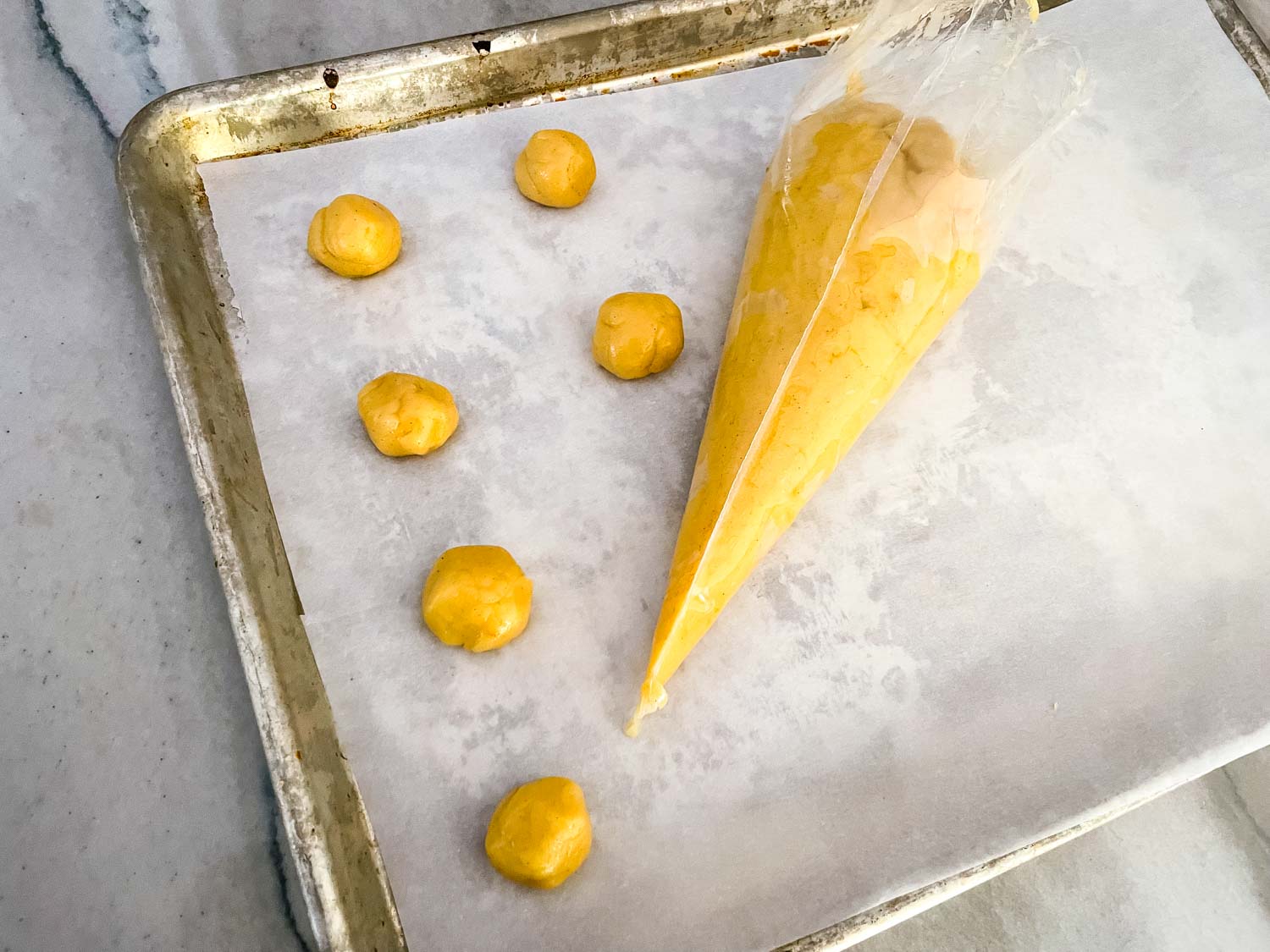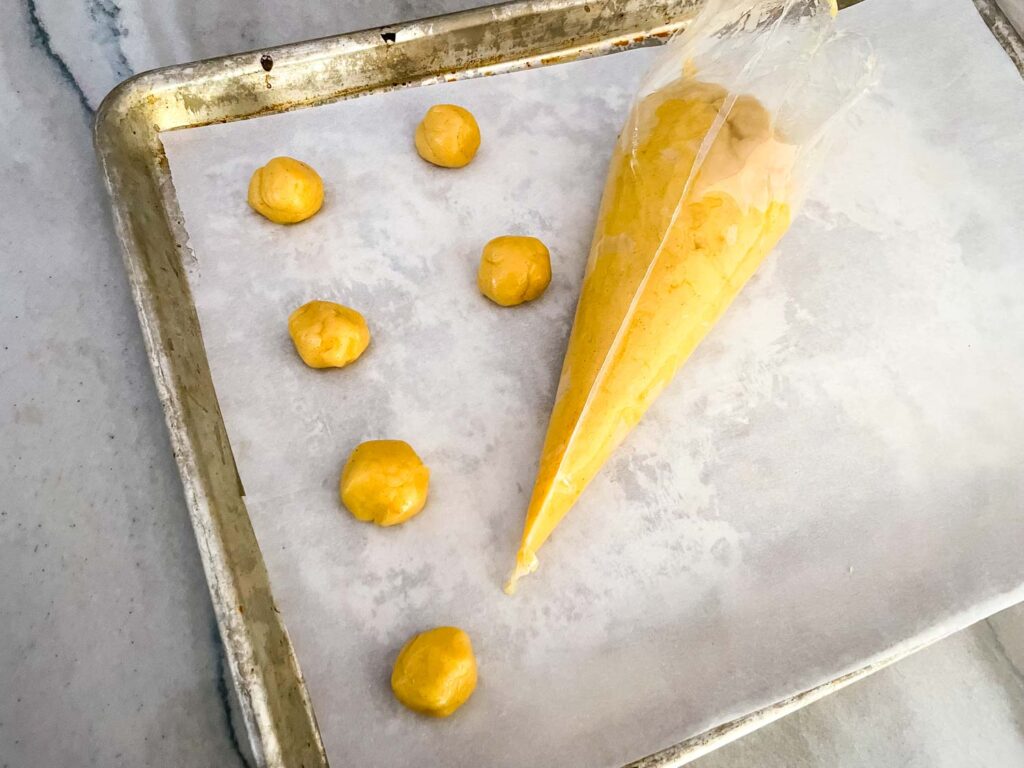 Bake for about 25 minutes until they puff up and turn a light golden brown, rotating the sheet(s) halfway through baking.
Can I Double This Recipe?
Yes! It works beautifully doubled.
You will need two baking sheets, put in the oven at the same time. Just rotate them and also flip top and bottom position halfway through.
What Can I Fill Cream Puffs With?
I highly recommend using my Pumpkin Pastry Cream Recipe to really drive home the warm fall flavors!
You could use other flavors like Vanilla Pastry Cream or even whipped cream or fruit fillings.
How Long Will Cream Puffs Stay Fresh?
The puffs are best eaten the same day, but can be stored, with fillings, in an air tight container in the refrigerator for up to 3 days.
They do lose some of their crisp texture from both the moisture and the cold.
Alternatively, you can store the empty puffs in an air tight bag at room temperature and then fill them as you eat them.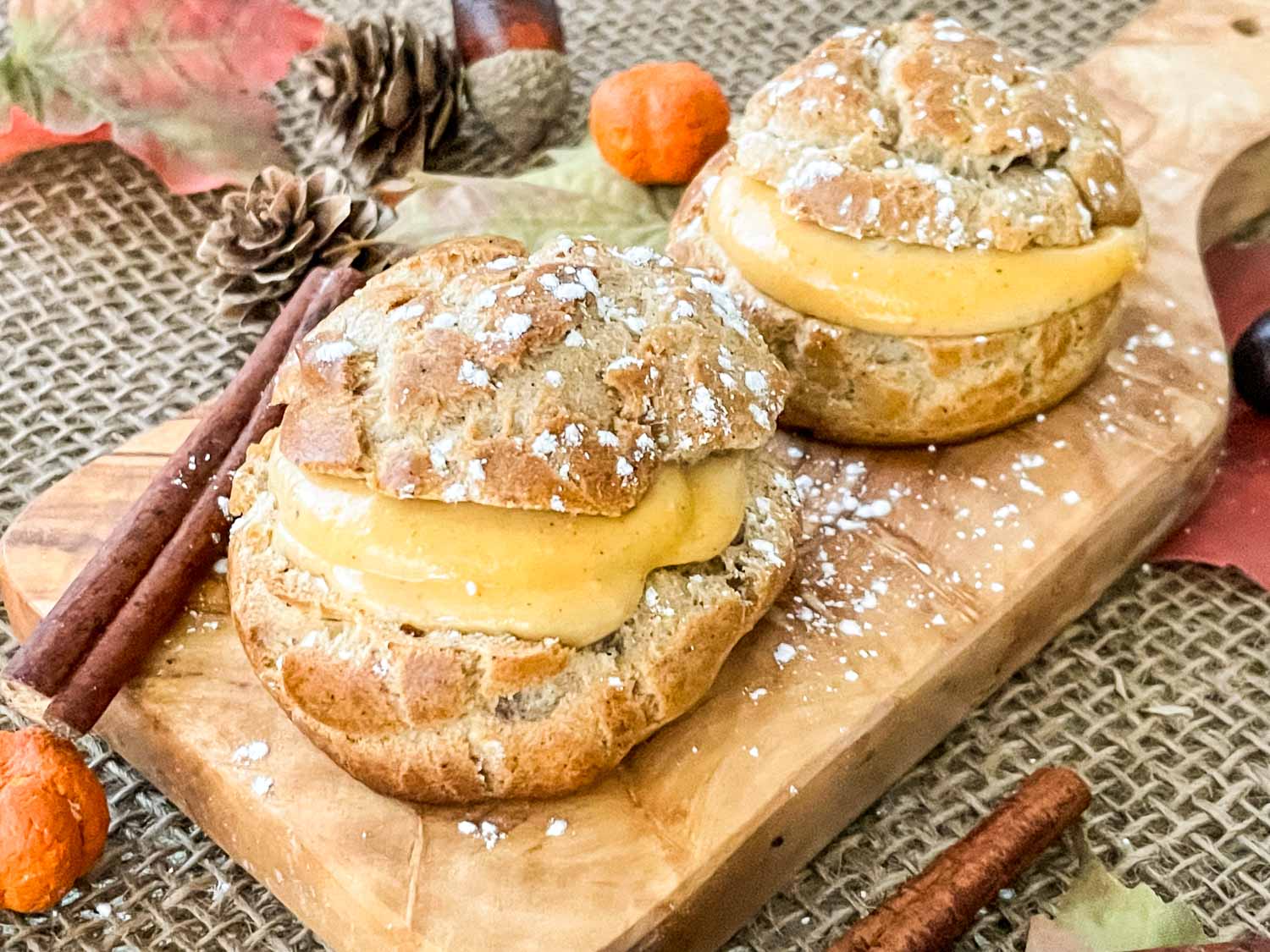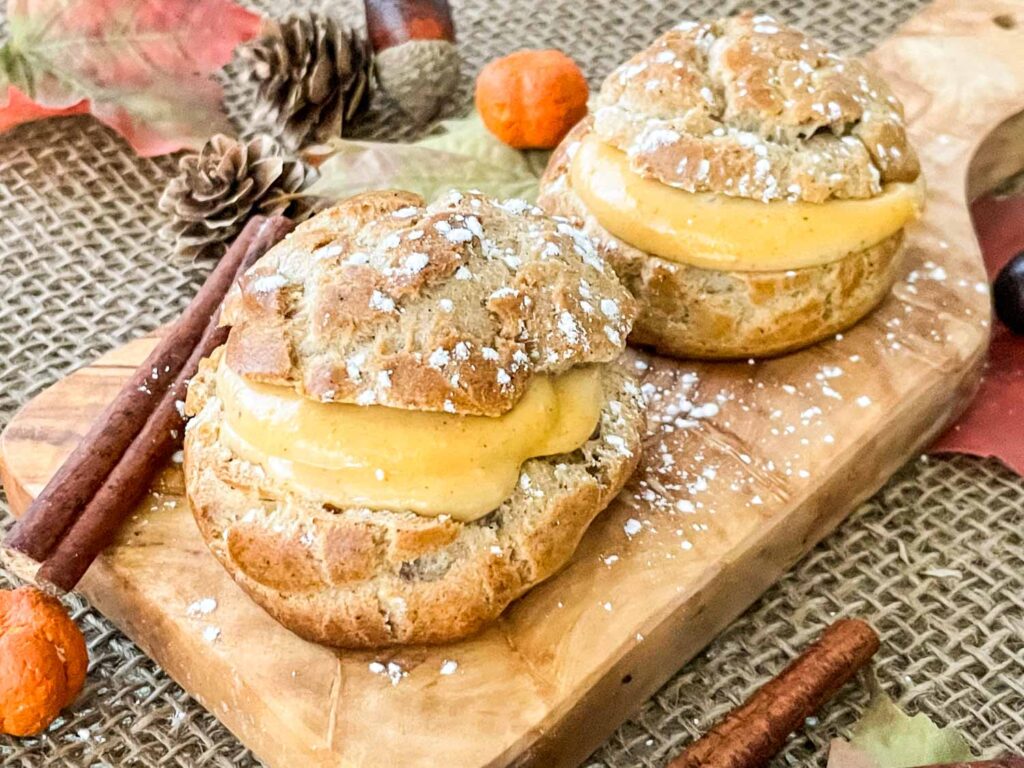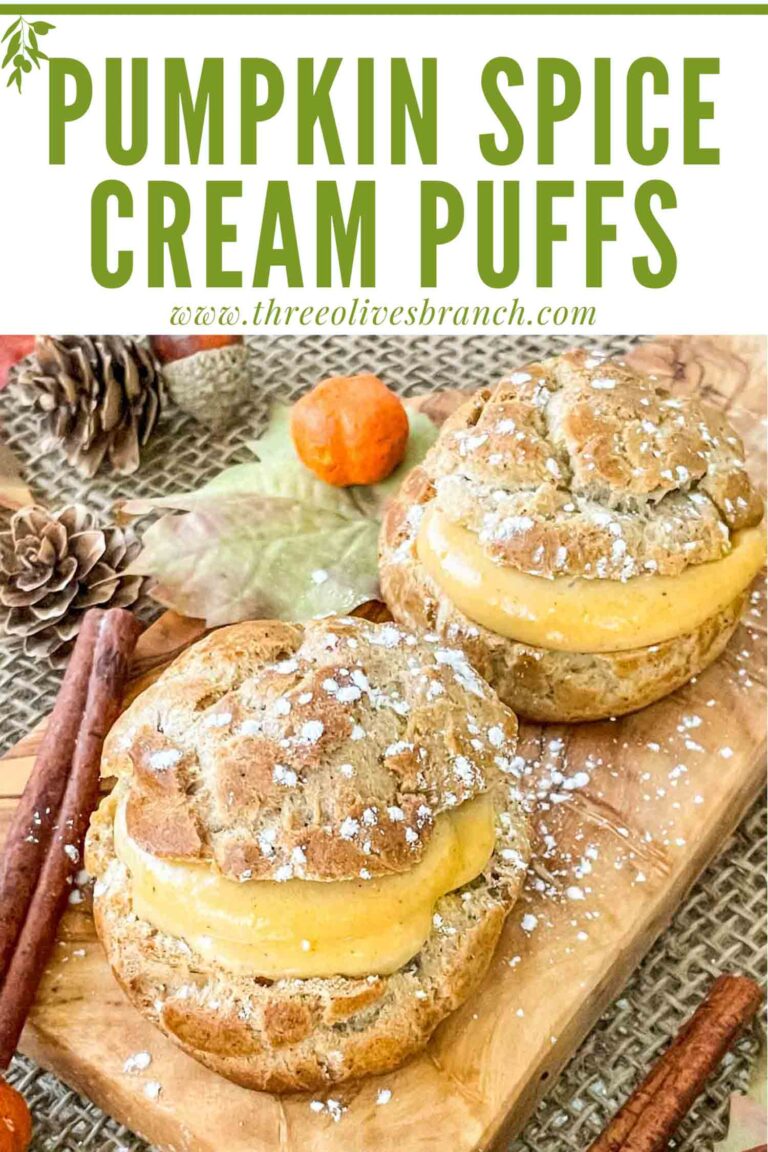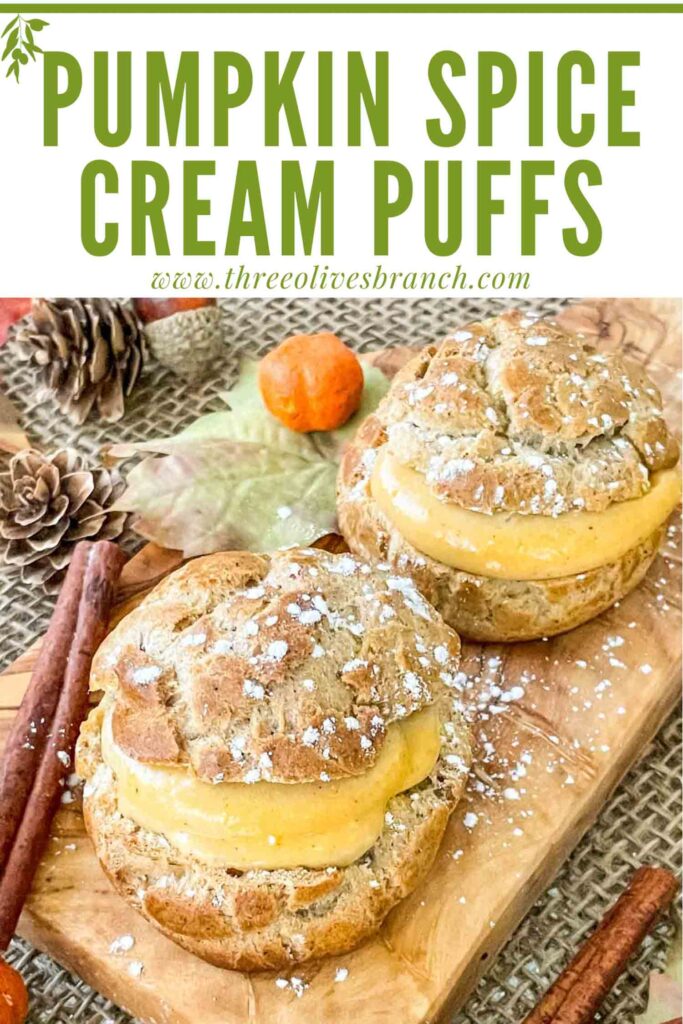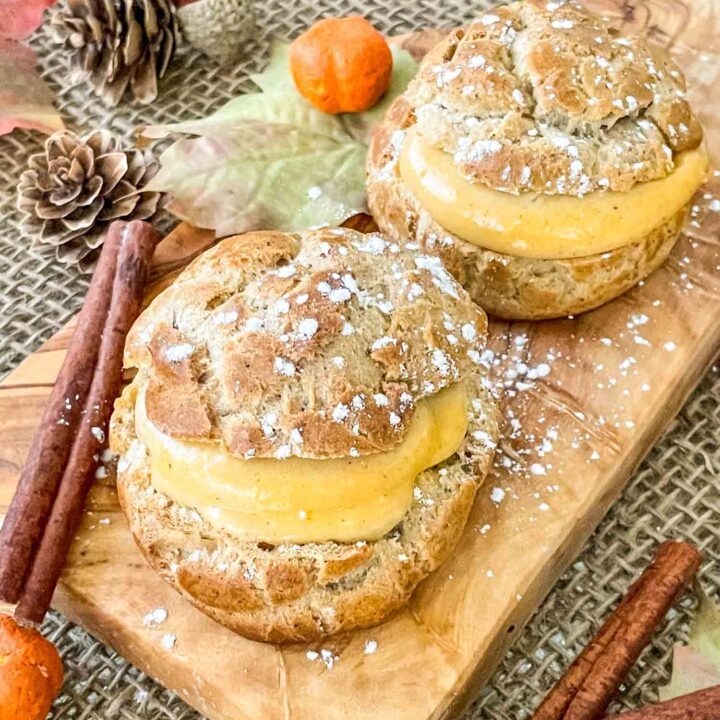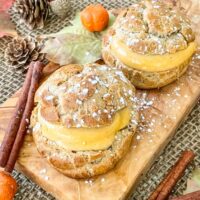 Pumpkin Spice Cream Puffs Recipe
Pumpkin Spice Cream Puffs are a perfect fall dessert recipe! Full of warm autumn flavors in a light and crisp pastry and filled with a creamy, rich pastry cream. Delicious for Thanksgiving dessert.
Print
Pin
Rate
Equipment
Liquid Measuring Cups

Wooden Spoon

Pastry Bag

or large resealable bag
Instructions
Bring the butter, water, and salt to a boil in a small pot over high heat.

When boiling, turn the heat down to medium, add the flour, and stir continuously over the heat.

Stir until the dough has all clumped together primarily in one ball and the dough has a slight sheen to it (like it is glistening or sweating).

Move the dough into the bowl of a stand mixer and let sit 5-10 minutes to cool slightly.

On medium speed, add the eggs one at a time, fully incorporating each one before adding the next.

Add the pumpkin spice and mix briefly to combine.

Remove the dough and scoop into a piping bag. Pipe the dough onto parchment lined baking sheets to the size desired, leaving one inch between. They will grow slightly.

(Puffs around 1-1.5 inches wide will give you about 15 puffs, and larger puffs at 2 inches wide is about 9 puffs).

Bake the puffs in the oven for about 20-25 minutes, flipping the tray(s) around halfway through.

If using two trays, flip which is on top and bottom as well.

The puffs will have expanded and be a light golden brown.

Poke a hole in the bottom of each puff with a knife before cooling to help steam escape.

Let the puffs cool completely before filling. Either cut off the top or pipe the pumpkin pastry cream with a piping bag into the bottom holes. Refrigerate until ready to serve.

Puffs are best when served the same day but can be made and filled up to three days in advance.
Nutrition
Serving:

1

small puff with filling

|

Calories:

52

kcal

|

Carbohydrates:

3

g

|

Protein:

1

g

|

Fat:

4

g

|

Saturated Fat:

2

g

|

Polyunsaturated Fat:

0.3

g

|

Monounsaturated Fat:

1

g

|

Trans Fat:

0.1

g

|

Cholesterol:

33

mg

|

Sodium:

10

mg

|

Potassium:

15

mg

|

Fiber:

0.1

g

|

Sugar:

0.04

g

|

Vitamin A:

129

IU

|

Vitamin C:

0.02

mg

|

Calcium:

6

mg

|

Iron:

0.3

mg

By