Pumpkin Pastry Cream is a perfect fall dessert recipe! Use this custard in anything that needs creme patisserie like tarts, eclairs, doughnuts, and cream puffs! Gluten free autumn flavors of pumpkin spice.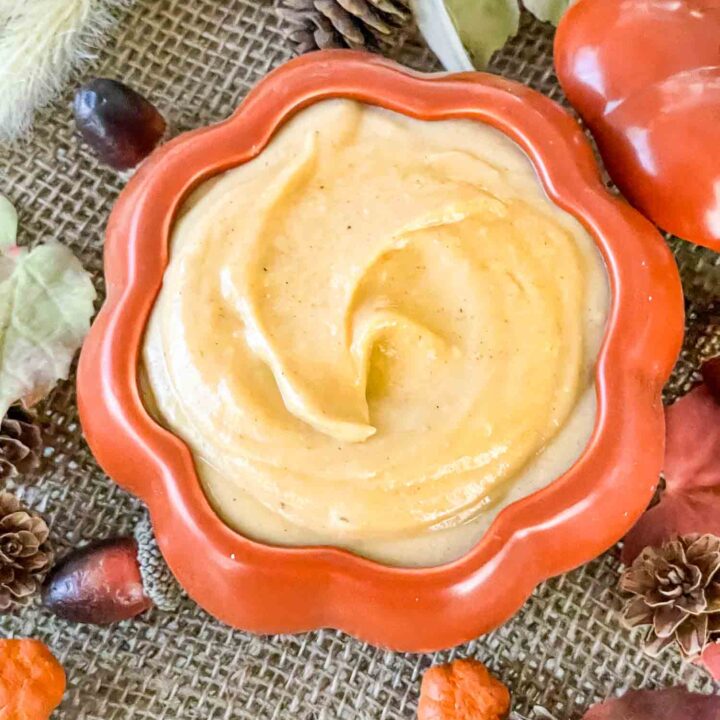 Bring on fall! This Pumpkin Pastry Cream is a delicious dessert custard perfect for the autumn weather. If you are a lover of all things Pumpkin Spice, this is a perfect way to jazz up your desserts!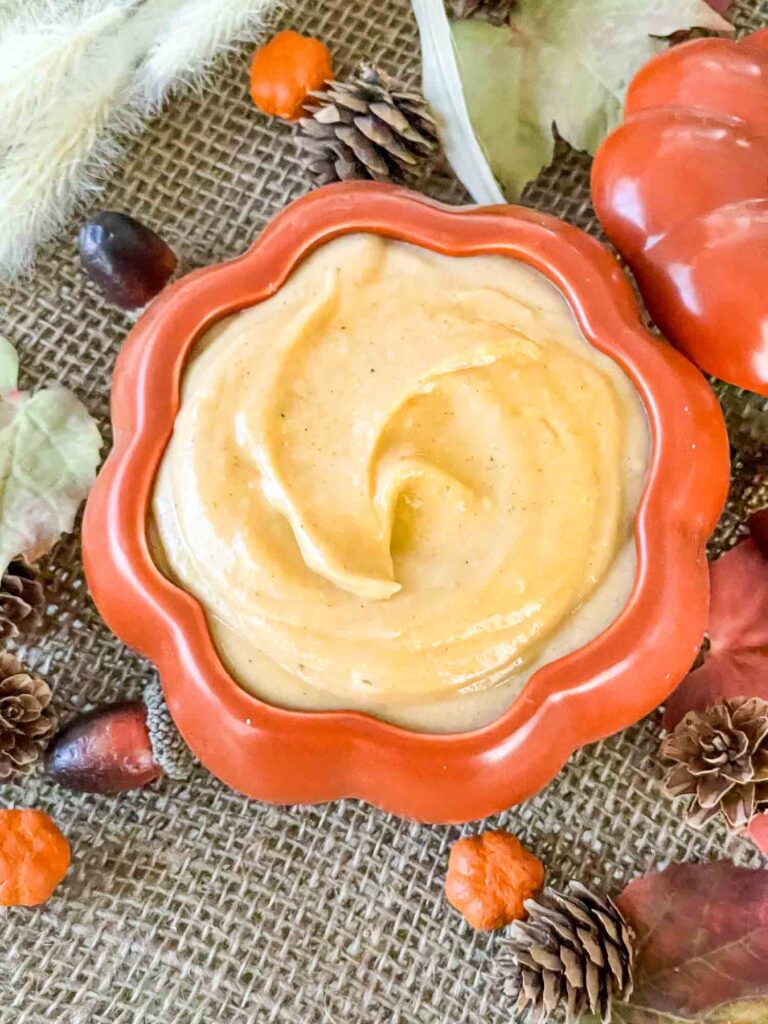 Homemade Pastry Cream
It is just about impossible to experience fall without being inundated with pumpkin everything!
So here is a Pumpkin Pastry Cream recipe to join the celebration!
Taking a classic Vanilla Pastry Cream base, this recipe adds in warmth and flavor from pumpkin puree and pumpkin spices.
What is the Difference Between Crème Patisserie and Custard?
Pastry cream is a type of custard.
A custard is a liquid that has been thickened with eggs. In this case, milk.
Is Creme Anglaise the Same as Pastry Cream?
Creme anglaise is very similar, made with the same ingredients, except no cornstarch as a thickener. So this makes the sauce thinner.
What is the Difference Between Pastry Cream and Boston Cream?
They are the same!
(From everything I can tell, please correct me if I am wrong). The same ingredients and cooking method, just different names.
What is the Difference Between Bavarian Cream and Pastry Cream?
Bavarian cream uses gelatin as the thickener and heavy cream, where pastry cream uses cornstarch and milk.
What is the Difference Between Pastry Cream and Pudding?
They are very similar. They are made with similar ingredients and cooked the same way, however pastry cream is much thicker than pudding.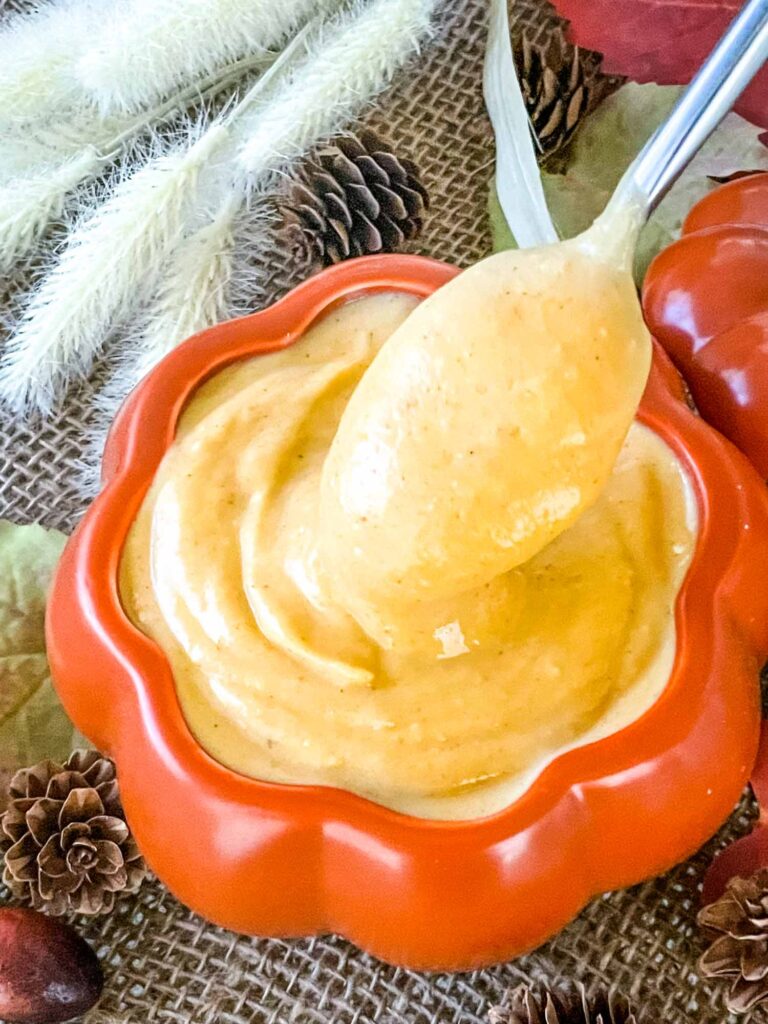 What is Pumpkin Pastry Cream Made Of?
These are the ingredients you need:
Whole Milk
Sugar
Vanilla Extract
Egg Yolks
Cornstarch
Pumpkin Puree
What is Pumpkin Spice?
Pumpkin spice is a blend of warm spices often used in pumpkin pies and pumpkin flavored goods.
You can easily make your own homemade pumpkin spice blend or buy a premade blend at the store. I love my homemade blend because you can adjust it to your personal preference very easily!
What is the Difference Between Pumpkin Puree and Pumpkin Pie Filling?
Pumpkin puree tends to be just the pumpkin without added flavors or sugar.
A pumpkin pie filling tends to have spices, sugar, and flavorings added, making it easy to just throw into a pie crust.
You will want to use the pure pumpkin puree here so we can control the flavoring added.
How Do I Make Pumpkin Pastry Cream?
In a medium pot over medium heat, combine the milk, sugar, and vanilla. Cook until the sugar is dissolved and remove from the heat.
In a small bowl, whisk together the egg yolks and cornstarch. This takes a lot of muscle power as it is super thick! A small bowl is best to keep it all in a confined area for easier whisking.
Once the eggs are a pale yellow, add about half a cup of the warm milk mixture into the eggs bowl and whisk immediately to combine until smooth.
Then add the entire egg mixture back into the milk, along with the pumpkin and pumpkin spice blend, and stir to combine.
Put the pot back on the heat and stir continuously until the cream is thickened, about 2-3 minutes. It will coat the back of the spoon.
Push the pastry cream through a fine mesh strainer using a spoon or spatula. This makes it extra smooth!
Chill at least 3 hours before using.
How Do You Know When Pastry Cream is Done?
The cream will be a thick texture similar to pudding. And it will easily coat and cling to the back of a spoon.

Can You Overcook Pastry Cream?
Yes. This could happen if the dough is too hot when the eggs are added, and the eggs start to curdle.
Why Does My Pastry Cream Taste Eggy?
If overcooked, the eggs release their sulfur-like compounds that make the cream taste distinctly of egg.
Why Is My Pastry Cream Grainy?
This can happen from little bits of egg curdling or if the sugar was not dissolved in the cooking process.
Why Did My Pastry Cream Separate?
If immediately after cooking, this is likely because the moisture release from the milk was not absorbed into the flour, likely from too shot of a cooking time. Those last couple minutes of everything combined on the heat are important to bring everything together.
If separating after refrigeration, this happens over time as it sits.
Just simply mix back together.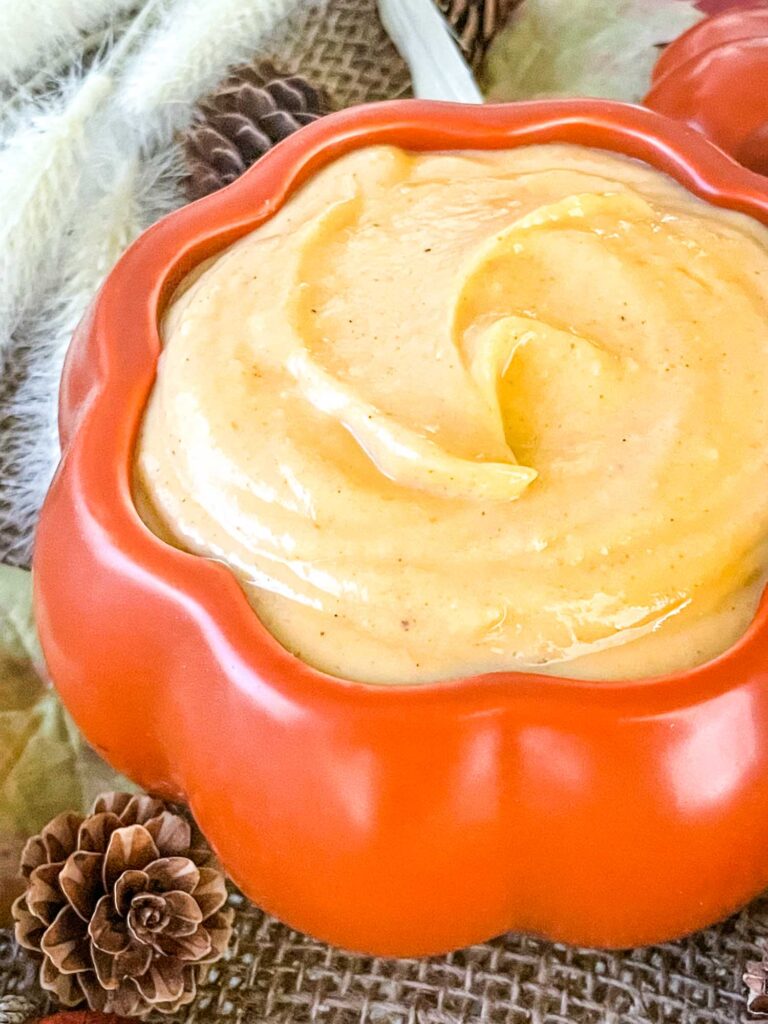 Can You Leave Pastry Cream Out Overnight?
No. It contains dairy and needs to be refrigerated.
How Long Does Pastry Cream Last?
You can store it in the refrigerator for up to 5 days.
Over time it may start to separate a little. Just mix to recombine if needed.
Can I Freeze Pastry Cream?
Because we use cornstarch, it does not freeze well because the cornstarch texture changes and becomes unpleasant.
If you want to freeze the cream, swap out the cornstarch for twice the amount of flour. This swap will give you the same texture that is not affected in the freezing process.
How Do You Use Pastry Cream?
There are so many recipes out there that use a pastry cream, but my favorite way is in cream puffs! I even have a special Pumpkin Spice Cream Puffs recipe that adds extra flavor into the classic dough.
Other uses for pastry cream includes as a filling for eclairs, Boston cream pie, doughnuts, and fruit tarts.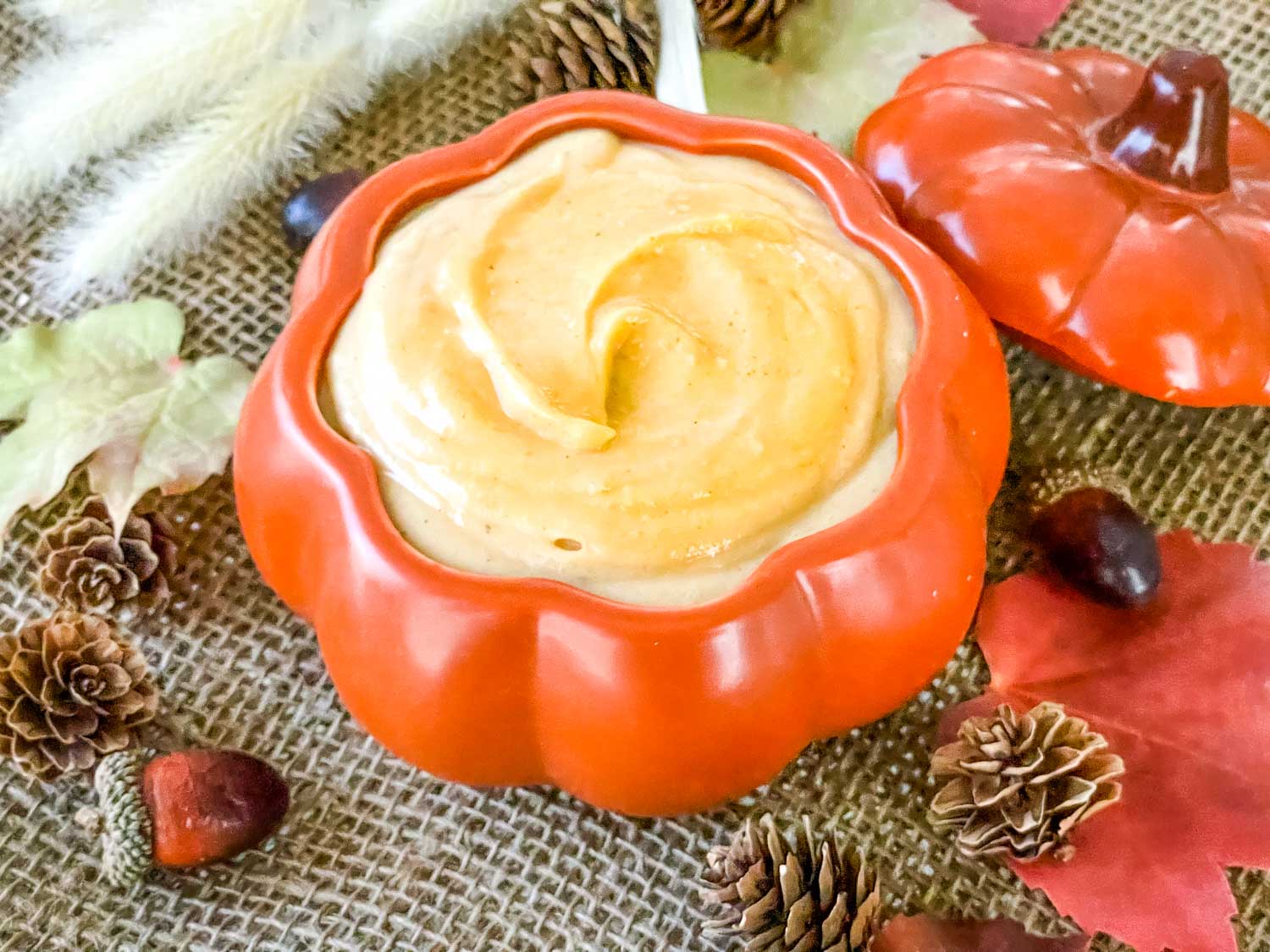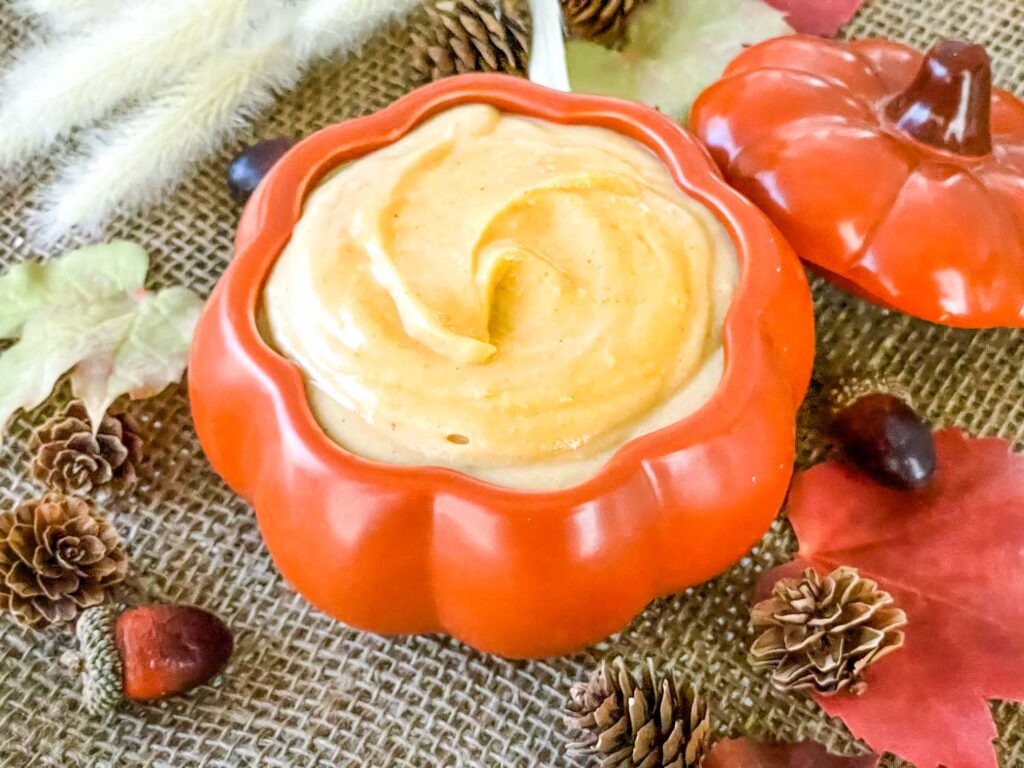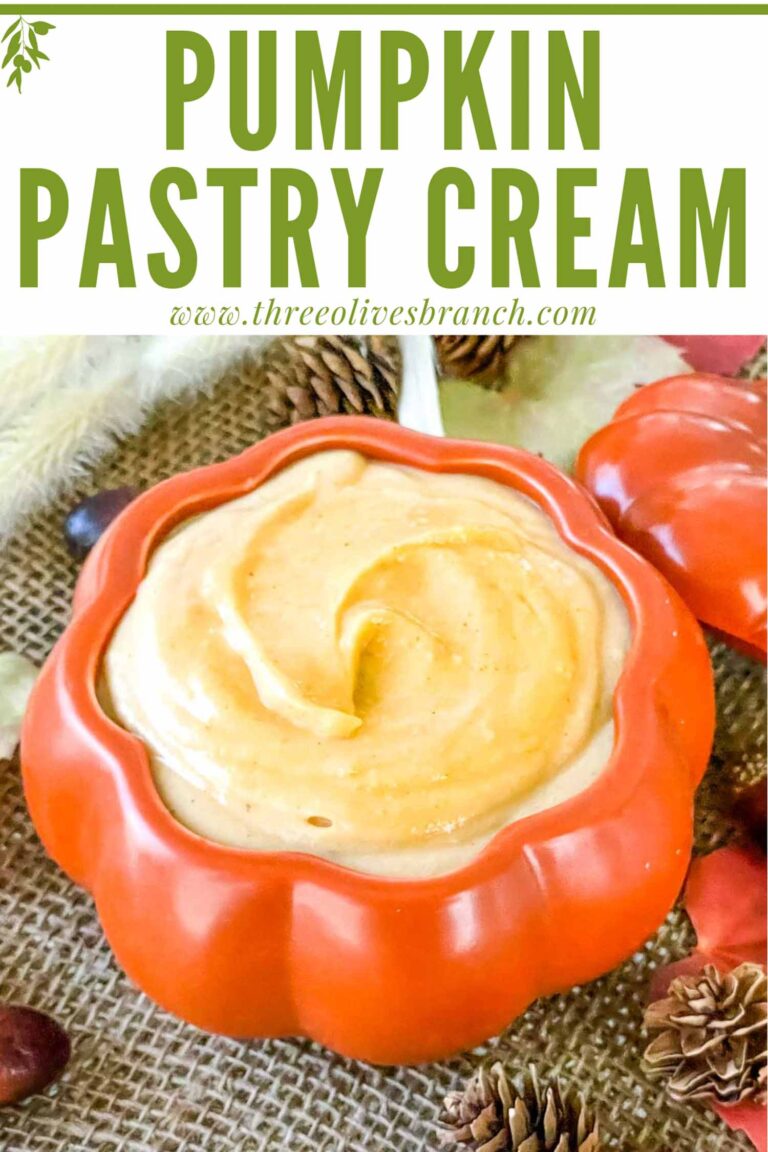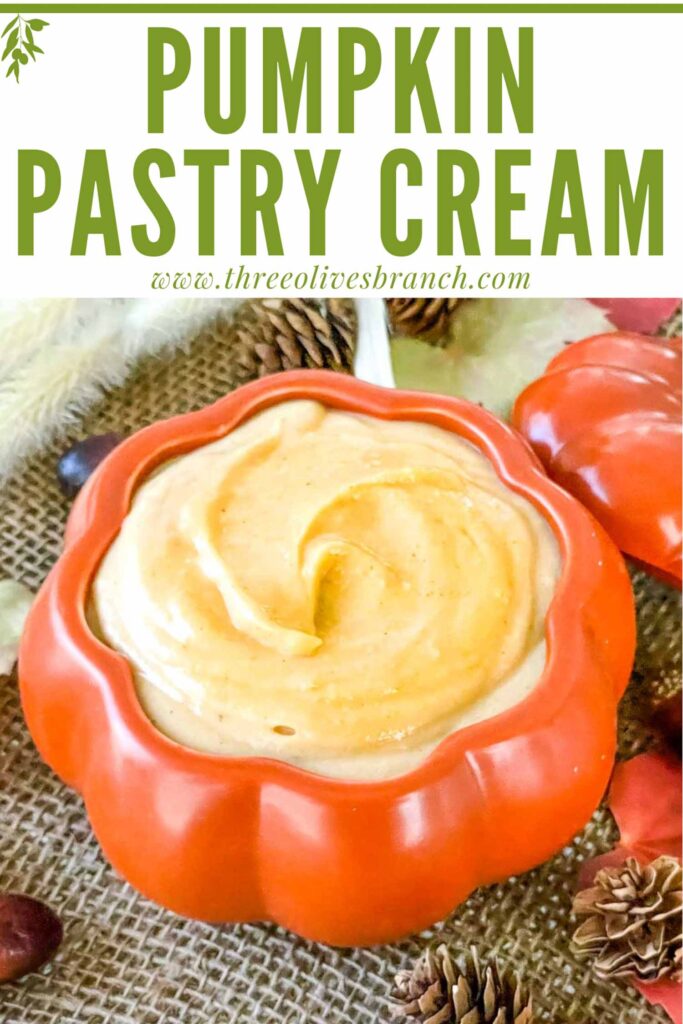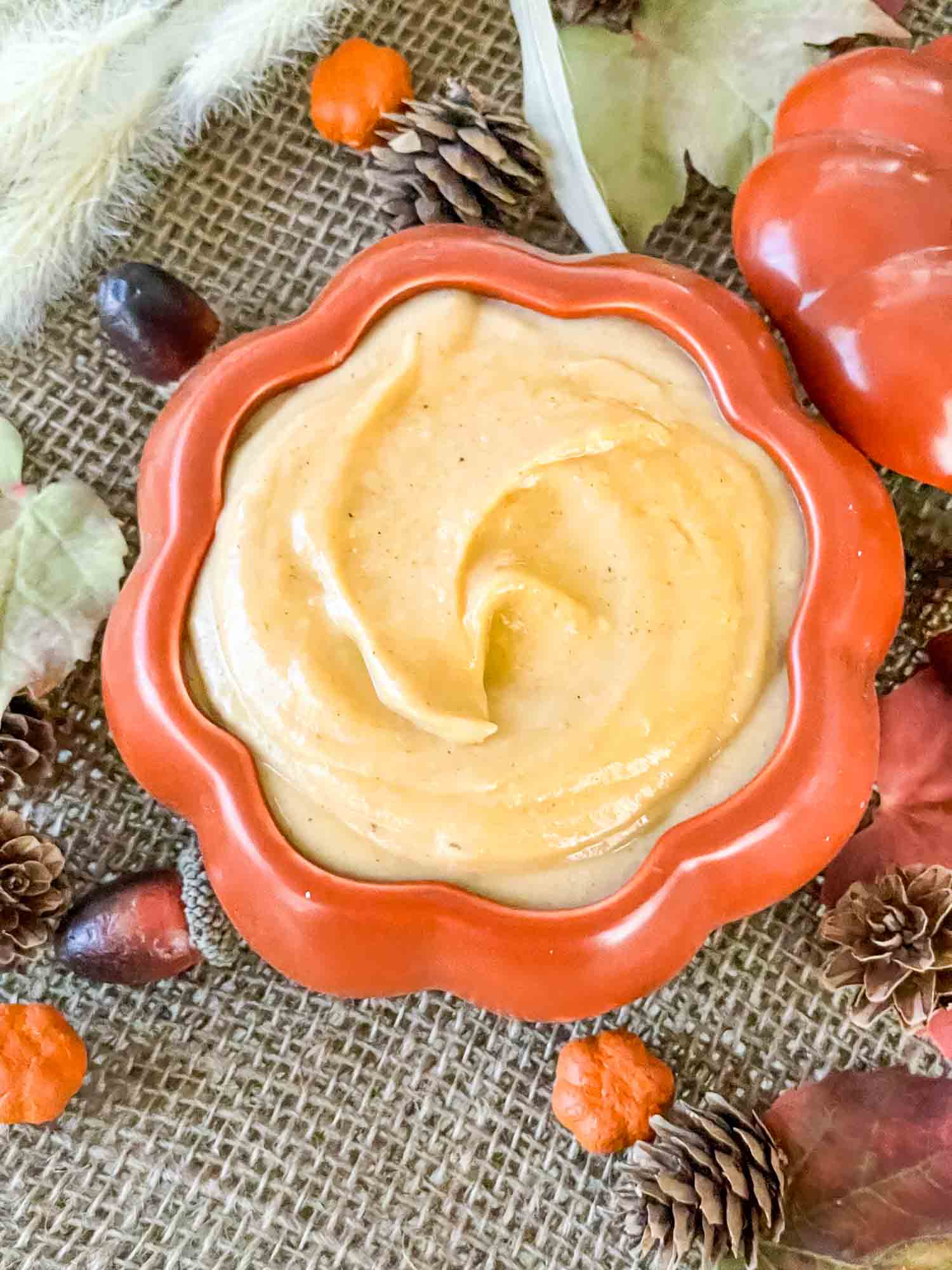 Instructions
In a medium or large pot over medium heat, mix together the milk, sugar, and vanilla.

Simmer until sugar is dissolved, whisking occasionally. Remove from heat.

In a medium bowl, whisk together the egg yolks and cornstarch until a light pale yellow.

Add about a half cup of the warm milk mixture into the eggs and whisk constantly until well combined.

Add all of the egg mixture into the pot of milk. Also add the pumpkin puree and pumpkin spice, and whisk together.

Put the pot back on the heat and cook at medium heat, stirring constantly, until thickened and sticking to a spoon, about 2-3 minutes.

Remove from heat. Push the pastry cream through a fine mesh strainer with a spoon or spatula to make smooth.

Chill pastry cream, covered, in the refrigerator until fully chilled, at least 3 hours, before using.
Nutrition
Serving:

1

cup

|

Calories:

543

kcal

|

Carbohydrates:

83

g

|

Protein:

14

g

|

Fat:

17

g

|

Saturated Fat:

8

g

|

Polyunsaturated Fat:

2

g

|

Monounsaturated Fat:

6

g

|

Cholesterol:

396

mg

|

Sodium:

115

mg

|

Potassium:

540

mg

|

Fiber:

2

g

|

Sugar:

64

g

|

Vitamin A:

10419

IU

|

Vitamin C:

3

mg

|

Calcium:

365

mg

|

Iron:

2

mg

By