A simple homemade bread that is no-knead filled with herbs and kalamata olives.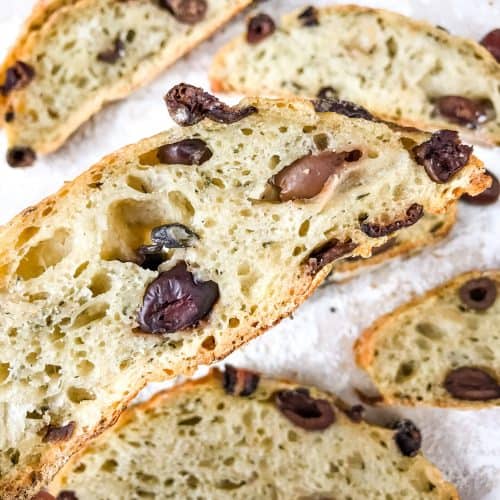 Dutch Oven No Knead Rustic Thyme Olive Bread recipe is full of flavor! A perfect bread for Italian meals.
This post contains affiliate links.
I have always loved olives. When I was a kid, I would walk around with a black olive stuck on each finger and eat them.
Something about the salty, somewhat sour brine of an olive makes me happy.
And when I lived in Italy for college, I fell in love with olive trees, inspiring the name of this blog.
Making a no knead easy olive bread recipe has been on my list! Find more of our bread recipes here!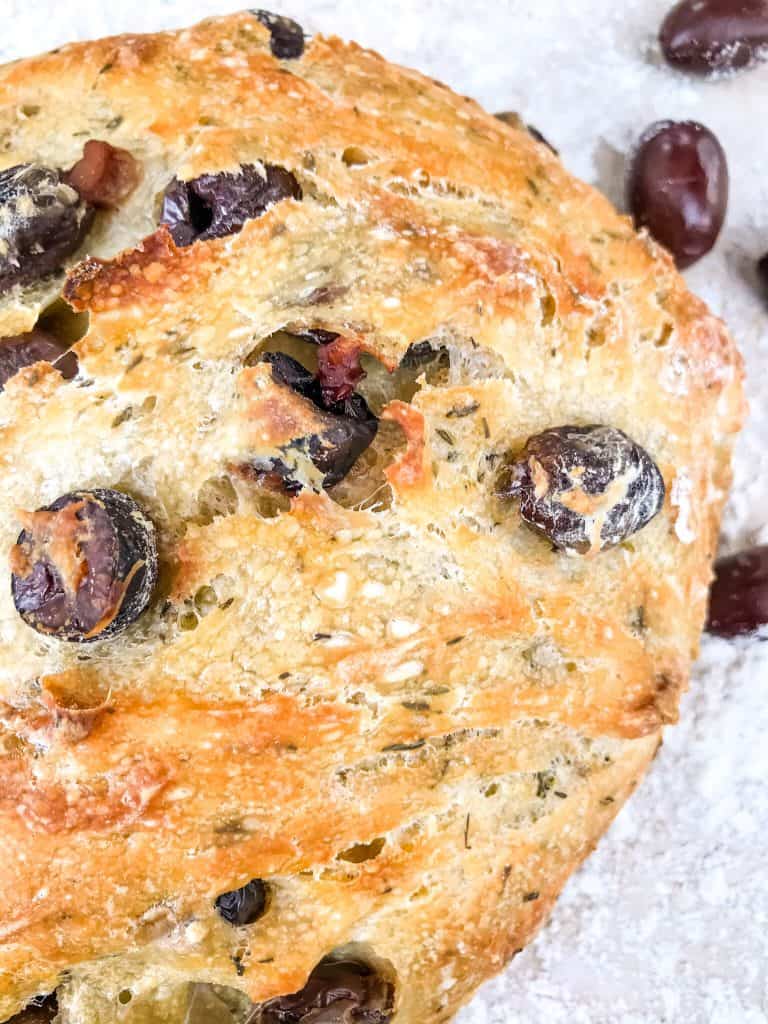 Preparing the Olives
It is important to dry the olives before adding to the dough to remove as much of the brine as you can.
This is mildly painful for me because I LOVE olives and LOVE brines but the extra moisture could negatively impact your bread and cooking time.
No need to be obsessive about making the olives completely dry, just don't throw them in the dripping with moisture. One quick rub with a towel or drained in a colander should do the trick.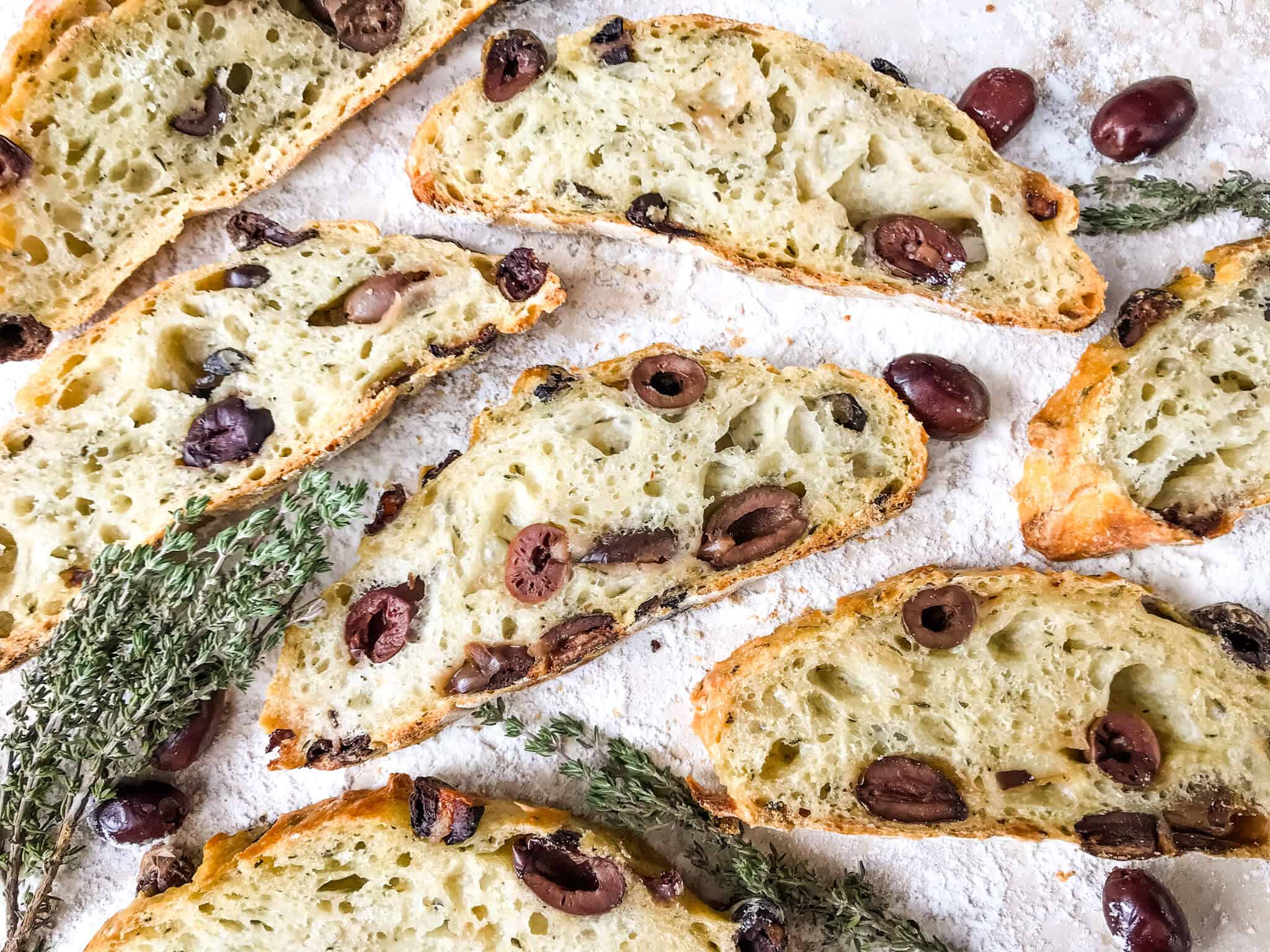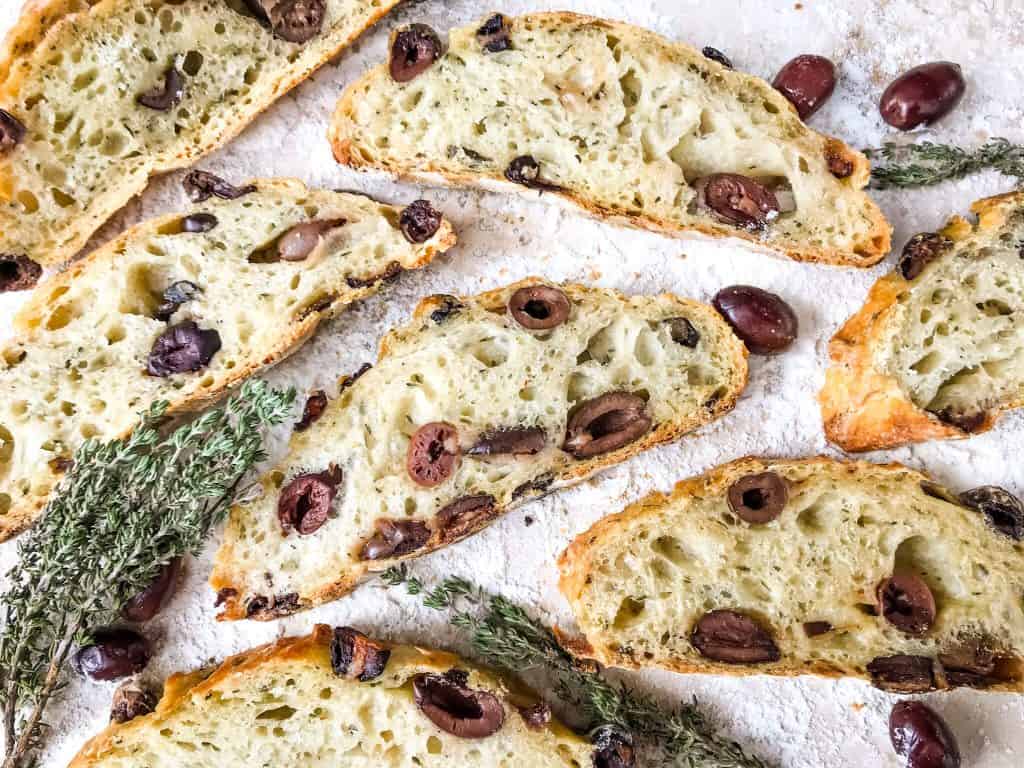 I also like to leave half of the kalamata olives whole, and cut the others just in half.
My goal is to get olives alllllll over the place in the bread but still leave them in pretty big chunks.
The olives will be cut more as you cut the bread, so make them as large or small as you like.
You could use any olive variety you like, just make sure there are no pits in them!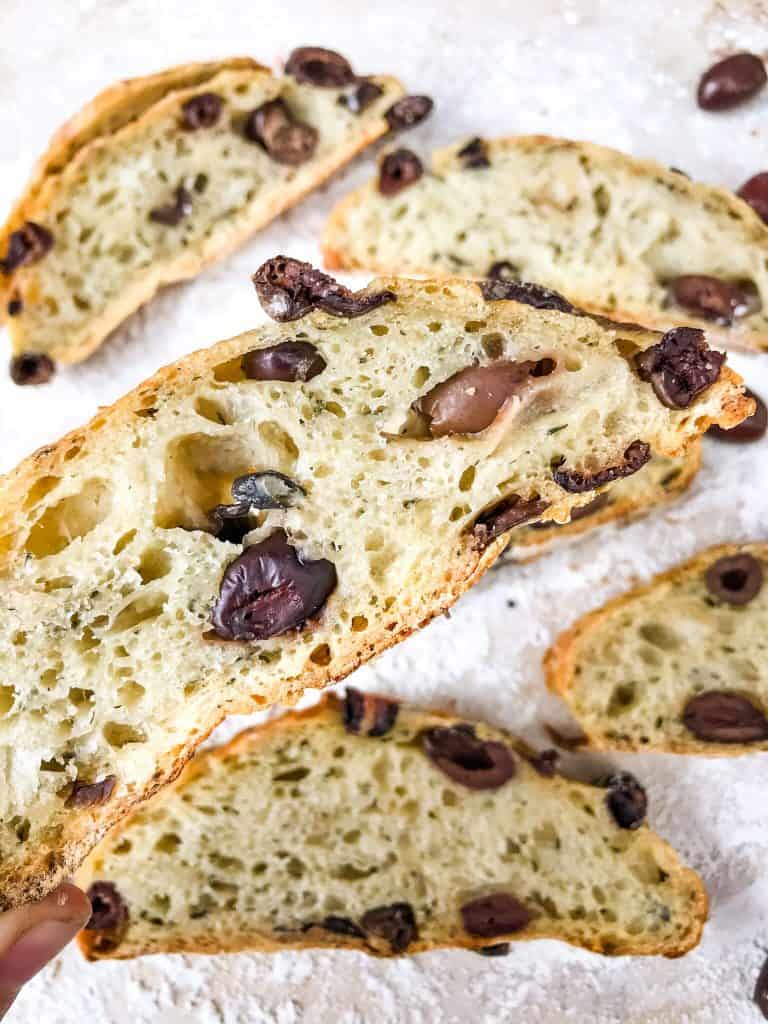 Cooking the Bread
When you are cooking the Dutch oven bread, you want to make sure you get a really nice golden brown crust which helps indicate that the bread is cooked through.
Sometimes I can smell the bottom of the bread almost burning before it is done.
To prevent this, put a layer of flour in the pot before you add the dough (the flour scrapes off later, it does not stick, so it is fine if the flour ends up bringing).
Or add an empty baking sheet on a rack under the bread pot. I got this tip from a friend that cooks a lot of bread and the pan will help disperse heat a little and put less heat pressure on the bottom of the pot.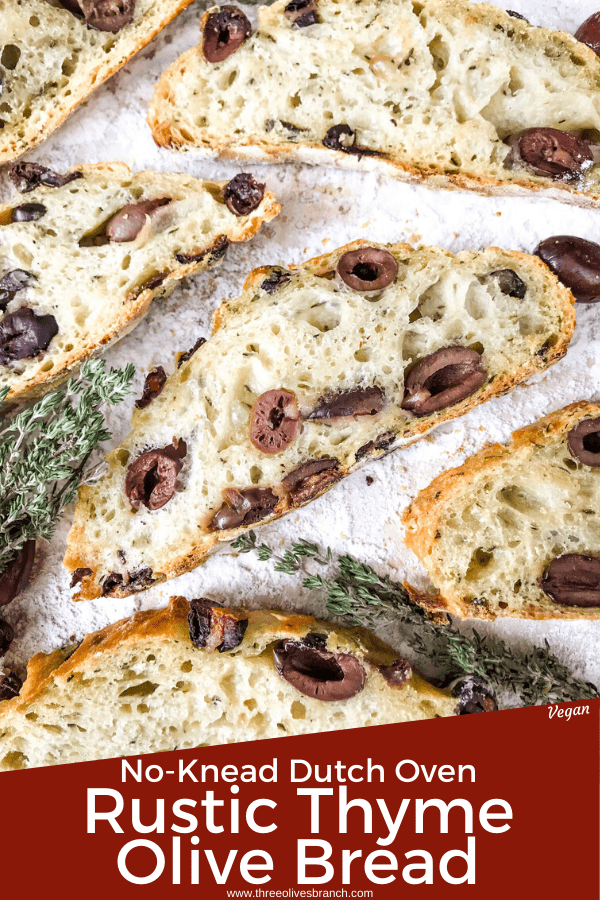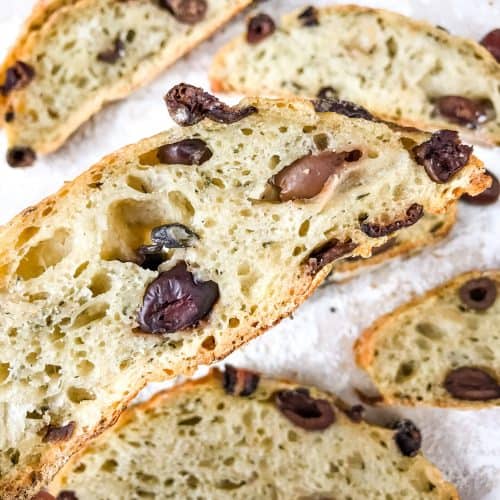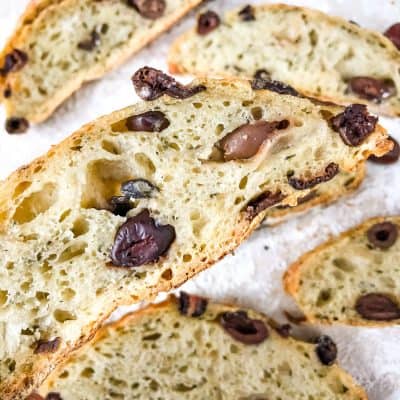 No Knead Rustic Thyme Olive Bread
A simple homemade bread that is no-knead filled with herbs and kalamata olives.
Print
Pin
Rate
Instructions
Combine all of the ingredients in a large mixing bowl. The dough will not be overly sticky but should come together. Add just a little water at a time if needed to incorporate all the flour.

Cover the dough with plastic wrap or bees wax wrap (something not porous) and put a towel over the top to help it seal. Set the bowl aside for at least 8 hours to rise (I have gone as long as 24 hours).

When ready to bake, heat oven to 450F. Place a large cast iron pot (dutch oven) on the medium or medium low rack while preheating for it to get hot.

Use a spatula to scoop the dough into the hot pot. (If preferred, shape the dough on the counter during preheating but I find it is easy to drop the dough in a rough circle straight into the pot).

Place the lid on the pot and cook at 450F for 30 minutes.

Remove the lid and let cook an additional 15 minutes to further brown. If it looks or smells done sooner, remove from oven sooner.

Let the bread cool completely on a cooling rack.
Notes
This makes one large loaf of rustic bread, which is much more dense than a French bread.
If your bread is cooking too fast on the bottom which commonly happens to me, place a baking sheet on a rack lower than the pot to help disperse heat that is coming from the bottom.
Nutrition
Serving:

1

loaf

|

Calories:

1686

kcal

|

Carbohydrates:

298

g

|

Protein:

44

g

|

Fat:

35

g

|

Saturated Fat:

5

g

|

Sodium:

6669

mg

|

Potassium:

544

mg

|

Fiber:

19

g

|

Sugar:

2

g

|

Vitamin A:

872

IU

|

Vitamin C:

1

mg

|

Calcium:

210

mg

|

Iron:

21

mg

By