No Knead Rustic Rosemary Bread is an easy homemade bread recipe! A crusty, dense bread with lots of flavor. Very easy with no kneading and cooked in a Dutch oven. Great for soups, Italian, sandwich bread, and as a side.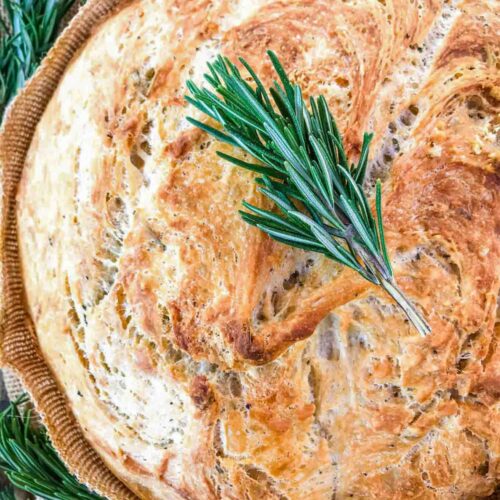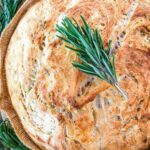 This No Knead Rustic Rosemary Bread is a simple homemade bread that does not require any kneading!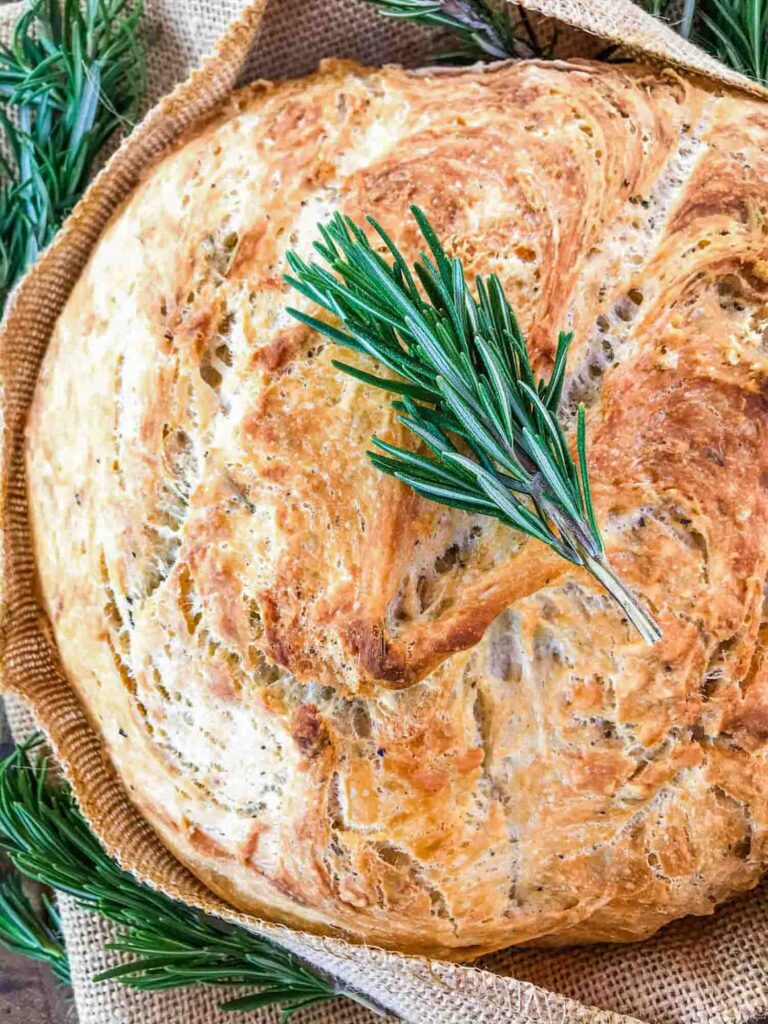 Why You Will Love This Recipe
I am a lover of homemade, fresh bread. The smell of this homemade rustic bread and yeast is just intoxicating.
But I am also not a fan of kneading or complicated bread recipes. I mean, I will do it if I want the bread, but I would prefer not to.
This easy homemade bread recipe is my go-to homemade bread recipe because it is SO simple to make.
To make this rosemary bread, all you need ("knead" lol) to do is mix everything together, let it sit, and bake it. That is literally it.
It has never NOT worked for me.
No Knead Rustic Rosemary Bread is a sturdy, dense bread, much denser than French bread, which I love. It holds up well to being buttered, used as garlic bread, or doused in sauces and soups without disintegrating.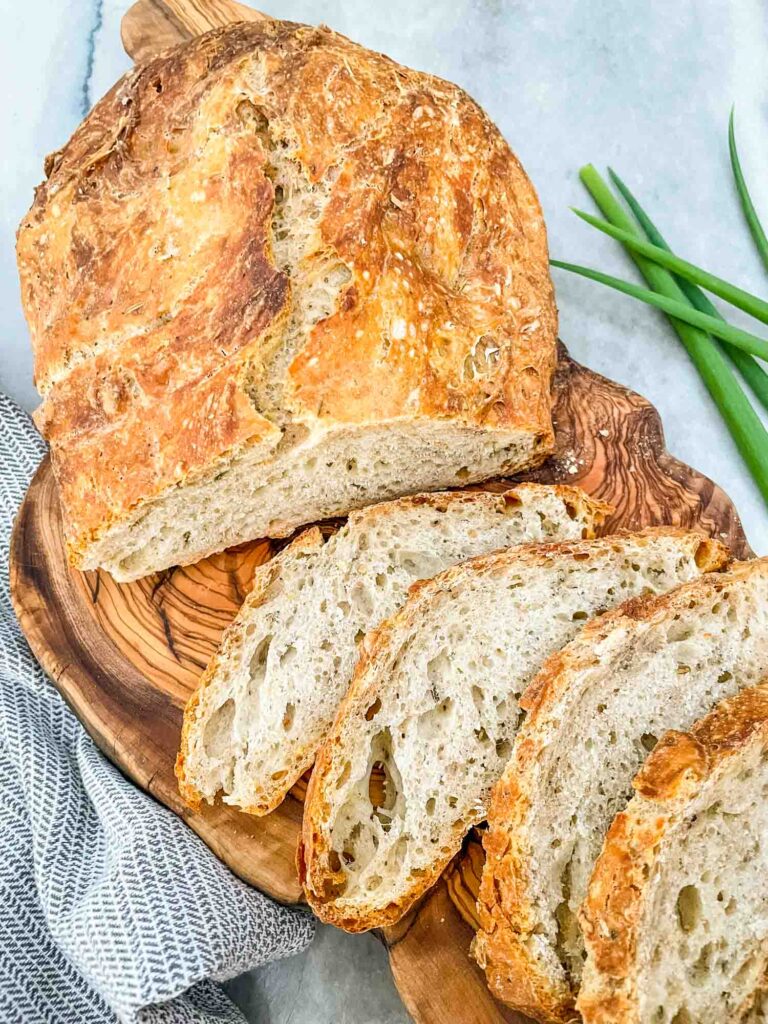 Ingredients
These are the ingredients you need for homemade rustic bread:
All-Purpose Flour
Water
Dried Rosemary
Salt
Black Pepper
Regular all-purpose flour works perfectly in this recipe. No reason to use bread flour!
Using instant yeast in this recipe allows it to be no-knead!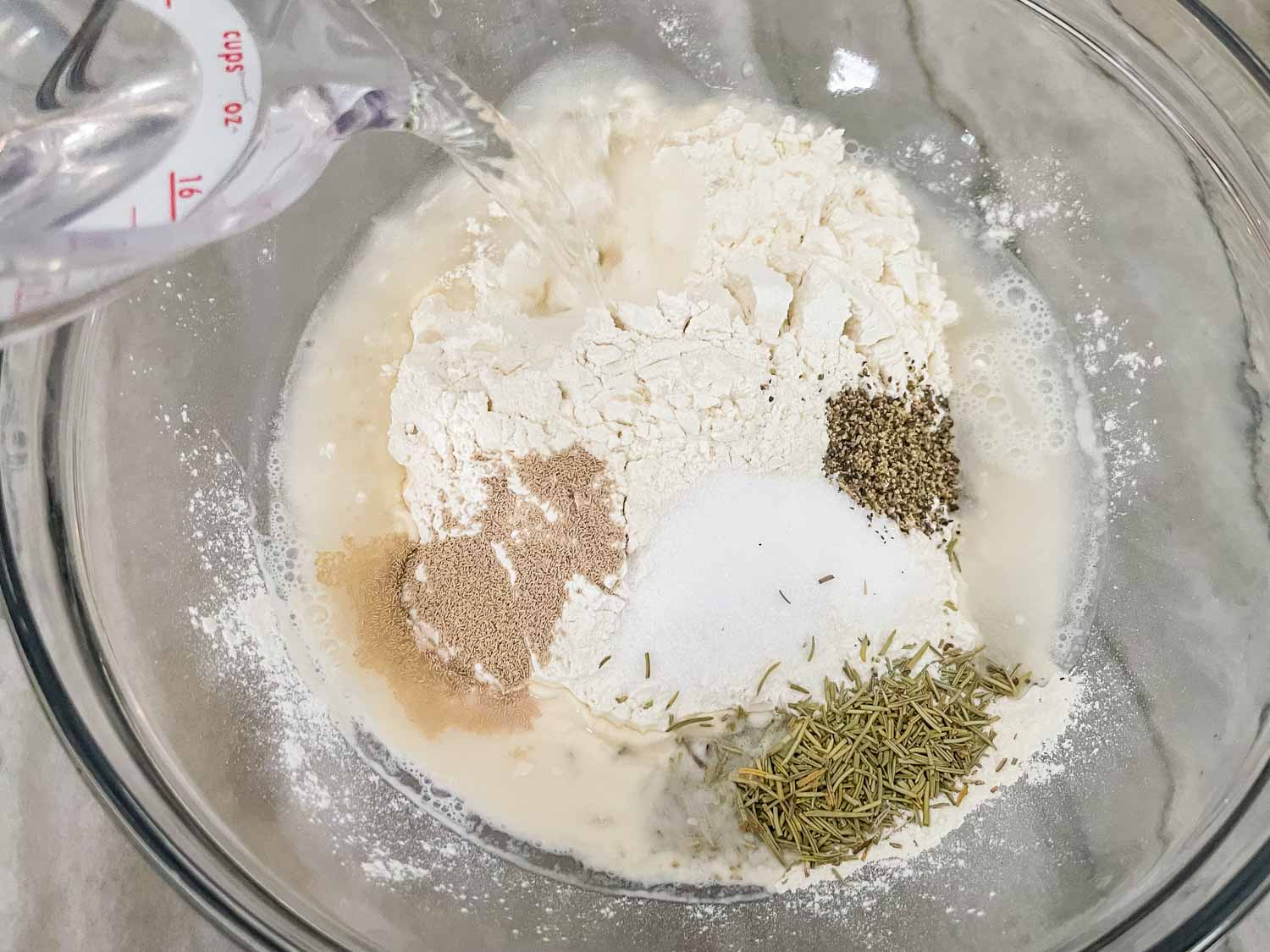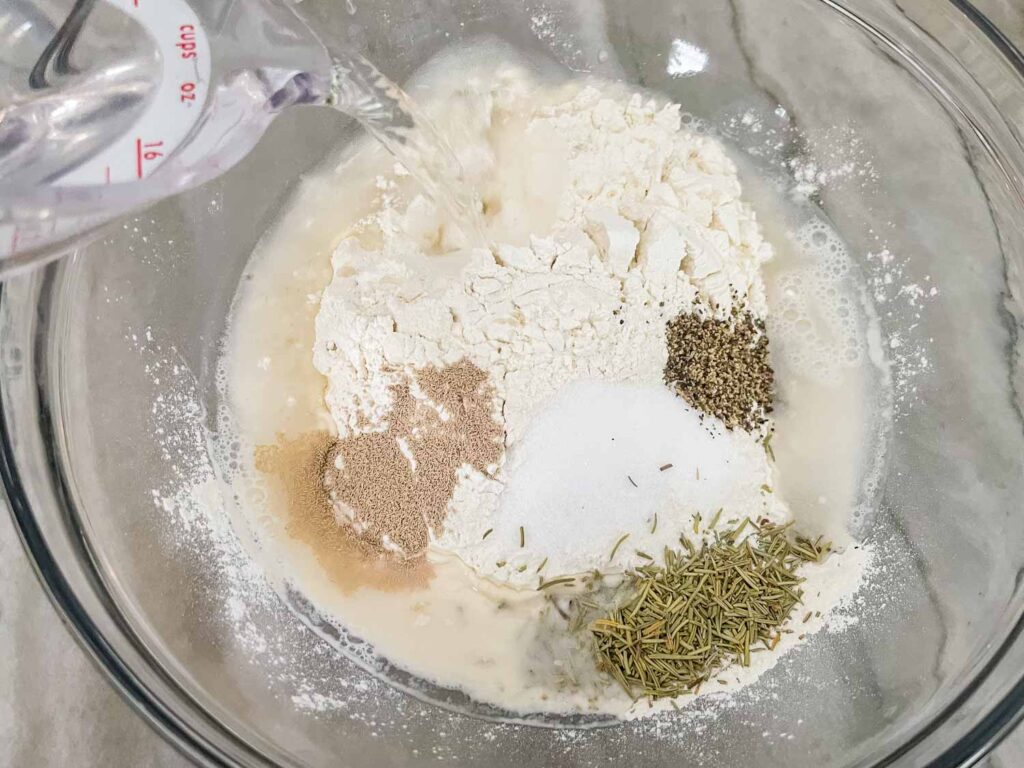 Equipment
To make this recipe, you will need:
Measuring Cups
Measuring Spoons
Large Bowl
Plastic Wrap or Bees Wax Wrap
Dutch Oven
Instruction Overview
Mix all of the ingredients together in a large bowl.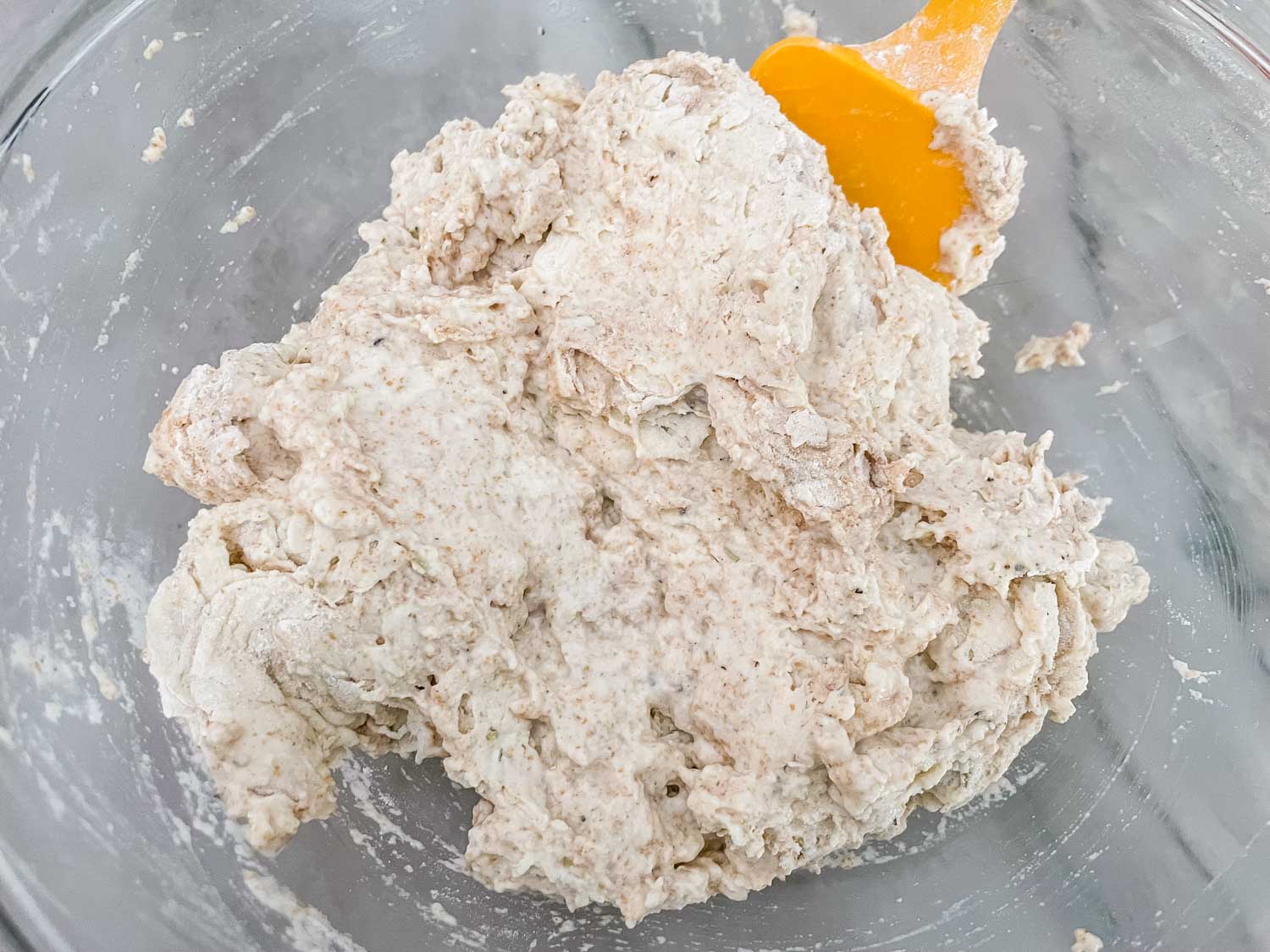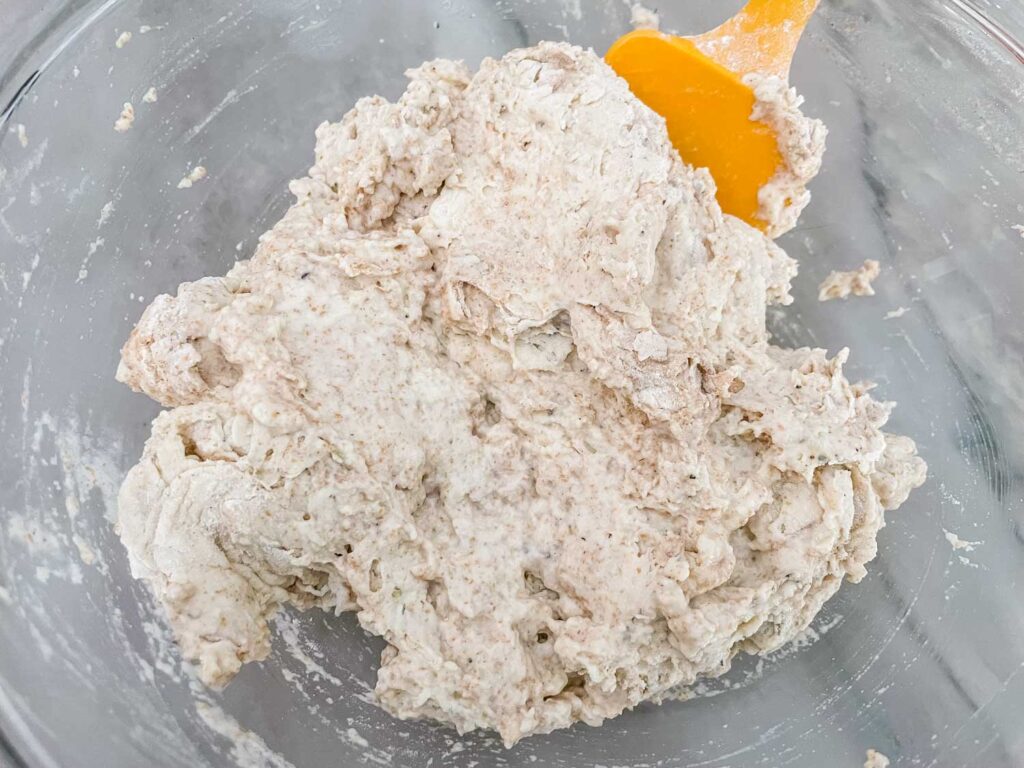 Cover with plastic wrap and let sit 8-36 hours, ideally overnight.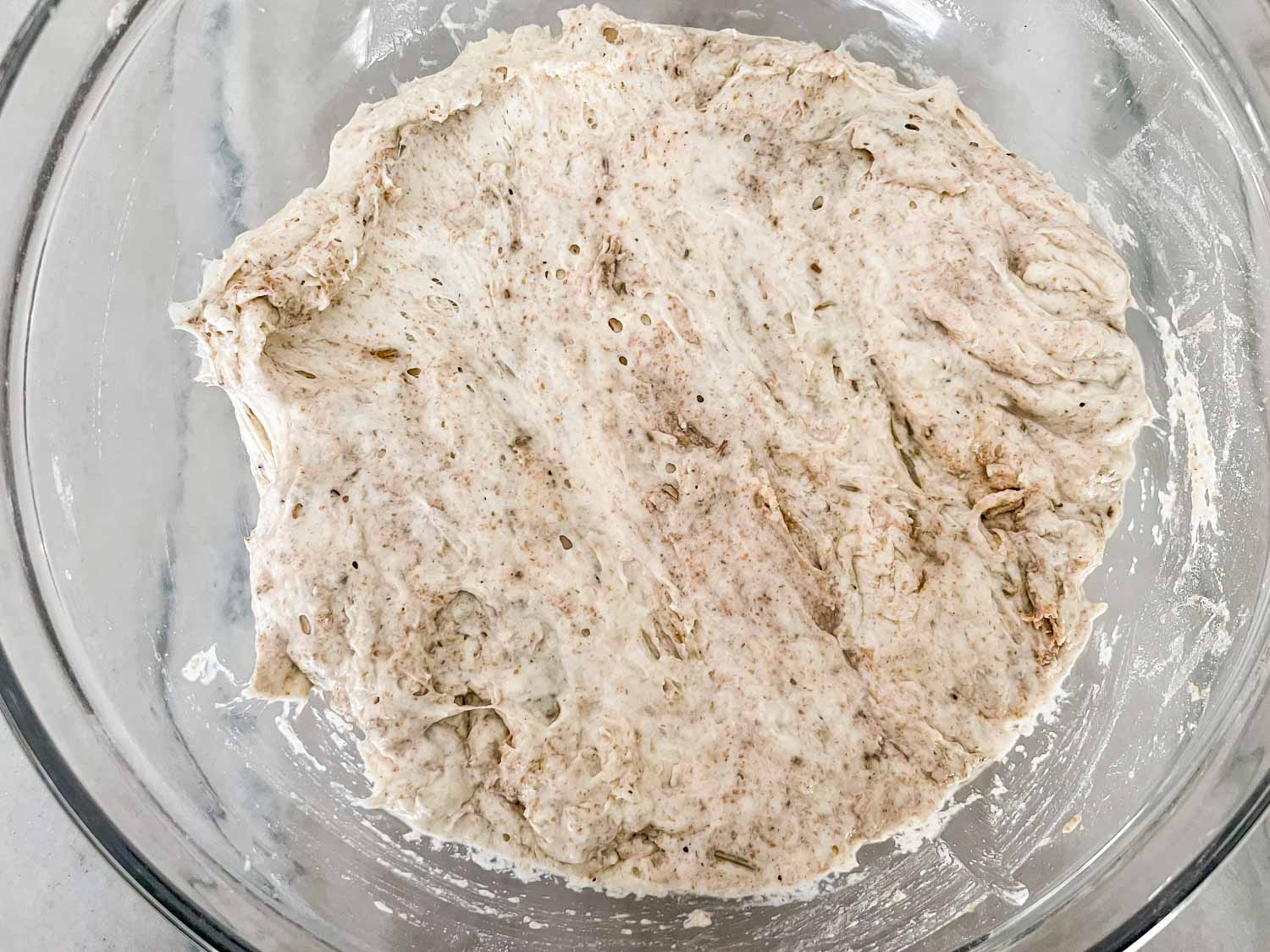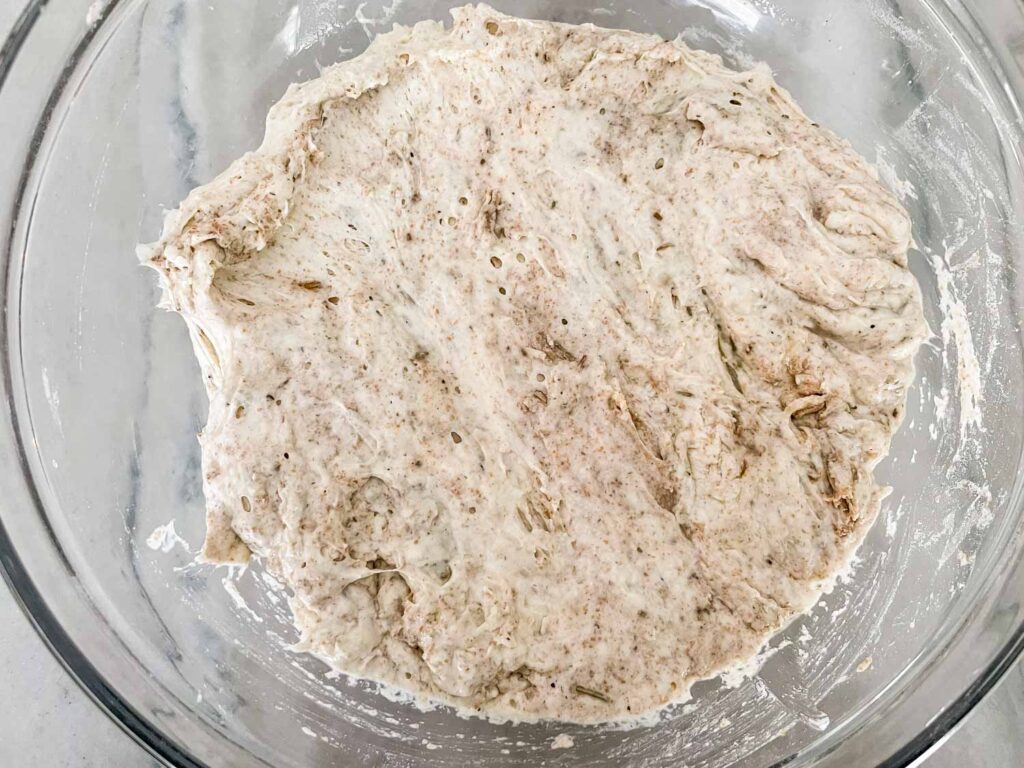 Preheat oven.
Pull the dough out of the bowl and shape it roughly into the shape you want to bake it in.
After preheating for 30 minutes, add some flour to the bottom of the pot and place the dough in.
Bake with the lid on for 30 minutes.
Remove the lid and continue baking 15-30 minutes until the crust is a golden brown.
Let cool completely before slicing.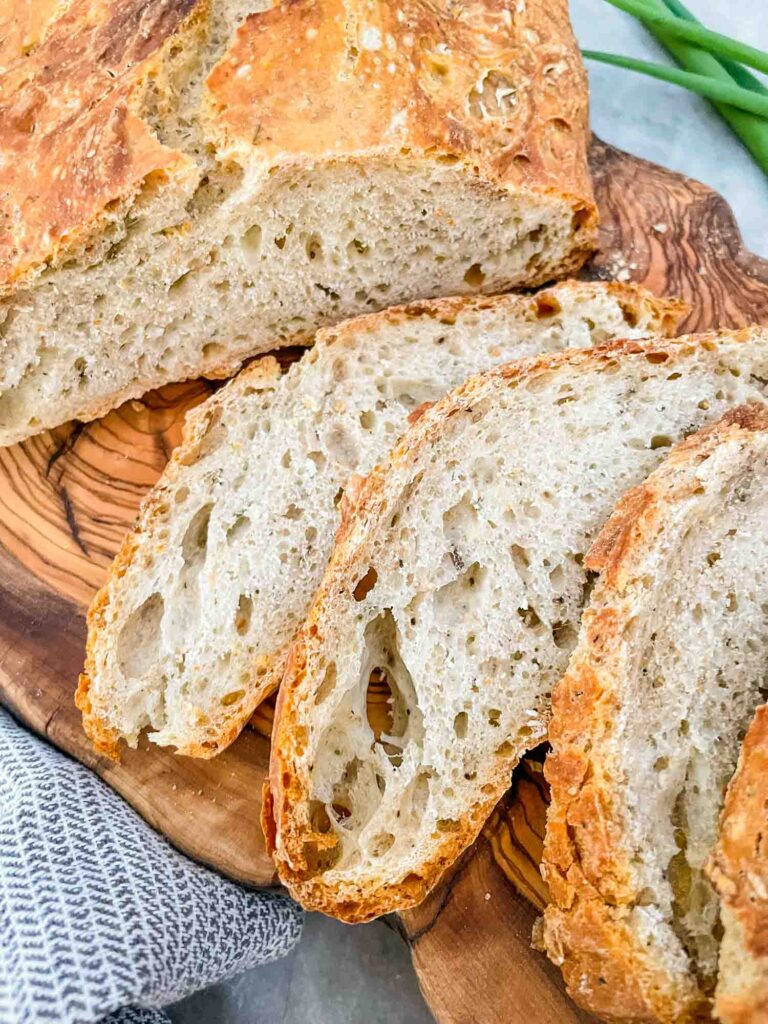 Modifications and Substitutions
I have made the bread with 1 cup of whole wheat flour and the rest all-purpose, and it turned out great. It just rose a little less. I would not recommend swapping out for more whole wheat with this specific recipe as it can be very dense and tough.
You can have fun with this rustic bread recipe and use different flavors. This rosemary version is my absolute favorite so far, but I also love my lemon thyme rustic bread!
Kim's Tips
You want to make sure to use a plastic wrap or bees wax wrap on top of the bowl, not just a towel. Just a towel could let moisture escape and absorb, which could negatively affect the dough.
If you do not have a bees wax wrap set, I highly recommend it. It is a reusable plastic wrap of sorts that is made from bees wax. It is very effective and I love the eco-positive value of it. 
I mix up the dough the day before I want to use it, any time of day, and just let it hang out.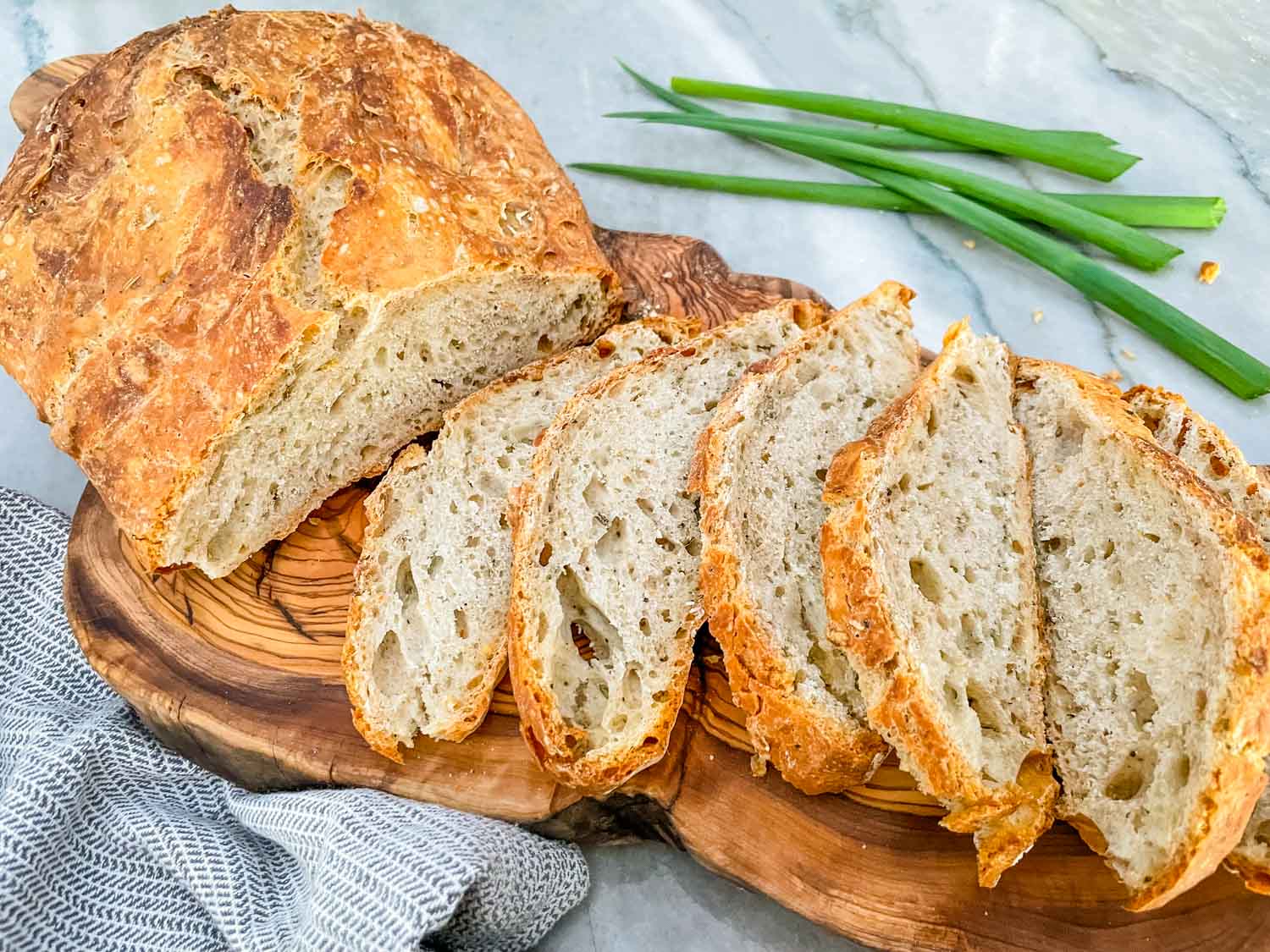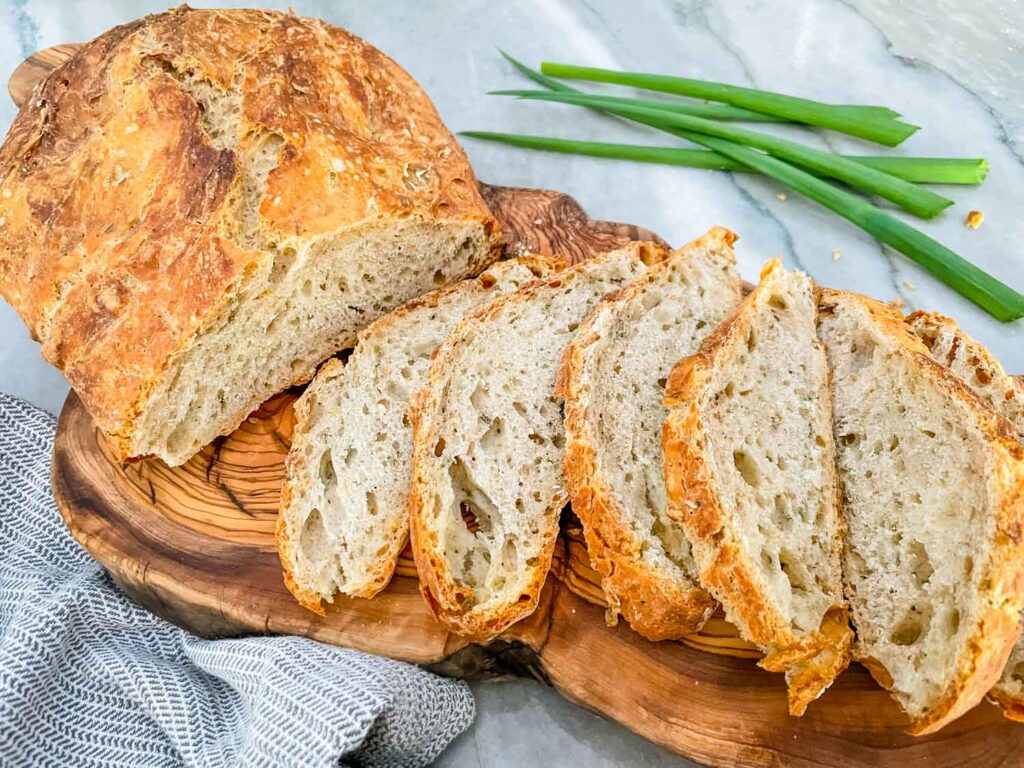 FAQs
Is it cheaper to make your own bread?
Yes! It is cheaper and often healthier as it is made with simple and fresh ingredients, without preservatives.
What is rustic bread made of?
For this recipe you need all-purpose flour, water, instant yeast, salt, rosemary, and black pepper.
How long does rustic bread last?
The bread is best when eaten within three days. Store it in an airtight container at room temperature.
It can be chilled to extend shelf life however will become a little tougher.
Can I bake the bread with a resting time less than 8 hours?
I have not tried this, but as long as it looks similar to the image above after the dough has rested, you could try it!
If it still looks thick, dry, and low in volume, it has not risen enough and will be tough.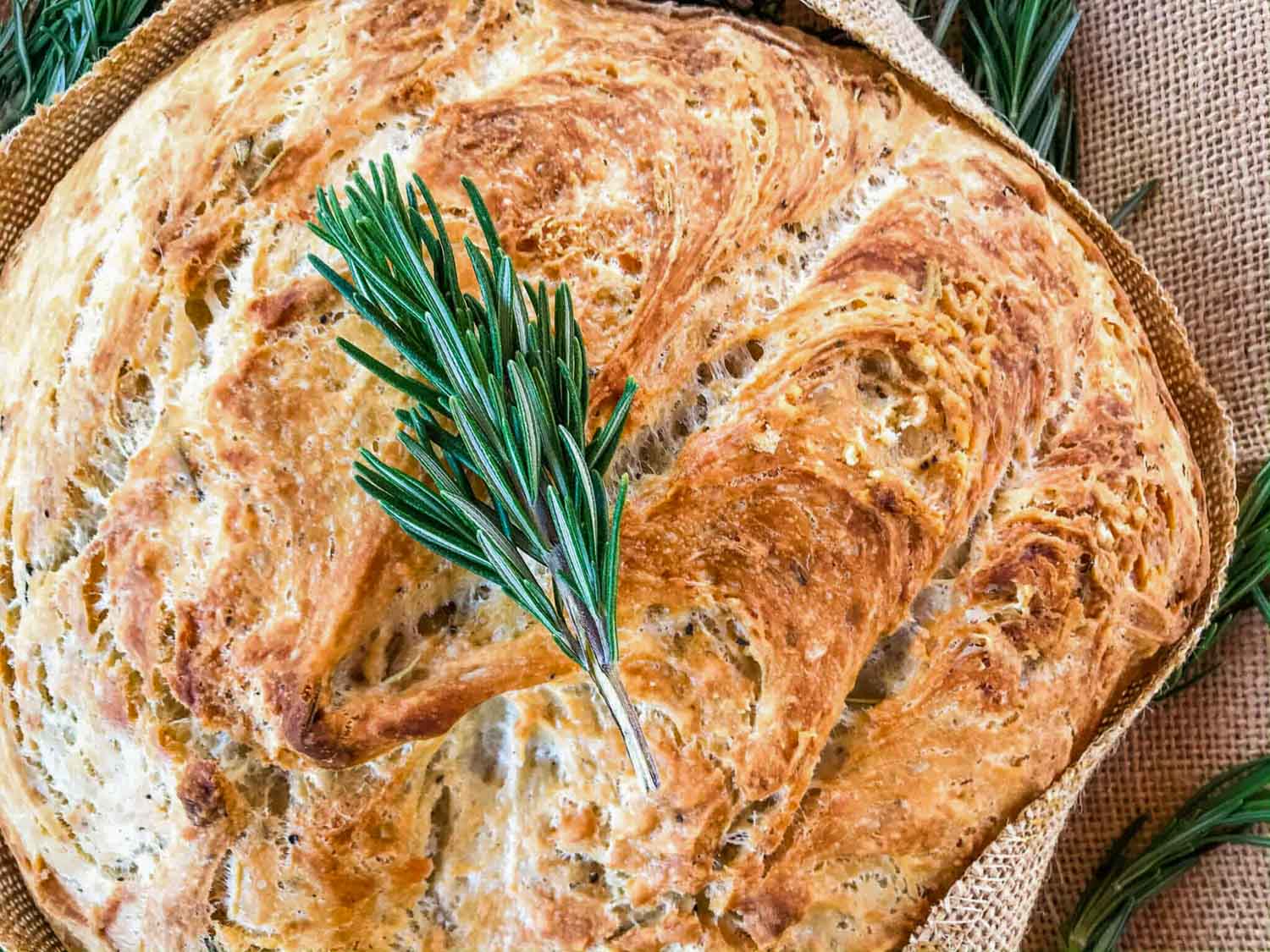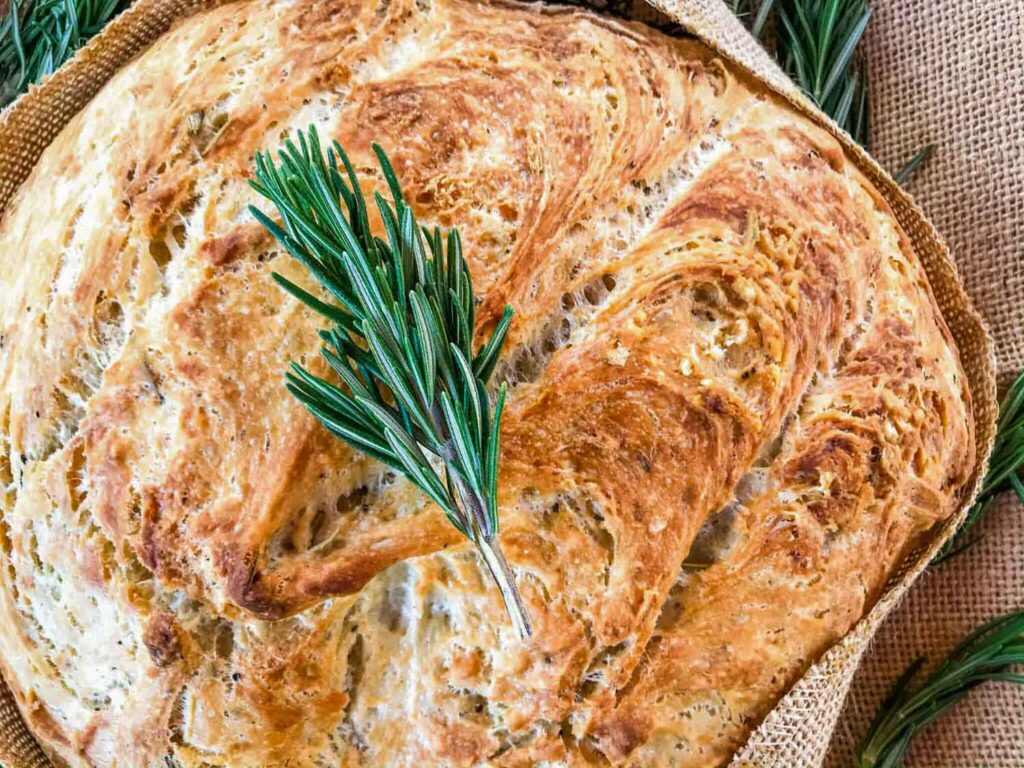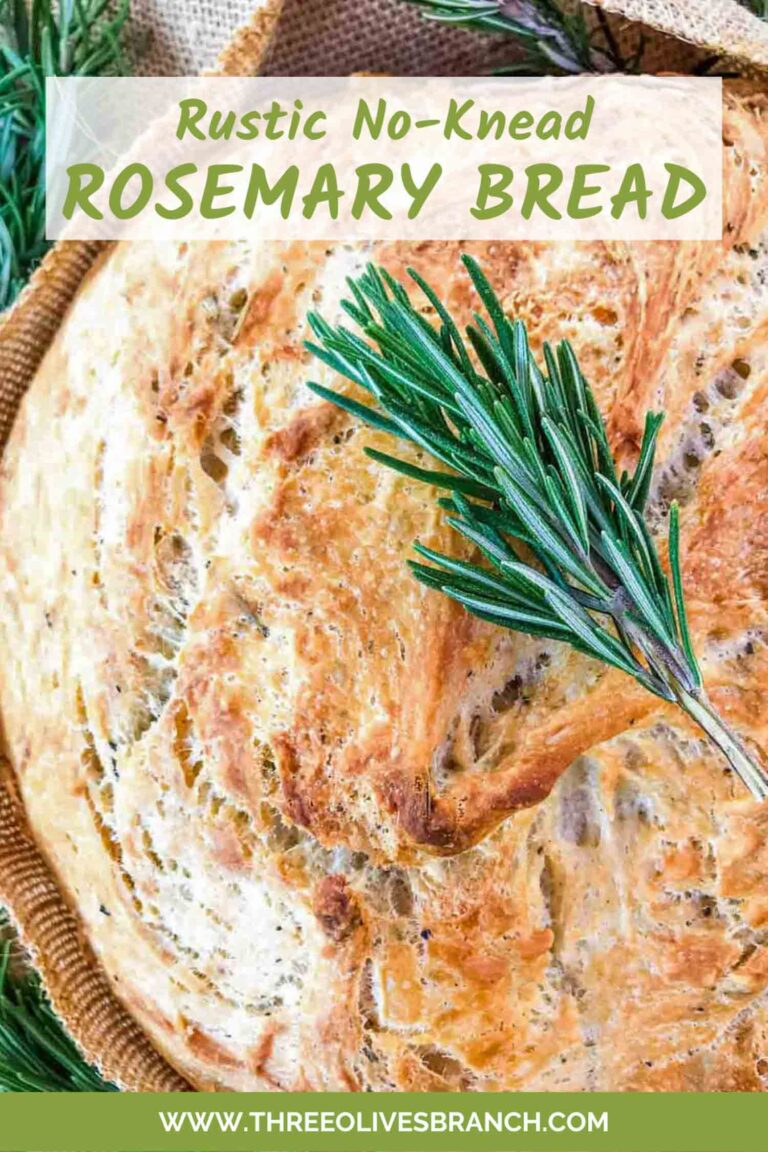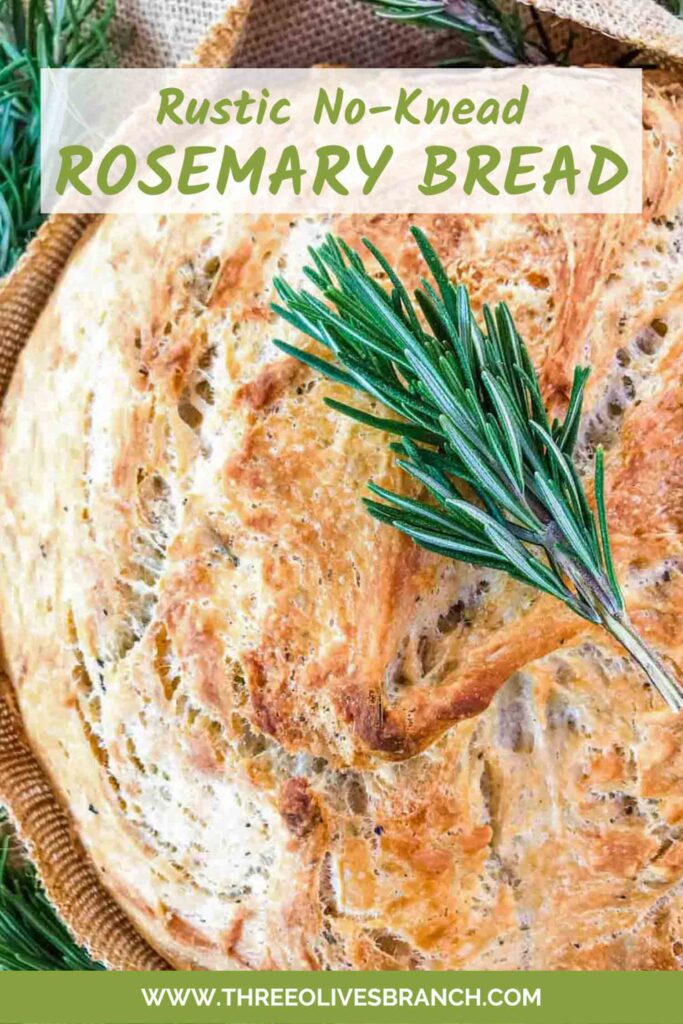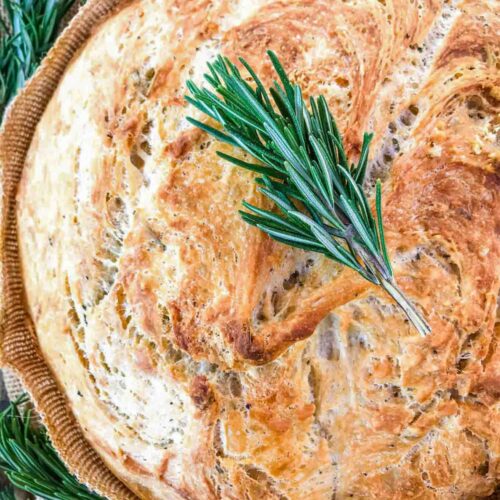 No Knead Rustic Rosemary Bread
No Knead Rustic Rosemary Bread is an easy homemade bread recipe! A crusty, dense bread with lots of flavor. Very easy with no kneading and cooked in a Dutch oven. Great for soups, Italian, sandwich bread, and as a side.
Print
Pin
Rate
Instructions
Combine all of the ingredients in a large mixing bowl. The dough will not be overly sticky but should come together. Add just a little water at a time if needed to incorporate all the flour.

3 cups all purpose flour,

½ teaspoon instant yeast,

1 ½ Tablespoons dried rosemary,

1 ½ teaspoons salt,

½ teaspoon black pepper,

1 ½ cups water

Cover the dough with plastic wrap and put a towel over the top to help it seal. Set the bowl aside for at least 8 hours to rise (I have gone as long as 24 hours).

When ready to bake, heat oven to 450°F. Place a large cast iron pot (Dutch oven) on the medium or medium low rack while preheating for it to get hot.

Use a spatula to scoop the dough into the hot pot. (If preferred, shape the dough on the counter during preheating but I find it is easy to drop the dough in a rough circle straight into the pot).

Place the lid on the pot and cook at 450°F for 30 minutes.

Remove the lid and let cook an additional 15 minutes to further brown. If it looks or smells done sooner, remove from oven sooner.

Let the bread cool completely on a cooling rack.
Notes
This makes one large loaf of rustic bread, which is much more dense than a French bread.
Nutrition
Serving:
1
loaf
|
Calories:
1397
kcal
|
Carbohydrates:
291
g
|
Protein:
41
g
|
Fat:
5
g
|
Saturated Fat:
1
g
|
Sodium:
3518
mg
|
Potassium:
459
mg
|
Fiber:
13
g
|
Sugar:
1
g
|
Vitamin A:
94
IU
|
Vitamin C:
2
mg
|
Calcium:
105
mg
|
Iron:
18
mg
More Homemade Bread Recipes
By