A simple homemade Plum Jam Recipe with no pectin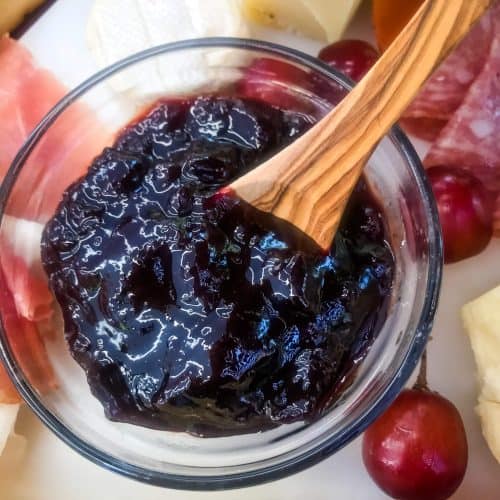 Make this Easy Plum Jam Recipe as a perfect condiment for your breakfast, snacks, or dessert!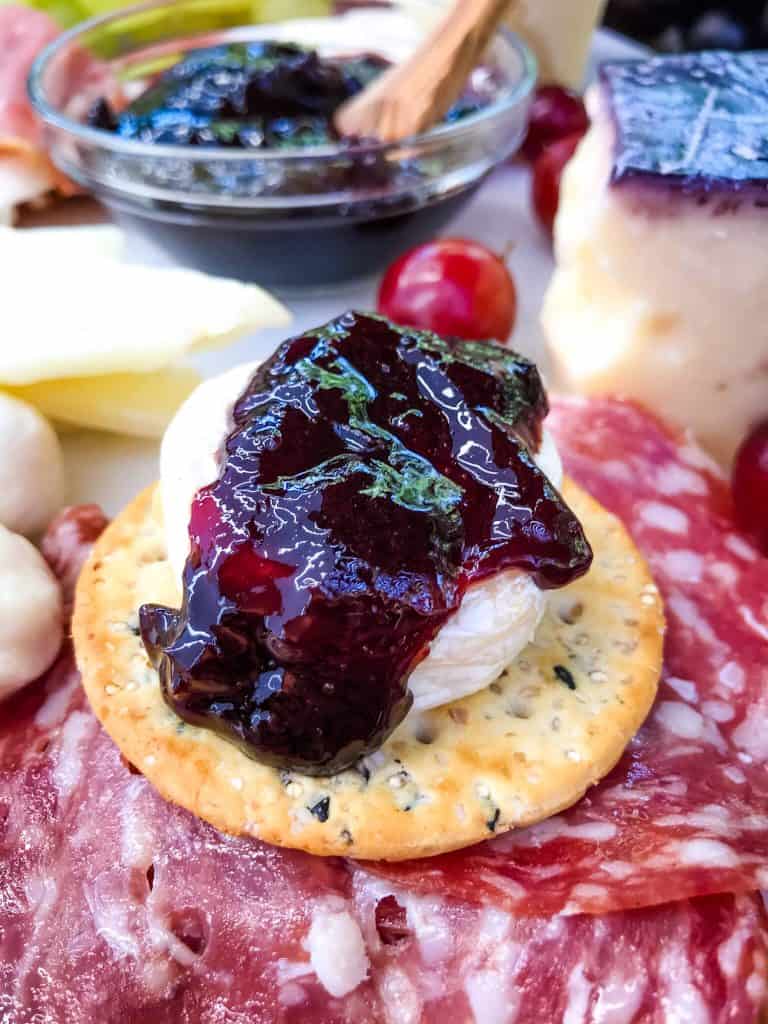 This post contains affiliate links.
Plum jam can be tricky to find in the stores, so this Easy Plum Jam Recipe is a great way to get your plum fix!
Lately we have really been into charcuterie boards and we learned that these homemade jams are the PERFECT addition to the meats and cheeses.
And we have been having so many charcuterie boards with friends that it has been nearly impossible to eat these jams any other way!
My favorite is jam with brie on a cracker. YUM.
This year I have been on a homemade jam kick (hellooooooooo Homemade Cherry Jam!) and they have all been amazing!
While there are some great store bought jams out there, nothing compares to a homemade jam.
What is the Difference Between Jam and Jelly?
Jam is made with the whole fruits, flesh and skin and all.
Jelly is made from just the juice and then thickened with pectin.
I am personally a huge fam of jam because I love the texture and think the flavors are deeper and richer.
What is in Plum Jam?
Here are the ingredients you need for this recipe:
That's it!
Can I Make Jam with Frozen Plums?
Yes!
The frozen fruit will have more moisture in them so you will likely need to cook the jam a little longer to get the consistency you want.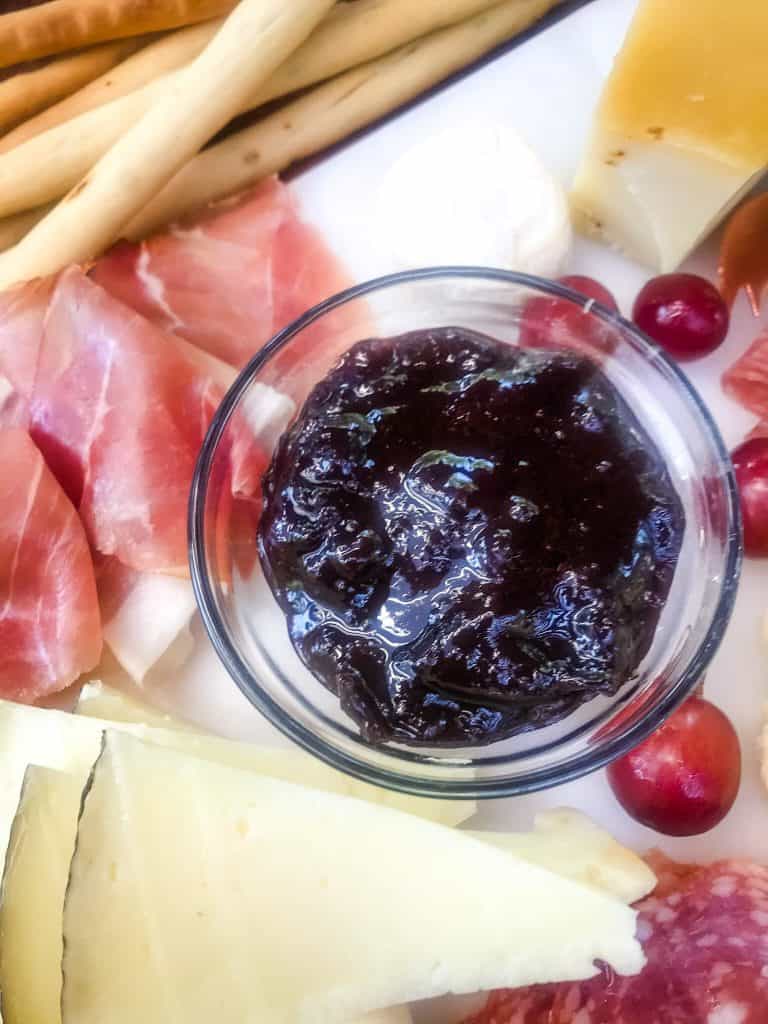 How Ripe Should Plums Be for Plum Jam?
It is best to use plums that are about as ripe as you would want them for eating fresh, or even overly ripe.
If not quite ripe enough, the plums will not have the same level of flavor and sweetness which will be more evident in the jam. You can absolutely still make the jam with underripe plums, but you might end up wanting to add a little more sugar.
Do You Skin Plums Before Making Jam?
I leave the skins on for this Plum Jam Recipe because they cook down and are very soft.
There is no weird texture that comes from the skins being included. They get so soft that they are just volume to the jam.
But if you would prefer, you can choose to peel the plums with a peeler before cutting and cooking.
How Do You Pit Plums for Jam?
I remove the stones the same way that I remove a pit from a peach.
I cut around the stone all the way in a circle and try to twist them apart or use my fingers to pry the halves apart.
Can You Leave Stones in Plum Jam?
Eventually you will want to remove them, but if the stones are difficult to remove, you can cook the jam with them still in it.
Then, as cooking progresses and the stones start to separate from the fruit, you can pull them out.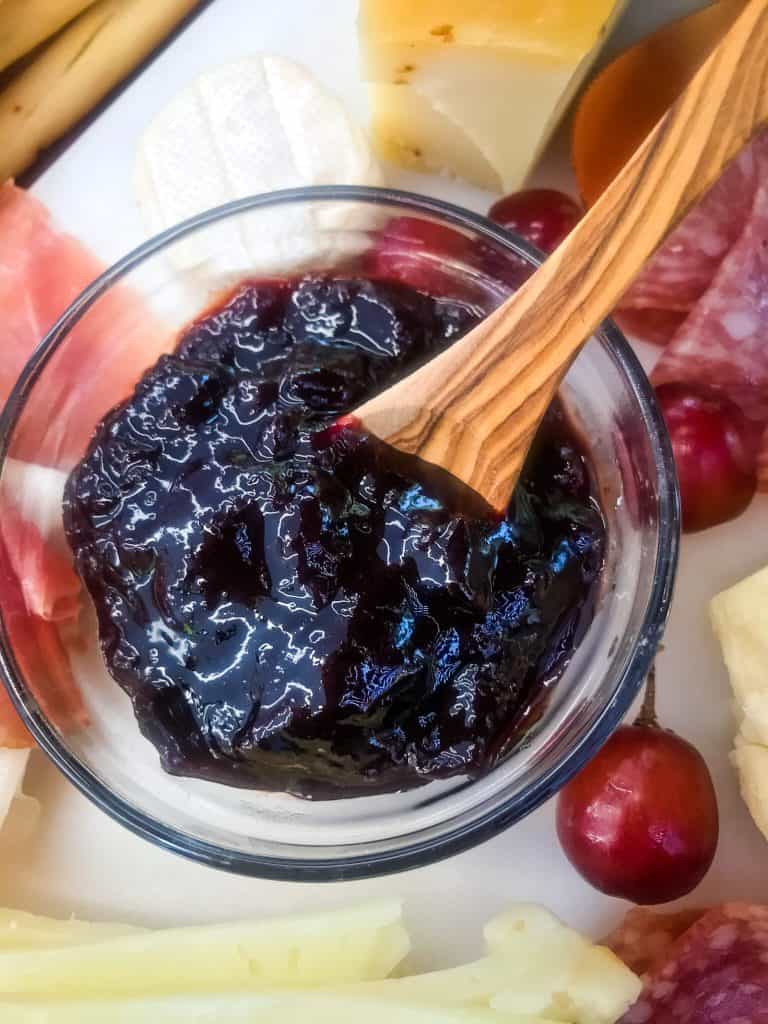 How Do You Thicken Plum Jam?
The best way to do this is let it continue cooking. The cooking process will thicken the consistency.
If desired, you can also whisk in a Tablespoon of pectin powder which traditionally helps thicken up jams and jellies.
How to Make Plum Jam
First cut up your plums and remove the pits.
Add them to a pot with the sugar and lemon juice, and heat over medium high heat.
When boiling, turn the heat down and continue cooking, stirring occasionally, until you get the thickness you want.
Remember that the jam will set up a little thicker when it is cool!
How Long Does Plum Jam Take to Cook?
This will vary with how much moisture is in your fruit and how thick you want it. Typically the process takes 25-45 minutes.
Why is my Plum Jam not Setting?
You might be cooking at too high of a temperature that is interfering with the natural pectin's ability to thicken the jam.
Try lowering the temperature slightly, continue cooking, and then check again.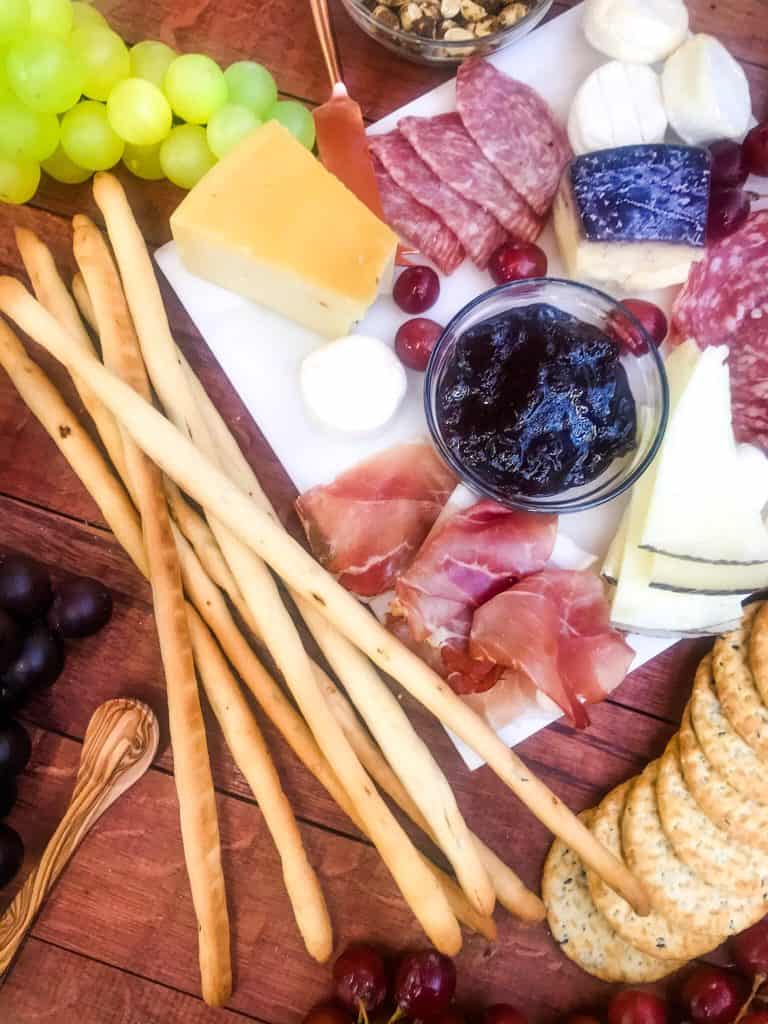 Why is my Plum Jam Bitter?
It is possible that the jam was overcooked. The sugars can go past the point of sweetness and almost start to burn, which would give a bitter taste.
This jam holds for 3-4 weeks in the refrigerator.
You can also freeze the jam, either in large quantities or in an ice cube tray, to use as needed.
It is also possible to can the jam, but make sure that the acidity in your jam is low enough for it to be shelf stable with a canning bath.
You can find more information about canning by searching online.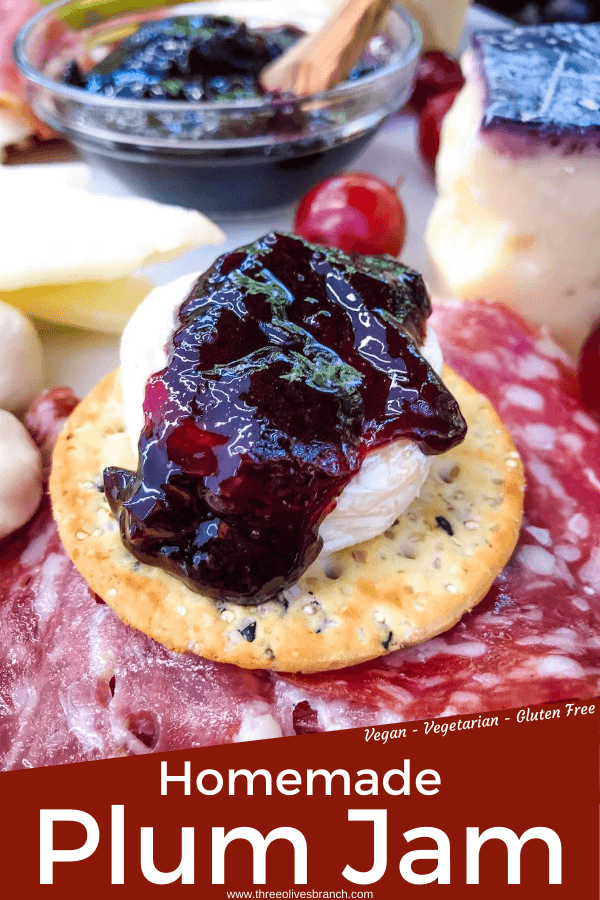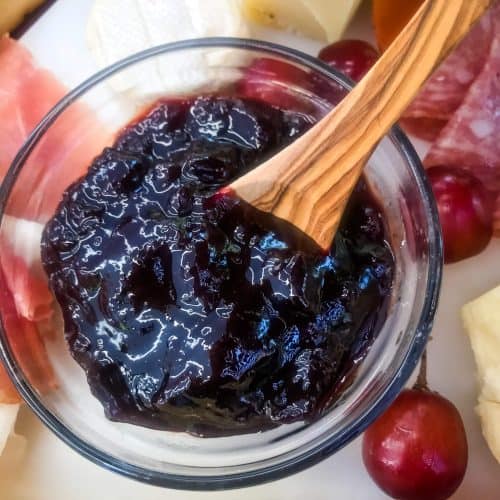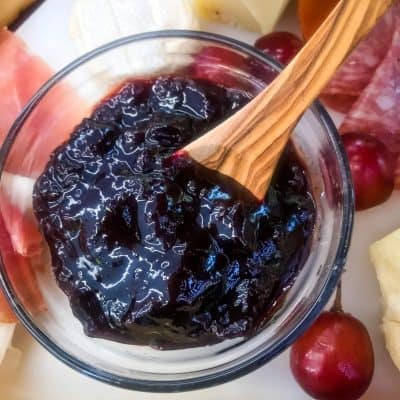 Easy Plum Jam Recipe
A simple homemade Plum Jam Recipe with no pectin
Print
Pin
Rate
Instructions
Chop the plums and remove the pits. Place the plums, sugar, and lemon juice in a medium saucepan.

Bring the plums to a boil over medium high heat. Reduce heat to medium and simmer to thicken, approximately 15 minutes.

Use a potato masher or fork to mash the fruit as much or little as desired.

The jam is done when it is thick and more of a clump when put on a cold spoon or cold plate and tilted. If it runs like honey, it is not thick enough yet and you need to heat it longer. You want the jam to move slowly when tilted.

Store in a jar in the refrigerator for up to three weeks. Or freeze.
Notes
Follow proper canning procedures to store at room temperature. You can also freeze this jam.
The volume you get will vary with how long you cook it (how thick it is) and how much you mash it.
This will roughly fill one pint sized mason jar, which is perfect for storing in the refrigerator.
Nutrition
Serving:
1
cup
|
Calories:
366
kcal
|
Carbohydrates:
94
g
|
Protein:
2
g
|
Fat:
1
g
|
Saturated Fat:
1
g
|
Sodium:
1
mg
|
Potassium:
356
mg
|
Fiber:
3
g
|
Sugar:
89
g
|
Vitamin A:
782
IU
|
Vitamin C:
27
mg
|
Calcium:
14
mg
|
Iron:
1
mg
Homemade Jam Recipes
Some of our homemade jam recipes for desserts, breakfast, and more.

By