Homemade Parmesan Garlic Croutons are great on any salad! These easy croutons are packed with Italian flavors and cheese. Also great to put on soups and use any bread.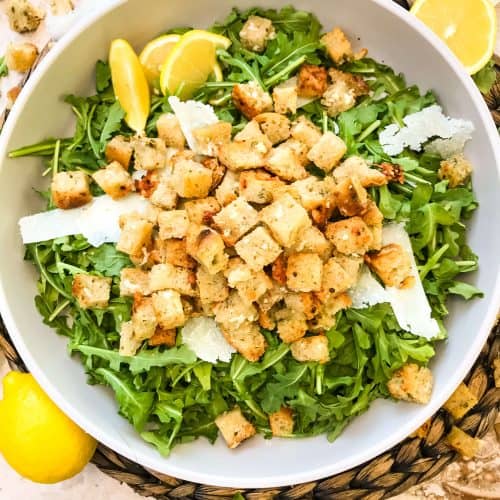 Homemade Parmesan Garlic Croutons are a delicious addition to any salad!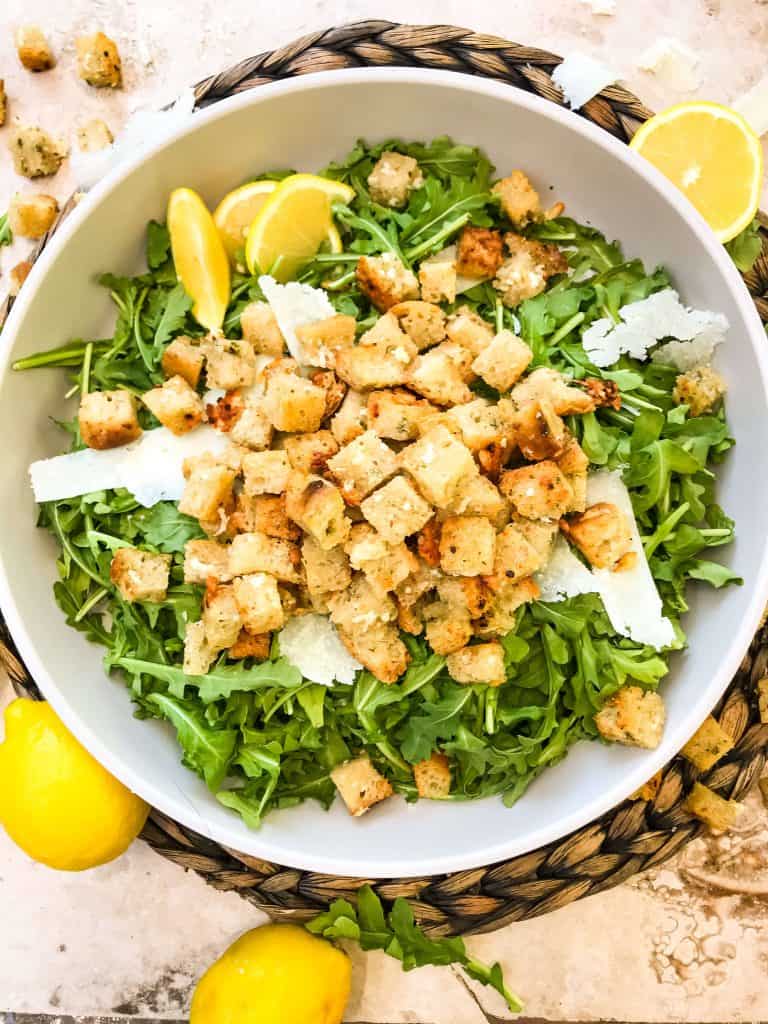 This post contains affiliate links.
Homemade Garlic Croutons are a special thing. This little squares of toasted bread are packed full of flavor and the perfect addition to any salad.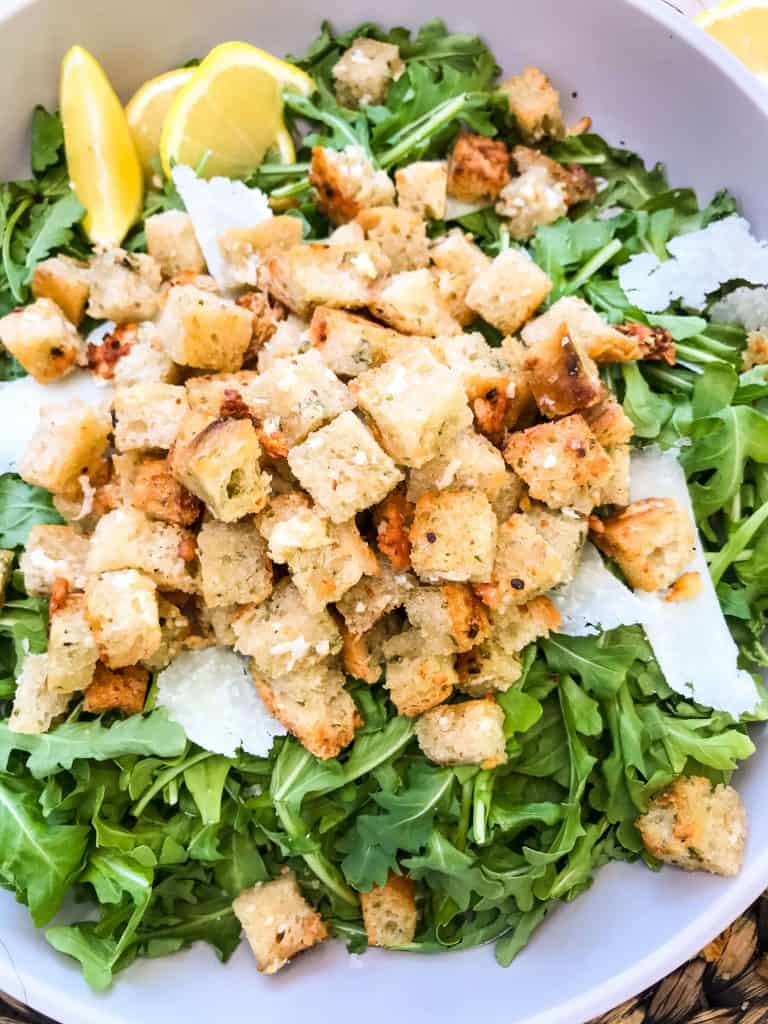 Making croutons is perfect for any leftover bread that you have, or if your bread is starting to go stale.
You can use any bread that you want for this crouton recipe. I prefer to use a denser, rustic bread like my No Knead Rustic Rosemary Bread so that the croutons have more body. If you use a light bread like sandwich or French bread, the croutons will also be lighter. Also keep in mind that if you use a bread with any flavor in it that it will also adjust the flavor of the crouton itself.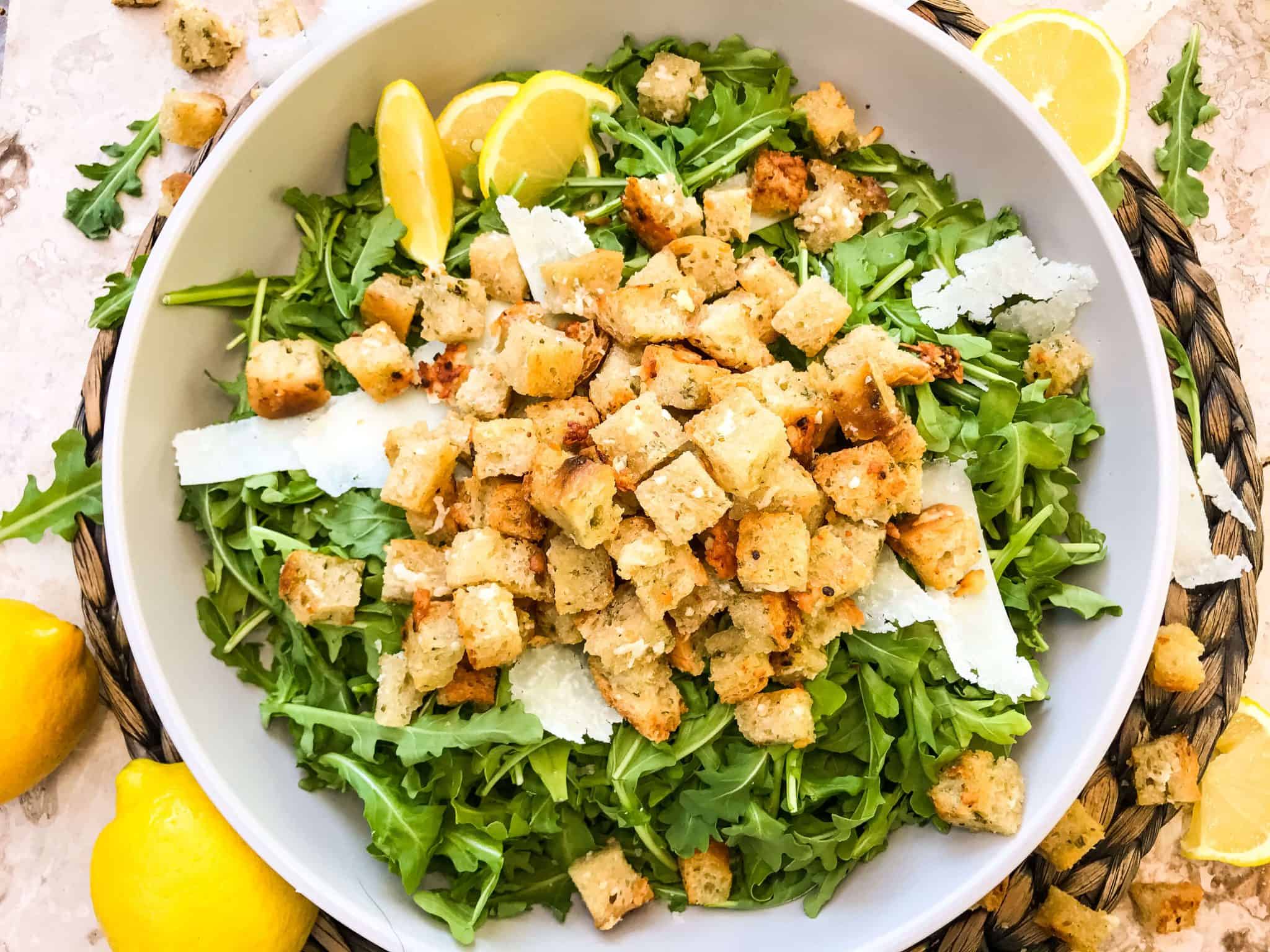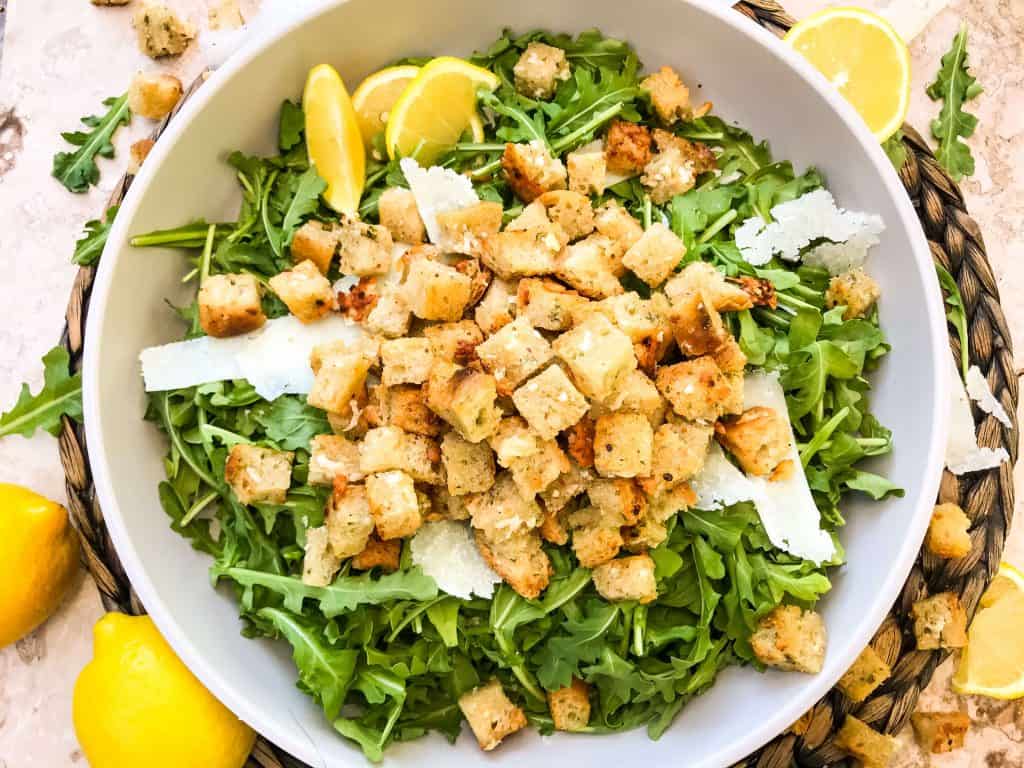 I made the seasoning for these Homemade Parmesan Garlic Croutons a little strong so that they stand out in the salad and do not disappear in flavor. You can easily tone down the flavor by reducing the amount of garlic and Parmesan cheese that you use.
I like to store my homemade croutons in a mason jar. This makes them easy to store or stack in a pantry, and easy to open and re-close. They are a great way to jazz up a salad for a potluck or dinner party. I also love to use the croutons in soups! And since they are so tasty, you might find yourself snacking on them as well!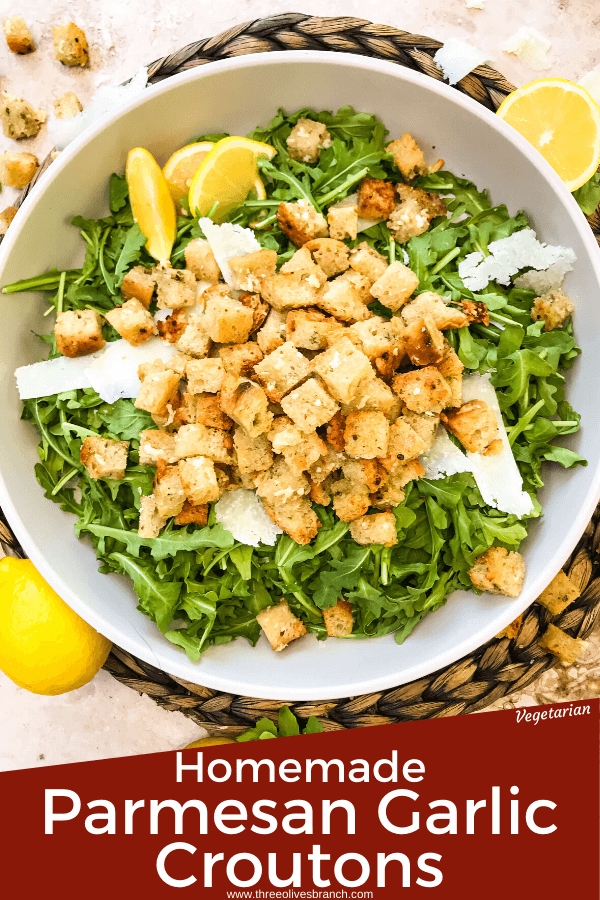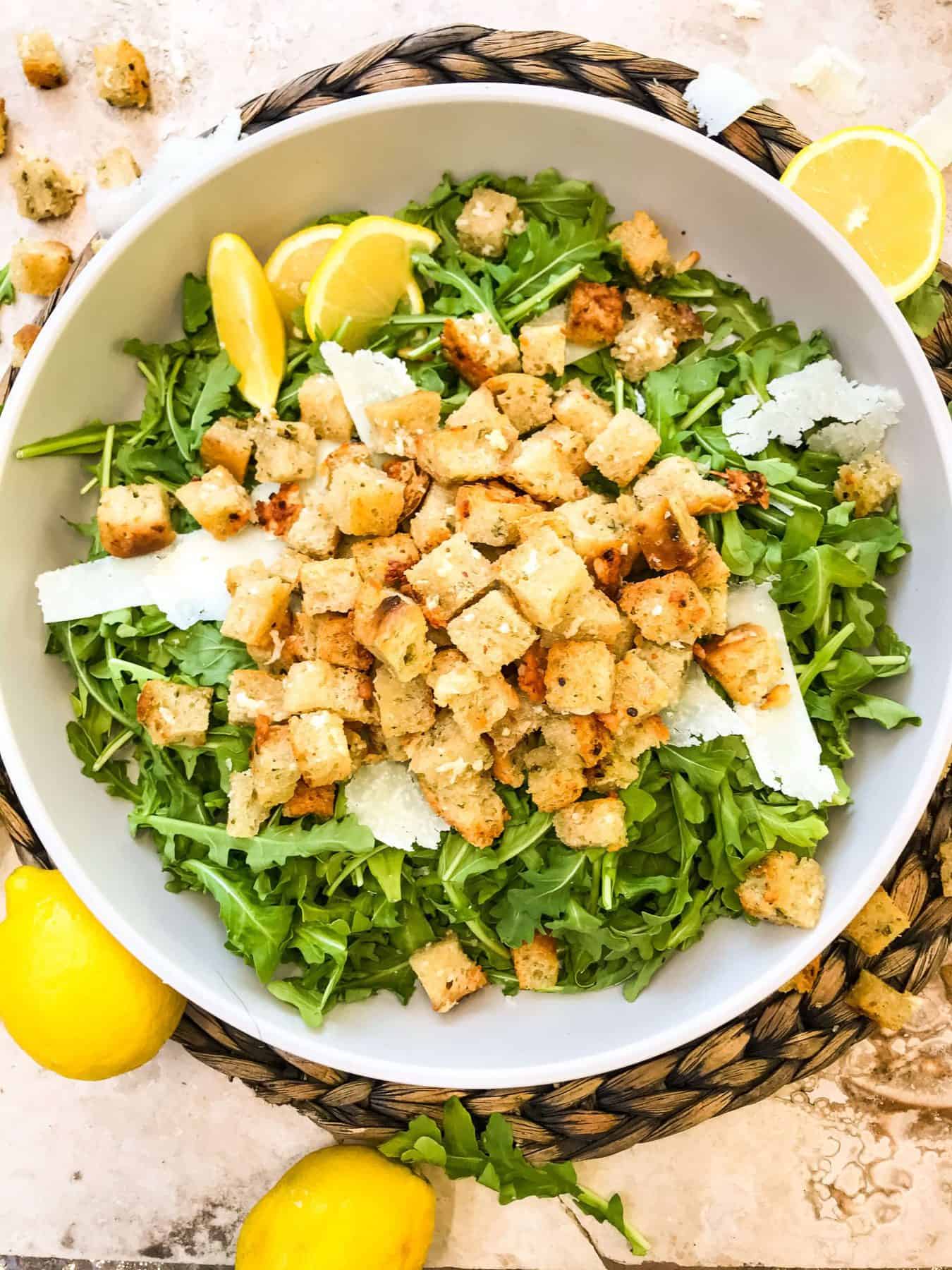 Ingredients
4

cups

bread cubes

1/2 inch cubes

6

Tablespoons

olive oil

4

cloves

garlic

minced

1/4

teaspoon

salt
Instructions
Cut the bread into cubes. Set aside.

Mix together the Parmesan cheese, oil, garlic, and salt in a large bowl. Add the bread cubes and toss to coat.

Spread the croutons on a silicone mat lined baking sheet in a single layer.

Bake the croutons until golden brown, approximately 20 minutes.

Remove from oven and let cool to room temperature. Croutons can be stored in a bag or container.
Notes
I prefer to use a dense, rustic bread for croutons but any bread will work. Keep in mind that breads with flavor will change the flavor of the croutons.
Nutrition
Calories:

449

kcal

|

Carbohydrates:

30

g

|

Protein:

16

g

|

Fat:

30

g

|

Saturated Fat:

8

g

|

Cholesterol:

22

mg

|

Sodium:

819

mg

|

Potassium:

145

mg

|

Fiber:

2

g

|

Sugar:

4

g

|

Vitamin A:

216

IU

|

Vitamin C:

1

mg

|

Calcium:

360

mg

|

Iron:

2

mg

By