This Lemon Pepper Chicken Wings Air Fryer recipe is a fast and easy wing perfect for game day appetizer or snacks! Gluten free and keto low carb with a fast and easy lemon sauce. #chickenwings #airfryerrecipes #airfryer
This Lemon Pepper Chicken Wings Air Fryer recipe is a fast and easy recipe for delicious homemade wings.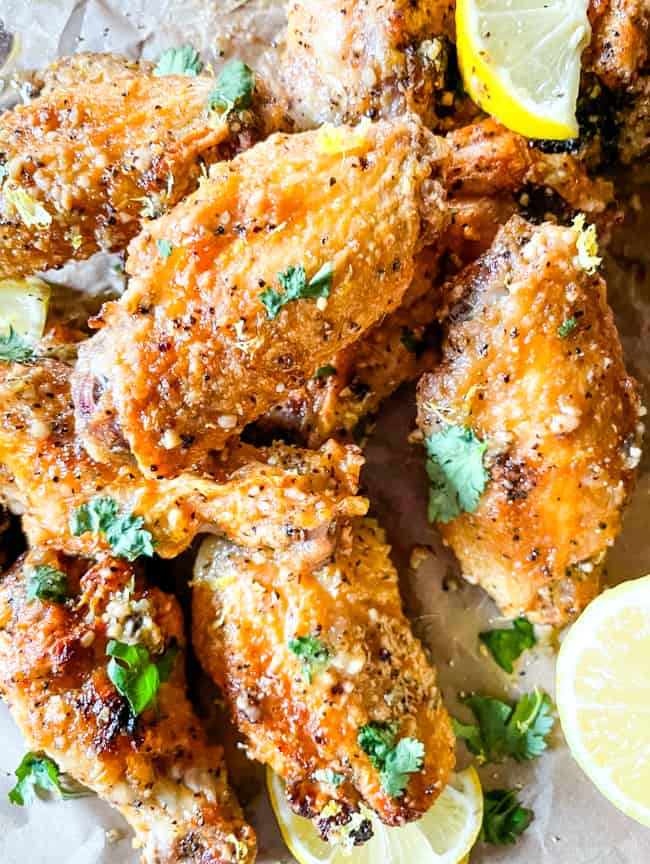 I love that these lemon pepper chicken wings are packed full of flavor but not spicy so everyone can eat them!
I am a huge sucker for lemon and this sauce is just heavenly!
It packs a big lemon flavor with a balance from the pepper and garlic.
Want some heat? Add some hot sauce or cayenne to the mix!
And of course, I love my sauces, so serve these lemon pepper wings air fryer treats with your favorites like ranch or blue cheese.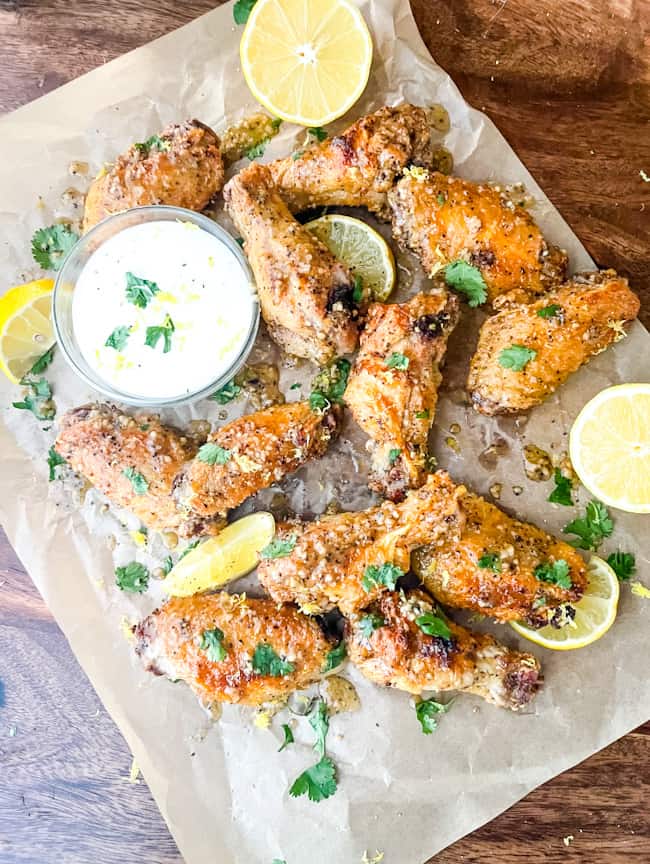 Air Fryers
There are a lot of air fryer options out there. Many air fryers are designed as single-use appliances, as in they air fry and not much else.
If you are looking at purchasing an air fryer, you want to consider how you will likely be using it.
Not only does the batch size vary with how large the air fryer is, but some have small and deep baskets while other have shallow and wide frying baskets.
I prefer and recommend something that has a wide and shallow basket because you can fit more in it without the food overlapping on itself, which especially matters sometimes as with these air fryer chicken wings.
I have the Cuisinart Air Fryer Toaster Oven which is wonderful because it also bakes, toasts, and more all in one appliance. With the shallow and wide basket.
And it works FAST which means chicken nuggets for the kiddos are ready in a flash!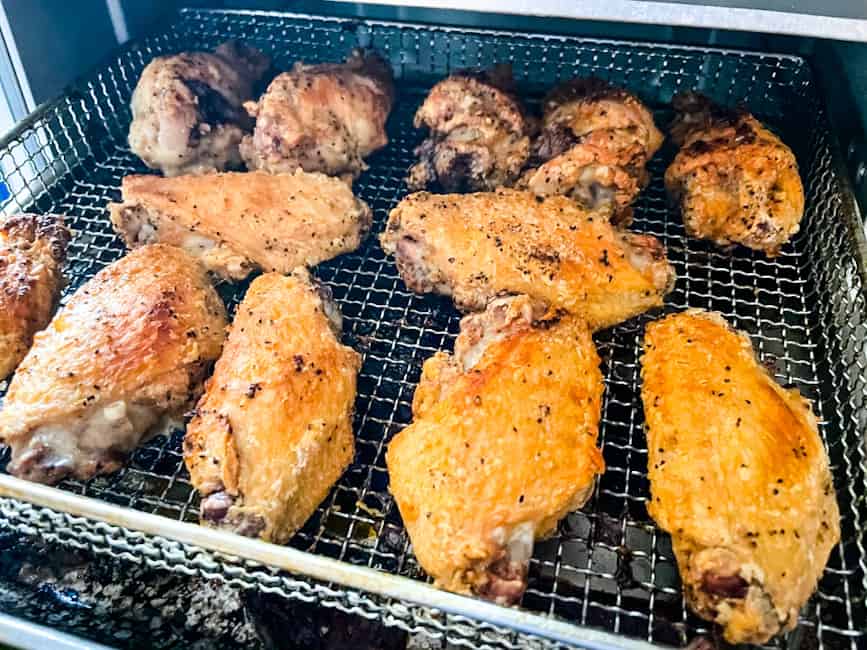 Cooking Method
Air fryer chicken wings are a great way to get crispy wings without using a deep fryer.
Not only are the healthier, but it is much easier!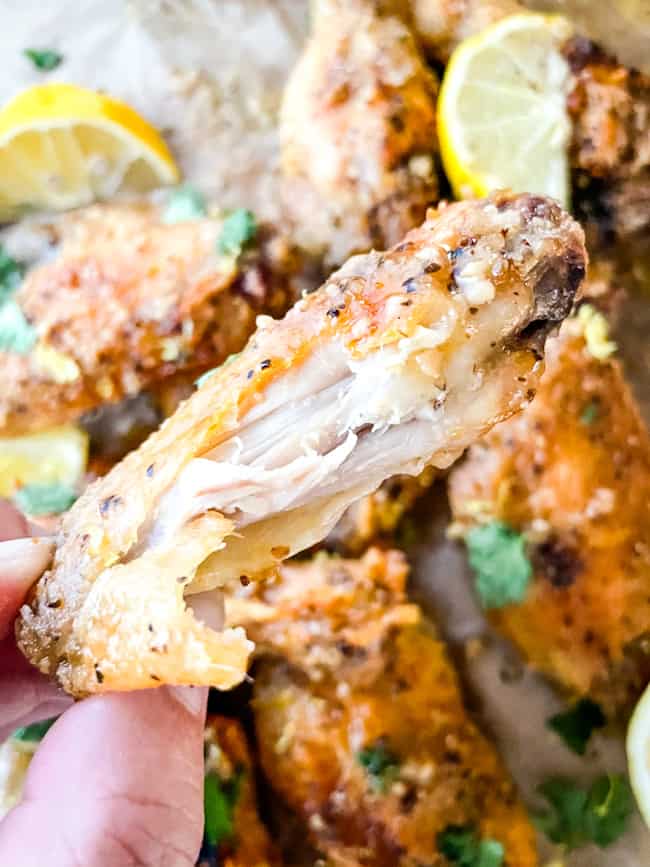 Frozen versus Thawed Wings
Cook time is much faster for thawed wings, and it is also easier for the seasoning to stick to them.
But if your wings are frozen, you can adjust the cook for them by cooking frozen wings for about 30 minutes.
Also, the weight of the wings are slightly higher when they are frozen from some of the moisture that is released when thawed.
So to get 2 pounds of thawed wings, you want to aim closer to 2.5 pounds of frozen wings.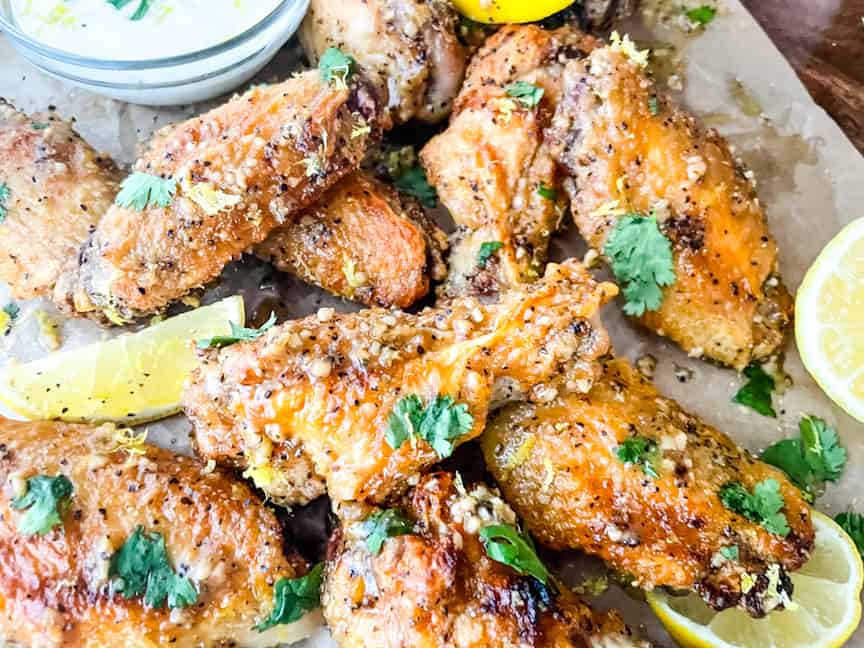 Coating Wings for Cooking
These air fryer lemon pepper wings are coated with a very light dusting of cornstarch, salt, and black pepper before cooking.
The cornstarch is used to aid the wings in getting a crispy crust. Just like how many restaurant wings are breaded or battered and deep fried.
Want to keep these chicken wings keto? Just skip the cornstarch and still use the salt and pepper.
Because you are using an air fryer you will still get a crisp wing, just maybe not quite as much.
Using frozen wings? Not much will stick to them so I would recommend very briefly wetting them, then drying them off, or just skipping the coating altogether.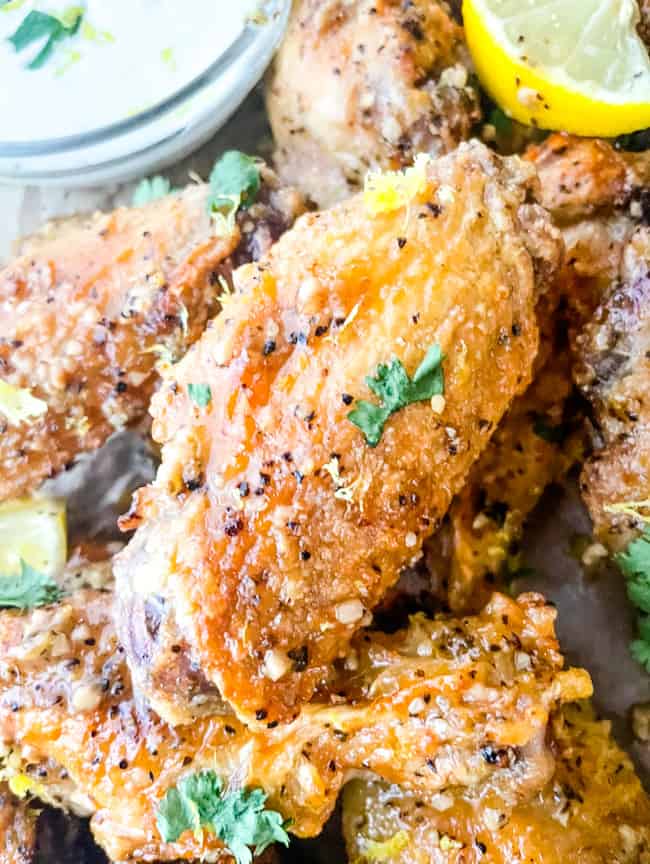 Serving Chicken Wings
Of course, these lemon pepper air fryer wings are best right out of the air fryer. But that is not always possible.
You can keep the wings warm by holding them in an oven set to low (130 to 150) and wrapped in foil for up to 90 minutes.
I would recommend not tossing them in the sauce until you are ready to serve so that the sauce does not dry up while waiting.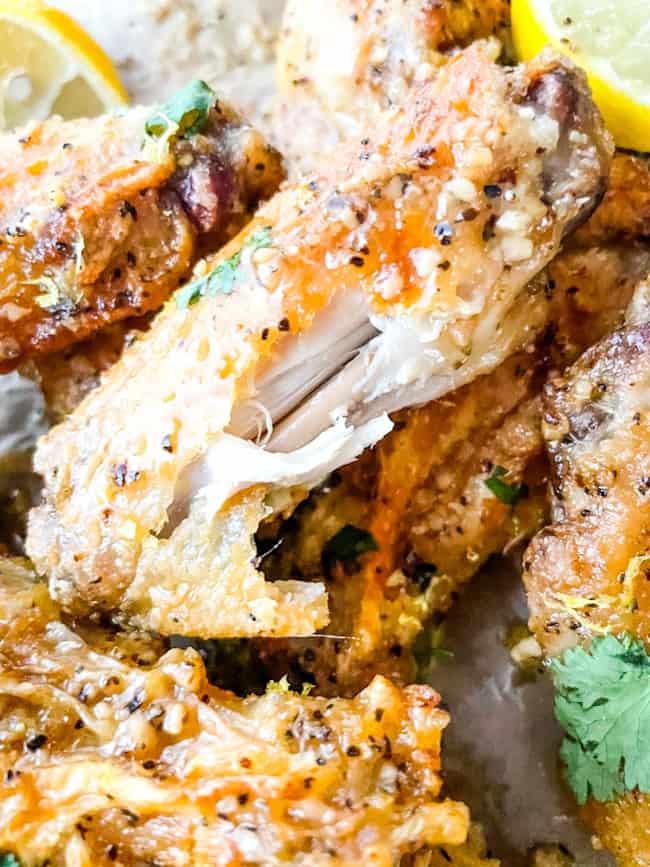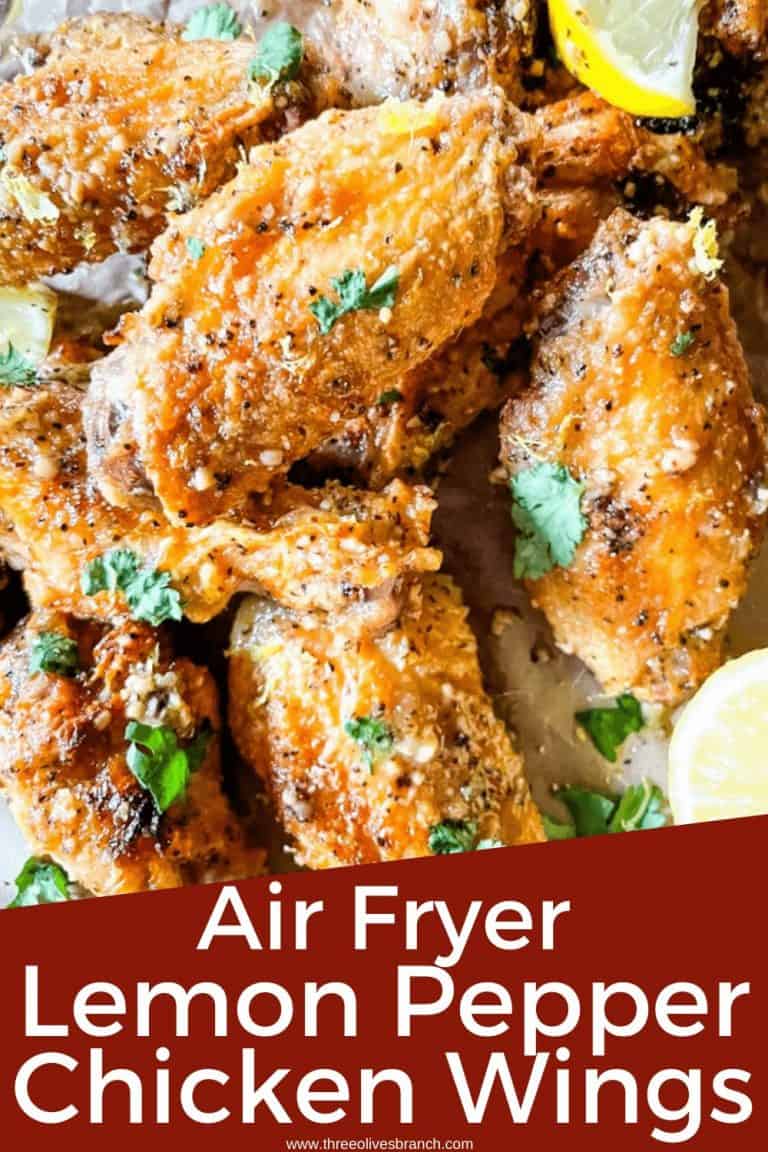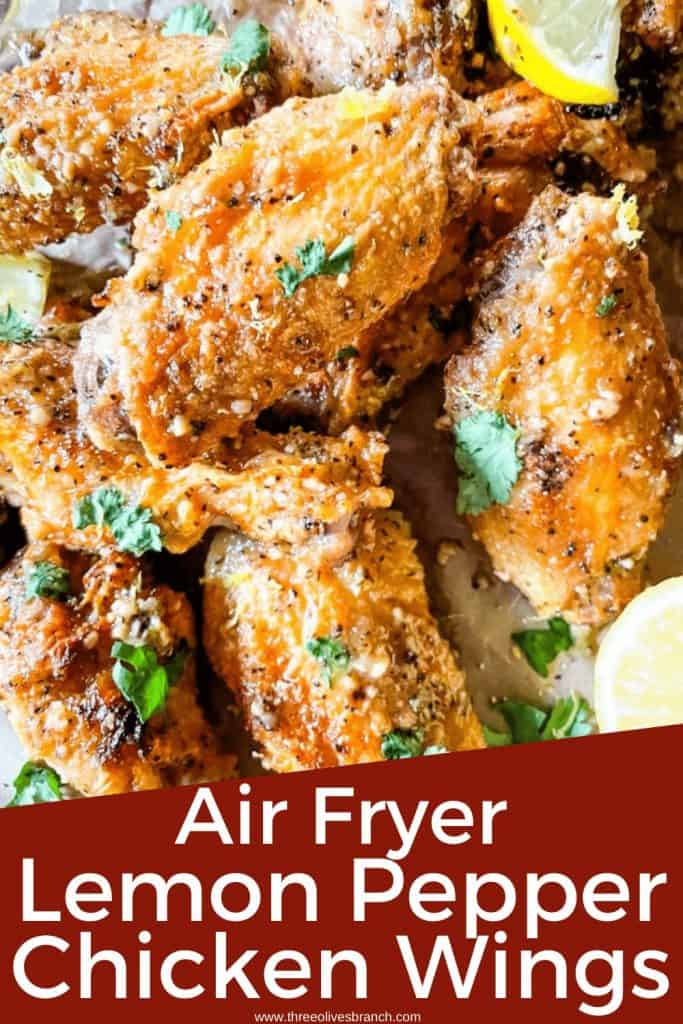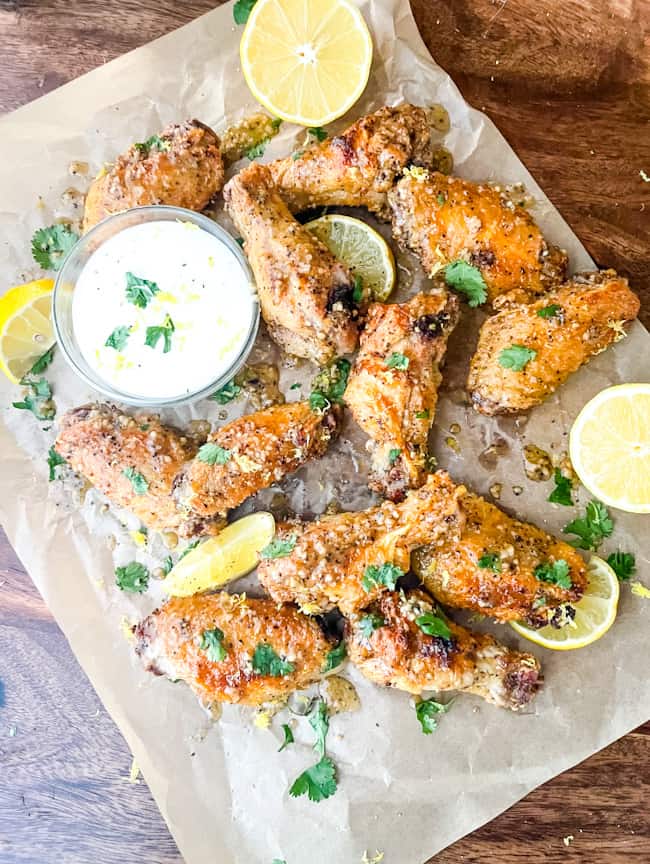 Servings:
2
large servings
Instructions
Pat your chicken wings dry. Toss them with the cornstarch (if using, see note), 1 teaspoon black pepper, and 1/2 teaspoon salt.

Spray your air fryer basket with nonstick spray. Arrange the wings in a single layer.

Air fry at 400F for 20 minutes, flipping half way through. Make sure the wings are cooked through, registering 165F.

While the wings are cooking, make the sauce.

Heat a small pot over medium heat. Add the butter.

When the butter is melted, add the garlic, lemon zest, lemon juice, salt, and black pepper. Simmer for 3 minutes. Remove from heat and set aside. (Do not let the butter brown. If it starts to darken, reduce heat or remove from heat.)

When the wings are done, place them in a large bowl with the lemon pepper sauce. Toss to combine and let them sit for one minute.

Serve warm with dipping sauces as desired or more lemon wedges.
Notes
Fresh lemon juice is best.
The cornstarch is optional. It helps give a little crunchy crust to the wings. Do not use if you want the wings to be keto.
If using frozen raw wings, increase cooking time to approximately 30 minutes.
If your wings are small, you will need to adjust your cooking time. This recipe works for wings that are approximately 3 inches long.
To keep warm after cooking, place in foil covered container in the oven on a very low setting, 130 to 150F, for up to 90 minutes.
Nutrition
Serving:

1

pound

|

Calories:

800

kcal

|

Carbohydrates:

13

g

|

Protein:

46

g

|

Fat:

62

g

|

Saturated Fat:

26

g

|

Trans Fat:

1

g

|

Cholesterol:

250

mg

|

Sodium:

1547

mg

|

Potassium:

484

mg

|

Fiber:

1

g

|

Sugar:

1

g

|

Vitamin A:

1090

IU

|

Vitamin C:

21

mg

|

Calcium:

65

mg

|

Iron:

3

mg

By