Honey Garlic Chicken Wings are fan favorite homemade wings. A great sweet and savory game day appetizer recipe for tailgate snacks. Gluten free and made in oven or air fryer.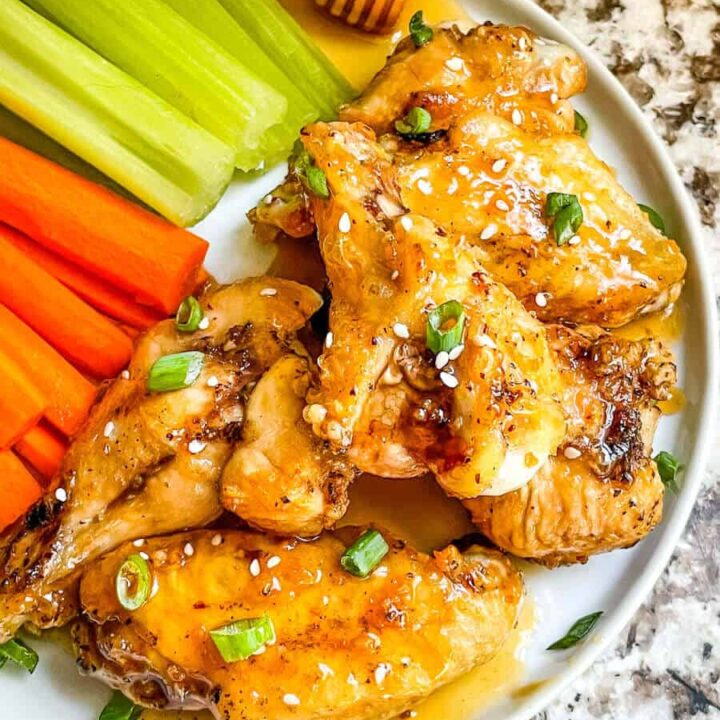 Be the fan favorite at your game day tailgate with these Honey Garlic Chicken Wings! Easy to make sauce for air fryer or oven baked wings.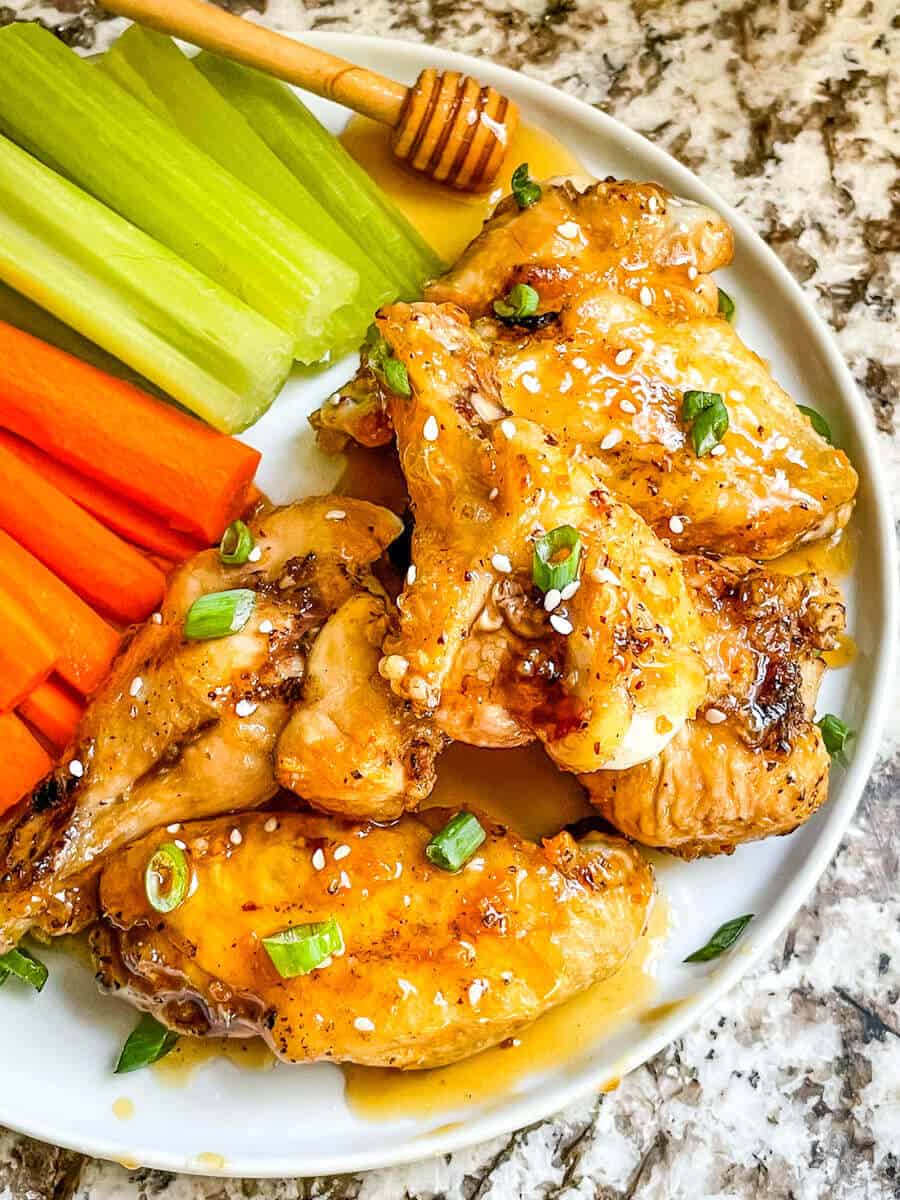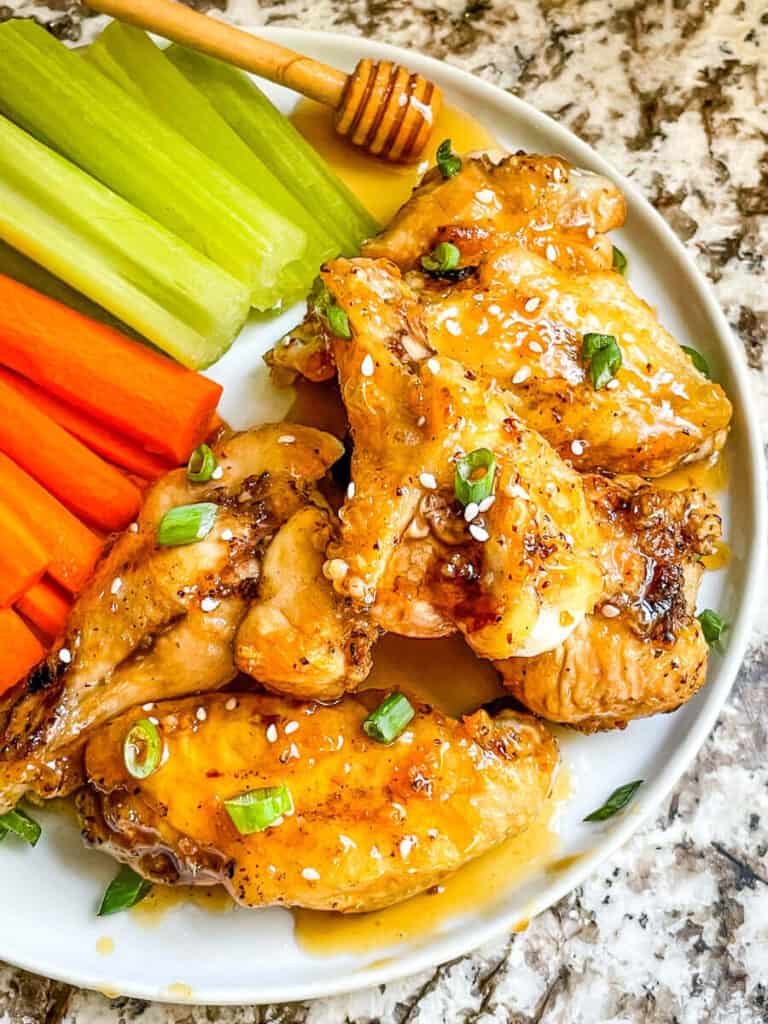 Chicken Wings for Game Day
I made these chicken wings along with others like my Barbecue Chicken Wings for a game day party and they were THE most popular flavor there!
Something about the sweet and savory combo with it being a fun and different flavor really resonated with people.
Keep reading for some tips and how to make these wings!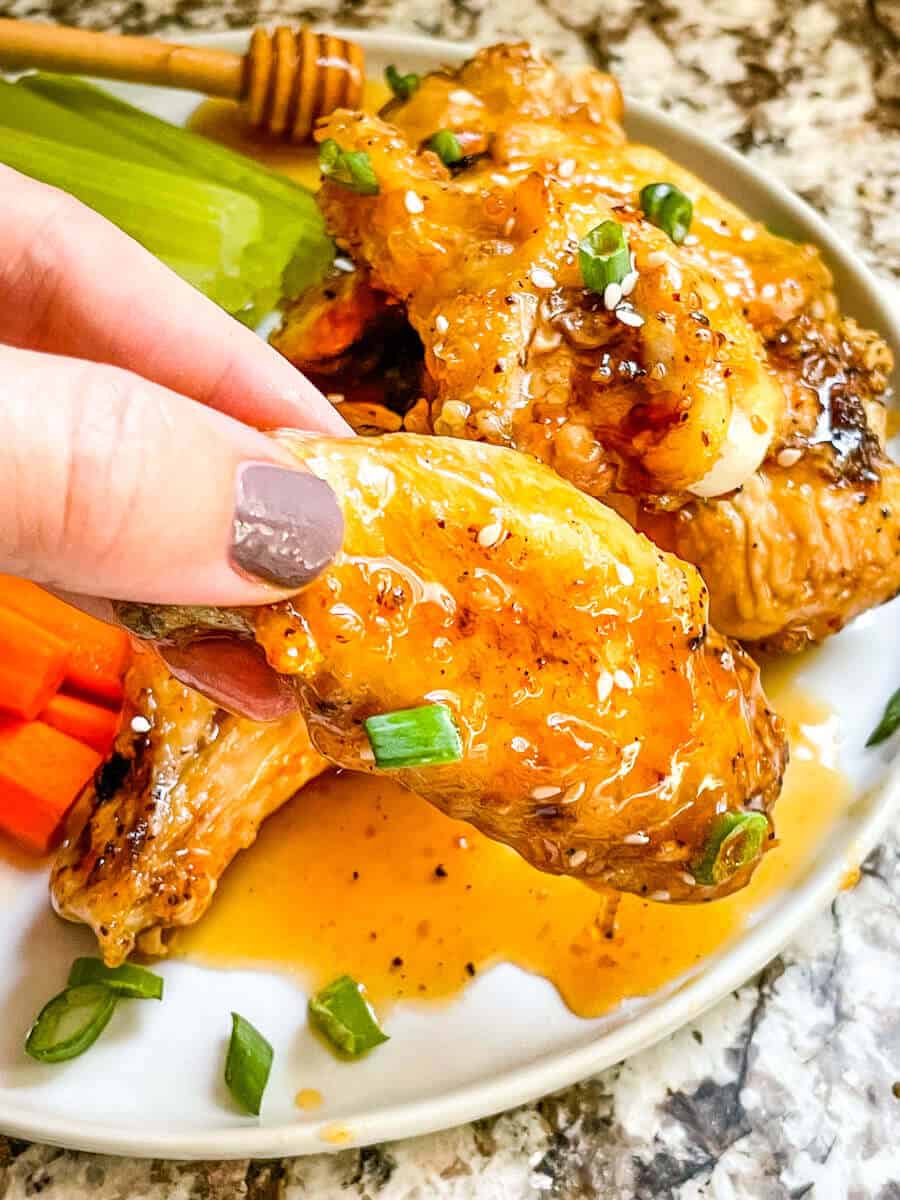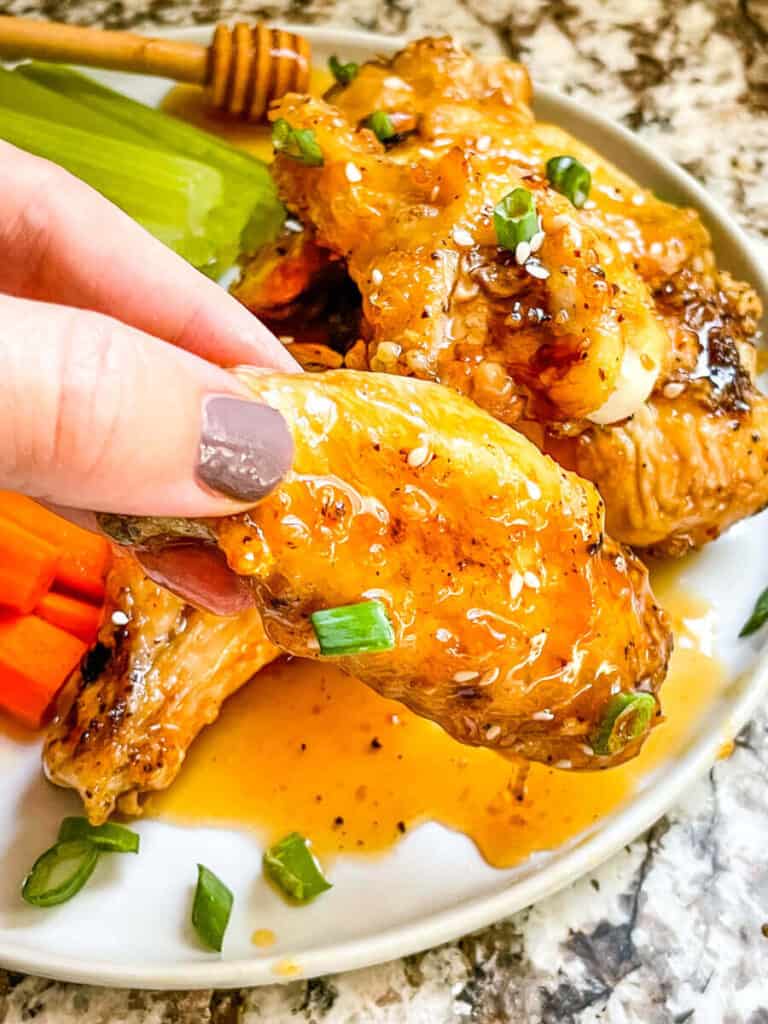 How does honey garlic taste?
It is a sweet and savory combo that is just perfect for wings and appealing to a group of people.
You can make it slightly spicy by adding more garlic if desired.
Will honey thicken a sauce?
Yes, especially when it cools. So when you toss the warm sauce with the warm wings, know it will get even thicker when the wings are sitting and waiting to be eaten. Not drastically, but noticeably.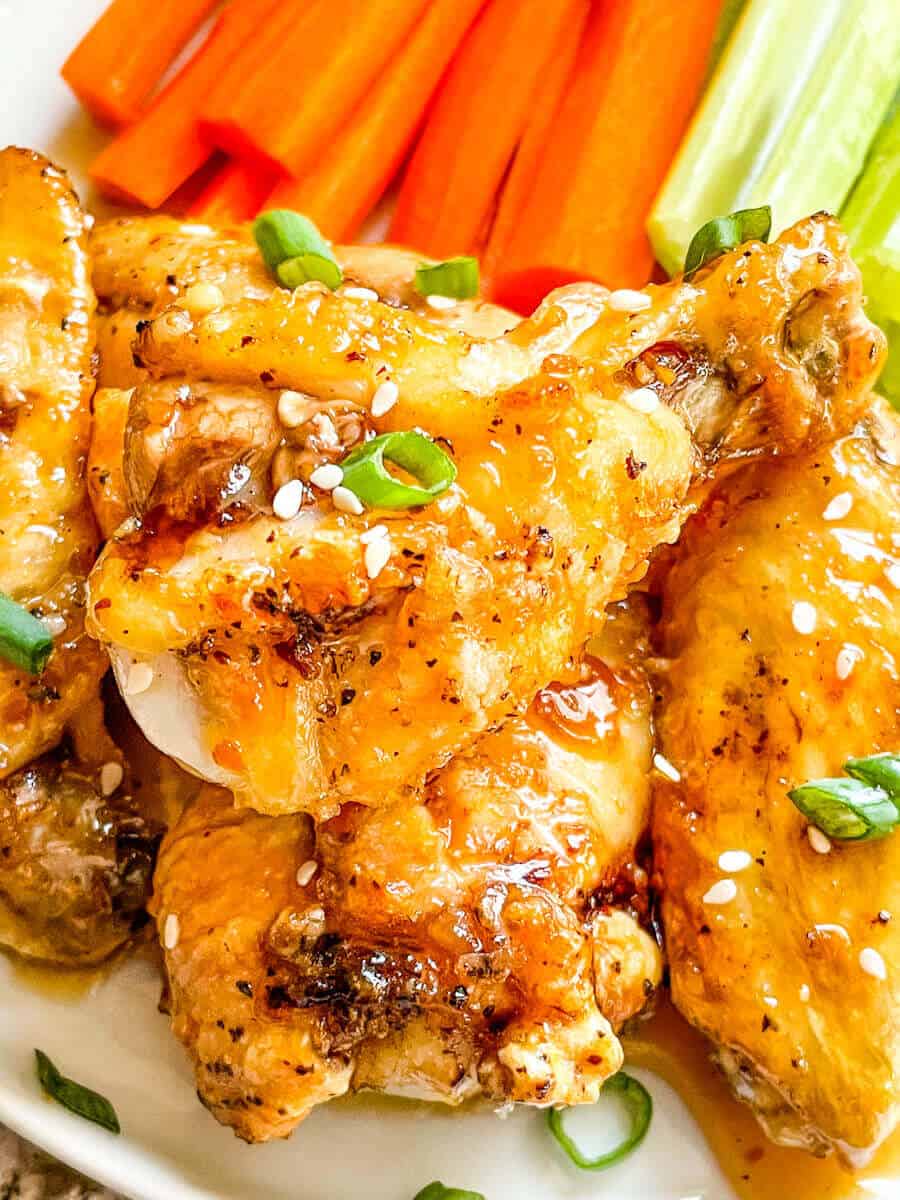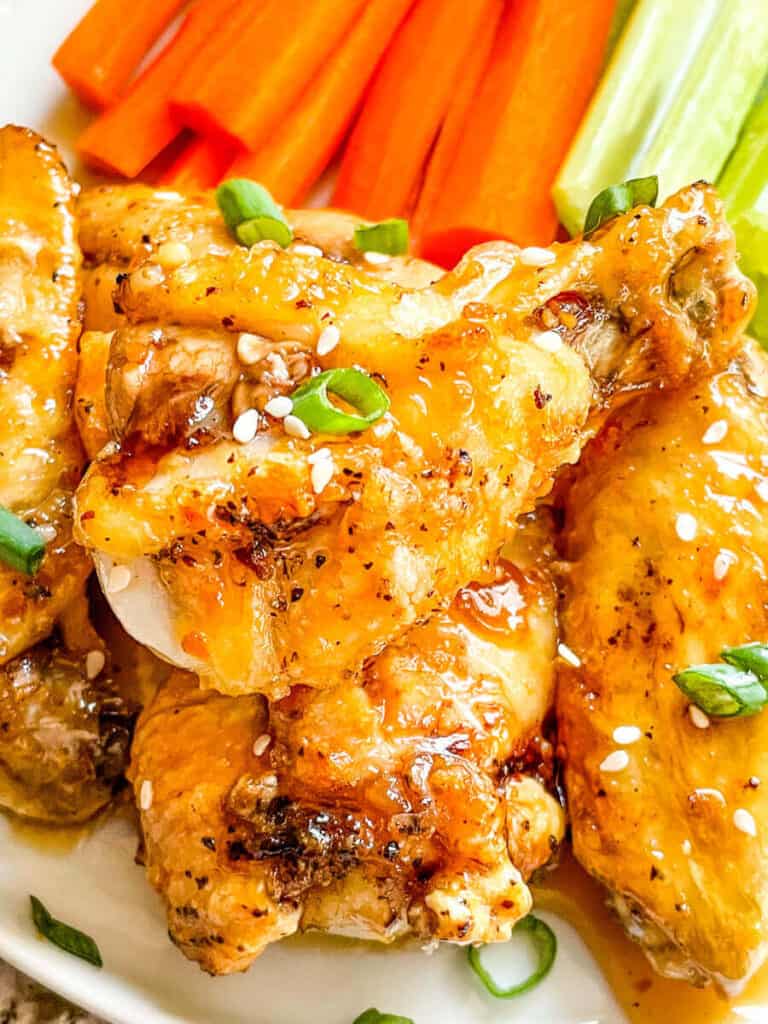 Ingredients Needed for Honey Garlic Wings
Here is what you need to make these homemade wings:
Chicken Wings

Cornstarch

(or flour, or optional)
Salt
Pepper
For the Sauce:
Butter
Garlic Cloves
Garlic Powder
Soy Sauce
Apple Cider Vinegar
Honey
Yes, I use both! I love the bits of fresh garlic plus I think garlic powder permeates through the sauce much better for a good garlic flavor!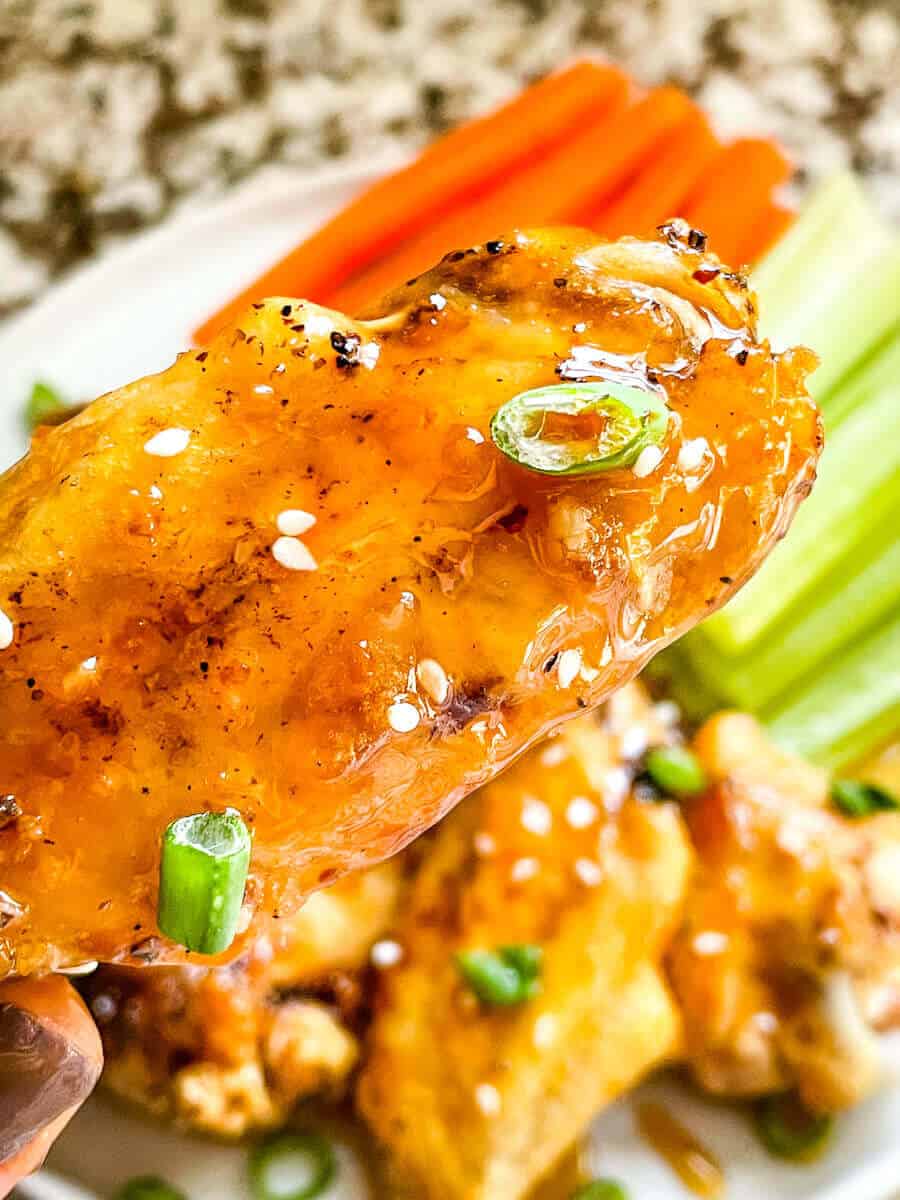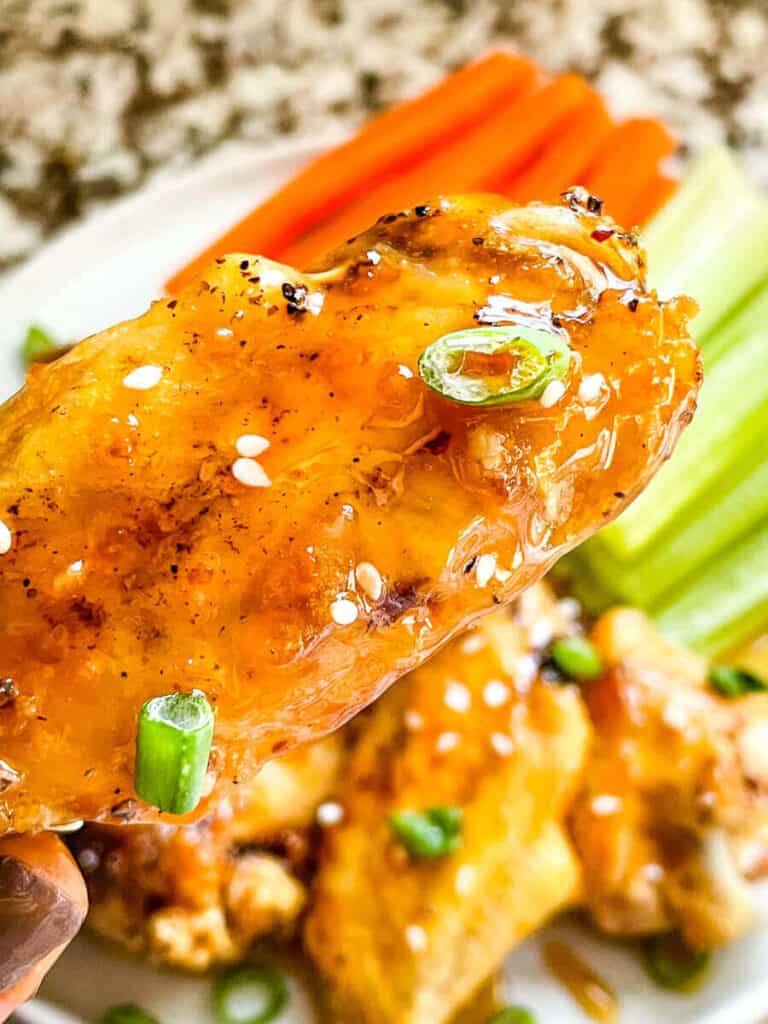 Instruction Overview
First you want to pat the wings dry with a paper towel or clean towel. This will help the skins crisp up.
Sprinkle them with cornstarch (if using), salt, and pepper and then cook per the directions.
Meanwhile, make the sauce.
Melt the butter, add the rest of the ingredients, and let it simmer for a few minutes. Season to taste as desired.
Cooking Methods for Chicken Wings
You can either air fry or bake these wings.
I like to use an air fryer because it is fast and gives a great fried texture to the wings without the oil.
I have the Cuisinart Air Fryer Toaster Oven which is wonderful because it also bakes, toasts, and more all in one appliance. With the shallow and wide basket.
To cook in an air fryer, air fry at 400F for 20 minutes, flipping half way through.
If cooking in an oven, bake at 425F for 40 minutes, flipping half way through.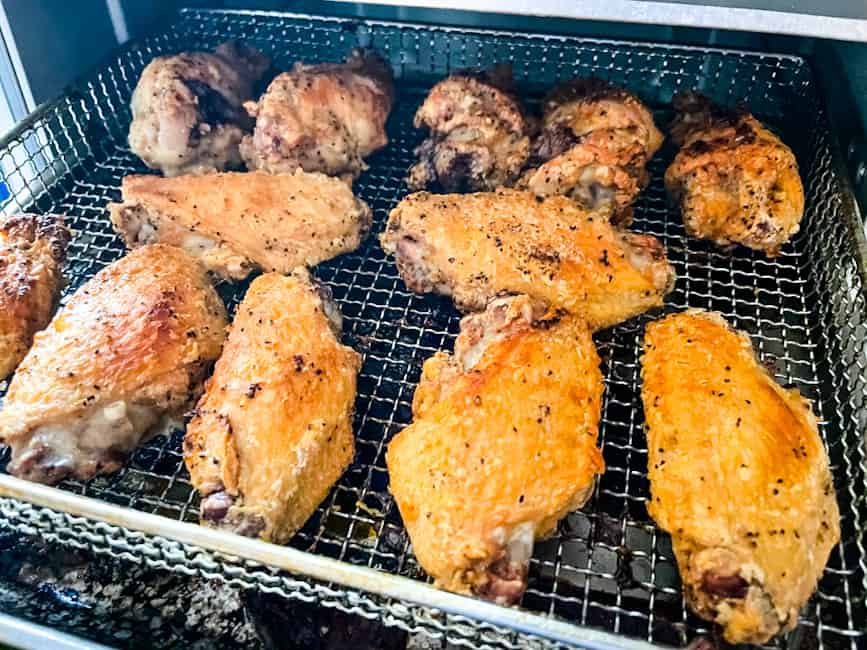 How do you throw wings in sauce?
You want to use a large bowl and have your wings in the bowl ready to pour the sauce on top of.
Then I switch between swirling the bowl so the wings move in a circle and doing mini flips where you move the bowl upward to flip the wings around, like you see people do with pancakes in a skillet.
If this worries you, simply move them around with tongs until everything is coated. Just be gentle to not tear the wings.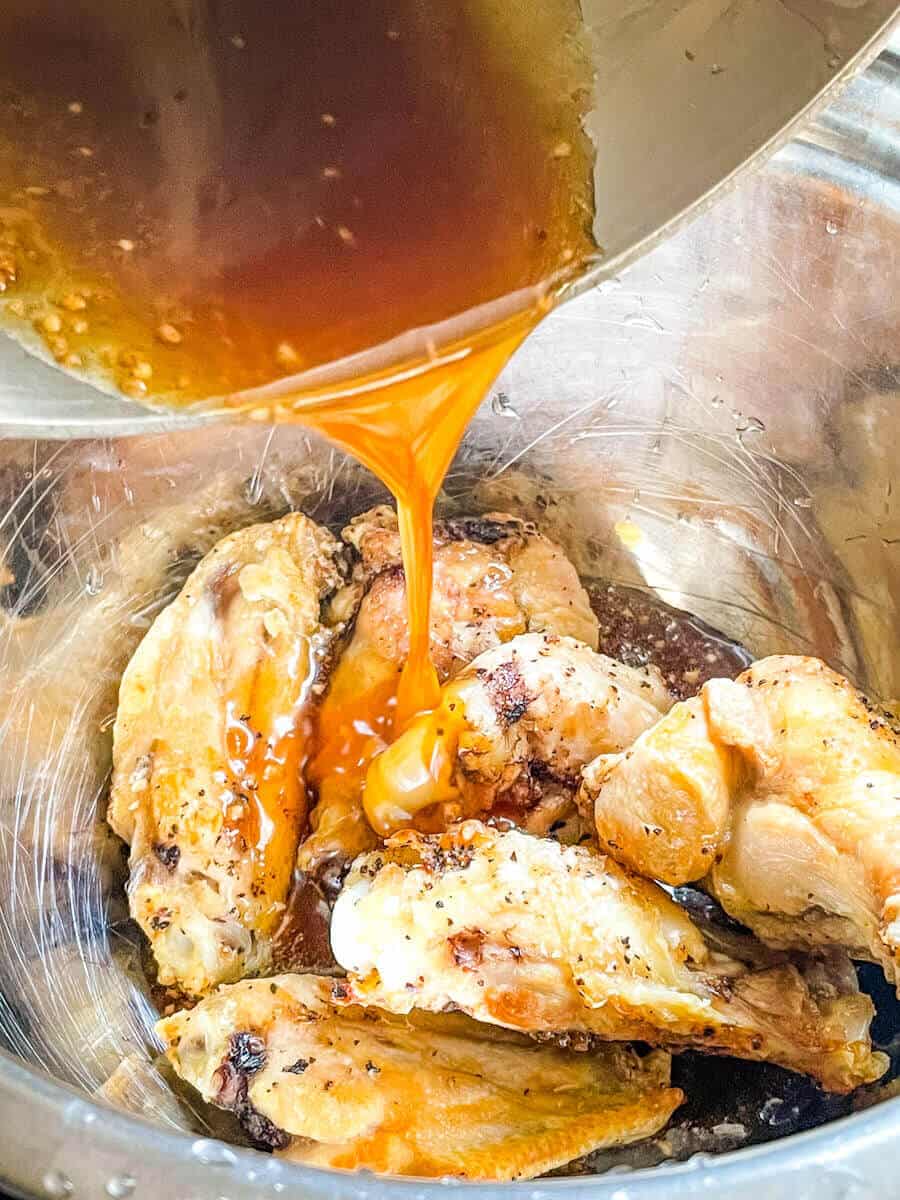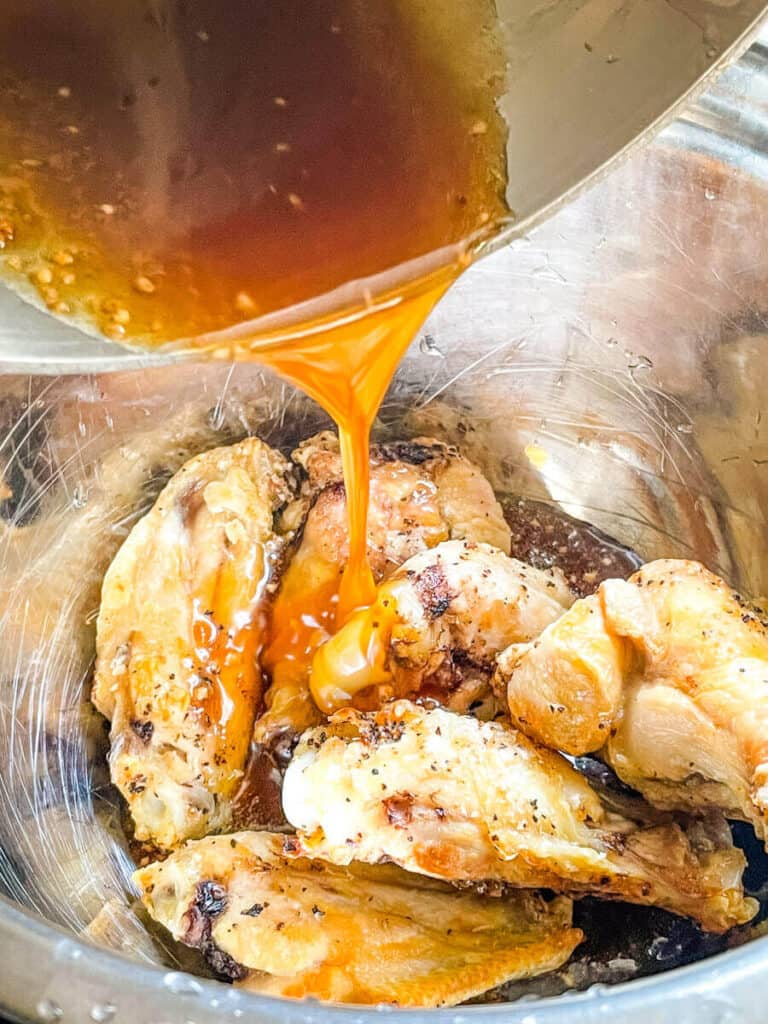 Can I use frozen wings?
Yes! Frozen wings can be cooked the exact same method, just for a longer cook time. Typically around 30 minutes in an air fryer.
The cook time regardless of fresh or frozen will vary with the size of the wings. The larger the wings, the longer they take.
This is why I like to use a digital thermometer to read the internal temperature of the wings and make sure they are cooked through.
Do you put sauce on chicken wings before or after you cook them?
After, especially since this sauce uses honey.
The sugars in a sauce will burn if cooked too long. And adding sauce right away means that you will not get a crispy wing.
You can keep the wings warm by holding them in an oven set to low (130 to 150F) and wrapped in foil for up to 90 minutes.
I would recommend not tossing them in the sauce until you are ready to serve so that the sauce does not dry up while waiting.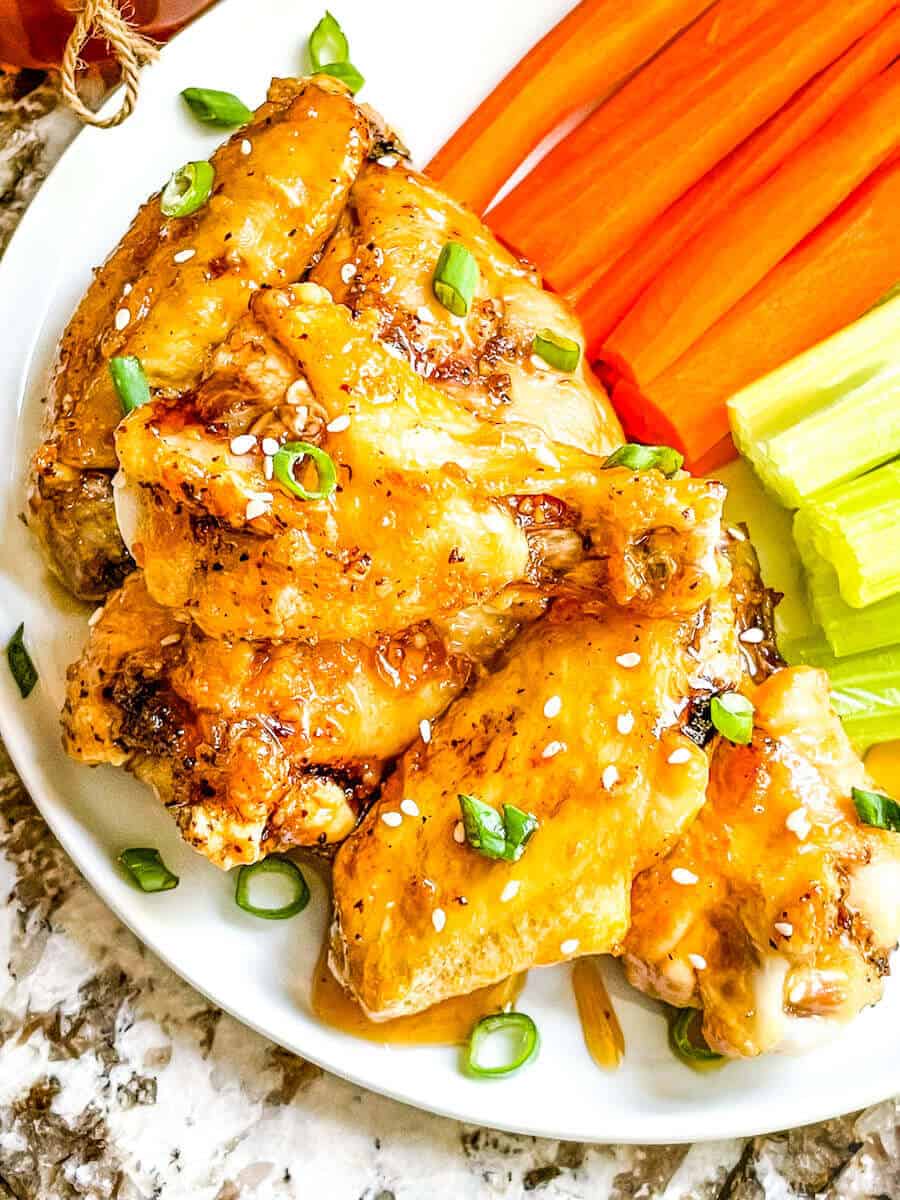 Picking an Air Fryer
There are a lot of air fryer options out there. Many air fryers are designed as single-use appliances, as in they air fry and not much else.
If you are looking at purchasing an air fryer, you want to consider how you will likely be using it.
Not only does the batch size vary with how large the air fryer is, but some have small and deep baskets while other have shallow and wide frying baskets.
I prefer and recommend something that has a wide and shallow basket because you can fit more in it without the food overlapping on itself, which especially matters sometimes such as chicken wings.
I have the Cuisinart Air Fryer Toaster Oven which is wonderful because it also bakes, toasts, and more all in one appliance. With the shallow and wide basket.
And it works FAST which means chicken nuggets for the kiddos are ready in a flash!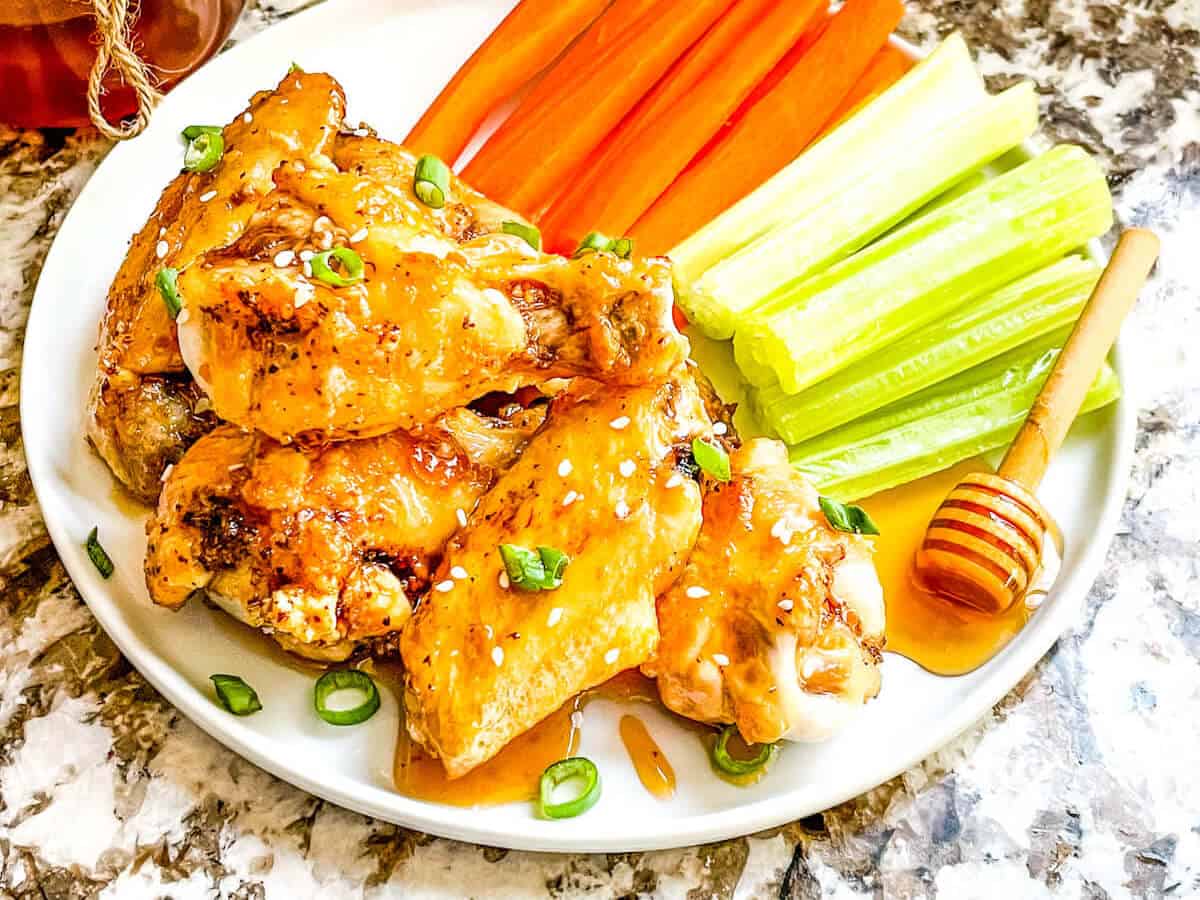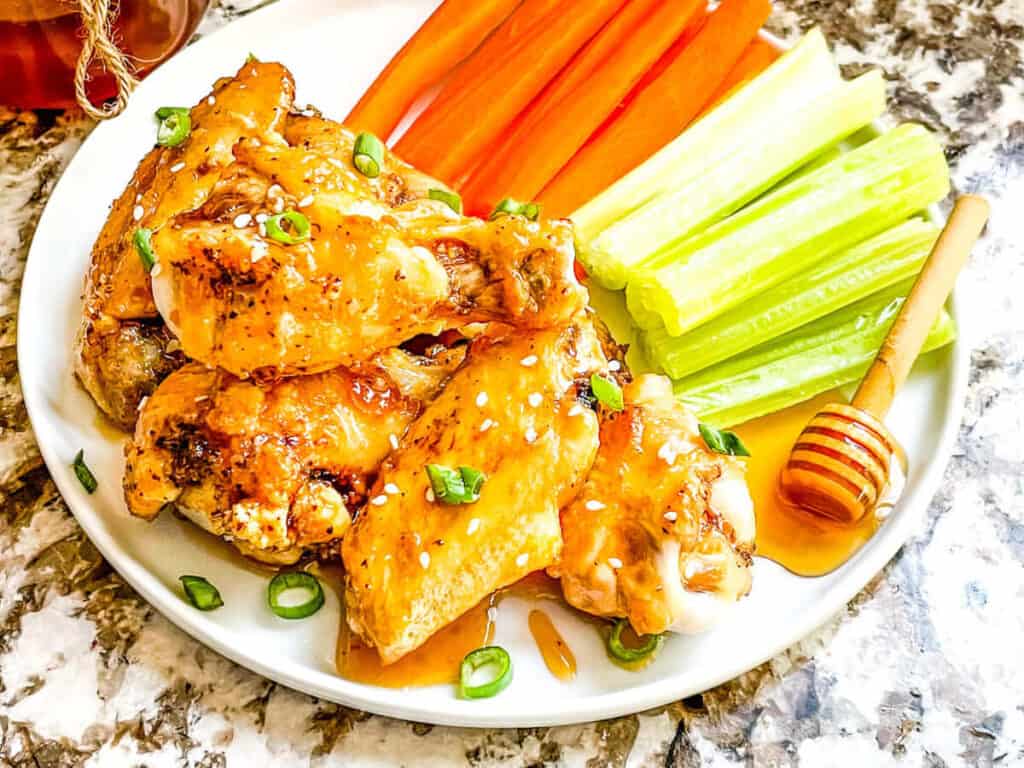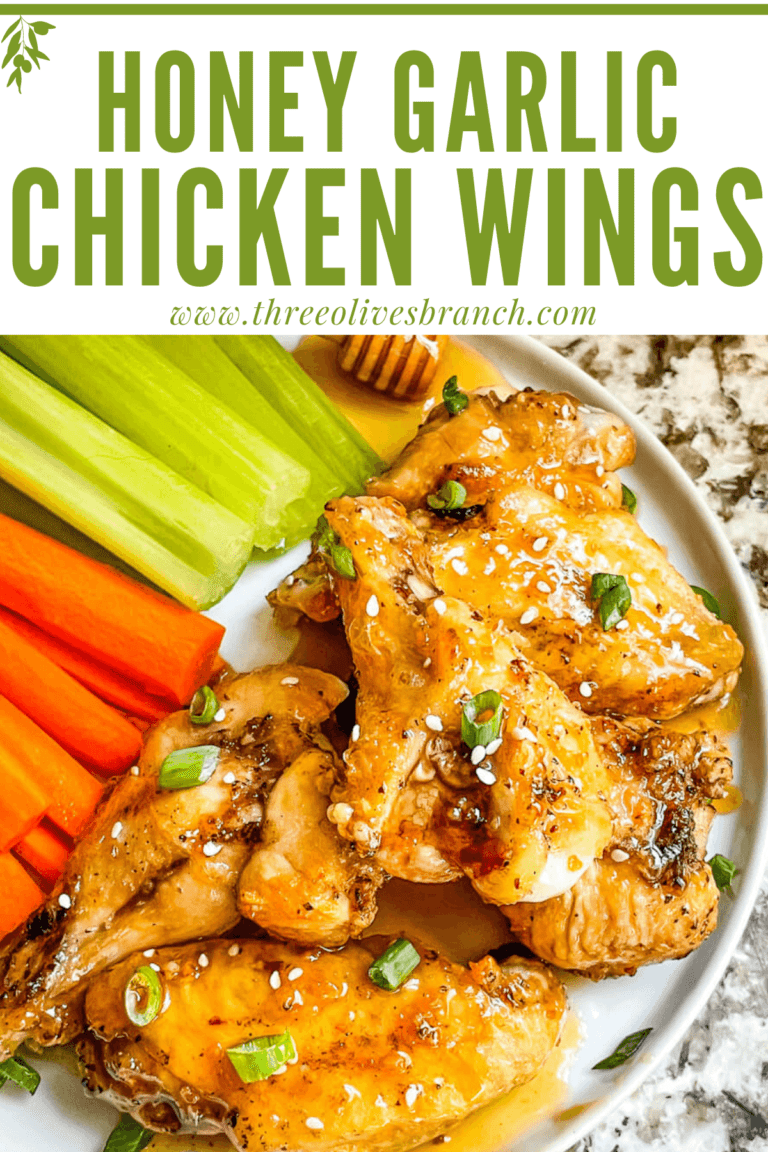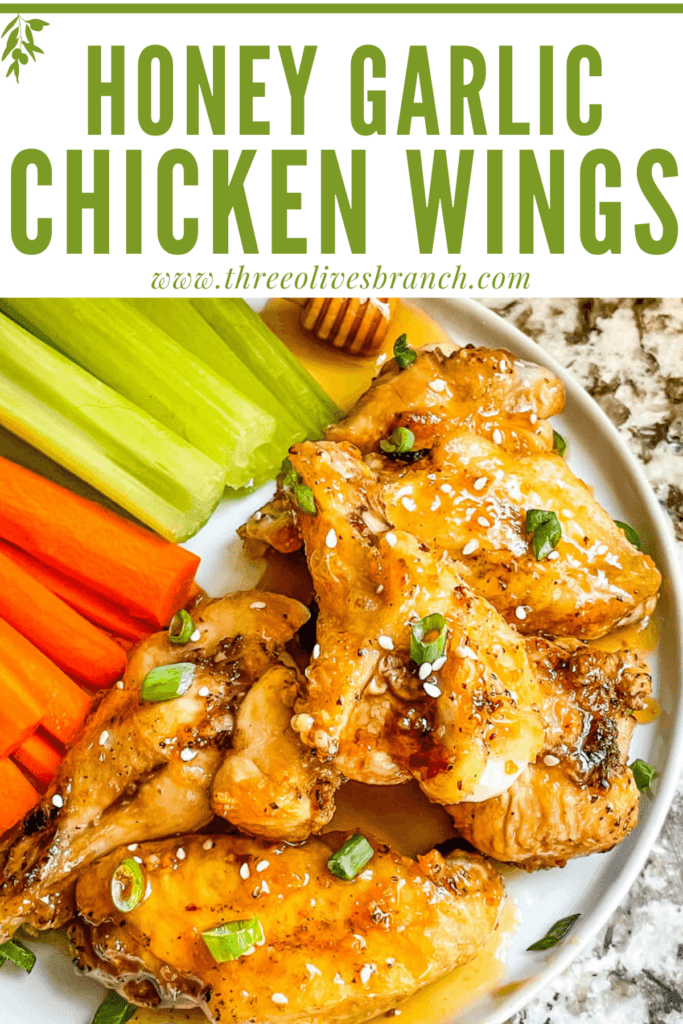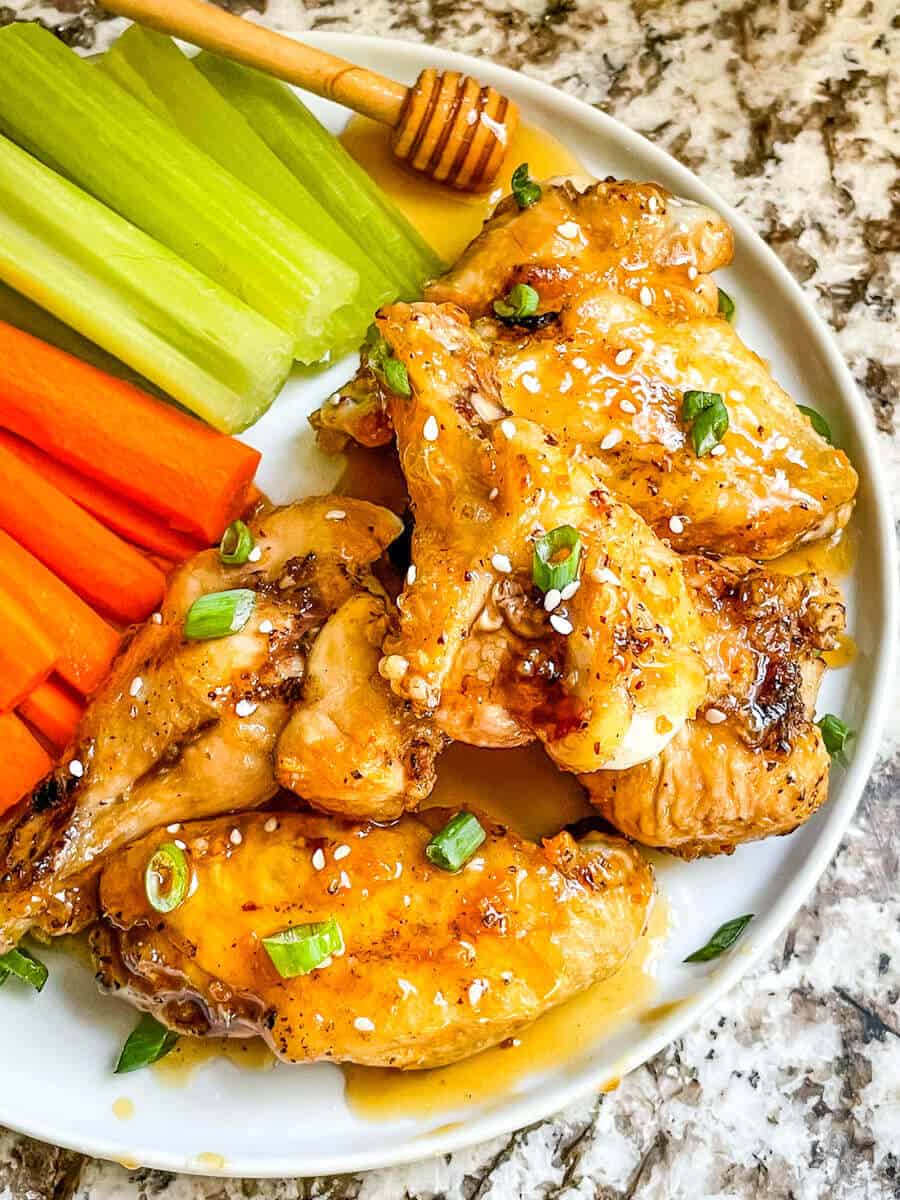 Servings:
2
large servings
Ingredients
2

pounds

chicken wings

raw, thawed (see note)

2

Tablespoons

cornstarch

(or ¼ cup flour, optional, see note)

1

teaspoon

black pepper

1/2

teaspoon

salt
Instructions
Pat your chicken wings dry. Toss them with the cornstarch (if using, see note), 1 teaspoon black pepper, and 1/2 teaspoon salt.

Spray your air fryer basket with nonstick spray. Arrange the wings in a single layer.

Air fry at 400°F for 20 minutes, flipping half way through. Make sure the wings are cooked through, registering 165°F.

(Or if baking in the oven, bake at 425°F for 40-45 minutes until cooked through.)

While the wings are cooking, make the sauce.

Heat a small pot over medium heat. Add the butter.

When the butter is melted, add the remaining ingredients. Bring to a simmer.

Once simmering, continue to simmer for 2 minutes. Remove from heat. If the sauce gets too thick, add a little water.

When the wings are done, place them in a large bowl with the sauce. Toss to combine and let them sit for one minute.

Serve warm with leftover sauce and dipping sauces. Garnish with green onions and sesame seeds if desired.
Notes
The cornstarch is optional. It helps give a little crunchy crust to the wings.
If using frozen raw wings, increase cooking time to approximately 30 minutes.
If your wings are small, you will need to adjust your cooking time. This recipe works for wings that are approximately 3 inches long.
To keep warm after cooking, place in foil covered container in the oven on a very low setting, 130 to 150F, for up to 90 minutes.
This sauce is on the sweet side. To add some heat, add hot sauce or cayenne powder to the sauce.
Want to bake the wings in an oven? Bake at 425F for 40-45 minutes.
The sauce in this recipe was inspired by Recipe Tin Eats
Nutrition
Serving:

1

pound

|

Calories:

788

kcal

|

Carbohydrates:

57

g

|

Protein:

46

g

|

Fat:

42

g

|

Saturated Fat:

13

g

|

Polyunsaturated Fat:

8

g

|

Monounsaturated Fat:

16

g

|

Trans Fat:

1

g

|

Cholesterol:

196

mg

|

Sodium:

1041

mg

|

Potassium:

471

mg

|

Fiber:

1

g

|

Sugar:

47

g

|

Vitamin A:

453

IU

|

Vitamin C:

3

mg

|

Calcium:

49

mg

|

Iron:

3

mg

By