These Barbeque Chicken Wings are a perfect homemade tailgate recipe. Homemade BBQ sauce tossed in crispy wings. Gluten free and perfect for football game day appetizer or snack.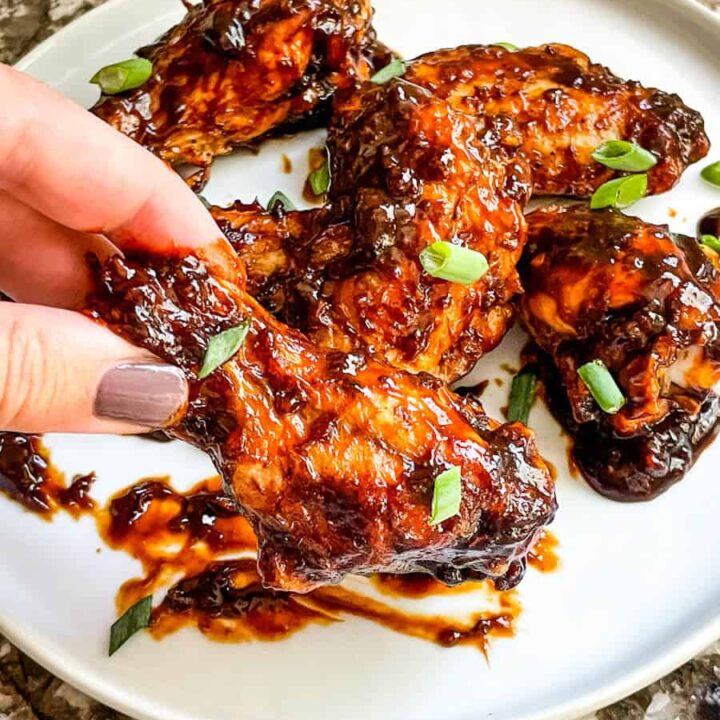 These homemade Barbeque Chicken Wings are a fast and delicious game day snack or appetizer recipe! Bake or air fry with a simple homemade BBQ sauce.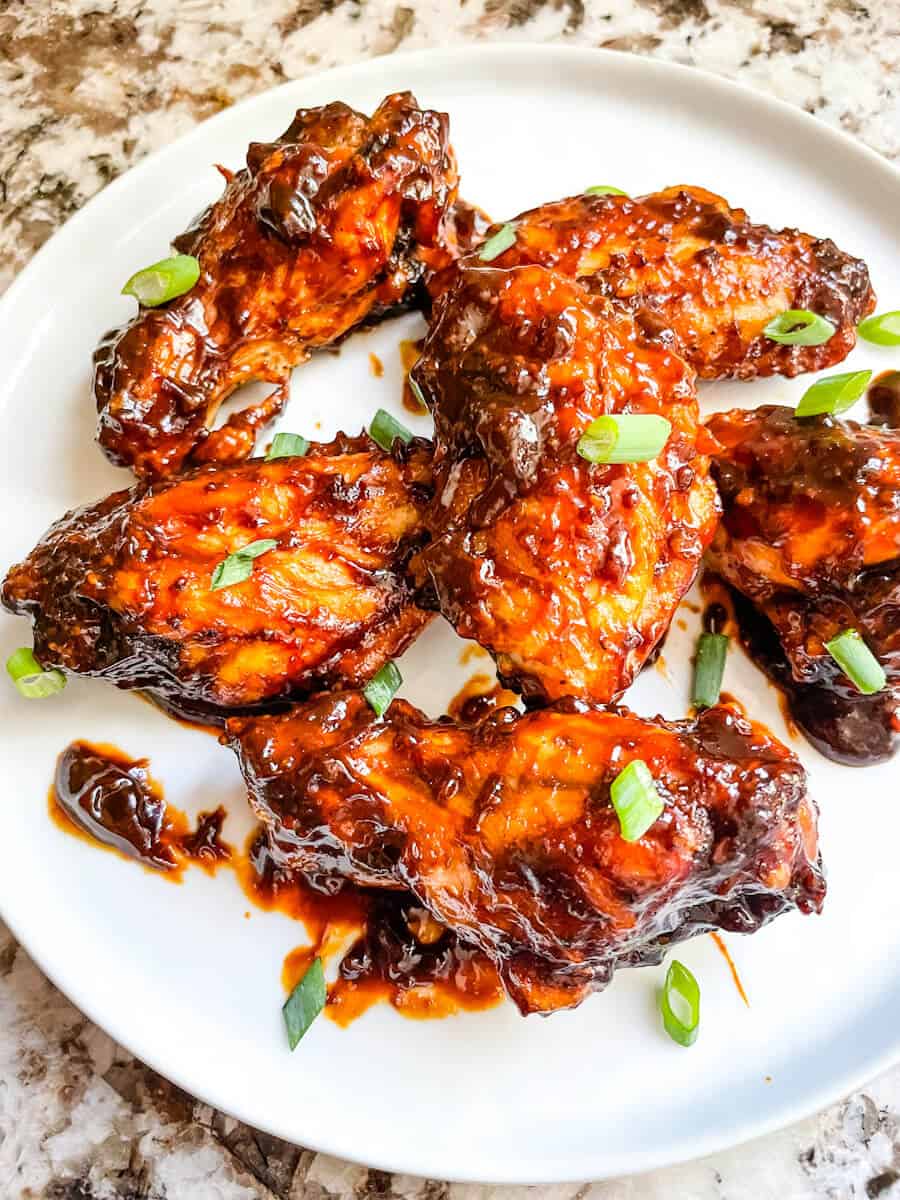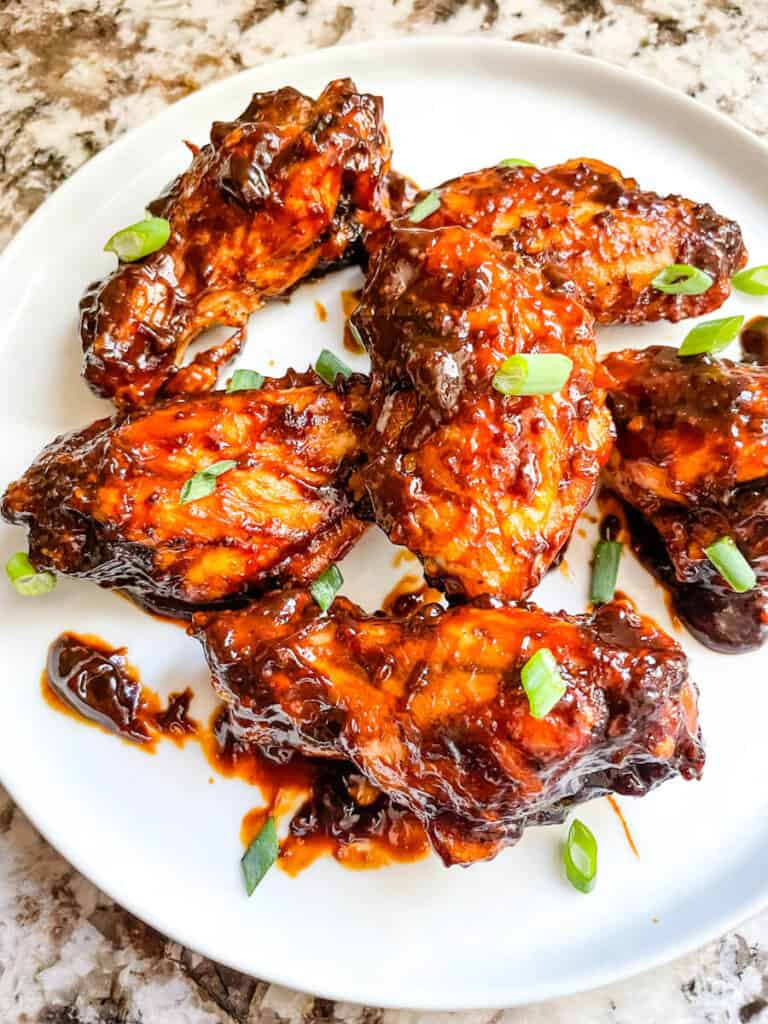 Homemade Wings
Wings are pretty much mandatory around here for game day tailgate parties.
I love to make fun and unique flavors like my Lemon Pepper Chicken Wings plus classics like these BBQ wings!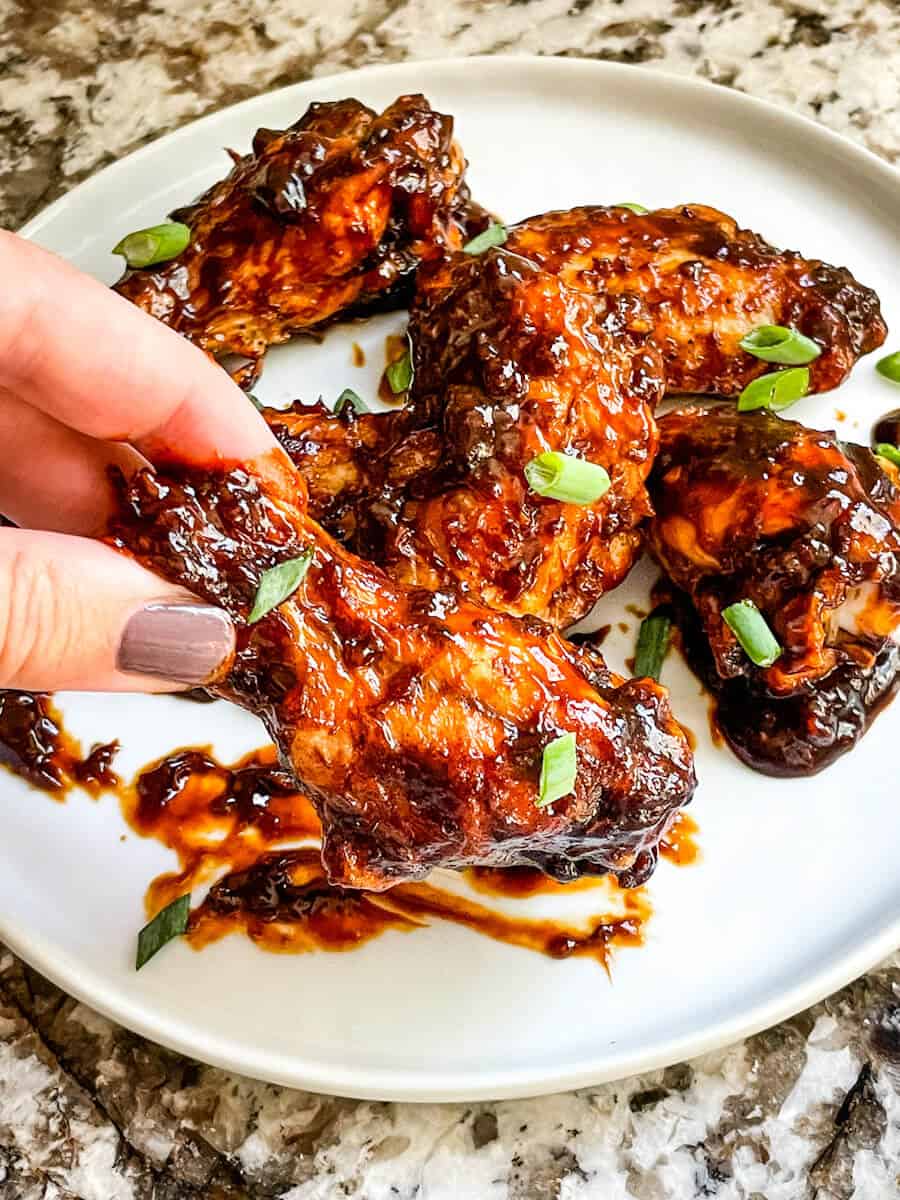 How do you get sauce to stick to chicken wings?
You want to make sure that the sauce is emulsified, which means completely mixed and not separating into the different ingredients.
For these BBQ wings, this is much easier than using an oil or butter sauce since the ingredients are much easier to mix and less likely to separate.
Also, since the sauce is thick, it will cling easily to the wings. If your sauce is too thin with too much water, it will run off the chicken.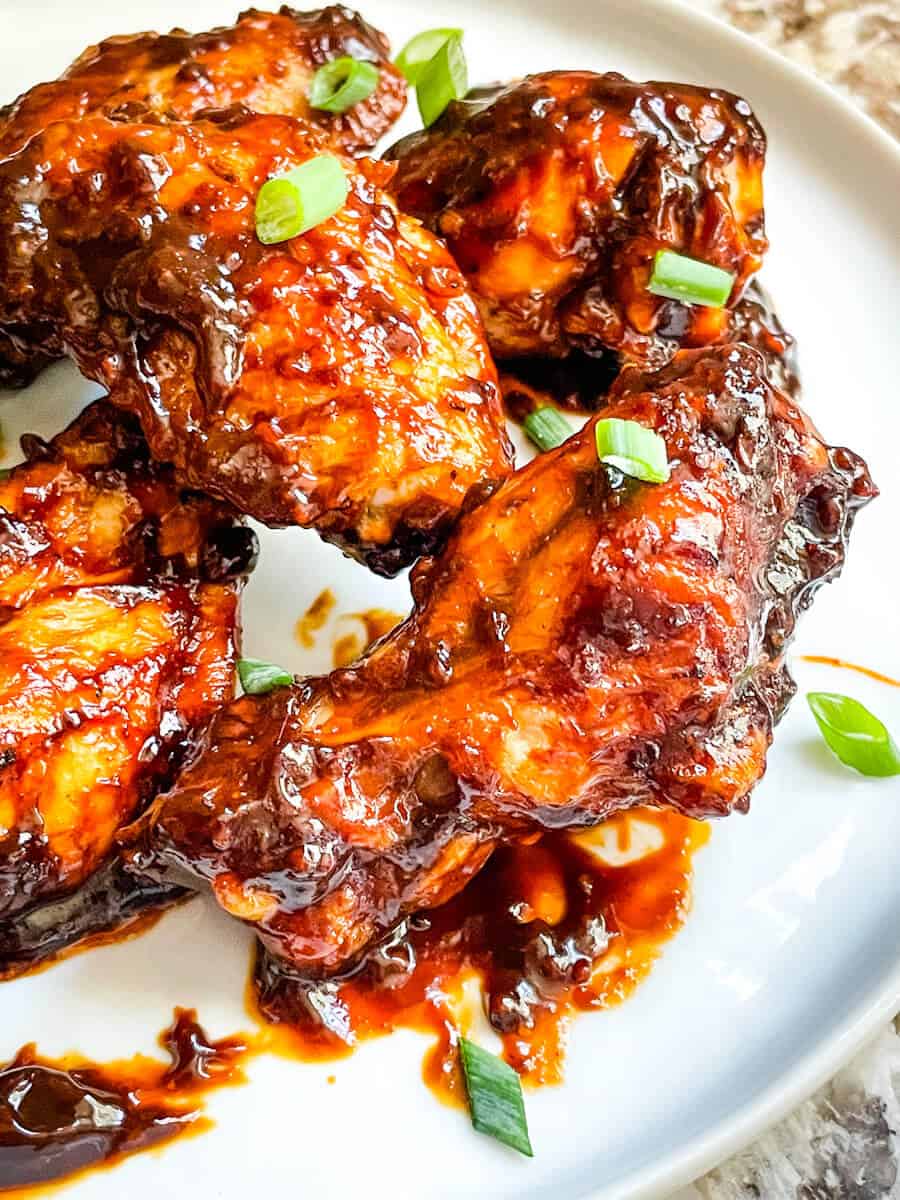 Ingredients for Barbecue Chicken Wings
Here are the ingredients you will need to make these wings:
2 pounds chicken wings
Cornstarch
Salt
Pepper
For the Barbecue Sauce:
Onion Powder
paprika
Chili Powder
Garlic
Ketchup
Molasses
Apple Cider Vinegar
Dijon Mustard
Worcestershire Sauce
You can also use a pre-made barbecue sauce if desired for something extra fast and easy.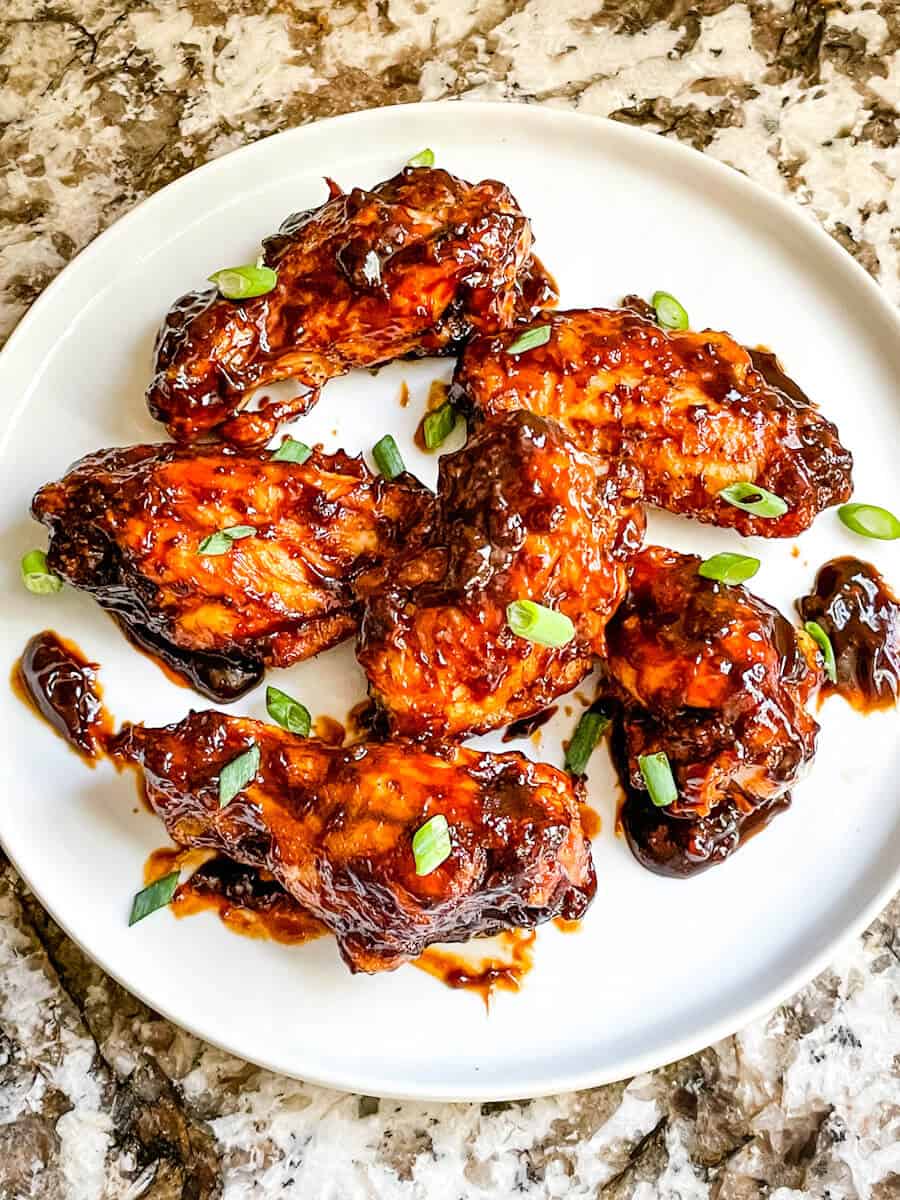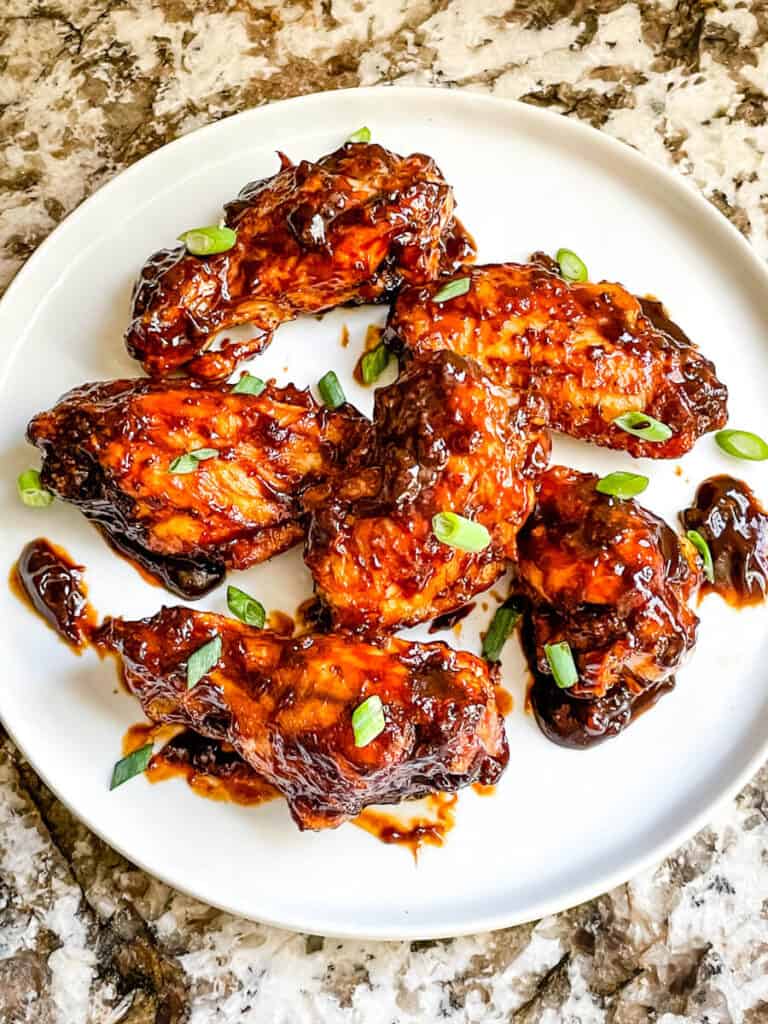 How do you make barbecue wings?
Making the wings is very easy!
First you want to pat the wings dry with a paper towel or clean towel. This will help the skins crisp up.
Sprinkle them with cornstarch (if using), salt, and pepper and then cook per the directions.
Meanwhile, make the sauce. First toast the spices in some hot oil to develop the flavors.
Then add the ketchup, molasses, and remaining ingredients and simmer for 10 minutes to let the flavors develop.
When everything is done, toss the hot wings with the sauce in a large bowl and serve immediately.
Want to make it in advance? The barbecue sauce can be made and refrigerated until ready to use.
You can keep the wings warm by holding them in an oven set to low (130 to 150F) and wrapped in foil for up to 90 minutes.
I would recommend not tossing them in the sauce until you are ready to serve so that the sauce does not dry up while waiting.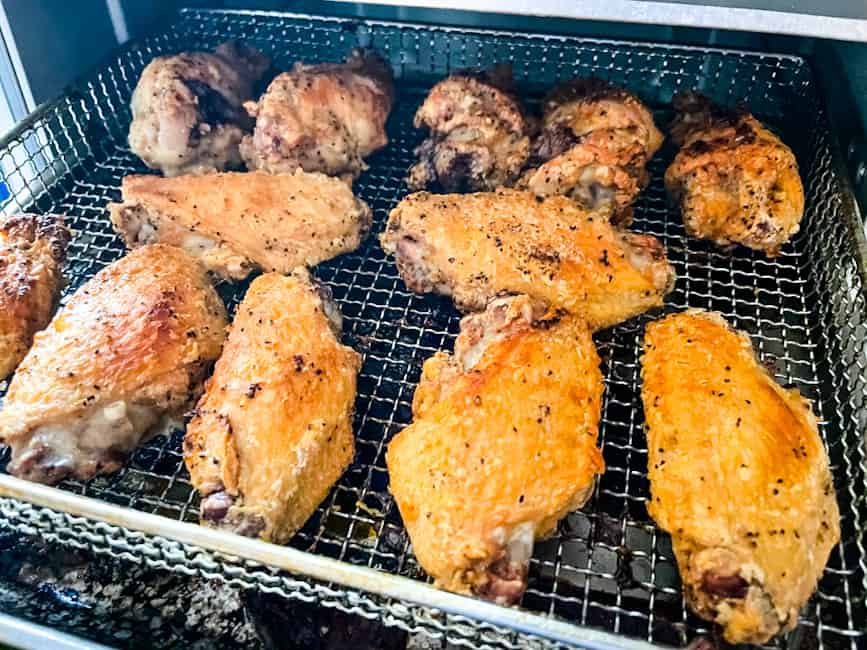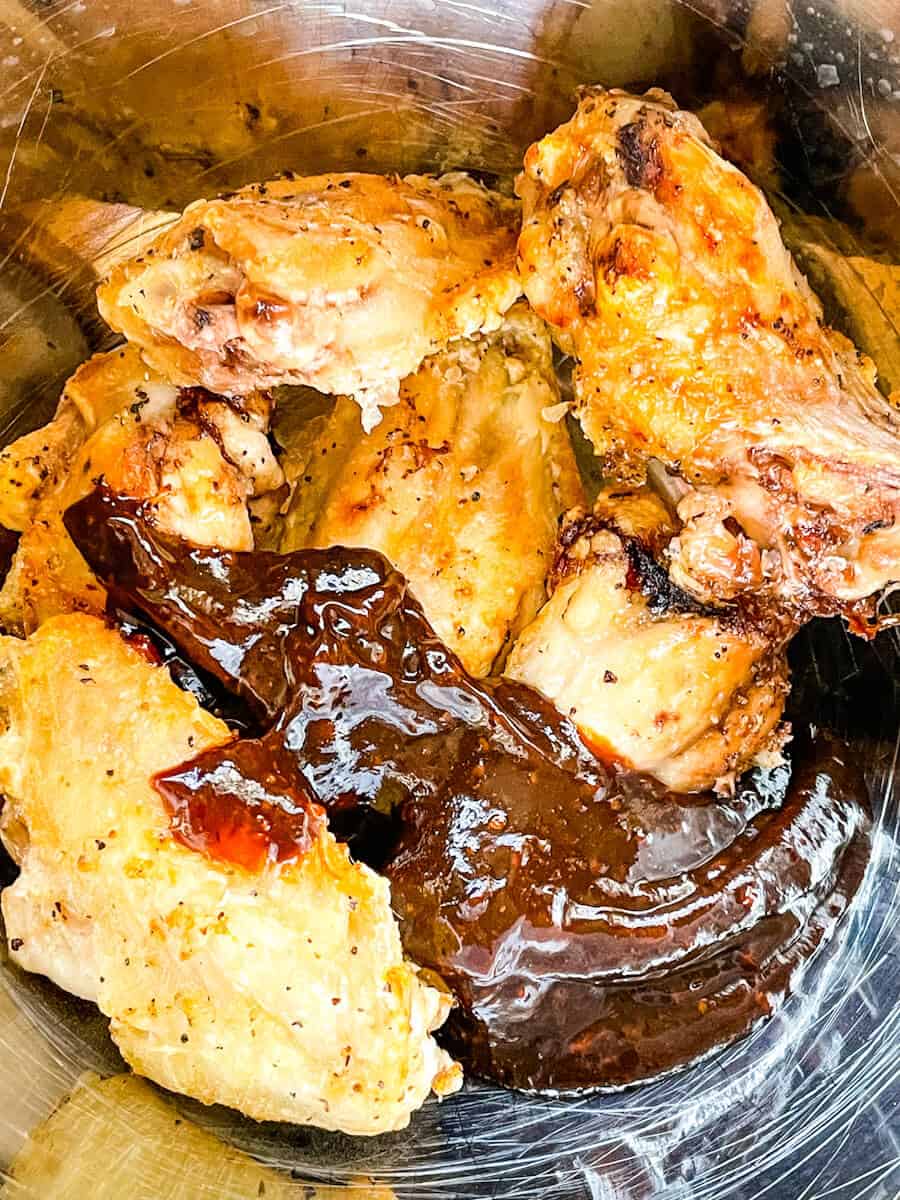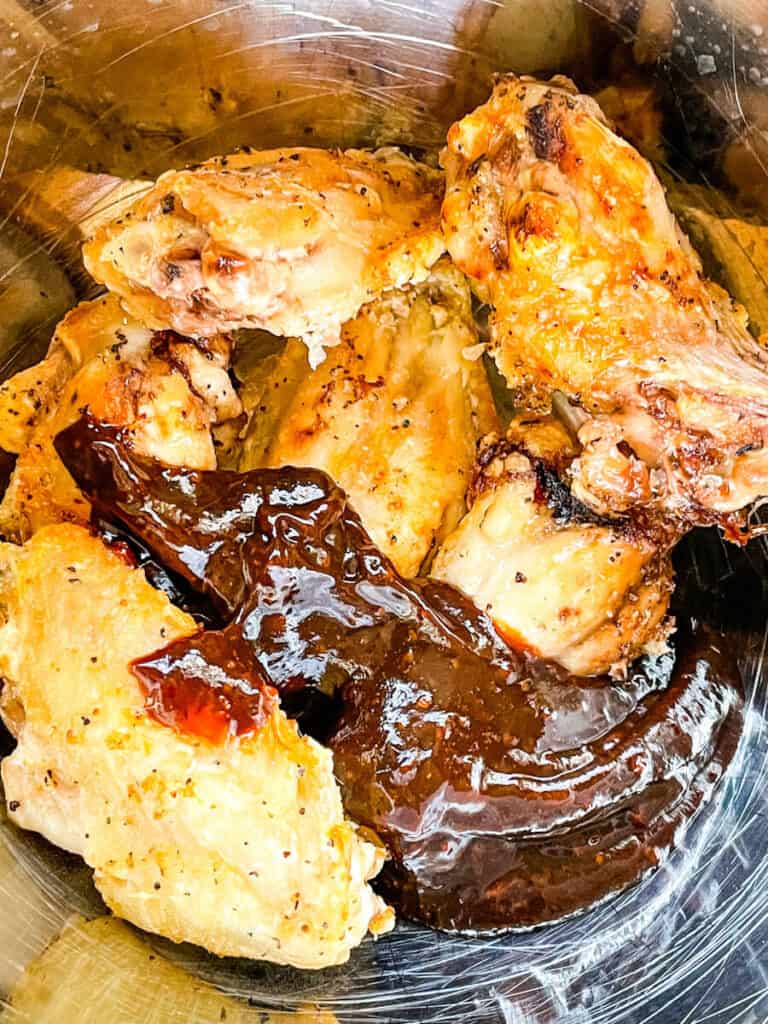 Cooking Methods for Chicken Wings
You can either air fry or bake these wings.
I like to use an air fryer because it is fast and gives a great fried texture to the wings without the oil.
I have the Cuisinart Air Fryer Toaster Oven which is wonderful because it also bakes, toasts, and more all in one appliance. With the shallow and wide basket.
To cook in an air fryer, air fry at 400F for 20 minutes, flipping half way through.
If cooking in an oven, bake at 425F for 40 minutes, flipping half way through.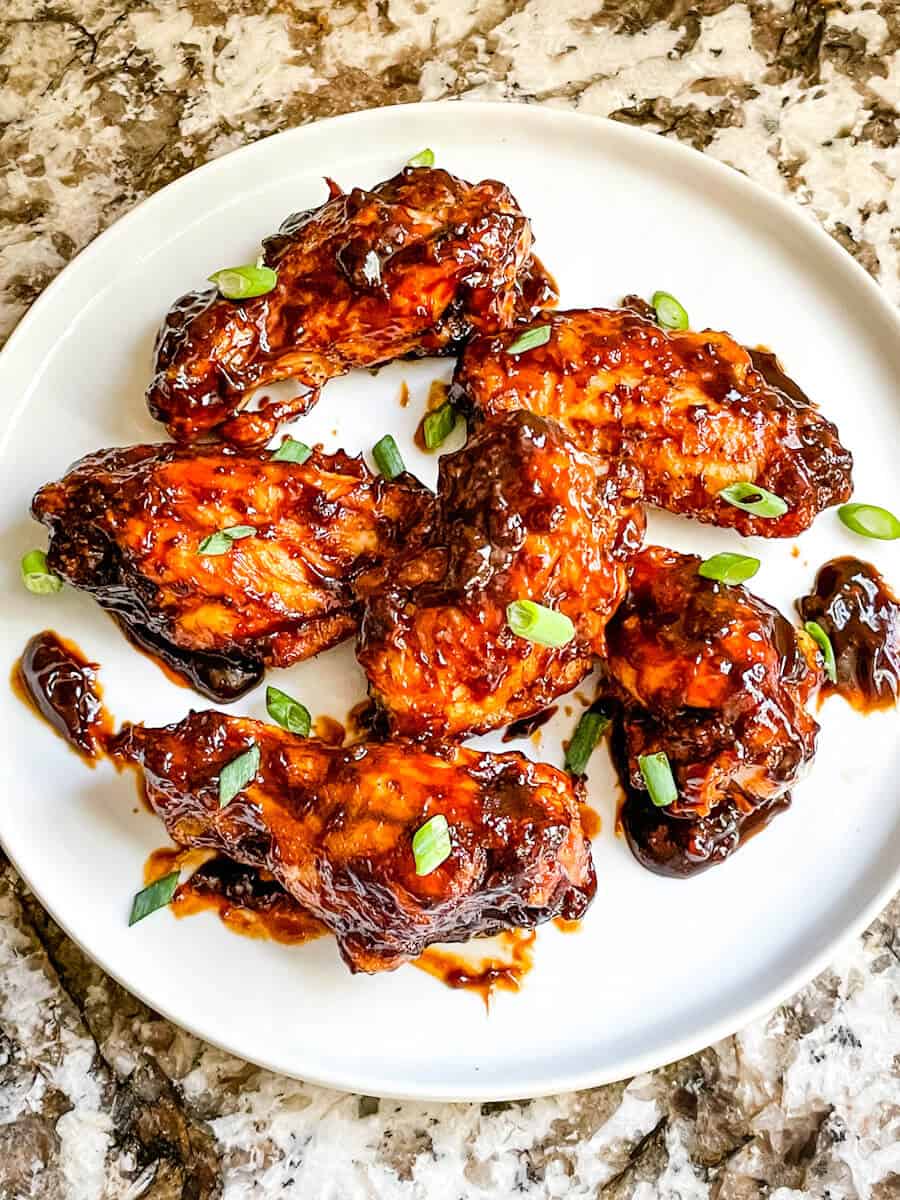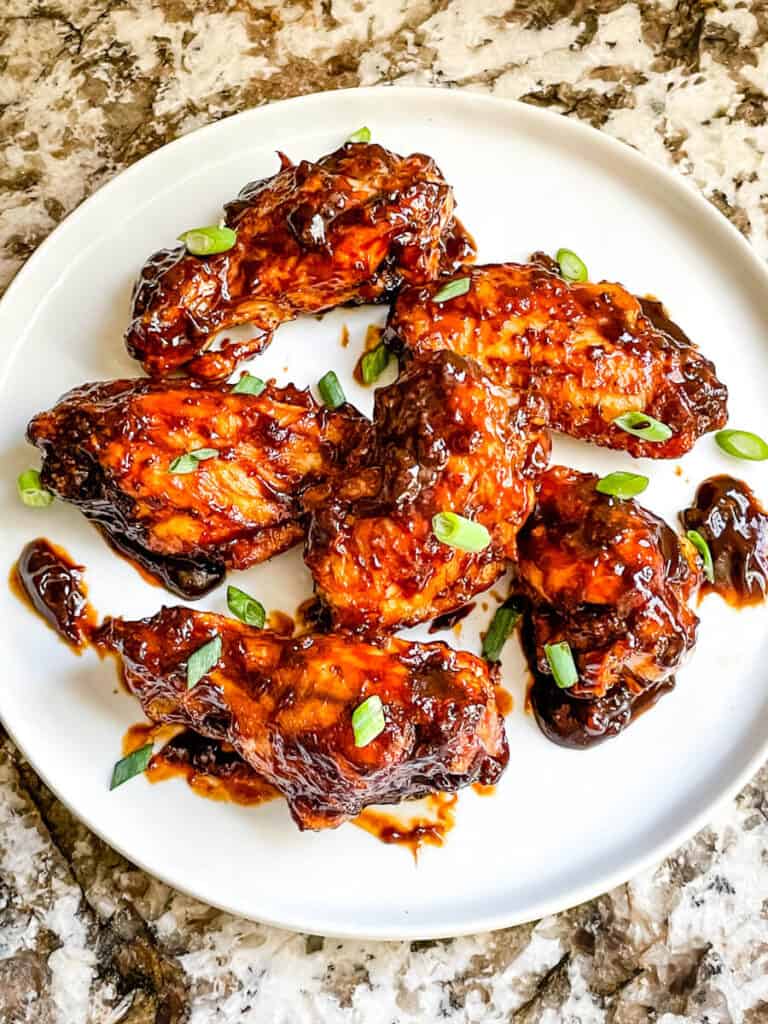 Can I use frozen wings?
Yes! Frozen wings can be cooked the exact same method, just for a longer cook time. Typically around 30 minutes.
The cook time regardless of fresh or frozen will vary with the size of the wings. The larger the wings, the longer they take.
This is why I like to use a digital thermometer to read the internal temperature of the wings and make sure they are cooked through.
Do you put sauce on chicken wings before or after you cook them?
After, especially if you are using a barbecue sauce.
The sugars in a sauce will burn if cooked too long. And adding sauce right away means that you will not get a crispy wing.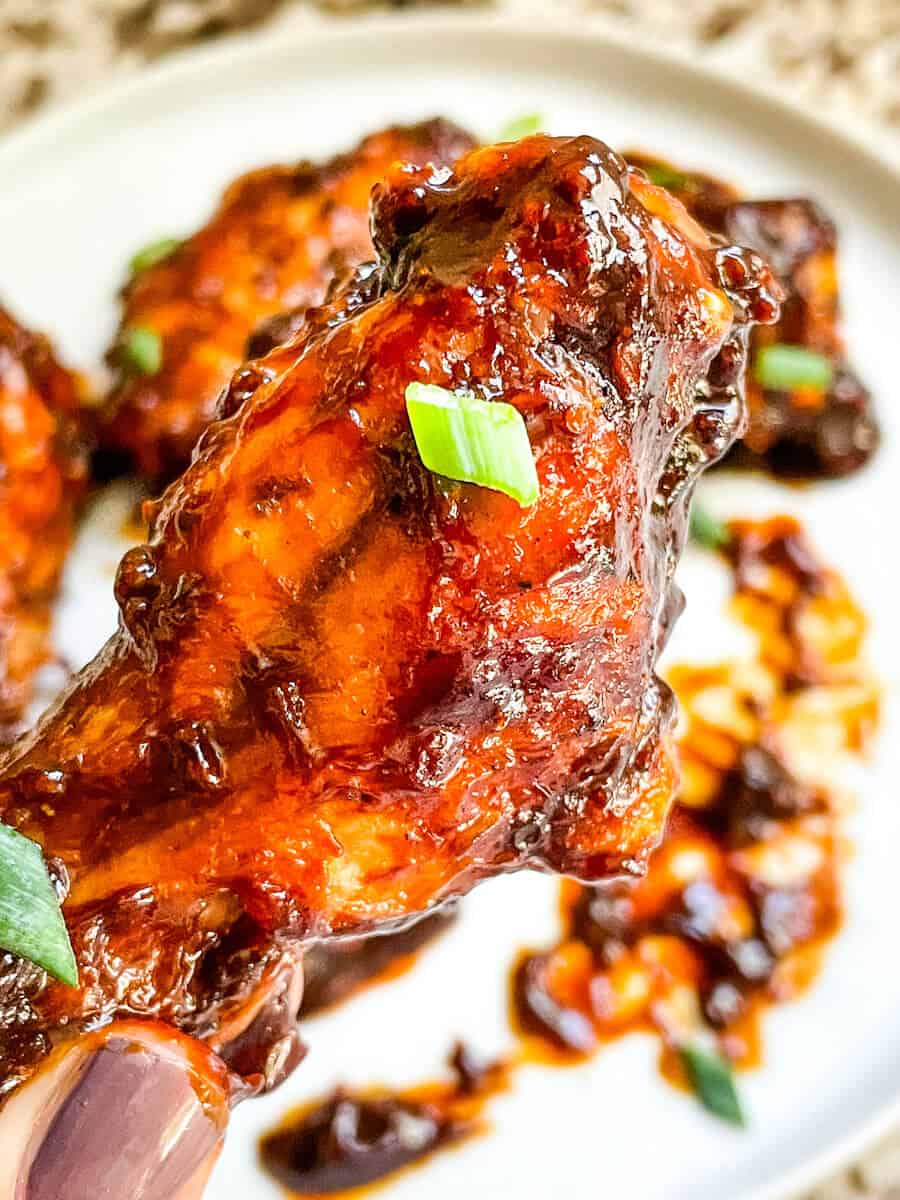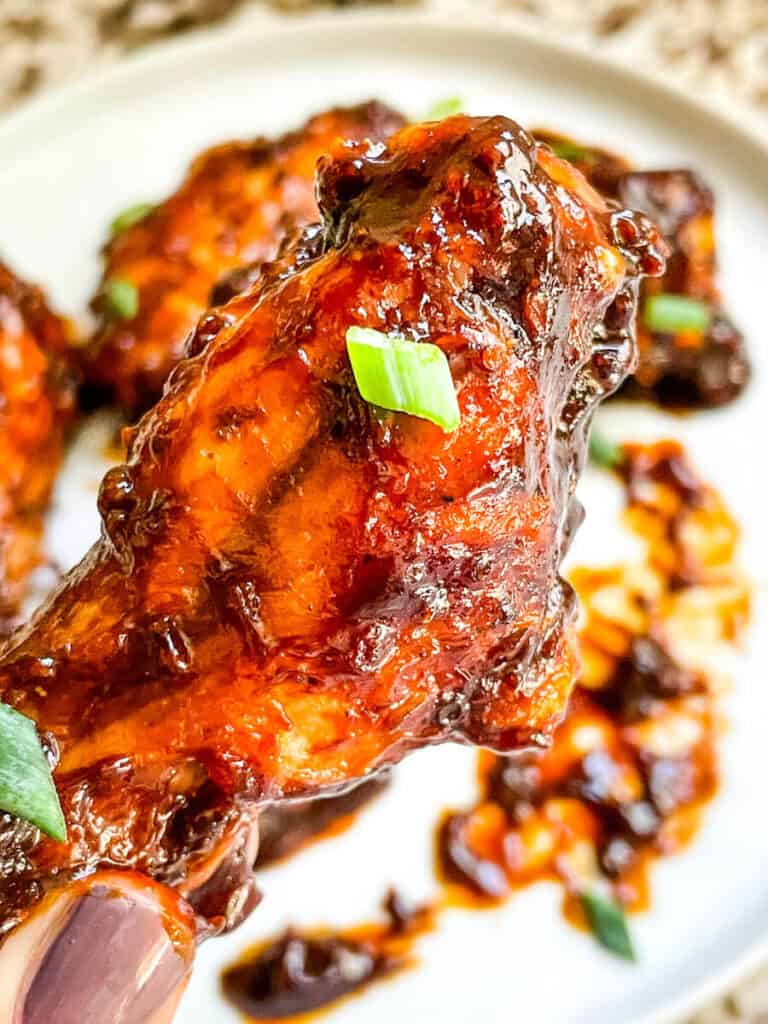 Do you need to flip chicken wings when baking?
Yes! Why? Flipping the wings will help brown the chicken on both sides and help them cook evenly.
Without flipping, you will probably end up with one side being a golden brown and one side being more white. Even with air frying or a convection oven.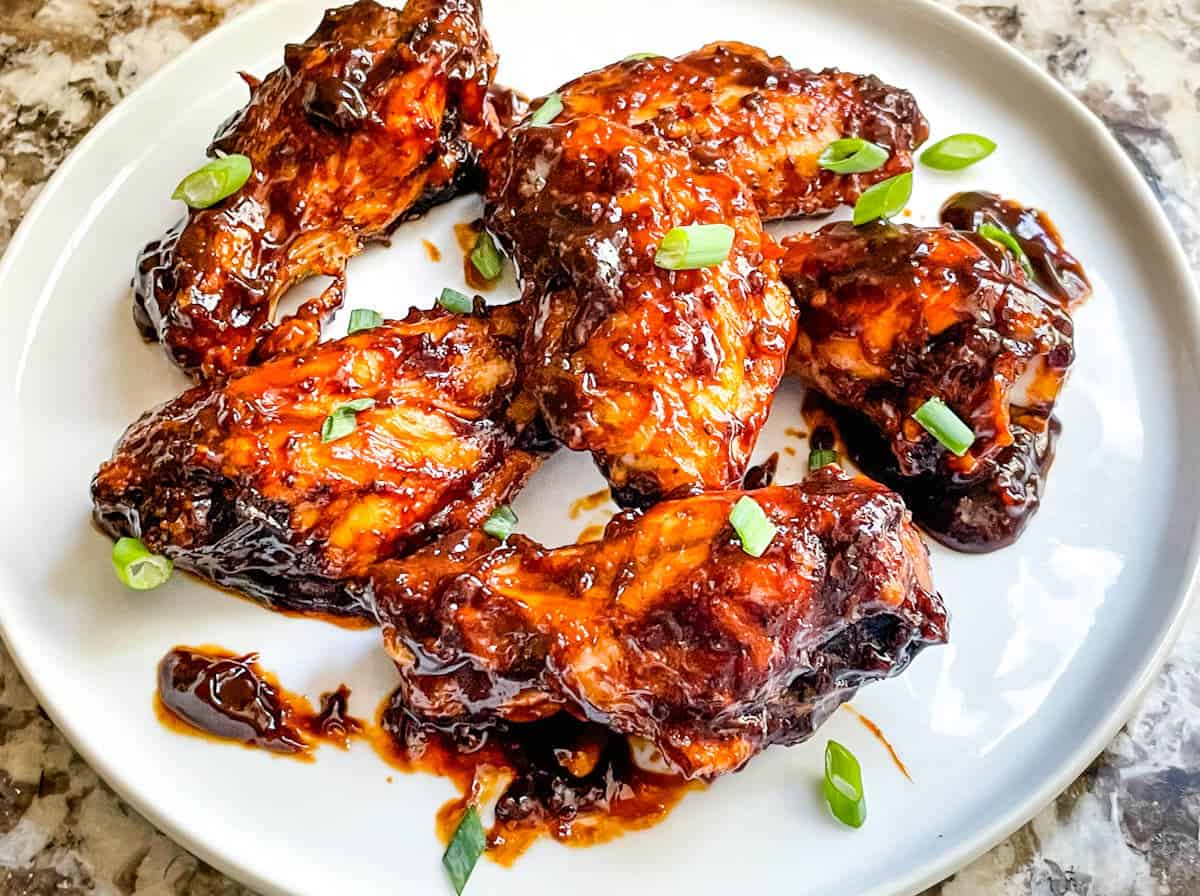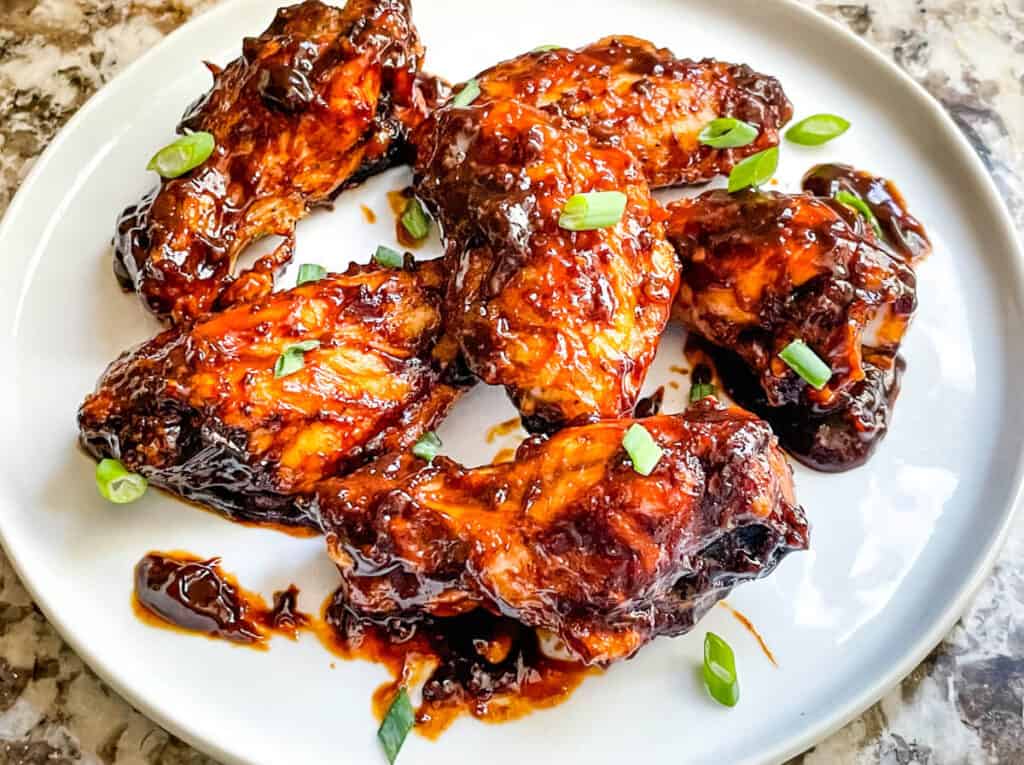 Customizing the Barbecue Sauce
Want to make a twist on this barbecue sauce? There are lots of options!
The sauce as-is is a perfect balance of a little smoky and savory. Not spicy, not sweet, not tangy.
To make the sauce extra smoky, add liquid smoke.
To make the sauce spicy, add ground cayenne pepper or hot sauce.
To make the sauce sweet, add brown sugar.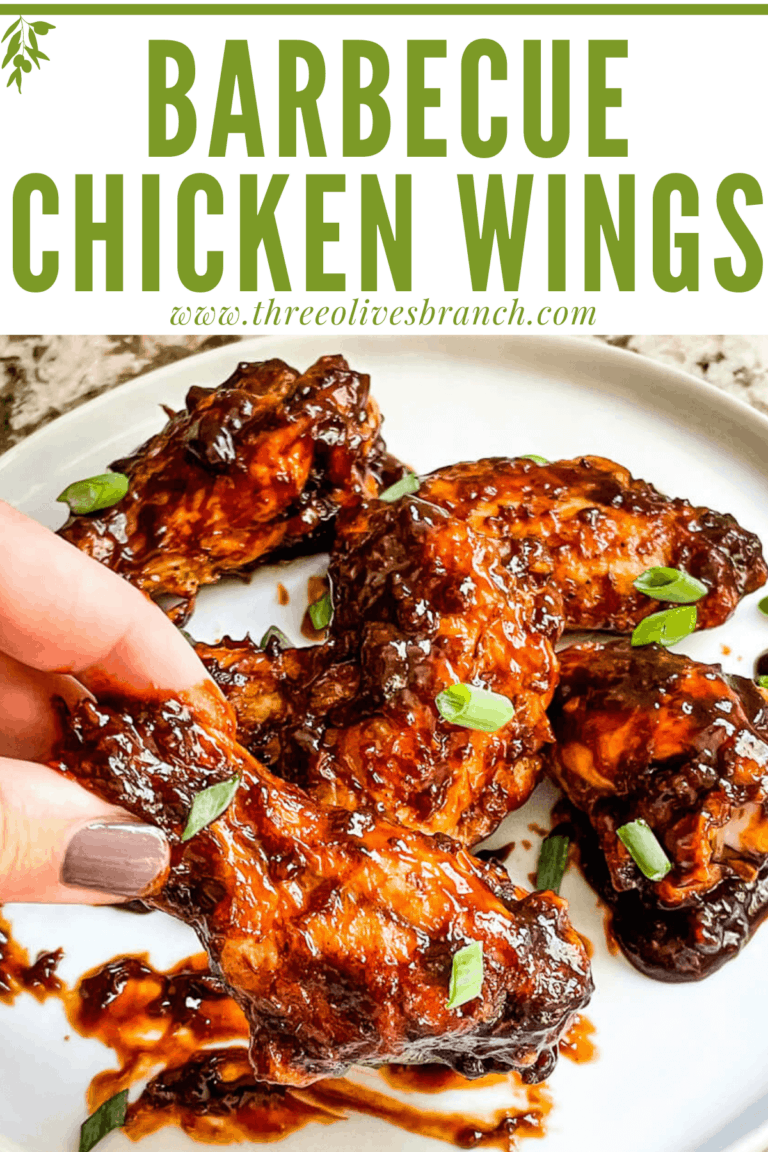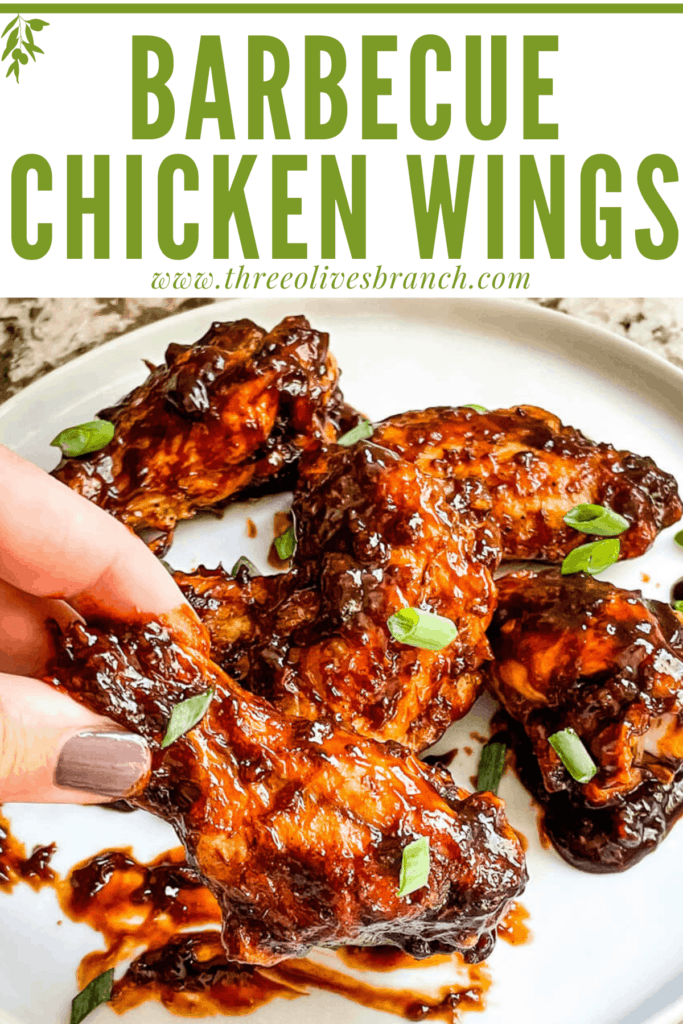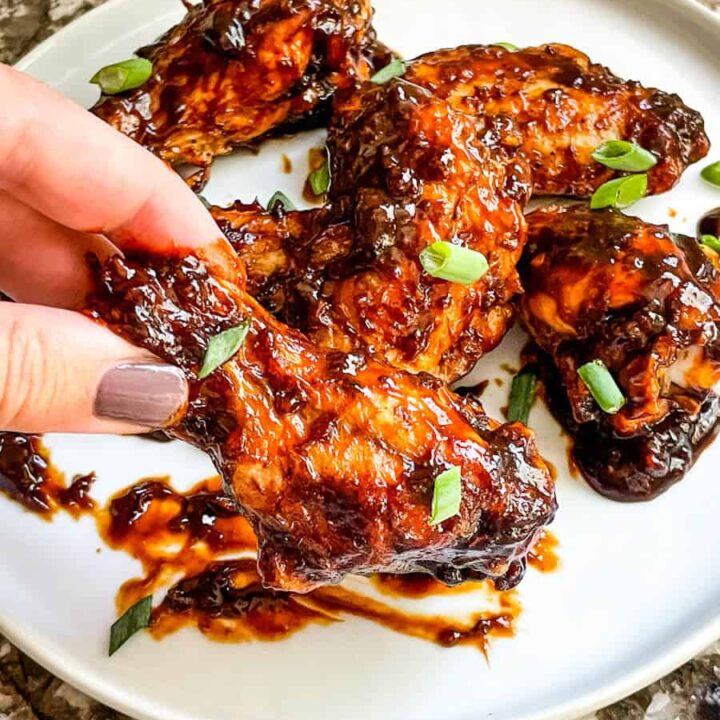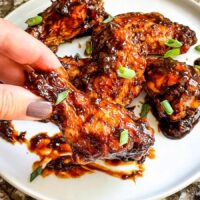 Barbeque Chicken Wings Recipe
These Barbeque Chicken Wings are a perfect homemade tailgate recipe. Homemade BBQ sauce tossed in crispy wings. Gluten free and perfect for football game day appetizer or snack.
Print
Pin
Rate
Servings:
2
large servings
Ingredients
2

pounds

chicken wings

raw, thawed (see note)

2

Tablespoons

cornstarch

(optional, see note)

1

teaspoon

black pepper

1/2

teaspoon

salt
Instructions
Pat your chicken wings dry. Toss them with the cornstarch (if using, see note), 1 teaspoon black pepper, and 1/2 teaspoon salt.

Spray your air fryer basket with nonstick spray. Arrange the wings in a single layer.

Air fry at 400F for 20 minutes, flipping half way through. Make sure the wings are cooked through, registering 165°F.

While the wings are cooking, make the sauce.

Heat a small pot over medium heat. Add the oil.

When the oil is hot, add the onion powder, paprika, chili powder, garlic, and large pinch of salt. Stir and cook until fragrant, approximately 30 seconds.

Add the remaining sauce ingredients and stir to combine. Reduce heat to medium low and simmer 10 minutes for the sauce to thicken slightly and flavors to develop. If it gets too thick, add a little water.

When the wings are done, place them in a large bowl with the sauce. Toss to combine and let them sit for one minute.

Serve warm with leftover barbecue sauce and dipping sauces.
Notes
The cornstarch is optional. It helps give a little crunchy crust to the wings.
If using frozen raw wings, increase cooking time to approximately 30 minutes.
If your wings are small, you will need to adjust your cooking time. This recipe works for wings that are approximately 3 inches long.
To keep warm after cooking, place in foil covered container in the oven on a very low setting, 130 to 150F, for up to 90 minutes.
This BBQ sauce is a slightly smoky sauce. To make it sweet, add 1 Tablespoon brown sugar with ketchup. To make it spicy, add 1/2 teaspoon cayenne pepper with ketchup. To make it more smoky, add 1/2 Tablespoon liquid smoke.
Want to bake the wings in an oven? Bake at 425F for 40-45 minutes.
Nutrition
Serving:

1

pound

|

Calories:

786

kcal

|

Carbohydrates:

51

g

|

Protein:

47

g

|

Fat:

43

g

|

Saturated Fat:

14

g

|

Polyunsaturated Fat:

9

g

|

Monounsaturated Fat:

16

g

|

Trans Fat:

1

g

|

Cholesterol:

189

mg

|

Sodium:

1495

mg

|

Potassium:

1155

mg

|

Fiber:

1

g

|

Sugar:

37

g

|

Vitamin A:

1080

IU

|

Vitamin C:

6

mg

|

Calcium:

132

mg

|

Iron:

5

mg

By